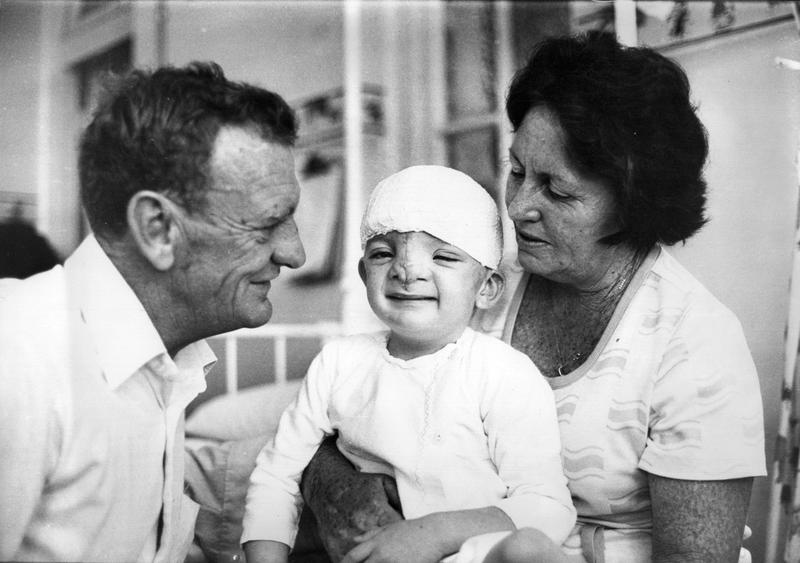 Transcript
Robert Hoge: A couple of months ago I was walking to work and I listen to music or a podcast while I'm walking to work. I was about to cross a road and this guy was signaling to me to take my headphones off, which I did.


Mary Harris: This is Robert Hoge. He lives in Brisbane, Australia. And Robert has a really lovely voice, so the thing I'm going to have to explain to you is that he doesn't look like most people.



RH: And he said, 'aw mate, have, have, have you been in a car accident?' And you know generally I'm actually pretty tolerant if people want to have a discussion with me about my appearance but I wasn't in the mood that morning and I said, 'no mate I'm fine.' And went to put my headphones back on. And he grabbed me by the arm he said 'are you OK.' And I said, 'yup I'm fine.' And he goes, 'you're pretty ugly though.'



MH: I'm Mary Harris, this is Only Human. Robert Hoge has gotten used to all kinds of people telling him he's ugly. He can almost laugh about it. But he knows better than anyone that there's this lie we tell ourselves: that it's what on the inside that counts, and looks don't matter.

So what do you do when the way you look forces you to confront that, every day? And even if you can get past it, what about the rest of us?


MH: OK, so Robert, you're in Australia, I'm in the US, so I can't see you. Can you describe how you look?

RH: How I look now uh I like this analogy...

MH: Robert Hoge is 44 years old. And before he tells me what he looks like now, he says I need to know what he looked like when he was born.

He says picture a perfect little baby face, but smack a tumor right in the middle of it. And that tumor is about the size of a newborn baby's fist.

RH: It destroys the nose and distorts the face and it pushed my eyes to the side of my head, like a fish.



MH: Since then, he's had a lot of surgery. First to remove that tumor and then to reconstruct his nose and reposition his eyes.



RH: So I've got a big splodge of a nose and on the side of my head I've got two big dents where my eyes were when I was born.



MH: His eyes are still a little further apart than they should be. And then there are the scars. He has what looks like an inverted smile stretching across his forehead, from the left side of his face to the right.



RH: I still look pretty uh rough and ready.

MH: (Laugh)
RH: So, look I wouldn't describe myself as a particularly pretty picture but I'm a distinctive one.
MH: I like how you say rough and ready. (Laugh)
RH: Yes indeed.


MH: He was also born with severe deformities on his legs. They were too short and his feet were missing a couple of toes, they were twisted out of shape.



RH: Now this was quite a shock to my mother. And she, I think sensed something was wrong immediately and rather than ask the doctors, is it a boy or a girl?' She asked, 'is my baby okay.' And she refused to come and see me for the first seven days of my life.

MH: Ooh.
RH: Yeah, well I didn't know that. I was pretty young.


MH: To understand how Robert became the person he is today, you have to know that the way he looks has totally changed the course of his life in ways that most of us can't begin to understand.

When he was born, his mother, Mary, started keeping a journal, where she wrote down things like this:
"I wished he would go away or die or something. I told the hospital staff I didn't want my baby. I wouldn't under any circumstances take it home."
Mary already had four children.


RH: She was very worried about what bringing a, um, a child with some severe health issues home, uh what impact that would have on the family. So my mom called my dad up and he drove up to the hospital and she packed her bags and went home without me.



MH: But Mary kept second guessing herself. Robert's father said it was up to her whether to bring the baby home. So she asked her sisters and her priest and even a member of parliament for advice.



RH: And eventually decided that she should give my um brothers and sisters a say. Uh, because she was so worried about the impact of bringing me home on them, uh she wanted, wanted to give them some opportunity to have some input. So one Saturday morning they sat around the kitchen table in our house and had a family discussion and took a vote. And my brothers and sisters, uh, one after the other all voted that I should come home. My sister Katherine was only four at the time and she said uh, 'yes Robert should come home.' But she reckons the only reason she said yes was because everyone else said yes before her.

MH: (laugh).

MH: So Robert did come home, eventually. And that diary, his mom kept writing in it almost every day.



RH: And the lovely thing about that was that was never hidden away from me. So that was a permanent fixture um of our house. It would sit on her bedside table or it would sit on the couch beside her. And I certainly remember as early as seven or eight, I would I would say to mum, 'mum can you read to me again from the book about when you didn't want to bring me home?'

MH: I mean, that's so, do you remember how you processed that as a kid? This whole story of your mom. I mean now as an adult I can see how you would be able to really understand your mom's emotional journey. But as a kid, how do you think about the decisions your mom made?
RH: You know I think it's like watching uh, watching a movie you've seen before where there are some sad bits in the middle and some scary bits at the start but it has a happy and wonderful and loving, loving ending. And you know people ask me about, um, my mum's feelings a lot and I think, I just think put aside the fact that uh, that there were no prenatal scans or anything like that. Let's just cut people some slack. It's entirely reasonable for people to be upset and distressed I think.


MH: After bringing Robert home, his mother kept worrying about the way he looked because she knew how easy it was to see him and make assumptions about his health, or even how smart he was.

While surgeons had removed Robert's tumor and one of his legs right after birth, they'd left him without a nose. His eyes were so far apart, that one of of them actually looked behind him - he says it was a bit like being a bird.
And all this worried his doctors, too.


RH: The doctors were so concerned that I looked so different um. They were worried I wouldn't, wouldn't make any friends and they were worried that my extreme, um, different appearance would impact negatively on me, psychologically.



MH: So right before he was supposed to start school, doctors proposed another surgery. A major one. They wanted to rebuild his face completely and amputate his remaining foot.

They'd hoped he'd learn to walk using a prosthetic on the left side and the leg he was born with on the right. But it wasn't working. Most of the time Robert was getting around using only his arms.
RH: They said, 'look we think Robert would be better off if we amputated his right foot and gave him two prosthetics. And if we do that at the same time we can use two of the toes and use cartilage from two of the toes to build him a new nose.'
MH: Had a surgery like this ever been attempted before?
RH: Uh it, it was still relatively new. Um there had been a lot of success uh with a doctor in Mexico.
MH: Had your doctors ever done a surgery like this before?
RH: Uh, no. It was one of the first times it had ever been done in Australia. So my, two of my doctors spent weeks and weeks uh, well first they went overseas, and then they spent weeks and weeks with cadavers cutting up heads and practicing.
MH: Oh my gosh.
RH: Yes indeed. The glories of medicine.


MH: The doctors actually opened a special Cranio-Facial Clinic and asked Robert to be their first patient. He was just four and a half at the time.



RH: And they said, 'oh and by the way there's a one in four chance that Robert may die on the operating table.' My mother, and I think it was because she was a woman and had a better sense of how important having at least the appearance of of a normal face was, was quick to say yes do it, because she trusted the doctors. Uh, my father took a lot of convincing and they actually argued at length um until mom and the doctors talked my dad around.



MH: The operation took more than 12 hours. It involved five surgeons, two assistants and nine nurses. When it was over, Robert did look better. His parents were able to send him to school with his older siblings. But he still looked different.

MH: When you went to school, can you just tick off some of the names that kids had for you?
RH: Uh yeah so um, a bunch of names. I would cycle through names every couple of months. So toothpick legs. Um transformer, which I thought was actually pretty fun. Some other kind of like just vaguely incorrect inoffensive ones um like retard. And then the one that was probably the worst was toe nose, uh, because uh some of the kids had found out that my nose had been crafted from my toes. It had this kind of circular and almost meta awfulness to about about it which made me feel bad about my face and then made me feel bad about feeling bad about my face.


MH: Robert had been through so much just to have the basics of a face, something every other kid took for granted. And when his classmates called him, 'toe nose,' it was just another reminder that he'd never fit in.

Throughout his childhood, Robert kept getting surgeries, modifying his features as he grew. There were 24 in all. He didn't have a lot of say in things. His parents would just say, 'well, the doctors want to make some adjustments.'
And then, when he was 14 years old…


RH: The doctors had said to them we want to do another massive operation on Robert's face and it's going to involve filling in the dents in the side of his head, making him a new nose again. And I didn't have any toes left so I don't know what they're going to use that time. Um and uh because making him a new nose would emphasize that his eyes were still a little bit too far apart bringing them a bit close together. So it was a really massive operation and my parents said, 'well Robert, you know you're almost an adult so your choice.'



MH: After the break, it's up to Robert whether or not to do high risk surgery again. And if he can come to terms with the way he looks, can the rest of us?



----------------



MIDROLL



MH: OK everyone, it's summer. That means it's kind of hot out there, a little sweaty, sticky, sometimes a little smelly. But just how gross is it? We roped in our friends at the American Natural History Museum to help us find out. They have this exhibit that's up right now about all the tiny microbes living on and around us. It's called 'The Secret World Inside You.'

So I asked the museum microbiologist, her name is Susan Perkins, to go out with me to some of the places in the city that are the dirtiest like a public restroom.


MH: OK, what I just did, I kicked the toilet to flush it instead of using my hands. Is that germaphobic or germagenius?

Susan Perkins: Hmmm. It depends right, you're being selfish (laughs) because you just put a whole bunch of these floor microbes on this handle so now the next person that's not germaphobic is gonna touch it!


MH: Susan says a lot of times, we're way too cautious. So if you wanna know the difference between a germaphobe and a germagenius, go to OnlyHuman.org and listen to the whole story. And if you're in New York, go visit the Natural History Museum's exhibit, The Secret World Inside You, it's running through August 14.

This is Only Human, I'm Mary Harris.
Today, I'm talking to Robert Hoge. He was born with extensive birth defects and he spent a lot of his early years in the operating room. At 14, doctors told him they wanted to do one more major surgery.


RH: The doctors talked me and parents through all the risks. They said, 'well, look, because we're moving the orbit of your eyes again, because we're moving your eyes about a centimeter closer together, there's a one in four chance you might go blind.'



MH: This time Robert's parents said he could decide for himself what to do.



RH: When we got round to making the decision my oldest brother, who was ten years older than me, was sitting around the kitchen table with my mom and dad and when he heard that he said, 'well what use is it looking pretty if he can't even see himself.'

MH: (laugh)
RH: And that was like a light bulb moment for me.


MH: Robert knew there was no surgery that could make him look like everybody else and he told his doctors he was done.



MH: Something that emerged, looking into your story, the doctors really stand out as characters but I can't tell how you feel about them.

RH: (Sighs) I um, look I owe them my existence, um, they literally created the person I am today and I'm so grateful for all of the work they did.
MH: But.
RH: But?
MH: Is there a but? I mean.
RH: No, no, no, no, I, there is no but. Uh, you know. Look my (sighs). I think my doctors, they wanted to see what they could do um. But it was it was all in the name of um making sure I could have as normal, in inverted commas, a life as possible. And, you know, when I said to them, 'I don't want any more operations,' that was fine. It was quite helpful to them having someone who said, 'you've done an amazing amount of work. A life changing and lifesaving amount of work and you know I don't look like Brad Pitt um but, but that's enough.'
MH: Does it matter to you why this happened to you?
RH: Uhhh, no. It doesn't. There's an intellectual curiosity there but it's, you know, it was the cards I was dealt.


MH: His doctors suspected an antidepressant his mom took when she was pregnant might have caused birth defects. But they had no proof. And instead of focusing on what went wrong, his family focused on making Robert's life as normal as possible. But, it's been more than just normal.

Robert was the first person in his family to go to college. He became a journalist and then the spokesperson for an Australian politician. He carried the Olympic Torch before the Summer Games in Sydney. And he's been married, twice.
He's gotten used to people being taken aback when they see him. But he's noticed something - apart from a startled reaction here and there - adults pretend that they way he looks doesn't matter, even when it clearly does. But kids, different.


RG: The beautiful thing about a four year old kid is they'll come up and go, 'what happened to your legs. Why have you got funny legs?' And I wasn't always particularly good at responding to those sorts of things. I'd be inclined to either just try and ignore them or just kind of gently brush them off with a, a nothing.

MH: When did that change?
RH: Uh, I think it (sighs) it changed a lot after I had my first daughter. So I've got two daughters. I've got a daughter who's about to turn fourteen and I lived in this kind of awkward and obsessive fear that, as she got older, one day my daughter was going to wake up and go, 'dad what's wrong with you?' And like, 'oh my god tell me what went wrong.' I kept thinking maybe it'll be when she's four. And then, no maybe it'll be when she's six. And then, oh no maybe it'll be when she's eight. And of course it just didn't happen because I was part of her reality and kids are great at incorporating difference into their universe. That is their whole existence, taking new things, new and different things, and incorporating them into their existence.


MH: He wants more kids to have the experience his daughter did. So when he decided to write a book about his life, he wrote a children's book. He called it 'Ugly.' He says he wants us to rethink the negative connotations of that word.



RH: I get to talk to kids a lot and when I talk to kids, I always start off by eliciting a promise for them that we're going to be honest with each. I say, 'kids, I'll be honest with you if you're honest with me. Deal?' Get them to shout back, 'deal.' I then proceed to ask them, I say, 'OK, put up your hand if you think I'm beautiful.'

MH: Huh.
RH: And uh, God bless, sometimes they'll be two or three kids you put, in a room of sixty kids, that put their hand up. Then I'll say, 'put up your hand if you think I look normal.' And there is rarely a kid who, uh, who put up their hand. And then I say, 'put up your hand if you think I look ugly.' And I'll remind him that we all agreed to be honest and and almost every time they'll be half a dozen kids who put their hand up. And that's not about shaming them or saying they're wrong, it's actually to start a discussion. When I try doing that with adults, it just falls flat.
MH: What happens?
RH: Well adults they're too generous and I think they're too dishonest when it comes to talking about appearance. I mean, kids don't buy the nonsense that we try to peddle to them that differences in appearance don't matter. You know kids are thousand times more honest about appearance than we are as adults. So we tell all kids they're beautiful and they're all wonderful and they're all special. But kids aren't buying it because kids notice that mom spends thirteen minutes every morning putting her makeup on before she goes and dad spends twelve minutes trying on four different ties before he goes. You know kids notice that stuff and every time we do that we send a social signal to kids to indicate that what we say about beauty and appearance isn't true.
MH: I wonder, if you could go back in time and tell your mom not to take those antidepressants, would you do it?
RH: (sighs) Uh no, the answer is going to be no. Um, I have a good life. Uh, I'm happy, I'm healthy. Uh, I've got a wonderful wife, two wonderful daughters. And uh, the other life I would have had might have been wonderful in many different ways but it would not have been this life and I'm pretty happy with this life. I would love to be able to run a kind of science fiction thought experiment where I could watch the two lives progress and kind of see the good bits of one and the good bits of another but no, I like this life.
MH: Huh. You know it strikes me listening to you, you've told your story a couple times throughout the years. It seems to me like it's kind of, almost inoculated you to anything people might say.
RH: (sighs) I am a delicate little flower sometimes um. I was once leaving a restaurant with some friends and there was a guy who'd had a lot to drink next to me and, um, he pulled his hand out of the out of his pocket and he dropped twenty dollars on the ground. And so I just tapped him on the shoulder to point it out to him. And I tapped him on the shoulder and he turned around and he kind of took, took a bit of a shock and he said, 'jeez, you're ugly mate.' And uh, and I made the assessment there that the cost of rudeness for that gentleman was twenty dollars. So I said, 'yep I probably am mate,' and just let it go on his way.
MH: (laughs)
RH: Picked up the twenty dollars and pocketed it.


MH: In some ways, when our interview was over, I felt like Robert was lucky. Because most of us are caught in this sort of uncanny valley, we look fine but we're convinced that a few little tweaks could totally transform our lives.

Robert gave up on tweaks and he transformed his life anyway.
Only Human is a production of WNYC Studios. This episode was edited by Ben Adair. Our team includes Amanda Aronczyk, Elaine Chen, Paige Cowett, Julia Longoria, Kenny Malone, Fred Mogul, Lisa Rapaport and Jillian Weinberger. Our technical director is Cayce Means. Our executive producer is Leital Molad. Thanks this week to Danielle Fox and Stephanie Daniel.
Jim Schachter is the Vice President of news at WNYC. I'm Mary Harris, talk to you next week.
Music Credits:
"Pop Brasilia" by Podington Bear
,
"Wolves" by Anesthesia
,
"aurau" by Rob Bridgett
,
"Have You Seen My Keys" by Tomo Nakayama
,
"The Closer You Come, The Further You Are" by Sonogram
,
"Coexist (Instrumental)" by Tontario & Leo Islo