Every (Dead) Body Has A Story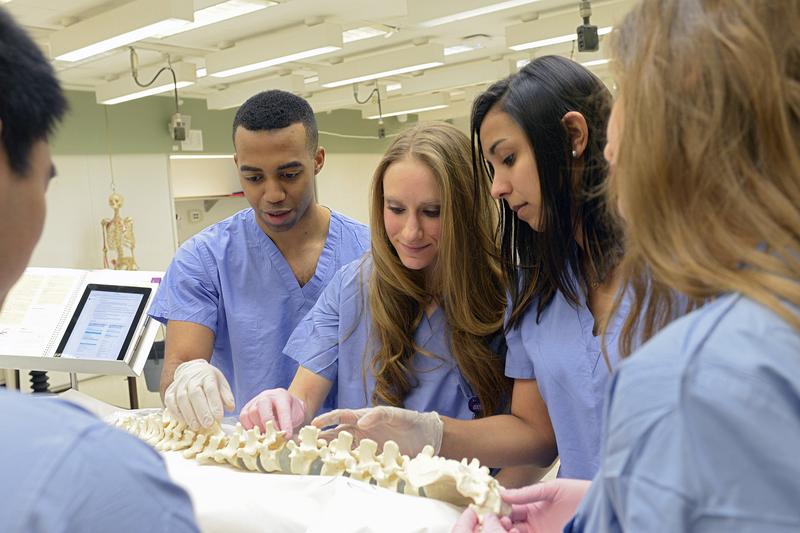 Transcript
Mary Harris: If you're a medical student, in your first year, you're pretty much guaranteed to end up in the anatomy lab - where your first patient is actually a dead person. Cutting in to cadavers is a way to learn, hands on, how bodies work. Medical students have done it for years.
But it's also really disorienting. Dr. Sarah Schlessinger is a professor now, but she still remembers was in anatomy class, she still remembers having this nagging feeling - like, I don't really know what I'm doing.
Dr. Sarah Schlessinger : We're assigned to look for the … vessels that come from the heart and carry the blood to the rest of the body. And we've cut into the left side of the chest cavity, and we're not finding anything.
MH: Her anatomy instructor comes over – a guy who's been in this lab forever. They tell him they're not finding these really large blood vessels . . .
SS: And he says, 'Move out of the way!' and sort of shoos us out of the way and starts to dissect himself with greater alacrity and assurance than we had. But still not finding anything. And after about five minutes of this, which is a pretty long time. He looks at us and says: 'This is a mystery.'
MH: After a while they realize this cadaver has everything backwards. It's an amazingly rare anomaly called "situs inversis." And it makes Sarah Schlesinger kind of frustrated.
SS: That was sort of the thing I felt because in the beginning when I leanred this I was so upset, I was so applaud, because how was I gonna learn anatomy? How was I gonna learn where everything was, because it was in reverse?
MH: But thirty years later, she has a different take on what went on in that class. Maybe the backwards body was just right: As a doctor you have to be open to surprises. And respond to what's really in front of you.
I'm Mary Harris, and today on Only Human, what working on the dead teaches future doctors about life. And...those who donate their bodies to science… what's in it for them? Our reporter, Fred Mogul is here with me - he went in search of these questions.
Fred Mogul: I just always really wanted to know where the sub-costal azygos runs into the superior vena cava.
MH: I kind of don't believe you.
FM: No, not really. You know, I write about healthcare, and I spend a lot of time talking to patients and doctors about what each side expects from and gets out of the other. And I thought it'd be interesting to look at these expectations before a doctor becomes a doctor, and after a patient is done being a patient. And I found the two sides were pretty far apart.
MH: Yeah, because one side is dead.
FM: Well, yes that's true, but that doesn't mean it's the end of their story. What if they have things to share, but no one's listening?
MH: Okay, so where do we start our story?
FM: In in the basement of NYU Langone Medical Center.
NYU Students: Anatomy lab is . . . somewhere on this floor, but we don't know…
FM: It's a maze down here. There's construction everywhere. And getting lost and unlost seems like an appropriate way to begin the first day of anatomy.
NYU Students: Which vestibule?
FM: The group I'm following – I'll call them 'Table 4' – finds where they're going . They ditch their bags and coats in one room and make their way into one of the brightly lit 'labs.' It has a dozen tables in two rows, and on top of the tables are closed body bags. All the students are in their twenties. They're smart and energetic. They're hyper-well-educated. At the moment, they're psyched to finally take on this rite of passage, though they also maybe a little nervous.
Bianca Kapoor: What do we do? Can we go?
FM: That's Bianca Kapoor, a budding pediatrician from Chicago. Before coming to NYU, she studied bioengineering.
Alexa Steuer: Do you want to grab gloves?
FM: That's Alexa Steuer. She's wanted to be a doctor since she was a kid. She thinks she might eventually go into surgery.
BK & AS: They're so cute.The pink ones?
FM: And it's off to their assigned body on Table 4. Bianca and Alexa prop guide books and iPads on a metal stand attached to the table.
BK & AS: We're on Page 6. We start on Page 6, right?
FM: One of the anatomy professors makes a few announcements about keeping tools clean and disposing of waste . . . and that's pretty much it for instructions. Bianca and Alexa, are joined by their third table-mate, Oliver Stewart. They all have an outline of what to begin exploring . . . first the spine then the chest…piece by piece.
NYU Students: You wanna look? Yeah. I'm gonna open it. Go for it.
FM: Aaaand . . . confusion.
NYU Students: It's a woman. No, it's a guy. No, I think it's a woman, right?
FM: A couple key things here. . . .
NYU Students: It's definitely a woman.
FM: To ease the first-year students gradually into anatomy. NYU and most schools don't just turn them loose on a body. They start with the trunk – the back, the chest, the torso, the abdomen. Not the head. Not the arms and legs. Not yet. Those parts are wrapped in cloth and mostly out of sight . . . and typically the second-year students dissect them pretty thoroughly by the time the first-years arrive and start working on the trunk. The idea is that second-years can emotionally handle these very personal, human parts of the body better than the novices. Alexa isn't squeamish, but she's still glad she's starting with a body that someone else already worked on.
AS: I feel like when … we are the second-years having to do the first dissection – that's gonna be weird…because that is like an intact body, and you are actually making the first cut, which is like a very unnatural thing. As a human, you're not trained to cut open a human being – you really should not be cutting open another human being!
FM: They take a deep breath and dive in with probes and scissors . . . and start figuring out how to cut muscle and tissue . . . how to match what they're finding to what they've seen in textbooks.
NYU Students: Wait, so this tracks into where?
FM: And how different nerves or blood vessel are connected.
NYU Student: So where's the carotid? Is that it?
FM: One of the chief instructors, Sally Frenkel, comes by to see how they're doing with the spine.
Sally Frenkel: What do you suppose that is? –Dura matter. –That's dura.
FM: Alexa asks about "epidurals" – the anesthesia injections that many women get during childbirth.
SF: "Epi" is above, so with the dura intacted, you would go in between the vertebrae, you'd find a soft spot, and release the fluid, the anesthetic above the dura.
FM: As you watch their faces, Alexa and Bianca and Oliver toggle between concentration and fascination and frustration.
NYU Students: Wait be careful
FM: Each of them at times do this little weirded-out grimace, with raised eyebrows, wide eyes and a sort-of suppressed smile. There's a lot of self-conscious laughter.
NYU Student: Does it go all the way up into the neck? I have no idea. I have no idea!
FM: And it's not just about getting all these body parts down in a general way. Oh, no. Even on the first day the Final Exam looms large. Table 4 is here to commit this stuff to memory, BIG-TIME. Take the parts of the spine.
NYU Student: Is this the one that was supposed to look like the moose? -Yes, this definitely looks like a moose. Yeah, okay.
MH: What's going on here?
FM: Well, they're looking at a stretch of spine. Different vertebrae in the spine, there is this pneumonic for remembering them. They look like different animals.
NYU Student: Where do you see the giraffe? Oh, yes, yes, yes, yes, yes. Okay, so here are the ears. I see. And the horns and the head coming down.
FM: Little by little, they piece together small sections of what amounts to a really complicated 3D puzzle.
NYU Student: These ones have holes in the side. -Are these cervical?
FM: By the end of their first morning, Alexa and the others are exhilarated.
NYU Student: It's like exactly the way …/EDIT/…that I need to learn, because like reading about this stuff and memorizing this stuff, and then seeing it and being like 'this does this,' I mean everything makes so much sense, I feel like could go take a test on this right now.
FM: They're out in the hallway, talking about how what they just went through compares with what they expected and braced themselves for.
NYU Student: The smell gets to you at some point, you're like… whew . . . probably not the healthiest thing for my lungs!
FM: The formaldehyde is a little bit like ammonia or Lysol -- maybe a little less intense. It doesn't have those really sharp edges claw your throat and lungs. But the smell is just omnipresent.
Then there's the cadaver. There's no getting around how surreal it is -- even if you've been to open-casket funerals or seen 'Six Feet Under.' Remember: These bodies are embalmed. They're literally bloodless, or pretty close to it. And to many students this transformation of the body puts the cadaver into a kind of weird limbo. It's something well more than a rubber model, clearly, but a little bit different than human.
NYU Student: The skin was so thick–like thick and tough, like almost leathery, like when you felt her shoulder, like my shoulder -- the skin doesn't feel that thick. It felt, yeah, it felt almost like leather.
FM: And as busy as they've been memorizing things, it's amazing how easy it is to forget this body ever belonged to someone.
BK: It's hard to, I think, imagine sometimes that it was a, a living breathing person. It's just weird to have these large skin flaps where it just like falls off and there's like pieces missing. You're just like: 'What am I – what is this?'
FM: That's Bianca, wrestling with the weirdness – and the disconnect of it all. This woman she's cutting up clearly had a life. Her clean lungs point to someone who didn't live in the city, and she has a small metal port inserted in her skin for chemotherapy for cancer. But that all recedes really quickly during dissection.
MH: So are the students noticing these little personal details as the do the dissection?
FM: Oh, they definitely are. This chemo therapy part is one of the first things they notice. At first they were thinking it was a pacemaker, they were really confused it wasn't especially close to the heart. Someone comes around and tells them what it is. They wonder briefly about this woman's cancer, but they got a lot of work to do. They're busy digging in and they've got to piece together all these veins and vessels and muscles and organ and this is part of their education. Part of what medical school is training them to do. Even if it's not explicit in gross anatomy, is to take these emotional responses and take these curiosities and at least momentarily shelve them and put them aside. And focus on the task at hand.
MH: Yeah, I've gotta say, having been a patient - the idea of a bunch of first year medical students really clinically taking all my organs out and reassembling them - it kind of freaks me out.
FM: Yeah, a lot of people feel that way. And I wanted to know more about who would volunteer for all this. So in the second half of the show, we've got a response of sorts from the cadaver.
MH: Okay, then – the cadaver speaks. When we return. You're listening to Only Human, and I'm Mary Harris.
*****************
MIDROLL
Thanks for listening to this week's episode of Only Human.
As you have probably figured out, we also love listening to you. And we want to hear from you for a new episode we're working on. It's called Me & My Therapist: stories from the couch.
We're looking for personal stories about patient/therapist relationships. They can be short and funny or long and tragic. Maybe you had a crush on your shrink, or they fell asleep during your session. Or maybe you ran into them at the spa, while you were both half dressed.
Tell us your story. E-mail us at onlyhuman@wnyc.org or leave us a voicemail at 1(803) 820-9692.
******************
MH: This is Only Human, I'm Mary Harris, and today Fred Mogul and I are looking at the medical school rite of passage known as Gross Anatomy. We met a bunch of first-year NYU Medical Students who are excited to be cutting open a cadaver for the first time - but they seem a little daunted by the idea that this body was actually a person not that long ago.
FM: I don't know if it's "daunted," exactly. I think there is a little struggle, a little tension as they alternate between forgetting and remembering that they're working on someone who once had a life.
MH: So, we're going to leave the anatomy lab for a little bit .
FM: That's right. Let's visit another kind of med school post-mortem for a second.
[Music]
MH: What are we listening to?
FM: We are listening to a duet between two second-year medical school students – performed at a memorial service honoring the body donors who became cadavers. Most medical schools hold ceremonies like this. Students organize and lead the whole thing at an auditorium at NYU. There's singing and reading and more singing.
Memorial Choir: There's a voice, I can hear that will lead me home.
FM: This is something the second-year students do. The idea is for a kind of closure, after they complete the second and final half of gross anatomy.
MH: What was the ceremony like?
FM: It was really touching. It was nice to hear future doctors thinking out loud about some of the deeper dimensions of what they're taking on. And not just anatomy, but medicine in general. Here's one student named Martha Harrison.
Martha Harrison: I'm humbled by those who give us their bodies, after they have finished living them, trusting in us not only to treat their remains with the respect and deference they deserve but also to learn all we can from them and to apply that knowledge astutely and compassionately for many years to come.
FM: The family members of the cadavers are invited to come to this ceremony and address the students. This year there was just one relative who came. She slipped in and out and declined the offer to come on stage.
MH: It seems like the students are working really hard to make a connection with these bodies - but it's not easy. What about those first year students you met in the lab?
FM: Well I didn't expect the students in the middle of dissection to have these long philosophical reflections, as if they were in the middle of a ceremony. But I wanted to see, if they were wondering any further who the donor was. And whether they were or not, I was, and I was pretty determined to find out about the donor and how they ended up in the anatomy lab.
So I take a couple weeks off and when I get back to the anatomy lab, the students at Table 4 are now working on a much more substantial elderly man instead of instead of the gaunt, elderly woman they started on – the one with the chemotherapy catheter. It turns out that her intestines were so devastated by cancer there wasn't much to dissect. And the students showed up one morning and there was this new body waiting for them. They were all shocked and disappointed. They'd grown kind of attached to the woman, in their own anatomy student way.
Samantha Ayoub: Her vasculature was really good, her thorax and her heart was really beautiful and had everything you need to know, like now we can't see anything in our new body. We don't even have a thorax. So, we can't refer back to that first work we did.
FM: That's Samantha Ayoub, one of the Table 4 students we haven't met yet. She and the group at this point can't look back to the upper chest, they've got to keep moving forward with the new body, into the lower torso and reproductive system. By this point, the mood in the lab is a little different, too. The first-year students seem to have a little 'thicker skin' about anatomy. They think nothing of picking up a dismembered leg and bringing it from one table to another.
NYU Student: Whose leg is this? This is table 1's.
FM: I find Oliver and Bianca and Alexa now cutting more decisively than when I first joined them.
NYU Students: This is the SMV, which is coming here, going all the way, all the way, all the way up into the portal vein.
FM: This male body arrived on Table 4 as the students are in the home stretch for anatomy. As Alexa later explained, this new body also had these quirks that made dissection tricky.
SA: His abdomen was entirely pushed up, so his liver was really, really high, and his stomach was really high, so it made it really difficult to see all the different structures we were looking for.
FM: They never found out much about this man on their table. But I did. And there's a good chance if he could've spoken, he would've told Alexa and the others to be patient – to take their time in figuring out how the pieces fit together.
Michele Piso Manoukian: Would you like tea?
FM: This is Michele Piso Manoukian, the wife of late Haig Monoukian,the man the students were working on. I visited her at her apartment in the East Village.
MPM: He was very mathematical and he was patient.
FM: Her was also a world-renowned player of the oud, a Middle Eastern instrument similar to the lute or guitar.
MPM: He could analyze these rhythms, and people would call him up and say, 'What is this cycle? What is the beat here?' and he would hear that and break it down for people.
FM: Haig was an Armenian-American whose parents fled the Turkish genocide during World War I. He was a fixture in the local Middle Eastern music scene, dating back to the 1960s. When the belly dancers on 8th Avenue dubbed him "Haig the Handsome." And one friend called him "the Jimi Hendrix of the oud." Haig was always a teacher, and Michele finds solace in the idea of him still being an educator, down there in the anatomy lab. Teaching students who are smart and curious and maybe even a little irreverent.
MPM: They're probably making jokes too, which he also would have appreciated. And that's a good thing; it should be all moods. I wouldn't want to think that folks were all somber. They should be laughing, as well. And making mistakes that's a good thing. Good mistakes.You want that.
FM: She has this funny picture in her head of Haig sort of being conscious during dissection, asking students questions and guiding them.
MPM: like, 'Oh, you're using this one? How interesting!' It's like taking an oud apart. His body would be taken apart and looked at.
FM: It was important to NYU I not tell the students anything about Haig, while they were still in anatomy class. But when I told the group I'd be speaking with someone who knew their cadaver, they got excited and had lots of questions they wanted me to ask.
AB: What motivated her? Was it prior to getting sick? Was she presented this option in the hospital?
FM: That's Alexa. Bianca was curious about how the family mourned.
NYU Student: Because you don't have a body that you can bury and it's like a year later that they get the ashes that they can then spread or do what they wish with it. How do you process that? Because I think that's a huge part of healing when someone passes is. You know, putting their body somewhere.
FM: Donating Haig's body was Michele's idea. He was in the late stages of a six-year struggle with prostate cancer. He'd grown fascinated with his medical treatment and with all the cancer research his doctors were doing at Memorial Sloan Kettering Hospital. And with the drug trials that had kept him alive. But now death was coming. And what to do with his body was one of many things weighing on Michele. She starts reading online about these 'green burials' with shrouds made out of organic cotton.
MPM: And then I can cover Haig in that, and then we can get six people, and we'll carry him on this thing and we'll go to this hill. And I could figure out where this is going to be in New York. Where am I gonna go?
FM: And then it just hit her: donate his body to a medical school.
MPM: And then I got really elated. That pulled everything together for me. I stopped crying. And I felt integrated. I felt like complete in some way. I just felt this is a real, this is the right decision.
FM: And aside from this idea of Haig advancing science and being a teacher "becoming part of other people's intelligence," Michele says, she later came to see dissection as a kind of transition. When Haig died, she lay down next to him. She anointed him with oil, as her Syrian grandmothers would have done. And she then she handed him over to NYU.
MPM: I didn't want him to die, and I thought he'll be alive in some way. He won't go into the dark. He'll be in light. I didn't care if it was fluorescent light. I wanted other people's eyes on him. And I wanted their hands on him. I couldn't let go. And so I thought, yeah, let's do that. You know, it was selfish for me in a way, because I just wanted to think of him on 34 th Street. I didn't want to think of him. I don't know.
FM: Michele hopes the students appreciate how sacred what they're doing is.
MPM: You know that Yeats poem? "An aged man is a paltry thing, a tattered coat upon a stick, until soul clap its hands and sings and louder sings for every tatter in its mortal dress.' They are confronting a soul in some way. I don't know what -- do they think that? There's this tattered body, but this was once not. I don't' know. How do you honor what you've been given?
FM: A couple days later, I meet up with the students. They've finished anatomy by this point, so I can tell them about Haig. Their faces light up when I describe his life and their nerd brains kick in with lots of questions about his terminal cancer. Alexa says, she's glad she didn't know any of this earlier.
AS: Because if you went into it knowing for example, that this patient had prostate cancer, you have like preconceived notions about what is going to be there, as opposed to just letting it just sort of surface, as it would if we were doctors. Knowing upfront takes away that mystery that's very much part of just thinking logic and would take away a lot of the logical reasoning behind it.
FM: Bianca for her part has mixed feelings.
BK: I'm kinda glad that anatomy was just focused on – the biology. I like that I get the rest later, but I don't think I would've been ready for it.
FM: But there's also a little regret about all that rushing to get the body structures down without pausing to think about the man they were dissecting.
BK: I almost feel bad that we didn't really like, ask. And I think when we're in the weed of things, you don't think about it, cuz you're just focused on this vein goes to what vein and where does it come from?
FM: The week I meet Michele and tell the students about her and Haig, it turns out it's the same week she's holding a long awaited memorial tribute to him. She's been wanting to do it forever. He died almost 18 months ago, and, finally, there's a big festival in town, so all his old musician buddies are around. Michele invites the students and me to the service.
Three of the six students can make it. While snow flurries outside, we squeeze into a sixth-floor dance studio packed with several dozen friends and loved ones.
There's a whole program of prayer, music, dance, food and lots of reminiscing.
Ara Dinkjian: He could talk to you about string gauge for four hours, until you would tell him, as politely as you could, 'You lost me about three hours ago.'
FM: That's Haig's close friend, Ara Dinkjian [dink-CHAHN], a fellow oud player.
AD: He was very passionate about all of that, and I don't think we're ever gonna see anybody like him again.
FM: During the ceremony, Michele announces that there's a group of medical students here who have been " part of Haig's life cycle"—Though, understandably, she doesn't mention anatomy or dissection.
MH: So, do the students ever get to meet Michele?
FM: They do a little bit later. She greets them warmly, but with all the guests there swirling around, duties as hostess, not a chance for them to get acquainted.
MPM: Just be good students. Be good doctors!
FM: The meeting's a little awkward. Their connection being pretty macabre, but they all find it very life affirming. Samantha and others says it's a privilege to be there and to have played a small part in Haig's journey.
SA: When she said 'His life will live on in our intelligence' you know, I hope I do that justice and honor his life and be a good doctor. I hope!
MH: So how'd they leave it?
FM: As of a couple weeks ago, there were going to meet and have tea.
MH: How much did you tell Michele about how the students treated the body?
FM: Well I wasn't graphic, but I was pretty frank that the students, through much of dissection, kinda ignore the humanity of the body. And you know, she was really gracious. She said, "Well, you don't want people to be so empathic they can't get anything done."
MH: So, what did you take away from all of this?

FM: Well, Im a little biased, but I think looking into the donors' stories, could be enlightening, even if it's not on the final exam. The group seemed to benefit from learning about Haig and Michele. Now they spend all this time memorizing stuff, they spend a little time memorializing in a formal ceremony later on. But maybe just remembering, remembering that they're working on a person. Someone who had a life once upon a time, while their still in anatomy class, maybe that would be instructive.
MH: That was Fred Mogul, health reporter for WNYC and Only Human.
Would you donate your body to science? Do you know anyone who has? Tell us about it at onlyhuman.org or our Facebook page.