Aftereffect Ep2: "Suck it up, buttercup"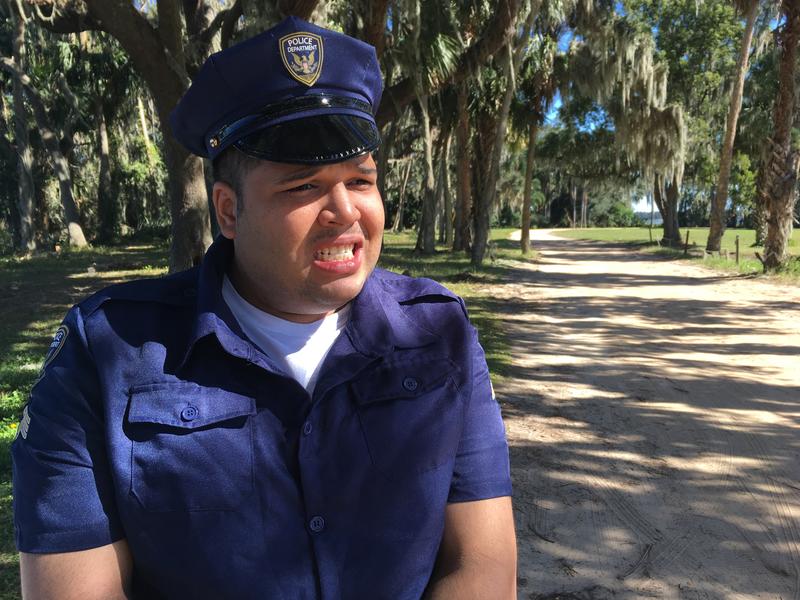 Transcript
ABC 7: Disturbing video out of Miami tonight involving a medical therapist and the autistic man he was caring for.
On July 18th, 2016, two other people were watching the events around Charles Kinsey's shooting. Arnaldo's mom Gladys, and his older sister Miriam.
ABC 7: They were confronted by police. The therapist as you can see on the ground with his hands up but the autistic man doesn't understand what's happening.
They found out about it on the evening news. Gladys was already home, she's a retired nurse, Miriam had just gotten home from her own nursing shift
Miriam Rios Soto: The first time we saw it was when the situation was still going on.
When the shooting happened on July 18th, 2016 Miriam was 29, living with her mom in Miami.
MRS: We were in the status of like, oh my God, is he dead? And we started panicking and getting sick. It was like, my sugar went down and my hands were shaking, my mom was screaming and yelling — I went to the bathroom to throw up, because it made me feel like — the thought of my brother dying or Charles dying — we thought Charles was dead.
From WNYC Studios, this is episode two of Aftereffect. I'm Audrey Quinn. If you haven't heard episode one, you probably want to go listen to that first. After learning all I could about the shooting on July 18th, I made contact with Arnaldo's family. I wanted to know what they'd been through, and what happened to Arnaldo next.
And they told me, just about everything.
Miriam still hasn't seen the whole cellphone video from the shooting. Friends kept sharing it with her later and she just couldn't. But she knows what happened.
MRS: Arnaldo was sitting, not understanding. Arnaldo has no sense of danger.

Gladys Soto: Yes.

MRS: He sees the police, he sees objects. He sees things. He listens to the tone of voices. But he continued with his truck. He would tell Charles to shut up, because Charles talking to him was interrupting him from driving his little toy truck. He was not understanding the gravity of the situation.

GS: [Affirms in Spanish]

MRS: Because he goes deep into his world. And taking him out of it is very difficult. You shouldn't. That's autism. Let him be. So he didn't sense the danger until he saw the blood. And then he was handcuffed, and then put in a car for like hours.
Gladys asked a church friend to go to the scene in North Miami for her. He learned Charles was alive. But he couldn't find Arnaldo, who at that point was handcuffed in the cop's back seat.
MRS: We didn't know Arnaldo was inside the car. I — almost a year later is when we see — we find out that Arnaldo was interrogated and not taken to a hospital. He was taken to a hospital the next day when Arnaldo freaked out and had a panic attack because Charles was shot and he analyzed in his head what happened.
That next night after the police shot Charles Kinsey, Arnaldo again ran out of the North Miami group home, around the corner, and back out to that intersection. Maria Minerva was again out on her apartment balcony.
Maria Minerva: Yeah, he was walking by himself, so I called the cops and said 'Listen, yesterday there was a shooting. This kid, the one that was involved in the shooting, is here by himself.'
Again, this is a 26-year-old man we're talking about, unarmed, in his neighborhood.
Audrey Quinn: What was he doing?

MM: Walking and talking like by himself. So they came quick. And I think they took him.
Charles lost a lot of blood in the shooting. And that blood was still there on the street. Arnaldo ran up to it. Shouted "Police shoot, police shoot," over and over.
MM: That the poor man, you know, could be in shock. I mean he saw his caretaker being shot and all the commotion. But he was alone and he's not right, so what am I gonna do? I have to do something. I mean, I'm not gonna…I don't know honey, it was all the wrong time, you know?
When the police brought Arnaldo back to his group home his was still shouting, wouldn't calm down, he started getting violent. The head guy called a psychiatrist. "He's been traumatized," the psychiatrist said, "He isn't safe. There's only one thing you can do. You need to commit him." To the behavioral health unit of Miami's Aventura Hospital, the psych ward.
So, after the past three months, five different group homes, and three psych wards — jumping from group home to hospital to new group home and back — Arnaldo was going to a fourth hospital setting. He'd spend the next 35 days there, over a month! Just waiting…for another place that would accept him.
Charles was at another Miami hospital for four days, recovering from the bullet to his leg. When he got out he walked with a cane. He went to see Arnaldo at Aventura soon after.
Charles Kinsey: It was a beautiful thing. It was a beautiful thing. When I seen Arna — well I'm going to put it. When Arnaldo seen me, his eyes got real big. And I didn't know what to expect. And he came up to me and gave me the biggest hug I was like 'Oh my,' I wanted to cry. I almost didn't want to leave. But I was happy to see him, he was ok. I guess he just wanted to see me, but I...

AQ: Yeah, I'm sure he was worried.

CK: Shit, I was too, man. It was a beautiful thing. I mean when he gave me the hug I was like, 'Oh my god.' That's one hug, that's how I feel, I'm going to cry.
Charles hasn't worked at the group home since the shooting — any group home — couldn't get back to it.
And Arnaldo? Before the incident he'd had his ups and downs, his outbursts, but overall he'd been doing pretty well at MACtown, the North Miami group home. The shooting changed that.
During his 35 day stay at the hospital, records show him attacking staff, other clients. His doctors note repeatedly "This isn't the right place to help him with what he's gone through." He's deeply traumatized.
Gladys and Miriam wanted Arnaldo to come home with them. But Miriam was working long hours. Gladys has health issues, they didn't feel like they could provide the around-the-clock attention he needed. So he had to wait…and wait…for a spot at a qualified residential center to open up.
Then, an option came through. At Carlton Palms, a notorious facility in Central Florida.
Notorious? For abuse allegations, and a recent client death. State officials had repeatedly cited Carlton Palms for poor staff training, poor treatment of clients. Had talked about shutting Carlton Palms down. But there was literally no other place that would take Arnaldo — and needless to say, none of that stuff was in the orientation Gladys and Miriam got.
I went to visit Arnaldo's mom Gladys and sister Miriam at their rental home in Ocala, Florida. Carlton Palms is a half-day drive from where they lived before in Miami, so they moved. Quit jobs, left their friends, their family. Ocala's still an hour away from Arnaldo though, it's the closest they could get on their budget. The area around Carlton Palms is pricey.
They visit Arnaldo every Sunday. It was Halloween when I first joined them on one of these trips. They're in an early-nineties-style ranch house, Peach stucco outside, peach tile and off-white cabinets inside.
In their kitchen, there's pile of tote bags and a stack of steamy tupperware on the kitchen table.
Gladys prepares for visits with Arnaldo like she's packing for an expedition. She'd started cooking the night before. Puerto Rican specialties, all healthy, she tells me.
GS: [sound of bag] Oh my god. I'm feeling excited. Because I love to feed my son, like my little bird. Oh my god. [laughs]
Gladys is tiny, four-eleven. Tortoise shell glasses, short brown hair in a shag. She's dressed up for the day. Light floral perfume, a brown rayon blouse, pressed denim slacks, little black ballet flats with slight heel. She never stops moving around the kitchen.
AQ: Gladys, Gladys what is this here?

GS: Bistec with a little onion, onion?

AQ: Oh my goodness, it smells delicious.

[sound of tupperware opening]

GS: And rice with beans. Arnaldo love. Always, I do too much because I love to bring food anybody. [laughs]
Her daughter Miriam comes into the kitchen, she's just finished getting dressed up herself, all in black. Miriam loves K pop, coffee, skincare, and solving medical mysteries at the clinic. She's got carefully combed long black hair, and she's over a half foot taller than her mom even without her wedge sandals. She plays annoyed at all the cooking.
MRS: One time she even brought the whole casserole. So whoever showed up, she would give them food. She wants to feed everybody, but I'm like, you know, there's not enough, Ma. She's like, "We'll find enough! We'll find enough!" Yeah. Let's go!

[sound of walking and door closing]

GS: [Giggles] Oh my god. I happy because I going to see my son.
Miriam's at the wheel, with Gladys in the passenger seat and me between bags in the back. They're running through the checklist of things they want to do with Arnaldo. Feed him Gladys's cooking. Then a nap time — Arnaldo's sleeping a lot during the day these days because of the medication he's on. And then crucially, some screen time.
MRS: So I make sure that my cell phone has enough data for him to go to YouTube and watch all the videos that he likes, since right now he doesn't have a computer.

AQ: What does he look up on YouTube?

MRS: Transformers [laughs] Yeah, it's really fun. I like him changing his expressions because he finally found a video that he wanted to see.

AQ: What do you think he gets out of it?

MRS: It's his own world. I don't know. It's like us. Why do you watch TV? Why do you watch Netflix? Why do you...listen to music? It's the same, right? Doesn't it give a sense of comfort?
Arnaldo's dad hasn't been in the picture for a while, but Miriam and Gladys have built their whole lives around trying get help for Arnaldo. The family moved to Miami from Puerto Rico in 2000, hoping he'd get better services. Miriam was 13, Arnaldo was ten.
Gladys worked at hospitals in Miami, knows enough English for that, technical stuff. But she gets self-conscious when she has trouble finding words. She likes to have Miriam order for her at restaurants, something Miriam says they're working on.
MRS: I used to make those mistakes too because of our accent. So, I —

GS: That's why I afraid to speak English because of my bad pronunciation.

MRS: This is a really bad joke but I'm gonna say it anyway and you're entitled to delete that forever if you want but I'm still going to share it because we're in the car and these are the stories we do when we're driving. I used to work at Dairy Queen in San Antonio.
This was around 2008 when they spent a couple years in Texas. They went there thinking there'd be more options for Arnaldo. There weren't.
MRS: I remember, that, in, there was the lady who was complaining in the drive through that she didn't get her drinks so she went to the front of the store and parked there and she wanted us to bring her her drinks. We didn't know what she wanted, so I went to the car, and very politely asked her, 'Would you like some cock?' And the lady looked at me with her big eyes. She looked at me and she's like "Texas size!" She wanted a Texas-size. So I got her her Coke, and then I learned to never ask that question again. Now I say, 'What drink would you like?'

GS: Oh my God...
They laugh about it now, but really essential stuff was hard for them to do when they first came to the States. Let alone getting Arnaldo into the special education system.
To get to Carlton Palms we drive mostly through back roads, farm country and small towns with just a gas station and a general store.
I notice during our conversations, especially conversations that veer into Arnaldo's history, that Gladys checks out. Lets Miriam talk, looks aside before I can notice her tears. And it wasn't until I started reading other accounts of mothers of police shooting victims that I better understood her pain. That she too is a woman who raised a boy, who became a man, who based on his appearance, police tried to kill rather than protect. The police union's message — He was trying to shoot the autistic man. Unfortunately he missed.
MRS: She hasn't healed yet. And I get teary-eyed too because I don't want them to suffer I don't want them to be like...

AQ: I'm noticing right now that, Gladys is reapplying perfume and Miriam has her concealer ready to go.

MRS: That's what we do. It's like a mechanism of self-defense, I guess. It's a method of coping. We started reliving the past, we started feeling bad, and then suddenly it's like, this status of 'Suck it up, buttercup, we can do this.' Like that. And it's not healthy either, it's bottling things up. So, she's putting perfume on because she wants to feel fresh again. And I'm putting my makeup on to hide the sadness in my face. And my acne, of course. [laughs]
I'm gonna be upfront about something. When I usually am out doing interviews, I'm pretty calculated about it. I know what I need to get, how I need people to talk to translate into good tape. I ask people to repeat themselves until I catch them using complete sentences, the right tense. But it's different with Arnaldo's family. How much pain they carry, how quick they are to express it. But also how open they are with me, someone who can only imagine their experience — a white, nondisabled, native English speaker. And when I'm with them, honestly, I just try to be a human being.
After over an hour of driving, the scenery changes from dusty backroads to well-spaced McMansions with boats in their side yards. And then, we come to a long driveway through a dry field.
AQ: "Carlton Palms Educational center. No trespassing." Oh, it's on a lake?
The Carlton Palms campus looks like some kind of old fashioned summer camp, but on a bayou. Big playfields, a scattering of brown buildings here and there, and a dirt road around the perimeter. Everything's shaded by trees dripping with Spanish Moss. Not exactly how I pictured a place repeatedly written up by the state for abuse and neglect.
[sound of car door]

MRS: Wohoo
As we leave the parking lot I see Magnolia house right away, it's the building Arnaldo lives in. It's a two-story long rectangle, covered in vertical slats of wood painted deep brown. Underneath the 2nd floor balcony, there's a screen porch with a concrete floor. It's filled with developmentally disabled men, sitting on the cement ground...at picnic bench...pacing. A couple employees sit in there with them.
AQ: There's a man in police uniform?

GS: Arnaldo hate that.
I had to remember it was Halloween. The attendants had dressed up most of the men in costumes. One's cowboy, one still has street clothes on, and the rest were all dressed like police officers.
Just some info, adults placed at Carlton Palms, are usually developmentally disabled people with a history of being taken from their homes. By cops.
GS: Hola, policeman. Are you okay?
One of the pretend policemen comes up to the screen to talk to us. I can't make out his words, but he's friendly. There's a vertical scar from the right corner of his mouth down his chin. Gladys later tells me its from the helmets they use here. To restrict people from hitting their own heads. His forearm has a scab an inch wide.
GS: It's like a jail.
The employee woman clearly knows Gladys, she's friendly too. Tells Gladys Arnaldo's on a fieldtrip. Out to pizza. If we want to spend time with him, we can go get him and bring him back to Carlton Palms. We'll just have to fill out a form.
Back in the car Gladys looks over the paperwork. There's the usual name and date stuff, but then there's a page with two outlines of a body. One for the front side and one for the back. Gladys says it's to mark for pre-existing damages.
GS: I say 'Okay. Mother found like this.' And I write. Because the last two week, I found, I see Arnaldo with trauma in the head, in this side of the face.

AQ: A scratch?

GS: A scratch. In the back, here.
She points to the body on the page.
AQ: On the butt?

GS: On the gluteos. And part of the back? It was new.

AQ: They want to know they have given him back the same condition they got him in. Like a rental car?

GS: Yes, like a rental car.
Up next, Arnaldo.
We meet Arnaldo at a strip mall pizza joint. He sits there with seven other men, clients, and four Carlton Palms workers. And like the men I'd seen earlier, Arnaldo's also dressed in a dark blue police uniform. Plastic handcuffs and all. It feels like some kind of twisted joke, a really sick one. Here he is, probably the autistic person most famous for a bad police encounter, and they've dressed him up like a cop.
Gladys looks stricken, then quickly switches her face once she sees Arnaldo's eyes on her. Signals to him, this is great. Arnaldo smiles back…and when I see him there smiling, I'm struck by his freckles. I'd been reporting his story a couple months when we met...had seen plenty of videos and pictures related to the shooting...I had no idea he had freckles. Short black hair, dimples too.
He comes with us back to the car. Gladys sits in the back seat with him, this time I drive.
GS: Say, 'Hi, Audrey.'

Arnaldo Rios Soto: Hi, Audrey.

AQ: Hi, Arnaldo. Nice to meet you. You got your seatbelt on?

GS: Seatbelt, yes seatbelt. He know.

AQ: Are you comfortable, Arnaldo?

GS: Are you okay?

ARS: You okay?

GS: Okay, okay. Ah, my baby. I love you, papi.

ARS: Mom.

GS: I love you, baby.
They continue on like this the entire ride, Gladys fussing over him, Arnaldo returning the affection.
Gladys and Miriam have a special spot where they spend time with Arnaldo at Carlton Palms. The regular visitor room makes him anxious, so they take him to a small abandoned chapel at the middle of the campus.
The chapel just has one main aisle, six rows of pews on each side, a simple podium at the front. A visiting pastor used to come here once a week to hold a service. These days, it's just an extra meeting space.
When we get inside, Miriam's still mad about the police costumes.
MRS: Of all the things he could have dressed up, exactly the police. Are you kidding me?

GS: Él dijo que, que no...

MRS: Just because he tolerates doesn't mean he's ok.

GS: Yo no sé.

MRS: It's as if I was Jewish and someone made me dress up like a nazi.
Arnaldo takes a seat at the folding table at the edge of the chapel. Gladys puts a cloth placemat from home in front of him, brings out a bunch of dish towels too.
Just like before the shooting, Arnaldo still has his comfort objects. He carries them around in a tote bag of his own. It's got his plastic Aladdin genie lamp, some laminated paper cutouts of cartoon characters, and four toy trucks. He lines up his trucks in a row circling his placemat, like his defensive linemen.
While Gladys starts to unpack the tupperware, I check in to see if Arnaldo's comfortable with my recording. I'm awkward about it, not sure how to use words with someone who doesn't use them the way I do.
AQ: Let's see — Arnaldo I want to make a mi — like you — like a microphone. Like, 'Hello, I'm Arnaldo.'

ARS: Ahh.

AQ: Is that okay?

ARS: Kkk —

AQ: I wanna make sure I have his permission.

MRS: Um — 'Naldito — look, you have to talk to him like this. 'Naldito — 'Naldito, say something. Say something — ahh — say something.

ARS: Ahh.

MRS: Say something. Hola.

ARS: Hello.

MRS: Canta canta! — [sings] I am the man!

ARS: [sings] I am man — who will fight —

MRS: [sings] For your honor.

ARS: Ahh.

MRS: He doesn't know how to consent to permission.

GS: No.

MRS: Like if you ask him, 'Do you want me to do this?' He's gonna think that you're — he doesn't understand what you're saying.
I want to push it further, I'm trying to make sure he's okay with this. But there's also a part of me a little ashamed I might be doing the same thing that cop was doing to Arnaldo in the interrogation room last episode. Using Arnaldo's tendency towards the affirmative to get the answer I want.
AQ: I just wanna make sure I respect him, you know?

MRS: No, but if you ask us and we're giving you permission —
Gladys comes over with a plate of rice and peas, arroz con gandules.
GS:What do you want?

ARS: I want arroz please.

GS: Ah! Claro que si. "I want arroz. Please."
Arnaldo finishes his plate, holds it out for more.
GS: Arroz con gandules.

ARS: Con gandules.

GS: Y jamón. Arroz con gandules y jamón.

ARS: Un jamón!

GS: You like it? Jamón? Mmm.

ARS: Mmm.
When he's done, he lays down on one of the pews. Gladys comes over to him.
ARS: Eh!

GS: Ah! I'm looking for you. Your mother is here.

ARS: Mother is here?

GS: Mother is here and your friend — it's okay, stay. Close your eyes, sleep.

[snoring sound]
Gladys has compacted two family rituals, dinner and bedtime, into one afternoon hour.
While he's resting, Gladys says Arnaldo seems out of it today. She's worried they're over-medicating him.
GS: Yo pienso, yo siente que todo, que todo lo que tiene que ver con los jóvenes autista, ahora hay más conciencia para los niños pequeños, hay mas educacion para los niños pequeños que padecen condiciones especiales y autismo. Pero luego cuando ya crecen, se les olvida.
She says everything you see that has to do with autistic young people is aimed at small children. But when they grow up, people forget about them.
GS: Se les olvida que siguen siendo seres humanos que tienen, cumplieron, ya 22 años, no están ahí en la escuela, pero siguen siendo seres humanos que necesitan. Y vienen sucediendo más necesidades a medida que ellos van creciendo.
She says people forget that when autistic folks turn twenty-two — which is the cutoff for public school services in Florida and most other states — they still have needs. Even more needs as they get older.
This cutoff of services even has a shorthand name, The Cliff.
When autistic young people reach this age, all the services they got in school, just end.
It's the age when things got tough for Arnaldo, a tough time for a lot of the other autistic people I've talked to. About 90% of them have to live with their parents after they hit The Cliff.
Ari Ne'eman: After school, there really is very few resources. It's a very serious problem.
This is Ari Ne'eman. He's an autistic person, helped found the Autistic Self Advocacy Network in 2006 just after he graduated high school.
AN: The support system does not follow people after they leave the school system.
Twenty-two is when Arnaldo started having a hard time with the group homes. When it got really bad.
AN: We spend a lot of time as a country talking about how we can improve the quality of autism services. But in reality, the majority of autistic people don't have access to even the services that are currently available.
Autism's gotten more attention in the past few decades — the definition's broadened, there's more awareness, so we've seen more diagnoses. But the conversation around autism has stayed almost exclusively focused on kids…and that's where 98% of the autism research funding goes, by the last count in 2012. Adult services, programs that would help autistic people live independent, successful lives, haven't been a priority.
So when autistic people hit The Cliff, they and their families are often on their own. You might really need extra help preparing for job interviews, managing your finances, taking care of a home, but none of that's guaranteed. The only thing that is guaranteed, is if you meet criteria for an "institutional level of care," — Which just a small percentage of autistic people do, Arnaldo's one of them — Then you have a "right" to be placed in an institution.
Institutionalized. The kind of placement our country's been moving away from, but is still an integral part of the disability services system.
AN: People do not want to institutionalize themselves, and their families don't want to institutionalize them. So, if you offer an entitlement to institutionalization, a lot of people won't take it.
So what Gladys did was she waived Arnaldo's right to institutional placement. And applied for what's called a "Medicaid waiver." If you can get one, it provides funding for services at home or in your community.
But in most states, the waitlist for a waiver is pretty nasty. And the whole thing is such a headache, a lot of families don't even bother. They drop out of care.
AN: Basically, what the state and what the federal government with the states have been doing in maintaining this weaker community service benefit instead of this comparably more robust institutionalized benefit, is taking advantage of families' willingness to pay for uncompensated care to keep their loved ones at home.

AQ: Wow, so by, by making what seems like the shittier option the go-to, easier to get choice, they're encouraging more people to opt out of the system all together.

AN: That's exactly right, that's exactly right.
So here's where Arnaldo's at. He qualifies for a right to institutional care. He applied for a Medicaid waiver for community funding…he made it to the top of Florida's loooooong waitlist…and got it!
But, even after all that, he's still in a tough spot. Because a lot of the time what qualifies as home and community based services, still looks a lot like institutionalization.
AN: We worked to bring people out of these large buildings where someone else controlled every aspect of their life and shifted them into small buildings, were all too often, someone was still controlling every aspect of their life.
Miriam says that's why giving Arnaldo her cellphone when she visits him at Carlton Palms is important, it's a way, a very small way, of letting him have some control over his time for a couple hours a week.
He's back awake, back at the folding table at the side of the chapel. He leans over, holds her phone just a couple inches from his face.
[Audio from a video on the phone]

MRS: That laugh is from the —

ARS: [laughs]

AQ: The laugh is from what?

MR: The laugh is from the Goofy movie.

ARS: Ahhhhhhhh. Ohhhhh. [laughs]

[Video continues]
Watching these small moments when Arnaldo seems truly happy, it reminds me of something I had asked Miriam and Gladys about.
AQ: What do you think Arnaldo wants?

GS: He want respect. Because always in my house, he receives respect. When he says, 'Mother, please, I want to be alone.'
— He doesn't say it exactly like that, but she gets the idea.—
GS: And I say, 'Okay papi, five minutes?' He says, "Okay, five minutes."

MR: Throughout his life, Arnaldo has gone through so many different situations where his rights as a human being have been violated. Since it's only us who are just regular people and have no influence, we haven't had the chance to make justice for Arnaldo. But since we're just regular people, many things put under the rug. If you don't see it it didn't happen.
When I go to leave, Miriam and Gladys give me a hug, then tell Arnaldo to say goodbye. He lightly grabs my hand, and kisses it like a prince in a Disney movie. I look up like, 'What's that about?' Miriam smiles and shakes her head. "That's all him," she tells me.
I was a little hesitant to leave. Not because I felt like Arnaldo and I had built some great bond, we'd only spent a couple tentative hours together. But because reporting on Arnaldo's story feels a lot more straightforward when I'm face to face with him, this dimpled man who kisses his mom repeatedly, sings along with cartoons, and laughs at his sister.
Because when I get back to my desk, there are people to call who have less nice things to say about him, stacks of write-ups to go through where clinicians have documented Arnaldo in his worst moments.
Jeremiah Garza: It's just when he would get mad, he would he would change voices and he would he would scream, he would yell and — when that guy went at you, man, he went at you.
But I also have piles of notes about what was done to Arnaldo.
And in between visits to him and his family, I used these clues to make charts and lists and timelines, to draw a map that explains how Arnaldo ended up where he is now…
That's next, on Aftereffect.
Aftereffect by Only Human is a podcast from WNYC Studios.
Aftereffect is produced and reported by me, Audrey Quinn, and edited by Ben Adair. Additional reporting from Aneri Pattani. Production help from Phoebe Wang.
Cayce Means is our technical director with engineering help from Matt Boynton and Jared Paul.
Hannis Brown is our composer.
Our team of talented reporter-producers includes Christopher Johnson, Mary Harris, Amanda Aronczyk, and Christopher Werth. With help from Margot Slade.
Michelle Harris is our fact checker. Our interns are Kaitlin Sullivan and Nicolle Galteland.
Jim Schachter is WNYC's Vice President for News.
Support for WNYC's health coverage is provided by the Robert Wood Johnson Foundation, the Alfred P. Sloan Foundation, and Science Sandbox, an initiative of the Simons Foundation.
Thanks also to the Rosalynn Carter Fellowship for Mental Health Journalism.