Group Think at the Inauguration?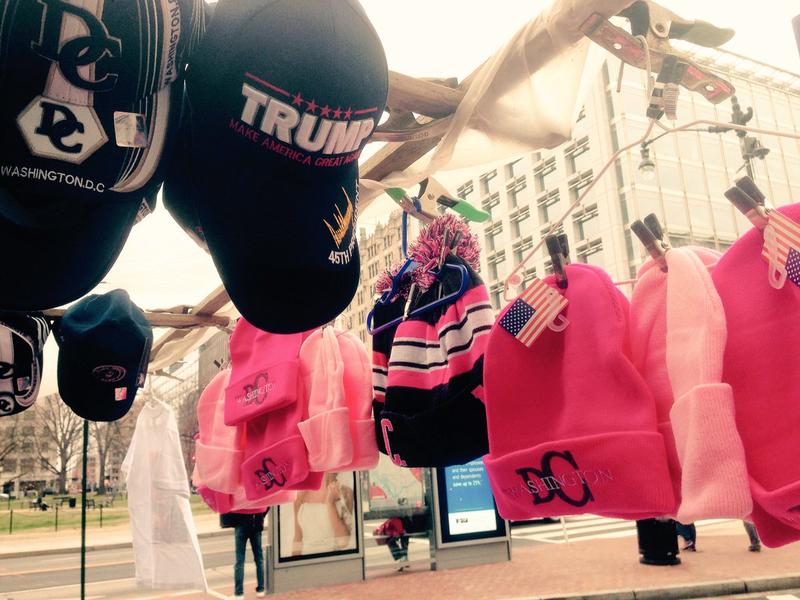 Transcript
Speaker 1:
Listener supported WNYC studios.
Amanda Aronczyk:
Who knew counting a crowd would be so political. President Donald Trump claims his crowd was the biggest. The Women's March says their crowd was the biggest. That got us wondering, what does it take to make a crowd? This is from a film about a famous experiment. It was run by the social psychologist Stanley Milgram almost 50 years ago. And here is what he wanted to know, would people join a crowd simply because there was already a crowd there?
Stanley Milgram:
We are all individuals, but we live in a world with other people. And we must often accommodate to them.
Amanda Aronczyk:
To answer that question, Milgram used pedestrians as his subjects. These are people who were completely unaware of what was going on.
Stanley Milgram:
This ordinary street scene is actually an experiment on social influence.
Amanda Aronczyk:
Would these people stop and join a crowd on the sidewalk to stare at nothing? Now, I was not sure that this would still work in 2017. Everyone is looking at their phones or listening to music. Ignoring other people is like an urban art form. So we wanted to try. Are crowds still irresistible? Now, when Milgram did this, he had just moved to New York and he used his first group of students in the city as his assistance.
Amanda Aronczyk:
You were in his first class?
Sheila:
His very first class. And I, we were all so excited to be there.
Amanda Aronczyk:
We tracked down Sheila [inaudible 00:01:43] Haas because she was one of Milgram's grad students back then, she's now a science writer. And she agreed to help us recreate this experiment. How well can you see that corner?
Sheila:
Oh, I can see that corner fine.
Amanda Aronczyk:
Okay. So Sheila and I are in a conference room at WNIC, and we're standing by the window. We're up on the eighth floor, and we are looking down across the street towards a TD bank that is kitty corner from us.
Amanda Aronczyk:
So can you look down and just describe a little bit of what you're seeing at the moment?
Sheila:
Well, the sun is out, the snow from last night has melted, and the traffic along the sidewalks picking up now that it's lunch hour.
Amanda Aronczyk:
Here is how this works. We send a ringer, in this case, it's a guy named Matt. He works in HR. Now Matt goes and he stands on the corner and he looks up at a building and we watch. "Oh, okay, wait, I see one"-
Sheila:
There they are, okay.
Amanda Aronczyk:
Matt stairs up for 60 seconds. We look to see if anybody else notices. "Okay, there's a woman walking by right now."
Sheila:
Walking by, and I'm looking to see if she ... she didn't blink an eyelash.
Amanda Aronczyk:
Not much happens. Matt leaves. A few minutes go by and we send three people to the corner.
Sheila:
I see three people there now.
Amanda Aronczyk:
This is when the people walking by, they start to notice, [crosstalk 00:03:03]
Sheila:
"The woman in the red hat turned around, didn't break her stride."
Amanda Aronczyk:
Now we add one more person to the group.
Sheila:
There is a whole swarm of people approaching.
Amanda Aronczyk:
More and more random people on the street look at our group. They look up or they stop and they join, and then they look up. "They're looking up."
Sheila:
And the people who are standing at the corner are looking up, what are these people looking at?
Amanda Aronczyk:
Now, there are eight of our people on the corner and the random crowd of people has doubled in size. Sheila I'm in the middle of a crazy experiment. It's working. We successfully grew a crowd to stop and look at nothing.
Sheila:
It's so much fun to see it happening.
Amanda Aronczyk:
And then it's over. After 60 seconds, our group of eight people walk away and then everyone else leaves too.
Sheila:
Are they dispersing?
Amanda Aronczyk:
I think they're dispersing.
Sheila:
Yeah.
Amanda Aronczyk:
It was crazy to watch. Our experiment, and Milgram's found that once there were between three and five people stopped on the sidewalk, a crowd would gather around them. Even with our phones and all the distractions, we still want to be physically with other people. We want to be part of something that's bigger than ourselves. We share a fear of missing out, even when there is nothing to see. Stanley Milgram was right.
Sheila:
Oh, if Stanley Milgram only knew.
Amanda Aronczyk:
This is Only Human I'm Amanda Aronczyk. And for this episode, we are looking at crowds. Crowd psychology, crowd dynamics, and what happens to you when you join a crowd.
Speaker 5:
Ladies and gentlemen, the president elect of the United States, Donald John Trump. And that of course is because hundreds of thousands of people just gathered in Washington. Some were there for the inauguration and some for the march. And it was this very rare moment. We had all of these people in the same place at the same time, do not agree.
Speaker 6:
What I'm saying is that if we love this country, did we have to come [crosstalk 00:05:22]
Amanda Aronczyk:
An inauguration is supposed to be a peaceful transfer of power, where the country comes together behind a new president. That did not happen. But why? In subtle ways, the group that we have each joined has changed us. And it has changed the way we see each other. So how did we split so completely between us and them?
Steven Riker:
Hello.
Amanda Aronczyk:
Hi. How are you?
Steven Riker:
Good. Very good.
Amanda Aronczyk:
Very good. One of the first people we called is the guy, everyone calls about crowds, Steven Riker. He is a social psychologist at the University of St. Andrews. And because he's British, I told him how much my family loves soccer, and they're Manchester fans. Is that good or bad?
Steven Riker:
"Well, I dispose them with every bone in my body."
Amanda Aronczyk:
I mean they are not Manchester fans, what should I have said?
Steven Riker:
There are two Manchesters, you need to be careful. You can get lynched.
Amanda Aronczyk:
Lynched! Some people take their side very seriously, whether that's being a fan of Manchester United or being American or being a Democrat or a Republican, and this is directly related to Riker's work. How our identities change when we join a crowd.
Steven Riker:
This is very widespread view that individuals on their own irrational, they show morality, they show reason and so on, but put them in a crowd and they lose their sense of self. They're almost literally submerged. They become anonymous.
Amanda Aronczyk:
We get overexcited. We make bad decisions. But Riker says that if you have ever been in a really exciting rally or a march, you know that that is not the case.
Steven Riker:
It's not that you lose identity, lose control, just do anything. It's that you shift from a personal identity, thinking of yourself as an individual, to a social identity, thinking of yourself in terms of a group membership.
Amanda Aronczyk:
And the evaluation of is this a good crowd or a bad mob is really in the eyes of the beholder. Here is an example. Let's say you are the King and the people love you. And when you look out your window at the crowd below, you see your people.
Steven Riker:
The crowd is seen as the people, the crowd represents the people and the will of the people, and so it's a source of political legitimacy. After all the politician is legitimate to the extent that they express the wishes, the will, the voice of the people.
Amanda Aronczyk:
And then something terrible happens. And the crowd turns on you and they want you out.
Steven Riker:
The crowd shifts from being seen as the people, to being the rabble, to being the mob, to the extent that they are the opposite of the people.
Amanda Aronczyk:
They are not your people anymore. Now they are a bad mob. So it's not that crowds are inherently good or bad. It depends on who is judging them.
Steven Riker:
There's a tension between, are they the people? Are they the mob? You see that in Trump rallies. I mean, one of the things that Trump made much a play of, was the fact that his rallies were big and vibrant and showed that the people were behind Trump. On the other hand, there is always that tinge of yes, but can they get out of control?
Amanda Aronczyk:
Riker says, if you want to understand this moment and this president, you need to go back a bit in time and start with Donald Trump's rallies. I asked Jillian Weinberger. She is Only Human senior producer to find out more about the rallies. And Jillian is here and she became something of an expert.
Jillian Weinberger:
I am no Steven Riker, but, I learned a lot. So I watched a bunch of rallies. I pulled a lot of sound, rallies held all over the country and I also met this woman. Her name is Lee Green. She is retired, but she's almost like a professional Republican. She spends a lot of her time volunteering with the North Carolina GOP.
Lee Green:
I'm also the North Carolina chair for Jews Choose Trump.
Jillian Weinberger:
Lee is 56 years old. She lives in Durham, North Carolina, but she's lived all over the country. She's fairly short and she has straight brown hair and banks, a very open face, and she's always smiling.
Jillian Weinberger:
How have your political views changed over time?
Lee Green:
I used to be a rabid Democrat. I mean, ACLU essentially when nice Republicans would speak to me in my head, I would be going "La, la, la, la, I'm not listening to anything you say, because I am assuming that you're a terrible."
Jillian Weinberger:
9/11 really changed her. Now she's a fierce Republican. And she went to a rally in North Carolina the day before the election.
Jillian Weinberger:
Did you go with anyone to the rally?
Lee Green:
Yes. I went with a whole bunch of friends. Because we were on the Women for Trump bus, we got special access and we were ushered right in, and we were able to sit pretty much right behind the speaker's podium.
Jillian Weinberger:
Lee didn't have to wait in line, but at most of the rallies, people waited for a long time.
Speaker 10:
The rally don't start for another three hours, and all these people are out here.
Jillian Weinberger:
So here's how the social psychology works. Riker explained to me that if you're waiting in line to see Donald Trump and you have to wait a really long time, you're thinking, wow, I must really care about this, if I'm willing to wait in line this long. And then you look around and you see all of these other people waiting in line to see Donald Trump. And you think if they're willing to wait this long, then, so am I. And when you finally get into the arena, the security situation is pretty unique.
Jillian Weinberger:
So members of Trump's security team are standing with their backs to the stage facing the crowd.
Steven Riker:
So about an hour before Trump arrives security come looking at the crowd, scanning the crowd. Now just to see them there is telling you something's going on.
Jillian Weinberger:
The next thing that happens is that a message comes on over the loud speaker that tells the crowd what to do if they see protestors.
Speaker 11:
In order to notify the law enforcement officers of the location of the protester, please hold a rally sign over your head and start chanting, Trump! Trump! Trump! Ask the people around you to do likewise until the officer removes the protester.
Jillian Weinberger:
Professor Riker said that they do this because it spreads the message that there's danger here to the whole crowd.
Steven Riker:
It tells you the signs of danger. The danger isn't just somebody doing something, it's them not being enthusiastic enough. So it makes the criteria, the bar for threat far lower. And then of course if people do then protest, then the expulsion of them is very public. And again, there were many examples of Trump himself, not only encouraging them being expelled, but encouraging them being expelled in a fairly aggressive and fairly physical ways.
Jillian Weinberger:
At the rallies, people weren't just coalescing around Trump. They were also hardening their position against the other side. And I could see why the other side felt like a threat because sometimes protesters would come in and their goal was to disrupt the rally, to ruin things for Trump and his supporters.
Donald Trump:
First of all, I want to thank you, special, special place. It's a special place with incredible people.
Jillian Weinberger:
Lee had a whole bunch of friends in the audience.
Lee Green:
I just saw all kinds of people I knew. So my attention was like, "Oh, there's Dave. Oh, there's Sue." So I'm like a ping pong ball, seeing people I knew, and people with signs, Vets for Trump, Chinese for Trump, I had Jews for Trump. There were a lot of women for Trump. It was a very sort of festive atmosphere.
Jillian Weinberger:
I think it's like being at a rock concert for a singer you've been dying to see your entire life, and you're finally there. People are chanting. They're holding up signs. They're wearing all these different kinds of Donald Trump T-shirts. They're generally thrilled to be there.
Lee Green:
It's just a wonderful feeling to be among people who not only care about the same things, but are active and doing things to make the world a better place. And so it's a very, just it's a feeling like getting a rush when you're there.
Jillian Weinberger:
So when all of these individuals came together in the crowd, they were solidifying their identity as Trump supporters. The excitement as they're coalescing around their candidate, it's the crowd dynamic at work, but there's something else going on too.
Donald Trump:
This is something.
Jillian Weinberger:
Professor Riker told me that the way the media is set up at these rallies is also pretty unique.
Donald Trump:
These people are among the most dishonest people in the world, the media, they are the worst.
Steven Riker:
The press are corralled just behind Trump. Okay, where they could be seen very clearly by the audience. And the press are the enemy within. They are the part and parcel of the liberal establishment. And Trump, again, choreographs the crowd to bay at them, to chant at them, to identify them as a problem.
Lee Green:
And he just gave him hell, which was good, because they did a terrible job.
Donald Trump:
They don't want to show the crowd, they don't want to show what's happening.
Jillian Weinberger:
What Trump does really well is he makes people feel like they're part of something. All politicians do this, but he's especially good at it.
Steven Riker:
What you will often find happening by politicians in their collective events is they try and make the event a little bit like a piece of theater, which creates in the event itself, a vision of the world that the political movement is trying to achieve. It gives a reality to it and thereby it makes people more committed to it.
Jillian Weinberger:
What professor Riker is saying here is that Donald Trump's rallies are a reflection of the world he wants to create. So in Donald Trump's world, the political establishment, the media, all of these insiders, they've been letting us down by letting outsiders in.
Steven Riker:
So what you're seeing in this little piece of theater is a worldview, which says we, the American people, are threatened by the enemy without and undermined by the enemy within.
Jillian Weinberger:
At the rallies, the security is almost like the border wall he wants to build. And taking the protesters out forcibly is almost like the deportation of immigrants.
Donald Trump:
We go out, we got to vote, and we got to win. Change! Change!
Jillian Weinberger:
After a long hard campaign, the rallies brought Republicans together behind one candidate.
Lee Green:
In the primary emotion of us supported other people passionately. So it's like when you've been through this brutal experience, right? Heartbreaking, your candidate lost, and yet you come together for a candidate that you realize, you know what? This is the candidate that we needed actually.
Jillian Weinberger:
Throughout the campaign, Trump's supporters said that these rallies were formative and the same is true for Lee. She left her rally feeling euphoria.
Donald Trump:
God bless you everybody. Thank you, God bless you. Thank you, North Carolina. Thank you folks. Thank you.
Amanda Aronczyk:
So by the time that the election happened, Donald Trump had held about 300 of these rallies and he would do sometimes three or four of them a day. And it just helped bring all of these people together who maybe had liked other candidates, and now they were pro Trump.
Amanda Aronczyk:
Then immediately after the election, there was another dynamic intensifying. This was the dynamic of protest. To figure out who was in the streets and why they were out there. I went to go see a march in Manhattan. This was a pretty small protest. There just a few hundred people. And it was last December. So it was pretty overcast, gray skies, gray city. "Boy there are a lot of police around."
Amanda Aronczyk:
The protesters were corralled inside metal gates. And I saw all sorts of different signs for revolution, reproductive rights, communism, trans rights. And I stopped this one woman who was holding up this handmade sign. "Hey, can I take a picture of your sign?"
Speaker 13:
Sure.
Amanda Aronczyk:
It said, make protest great again. I asked her why she was out protesting.
Speaker 13:
I can't sit in front of my TV and yell at the TV, I got to get out.
Amanda Aronczyk:
Then I went up to another group of women and asked if they were going to the Women's March in DC.
Speaker 14:
God! I want to be there. I want to be there.
Amanda Aronczyk:
I heard this over and over again. People said they needed to be there. Even people who never went to protests, they said this was something different.
Crowd:
My body, my choice.
Amanda Aronczyk:
The crowd then marched from one Trump tower to a different Trump tower. This is the one where Donald Trump has his offices. And that's when I met this woman. She was wearing an olive green overcoat and she had a hat on over her short gray hair. And she was walking alone. "Can I ask you a question?"
Dorothy Carey:
Sure.
Amanda Aronczyk:
What brought you here today?
Dorothy Carey:
This is not the America that I thought it was. This is not the way our system should work. And I'm very disappointed. I'm 69 years old. I did not think that I would ever be doing this again.
Amanda Aronczyk:
Her name is Dorothy Carey and she's a retired social worker, lifelong New Yorker. And today she seems cold.
Dorothy Carey:
I don't want to be doing this.
Amanda Aronczyk:
What else would you be doing on a Monday?
Dorothy Carey:
I'm retired. Reading a book, going to a book club, whatever.
Amanda Aronczyk:
This was just the start for her. Even in mid December, she was determined to go to the big March in DC. "And you do worry at all about the protest in DC getting violent?
Dorothy Carey:
Yes I do. But you know, if you really believe in our way of life, you have to be willing to die for what you believe in. And I would, if that's what it takes, I would hope it didn't, but I mean it. This is not okay, what's going on is, it's I'm never going to say that it is.
Amanda Aronczyk:
Willing to die. This seemed like a pretty intense thing to say, but of course that is the fear with crowds. It's not just potential violence, it's also just having so many bodies all packed together in one place. A crowd can become a single organism with waves, surges, crushes that no one person inside can control. And if you are responsible for a crowd of people, this is what keeps you up at night. How do you keep all of these protesters safe?
Paul Wertheimer:
Well, the point of protest is not to die.
Amanda Aronczyk:
Paul Wertheimer is a crowd safety expert, and he started a company called Crowd Management Strategies.
Paul Wertheimer:
You don't want to die. You don't want to put other people in harm's way. You do want to be prepared for something with the high emotions that are going on.
Amanda Aronczyk:
He says that a crowd, isn't just one big amorphous group.
Paul Wertheimer:
There are groups in crowds. There's a dark element, the provocateurs, the frontline group that try to lead or manipulate the crowd, that's at the front. And then there's another zone behind that, which is often the dense, a crush zone actually. There's a zone there of cheerleaders and people who just, they're having a good time, cheering everyone on. Then as you go back, there's less information, less communication, less understanding of what's actually going on. Those people are often the ones we see in the news who say they weren't doing anything, that they didn't have time to evacuate, that they didn't hear the call to evacuate. So you have to take this all into consideration.
Amanda Aronczyk:
Paul Wertheimer knows exactly what day he started to think about crowds.
Paul Wertheimer:
On December 3rd, 1979, when I was public information officer for the city of Cincinnati.
Amanda Aronczyk:
And on that night, The Who was playing at the Riverfront Coliseum.
Paul Wertheimer:
It was a major happening in Cincinnati. They hadn't been there in several years.
Amanda Aronczyk:
You might already know what happened that night, but it sent Wertheimers life in a completely new direction. He says that that night, there were thousands of people who were in line waiting to get into the Coliseum. It was cold and windy. And some of the people had been there for five or six hours.
Paul Wertheimer:
The band was late for their warmup.
Amanda Aronczyk:
All of a sudden the crowd hears music.
Paul Wertheimer:
And so when they heard the music, they thought maybe the concert had started. There was no information. There was no queuing up of the crowd. There was a crush towards the door.
Amanda Aronczyk:
When they finally opened the glass doors, crowd rushes in like a stampede of cattle, and inside it's a rock show, but back outside the police find a body. And then reports to the chaos start getting out.
Paul Wertheimer:
I was at home, actually. I was sick. The news report came on that I saw six, seven people dead, maybe, maybe drugs, I didn't know. So I just got up and drove down to the Coliseum. They were still treating people. They were still maybe removing some bodies. It was a mess. It was clothing piled up all over the place. It was surreal. It was a surreal situation.
Paul Wertheimer:
According to reports, the band was not told till after the concert and they just played through the concert. Just kept everybody unaware of what was going on until after the show.
Speaker 18:
We didn't find out until after the show. We didn't sense it. I was amazed actually at the frailty of my intuition, because I would've thought, I would have been able to sense something, but it just felt like it's one of the best shows we've ever played.
Amanda Aronczyk:
No one realized what was going on. But when the paramedics found the bodies, they realized that people had died of asphyxiation and heart attack.
Paul Wertheimer:
Crushed in the crowd. But with so many people, the police on the periphery, it was hard to tell what was going on. It was just a horrific situation. And as a result, 11 young people were killed in the crush.
Amanda Aronczyk:
Since that Who concert, Paul has spent his entire career and a lot of his life too, trying to figure out how crowds work, how to make sure that what happened in Cincinnati didn't happen again.
Paul Wertheimer:
When you're in the crowd as an individual, your main responsibility is not to do anything that intentionally puts you or people around you in harm's way. That's about all you can do as a member of a crowd.
Amanda Aronczyk:
As a person in a crowd, Paul says you don't have a lot of agency. So if you start feeling that there's trouble, the best thing you can do is leave.
Paul Wertheimer:
Your biological system will tell you if it thinks you're in danger, listen to it. Same thing with any crowd. Don't get in further than you can, because there comes a point where you can't escape, even a crowd safety expert, can't escape.
Amanda Aronczyk:
Okay. So be aware of where you are, of what's going on around you, and always have an exit plan. I phoned up Dorothy to pass on the advice. I mentioned you to him, and he was like, make sure you're able to see how to get out because it's easy in a crowd to get stuck. You know that though.
Dorothy:
That's right, yes. Always. I mean, I live in New York, and New York does crowds really well, but I think Washington does too. I think we know what we're doing. Yeah. I think we'll be safe. Yeah.
Amanda Aronczyk:
She said she would bring her cane and she would pack light. What's the difference between being at home, watching television or listening to the radio and thinking about the presidency and then going out and finding yourself in a march?
Dorothy:
It just gives you some positive energy. It's a way to fight despair because inaction just leads to such despair.
Amanda Aronczyk:
Have you been feeling despair?
Dorothy:
Oh yes. Since the day after the election. Oh yes I have. I'm not sleeping well anymore. I've slept well my entire life, through my mother's three-year battle with cancer and then her death and my husband's final three years, slept through everything. Now, wake up about 2:30 or three every morning. Can't go back to sleep. I wake up with the sense of dread and unease. And every day it gets worse.
Amanda Aronczyk:
The election has shaken her. She was just getting used to living alone and organizing her time. Now she's on her own in a way that she hasn't really been before.
Dorothy:
After my husband died ... I've been married since I was 22. So it was my entire adult life. I just felt slow down and just face things. I'm living in a different world now without him.
Amanda Aronczyk:
She hasn't been politically active like this in decades. Not since she first met her husband.
Dorothy:
We used to go to demonstrations together in the late 60s, and early 70s. We used to go down to Washington, and protested against Vietnam. And I know he would be so proud of me. I do know that he really would be.
Amanda Aronczyk:
Dorothy, bought a ticket for the train and made some arrangements for a place to stay. She said, it didn't matter how cold or snowy or miserable it got. She was going. Then we spent all of the next few weeks preparing for the big trip to DC. We had to work out logistics and buy ponchos and granola bars. Lee green, the Republican from North Carolina, she decided to take the bus up with her friends. And Jillian called her up right before to ask what she hoped would happen at the inauguration.
Jillian Weinberger:
If you had to think about what will happen at the inauguration, what's maybe the best possible outcome, what's the worst?
Lee Green:
The best outcome will be that people will go back to the way it has always been where even if the candidate you didn't want to win is being sworn in that there's this honeymoon period where you're like, "Well, you know what? I hope he does okay. I hope I'm wrong about him. I'm going to give him a chance and see what happens." The worst thing that could happen is that kind of what's transpiring now. There's all these movements, there's this Women's March. I mean, the guy will have been in office one day and they're already protesting him. I just think it's corrosive to our system that they're saying he's not my president. I'm sorry. If you're a citizen, he's your president.
Amanda Aronczyk:
Julian needed to figure out how she was going to meet up with Lee while they were both at the inauguration.
Lee Green:
Well, here's the thing. I have an extra ticket to the swearing in ceremony.
Amanda Aronczyk:
Oh, do you want it-
Lee Green:
That would be amazing, yeah.
Amanda Aronczyk:
So Jillian had her ticket and we were ready for the crowds in DC. Up next two very different takes on the inauguration. And what keeps us from seeing it the same way?
Elaine Chen:
Hey, I'm Elaine Chen. I do all the data and engagement projects here at Only Human. While Amanda and Jillian were in DC, I wanted to get a real sense of how people's political affiliation influences how they see things. So I roped in Jay van Bavel.
Jay Van Bavel:
I am an associate professor of psychology at New York University.
Elaine Chen:
Jay's done some cool studies on brain activity as we think about us versus them. Like when we make decisions against a competing team, or we try to identify faces of members from our own team.
Jay Van Bavel:
There's a lot of things that are happening psychologically and even biologically that are making us change how we see ourself.
Elaine Chen:
We made a survey with Jay asking people about how they identify. Are you pro Trump or anti Trump? Which group do you share values with? Who would you do business with? Who would you date? We wanted to see how after the weekend, people's feelings might change. And what happened? About 1300 people filled out the survey before the inauguration, and around 600 took it again afterwards. These were largely public radio listeners, and some folks we got from political groups on Facebook.
Elaine Chen:
I've written up results from the survey at only human.org. And we found some interesting things. It turns out people's identification didn't change much after attending the weekend events. Mostly we think because people already felt pretty strongly attached to their side before the weekend. Something else I thought was weird, we asked which group had more people in DC? Liberals said there were a lot more protesters than supporters, but conservatives were mixed. Some said Trump supporters had more people. Others said the Women's March did.
Jay Van Bavel:
To me that's a remarkable case of the fact that our identities, in this case, our identities with different political parties and candidates shape our interpretation of basic facts of reality.
Elaine Chen:
But in terms of open mindedness conservatives sometimes did better than liberals. Sometimes a lot better. Read all the results at onlyhuman.org.
Speaker 22:
I feel like I am looking at a future that is just dark.
Anna Sale:
There's so much that feels scary right now, including our finances. I'm Anna Sale, host of the podcast, Death, Sex, and Money from WNYC studios.
Amanda Clayman:
And I'm financial therapist, Amanda Clayman. Yes, financial therapy is a thing. And right now we could all use it.
Speaker 22:
There is a lot of fear.
Speaker 25:
I am [inaudible 00:31:46]
Speaker 22:
What happens next?
Amanda Clayman:
Listen to our new financial therapy series on the Death, Sex and Money podcast.
Amanda Aronczyk:
As we talk to people for this episode, what we learned is that of course, people strongly identify with their group. We are constantly carving the world up into us and them, but those group identities are flexible. We can be united by a leader or against an enemy. When I got off the train in DC, it was like witnessing a large scale social experiment. It was made clear by the fact that everybody had their uniform, Trump caps, and pussy hats.
Jillian Weinberger:
Honestly, it was a little weird. Friday morning, the day of inauguration, I boarded the Metro with a group of men and women in make America great again hats, and immediately ran into two young women carrying signs that said divest or impeach. And we are strong. We are watching. We are fighting. I got off at Judiciary Square and tried to go through a gate at the corner of D Street, and 1st Street, there was a huge crowd with me and we all bottle necked at the entrance where protesters had linked arms to block the way.
Crowd:
[inaudible 00:33:02].
Jillian Weinberger:
That left just a little room for those heading to inauguration to squeeze through. Once I finally got in, I went through a metal detector, got wanded by the Secret Service and made my way to the Capitol where four hours later Donald Trump was sworn in.
Speaker 26:
I Donald John Trump do solemnly swear.
Donald Trump:
I Donald John Trump do solemnly swear.
Speaker 26:
That I will faithfully execute.
Jillian Weinberger:
Despite the hours spent outside, standing around in the rain, the mud, and the 40 degree temperatures, people were thrilled to be there. And so as Lee, I met her right after the ceremony at our reception. She told me that she had an actual seat closer to the Capitol, to the right of the stage.
Lee Green:
We were just delirious with happiness and joy. Everyone felt like we were all best friends. We were all just talking and sharing stories and laughing and just happy. And then we all cried when he was sworn in. It was just, it was wonderful experience.
Jillian Weinberger:
You cried when he was sworn in?
Lee Green:
I did.
Jillian Weinberger:
I know you loved being at the rally, was this a similar experience?
Lee Green:
It was similar in that you felt very bonded with everybody, felt just joy and happiness, but this was times 10 because it was so momentous and you knew that such good things are ahead. And it's just great. It's a turning point.
Jillian Weinberger:
If going to a rally strengthened Lee's identity as a Trump supporter, inauguration cemented it. Although she was critical of her group at one point. During Democratic Senate leader, Chuck Schumer speech, the crowd started booing.
Lee Green:
I was actually shocked because I don't think of that as happening on our side. I think of us as being respectful. And actually Schumer's speech was beautiful. There was nothing at all controversial about what he said, and I was embarrassed that people booed and they were just kept going, Trump, Trump, Trump, stop speaking already. We just want to hear from Trump. And it was like, I just thought that was horribly rude.
Jillian Weinberger:
Lee distanced herself from the crowd at that moment, she said, she actually told some people to be quiet, but ultimately the booing and chanting didn't change the way she felt. She loved the inaugural address.
Lee Green:
I thought it was a very unifying speech. There was a line that was so beautiful. And I thought important in bringing unity. He said something like, if we focus on patriotism, there's no room for bigotry. No, he said, there's no room for prejudice.
Donald Trump:
And through our loyalty to our country, we will rediscover our loyalty to each other. When you open your heart to patriotism, there is no room for prejudice.
Lee Green:
It was beautiful and moving on I just thought, exactly, instead of concentrating on what divides us, if we just concentrate on what we can do together as a country, there's no room for prejudice.
Jillian Weinberger:
Lee thought president Trump did exactly what he was supposed to do after taking the oath of office. He gave all Americans a reason to unite under his new administration.
Amanda Aronczyk:
The day after the inauguration, I called up the social psychologist, the guy we heard from before, Steven Riker to get his take on it. I think we are rolling now.
Steven Riker:
Okay.
Amanda Aronczyk:
He had been watching from his home in Scotland. So I described to him what it was like to be on the ground. When I listened to this speech, my initial reaction was, "Oh, wow, this is so divisive. I can't believe he's not taking a moment to be unifying." And then when we checked in with the woman who we've been following and she said, "Oh, what a wonderful speech. It was so unifying."
Steven Riker:
We, the people can sound unifying. But on the other hand, whether it's unifying or not depends upon who you include in the people. One of the most disturbing things about the campaign was the sense that if you disagree with me, that you are no longer part of the community. Now, it's not just that they are different, it's not just that they are wrong, it's that they almost don't have a right to speak. So coded within the people is an inherent division. So I think that when you look at the speech together, you guess he talks about the people and it's powerful because it does sound legitimizing because it is, and it does sound unifying, but actually Trump's notion of the people, and that's why I think the speech in many ways is so dangerous, it limits the people.
Amanda Aronczyk:
Professor Riker says that excluding groups from we, the people is very dangerous and he is worried that that is becoming normal in American politics on all sides.
Steven Riker:
The other thing, and which I feel very strongly indeed, is I don't buy into an account which tries to dismiss Trump and Trumpism and Trump supporters in terms of irrationality. So a simple notion, Trump supporters are deplorables, some supporters are stupid and supporters are all prejudice. Not only do I think it's profoundly wrong, and not only do I think that it doesn't actually help you understand the phenomenon as be it backfires upon you, as Hillary discovered. I mean her-
Amanda Aronczyk:
While Riker and I finished up our conversation one of the largest crowds in American history was assembling just outside our windows. Dorothy was there somewhere.
Dorothy Carey:
It's Saturday morning, January 21st. This is Dorothy Carey. I'm at the Metro Stop, Judiciary Square. It's a sea of people. It's taking us 20 minutes to get out of the station, but everyone is very upbeat. And this is great.
Amanda Aronczyk:
Dorothy met up with her friends on the mall, she got there early and she was sandwiched between Samantha Bee's enormous bus, some [inaudible 00:39:07] parties in the stage.
Dorothy Carey:
I thought it would just only be hardship. And I went out of a sense of duty. I didn't know, there'd be so much joy.
Amanda Aronczyk:
She could not get over how many people were there. She even ran into her old neighbor from 30 years ago. She said, it felt like you could run into just about anyone.
Dorothy Carey:
This is very big. This is like the biggest thing I've ever been in.
Amanda Aronczyk:
It didn't get to the point where you're like, this is too crowded?
Dorothy Carey:
No, it was such a safe feeling. You knew you were safe because people were handling this and graciously.
Amanda Aronczyk:
Dorothy came to DC for this march. She has no ill will towards Trump supporters, but she refused to watch the inauguration. And she does not support the new president or his cabinet. She said the time for unity, that's passed.
Dorothy Carey:
They had two months of opportunity and decided not to go that way. So give them a chance. How stupid are we supposed to be? No, we're going to trust anything he says or does.
Amanda Aronczyk:
Dorothy says she is sleeping better. And her outlook has changed.
Amanda Aronczyk:
One of the things I asked you before was you had said, you'd been feeling despair [crosstalk 00:40:13] long after the election, how are you feeling now?
Dorothy Carey:
Hopeful.
Amanda Aronczyk:
She stayed a little longer than an hour at the march. She has asthma. And she started to have trouble breathing with all the damp air. She wasn't there long, but she says it was enough.
Dorothy Carey:
It was just great, but it's not the end, it's the beginning. That's what everyone felt. This is the beginning.
Amanda Aronczyk:
So is this just the beginning? And if so, of what? Here is Steven Riker again.
Steven Riker:
Even at this moment, even from the start, there are two Americas, each of which doesn't accept the fact that the other is part of America.
Amanda Aronczyk:
Riker says that when we see the other side as illegitimate, it's not just that they're different, not just that they're wrong, it's that we negate the right to speak and to participate.
Steven Riker:
Seems to me that if the mess we've got into at the moment is due to the fact that large numbers of people feel the democratic process doesn't work for them at all, then to reinforce that perception actually will create even more problems.
Amanda Aronczyk:
Riker argues that every time we talk about the other side as illegitimate, whether it's the liberals and Washington elite or saying that Trump is not my president and his supporters are deplorable, it entrenches these divisions. It makes sure that there will always be two opposing sides, an us and a them, with we, the people lost somewhere in the crowd.
Speaker 27:
You voted for someone who doesn't [inaudible 00:41:47]
Speaker 6:
What I'm saying is that if we love this country, then we have some common [crosstalk 00:41:51]
Speaker 27:
Why did you ask that, why did you ask me why do you love this country?
Speaker 6:
Because if we can establish [inaudible 00:41:57]. If we can't even say we love this country then there's no point [inaudible 00:42:03].
Speaker 27:
[inaudible 00:42:06]
Amanda Aronczyk:
Only Human is a production of WNYC studios. This episode was produced by Jillian Weinberger and edited by Ben Adair. Our team also includes Elaine Chen, Mary Harris, Julia Longoria, and Kenny Malone. Our technical director is Casey [inaudible 00:42:24]. Tony Phillips is the vice president of on-demand content for WNYC. We will be back in two weeks. See you then.
Speaker 28:
Support for WNYC's health coverage, and Only Human is provided by the Charina Endowment Fund, Jane and Gerald Katcher, the Robert Wood Johnson Foundation, the Simons Foundation, the Alfred P. Sloan Foundation and the Winston Foundation.
Copyright © 2020 New York Public Radio. All rights reserved. Visit our website terms of use at www.wnyc.org for further information.
New York Public Radio transcripts are created on a rush deadline, often by contractors. This text may not be in its final form and may be updated or revised in the future. Accuracy and availability may vary. The authoritative record of New York Public Radio's programming is the audio record.