14. Ira Madison III Keeps It, Kay Oyegun Gives It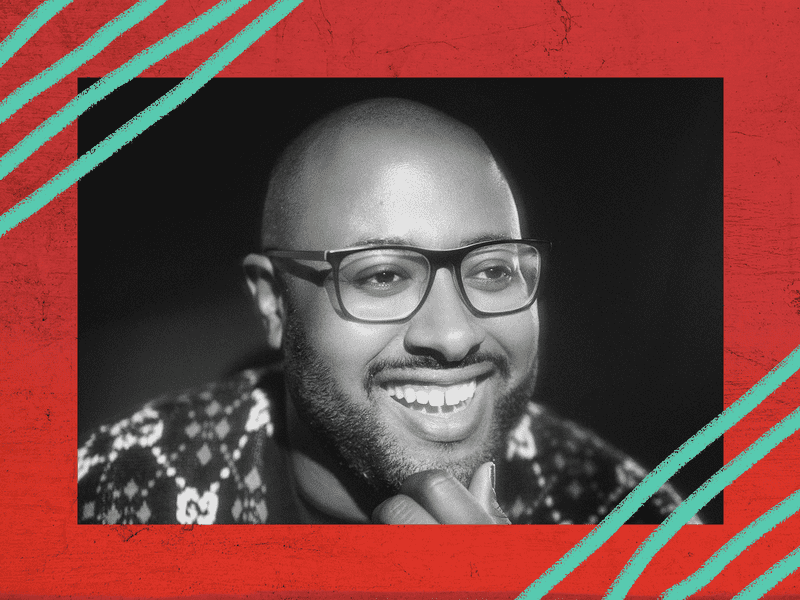 Transcript
I'm Rebecca Carroll and this is Come Through: 15 essential conversations about race in a pivotal year for America.
Most people have a love/hate relationship with Twitter. I don't feel as conflicted about it as some of my peers and colleagues in media do — I'm actually really into it. I mean, yes, people on Twitter get dragged and cancelled and there are call-outs and clever GIFs and viral memes — which is to say that there are plenty of problematic, shallow things about Twitter — but there's also a significant amount of substance to engage with, particularly around issues of identity and race.
For starters, there are a whole lot of Black folks on Twitter, and thus, the existence of Black Twitter, so it provides a sense of community. But also, most of those Black folks, or at least the ones who I follow, are brilliant and hilarious and astute, and so, in addition to feeling in community, I learn things that help me stay conversant in the work that I do.
So many of the current news headlines are proclaiming that America is just now grappling with a racial reckoning. And I hope that this is true — that white people are finally starting to pay attention to and understand the foundational roots and ongoing, devastating impact of structural racism. This podcast exists as a testament to that hope.
But Black people have been reckoning with race on Twitter for well over a decade. People like Ira Madison III, who understood that he could use Twitter to leverage his talent and perspective as a queer Black man with a deep love for popular culture.
Ira has more than 200,000 followers on Twitter. He's also a co-host of the Crooked Media podcast Keep It, and, by the way, that phrase is something Ira popularized himself. He'd quote tweet an announcement of something that he thought was straight-foolish and say, "Keep it." It was wry and sublime and totally him. Ira is also a TV writer who has worked on Netflix shows Daybreak and the upcoming animated series, Q-Force. And he was recently included on Variety's Power of Pride 2020 List.
A couple of months ago, I invited Ira to come through to talk about the things we consume online and on TV and why he thinks it's important to lean into popular culture during something as serious as a pandemic. I was also fascinated to learn about what it was like for him to launch pretty much his entire career on Twitter.
Ira: Hello?

Rebeca: Oh, here he is.

Ira: Can you hear me?

Rebecca: Yes. Excellent.

Ira: Okay, great.

Rebecca: Thank you for taking some time to talk. It's so interesting to me in terms of if we're talking about generation, if we're talking about platform, if we're talking about mediums. I mean, you essentially started your career as someone on social media. I mean, what do you think it was that allowed you to really harness an audience and use it to build a career?

Ira: I mean, unfortunately, I was kind of rude.

Rebecca: I'm sorry, what? You were what?

Ira: I was kind of rude, you know? Rude, you know, in a sense, you know, it's, um, jokes that I feel like I made in what, 2013, 2014, you know, like quote tweeting people just to, you know, sort of, like, rile them up or, that sort of thing. Or just making sort of, like, an "out there" joke about a news topic that was maybe like, "Oh, really?" You know, like a, uh, like a dark humor joke or something that really went for the jugular. You know, I feel like that was my vibe.

Rebecca: And so where did that vibe that you're talking about and describing, where did that come from? I mean, you grew up in Milwaukee, Black, queer, interested in popular culture?

Ira: Well, you know, the pop culture sort of vibe is, you know, like, there's always been like a, "Oh, no, they didn't." Like, a Perez Hilton, a boss-up, you know, like the lightly dragging celebrities or shade and things online, have always been profitable and fun. And you know, I think that particularly for people who do not have a large platform, that is the easiest way to get noticed on social media. Right? Like, those are the things that go viral often.

Rebecca: And is that what you wanted? To get noticed?

Ira: Yes, absolutely. I mean, I wasn't doing it for kicks.

Rebecca: I mean, I don't know. Some people do.

Ira: Wasn't doing it for kicks. Um, no, I, um, you know, I went to school for screenwriting and playwriting and I moved to Los Angeles, thinking that my career would start right away and it did not. Um, and I spent, you know, several years, you know, renting living rooms from people, you know, like sleeping on a couch, um, that I found on Craigslist. You know, that sort of stuff. And then, um, eventually, like, that sort of tweeting led enough people to sort of think that I was funny enough to, like, have me writing for, like, some pop culture sites, like, my takes on pop culture. And that morphed into, okay, now I have this platform where I'm working for an actual website, instead of just tweeting into the void for attention. That is when I started formulating, um, actual critical thought about pop culture at large.

Rebecca: Yeah, I mean, it's interesting, right? Because I have always really adored popular culture, but also felt I had a very sophisticated discerning taste, even as, like, a 10-year-old. Like you, I was obsessed with Dynasty, which I thought was just a flawless playbook of fully developed shallowness. I also thought that Dallas was this cheesy self-serious show, but there is this notion that pop culture is kind of anti-intellectual. When you were first getting interested in pop culture, was it your sense that you were entering something where you would be perceived as less smart?

Ira: What's interesting is that maybe writing for it online there was maybe that notion because, for me, my initial interest in pop culture was always, um, interested in like, maybe genres, like in Buffy, like in X-Files, Star Trek, et cetera, and I flocked to message boards to discuss those shows with other like-minded people and sort of critique those episodes and theorize about them, et cetera. Right? And then you go to school and you're critiquing books which have been made into movies, or you're critiquing theatre or film, and that is all pop culture. And so I never really felt like it was less than until I wanted a job in writing about that. And, like, my first job as an intern in, one of my first jobs as an intern in New York was, like, writing for Page Six Magazine or like, OK!, where I was fired from. 'Cause it was like, after like two weeks, because it was just, that was, "Oh, um, yeah, we love your takes on, like, pop culture and your brain and whatever. So like, we need you writing stories about the Kardashians or Kristin Cavallari." You know?

Rebecca: And, yes. And at a certain point, race plays a huge factor in that, right? When, when folks decided that, "Ooh, let's get a hot take from a sassy, brassy, Black queer or Black woman, or whatever." Then it became something that was worth being paid for. But what was your experience in having race play a role in your, sort of, hot takes?

Ira: I felt like race sort of played a role in my hot takes only in the sense of, um, I am Black and queer. So those were just the interests that I had. You know? Like, things I would talk about, they would just come from that perspective. Wasn't really sort of 'til BuzzFeed, um, where I was working, there were, you know, a lot of the lists posts and things that were called identity posts. And so like, it was really just sort of drawing from your identity to create something. And that's more where I started thinking about, like, what about my identity and, like, commodifying for the internet, et cetera. Um, but yeah, I mean, I luckily started in this weird era after Buzzfeed had sort of like an influx of Black talent. You know? I feel like there was that first wave where they had, you know, like, Saeed Jones and, um, Heben Nigatu, and Tracy Clayton. You know, those were, like, sort of the first early Black people I remember, like, writing for a publication like Buzzfeed doing that work. And that was sort of the golden age era of being able to sort of get hired for one of those sites as a Black writer. Um, and I, you know, I wasn't part of that initial wave, but I was working there as they were working there, like in 2014, you know, so it was like, maybe like two or so years of seeing that being like, "Oh, fuck they're hiring Black people now. Like, I can get a job."

Rebecca: And what did that feel like? Did that feel authentic to you?

Ira: Uh, I have always felt authentic, but I just always also felt like, I don't know how many Black people are gonna hire.

Rebecca: But, I mean, when you said, "Oh, they're hiring Black people, I can get a job now," you didn't feel any kind of cynicism about that. You were like, "Oh, cool. I can get a job now."

Ira: I mean, I've always… You always feel some cynicism about that. I mean, I moved out here to work in Hollywood. You know?

Rebecca: Fair enough.

Ira: Anywhere you go, they're not handing out jobs to Black people. So there's usually one.

Rebecca: Um, in an interview with Gay Star News, you said, "As a queer person and a Black person growing up in the Midwest, you're always seen as an outsider. You're able to form opinions very quickly to keep your bearings," which I found super interesting. What did you mean by that?

Ira: You know, so I feel like, um, when we approach topics for Keep It, for instance, our way of talking about something is always going to be a little different than, like, what you might get from another pop culture podcast, just because I feel like as a Black person and as a queer person, you're constantly in spaces where not everyone is like you, for instance. Right? You know, I didn't grow up in queer spaces. I wasn't even introduced to one until college when I found my people in the theater department. And Black spaces I grew up in. But after middle school, you know, I was sort of thrust into an all-white, all-boys Catholic high school, and just generally living in Milwaukee, which has a large Black population. But, you know, there's suburbs and parts of the city that do not. So you're constantly assessing what's going on in this situation to get your bearings, as I said, and you, by that nature, you're constantly forming opinions about the world around you, that other people do not have. You know? Like, if you are a white person who is attending this all-boys Catholic high school, Marquette in Milwaukee, you are not going to see the same things that I would, stepping into that school. Right? Like, things that may be racial microaggressions, things that might seem, like, normal to you, um, but actually are maybe a little racist or a little homophobic, you know, um, aren't naturally going to show up to you.

Rebecca: But that's not an opinion, Ira. That's a fact.

Ira: Mm, yeah. Um, that's a fact, but also take that into films and pop culture then. Right? A person with that particular upbringing is not going to see something the way that I see it, just because of how I lived.

Rebecca: You know, that makes me think of "#blackAF." Have you watched?

Ira: Yes, I have.

Rebecca: Okay, so we're talking… I hear you giggling. Um, in which, you know, the writer/creator of "Black-ish," Kenya Barris, plays himself, who's rich and lives in LA with his wife, Joya, played by Rashida Jones, and their six kids. You know, I'm already invested because of the title, right? Like, what are your initial thoughts?

Ira: See, I'm already un-invested because of the title.

Rebecca: No, I'm just saying as someone who has had to find and cultivate my own sense of Blackness and whether or not that is a F, about which I have in the past felt defensive, I've kind of honed in on Rashida Jones' performance and character for a number of reasons. But also as a whole, the show hasn't really done a lot for me.

Ira: Well, I mean, it's not funny. So… that's probably why it's not doing anything for you.

Rebecca: But listen, but listen, Doreen St. Félix wrote this great, um, piece in The New Yorker today, and she wrote, "Barris is responding, in part, to the curdling of the Zeitgeist since the Obama era, a period of which any art that seemed to analyze the performance of Blackness was immediately deemed resonant." What? What does that mean?

Ira: I balk against the title of "#blackAF" because one, I don't even know what the fuck that means because you're either Black or you're not. So, there's no degrees of it.

Rebecca: Oh, word. Okay.

Ira: Um, but I've grown tired of, you know, that like she said, you know, like something is resonant just by presenting itself as Black. And that sort of end of the Obama era where I've grown tired of Black ™ content. You know, content that is very much about Blackness in the sense that this is going to be a show about Blackness. Like, just be Black, you know? Like, just, just tell a story about a family. And the fact that you are Black and have Black writers will inform that story.

Rebecca: It's so interesting. I mean, it reminds me of when I was, um, hired at HuffPost to rebrand, um, AOL Black voices to HuffPost Black voices. And my whole thing was, it has to be Black writers and Black contributors, because that'll be what makes it Black, like inherently. As opposed to, like, white writers talking about Blackness?

Ira: Well I don't want to hear no white writers writing about Black people. Ah…

Rebecca: Listen, listen. No. Same, hard same, but they're also the gate a lot of the time. Gatekeepers.

Ira: Of course. Listen, and it's easier to get stuff out there, you know, by being, "this is Black AF. I'm talking about Blackness, you know? Um, but that's just not how I get down.

Rebecca: But, so how do you get down then?

Ira: I just read, I read about myself, you know. And I read about stories that interest me, and those stories have Black people in them. And then that informs what Blackness is. You know, we used to talk about, um, white people recognizing whiteness. You know, like, I'm rewatching Melrose Place. And Melrose Place, set in the early nineties, is a very nice capsule of what it was to be white and in your twenties in Los Angeles at that time. If those characters had been Black and written by Black writers, it would have been a time capsule of what it was like to be Black at that time. And I think that by virtue of being Black and telling your story, you are already analyzing and critiquing what it means to be Black in this era without having to let people know that this is specifically about analyzing them being Black and critiquing this era. Because then after that, where's the story?

Rebecca: I remember the first character that was like, "Oh my God, this is, this is everything," was Denise Huxtable on The Cosby show. And I spent, you know, my sophomore and junior year in high school, just dressing like her. Was there a character for you where you were like, "Oh my God, that is everything."

Ira: I was definitely drawn to maybe the villains on soap operas that I watched. You know, I loved Shawn-Douglas Brady on Days of Our Lives, I loved Kay on Passions. Those were the people you vibed with.

Rebecca: So, for this podcast, we're asking folks to have essential conversations about this year. What do you think is the essential conversation for this election year in popular culture?

Ira: You know. I don't know, an understanding of, I mean, first of all, like, everything is fucked. Don't ever really expect a candidate to, to save Black people. You know? It is a constant disappointment with American politics, but, and understanding that you shouldn't, like, be seeing yourself in a candidate, idolizing a candidate. Um, I feel like there's far too much hero worship of political candidates these days, to be honest. Also, you got to keep it moving.

Rebecca: You got to keep it moving. You've got to keep it moving. Ira, you're a gem.

Ira: Thank you.

Rebecca: Appreciate you.
That's Ira Madison III. He's @ira on Twitter.
We're going to take a quick break and when we come back, I'll talk with the writer Kay Oyegun. She's helping to shape the story of one of the most popular families on TV: the Pearsons on "This is Us." That's in just a minute.
25 years ago I wrote a screenplay on my little portable Brother word processor. Although I've worked primarily as a journalist and a cultural critic, I've also always written stories across a bunch of different mediums. This was my first screenplay, and I was super proud of it.
But I had no idea where to send it, what to do with it, or how to get it made. So I just kept this finished script just sitting inside a drawer of my desk. Five years later, I met a fairly well-known, white filmmaker at an event in New York. I told him excitedly about my script, and he immediately offered to read it. I sent it to him, and he called the next day to say that he thought it was a very ambitious piece of writing and he would love to discuss it further with me in his hotel room. I said, "You know what? I'm good."
And that was the end of that opportunity.
The point is, I was a Black aspiring screenwriter with no way to get the attention of a producer who would take my script seriously without me having to sleep with that person in return. And I know that this was not uncommon for women of my generation — Black, white and other — but it still really sucked.
And even though I haven't always been propositioned throughout my career, being declined opportunities to tell Black stories as a Black woman is an experience that I've had again and again.
I cannot emphasize enough how critically important it is to have Black writers and Black voices telling our stories. Our language and visibility matters more than ever. 2020 already feels like the year of saying, "We're not doing this anymore." It's time to flip the narrative.
Thank God things are starting to change. Black storytellers are growing in numbers, and there's a whole squad of Black women filmmakers, producers and screenwriters who are now creating opportunities in writers' rooms for up-and-coming Black women writers like never before.
Among those up-and-comers is Kay Oyegun. Early in her career, she wrote a pilot script that caught the attention of Ava DuVernay — and she hired Kay to write an episode of the television show "Queen Sugar." After that, Kay got scooped up by the runaway hit show "This Is Us" on NBC. "This is Us" follows the Pearson family, white parents Jack and Rebecca, and their triplets, two biological white children and one adopted Black child. She's been with that series since its premiere four years ago, and is now also a producer on the show.
But Kay is not just writing on a major network series, she's also been tapped to work on a whole bunch of other projects, including the film adaptation of Tomi Adeyemi's fantasy novel, "Children of Blood and Bone," and her own original script, "Assisted Living," has been bought by Paramount. In other words, Kay is in the middle of a very fierce glow-up.
I'll be honest: I feel a tiny bit envious of Kay's career. But I also marvel at her well-earned triumphs. And I was very curious to hear her talk about how she's telling Black stories about Black lives with Black characters as a Black woman in 2020 America. Think about that for a minute. Suddenly feels like my movie career might not be over after all.
Kay: Hi, Rebecca.

Rebecca: Hi, hi.

Kay: Hi.

Rebecca: Are we good to go, y'all? Okay, great. There's that beautiful song from Lin-Manuel Miranda's musical, Hamilton, called "Who Lives, Who Dies, Who Tells Your Story," and then that one, that one lyric, "I put myself back in the narrative." I wonder, as a Black woman storyteller in film and television, do you see it as your job, in part, to put Black characters into the narrative.

Kay: It's actually hilarious. I always say to people, and I've done this in drafts before, I say, assume everyone's Black unless I say otherwise. So it's just, it's, like, for me, that's my only protagonist. Black women are always my protagonist, and that's the lens through which I see the world and see characters. I can write anyone, hopefully, but I think that a lot of people who have been explored and I still think that there is a lot of exploration to do with the variety of the way, you know, Black women see the world.

Rebecca: I want to dig into the weeds a little bit with your work on "This Is Us." Uh, what was it about this story or the show or the premise that appealed to you?

Kay: It was easily one of the most human scripts I'd ever read. I think Dan Fogelman is one of the most incredibly brilliant writers on the planet. Um, I say this to him every day and I think he writes from a place that is pure heart and also really funny. And so I met with Dan and while we were sitting down and talking, you know, something had happened with his aunt and something that happened in my family as well. And we went from talking about the show to talking about our sort of, like, personal lives and how we deal with grief and how we deal with trauma. Um, and so nothing necessarily was pitched to me in the grand scheme of what the show was, but he knew exactly what the show was. And I think once we all got into the room and started kind of building the blocks and the foundation that he already laid forward, the show started to crystallize.

Rebecca: And so Dan Fogelman is a white guy, right?

Kay: Yes. Yes, he is.

Rebecca: And so you knew that there were going to be Black characters?

Kay: Absolutely.

Rebecca: And would you say that that has been, I mean, for Black writers in writers' rooms, I mean, it seems that there's a lot more now than, you know, 10 years ago. Would you say that that is the case, that more and more Black writers are getting into rooms that, where the showrunner is white, or the producers are white, but there are Black characters in the show?

Kay: Um, yes and no. I'll say that, you know, we're still only 3% of the, uh, you know, writing population in Hollywood. So that is a wildly low number. So that's something that we are always working to change and amend. I will say that there are more opportunities because of outlets, because of people having more access to creating their own shows. Um, I will say that there's an implicit and explicit bias that happens in all of these spaces. And, you know, a lot of times writers of color, you know, specifically Black writers have to be in positions to really sort of advocate for themselves and other people, or share or, or sort of take on the burden of representation of all forms of Blackness as opposed to sort of being there and just being, you know, a dope ass writer and doing their thing. I will say that every single person's experience varies, but I will definitely not say that we are in some sort of, we are, we're in a time where people are being more vocal and also championing each other a lot more. But I will definitely say that, you know, that's just the advent of social media, of the sort of kinds of people that are getting into these spaces, but things that we have such a long way to go because 3% is a painful number.

Rebecca: Have you personally had to call folks out on their biases?

Kay: Oh, I call folks out every day. Oh my gosh. And every day, both at work and not at work, in the street, online. You know, I think that it is a problem not to. I think there's too much that can fester and linger and grow if it goes unchecked.

Rebecca: Right. And so, back to This Is Us. You wrote an episode for the first season that really resonated with me called The Pool, um, which deals very specifically with Randall, the Black adopted son of white parents. It takes place at the community pool, in the middle of a heat wave. And the white parents, Rebecca and Jack, slather sunscreen on all three of their kids, including Randall. The kids run off to play, and then the parents start talking…

[excerpt from This Is Us:]

Mandy Moore: And does Randall need sunscreen? I mean, have we just been wasting sunscreen all of these years?

Milo Anthony Ventimiglia: That, I have no answer for.

Rebecca: The answer, by the way, is yes, he does need sunscreen. Kay, what made you want to include that as part of the storyline?

Kay: So I'll give you the full breakdown on The Pool. That was the fourth episode. It was written by Dan Fogelman and Don Todd, and the conversation was sort of laid on the table that like, we want to find a way to sort of tap into a conversation about Randall's identity and how he fits in. And the funny thing is, before we started the room, we all had to send these emails out of sort of like pitches. We used to do that very much where we would over hiatus, we would put together these long emails of pitches and we would send those to our bosses. And the funny thing is The Pool's framework. I was the one who pitched that just because I remembered my time and my experiences at the pool growing up in Philadelphia and sort of what the demographics and the shaping of a lot of these pools are. And also, my brother accidentally or purposefully drowned, um, not drowned as in he's gone, he's very much here. He's actually physically here right now, but he was trying to get attention and he accidentally drowned and overplayed his hand. Um, and so that was sort of the framework for the pool. And that's what happened with Kevin. Um, and so in my little pitch or whatever it was, like, Randall, is there seeking out black faces. Kate has an experience with a couple of girls as it relates to her bathing suit. And Kevin almost drowns trying to find attention. So that was sort of in the framework that I sort of shared. And then I pitched that in the room. Now, in having conversations about Randall, Dan has a very good friend named Chris Koch, who's directed quite a few episodes of our show. Chris Koch is a lovely Caucasian man who has two Ethiopian daughters and Chris Koch's life, and Dan has known Chris for years, Chris Koch has shared a lot of his stories about having Black daughters in his white family. And one of the incidents that happened to them was that a Black woman saw the little girls and was sort of, like, you know, concerned about their hair and also concerned about them having sunscreen on.

Rebecca: I want to play more of the episode because it is a brilliant moment when Randall goes off and finds the other Black families at the pool and one of the Black mothers has a word with Rebecca.

Here it is.
[excerpt from This Is Us:]

Mandy Moore: Randall. Randall. Randall, hello? Did you not hear me calling you? Hey, what are you doing over here?

Ryan Michelle Bathe: No, no, no, no, no. It's okay. I'm watching him.

Mandy Moore: It's my, I have him now. I'm sorry. I'm his mother. I was a little panicked. I'm Rebecca.

Ryan Michelle Bathe: We know who you are.

Mandy Moore: You do?

Ryan Michelle Bathe: Oh, yes. When a white family has a Black child and they don't introduce themselves to any of us, we tend to take notice.

Mandy Moore: Well, thank you for watching him. He's just not supposed to be over here. Not over here like that. There's nothing wrong with over here. I just mean that I want him where we can see him, where we're sitting in front of us. Thank you. It was very nice to meet you. Randall, come on, let's go. Come on. Thank you.

Actually, you stay right here. That's my son and I'm his mother and I don't know if you have some sort of problem with that arrangement, but also I don't really care. Thank you very much for watching my son, but I have him now.

Ryan Michelle Bathe: Okay.

Mandy Moore: Okay.
Rebecca: The accuracy, the accuracy of that… so real. And I'm wondering, was there other research you and the team did before writing that scene?

Kay: We brought, we sort of, we read transracial adoption books. We brought a couple of speakers in. We're a big speaker-heavy show, and so people sort of like walked through their experiences with us. In that particular scenario, no one pitched that directly to us, but we kind of in the room had those conversations. So it was just, sort of, what would happen if Rebecca walked over here? And so it was just, I, you know, I was like, well, they would have noticed. You know, they would have known and the likelihood that the Pearsons would have introduced themselves is probably very low. And then in saying those things, then it was sort of a rebuttal from another writer in the room basically being like, "Well, I think that Rebecca should stand up for the fact that she has a son and that's her son. And you know, that's who she loves and that she's raised him forever. And it's like, if this woman is coming at her in a way that is not appropriate, she should definitely stand up for herself." So a lot of times when things come out on screen, they're based on conversations that we are having in the room.

Rebecca: Did someone in the room say that the way that the Black woman came after her was inappropriate?

Kay: I think everyone had a variety of feelings about that. I think watching our show, every moment everyone has a point of view on that moment. And so yeah, there were people who felt like she had no right, because that was, you know, Rebecca's son, that's her kid. And then there were other people who felt like, well, she's not encroaching, she doesn't want to raise the kid. She wants to sort of, like, share her point of view, about what she's seeing. So yeah, no, I think the only way a writers' room works, is if everyone brings their own point of view to the stories. 'Cause if not, you just get a preaching thing.

Rebecca: But it also just speaks very much to ideology in terms of interracial adoption. Right? Which is that it made me think of a few things from my own experience. Um, one that my white adoptive mother didn't know how to manage my hair, like, at all, but is still defensive about it to this day. Um, but then the other thing is that after I had my son, and finally had a Black relative, we were visiting one time with my parents, um, and my son was probably about eight, and he was fishing with my brother who is white. My adoptive parents had two biological children. So I was at this cookout with my parents, sort of waiting anxiously for my brother to bring my kid back from fishing. So, you know, just sort of increasingly feeling tense. And then I saw him sort of bounding across the lawn toward me, and I just, I suddenly felt complete. And later I told my mom that it was about having my people around me, right? And she said, "But we're your people." And I had to say, like, "Mom, no, you're not my people." And I think that that is one of those things for Black adoptees in white families that is really tough to talk about and certainly tough to write about. Is there conflict around the way that it's written, or is it generally just people sharing their views, or how does that work?

Kay: So let's say for example, I said in the room, um, "Randall is with his family, and then, you know, one of his daughters bounds over, and then he reflects later on to, you know, his mother or Kate or Kevin that he felt like, you know, complete because he had his people. And then, you know, they say, or she says, 'You know, but we're your people.' And he says, 'No, you're not.'" Now that is something that, if I pitched that in the room, there would be a discussion around it. Because I think the point of views, because even hearing that now, all these years, at four years in, I hear the voices of all of my, you know, lovely partners in the room, you know, because we'll say we want to tell that story. We want to see that scene. Now, what are all the perspectives that could go in that moment, right? And so it would end up being a very, very colorful, fun discussion of what it means to be one's people, how we can make sure that Randall's point of view is coming across, but in a way that doesn't completely undermine the love and nurture and work that Rebecca has put in for X amount of years, you know, raising him. So it would be a situation where we would do our best as kind of, um, explore what you were feeling potentially, what your mother was feeling, and find a way to get to what the core purpose of what that moment was about. And sometimes we, you know, are able to sort of service that and put that across and sometimes it's much trickier. But I think that kind of moment is one that, if we were only in Randall's point of view, that's all we would get. But I think because of the kind of show that we have and the kind of makeup of our room, we would want to also explore what that felt like, to be received on your mother's end.

Rebecca: Did you grow up in a creative environment?

Kay: Um, no. Um, I didn't, I didn't. I grew up in a very, um, kinetic environment, if that makes sense. It's so funny cause I have friends of mine who, you know, their parents were poets or musicians or they played music in the house or they did all of these things. I grew up in a very survival-mode environment. I grew up in Nigeria and we moved quite a bit. Um, parents separating, my sister passed away, um, and so there was a lot of movement there. Then coming to the States, we were not in a financial place, my mom worked at a gas station. We didn't have a home for a while, we were sleeping on other people's couches, we were sleeping on other people's floors. And there was a lot of movement there. I found a school called the Milton Hershey school, which was a boarding school in Hershey, Pennsylvania. Um, and I decided to apply, and my mother, you know, very lovingly, was supportive of that. And so I ended up going to that school, so I, all of a sudden, was 13 in a boarding school and sort of trying to figure out day to day. So there was a lot of, um, they were great times, but they were also, I think art was not the focus, if that makes sense. It was, uh, making it to the next day. And so, yeah. So I think I learned a lot of things once, um, once I, I came of age, in a sense, and things got to slow down a little bit, and I had the time to sort of, you know, process and read things and sort of take those things in. But when it feels like things are shaking so much around you, listening to smooth, you know, uh, Sam Cooke is probably not high on the priority list. It's true.

Rebecca: So, no, I hear you. I really, I definitely hear you, but I'm wondering, you know, all of that kind of… Did you say kinetic?

Kay: Yeah.

Rebecca: Also, frenetic, maybe?

Kay: Frenetic, yeah. That's actually better, a very frenetic environment.

Rebecca: So how did that inform your writing and the ideas that you wanted to put to paper?

Kay: Um, I always, it's so funny, 'cause I, for example, the character Deja is one that, um, my boss, uh, very openly says, I'm so protective of and fond of. And it's just because I get her, I remember when I was her. Right? Um, and I remember feeling like everything around you was just sort of screaming and you were so helpless.

Rebecca: I love Deja. And so, for people who don't know the show, Deja is Randall and Beth's adopted teenage daughter.

Kay: Yeah, and the books that I gravitate towards, like I, I'm so fortunate to be able to, you know, adapt "Children of Blood and Bone" and "On the Come Up" in these kinds of stories that center young Black girls who are going through a world that feels like it's screaming at them.

Rebecca: And how has working on the show, writing the show, watching the show, how has, how has it changed the way that you think about race?

Kay: I think through the course of it, I would say that what it's helped me, not necessarily change the way I think about race, 'cause I'm somewhat militant. I'm literally sitting here wearing a Black girl magic shirt, just, like, on a Tuesday. Um, but it's like, but it's just, you know…

Rebecca: When did Black girl magic become militant?

Kay: I- in the sense that I'm militant in general, and I'm also very sort of, um, I don't know, I love being Black. I've always loved being Black, and so it's like, as many times as I can be very front and center about that, I tend to. I'm also Nigerian, so I wear my flag every day almost. Um, so it's very much like I put it on my person. I'm not just a Black woman living in the world. I like to also adorn with it. So that's what I mean by militant. And I engage in a lot of these conversations consistently, just because, you know, it's important to, to, um…

Rebecca: Represent?

Kay: Represent. Right. So all of that is to say, what has it done to change my, I don't think it's changed how I see race. I just think that in spaces, I think it's made me much more intentional. Intention and impact has become something that I think is really, really important.

Rebecca: So this show is about essential conversations at the intersection of race and other issues in 2020. What do you think are the essential conversations for you, personally, this year?

Kay: Oh boy. I think this year specifically, we're in such a, uh, in such a weird crisis point, um, and with our election coming up, it's something that, um, I'm a believer, I'm a Christian. And for me, the biggest thing that I sort of, for as Kay Oyegun, um, wants to do is I want to talk to other Christians. I want to talk to other believers specifically about their one issue, uh, rationale behind supporting a particular candidates that, um, on a global level have actively undermined, undervalued, and destroyed and eroded our way of life.

Rebecca: Give me an example.

Kay: I think we're in a space where Christians and children of God and Evangelicals are lumped into one. Um, which is not the case at all. Evangelicals are voting with their own biases, that they do not want to acknowledge is racially based, but instead is about abortion or about homosexuality. And those are the two sort of like big sticking points. So you know, every other marginalized community be damned as long as abortion and homosexuality are, like, at the front and center, which is the lie, which is the big lie that a lot of people believe happened to be within the Christian faith. And so that's something that, you know has been big on my heart and something that I, you know, this year in particular, finding ways to have conversations with a community that, you know, claims to read the Bible, um, is something that I personally want to do.

Rebecca: I mean, I wanted to start with that Hamilton reference because,of course, it is a retelling of how America was made and who our founding fathers could have been. Sort of essentially re-envisioning, um, how our country would look like if it had been created by Black and Brown voices. Does it matter to you, as a storyteller, when it comes to telling inclusive representative stories who's in office?

Kay: Absolutely, dear God.

Rebecca: But, specifically, how does it matter? How does it affect the stories that you write or are able to tell.

Kay: Well, I think what it does is it shifts the tide. Um, we are in a very different society as a whole from 2008 up until 2016. And so the culture has shifted. It's made a seismic shift, and it's making things, that were underneath the surface for storytellers, kind of have to bubble up to the surface. It's making people sort of think critically about the world that's around them and making people challenge a lot of the notions that they probably otherwise wouldn't have because they felt, "Well, it's not that bad." Um, and so as a storyteller specifically, it's made me more resolute about the kinds of stories I want to tell. It's made me also want to take in and absorb content that I hadn't before. I've sort of gone back to the wells of reading more of our, sort of, like, literary icons. I've begun rereading Langston Hughes. I've begun rereading Zora Neale Hurston. I become rereading James Baldwin just because it feels like there's just sort of a need to tap into some sort of foundational information to kind of re-engage with what frustrations and traumas and self-love and all that kind of stuff are from the greats, if that makes sense. It's also reignited the need to sort of not just be comfortable in your own spaces and really sort of advocate for everyone around you. And we are in a process of continuously trying to dismantle the systems that exist, um, and people are taking it upon themselves to create opportunities and spaces for people to be able to do, you know, tell their own stories and build new branches and new spaces. So it's an ongoing process and until there's an old guard that is truly wiped out, what you have to do is create space.
That's Kay Oyegun. Follow her on twitter @KayOyegun.
Before we close the show, I want to talk about another Black woman in 2020 America who is telling stories about Black lives. Jas Waters.
She was a beloved figure in both the hip-hop and journalism communities before embarking on a career in screenwriting. She was known for her generosity of spirit and fierce dedication to Black folks.
Waters battled depression and anxiety for 20 years and last month, she passed away, reportedly from suicide. She was 39.
Waters was Kay Oyegun's colleague in the writers' room for "This Is Us."
We reached out to Kay for a comment, and she said this: "I knew Jas very briefly. She was part of the room in season two for about three months. But in that time, she left her mark and will be missed. She had a big heart and a big personality and was incredibly smart."
If you are experiencing suicidal feelings or know someone who is, please get help. You can reach the National Suicide Prevention Lifeline at 1-800-273-8255 -- it's open 24 hours a day.
And that's it for the show this week.
Thanks for listening.
Christina Djossa produces the show, with editing by Anna Holmes, Jenny Lawton, and Tracie Hunte. Our technical director is Joe Plourde, and the music is by Isaac Jones. Special thanks to Joanna Solotaroff and Jennifer Sanchez.
I'm Rebecca Carroll - you can follow me on Twitter @Rebel19 for all things Come Through. Thanks so much.