Episode 9: The World Cup Ends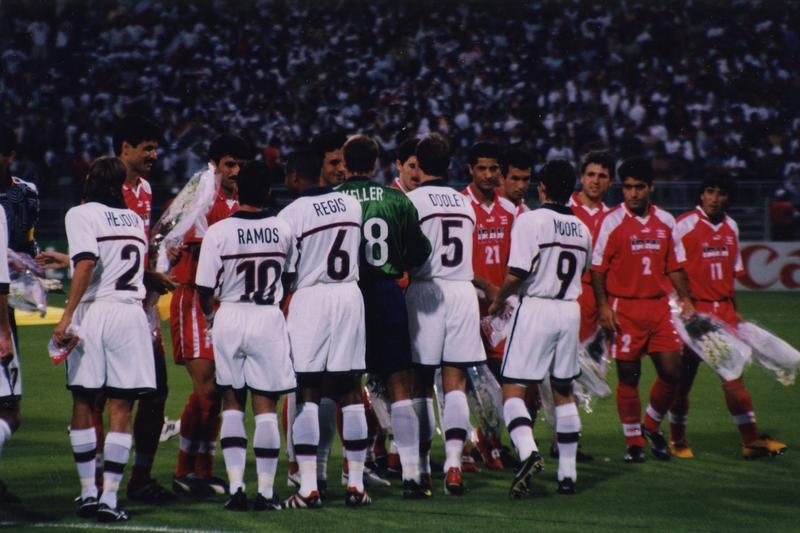 Transcript
[music]
Alexi Lalas: Hey, I'm Alexi Lalas from the US Soccer Team. Be sure to fill up with high-quality BP Super 93 and pick up the BP super soccer ball for just $5.99. It's available only at BP stations with an eight-gallon purchase of [crosstalk] BP Super 93.
Roger Bennett: It's 1998, and Alexi Lalas, he's the face of Major League Soccer. He lives in Boston now, and he's waiting for a call. The next World Cup roster is about to be announced, and he desperately wanted a spot on that squad. When the call finally came, he anxiously took his cordless phone out onto the porch and spoke to US Head Coach, Steve Sampson.
Alexi Lalas: I'll never forget getting the call from him, and talking to him and him saying, "I need to know if I'm going to bring you to France that you're not going to be a problem even if you're not playing." I know I told him, "Believe me, you're not going to have a problem with me and I'll be fine." That was probably not the truth.
Roger Bennett: Why did you say that then?
Alexi Lalas: I wanted to go to the World Cup.
Roger Bennett: That badly?
Alexi Lalas: That badly.
Roger Bennett: A bad World Cup is better than no World Cup.
Alexi Lalas: You bet your ass.
[music]
Roger Bennett: This is American Fiasco. A show about a bad World Cup. A very, very bad World Cup, and I'm Roger Bennett. To be sure, the 1998 World Cup, it wasn't starting out badly for everyone. World Cup favorites Brazil did what they do. They opened with a two-one victory against Scotland. Home team here is France, also won its first game against South Africa, and Nigerians the world over were celebrating a come-from-behind victory for the ages, against the heavily favored Spaniards. But to be an American soccer fan. After that first-round defeat against the powerhouse Germans, those Germans with their big thighs and their mighty foreheads. Remember, the US had hoped to at least tie Germany, and the loss, it meant everything now depended on game two.
Reporter 1: Political rivals Iran and the United States will meet on the field of play today at the World Cup soccer tournament. Both teams suffered a loss from three games--
Roger Bennett: Iran, for 20 years since the Islamic Revolution, Iran had been America's sworn enemy.
Reporter 2: Good evening, the US Embassy in Tehran has been invaded and occupied by Iranian students. The Americans inside have been taken prisoners--
Roger Bennett: You couldn't pick a more politically charged opponent if you tried. I was actually driving to the Jersey Shore on the day of the game. My car had broken down, and had to watch it in a repair shop somewhere off the Garden State Parkway, along with a gaggle of mechanics who closed their garage to watch the game. I want to be clear, these were not soccer fans by any stretch. "This is Jets country," one kept telling me, but they couldn't have been more excited to watch their country take on Iran. "We hate that place," one told me as we opened the first of a number of six-packs of Bud. "I want to see a beat down."
Rob Stone: At that point in our culture, probably the most hated country in American's eyes was Iran, the Iran hostage crisis.
Roger Bennett: Rob Stone, who was reporting on the World Cup for ESPN.
Rob: We needed to whoop-ass. Who to whoop ass more than the evil empire of Iran? It was perfect.
Hank Steinbrecher: I was on the bullet train from Marseille to Paris.
Roger Bennett: Hank Steinbrecher, General Secretary of the US Soccer Federation.
Hank Steinbrecher: I get a call. It's the White House calling, and it was someone I think on Leon Panetta's staff that said, "We're going to win this game, aren't we? The news is going around the world." I said, "Well, call me after the game. I'll be able to tell you."
Roger Bennett: Now, let's be clear. Many of the American players were just kids during the 1979 hostage crisis in Tehran, and pro soccer players, by and large, they're not great students of history. While Iranian players like Khodadad Azizi, we're telling reporters that this team would win for the sake of the families of the martyrs of the Iran-Iraq war, the American players were only just beginning to tune in.
Reporter 3: Players like forward Eric Wynalda, who just turned 29 this month, and was asked about the hostage crisis this weekend.
Eric Wynalda: What year was it in?
?Speaker 1: '79, [crosstalk].
Eric Wynalda: [unintelligible 00:05:02].
Roger Bennett: The American team, they might have been geopolitically clueless, but for once in a World Cup game, they were not the underdog. In fact, they were the favorites. These Iranians, like the Americans, had lost their opening game. In fact, they'd never won a World Cup match, and 19 of their 22 players, they were still based in Iran, a remote footballing backwater, where they'd grown up kicking soccer balls on the post-revolution streets with little in the way of formal coaching.
Commentator 2: Welcome to Lyon. It's a soccer match, both the US and Iran desperately need to stay alive in this World Cup. Today, the--
Roger Bennett: June 21st, 1998, arguably the most momentous day, or at the very least the strangest in US Soccer history. If only because Ayatollah was involved, and if that wasn't enough pressure, underneath all of this political theatre, there was another drama brewing.
[music]
Commentator 1: Bob, thank you very much. It should be fascinating today. I am in our World Cup studio, along with former United States star, Ty Keough. Ty, five lineup changes, that smirks of desperation to me.
Ty Keough: Steve Sampson has talked about needing to win this game, and for that, he needs an attacking lineup. He's brought in five players, and that's unheard of. You're changing half of your team, but he's bringing on the kind of players that can make goals happen, and especially with Brian McBride up top, a very tall and active target player and--
Roger Bennett: Did you know you were starting Brian?
Brian McBride: I believe so. Yes.
Roger Bennett: It was a strange lineup.
Brian McBride: It was. Different than the first and I think that again, exacerbated the issues. There was nothing that wasn't strange about this trip. It was almost like, "Okay, you got to roll with it." There's a reason why Sampson thought we should be in this formation, this lineup. The good thing for me is, I was playing my normal position.
[music]
Roger Bennett: Several others weren't. Steve was keeping experienced veterans like Lalas, Jeff Agoos, Marcelo Balboa, they were on the bench.
Alexi Lalas: I couldn't tell you. I couldn't tell you why he didn't turn to us, didn't really talk to us, didn't really say anything, didn't communicate with us. He would get a starting 11, and the starting 11 would play and practice, and we would be on the other side, and that was the end of that.
Reporter 3: ABC Sports presents World Cup '98. This is the match the world has waited months to see, the most politically charged match of this World Cup, and here Stade de Gerland, in Lyon, it's just another soccer game.
Alexi Lalas: We briefed on how to handle the pre-game handshakes.
Brian McBride: We had a picture, right?
Alexi Lalas: They did a flower exchange.
Brian McBride: That's right.
Alexi Lalas: I do remember up to this day.
Roger Bennett: Allow me to just interrupt myself for a moment. Neither Iran nor the US could agree as to who would initiate a formal pre-match handshake for fear of seeming politically weak, oh the optics, in front of a global audience. An emergency meeting was held in the run-up to the game, and an alternative solution was jerry-rigged.
Hank Steinbrecher: Why don't we show the world's children that countries that are politically adversaries, through sportsmanship can be friends.
Roger Bennett: Hank Steinbrecher of US Soccer was part of the pre-game negotiations.
Hank Steinbrecher: Why don't we have the players exchange a gift on the field? Walk up to each other, shake each other's hands, then go arm and arm, Iranian American, Iranian American, Iranian American for the team photographs? Wouldn't that be a better idea?
Roger Bennett: Whose idea was this?
Hank Steinbrecher: Our idea.
Commentator 1: The handshake's a new feature this year of the World Cup, and it is also fair play day as declared by people. Not only will they take separate team photographs, but there will be an integrated team photograph and I can't believe--
Brian McBride: I think we all get each other roses. It was a little weird, surreal thing. I remember I was in the middle of the picture. I'm like, "What is going on here? Dude, this is crazy."
Roger Bennett: A lot of players are like, "Before a game, you don't want to stand with your opponent and flowers." One of them said, "You want to be like a caged animal." Do you regret that?
Brian McBride: Yes. I might have said, "Go to hell. We're going to come out, and we're going to kick your ass and pay you back for taking our hostages. You can just go to hell."
Commentator 1: The referee appropriately is from Switzerland. Urs Meier, and we're underway. Frankie Hejduk goes down, does not get that ball. Number 21, Mehrdad Minavand--
Roger Bennett: At long last, the game had begun. At this point, Steve Sampson had fully abandoned his 3-6-1 formation, the one that included just one forward. For Iran, he'd organized the youthful starting lineup in a 3-5-2. That's a system that played two forwards. Steve, he went even further, he decided to play another forward in a key defensive midfield role. Sure, Americans would have difficulty preventing Iranian counter-attacks, but the whole point of Steve's new strategy, it was to attack first and then keep attacking. Three minutes in, forward Brian McBride, 26 years old in his first World Cup ever, and--
Commentator 1: Looking for [unintelligible 00:10:47] the header. Off the crossbar. McBride with that attack. Off the crossbar. We told you he's good in the air and he nearly put one home.
Commentator 2: Well, I think a lot of people feel McBride is one of the best headers in this tournament. He's young, he's raw but he's very hungry for this game.
Roger Bennett: How do you generate that power? Describe that. What goes through your mind [unintelligible 00:11:10]?
Brian McBride: You're going to laugh. I used to headbang. I used to listen to heavy metal. I think my neck kept getting stronger and [chuckles] stronger from headbanging.
Roger Bennett: I don't mean to be a dick.
Brian McBride: No, you're not.
Roger Bennett: Which heavy metal bands did you love?
Brian McBride: [laughs] Metallica was definitely my favorite. We used to listen to AC/DC, Judas Priest.
Roger Bennett: We have Judas Priest to thank in a way?
Brian McBride: Metallica more than Judas Priest. [laughs]
Roger Bennett: Whichever heavy metal goth he was, I've got to spend just another minute on this miraculous header because it was no ordinary athletic feat. It set the tone that the incredibly dominant Americans, they meant business.
Brian McBride: I felt like when I got the ball, I could just go at people and it was happening. We were playing the exact way we want to play.
Roger Bennett: What were the Iranian saying, if anything? Do you remember?
Brian McBride: Roger, I don't speak Iranian.
Roger Bennett: [laughs] Farsi. [unintelligible 00:12:11].
Commentator 1: Will he shoot? Yes, he will. Off the post. Two posts so far for the US. One in the 2nd minute, one in the 33rd.
Commentator 2: Well, they've come to play, haven't they? It is a great shot from Reyna and just bad luck for the US.
Roger Bennett: For 41 minutes the US team absolutely dominated Iran. Back in my New Jersey garage, a third six-pack of beer was flowing as was American confidence. Remember, Steve, he'd set the team up without a true defensive midfielder. The one player used to prevent counter-attacks.
Commentator 2: A bit wide by Azizi, Zarincheh, a cross, header, goal.
Roger Bennett: I want to ask you did you a couple quick ones on this. I'm talking to Kasey Keller, the keeper who conceded that goal in the 41st minute. You were so dominant in that first half. I mean, bloody hell, you battered them, destroyed them. McBride was just having his way with them.
Kasey Keller: Killing them.
Roger Bennett: Hejduk just running at them, tormenting them. If you look at the game film, there's a hole in front of you that becomes fairly evident. Did you sense any danger? Did you try and organize the team?
Kasey Keller: I sensed danger when we set up the lineup simply because we put so many attacking players on the field and we left what we are good at and that's battling and fighting. What was amazing was, for so much of that game, it worked simply because we dominated possession, we dominated the chances. Sports is about balance, and we left ourselves top-heavy, and we paid the price for it.
Roger Bennett: To a normal man did it feel like a bee sting or did it feel like a gut punch in the kidney?
Kasey Keller: Yes, it was a full volley to the nether region for sure.
Commentator 1: We are in our last minute now. It's stoppage time. Halftime. [unintelligible 00:14:22]--
Roger Bennett: Halftime, that locker room.
Steve Sampson: Yes, we were down 1-0.
Roger Bennett: Steve Sampson.
Steve Sampson: I believe. 1-0 at halftime. I really believe that because of the way we were playing and creating all of the goal-scoring chances that we believed that we can come back and get a result. I never felt at halftime that the players didn't believe in themselves. I didn't believe at halftime that they were questioning anything. They didn't express that to me.
Roger Bennett: No blowback from any of the players?
Steve Sampson: None, zero. Not one player came up to me and said, "Why isn't this player playing?" Or, "Why aren't we playing this way?" The reason is because we were completely dominating Iran.
Roger Bennett: That's the thing about soccer. You can be so dominant, so strong, outpass, out-possess, outshoot your opponent, but then one single mistake, a careless oversight, and the tides, they just turn. The only stat that matters, in the end, is the score. Jim Froslid says the mood in that locker room was eerily subdued.
Jim Froslid: You're 1-0 down, you're dominating. This is a moment where you know you can come back. At this time when you need someone to step forward at halftime, and nobody steps up and says anything, that was a bad sign.
Brian McBride: I don't remember anybody getting fired up and-
Roger Bennett: Brian McBride.
Brian McBride: -screaming at each other or yelling something positive. No.
Roger Bennett: Listeners, perhaps you're as nonplussed as I am at this point, we've got a coach remembering that moment that as a-okay. I can tell you this, if you go into a locker room at halftime, and your team's down, 1-0, and the guys are just sitting there checking their shoelaces, something's wrong. Very wrong.
Commentator 2: They've got to do the same aggressive styling we saw early on, because the game has now changed. It's now changed for Iran.
Roger Bennett: As a player, 1-0, down and clock ticking, does the time go fast or slow?
Brian McBride: At this time, it's going way too fast.
Roger Bennett: Your internal monologue is, "It's speeding up"?
Brian McBride: Yes, it's not necessarily speeding up, it's becoming more and more important, more and more essential that we get a goal.
Commentator 1: Iran, working on what would be a major upset given the relative strength of these two teams.
Roger Bennett: Second half, you keep charging forward. Do you have any internal monologue, Frankie?
Frankie Hejduk: I remember like I was in the game specifically going, "Dude, we got plenty of time." Even when we were down 1-0, I really thought that we could come back at any moment. Even though we were down I still thought that we were better than them and that we could come back.
Commentator 2: Throw-in to the US. Again, looking for McBride, for [unintelligible 00:17:29] but saved. Abedzadeh.
Roger Bennett: The US attacks relentlessly and recklessly.
Commentator 2: Past the goal now. Régis can't get to it. It's still in for the Iranians. The best chance yet for the US in the second half.
Roger Bennett: By this time, it feels like a national mission to summon a tie and go, but the American side of the field, it's left completely vulnerable. In the 84th minute, Iran's Mehdi Mahdavikia launches a one-man counter-attack strolling into the American half.
Commentator 1: There's a break and it's onside.
Roger Bennett: It all comes down to goalkeeper Kasey Keller. Mahdavikia makes it 2-0 to Iran and even he can't believe what's happening. Reeled away, charged the breadth through the field in glorious brilliant celebration, just arms swinging, eyes open. Keller got his fingers on the ball but could do nothing to prevent it going in. How did you feel in that second?
Kasey Keller: You know that that despair that we talked about for a split second? It becomes a lot deeper and a lot more real. You know you have time, but that understanding of getting one goal back to tie it is now changed to two. All that difficulty we had getting even one goal mounts up to even more of a pressure that comes upon you.
Roger Bennett: Your back's not broken, but it does feel--?
Kasey Keller: Of course.
Roger Bennett: You're American, you still--?
Kasey Keller: Of course, you still have to go. You still got time, as long as there's a second on the clock, you don't give up.
Commentator 1: [unintelligible 00:19:20] take the corner kick. Header. Is that in? Yes.
Commentator 2: Yes, it's a goal. It is a goal.
Commentator 1: Yes.
Roger Bennett: You grab a late goal, 88th minute. When I show you that goal, what emotions do you experience?
Brian McBride: I think about the next corner. Should have made the exact same run, ball goes the exact same spot. I know you don't have that on tape, but it went to the exact same spot. Made the wrong run. I thought he'd be defending that
way. No, I'm not going to say he was scared, but he didn't know where I was. I could've made the exact same run and I would have had these exact same opportunities, whether we're going in. I don't know.
Roger Bennett: Not to be too hyperbolic, but their history could have been a little bit different. Is that what you're feeling?
Brian McBride: Yes, of course. There's a little part of me that I let them down. I was able to score a goal in the world cup because I already know that there's not many Americans that have already done that. I feel a great amount of satisfaction, but it doesn't mean anything. No, one's going to remember it. Sadly, people remember it because it was the only goal we scored.
Commentator 1: [unintelligible 00:20:49] lifted Iran to the lead, and there it is, the final whistle. More than just three points for the Islamic Republic of Iran. Ninety minutes of faith in action tonight for these men.
Commentator 2: You see soccer games like this, but never quite this kind of atmosphere Bob, because all that was--
Roger Bennett: Do you feel anger?
Brian McBride: I'm angry with myself. Of course, I just told you what I think about what I could have done.
Roger Bennett: How can you after an amazing game?
Steve Sampson: Because there's one other opportunity that could have been there. Angry with myself, but in reflecting and also understanding that I can't possibly be good enough to do stuff like this. As much as I've never experienced a situation in a team like it before or after and never experienced a situation where there's so much negativity, I still had a great experience.
Commentator 1: What this result would do around the world [unintelligible 00:22:08] America [unintelligible 00:22:09] his plot for respect, it frankly will take steps backward.
Commentator 2: Well, of course, the score is all that matters--
Marcelo Balboa: We have dreams and the dream is to play in a World Cup and to represent your country. When that's taken away from you, it's taking your soul out of you. That's what he did. He took my soul in '98.
Roger Bennett: That's the voice of Marcelo Balboa, a man who'd just spent 90 long minutes witnessing his team go down against [unintelligible 00:22:46]. All of you thought you should have been on that field. Steve Sampson's in between you and the field, you have to watch his buttocks the whole game. What does that feel like?
Marcelo Balboa: It sucks. It feels like someone rips your heart out because you worked so hard to get to that point and now you're sitting on the bench watching the game.
Alexi Lalas: I think that there was a sense of vindication, I guess.
Roger Bennett: That's Alexi Lalas again.
Marcelo Balboa: The stuff that I had talked about, and that I had feared, and that I had warned others of was finally coming to fruition, but that's such a pissy and small thing to take any pride in looking back on it, but I'm sure I did.
[music]
Roger Bennett: After the game, many of the players blasted Steve publicly in the press and Alexi led the way. He told the Washington Post, "It's rather naive to think that the team that has gone through so much together can basically be rearranged and be expected to play with any consistency and cohesiveness." He added, "I gave up trying to figure Sampson out a long time ago."
Jeremy Schapp: What I do vividly remember is some guys just unloading in a way that you never hear. You never hear guys talk about their own teams the way these guys were talking about it.
Roger Bennett: Jeremy Schapp of ESPN.
Jeremy Schapp: I remember it as just like the darkest place I've ever seen in sports.
Roger Bennett: That's how I remember it too, dark. Again, I was watching the game with a bunch of mechanics at a repair shop somewhere in New Jersey. Together, we'd seen America's finest soccer players go down, just punching themselves out, humiliating themselves against Iran with the whole world watching. It wasn't just excruciating from a sporting perspective, but from a human one too.
Steve Sampson: I'll tell you one of the most disappointing moments.
Roger Bennett: Steve Samson.
Steve Sampson: After the game was over and Rob Stone was working for ESPN at the time, right before I walk into the locker room, he asked me, "Do you plan to resign, Steve?" I said, "That's not my decision. That's the decision of the federation, and I expect to finish my job." That was, I think a blow that I wasn't expecting. I broke down emotionally and I literally cried, away from the team. I knew in that moment that we were done.
Roger Bennett: That loss to Iran eliminated them from the world cup, but four days later, they had to go through the motions of playing their final group game against Yugoslavia as a formality and they lost 1-0. Even though the game meant nothing, Steve Sampson yet again sat almost all of his veterans. During halftime, Alexi Lalas and Marcelo Balboa left the bench and walked out onto the field to pose for a photograph.
Alexi Lalas: Posing for the picture was maybe in some weird sense, trying to document that, once again, this happened and in my mind or our mind, it didn't have to happen.
Roger Bennett: You told the press. You said to the press, "I wanted at least one picture of myself on the field."
Alexi Lalas: That's a smart ass type of thing to say.
Roger Bennett: What did you want to remember?
Alexi Lalas: That as painful as it might have been and as much as we had fucked this up, I was still at the World Cup.
[music]
Roger Bennett: What do you wish you'd done differently, Alexi?
Alexi Lalas: I wish that I had had more sympathy and empathy because I've never been in that position, but sympathy certainly for the situation that Steve was in. I want to continue my international career, but I want to have the right setting, so, I'll never play again.
Reporter 4: Lalas Alexi, thank you for being with us today. Your reaction to this breaking story out of France, that you are going to be fined for your comments.
Alexi Lalas: Oh, well, okay, if that's what the federation feels that they have to do. Soccer is fragile in the United States and you don't know what's going to crack it, let alone shatter it. There was worries.
Marcelo Balboa: We were looking at each other like, "Oh, my God, we've killed it."
Alexi Lalas: We've killed the sport. It's going to be on our gravestone. "Here lies Alexi Lalas. He killed soccer [laughs] because he couldn't deal with not starting in the 1998 World Cup. What a dick."
[music]
Announcer: American Fiasco is a production of WNYC Studios. Our team includes Joel Meyer, Emily Botein, Paula Szuchman, Derek John, Starlee Kine, Kegan Zema, Ernie [unintelligible 00:28:36], Eliza Lambert, Jamison York, Daniel Guillemette, Matt Boynton, Jonathan Williamson, Brad Feldman, Bea Aldrich, Jeremy Bloom, Isaac Jones, and Sarah Sandbach. Joe Plourde is our technical director, Hannis Brown composed original music. Our theme music is by Big Red Machine. The collaboration between Aaron Disney of the National and Justin Vernon of Bony Veir. Audio of this episode, courtesy of ABC Sports and NPR's Weekend Edition. For more about this story, including a timeline and more, go to fiascopodcast.com.
Roger Bennett: It's Rog. Before you go, I want to ask you a favor. I know, I know. You're doing me favors all of the time. I know how that feels, but this one it's quite important. If you have loved the American Fiasco story, please tell your friends, because, in this crazy world known as podcasts, it's really the only way to make a podcast get heard. Get out there into the world. Please tell your friend who loves soccer, who's just getting into football because of the World Cup, and is about to fall head over heels in love with the sport, or that friend of yours who just lives for disaster stories. It could all be the same person to be candid, but tell them. Tell them about American Fiasco. I, Roger Bennett, will forever be in your debt. Again, courage.
[00:30:23] [END OF AUDIO]
Copyright © 2020 New York Public Radio. All rights reserved. Visit our website terms of use at www.wnyc.org for further information.
New York Public Radio transcripts are created on a rush deadline, often by contractors. This text may not be in its final form and may be updated or revised in the future. Accuracy and availability may vary. The authoritative record of New York Public Radio's programming is the audio record.