Episode 5: Captain for Life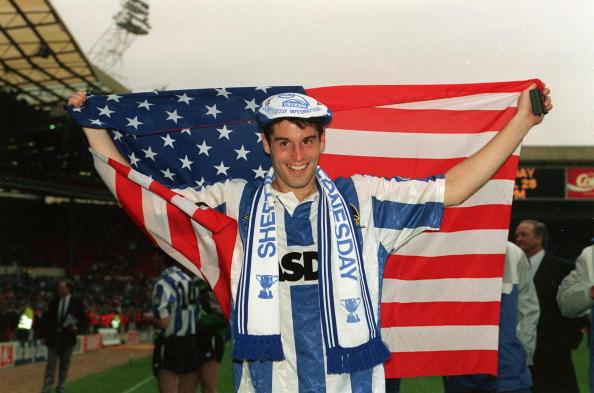 Transcript
[music]
Roger Bennett: John Harkes, he was off the team and it all seems so sudden and ludicrous. After all, Harkes was born to play on the US national team. He came from a place that calls itself soccer town USA, Kearny, New Jersey. Kearny's a factory town, 35 minutes outside New York City, and when John Harkes was growing up, it was a town full of the kids and grandkids of Scottish and Irish immigrants, people who arrived in the late 1800s to work in the thread in linoleum mills.
Speaker: Only one town in the United States has developed three US national team players, they also have some pretty good fish and chips.
Roger Bennett: They brought that passion for soccer with them and handed it on down from generation to generation and onto John Harkes.
John Harkes: We just constantly played. We got kicked off the baseball fields, we got kicked off the American football fields. We got the ball stolen by the police, and then had to have our dads go down and get the ball back again so we could play again that night. Your mom yelling out the windows in the apartment buildings, just yelling for dinner and you're still not home because you're playing for four or five hours after school.
Roger Bennett: Playing soccer in the street.
John Harkes: In the streets.
Roger Bennett: When he wasn't playing soccer or working at the local fish and chips shop, John Harkes was watching the game. He'd head to the Scotts American club along with pretty much everyone he knew.
John Harkes: We would catch an old game on a tape or something from Liverpool's old '80s team.
Roger Bennett: Did the World Cup loom large in your life as a kid?
John Harkes: It was something that was unattainable, it was unreachable. It was stationed in some islands in the middle of this sea that we could never even imagine of jumping on a ship and getting out there. All we were were fans, we were the spectators. We were never going to be the players that would ever represent. I remember joking around and clicking my heels three times together like The Wizard of Oz thinking, "Can I go there? Can we get to the World Cup?"
[music]
Roger Bennett: This is American Fiasco, a show where the reality never lives up to the dream. I'm Roger Bennett. Now back to John Harkes, maybe it was a click to the hills all the years of ignoring his mother and playing soccer nonstop, either way, Harkes was recruited by the University of Virginia, but come senior year when US soccer asked him to quit college and join the national team full-time, he willingly did so. In 1990, then 23-year-old Harkes helped the national team qualify for the World Cup for the first time in four long decades. That same year, Harkes impressed the Scouts at one of the oldest pro teams in England, Sheffield Wednesday. They signed him and he packed up, an American moving to a gritty old steel town in England's North Midlands. The initiation wasn't easy.
John Harkes: You always knew that they were looking at you and going, "[scoffs] Yank, you're not going to get, what are you doing here? He's an American, what's he doing here?" Then laughing at me, my style of dress, dress sense not very good. Typical American, the big white like tennis shoes and all that, the Reeboks I think we were wearing and old sweats, just very casual. Here we are up against players that are coming in in all their Gucci and their Versace stuff and I'm thinking, "What's happening here? Is it a fashion show or are we playing soccer?"
Roger Bennett: On the field, however, it was a different story. You stood out immediately, can we just play this goal? I know you know it incredibly well. It is a beauty.
John Harkes: All the tapping you can show?
Roger Bennett: Yes, the ones from close range. This was not a tap in at close range, far from it. I sat with Harkes, made him relive the goal with me on YouTube and we savored it.
Commentator: Reddington switches it to Harkes on the right. That's a good effort. Oh, what a tremendous goal by John Harkes. His first ever in English football and one he'll remember for the rest of his days.
Roger Bennett: Harkes busted the ball from 35 yards out, way downtown as you'd say in America. It's a distance, to be honest, a few players would have even had the audacity to think about shooting, nevermind pull it off, and Harkes fired that cannon ball across one of England's best goalkeepers of all time, a legend named Peter Shilton.
Commentator: The American world top player came forward and just decided to have a crack. Oh, what a crack it was.
Roger Bennett: There's a comment under the goal on Youtube which I love. Someone wrote, "The goal is a seven, the mullet is a 10."
[laughter]
John Harkes: That goal, for me personally, that was my bursting down the door, opening up opportunities. That was my first real chance to say, "Hey, Americans can do it." It felt good. I remember then thinking to myself, "All right, I've got to defend right away now."
Roger Bennett: Don't get caught up in your emotions, you're an American, you're trying to break in here, get back to business.
[music]
Roger Bennett: As Han Solo once said to Luke Skywalker, "Great kid, don't get cocky." In England, John also learned another important life lesson, how top-flight professional football is an unforgiving, unsentimental culture. Your girlfriend dump you the night before a big match, suck it up. Your teammates mock your accent in the locker room and hurt your little feelings, it's irrelevant because when you're on the field, how you perform is everything. All that matters is the game. John Harkes survived, he thrived and was transformed by English football over six years, a time in which he pioneered a litany of firsts.
Harkes was the first American to play in the elite English Premier League, the first American to score England's goal of the season, and perhaps most impressively of all, the first soccer player in America to be named one of People Magazine's 50 most beautiful.
John Harkes: I thought it was a joke. I kept hanging up on them every time they called. I did, I hang up on them. I thought it was one of my friends pranking me from Kearney.
Roger Bennett: Wherever he is, Harkes practices one inflexible beauty ritual. Do you remember what it was?
John Harkes: Oil of Olay, which I see you use as well, Roger, you look fantastic today.
Roger Bennett: [laughs]
[music]
By the time he returned to the US in 1996 to play for the shiny new Major League Soccer, John Harkes had become a legit international star.
George Vecsey: John Harkes was scrappy, aggressive, and self-centered as a good athlete has to be. He was also hardened by having played in a tough league.
Roger Bennett: That's George Vecsey, sports columnist for the New York Times.
George Vecsey: He even had the accent, he picked up.
John Harkes: Have you actually ever been to Wembley?
John Harkes: No, I haven't. I just seen it on the telly a couple of times, watch videos back home in the States when we watched the games and that, but never actually put a foot in there.
George Vecsey: There's Harkes sounding like he's played in the cold and the grim and the nastiness and the taciturn mentality of old-fashioned English football and there he is coming back to the States. He had this huge, glowing neon sign above him, "I've played over there, I've been to the fair, I've seen the bear" kind of thing.
Roger Bennett: As if the glowing sign above his head wasn't enough, John Harkes had just been named captain for life by national team manager Steve Sampson.
[music]
It's spring 1998 and the US national soccer team was on a high. They'd escaped Mexico intact, had an improbable win against mighty Brazil, and finally, finally, they qualified for the World Cup. This was a team that felt prime for glory under the leadership of captain John Harkes.
Jim Froslid: He had everything, right?
Roger Bennett: That's Jim Froslid, the team's press officer.
Jim Froslid: He's funny, he was confident, he would get into people when he needed to get into people.
Alexi Lalas: Talk about a personality and a character.
Roger Bennett: That's Alexi Lalas.
Alexi Lalas: This team was made up of a lot of wonderfully strange dudes. He took his role as a captain and as a member of the team really seriously and I respected that.
Roger Bennett: For Eric Wynalda.
Erick Wynalda: He was my best friend.
Roger Bennett: Wynalda and Harkes had been playing on the national team together since 1990. Over eight years, you get to know someone pretty well. Wynalda could be intense and emotional, Harkes like to take the piss out of him. He called him Bobby Big Pants, a nickname that stuck. Harkes and Wynalda were partners in locker room comedy. They did skits together on the team bus reeling off scene after scene from Dumb and Dumber or Ace Ventura: Pet Detective,
Erick Wynalda: To be able to take the pressure off of your teammates through laughter and Harkes was very good at that.
Roger Bennett: There was one person who didn't appreciate goofing off during training and that was Steve Sampson.
Erick Wynalda: As a manager, Steve couldn't handle that component of it and he didn't understand it. This, unfortunately, is what we see a lot when you have a manager who has never been in a locker room that matters with boots on.
Roger Bennett: Because he was never a player.
Eric Wynalda: Right. At some point, I think Steve didn't know how to handle it, felt that it was disrespectful in some way, and tried to eliminate it.
John Harkes: He had one philosophy and from my experience and being with the group as a leader, our vision was a little bit different. Look what we've done in 1994, '95, maybe take a step back and not over-coach, not be so controlling, but to continue to let us express ourselves because all the work that we had done building up to that, it was culminating in 1998. We were going to push ourselves on and we were going to do some great things here.
Narrator: That was the plan, well, it was the plan before Steve Sampson held a media conference call. On April 14th, 1998, the coach announced that John Harkes, the American who'd conquered English football, the man who became arguably the centerpiece of American soccer, that John Harkes, he was off the team. The announcement shot reporters on the core. It caught them cold as it did for the players and American fans across the nation. The captain for life was suddenly persona non grata. Here's how John Harkes remembers it.
John Harkes: He told me that we'll be going on this trip to Austria and you won't be part of it.
Narrator: What did you say to him, John?
John Harkes: I was in shock. I just didn't know what to say to be fair. I was just like, "Wow, I don't understand."
Narrator: Harkes wasn't the only one who didn't understand. At the time, the reasons were never clearly detailed. Alexi Lalas.
Alexi Lalas: There was confusion, there was surprise.
Narrator: So this to you just came out of nowhere.
Alexi Lalas: Yes.
Marcelo Balboa: That Harkes wasn't going to be on the team. There wasn't really much detail to it. When you see a veteran like Harkes get dropped, now you think to yourself, "Okay, am I next?"
Narrator: Marcelo Balboa.
Marcelo Balboa: Now you're playing, you step on the field and you play nervous because you're not sure if you're going to have a job next week, if you're going to be on the '98 World Cup, and at that time, no one wanted to ask Sampson why. The worst thing you can do is piss off the coach and start asking the wrong questions and all of a sudden, you're the next head off the team.
Narrator: When you found out this news, what teammates did you hear it from and what did they say?
Marcelo Balboa: Quite a bit of the teammates actually, yes.
Narrator: Harkes wrote about the calls he received from other players in a memoir he titled, yes, you guessed it, Captain for Life. You said in your autobiography, "What I really wanted was for Steve Sampson to fall flat on his face, but without the team doing the same."
John Harkes: Yes, I just told him I appreciate your support and just go and play. All you can do is compete. There's nothing else in your control the way you can do on the field. You got to win. You have to.
Narrator: Wasn't there a part of you that's like, "Fight for me"?
John Harkes: Yes, absolutely.
Narrator: You know what I mean? Like, "Fight for me, agitate for me." You've got to beg him.
John Harkes: It's part of that transition where you're not part of the equation anymore and there's part of you that's got it and you're sick to your stomach.
Narrator: What did Wynalda say to you?
John Harkes: I wish you were here, buddy.
Narrator: Steve Sampson of today, please, can you shed some light?
Steve Sampson: Basically, there were three strikes. One was the issue against Holland and the refusal initially to play a position that I wanted to play him.
Narrator: Steve's referring to an exhibition match against Holland in Miami, February 21st, 1998.
Steve Sampson: Jeff Agoos got injured and I needed someone to play left-back against Holland, and so I said, "John, for this game, I need you to play as a left-back."
Narrator: Okay, let me interject some soccer context for a second so we can get at the magnitude of what happened. Johny Harkes was a born midfielder. He was the kind of player who tried to enforce his personality on every game, every opponent he played against. He liked to control proceedings, to define them. You know how in NFL football everyone wants to be the quarterback? That's essentially the kind of midfield that John Harkes was. Everyone watching thinks you're the most important player, and if you're a midfielder named Johny Harkes, everyone watching also knows that you're People Magazine approved movie-star beautiful.
You're kind of used to being, well, the center of it all, and now Harkes was being asked to play as a left-back? It's a fine position, don't get me wrong, it's essential. It's just not one that's likely to make headlines.
Steve Sampson: He then says to me, "I did not come back from England to play as an outside back, I came back to play in the middle of midfield." I looked at him and I said, "So you're telling me that you can only play in one position where you want to play and that your national team coach is asking you to play this role for this game and you're refusing to do so." I'd never experienced that in my entire career, a player telling a coach that he wasn't willing to play in a certain position.
John Harkes: I disagree. He kept saying I didn't embrace it and for me, I was like, "Look, I'm doing my best here." At times, it was his way or the highway. He had taken on this persona that he was the man in charge.
Steve Sampson: A day later, he apologized and he ended up playing the role against Holland. Fine, I put it behind me and we moved on.
Narrator: That was strike one. Strike two happened just a few days later in Brussels.
Steve Sampson: He literally went out with two players to be nameless, I don't think there's any value in naming the players.
Narrator: I do. It was Joe-Max Moore and Eric Wynalda, too.
John Harkes: Joe-Max Moore, who was really stressed out about his birthday and the fact that he had pulled a hamstring, so we had a little birthday celebration.
Narrator: Wynalda and Harkes say other players were with them.
Steve Sampson: They wanted to go out on the town and enjoy themselves, and the night before the game, they did.
John Harkes: It wasn't a day before the game, but certainly, it was a couple of days maybe prior to that.
Steve Sampson: Without my permission and without my knowledge. They went out and got drunk and tore Brussels up and came back to the hotel room and destroyed the hotel room.
Eric Wynalda: Unfortunately, this drink that Joe-Max had hit him a little harder than we thought and he was going to start throwing up because I don't think he ate. Harkes and I took Joe-Max home and took care of him at two o'clock in the morning, and we're the ones that got in trouble. The rest of the team was out till 6:00.
Steve Sampson: As I come down the next morning, the security guard pulls me aside and said, "Do you realize what happened the night before the game?" I said, "No." "Because we have it on videotape and we know for a fact that these three players came back and totally destroyed one of our rooms." The Federation ended up having to pay for that and it ended up being one of the issues for me that led to my decision about John.
[music]
Narrator: We have two strikes, a stubborn player and a trashed hotel room. Strike three, just you wait and see.
[music]
Narrator: It's time to delve into that third strike, that final straw that got John Harkes booted off the US national team and changed his life, but to get there, we need to go forward in time. 12 years after this watershed moment, this truly mysterious moment in the history of American soccer.
Nick Webster: We need to explain what we're talking about. A lot of people are wondering what we're talking about.
Eric Wynalda: Okay.
Nick Webster: So you go first, you explain what the problem is.
Narrator: Let me explain what we're listening to here. It's an episode of a soccer talk show Fox Football Fone-in that used to air on the Fox soccer channel. This one's from February 2010. One of the guys is the English host, Nick Webster, his co-host, that's Eric Wynalda. The two of them have been talking about a dust-up between two English footballers. That's not unusual. One of them though was the English captain and he'd been accused of having an affair with the ex-girlfriend of a teammate and that's a no-no in the Premier League locker rooms.
Nick Webster: There is a question of character and integrity. Personally, as an England fan, I don't want someone like that leading my national team because, well, you've had experience in this, Eric.
Narrator: Eric Wynalda leans in and casually drops this bomb.
Eric Wynalda: That's the thing. To callers or viewers right now, there's something that you didn't know. Obviously, I'm also wearing the number six for the US. There was allegations that John Harkes had had an inappropriate relationship with my wife and he was removed from the team for that reason. There's a lot of similarities in this situation right now.
Steve Sampson: For me, that was strike three, and I had to remove him from the team.
Narrator: Everyone I spoke with about how all this initially came to light, they remember the chronology, let's just say, a bit differently; who told who, what, and when, it varies memory to memory. This was 20 years ago, but what I do know for sure and what everyone agrees on is that after Steve heard about his captain allegedly having an affair with another player's wife, he sacked him. Did you know immediately that you would have to kick him off the team as soon as you heard it?
Steve Sampson: Yes, because it was strike three. It was literally strike three for me and there were lines that you do not cross over. I don't care if you have an affair with someone outside of the team's wife, but to have an affair that could negatively impact the perception and image of the national team and negatively impact the perception and image of a captain of a national team. You don't do it within the team. You don't have an affair with another player's wife within the team. I felt that that was a line, that that was onerous to have crossed over. Now, I kept that quiet for 12 years out of respect for the two families.
John Harkes: You were silent for 12 years which is crazy to me, but finally, the word came out via Wynalda of his own accord, and then the world knew, and it changed, for many people, everything they thought. How was that for you emotionally?
Steve Sampson: Vindication. Absolute, total, complete relief, and vindication. I got calls from Reuters, from Associated Press, from Fox Sports Illustrated, from The Boston Globe, from The Dallas Morning News to the New York times, and I was finally able to tell the real story.
John Harkes: It was a relief, though, because you knew that it changed the way you were seen.
Steve Sampson: It was a relief for me because, finally, people heard the truth.
[music]
John Harkes: Brace yourself for some more Fox Football Fone-in. Here's Eric Wynalda again.
Nick Webster: You spoke to Sampson?
Eric Wynalda: Right.
Nick Webster: Sampson said, "Okay, I'm going to get rid of him," and you said, "No, I want him on the team."
Eric Wynalda: No, I didn't say I wanted him on the team. What I did say is, "Look, he's still one of the best guys that we have in this country, and for that reason, I want to win, I want to have the best team on the field." That doesn't mean I'm going to hug him if he scores, but I'll tell you what, that was my feeling then, and it still is. I'm divorced and I've lost his number, but that's totally irrelevant.
[music]
John Harkes: John Harkes declined to discuss allegations about an affair. In an AP article from February 3rd, 2010, he'd said, "I'm not going to rehash the things that have happened in the past. 1998 was devastating to me and my family. It was hard enough not to play in the World Cup, but it was even more difficult to go through that time period, the most difficult time period of my life." Did it cross your mind at the time that there might be other reasons?
John Harkes: No.
John Harkes: He never addressed any other reasons with you too at all.
John Harkes: No.
John Harkes: He kept it purely football?
John Harkes: Yes.
Steve Sampson: If he had in that moment apologized, I believe that I would have forgiven him, I would have fined him, and I would have told him, "You've got to sort this out with Eric before the World Cup because he's a teammate." I would have fined him and we could have moved on, but he didn't apologize, he didn't say anything, and so for me, that was strike three, and I had to remove him from the team.
John Harkes: If he would have apologized for it, you would have let him back on the team?
Steve Sampson: 100%.
John Harkes: What would that apology have meant, Steve?
Steve Sampson: Everything. It would have meant, "I admit that I have made a mistake. I admit that that is behavior contrary to what it means to be in such an important position as captain of the United States national team." Just to have admitted that would have meant the world to me. It would have made all the difference to me, and quite frankly, would have allowed me to confront him on how we could heal the situation before the World Cup, but because he didn't, then I had to make the decision that I did. I was able to have a clear conscience after I had that conversation because I felt that I was doing the right thing. Either I'm a principled coach or I'm not a principled coach. Either I'm a principled human being or I'm not a principled human being.
[music]
John Harkes: In that moment, Steve Sampson the principal human being made a choice, and Steve Sampson the do-whatever-it takes-to-win coach, he died.
Alexi Lalas: When I finally learned years later what was going on, once I found out, I said, "That's why I didn't have John Harkes as part of my team?"
Roger Bennett: This is Alexi Lalas.
Alexi Lalas: I was angry. Maybe I'm not being sensitive to Eric or anybody else, but I would have said, "Get over it, man, all right? Let's go win. You guys can fight later, you can hate each other, I don't care, but I want him on my team because he's a good soccer player." I just wanted to win. As a professional, I will forgive you a lot as long as you're going to help me win.
Masella Balboa: I think we all thought the same thing.
John Harkes: Masella Balboa?
Masella Balboa: Harkes was a good player. Harkes deserved to be on that team.
John Harkes: Knowing even what you know now?
Masella Balboa: It doesn't matter. It's sad, but it's personal life. It had nothing to do with the way Harkes was playing, it had nothing to do with the chemistry of this team off the field. That's something that Harkes and Wynalda had to work out, but once you cross that line, it goes away and we become a family again and we play because that's what we have to do, that's the competitiveness we have. We get our job done and we do it well.
John Harkes: You see, professional footballers, they're elite athletes, and the way they think, the way they behave, the code they live their lives by is just different to those of us who are mere civilians. This is Eric Wynalda.
Eric Wynalda: I thought that if I can handle it, Steve should've been able to handle it, and to this day, I think that ripping John off that team was ripping the heart off our team.
John Harkes: Did you ask Steve Sampson to reinstate John?
Eric Wynalda: Yes, twice. In San Diego and on the phone.
John Harkes: What did he say?
Eric Wynalda: "I'm taking this to the grave. I can't do it." I said, "That's a mistake." I remember saying this to Steve, "He's still one of the best players in the country. I don't care what he's done, he needs to be on this team."
Steve Sampson: No, I don't recall those phone calls. I do recall that he wasn't happy with the decision, but he didn't know at the time the main reason as to why I made the decision. That was probably one of the most challenging things for me was that Eric was also in denial, but it was the absolute truth because they were best friends. The last thing that I wanted to do was to tell Eric that his best friend was having an affair with his wife, and I wasn't going to do it. I kept it quiet.
[music]
John Harkes: Wynalda, though, he swears he knew exactly what was going on. There was no denial, just disagreement. Wasn't there a situation where you were so angry that you couldn't be in the same locker room as John?
Eric Wynalda: No, never. I think I have a unique understanding of that man. Okay, so you've learned a lesson about someone's character, but the game always needs to be paramount. You're representing your country, we don't have time for that.
Roger Bennett: In a way, when your life is crashing off the field, the football saves you.
Eric Wynalda: Saves you, and anybody that's ever gone through something really sometimes horrific, I've had teammates that have lost their wives, I've had teammates that have lost a child, to be a teammate in those moments what you realize is the game truly is a great escape. When you're playing the game, you're able to compartmentalize to a certain extent and some of the issues that are going on in your life go away because you get to enjoy the game in a whole new level. It is such a beautiful distraction. They might be a flawed individual for the other 22.5 hours out of the day, those 90 minutes matter.
Roger Bennett: It's all about the 90 minutes.
Eric Wynalda: In football, yes.
John Harkes: Do you speak to Steve Sampson?
Eric Wynalda: Yes, every once in a while. I've seen him a few times. I got to see him when he was coaching at St. Louis and Pittsburgh.
John Harkes: I was just there yesterday.
Eric Wynalda: What did he say when you asked him if he still thinks about it?
Roger Bennett: All the time.
Eric Wynalda: Yes, I think we all do.
Roger Bennett: I did ask Steve Sampson if back in March 1998, three months before the World Cup, if he ever wavered at all in his decision. Did he ever give it a second thought? He said once, only once when he talked to his wife about it.
Steve Sampson: I said I've got this massive predicament on my hand and I'm weighing my options. I explained to her what my options were, and she says, "Don't let John go because it will come back to haunt you."
John Harkes: What life lesson did you draw from it all?
Steve Sampson: That to be a principled man always comes with consequences.
John Harkes: You heard it here first. With principles, comes consequences, and with consequences comes an American fiasco. [music]
Closing: American Fiasco is a production of WNYC Studios. Our team includes Joel Meyer, Emily Botein, Paula Szuchman, Derek John, Starlee Kine, Kegan Zema, Ernie Indradat, Eliza Lambert, Jamison York, Daniel Guillemette, Matt Boynton, Jonathan Williamson, Brad Feldman, Bea Aldrich, Jeremy Bloom, Isaac Jones, and Sarah Sandbach. Joe Plourde is our technical director. Hannis Brown composed our original music. Our theme music is by Big Red Machine, the collaboration between Aaron Dessner of the National and Justin Vernon of Bon Iver. This episode included audio from ITV, ESPN, and Fox. For more about this story, including a timeline and more, go to fiascopodcast.com.
Roger Bennett: This is Rog. One quick favor, if you enjoyed this podcast, please recommend it to your friends, especially those that are just starting to fall in love with the sport during the World Cup. It's guaranteed, I promise you, to put them over the top. Courage
Copyright © 2020 New York Public Radio. All rights reserved. Visit our website terms of use at www.wnyc.org for further information.
New York Public Radio transcripts are created on a rush deadline, often by contractors. This text may not be in its final form and may be updated or revised in the future. Accuracy and availability may vary. The authoritative record of New York Public Radio's programming is the audio record.