Episode 1: The Dream (On) Team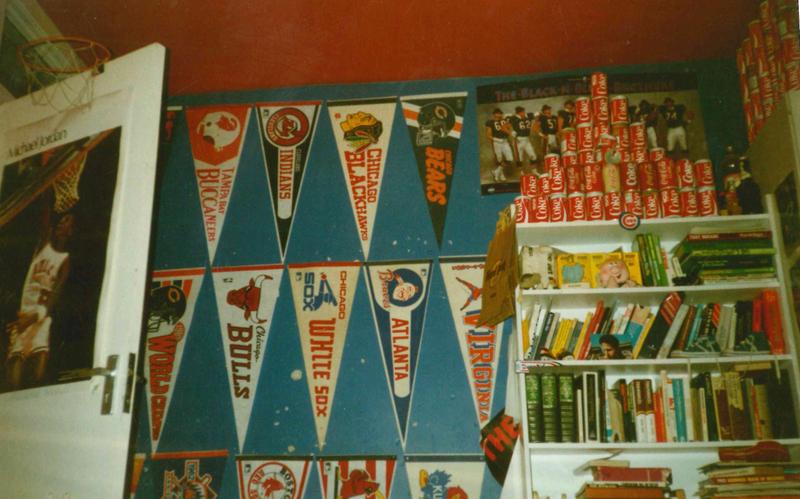 Transcript
Roger Bennett: I'm here with my dad in the living room in Liverpool. My dad's just had a brandy. [laughs]
That's my dad's brandy laugh.
[music]
I'm Roger Bennett, and I grew up in Liverpool, England, a city in which football, soccer, is pretty much everything. In Liverpool, I'm known as an Evertonian, just like my dad before me, and his dad before him. "What's an Evertonian?" I hear you asking, obviously in an American accent. It's to be a fan of a football team, a soccer team. One thing you've got to understand about growing up in England is that we define ourselves by our football affiliation. When I tell anyone that I'm an Evertonian, they know immediately that I fill my life with tiny, carefully regulated bursts of hope. It's often a lesson in life suffering and about enjoying the moment. Would you say that's fair?
Ivor Bennett: You never know in life what's coming along. You have to look forward, but you never know what's going to be. I have been saying that about Everton for years.
Roger: Albert Camus, bit of a writer, but before that, he was almost a professional-grade goal-keeper. He was alleged to have once said, "Everything I know about morality and the obligations of men, I owe it to football." He may or may not have said those words, but it's exactly how I live my life. Football made me feel things, emotions about victory, defeat, happiness, doom, all of which I'm largely numb to in real life. The apex of every football fan's calendar is the World Cup, a circus which happens every four years.
[music]
Some of my earliest memories as a kid revolve around watching the delirious scenes of the 1978 World Cup unfold in Argentina. If someone casually mentions 1985, my mind automatically defaults to 1986, when the Cup happened to be in Mexico, and I was a 10th grader in Liverpool.
[cheering]
Sports Commentator 1: The crowd are on their feet.
Roger: Just about the only thing in my life that rivaled my love for soccer as a kid was my complete and utter fascination with all things American. This is American Fiasco.
[music]
Roger: I'm Roger Bennett. This is American Fiasco, a show that, much like America itself, starts in England.
Ivor: Yes, I seem to remember you insisted when we had the room decorated, you had the stars and stripes, the whole wall was--
Roger: I didn't just grow up in England, I grew up in 1980s England. Margaret Thatcher. The country was riven with strikes. Riots were common, and Liverpool always felt like it was just about to burn down. Life there, it seemed like I lived in black and white, while everything I knew about America appeared to be lived in technicolor.
[music]
Roger: My bedroom wall, it was plastered with posters of American pop culture idols. They were all there. The greats. Debbie Gibson. William "Refrigerator" Perry. Public Enemy. The cast of Hart to Hart. Don't be a hater. History will remember Hart to Hart kindly, trust me. That obsession with America, I took it really, really far.
Ivor: All the Coke cans that Roger accumulated, he must have had 50, 60 piled up on his wardrobe.
[music]
Roger: Life lesson, let your kid build Coke can skyscrapers and paint the US flag on their bedroom wall, odds are, they'll leave you.
Ivor: Then what happens is that he gets himself to America. He gets to start off in Chicago.
Roger: Yes. I do. I said, "I'll move to Chicago," and to be candid, when I got there, I couldn't be happier. I had everything that I needed. I had friends, I had new opportunity, but there was one thing that was just gnawing at me, it was tearing my flesh away. The one thing that I'd grown up believing in, obsessing about, it just didn't exist there. That thing, of course, was soccer. It was like suddenly I had a phantom limb, and I was left only with the memory of what it felt like to be a soccer fan. Of course, not long after I moved to America, against all the odds--
Ivor: I have to tell you, I have watched Everton a fair number of times, but this is one performance that I shan't forget.
Roger: My club, Everton Football Club, not a very good team, but punching above their weight in the miracle run and into the semi-final of a remarkable competition, the FA Cup. It dawns on me in my little dim state, this is not going to happen on cable television. You see, in England, somehow we got by with just four television channels. I know it sounds crazy. In America, the promised land, I discovered you had hundreds, and those channels, they broadcast everything. C-SPAN, spelling bees, competitive eating, but the one thing that I couldn't find on any of those hundreds of channels was a soccer match. My dad, he comes over, "Dear dad, you said what?"
Ivor: I was able to watch it on English television, and I thought, "What's the best way for Roger? He can't see what's going on, but I suppose, as second best, he could hear what's going on." Of course, you know I said that he should phone me. I wasn't going to pay.
Roger: These were the days when a transatlantic phone call was really a transatlantic phone call and it cost an arm and a leg. I phoned up, and my father held the phone to the television for 90 minutes. 90 glorious minutes. It was a day that ranks up there with my wedding, and the birth of my four kids, because Everton won that game four goals to one. [laughs]
It was one of the great phone calls of my life. The history of soccer in America, that's a story of fits and starts. Way back, 1930, the very first World Cup, America actually made it to the semi-finals. I can't believe you're not still talking about that achievement. Two decades of nothing followed. In 1950, soccer was so insignificant that the United States World Cup victory in a first-round game against the mighty English, who were then one of the greatest teams in the world, it barely registered in the American media. The US team back then, it was a ragtag bunch. A minor league baseball player, a paint stripper, and Haitian-born dishwasher, who scored the winning goal.
[movie trailer plays]
Roger: There was even a movie made about it. The 1950 team's manager, a bloke called Joe Newman, he was one of the first Americans to utter the great doomed prediction, "This is all we need to make the game go in America." In fact, the US didn't qualify for another World Cup for nearly 40 years, and no one cared. Another one of those future-is-now moments arrived after the 1966 World Cup when the North American Soccer League was born. NASL. I know, it doesn't exactly roll off the tongue.
[soccer commercial playing]
Roger: Even with imported stardust like Brazil's Pelé, the League was a fad that first burned brightly, but then flamed out. By 1985, the NASL wasn't filling the stands, and it went belly-up. During that dark age, Americans didn't just ignore soccer, they actively hated it. I always found it psychologically revealing.
Dan Katz: I feel like the answer that always is given is the lack of scoring. It's a little bit of a cop-out, but I think there is some truth to it because you can watch a soccer game forever and no one will score.
Roger: This is my friend, Dan Katz. He's better known as Big Cat, the co-host of the remarkable podcast Pardon My Take from Barstool Sports.
Dan: It's painful to watch. We want scoring, we want big plays, we want big hits. We're Americans, and the fact that you can tie in soccer, which is the most un-American thing in the world.
Roger: What's a tie to you?
Dan: A tie is brutal, and the fact that you can tie after playing an entire game makes no sense.
Roger: It seems like a weakness.
Dan: Yes, absolutely. You got to have a winner. Scoring, not fully understanding the game, and to be totally honest, and this is probably revealing a little bit of our own insecurities-
Roger: Let's go there.
Dan: -yes, our own insecurities As Americans, we suck at it. That's the big one. Winning, we need to be the best, because when I'm watching MLS, or I'm watching whatever it is, whatever league you want to watch, pick it, America is not the best. When I watch the NBA, I know that the Golden State Warriors, when they win the NBA championship, they are the best team in the world. When I watch the NFL, when the Philadelphia Eagles win the Super Bowl, they are the best football team in the entire world.
Roger: World champs.
Dan: World champs.
Roger: Basically, to recap, Americans hate soccer because there's not much scoring, and because there's such a thing as a tie game, and because it's complicated, and that you suck at it.
Now, Americans may find winning more interesting than losing, but I'm not convinced they're right, which is why I want to tell you this story. It combines three things that I love, soccer, America and the World Cup, and it definitely does not end with a crowd chanting Rocky's name. Let's start at the beginning. In 1989, the year the United States men's national team quietly made history.
Bob Lee: To Paul Caligiuri, and look at this gentle shot, puts it onto his left foot and lifts it in, have the USA on top, one goal to none. There weren't many US fans there, but those that were in attendance were delirious. That one goal--
Roger: When you broadcast that, we'll all have the hardcore American ball sports fans like this who grew up playing street ball in Brooklyn, the NFL, the NBA fans like, "WTF Bob Lee, why is this coming on my television? This is America, man."
Bob: For those who had grown up around the game and knew it, this was great. A World Cup, my gosh, the shot heard around the world, the great goal, but it was a discrete audience to whom this was important to. It really was.
Roger: For the first time in four decades, the US was going to the World Cup, and they had done it on the road with an upset in Trinidad and Tobago, in front of a raucous crowd of 30,000, that maybe contained about 12 hardy US fans. Sure, most Americans didn't care about that soccer tournament in Italy, but for the players themselves, this was an amazing accomplishment worth celebrating in the American way, with a music video.
[music]
That poetry is victory by Def Jef and DJ Eric Vaughn. You've got to see the video to believe it. US soccer players dancing topless on the beach, and a cameo from O.J. Simpson. Google it now. Once you got over the size of their six packs, the thing that stands out to me, it's their joy and their innocence. You recorded victory with Def Jef and DJ Eric Vaughn on the beach in Malibu.
John Harkes: Yes.
Roger Bennett: That's John Harkes, a midfielder with movie star good looks. The camera loves him. You'll see him all over the video. He's the one doing the running man on the beach. He kills it.
John: Yes, it was pretty interesting. I think the Federation was all in, like, "Let's get this game out there. Let's get it on." We we're on the beach in Malibu shooting this video. [chuckles]
Roger: Shirtless?
John: Yes. It was a beach. Roger, we do these. We have beaches in America, and not like rocks and pebbles.
Roger: Later, he and O.J. share a mic in the recording studio, a la We Are the World.
John: I think it did give us a little bit of more exposure and got interviewed, and we have the video shown for a little bit, and then it was out the door. That was done.
[music]
Roger: Back then, Harkes was one of several young players who were starting long careers with the national squad. Another was defender Marcelo Balboa. Half man, half mullet.
Marcelo Balboa: I'll tell you how they described me, they described me of Rambo of soccer. They called me the guillotine, they called me the hatchet, but at the end of the day, you know what, that's what's in my blood. [crosstalk]
Roger: Goalkeeper Kasey Keller was on that team too. Eric Wynalda, Tab Ramos, these are all names you'll hear again soon, because 1990 was a formative moment for all of them as doors were opened to pro careers that had largely been closed to American players before that. John Harkes again.
John: Everybody, at the realization of actually going to the World Cup in Italy, became reality. I think I almost just fell on the floor. All these emotions going through you, the best feeling ever, really.
Roger: The US didn't go all the way in that World Cup. The squad, it consisted largely of young, inexperienced college players, and they lost badly and quickly. The players joked that they were like tourists with really, really good World Cup tickets, but it was enough just for them to be invited to the ball, and anyway, they were already automatically qualified for the next World Cup in 1994, because, for the first time ever, the tournament was going to be held in America.
Stand beside her and guide her, and God damn it, I was there to witness it. If the 1990 World Cup showed the world that Americans could qualify for the tournament, the 1994 World Cup, it showed that they belonged.
Reporter 1: For a nation where soccer runs far down the list of pastimes, hosting the World Cup is quite a coup, so the first fan will be joining the dignitaries and opening ceremonies at Chicago's Soldier Field. Clinton will make welcoming remarks-- [crosstalk]
Roger: You might recall someone else was in Chicago at that time. Yes, under the influence of Ferris Bueller, I had moved to Chicago and I was now living in Rogers Park, a neighborhood I had moved to purely because I had money. Really, that was how I chose it. I wasn't at that first game with the Clintons because, to be honest, I barely had enough money for food.
I watched at home on a busted old TV with a broken knob that my building janitor had somehow illegally wired to the cable system, and thank God I was watching, because the theatrics--
Oprah: Now, ladies and gentlemen, please welcome the host country of the 1994 FIFA World Cup, the United States of America.
Roger: Oh my God, that's Oprah, emceeing the opening ceremonies of the World Cup. Yes, Oprah may have fallen accidentally on stage, but we soon forgot because she did so while introducing Diana Ross, who charged across the field. An electric vision in a red pantsuit flying in the wind, yet somehow missing a penalty kick from about one yard out, but it felt, oh my God, like the USA was pulling out all of its stops.
To the eyes of this English boy obsessed with everything American, it was all so glorious.
Bob: For those of us in the game, that World Cup was very emotional.
Roger: That's right, Bob Lee, you ESPN sports casting legend.
Bob: I remember walking into Giants Stadium in 1994, and there was a natural grass surface in there for the first time ever for the '94 World Cup in this great stadium, and I got a little moist in the eyes. This is great. This is the world's game going to be played like 10 minutes from where I grew up, the freaking World Cup.
Roger: Then I watched the American players take the field for the first time, and that was the true marriage of everything I loved. I've never seen American players before. There they were swaggering around in their stonewashed denim jerseys, ginger of beard, resplendent a mullet. It was perfect timing too, because where I come from in England, things we're going to help.
Back then, English football was just emerging from decades of hooligan violence, where you'd routinely step over broken bodies on the way into the stadium, so watching these Americans strut onto the field, a little bit like the cast of Reservoir Dogs in that slow-mo opening scene when they leave the diner. They appeared in striking contrast to everything English footballers were about. These Americans, they seem confident, optimistic, and most strikingly of all, happy.
[crowd cheering]
Sports Commentator 3: This is the first World Cup game ever played indoors, and Seamus, the moment has arrived for US soccer. Put in perspective, this game-- [crosstalk]
Roger: What did it feel like, John, to run out with your US team at the Pontiac Silverdome before 73,000 screaming fans, the world watching, a World Cup on American turf.
John: God, we were fighting for the nation there. We were fighting for respect again, like, "This is our chance to shine. This is our chance to push it over the ledge. We have to." In order for this game to survive in our country, we had to do something pretty special.
Roger: Out of the gate, they only go and tie Switzerland in Detroit. Four days later--
Sports Commentator 3: As Harkes now with Caligiuri overlapping on far side, sends it inside. It's an own goal.
[crowd cheering]
The USA gets the score. Escobar on the own goal.
Reporter 2: The US has completed the big upset with a two to one win over heavily favored Colombia.
Roger: Anyone who watched the orange goateed defender Alexi Lalas shut down Colombian super striker Faustino Asprilla, they knew. They just witnessed the birth of a new colossus.
Fan: I see a lot of people. They're wearing American flags on their heads, they're wrapped in American flags, their faces are even painted in American flags.
Roger: The US team had done the unthinkable. The made it to the next stage of the tournament, the Round of 16.
Reporter 3: The US faces heavily favored Brazil in round two of the World Cup today at Stanford's Stadium. It's the Americans' first second round game since 1930.
Roger: A brave USA, they'd lose that game to Brazil on July 4th no less, one, zero, and they're out of the tournament.
It didn't matter because they'd outperformed all expectations, and now, US National Team players were in demand.
Offers flooded in from elite club teams across Europe, lettermen bookers, Hollywood agents. There were commercials for shampoo.
Paul Caligiuri: That's why I use this stuff, Pert Plus.
Commercial Voice 1: One smart shampoo can--
Roger: Candy bars.
Tab Ramos: If I get hungry, I don't leave. I grab a Snickers.
Commercial Voice 2: Packed with fresh roasted peanuts--
Roger: American players were paired up with heavy metal gods at the MTV Europe Music Awards. I'll let Tom Jones do the honors.
Tom Jones: One of the stars of the World Cup. Now playing for Padova in Italy, Alexi Lalas and from Megadeth, Dave Mustaine.
Dave Mustaine: Hello, Berlin.
Alexi Lalas: Hey, it's great to be here.
Roger: It was great to be here. There was even a new league on the horizon, Major League Soccer, which promised jobs and a long career for all.
At long last, there was money in soccer. Things were changing.
Marcelo Balboa.
Marcelo: There was a little jealousy, there's no doubt about it. Listen, when guys are driving up in Porsches in '94, guys have horses up in the mountains in Mission Viejo, they got a stable that they bought horses and they were there, guys were buying jet skis.
Bob: All of those players on that team suddenly became, at least in the soccer universe, household names, saleable commodities, in the prime of their careers.
Roger: ESPN's Bob Lee. I always imagined those moments in the wake of the World Cup feeling like that moment in that Scorsese film when the money's starting to pour in and they're weighing the dollars in the weighing machines and the money's, the business's-- Like, it was an exhilarating time to be alive as a man like yourself who'd covered soccer in the dark ages, and suddenly, just about anything was possible.
Bob: It was validation. It was absolute validation. It was everything you hoped and would never really say out loud. It was one of the great moments. That was the moment that told me is like, "We don't know what we just uncorked here with this World Cup."
Roger: Now America had shown their cards. They had the goods. It had to be two steps forward, no steps back, if soccer was to feel like a long-term, viable business, which meant for the team, they not only had to qualify for the 1998 World Cup, they had to go deep. They had to make some noise. Rob Stone down at ESPN.
Rob Stone: Yes, I guess it's American, Roger, in the sense that if you've achieved this, you're now saying to yourself, "Of course, now it's time to take it up to the next level, and then the next, and soon enough, we're going to win the World Cup, or we're going to be the greatest hockey planet on the--" Whatever it is, I don't know if you have that in England, but America, yes, that's what it is. You've achieved point B, now it's time to go to point A, and once you hit A, let's go to A plus.
That just seemed like really the natural progression.
I bought into it. I realized that we did this wonderful thing here. We've had four years to get better. Yes, yes, we should make noise in France.
Roger: Remember what I said earlier? Americans, more than any other nation I've ever come across, you are obsessed with winning. You love your dominant winning, your Dream Team running up the score against Angola. You've got your underdog winning, your Rocky, your Seabiscuit, your Miracle on Ice winning, winning tenaciously against the odds.
I, however, have always loved the opposite. I'm fascinated by failure, especially when it happens on the grand scale.
This is one such story. The story of Americans who thought they had victory within their grasp as a collective, only to be undone and torn apart by self-interest and creeping individualism. It's my favorite kind of story, packed with one terrible human decision after another. It's the story of an American fiasco.
Announcer: American Fiasco is a production of WNYC Studios. Our team includes Joel Meyer, Emily Botein, Paula Szuchman, Derek John, Starlee Kine, Kegan Zema, Bernie [unintelligible 00:26:12], Eliza Lambert, Jamison York, Daniel Guillemette, Matt Boynton, Jonathan Williamson, Brad Feldman, Bea Aldrich, Jeremy Bloom, Isaac Jones, and Sarah Sandbach.
Joe Plourde is our technical director. Hannis Brown composed our original music. Our theme music is by Big Red Machine. The collaboration between Aaron Dessner of the National and Justin Vernon of Bon Iver. Audio of this episode courtesy of ESPN and ABC Sports.
For more about this story, including a timeline and more, go to fiascopodcast.com.
Roger: This is Rog. One quick favor. If you enjoyed this podcast, please recommend it to your friends, especially those that are just starting to fall in love with the sport during the World Cup. It's guaranteed, I promise you, to put them over the top.
One more thing. Write your review on Apple Podcast and tell them what you think. I know it sounds crazy. I never do it either. I cannot tell you then just how much it helps. Courage.
Copyright © 2020 New York Public Radio. All rights reserved. Visit our website terms of use at www.wnyc.org for further information.
New York Public Radio transcripts are created on a rush deadline, often by contractors. This text may not be in its final form and may be updated or revised in the future. Accuracy and availability may vary. The authoritative record of New York Public Radio's programming is the audio record.