The Public's 'The Comedy of Errors' Offers Free Theater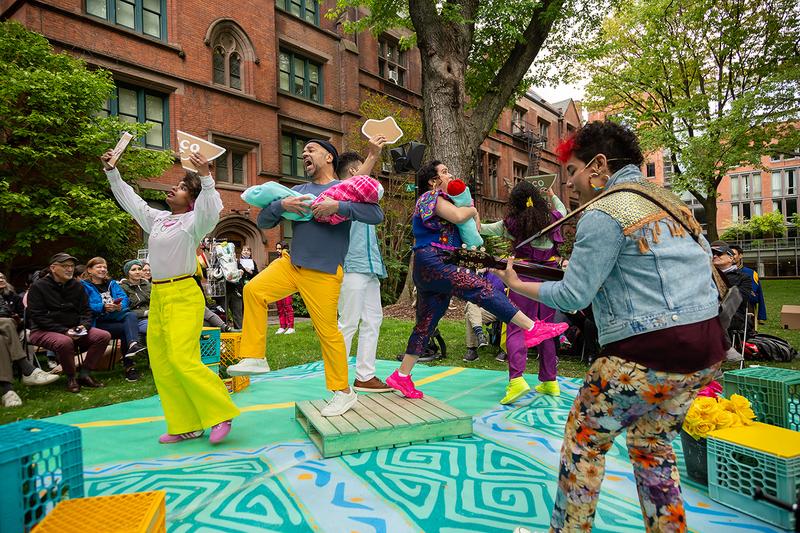 Transcript
[music]
Alison Stewart: This is All Of It on WNYC. I'm Alison Stewart. This month, the public theaters Mobile Unit returned to tour the five boroughs with a new bilingual musical adaptation of Shakespeare's The Comedy of Errors. Let's listen to a short clip of the show from one public performance.
[music: The Comedy of Errors]
Alison Stewart: The central mission of the Mobile Unit dates all the way back to 1957 and brings a public theatre production to perform in public parks community centers and correctional communities. As of last week, The Comedy of Errors is now being staged at the public and all performances are still free. The show features original music as well as an entirely Latin cast and if you attend be ready for a lot of laughs. It's Shakespeare with a modern twist. The Comedy of Errors runs through June 11th. With me now is Director Rebecca Martínez. Hi, Rebecca.
Rebecca Martínez: Hello. Thanks for having me.
Alison Stewart: And composer and book writer Julián Mesri. Hi Julián.
Julián Mesri: Hey, thanks for having me.
Alison Stewart: Rebecca, in a previous interview, you said how The Comedy of Errors is resonant now, what is it about this play that you hope connects with audiences?
Rebecca Martínez: Well, the one thing, there's a couple of reasons. One is, I have felt a great need for joy and lightness, and silliness, and just to be able to be in celebration in music, because that is the need that I have. I think that's one of them. The second one is, this is a story that's many hundreds of years old, that has endured for many hundreds of years. We are taking a very different take on it, but I think the other thing when I was thinking it through a Latina lens, and thinking about it from a cultural perspective, the connection that I instantly saw myself was that this is a play that's actually about family separation.
Family separation that has occurred because of the arbitrary laws that countries have made, and the borders that they have created to separate families. Those two combined reasons felt very resonant to me when thinking about the story.
Alison Stewart: Julián, when you sit down and think, "Okay, crack your knuckles, I'm going to tackle Shakespeare," where do you start?
Julián Mesri: Wow, good question. I think that my own experience and I've directed Shakespeare, I've acted in a bunch of Shakespeare, I've read them in school in college, and still, there's always a bridge to cross. When I see any Shakespeare performance, sometimes I usually fall asleep, it's hard to bridge that accessibility gap. The Mobile Unit's key is accessibility, it's opening up theater and classic theater to new audiences and audiences that may have never seen the play before. One of the tools that I use with music is the ability to become accessible and to become a form of communication.
The very first songs we wrote, really tackled that. It was like, how do we tell the story in different ways? How do we give people a lot of different forms of access? Being bilingual is part of that. Allowing people to understand elements of the plot, elements of these characters in both English and Spanish. Even within the translation of the book, giving people who might not necessarily be able to follow heightened Language and English still a chance to have some of that heightened language and wordplay in a different language in Spanish.
Alison Stewart: Julián, what was something you knew you wanted to keep for sure in this adaptation, and then what was something that had to go?
Rebecca Martínez: Is that for me?
Alison Stewart: It's for Julián or for both of you.
Julián Mesri: Oh, sorry. I didn't hear my name. Let's see. I think that's really something that me and Rebecca were tackling together. I think that when we're dealing with a show that is hundreds of years old, there are certain things that we move past, especially in terms of the heightened level of misogyny, that is in Shakespeare. That was definitely something we tried to tackle and especially with songs, allowing characters, particularly female characters that hadn't had really a lot of agency in the show or had been really espousing very conservative beliefs.
Giving them the ability to have a different take on things, to have their own agency, and to be characters in their own right.
Alison Stewart: Rebecca, do you want to answer? You seem like you're ready to go on that one.
[laughter]
Julián Mesri: Definitely the collaboration.
Rebecca Martínez: Yes. When we first started talking about it, I knew right on that there were some of the characters, particularly one of the female characters that I did not appreciate how she was written. She did not feel very truthful to me, in terms of where I am as a contemporary woman, and that was one of the storytelling Luciana, the character of Luciana, where I wanted to offer a different perspective on what she was saying, and how she was saying it.
That was one of the ones where we looked at initially as targeting down like, "Oh, well, maybe we don't want to rewrite Shakespeare, so how about if we make it a song, and then we can rewrite it to fit how we want it?" We took that take [chuckles] a lot of times throughout the show.
Alison Stewart: Yes, it's very clever. It's a very clever move. We're talking to you about The Comedy of Errors. It's a production of the public theater's Mobile Unit. All shows are free through June 11th. I'm speaking with composer Julián Mesri and director Rebecca Martínez. There are a few moments in which a Troubadour jumps in for a song and summarizes a portion of the play for the audience. Rebecca, why were these breaks necessary, especially in terms of pacing?
Rebecca Martínez: One of the things when we were initially talking about it, was the impulse, was to think about how street theater happens in Latin America, and how you can come across street theater. You can be pulled in mid-show, you can stay for a few minutes, or you can leave, or you can stay for the whole thing. Just the many times I've seen different performances take place, one of the idea of the Troubadour was to have music that would invite people and engage them, and also catch them up.
We call them catch-up songs, where it would be like, we're going to tell you all the stuff, very Shakespeare style, here all the things, and now, we're going to tell you all the things again. In case you showed up, or you couldn't follow it, or literally because I think theater is a great place to nap, you took a nap. Now, we want to wake you up and just give you an idea of, in case you missed it, here's what happened in the past night like hour.
Alison Stewart: Julián, when you think about music as a companion to Shakespeare, what is it about Shakespeare that makes it fertile ground for someone wanting to write music about the stories or using some of the language?
Julián Mesri: I think with Shakespeare we're dealing again with a long legacy. I think that part of the challenge of that is these are shows that have embedded themselves in our history and our culture in ways that we don't even think about. One of the things I always like to think about is how do we, in doing this piece, not like a museum. How do we make this piece our own? How do we, when we go to other communities say, "This is something that belongs to you as much as belongs to anyone else?"
In music, that's why the sounds of the music that I chose it's really the music I grew up with. It's not one specific genre from Latin America, it's not all Mariachi, it's not all Argentine folklore. You've got cumbia, you've got reggaeton moment, you've got something like Nueva trova, you've kind of opening up a lot of different styles that also sounds and feels like the streets that we walk through in New York. For me, that's why I chose the music that I chose. With Shakespeare, so much of Shakespeare is based around language.
There's one thing that Shakespeare has done. His plots, a lot of them, even this show is based originally on a plot as play. He always takes plots from different places, but what he's able to do is use language and really amazing character development to really tell the stories. Taking that language and taking character, there's no better place than music, which is this amazing form of giving characters way more agency through heightened language to be able to tell their stories, so it feels right in line with a very Shakespearean feel for the show.
Alison Stewart: Rebecca, was it always going to be a bilingual production from the jump?
Rebecca Martínez: We definitely knew that if we were going to be touring it to the communities with the partnerships, that the Mobile Unit has, that Spanish had to be a strong element. We started thinking about Spanish as being a vehicle in the songs and as a way to communicate story. The songs, a lot of them are in Spanglish. They're both English and Spanish, but trying to get-- The most of the story is in English, but trying to convey the elements of the story as well in Spanish.
If you are someone who doesn't speak English, but only speak Spanish, then you are at least getting a fair amount of what it is that is happening. Then we knew we wanted some translations in the text, and so that's when Julián started doing that work as well. We always knew that Spanish was going to be a strong part of it.
Alison Stewart: Julián, did you want to add anything before we listen to a clip?
Julián Mesri: In terms of the Spanish, we began, like Rebecca said, as a way of making the show more accessible to Spanish-speaking audiences. As we started working with actors, actors started putting in the slang from their countries and finding ways of ad-libbing and adding their own gestures. Then the final statement was bringing in a heightened language that's inspired on a parallel movement that was happening to Shakespeare roughly the Spanish Golden Age, which has its own amazing tradition and actually has a lot of these similar kinds of comedy tropes, especially with the servant and characters.
We decided to add some of that in rhyme in Spanish as well.
Alison Stewart: Let's listen to a short clip from one of the outdoor performances. This is close to the beginning when the plays troubadour sings to the audience. This is from The Comedy of Errors.
[music: The Comedy of Errors]
I should tell you that most of the show will be performed in English,
though it's supposed to take place in two states in ancient Greece.
But don't be surprised if the actors switch their language.
[Spanish language]
There's something in the air here,
something not quite right and [unintelligible 00:12:20].
Alison Stewart: A good setup. What do you, Rebecca, like about breaking the fourth wall, when actors break the fourth wall?
Rebecca Martínez: [chuckles] It is such an amazing tool that Shakespeare offers. It is not a thing that is useful in every play, but one that is, for this one very specifically, since it's supposed to be street theater style, and it's in the round. It's something where it is asking to engage audiences who possibly were walking along, or who were just happening upon, it is such an incredibly delightful way to ask people to be a part of something. I'm all for it.
Alison Stewart: Where do you stand on the fourth wall, Julián?
Julián Mesri: I stand very pro in certain situations. I think that one of the things that the Mobile Unit does is, Reb was saying, it really encourages that. Even inside the public theater performances, the actors are always engaging with the audience as if they were right aside next to you. That very much feels very much in line with the Shakespeare traditions and how engaged the audience was always in those performances. We feel like we're doing honor to that for sure.
Alison Stewart: We're talking about The Comedy of Errors. It's a bilingual musical adaptation of Shakespeare's The Comedy of Errors. It's a production of the public theater's Mobile Unit. The shows are free. They're going through June 11th. My guest are Rebecca Martínez, the director in Julián Mesri. He's the composer. You started to describe it a little bit, Rebecca. Would you describe the stage for us, the setup, and the way that the actors appear to the audience?
Rebecca Martínez: Yes, the Mobile Unit has a set form that they employ, which ours was a 15 by 15 mat that was designed, that was by Emmie Finckel, our scenic designer. We put a lot of thought into, again, bright color to draw the eye and to make it stand out in a street setting. Then the audience is seated on all four sides. The actors come in. It's a very small, very intimate space. Eight people fill that space up very quickly. The actors, they're coming in from the side aisles and they're also performing from behind because we're miced, just because of the sound and everything.
There's singing that happens behind. There's shouting that happens behind, so it is immersive, I guess, is what I would say.
Alison Stewart: [laughs] What challenges does that pose for you as a director? What opportunities does that pose for you as a director?
Rebecca Martínez: I've never worked in the round before. That is my first time.
Alison Stewart: Wow.
Rebecca Martínez: This year was the first time I worked in a really deep three-quarter thrust, so I just kept like, "Okay." The things that I learned from the round is it is freeing because no one is going to have perfect sightlines at any time. You're like, "Okay, we know that part of it, we have to keep it moving so that if the sightline isn't great for someone in this moment, just know, just wait a minute. I bet that person's going to move and the picture's going to open up." There was a lot of fun and play that we got in just learning how to share the performance with different sides of the audience.
Also, not being afraid to give your back to a side, but to know that whatever side that you're facing, there is still something to see and something to perform in. It's challenge, but it's really fun because it can allow you literally a different show depending on what side of the stage that you're seated on.
Alison Stewart: Julián, in the last 30 seconds, anything else you wanted to add about the show?
Julián Mesri: I think it's a wonderful expression of joy. I think it's a very comic show. I think we're able to bring something very real to Comedy of Errors, which is the story of family separation and what it means to have family in other countries. As someone who grew up with family always in another country, I was born in Argentina, I think that the show really speaks to that and I recommend it.
Rebecca Martínez: Let's see it.
Julián Mesri: Join us.
Alison Stewart: My guests have been Rebecca Martínez and Julián Mesri. We've been talking about Shakespeare's The Comedy of Errors, the Mobile Production Unit for the public theater. All shows are free through June 11th. Thank you so much for joining us.
Julián Mesri: Oh, thank you so much for having us.
Rebecca Martínez: Thank you.
Alison Stewart: That's All Of It for today. On tomorrow's show, artist Aliza Nisenbaum. She began volunteering with a Corona-based community space more than a decade ago. She got to know some of the people and she began painting them. The work is as much a narrative as it is portraiture. It's now on exhibit at the Queens Museum. She joins us tomorrow.
Copyright © 2023 New York Public Radio. All rights reserved. Visit our website terms of use at www.wnyc.org for further information.
New York Public Radio transcripts are created on a rush deadline, often by contractors. This text may not be in its final form and may be updated or revised in the future. Accuracy and availability may vary. The authoritative record of New York Public Radio's programming is the audio record.