J. Smith-Cameron of 'Succession' on Waystar's Final Boss (Watch Party)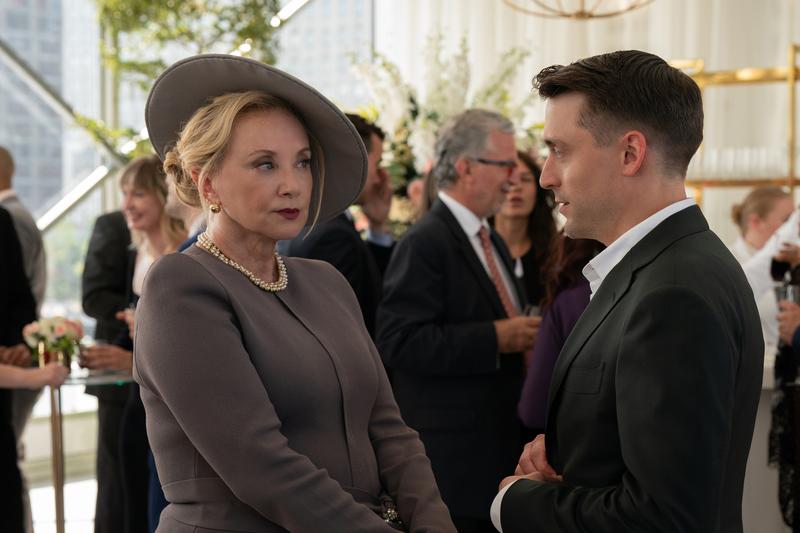 Transcript
[music]
Alison Stewart: This is All Of It from WNYC. I'm Alison Stewart.
[MUSIC - Sean G: Find Out]
Alison Stewart: Almost exactly five years ago on June 3rd, 2018, a TV show debuted about a media empire run by a ferocious aging lion, his power-thirsty children, and his universe of enablers and admirers. Four seasons and a million think pieces later, Succession has entered the pantheon of legendary prestige TV. The series finale was Sunday night, and we're going to talk all about it. This is your spoiler alert. The show, its cast and the locations were especially of interest to New Yorkers. Filmed all around the city, we got a peek into a world where we mere mortals, we know what exists, but really get to see the inside of the black cars, the private jets, the crazy big apartments, the clubs, the estates, and the show confirmed that just because you are rich doesn't mean you're smart or even happy.
At the end of the season finale, the patriarch is dead, the company is no longer in the family, and relationships have splintered and human psyches are shattered. Only a few people in the Succession orbit have reason to smile, and one of them is the character played by our next guest, J. Smith-Cameron. The role of Gerri Kellman, the general counsel and interim CEO of the media company, Waystar Royco, was originally written for a man, but it's hard to even think that anyone but Jake in the role could even compete as the wise, competent, sexy and formidable exec. Here she is from the final season when Roman, the Randy, smart-aleck son attempts to play off that he fired Gerri.
Gerri Kellman: I'm out. I'm done.
Roman Roy: Bullshit. Dad fired people all the time. I was just feeling fire-ish.
Gerri Kellman: Look, I have some requirements you should know about, several of which have been officially communicated, and some that I thought I should say in person.
Roman Roy: Ooh, Robo Gerri. I see.
Gerri Kellman: First of all, I want money, eye-watering sums, hundreds of millions of dollars.
Roman Roy: No. Pass.
Gerri Kellman: I have retained personal reputation management, and they will be on the line, then Karolina does her background briefings off a set of my bullet points.
Roman Roy: I will set off your bullet points.
Gerri Kellman: If I ever get a whiff of anything undermining my narrative anytime in the next five years, I will sue and I will go public with as many, many-
Roman Roy: It's stupid.
Gerri Kellman: -pictures of your genitalia that I have in my possession. Have I made myself clear?
Roman Roy: Yes, absolutely. It's been a pleasure working with you, Gerri. Thanks.
Gerri Kellman: I could have got you there, but no. No.
Alison Stewart: You go, Gerri. J. Smith-Cameron, welcome back.
J. Smith-Cameron: Thank you. Nice to be back.
Alison Stewart: Listeners, Succession fans, what did you think? Why do you think this series resonated so much, especially during the last five wild years? What's a Gerri moment that was memorable for you? What do you think is next for the Roy kids and maybe Gerri as well? 212-433-9692, 212-433 WNYC. You can call in and get on the air, or you can always text us at that number as well. 212-433-9692. Our social media is @AllOfItWNYC. How long have you had to hold on to how this series would end?
J. Smith-Cameron: I think we knew that it was probably going to be Tom, but this show is always changing and morphing. I take everything I hear ahead of time with a grain-- or I should say in past tense. Everything I heard ahead of time, I always took with a grain of salt because it was just a very fluid improvisational feeling show in every way. I think that the way that would also unfold that it was Tom was up for grabs, too. I just didn't know till I saw the finale exactly what the narrative was because, for instance, Tom had a scene with Gerri that didn't make it in the final cut because I understand the first assembly was an hour or two long or something.
We had a scene where he offered me the job of general counsel, and I told him it'd cost him a lot, but we were rarely smiling at each other. In fact, we did one take where Mark Mylod had us turn and walk down the corridor together the way Claude Rains and Humphrey Bogart walk off at the end of Casablanca. This is the start of a beautiful friendship. That didn't obviously make it in. Then we did a shot where I'm looking at Tom right when Tom says to Greg, "Gerri gets it. She's not afraid of the dark," and we made eye contact. All those things tell a slightly different story. As it was, I think you just see me and I'm not aware they're talking about me.
That also tells a story that's a little bit-- I don't know. I'm dying to talk to Jesse or somebody or the editor and see how these little micro decisions were made, but I felt that Gerri was wavering the last few episodes between being really washing her hands of all the Roys, including Roman, especially Roman, and also feeling some remorse or some sympathy towards Roman. That I felt like sometimes there were scenes written where I was completely almost psychically cold and then some scenes where I felt for him. Then I feel like what happened is the narrative pick and chose very carefully those little moments. Does that make any sense?
Alison Stewart: It does. I want to pick up on that line where Tom says, "Even though she's been fired twice, she's still around," which I think is amazing. She's one of the super survivors of the series. Tom says, "Yet Gerri gets it. She's not afraid of the dark." What is it that Gerri gets? What has Gerri gotten over all of these years?
J. Smith-Cameron: I think it's been the same thing all along. In the very first episode that I'm in which would've been 102, not the pilot, but when we meet Gerri, Roman calls her a stone-cold killer bitch. I think that's her reputation and that she manages to keep a very careful cap on her emotions. She's got this focus of a surgeon and she doesn't get sentimental about things. Also, one definition of she's not afraid of the dark might just mean she's a grownup. Grownups aren't afraid of the dark. They comfort children who are afraid of the dark.
I think it's she's not afraid of the dark. She's a serious person, whereas the siblings are not. We've been told serious people and she's also mature and she's had a lot of experience with all this stuff. Also, she's not afraid of the dark side. She's not afraid of playing dirty. What did you think it meant?
Alison Stewart: I thought it meant that she's been there, done that, and that she's a pro. We're keeping Gerri. She's a pro. These three. Even though Tom was a little bit weak-willed, Tom turned out to be a pro as well.
J. Smith-Cameron: He's good at what he's good at.
Alison Stewart: Something I think, she seems to understand, she's known these kids forever. She's known these three, especially the three that we concentrate on. Kendall is this power-hungry, but a little bit pathetic. Shiv is the one who should know better but can't shake her desire to win. Then Romans is this man-boy who I think maybe ultimately might be the smartest, but is the least disciplined about everything.
J. Smith-Cameron: Yes.
Alison Stewart: Does Gerri think they are unserious people in the way that Logan dad did?
J. Smith-Cameron: Totally. I think all the Old Guard think that. There was a wonderful line that got cut at the end of the finale of Season 3 that Peter Friedman had. When Roman appeals to Gerri and she says, "It's not in my best interest," he then used to turn to Frank, and I can't quote it because I can't remember exactly because it wasn't my line and I didn't memorize it, but it was something like you three are, except for the family you were born into, completely unexceptional mediocre talents and I'm happy to not have to worry about you anymore. It was some very put them in their place.
We'll have to ask Peter Friedman what it was he really said, but it was fantastic because Frank is always the diplomat, always, always playing the middle of the road with them. That's his expertise, I think, but he doesn't think they're serious people.
Alison Stewart: Our phone lines are filling up. Nicole is calling in from Syracuse with a question. Hi, Nicole. Thanks for calling All Of It. You're on with J. Smith-Cameron.
Nicole: Hi, J. Oh my God, I can't believe I'm talking to you.
J. Smith-Cameron: Hi, Nicole.
Nicole: Hi. I just wanted to give a shout-out from our Twitter group chat, we all love you, love the show. We have a couple questions. One of them is, are you able to tell us the name of Gerri's daughters?
J. Smith-Cameron: Oh, well, they never really got named but one time I saw my-- I've said this before in some interviews, but I don't know if you've come across this, Nicole, but the props department in our show was out of this world. One time I was playing with my prop phone, Gerri's prop phone, and it had a completely full contacts. It had something like Catherine Kellman and Petty Kellman. Petty was short for something else.
Nicole: Catherine and who?
J. Smith-Cameron: Petty like Petulia or something.
Alison Stewart: Oh, okay.
J. Smith-Cameron: Yes, like Petty Fors, like that Petty, and I don't know what that was short for. I assume those were the daughters, but that, I think that was Tony Roche, one of our writers, but my god, the detail. I had them cast in my mind. I thought it should be Halley Feiffer and Tavi Gevinson playing the two daughters, in my mind. We never got to meet them.
Alison Stewart: When talking about props. I want to ask about costuming because there's been a lot of conversation about stealth wealth and if you know how much that watch costs. If you know you know. What was something that Gerri wore or something in your costuming that really helped you become Gerri or you thought was really important to signify who Gerri was and where she was in her life?
J. Smith-Cameron: When I first started, neither me or the costume designer really quite understood. I don't think anyone knew where Gerri would go. I was only hired to be in the first few episodes. If you remember, after the attempted coup in Season 1, Frank gets fired but I think at the point I was hired, they weren't sure which of the suits would get fired or all of them. I was only hired to be in four episodes to begin with, and I had all these really great, but really classic Brooks Brothers look suits. I just imagined Gerri had a closet full of them.
Then after Michelle and I got wind of how influential Gerri was and how huge this megacorporation was, and when we got a look at Gerri's office, she was the corner office with huge windows where you could see all over New York City, we were like, "Oh, she's not shopping at Brooks Brothers." We started really using more designer, more high style clothes and less corporate peon clothes. More like not the person who comes in and sits at the desk all day, but the way the other people dress. Was there a particular outfit? I can't think of one, but they all just felt very lux.
Alison Stewart: Had an image of her having an Amaze scarf carousel.
J. Smith-Cameron: Oh, that's great.
Alison Stewart: [unintelligible 00:13:38] go around.
J. Smith-Cameron: I never got to wear any Amaze. I did a mock Nancy Pelosi, Max Mara coat, remember Nancy Pelosi's rust red coat that she wore? Then it was that meme of her with her sunglasses, her hands in her pockets in the red coat. We imitated that, that was my idea. We didn't have a Max Mara coat. We had a red coat. Then later, I wore a dress and a collar necklace that was very like her impeachment outfit because I just wanted subliminally reference Nancy Pelosi because she's such a boss.
Alison Stewart: My guest is J. Smith-Cameron, we are talking about all things Gerri and the end of succession, our phone lines are open. 212-433-9692. You can also text to us there. We'll have more with J after a quick break. This is All Of It.
[music]
Alison Stewart: You're listening to All Of It on WNYC. I'm Alison Stewart, my guest is J. Smith-Cameron, we are talking about the finale of Succession and her role as Gerri, got Lori on Instagram says, "Gerri, my fave. My fantasy was Gerry, Shiv and Karolina joined forces and take the reins." We got a text that says, "As a corporate lawyer and former GC, J.'s portrayal was so familiar perfect and really cringe-inducing." Do you hear from a lot of former lawyers or current lawyers?
J. Smith-Cameron: Oh, I'm sorry, that was a BBC news alert in the background. I hear from people in the media world and in the corporate world that they're just very familiar with that person that I play and that and that also, I've heard from a lot of women who say that they can relate to Gerri's inner struggle to stay focused and not to get trampled by the misogyny. After that scene with Shiv in Season 3 where Shiv tries to really freak me out about the HR and the pictures from Roman, that horrible thing when woman turns against a woman in the workplace and so many people were like, "Gosh, that was refreshing to see it articulated in the way that I recognize."
Alison Stewart: In the past few episodes, there is one moment where Gerri waivers and it's when Roman who wants to run the company and do it his way, decides to flex when Gerri can't say with a straight face that his quest for power makes sense that he's as good as his dad and beyond firing her, he says the one thing that could really hurt her, that she's not competent. Let's listen to that scene and talk about it on the other side.
Roman Roy: You don't treat me with sufficient respect, and that's a problem.
Gerri Kellman: Uh-huh.
Roman Roy: Maybe I'll fire you, too.
Gerri Kellman: Sure. I'm not on the kill list.
Roman Roy: So?
Gerri Kellman: Matson will be very angry.
Roman Roy: Matson, I don't care.
Gerri Kellman: Be serious. You're minding shop. Roman. Oh, no, no, no, no Roman.
Roman Roy: Yes.
Gerri Kellman: You cannot win against the money. The money is going to wash you away. Your dad knew. Tech is coming. We are over. Make your accommodation.
Roman Roy: This is a simple business decision. You are not good at your job. Maybe Dad did know. Maybe I'm firing you for a list of failures I choose not to outline right now but including a failure to close off liabilities vis-à-vis claims against Waystar cruises in a timely manner. That'll play nicely. Let's do that.
Gerri Kellman: I am good at my job.
Roman Roy: Shall we get started on the paperwork? You want to do it yourself or do you want me to get somebody a bit sharper? Bye.
Alison Stewart: What is it about that moment that penetrates her that she's not good at her job?
J. Smith-Cameron: It's like she's the best one at her job in the whole place and he knows it well. It's just galling that that's what he's using as his reason. He's firing me because his ego's wounded, and I'm trying to boss him around. I'm talking down to him. It's true, but he's minding shop. He's trying to do a deal. She's right. The money's going to wash him away. They have to sell to this company to move forward, and he's not looking at that way. He's trying to make his own power grab. I feel like I know him so well and I have him so firmly. I know him so well, and we know each other so well that I can just be frank with him and he can't take it right then.
I think he has a horrible inexorable pull, it's like he's gone on a killing spree. He's fired that other lady and now he's going to fire her. I don't think it was intentional. I think it was just reactive.
Alison Stewart: Folks around here know you as a stage actor, all the work you've done and alternative theater and off-Broadway and on-Broadway. What is something that being a stage actor was useful? What skills as a stage actor was useful for you in Succession?
J. Smith-Cameron: That's a very good question. First of all, people in Succession talk much more than most people on TV or in films. In the theater, there's lots of talking, people have monologues and long scenes where you talk because you can't change, you can't go outside and you can't do visual things the same way that you would in a film or in TV. It's more about talking than anything else. Succession people really talk, it was really a lot of language, just the way the writers somehow made all the characters sound like themselves, and yet there was also this succession ease speak like the crude language and the kind of jokes and the rhythm to it, it was a heightened kind of language and yet they always make Cousin Greg sound like Cousin Greg and Romans sound like Roman distinctly.
There was still an overall way that that world of people sounded and that's very theatrical. That's very much like being in a play. Also, the collaboration when you are in a play or the analogy I like to make is, I grew up playing the violin and to me, it's when you play chamber music, you have to listen to the other musicians so carefully because sometimes the second violin takes the melody and then they give it over to the cello. You have to be listening, you have to loft the ball back and forth. That is a skill that a lot of TV actors don't get the chance to sharpen. Whereas in the theater, you have to, because there's no editor making the parts of the story pop out.
You have to be disciplined, and you have to make sure that people know that they hear what they need to hear and notice what they need to notice. That skill I think everyone in that cast had. That's really all theater actors pretty much.
Alison Stewart: Let's talk to Lauren calling in from Canada. Hi, Lauren, thanks for calling in.
J. Smith-Cameron: Hi, Lauren.
Lauren: Hi. Thanks for having me. Hi. My question is basically at the end of the last episode we see Tom saying he wants to have a chat with Gerri. Do you think Gerri would ever be persuaded to come back to the company now with Tom as CEO or do you think she's going to take that long vacation and go on a safari and just never come back?
J. Smith-Cameron: I think she'll take a long vacation and then come back. I definitely think that she wanted to stay working with them and then this is even better because she doesn't have to fiddle with those lightweights anymore. She can just treat it like a job and not have to feel like there's a monarchy with some spoiled brats that she has to kowtow to. I definitely think she would work there and that she would be maybe more influential than ever actually there. I think even though she's senior to the firm, she's not past it. She's very much has something to offer.
I think that Gerri said that in an earlier episode, like, "Oh, I think I have one more campaign in me." I think she does. I think she wants to go on working because that's who she is. She's a workaholic.
Alison Stewart: One of your fans tweeted that they were so happy you got this part and what you brought to it and you responded, you tweeted back, "I'm glad I auditioned, too." What did you think when the opportunity came up to audition for this role that was written for a man?
J. Smith-Cameron: I just thought right away the dialogue seemed really fresh to me and funny and I felt like it was a chance to be-- often when you see a corporate boss lady, it's generic and the dialogue just seemed very specific. I didn't know what we were referring to because they were isolated scenes. They weren't always even Gerri the man scenes. Some of them ended up as Frank's lines and some ended up as Karl lines, but they were-- I just thought it was funny maybe because it hadn't been rewritten for a woman because it still had a lot. Of course, the sons were still joking around in their course, disgusting way. Gerri, the way I played it was trying to be unflappable but also wincing at how gross they are, and I personally thought that was funny and I was hoping they would think of it. Sorry about all this. That's it.
Alison Stewart: We have just a little bit of time left, and I wonder what you're doing next?
J. Smith-Cameron: I have a project I'm excited about that I can't-- and it's not been announced yet that is stalled everything else because of the writer strike, which we don't know when that would be resolved and likely my union may strike as well. We don't know how long a wait we are talking about, but I also have, right now, a film streaming on Peacock called The Year Between, which is an Indie movie that I'm very, very proud of by Alex Hellers. I have some other projects like that, too. I was in Waco, which ran alongside at the same time during Succession, but I did have had these other projects also simultaneously.
Alison Stewart: J. Smith-Cameron, we thank you for your service. Thank you for Gerri, thank you for Succession and thanks for making time today.
J. Smith-Cameron: Thank you, Alison.
Copyright © 2023 New York Public Radio. All rights reserved. Visit our website terms of use at www.wnyc.org for further information.
New York Public Radio transcripts are created on a rush deadline, often by contractors. This text may not be in its final form and may be updated or revised in the future. Accuracy and availability may vary. The authoritative record of New York Public Radio's programming is the audio record.