Human Rights Watch Film Festival Kicks Off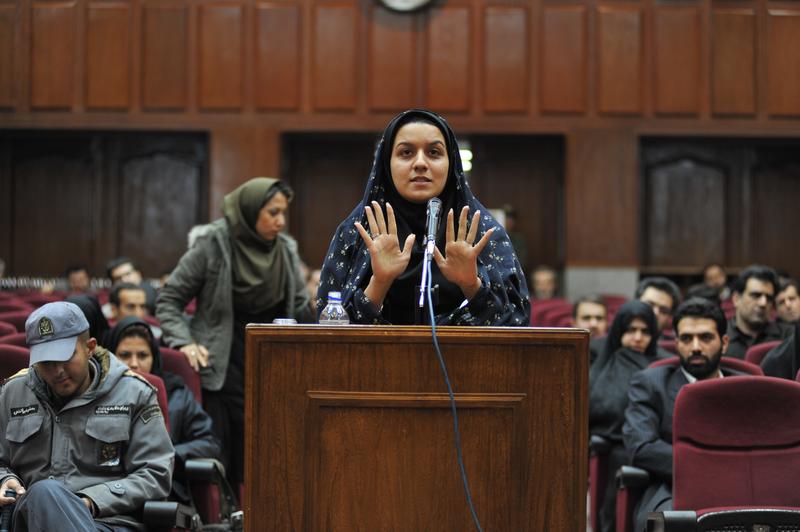 Transcript
[music]
Alison Stewart: This is All Of It. I'm Alison Stewart, live from the WNYC studios in SoHo. Thank you for spending part of your day with us. Whether you're listening on the radio, live streaming right now, or listening on-demand later, really grateful you're here. On today's show, we'll continue our conversation about female artists' place in art history with Katy Hessel, author of The Story of Art Without Men, and we'll hear from one of the artists profiled in the book, Dindga McCannon. We'll talk with two people behind a new bilingual production of The Comedy of Errors that's playing at The Public. That's the plan, so let's get this started with the Human Rights Watch Film Festival.
[music]
Today kicks off the 2023 Human Rights Watch Film Festival in New York. The festival focuses on features and documentaries that shed light on social issues and concerns from trans-affirming care, to environmental activism, to reproductive freedom. The 34th Human Rights Watch Film Festival runs through Sunday, June 11th. To find tickets for in-person and virtual events, head to ff.hrw.org. Joining me now in studio to discuss the slate is John Biaggi, Director of the Human Rights Watch Film Festival. John, welcome back to All Of It.
John Biaggi: Oh, thank you, Alison. Thank you for having me.
Alison Stewart: The festival this year includes a line of 10 films, a combo of features and documentaries. What kind of conversations about themes or topics came up among this year's programming committee?
John Biaggi: That's a good question. Every year the festival features different human rights issues because there's, as you know, so many human rights issues in the world. It's a constantly evolving kaleidoscope year in and year out. This year, I think it wasn't so much that we found a theme in the festival because usually, we don't look for themes. There's a number of films on women's rights issues, there's always those. We have some environmental justice issues this year, but it was another strong year of documentary films. Actually this year they're all documentaries. We failed to find a feature that we liked enough to show. Most years we have a feature, but it's usually mostly documentaries at this point because a lot of what we focus on is current human rights events, and documentaries do that better than anything.
Alison Stewart: The whole slate is documentaries this year.
John Biaggi: It is, yes.
Alison Stewart: Oh, that's interesting. Let's talk about the centerpiece screening. The film titled Theatre of Violence. It's about a Ugandan lawyer who represents a former child soldier who was part of Joseph Kony's Lord's Resistance Army. He's being prosecuted in International Criminal Court. Who is the former child soldier and what's the crux of the trial here?
John Biaggi: It's a really, really beautifully produced film. It focuses on Dominic Ongwen, who is actually the first child soldier that is prosecuted by the ICC, the International Criminal Court, at The Hague. What's really remarkable about the film is the filmmakers take a dive into asking the question, what is justice and is this the justice that Uganda is looking for?
The ICC, it's a European institution with mostly European judges and so there is a really great thread throughout the film of Dominic's lawyer questioning this and other people that they interview in Uganda about wondering do we want some reconstructive justice. Do we want another form of justice? Maybe is there some aspects of colonialism that are still here with the ICC, and mostly doing trials in Africa. That's what they've mostly done to this point but for many reasons. Lots of them are also because they can't get access to some of the other folks who really need to be in front of that committee.
Alison Stewart: Let's take a listen to a bit of the trailer of Theatre of Violence.
Speaker 3: Attacks against civilian population, murder, torture, rape, sexual slavery, outrageous upon personal dignity as a crime against humanity and as a war crime.
Speaker 4: Your Honors, Mr. Ongwen, who is before you, was just a child when he was abducted, brutalized, and made into a fighter machine.
Speaker 5: [foreign language]
Speaker 6: [foreign language]
Reporter: Joseph Kony, his Lord's Resistance Army has become a murderous cult.
Speaker 4: Joseph Kony used spiritualism to control the minds of the LRA soldiers.
Speaker 7: The victim who becomes a perpetrator, it's a tragedy, but it can't be the lifetime free pass to commit atrocities.
Alison Stewart: Such an interesting series of questions, just even from watching the trailer earlier today. When you think about this film, is this film about the law or does this film take a more humanitarian look or both, I guess? Could be both.
John Biaggi: It's both. Absolutely. There is the law. There is the question, as you just heard in the trailer about how do you define justice when the defendant is both a perpetrator and a victim? Dominic was abducted as a child into the Lord's Resistance Army and he was totally indoctrinated and it changed him in so many ways. He also did heinous horrendous crimes as he grew up and moved up the ranks within the LRA. There's that and there's also the personal. The fact that Northern Uganda feels like they haven't gotten the justice that they were looking for.
They're wondering well, why hasn't the ICC prosecuted the president because there is two sides to this? There is Museveni, who's the president, and his soldiers did horrendous things too. They massacred, they did all kinds of horrible things but nobody has prosecuted them. They've only come to one side, and so it feels very uneven, and that's expressed in the film very well.
Alison Stewart: Let's talk about We Are Guardians from filmmakers Chelsea Greene and Rob Grobman. It's about the ongoing fight to protect the Amazon. How does this film help us understand who's really on the front lines of this issue?
John Biaggi: That's a good question. What I found remarkable about this film when we first saw it was it shows all the gray areas. Everyone has seen a lot of films about the Amazon and the deforestation and the destruction. This film goes behind that scene and you're introduced to an illegal logger, he's one of the main characters. You're also introduced to a small cattle rancher. Not one of the big agribusiness ones, but a small one, saying, "We don't destroy the land. We want to preserve the land. We don't use pesticides because we're trying to keep the land good for the cattle, unlike some of the larger farms."
It's difficult because the logging guy, it's difficult to watch his job, but he's trying to feed his family, and then on the other side, we have the indigenous forest protectors, the forest guardians, who are amazing folks. They are out there every day putting their lives on the line to try to keep their indigenous lands from being encroached upon because they're constantly under threat from every side. They show changing maps that are just terrible of how people have moved in on their land illegally. There's all these multiple levels in this film, and it really makes for such a strong film, instead of just showing one side of the story.
Alison Stewart: The name of that film is We Are Guardians. My guest is the Director of the Human Rights Watch Film Festival, John Biaggi. The festival opens tonight and runs through June 11th. I'm fascinated by this documentary about a newspaper in Kabul, Afghanistan which provided a firsthand account of what was happening on the ground in 2021. Tell us about the paper, how they covered this event, and also how someone inside the paper actually provided a lot of the footage that's in this film, correct?
John Biaggi: Yes. Actually, the director was also a journalist at the Etilaatroz, which is the main newspaper in Kabul, the independent newspaper. He's the director, so he was there and he had the inside story, he covers his whole team of journalists in the days as the Taliban are approaching Kabul, and then through to when they take over, and the results of that, and how the US and all these other countries start airlifting people out. What's remarkable is it's almost a moment-by-moment window into a group of people who are trying to do their job. They're journalists first and foremost, and they're still putting the paper out during the time the Taliban have taken over, but they're under threat from the Taliban. The Taliban start telling them we're going to shut you down or worse. They have to weigh that against their journalistic job, against also their families, and whether they're going to stay or whether they're going to go. It's a heart-wrenching thing to watch but it's also very powerful, very beautiful because you realize these people are extraordinary. They're ordinary people in an extraordinary circumstance.
Alison Stewart: There's one woman, I think the filmmaker says, "Well, did you think about not coming to work today?" She was like, "No, it's my job. Of course, I'm coming today." It's really moving.
John Biaggi: It is. It's quite something.
Alison Stewart: That one is called-- I'm going to let you say it again.
John Biaggi: The Etilaatroz.
Alison Stewart: Thank you. Into My Name is based in Italy. It follows four trans-masculine friends, Nic, Leo, and Andrea, and Raff. They're on a journey of self-discovery. There's something about this that has a very beautiful light, warmth about it, just a coming-of-age sensibility. How does that tone help tell this story, their story?
John Biaggi: That's a really good way of putting it, Alison. I think that's what we saw in the film when we first saw it. It's almost a lyrical film and it has this very personal, very emotional, they're good friends. You get to see their connection to each other. They're always talking to each other on the phone and such. They're just working their way through how they fit into their society, how they can fit in, where there's roadblocks, how are they trying to negotiate the whole medical establishment which is arcane and bureaucratic.
There's quite a few scenes in there where you see how difficult it is for these young men to get through this system. It's the support of their friends that really gets them there. That's something you see in a lot of the films in the festival. It's the support of others that really brings these folks that they can do what they have to do and that they can persevere in very difficult circumstances.
Alison Stewart: The filmmaker has personal experience with this.
John Biaggi: Yes. The film is really almost like a love poem to his son who is transgender. They're both going to be here and they're both going to be in the Q&A, which is going to be really fantastic and we're really looking forward to that.
Alison Stewart: Some of the obstacles that these young men face in terms of their healthcare, does it mirror some of the problems that the United States is having or is it different in Italy?
John Biaggi: It's similar and that's also why I think it resonates with some of the issues that are happening here for transgender rights. Some parts of the medical establishment don't really understand how to approach these issues. Also, there's just these old arcane rules that get in the way of people getting the medical care they need. It's a combination of both.
Alison Stewart: My guest John Biaggi, he is the director of the Human Rights Watch Film Festival. The Film Festival kicks off today and it runs through Sunday, June 11th. The closing night film is Pay or Die, a film about family struggling to afford lifesaving diabetes medications. First of all, why did you want to end this film about [crosstalk]. Yes, sorry about insulin. I'm sorry, I just went to what these people are dealing with and I got lost in it. I'm sorry.
John Biaggi: No, no worries.
Alison Stewart: It's so upsetting.
John Biaggi: That's a very good question. Well, it's a big issue here in the US. Every year we show a number of films what I call hot-button issues and this is definitely one of them. The fact that the pharmaceutical industries can make people pay these exorbitant amounts of money for a lifesaving medication it's outrageous. The film is amazing. There's different characters but the one that are going to be here for the discussion are the mother and father of this young man, Alec who was 26, and he was weeks out of aging out of his parents' health insurance.
He died because he started rationing his insulin because he was a young man with a job that he could not afford this medication and pay for his food and for an apartment and he was too proud. I don't want to speculate too much but he died and his mother became this activist. She just went to the state capitol, she lobbied, she's pushed. She's become another ordinary person doing extraordinary things, is the way I see a lot of these films and that's why they're so wonderful for audiences because they're very empowering. She's coming, she and her husband are coming, and they're going to be there for the discussion on closing night. It should be quite something.
Alison Stewart: I do want to play a clip from Pay or Die. This is a 20-year-old named Kara who is diagnosed with diabetes during COVID. Her vision went blurry and now she and her boyfriend are struggling to figure out how to deal with the economics of their situation. This is from Pay or Die.
Speaker 8: Last time you did it-
Speaker 9: The wrong way.
Speaker 8: -we wasted a lot of insulin and this time it was just as--
Speaker 9: No, that's--
Speaker 8: You're not looking at what-
Speaker 9: No, let me finish.
Speaker 8: -the costs are going to be long-term. That's where--
Speaker 9: For me, I'm not going to be concerned about cost. I'm concerned about my life.
Speaker 8: Correct.
Speaker 9: Learning all this stuff and figuring all this shit out. I don't want to bring money into it. I don't want to think about it. I'm choosing that as a strategic way to keep my mental stability and money does not help me with that. That will come. Do you know what I mean?
Speaker 8: Yes, I understand why, but if you keep your head in the sand on the financials, you're going to end up in that place.
Speaker 9: If you really need to know this, I'm going to ask you to do it. I'm not going to do it right now.
Speaker 8: The metrics that go behind that I need--
Speaker 9: You're making me feel guilty for not having that information at the ready. You're making me feel guilty that I haven't thought about this. This is your biggest worry. Do it. It's not my biggest worry. My biggest worry is staying alive.
Alison Stewart: You hear the struggle with just what it does to families, what it does to relationships, what it does to self-esteem. Does the film offer any solutions? Does the film offer any call to action at all?
John Biaggi: The film profiles the folks you just heard, that young couple and also mother-daughter who have to go across the Canada border to get insulin at a fraction of what they pay in the US. It's hundreds of miles of driving, staying overnight, et cetera. There's those three and Alec who I talked about. I think it really dives deep into these issues. It's not just insulin, there's all kinds of other drugs that people need to live and they can't afford them because these giant pharmaceutical companies charge way too much money and the US government has done nothing on that. It's really outrageous. I'm not saying that it provides hope at the end but it definitely gets people angry and when people get angry, things change.
You see what happened with insulin about a month ago, a month and a half ago. One of the companies finally under pressure from ordinary people who just kept bothering them and bothering their congressmen and just whacking away at them. They finally said, "Okay, we're going to lower the price of our insulin." They lowered it a lot. The hope is that others will follow suit. Now, we haven't seen that yet, but we're hoping that's what the case is. That's where people like the mother of Alec, that's where they come in. They're the people on the frontline making the change that needs to happen for millions of Americans who take insulin and other drugs.
Alison Stewart: That's why these films are important. Each one of these issues, people can come to know more about it and understand more about it. We're going to talk to the filmmaker of the opening night film in just a minute. She's in our green room now, Seven Winters in Tehran, about a 19-year-old Iranian woman sentenced to death for killing a man who tried to rape her. The film is really extraordinary because there are these audio. She had some recordings. She left letters that she smuggled out of prison so that her story could be heard. Why did this seem a good film to open the festival?
John Biaggi: First of all, it's just a really well-made film. It's another film where you see an ordinary person, her mother Shole, who does extraordinary things. Her daughter is in prison, and the trial is a joke.
Alison Stewart: It's political.
John Biaggi: It's political, it's patriarchal. It's infuriating to watch. She eventually becomes an activist and she's helping other families. She's an activist now. She was with us in London when we showed the film on Zoom. She's really a wonderful person and I just think, there's that element of wanting to show our audiences the ordinary person can do these great things, just like you or me. It's empowering. It's something that gives us a lot of hope. That's one reason why we put it at the front. Also, because Iran, of course, is a huge issue in the news here in the US, and it's something that it's good to see behind the curtain and to see what's happening there, especially for Americans who are not often that well keyed into politics abroad. It's for those reasons, I think we really wanted to show it as opening night.
Alison Stewart: For people who want more information, because I know some of these films are screening online, some are in-person, what's the best way to get info?
John Biaggi: The best way to get info is probably to go to ff.hrw.org, which is our website. You can connect to get tickets from there. There are two venues, film at Lincoln Center and at IFC Center. All the films are there and you can read all about them, and you can also connect. You can connect to other sites where they talk about these topics and learn further about them, which is nice.
Alison Stewart: The Human Rights Watch film festival kicks off today, and it runs through Sunday, June 11th. I've been speaking with its director, John Biaggi. John, thank you so much for running down the slate for us. There are other films as well, but people can check those out online as well.
John Biaggi: Thank you, Alison.
[music]
Alison Stewart: This is All of It. I'm Alison Stewart. We continue our coverage of the Human Rights Watch film festival with a look at the opening night selection called Seven Winters in Tehran. In 2007, a man who said he was a doctor, asked a 19-year-old student, who was also a part-time interior decorator, to come see an office he needed revamped. Once inside the room, she realized it wasn't a commercial space, and that he had locked the door. As he attempts to rape her, she is able to get a knife and stab him before fleeing. After a shady police investigation with political overtones, she's arrested, tried, and sentenced to be hanged under an Iranian statue called Blood Revenge.
This is the true story of a young Iranian woman named Reyhaneh Jabbari. The film follows Reyhaneh's family for seven long years as they visit her prison, advocate for her release, share her story, and beg the deceased man's son for forgiveness on her behalf so that she would not be killed. Through audio recordings and letters she left behind, we also get to hear Reyhaneh's words of fear, courage, and wisdom as she awaits execution.
Seven Winters in Tehran will be screened tonight at 7:00 PM followed by a discussion as part of the 34th Human Rights Watch film festival. Screened again on Wednesday, June 7th, and available throughout the festival online. To find tickets and information about these in-person and virtual events, you can go to ff.hrw.org. Join me now to discuss the film is its director, Steffi Niederzoll. Steffi, welcome to All of It.
Steffi Niederzoll: Yes, thank you so much to have me here.
Alison Stewart: This story was in the media, in the news. There was a lot of conversation on social media about it, trying to support her family, years and years ago. How did you first learn about Reyhaneh Jabbari?
Steffi Niederzoll: Actually, of course, also in 2014, when it was worldwide, the case was worldwide in the press, I heard about it, but actually it was so often we hear something, we read something, the sad story is touching us, but then we continue our life. It was the same as me. In 2016, two years later, over my Iranian boyfriend I got to know in Istanbul Turkey, I got to know family members of Reyhaneh. They have brought smuggled material with them. We start to become friends. I was very curious because I remembered the case, and we start to speak, and I think they liked my kind of questions.
In one moment, they asked me if I want to do a documentary with the material, but actually, I could not immediately say yes. I'm German, I don't speak Persian. I never was in Iran so I asked them if I can take the material back to Germany to translate it, to understand it better, and to take my decision. On this particular day where I took this material, I got to know Reyhaneh's mother, Shole Pakravan. Two years later-- Two weeks, not two years. Two weeks before, she just had to leave Iran as well. It was already 2017.
It was such a magic moment to meet her and I felt so close to her. Somehow now in retrospect, I think, just two women met, and we just connected, and she started to speak a lot about her daughter. In this moment, I decided I really have to do this movie because I really felt so close, and somehow I understood how powerful this material was.
Alison Stewart: Two things, she relocated to Germany, correct?
Steffi Niederzoll: No, in this moment she was in Turkey, not yet, and it was also an accident. I think there's a lot of accidents. She was always coming closer to where I am, and it's interesting because for Shole, it was so clear that I'm the director in the moment where it was not clear for me. I don't know. It was just calming.
Alison Stewart: Just coincidence, it was just happening. This material that was smuggled, I mentioned it a little bit earlier. This material, these were letters that Reyhaneh had smuggled out of prison, right? Is that some of it?
Steffi Niederzoll: Yes. Some of it, it was like that, but it was much more. The family used their mobile phones. They just recorded and just captured moments. On the one hand, they captured also Reyhaneh inside the prisons, what is extremely dangerous and very, very rare to have a video image or photograph of someone in the prison. Also, they captured how they tried to fight to save her. They captured moments in the family. It was quite a random thing, but also they captured Reyhaneh's voice, they recorded Reyhaneh's voice. She wrote a lot of diaries and letters in the prison. Over 2,000 pages of diary we have.
Sometimes she was reading it in front of the telephone, so the mother typed it. She recorded it, then she typed it and she published it. That was a way just to sneak or to bring these letters out. I had this hard drive, then there's a lot of different material.
Alison Stewart: How did Reyhaneh's family describe her and what she wanted from life?
Steffi Niederzoll: Of course, how especially mothers describe the daughter. Of course, she says she was the most lovely, sweetest daughter she had. I think, how I saw, how I read Reyhaneh through all the material I had, I think she was someone who really believed in, if you do something, you can achieve it, you can manage it. She really thought she has a bright future in front of her. She comes from this middle-class family, very cultured family. I think for her, then this destiny she had to be thrown into a prison was quite a big change.
Alison Stewart: My guest is Steffi Niederzoll. We're talking about Seven Winters in Tehran. It is screening as part of the Human Rights Watch Film Festival, so we're not giving anything away. This is very early in the film. This man approaches her, I believe they were in a cafe, says he's a plastic surgeon, "I want to redo my office." She walks in, she realizes this is not an office. This is not commercial space. She realizes the door is locked. He attempts to assault her, rape her. She's able to stab him. Once she goes home and once the police show up, it's very clear that this investigation has political overtones.
What were some of the first clues for the family and for Reyhaneh that there were politics involved here, that this man was someone who had connections?
Steff Niederzolli: I think it's very different for Reyhaneh and for the family. I think Reyhaneh, the first time she said that there's some political thing going on, it was quite after she got arrested. It was just a few hours later. She had the chance to hug her father and just to whisper this in his ear. The parents, they were totally confused because they had no clue what happened because Reyhaneh didn't told them. She said she had a car accident, so they just lined everything up with the car accident and even the police then said, "Yes, someone died." They thought, "Okay, someone in this car accident died."
I think for them, it took quite a long time to really understand it. They got so many different information and so much false information until they understood it. Until they really believed Reyhaneh, it took seven months.
Alison Stewart: Something else I thought was really heartbreaking, a lot of things were heartbreaking in the film, was once she's arrested and taken away, she's told, "Your family doesn't care anymore." They're very much separated. It's two or so months before she realizes her family even cares what happens to her. When did you get a sense that the mother started to become an activist? That's a really big part of the film as well, her as a mother, but also her as an activist.
Steffi Niederzoll: It's very nice that you mentioned this moment because it's one moment that always really breaks my heart because I think it's the worst thing you can do to separate someone so young, in any age, but especially when you are so young for your family. The cruising is, it can also happen that the family has just abandoned the one who's in prison. Reyhaneh really believe that and, of course, this made her weak. This made her very weak that she thought she's alone on this world.
That Shole, her mother, that she becomes an activist now against death penalty is quite late, but she was extremely active from very first moment to save her daughter or just to understand what happens and just to fight for her. In one moment, Reyhaneh, after she got the death sentence, she decided to fight for the other prisoners. This is what happened. She made this big change that from someone who's looking about her own future, she started to really be aware of the people around her and started to fight for other prisoners.
She really pushed Shole to do that. Shole just learned from her daughter. Normally, daughters learn from the mother, but, in this case, it was the other way around. The mother learned from her daughter who's inside a prison that she has to stand up. She can do it from outside the prison and fight for the other woman. Shole really learned from her daughter and she continued doing that. Somehow she infected me now. [chuckles] It's just somehow this knowledge that you have to stand up and just fight for woman rights.
Alison Stewart: To put it in context for people, Steffi, so much of this footage, it must have been very dangerous for the family members and for people who are shooting this footage, as you said, outside of a prison, taking pictures of Reyhaneh when they visit. Just for context, can you explain how dangerous it was? This material you have is pretty extraordinary.
Steffi Niederzoll: Yes. Actually, it's very dangerous. You can definitely go to prison for that. Five years would be not surprising. There's people, they just died over a picture of Evin Prison. Reyhaneh was in the first year she was in Evin Prison. This notorious Iranian prison, somehow, worldwide is known. It's pretty dangerous. I think the family was so desperate when they did these pictures inside the prison. They were just not thinking about their own safetyness. They just did it because they felt this injustice. It was also for them. They just wanted to have this glimpse of her sister. Mainly [unintelligible 00:33:46] was doing these pictures.
She just wanted to have her. They didn't saw her so often so they wanted to have a little video or little pictures that they can just see her. There were other people. They shot for me a few shots in Iran and it was pretty dangerous. They did it. It was before the uprising in Iran and they did it as an activist act. For them, they really wanted that this movie is out and that this movie is made and they could not do it from inside Iran so they were somehow very supportive that I can do this movie. They did these very dangerous shots for the movie.
Alison Stewart: We'll see in the film that a judge who seems to be fair is replaced during the trial. There's this idea of blood revenge that the son of the dead man is in conversation via text with Shole about-- and Shole is trying to say, "Don't destroy two families." Watching them, their texts back and forth was really fascinating. It really made it a very, very personal to it from the very political to the very personal. When did you know you wanted to use these texts and how you want to use them?
Steffi Niederzoll: Actually, when Shole gave me this text, of course, I didn't got everything in the firsthand. Of course, it's then also story of getting trust really because we had this very intense moment in the beginning, but nevertheless, she had to build up trust with me because she was over seven years. They were monitored so, of course, she didn't trust me 100% in the first time, but when I could read this conversation, it was so interesting for me, especially because there's not so much from the other families. I tried to reach out to the other family, but they didn't want to be in the movie or they didn't stop then to respond to us. This was a way also to just show this other family and also to show how they communicated. At least, for me, after reading these text messages, I had the feeling there was also will to get another way. I don't want to spoil too much. [laughs]
Alison Stewart: We won't spoil too much. It's called Seven Winters in Tehran. It is opening the Human Rights Watch Film Festival. It will also be available to be screened virtually. Go to ff.hrw.org. Its director Steffi Niederzoll has been my guest. Steffi, thank you for coming to the studio.
Steffi Niederzoll: Thank you so much, really.
Copyright © 2023 New York Public Radio. All rights reserved. Visit our website terms of use at www.wnyc.org for further information.
New York Public Radio transcripts are created on a rush deadline, often by contractors. This text may not be in its final form and may be updated or revised in the future. Accuracy and availability may vary. The authoritative record of New York Public Radio's programming is the audio record.