An Exhibition of Corona, Queens Residents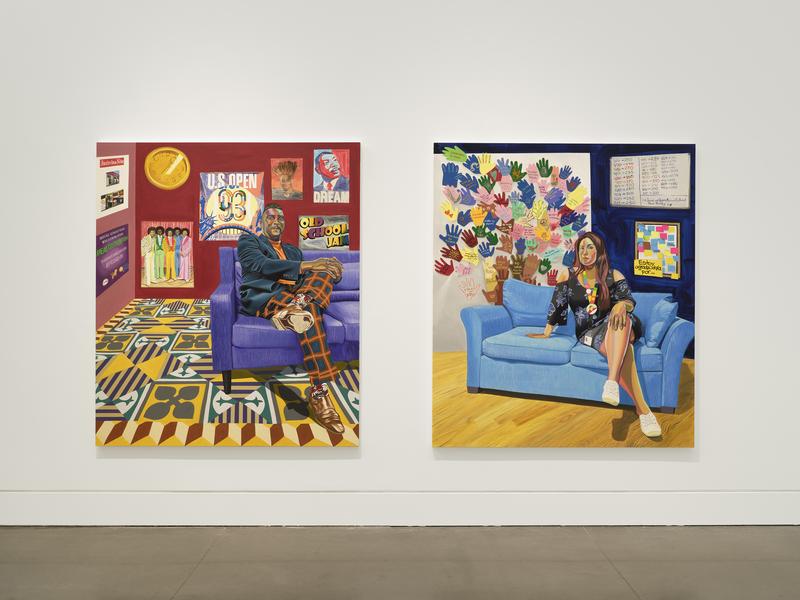 Transcript
[music]
Alison Stewart: This is All Of It on WNYC. I'm Alison Stewart. We continue our week-long recognition of female artists with a new bright and colorful exhibition showcasing the faces of some residents of Corona, Queens through portraiture. It's titled Queens, Lindo y Querido. The exhibition which spans 2 galleries and includes 16 paintings and 4 drawings grew from artist Aliza Nisenbaum's year-long interactions with locals after she began volunteering with Immigrant Movement International, a Corona-based community space where English language is taught through art history, and there are offerings like Spanish for Mandarin speakers and computer literacies.
There's also immigration law and counseling for domestic violence victims. Over the course of a little more than a decade, Aliza got to know the people in the neighborhood and began painting them. The exhibition features intimate scale to medium-sized portraits to the largest piece being a 17-foot-long painting of 16 employees working side by side at LaGuardia Airport. The work is as much narrative as it is portraiture, it tells their stories.
A New York Times review called the show "Realistic but with heightened colors and flattened planes, they're homey and glamorous at once, capable of absorbing any number of idiosyncratic details." Queens, Lindo y Querido is now on exhibit at the Queens Museum. Aliza Nisenbaum joins us to discuss. Aliza, welcome to All of It.
Aliza: Thank you so much. It's great to be here with you.
Alison Stewart: This began with you volunteering with this hyper-local support service group that was also a collaboration with the Queens Museum. What drew you to the work and to this collaboration?
Aliza: Well, it was really the vision of artist Tania Bruguera who started this space and I was really moved by the way she wanted to bring resources that aren't usually given to community centers like yoga classes, English through art history. It was a way for me to reconnect with my own Mexican identity. I taught this class and I brought people to museums for the first time. Sometimes we would do field trips to the Met. I just got to know them really well over the time of teaching, so I decided to ask Tania if I could set up a makeshift studio and record there, basically, through painting, spend time with people.
It was that mutual witnessing that extended all the way to my collaboration with the Queens Museum and the classes I taught there that led to the current painting.
Alison Stewart: Let me circle back, what kind of work did you do with this community specifically?
Aliza: I was teaching this class that was really from the ground up. They were really interested in translating texts of female artists that they had seen at the Met or that I would introduce them to. It was basically teaching and translating texts from Spanish into English and vice versa. Then I started to hear all their stories and so then I would ask them to stay after class and I would make portraits of the people.
I started one relationship with a family, Veronica, Marissa, and Gustavo, who I've painted over the past decade. I've seen the young woman Marissa grow up from the age of 10 to 22. Now she's at Cornell. I've seen her grow up and I've documented their life basically over painting. Then obviously many other people that I've met in the community and in the museum itself.
Alison Stewart: Let's talk about that painting Pedacito de Sol. What was going on with Veronica and Marissa when you first met them?
Aliza: Veronica was taking my class and she became a community leader herself. In that painting, there's a bicycle on the side. She led a group of women that would build their own bicycles and take up the agency of having their own mode of transport, going all over the city in these bicycles. I painted Veronica. The first paintings I made I gave to her and her family. Then I painted Marissa with her father. Then I revisit that in Pedacito de Sol where the sun is coming in really brightly through the window and they have the striped couch and all these crafts that one finds in Mexico that I found in their home.
Daughter is leaning on the mother and they're surrounded by all these bright color that I found in their house. That's clearly reflected in the traditions of textiles and crafts in Mexican culture.
Alison Stewart: There's a music stand. What's on the music stand?
Aliza: There's a Frida Kahlo image and then there's also an image of the way the ancient fable of how Mexico was founded was when anyone would see a cactus with an eagle devouring a snake, that's where Tenochtitlan the ancient Mexico was founded. That's what I found in their house. These are the material culture that was around their surrounding.
Alison Stewart: When you're doing portraiture, of course, you're concentrating on the faces and the energy of your subjects. How do you decide what details to focus on in the background?
Aliza: Well, they're really like an extension of various many conversations I have with my sitters over a very long period of time, because painting, unlike photography, obviously, is an accrual of many different moments, as you make the painting, also, I interview them for a really long period of time. It's trying to extend the narrative that I hear from my conversations with my sitters. I paint their face with all these very bright colors. The extension of the background is trying to tell the deeper story.
I called it Pedacito de Sol, which means little sliver of sunlight. Then later on Veronica told me that that's what she calls her daughter Pedacito-- That she calls her daughter De Sol, so it was very apt for their relationship as well.
Alison Stewart: My guest is artist Aliza Nisenbaum. The name of the show is Queens, Lindo y Querido at the Queens Museum. It is up now, running all the way through September, so folks have time to see it. The title of the show is adapted from a popular song, México Lindo y Querido, which translates roughly to Mexico beautiful and beloved. Why was this the right title for the show?
Aliza: That song every Mexican I know that's the classic mariachi song. Vicente Fernández sings it and so many other singers across history in Mexico have referred to that song. It's also a song about being away from Mexico. He says, "If I die far away from you, please tell them I'm sleeping and bring me back to Mexico." I was just thinking about this disconnect of how many of the people that live in Corona are immigrants that have left and they find themselves. Corona is one of the most diverse neighborhoods in the world really.
I was just thinking about Queens, Lindo y Querido like this home that we find a way from home. My paintings oftentimes depict these histories of where people might come from and where they find themselves in the contingent situation where they're living now. I thought I would make a link to the classic song about Mexican longing.
Alison Stewart: Of course, we have a little bit of it queued up. We have to hear it now. Let's take a listen.
[MUSIC - Vicente Fernández: México Lindo y Querido]
That's México Lindo y Querido. The show we're talking about is Queens, Lindo y Querido at the Queens Museum. My guest is the artist Aliza Nisenbaum. You were born in Mexico City. Today you live in Brooklyn. This show is about Queens. What was your first impression of Queens?
Aliza: I actually live in Queens myself. I loved it because there's such contrast. You go to any grocery store and you'll find epazote, which is a herb that is really hard to find outside of Mexico. Just the diversity of coexisting cultures within one block is so impressive. That's what really struck me about Queens and particularly this neighborhood.
Alison Stewart: When you first approach people about making their portraits, what are some of the initial reactions you've gotten?
Aliza: Usually, people are very happy to participate. Then I get sometimes a little nervous whether I'll do them justice. I've gone back and forth between people being the first witnesses of my work. They're the first ones witnessing it taking place, especially depending on where they're sitting. If they're facing me or if they're not facing me, then they can see themselves depicted. Usually, it's a collaborative effort where they choose the clothes. It's a lot of back and forth. I try to do as much justice as I can to their countenance and to what I glean about their personalities.
Alison Stewart: I want to take it all the way back. When and where did your art practice start?
Aliza: Oh. As you said, I grew up in Mexico. My mom was a painter when I was growing up. She would go to Xochimilco, which is this open-air market that was started that's in the south of the city. They have sometimes floating gardens. It was really the beginning of where Mexico started with these floating gardens. She would bring tons of flowers home, and she would paint these flowers and bring them to the dinner room table and we would have critiques.
I always painted based from my mom and my relationship with her. Then I also was studying psychology and social work when I was a kid. I started university in Mexico and those poles of pedagogy and teaching and art have always been my interest. I think it took all my life, basically, to now to finally try to find a way to unify those two interests.
Alison Stewart: I was going to say, how does psychology play into your work as an artist?
Aliza: Well, it's really I try to get a sense of when you're painting somebody from life, you get so much of their energy. They're really collaborating with you, not just to the choices of the narrative of the story, but the presence that you feel when you're sitting with them. Obviously, there's a presence to paintings themselves, because they're embodied touch and material, and color.
Just this experience of sitting with them and trying to get a sense of their physicality and all the pointers towards their current life. In Pedacito de Sol, Marissa has these very purple blinged-out nails, because now she's a teenager and she's in college. Just all these little details that give you a sense of who somebody might be. As well as their expression. I oftentimes paint people in moments of concentration or thought or were there for themselves, not necessarily engaging the viewer too much, but resting in moments of reprieve from their work or from other things that might have them busy. These are moments of rest and of contemplation.
Alison Stewart: There is an enormous painting called The Ones Who Make It Run. Tell us about the origin of The Ones Who Make It Run.
Aliza: Yes. It's the painting that was commissioned by Delta. It will be made into a mosaic mural. It's past security in the new Delta terminal at LaGuardia. It's 16 workers that really make the airport run. I worked with the Port Authority, I worked with Delta to identify 16 people that would be representative of labor that happens behind the scenes to make an airport run, like a female pilot and all the stewardesses and the low-wing and above-wing workers, also the water behind it. Just trying to pay tribute to all that labor that sometimes we don't realize or notice when we're rushing through the airport.
Alison Stewart: I'm looking at the painting right now. Who is somebody that you think people probably walk by or don't really notice that you wanted to make sure got a prominent position in this painting?
Aliza: Yes, of course. Well, David, the firefighter, for example, he also worked on September 11. It was quite moving for me to be able to make a portrait of him. Because at the Queens Museum, there's a panorama as well. The museum was starting during the World's Fair and when I had him come to my studio at the museum to talk to him about how it was going to depict him, he walked around the panorama and talked about all the different places where him and his firefighters have put out fires and the museum were going to organize a tour for his firefighter crew to go through the panorama for them to view the exhibit. It was a great honor for me to be able to paint him among all the others.
Alison Stewart: That's so touching. That goes to the point you mentioned earlier that you interview people and you spend time with them. I can imagine that during those interviews, usually something that they say reveals to you what the portrait is going to look like.
Aliza: Absolutely. It's through all this homework that I do beforehand, and even in the moment where I'm painting them, where I paint people with all these small passages of color. That's a way of showing the complexity of not only their identity but this exchange I have with them, that really I can mix sometimes 40 colors just to get one face and to try to give a sense of light hitting their face and how complex.
Skin tone is not just one homogenous thing, but it's so many things. It's the color that's reflecting off your shirt. It's the light. It's the materiality of the person sitting right in front of you and what their body means when you're having a discussion with them. So many things that come into that interaction.
Alison Stewart: Now, the exhibition features selected works that were made by participants of one of your workshops. Is that right?
Aliza: Yes. After I did this activity with Tania in 2012, then I came back to the museum and I taught a class to people that are working as volunteers for a food pantry that's sponsored at the museum. I thought I wanted to give back something to these volunteers. I taught them a class to teach them how to paint as well. I was really proud of the paintings they came up with. There were depictions of a shrimp cocktail, Mexican bread, all kinds of different portraits and wildlife, and ideas of politics that they have from the places that they might come from.
I made a painting of the workshop itself from the beginning activities we started with, which were exquisite corpse drawings, which is a surrealist game where you fold a piece of paper and each person depicts a different part of the drawing to the portraits and how they advanced with their learning skills as artists themselves. This is the first time that I depict my students' work along my own work. The opening was quite festive because they got to show their own work at the museum.
Alison Stewart: There's also museum staff members that are depicted. There's a woman named Hitomi. She's been there for more than 20 years at the museum. It's interesting, her office, it's just full of plants. She's nestled in them.
Aliza: Exactly. She really has a green thumb. I thought I'd paint her surrounded by all these plants, as well as some masks that she had in her office, and a really funny calendar that she had that says "Resources for working less and living more." Then I also painted Andre, who has been working with Facilities at the museum for the past 30 years. I went by the cafe one day and they were making a party for his 30 years at the museum, so I'm so happy to be able to honor him in a painting as well.
Alison Stewart: The name of the exhibition is Queens, Lindo y Querido. It's at the Queens Museum, April 23rd through September 10th, 2023. I've been speaking with artist Aliza Nisenbaum. Aliza, thank you so much for joining us. If people want to follow your work on social media, where can they find you?
Aliza: It's just my first and last name, Aliza Nisenbaum-
Alison Stewart: Aliza-
Aliza: -on Instagram.
Alison Stewart: -thank you so much for joining us.
Aliza: Thank you so much.
Alison Stewart: That is All Of It for today. Coming up tomorrow, the work of the late groundbreaking artist Darrel Ellis. He's the subject of a new exhibition at the Bronx Museum. We'll discuss it with the curators, and we'll speak with Ted Lasso star Nick Mohammed whose alter ego, Mr. Swallow, it's his one-man show, has finally crossed the ocean and come to the United States. We'll get a preview of the show.
I'm Alison Stewart. I appreciate you listening and I appreciate you. I will meet you back here next time.
[music]
Copyright © 2023 New York Public Radio. All rights reserved. Visit our website terms of use at www.wnyc.org for further information.
New York Public Radio transcripts are created on a rush deadline, often by contractors. This text may not be in its final form and may be updated or revised in the future. Accuracy and availability may vary. The authoritative record of New York Public Radio's programming is the audio record.