Episode 7: "The man behind an empire"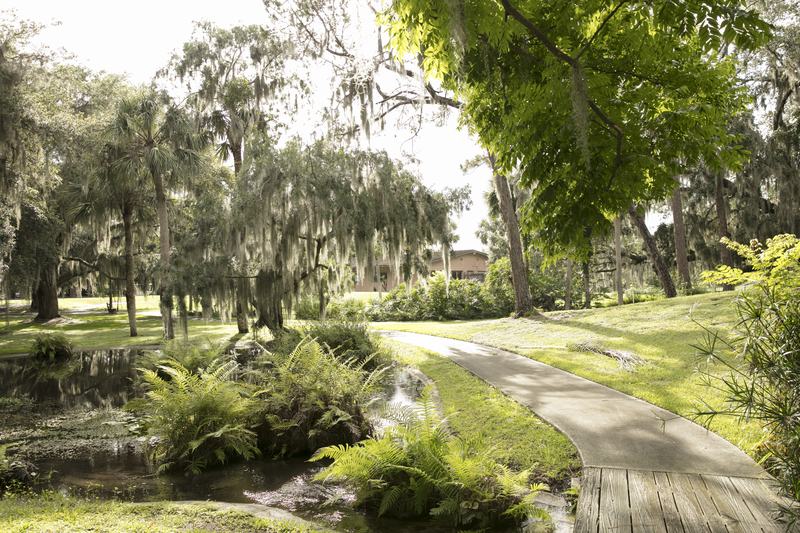 Transcript
Audrey Quinn: Can we peek? Is this his office here?

James Homich: That's his office right there. On the corner.
James Homich is a lawyer in Mount Dora, Florida. We're at his home office, just off the entry hall of his house. Next door is the house that holds the headquarters of Ken Mazik, the town's resident real estate and business mogul.
AQ: What goes on in there?

JH: Mmm...not much. Haven't seen him much lately.
Ken Mazik is also the founder of Carlton Palms. He would not agree to an interview. But when word got around Mount Dora, that a reporter was looking into Mazik, a lot of people wanted to talk to me.
AQ: Do you always keep these blinds closed?

JH: They could see my computer, if I leave my windows open.
You're listening to Aftereffect. I'm Audrey Quinn. Last episode we established that yes, genuinely terrible things are happening at Carlton Palms. But how did this place come to be? And after all that has happened there, how does it keep going? What hope does Arnaldo — do any of the people there have?
So this episode, we're taking a little trip. To Mount Dora, Florida. Population 14,000. To understand the man behind Carlton Palms, the man behind a disability services empire. To get another clue at how Arnaldo got into the position he's in, how this system has really worked.
The lawyer James Homich remembers when Mazik came to town in the mid-eighties. The land Mazik eyed for Carlton Palms was next door to a retirement home his father managed, Forester's.
JH: The Forester's objected to that use of the property because of the problems that they had in the past, Mr. Mazik, in particular had in the past.
In 1969, Mazik was a 29-year-old clinical psychologist. He bought a 38-room mansion in rural Delaware, and turned it into a school for autistic kids. Au Clair, named after his then-wife.
His first students were teen boys kicked out of another facility. And from the very beginning, Mazik found a niche serving clients other providers shied away from.
The tuition came from kids' parents, sliding scale.
Fortunately he owned a racehorse, "Silk Stockings," that did surprisingly well at the track, the winnings helped keep the school afloat. Reporters loved that story. A movie studio even considered a film version, with Paul Newman as Mazik. But reporters also published stories saying Mazik used a riding crop on a resident. Just like the one he used on the horses. He described it as therapeutic.
Reports of wider abuse at the school started showing up in local papers just a few years later. Mazik denied them. But state officials witnessed an overuse of "aversive procedures" at Au Clair, i.e. lots and lots of restraints, for quote — "extremely lengthy periods of time."
New York City inspectors eventually pulled all their students out. And in Delaware, you start to see this pattern that looks a lot like what would happen later with Carlton Palms in Florida. Delaware knew about the abuse, thought about shutting Au Clair down. But the state decided to work with the facility instead, to help it do better.
In January, 1987, Mazik brought six of his Delaware students and opened up Carlton Palms outside of Mt. Dora.
But Florida regulators knew of Mazik's reputation…they'd found the company's employee manual…which included instructions on the use of electric shock devices, which were illegal in Florida. So, Florida regulators would not license Carlton Palms. But that only prevented Mazik from accepting Florida residents…he still brought students from other states.
But once the school was established, Mazik started lobbying. And soon, Carlton Palms had a special Florida license all its own, which allowed it to access special funding streams not meant for institutions…and house over a hundred clients on its remote campus.
There was one more former Carlton Palms employee I connected with. A longtime director there. He says he's too scared of Ken Mazik to speak out publicly, but he agreed to let me quote him anonymously.
This director had spent a decade by Mazik's side. Accompanying Mazik as he took politicians on his private jet. Lobbied for more funding. Figured out loophole after loophole to fit more clients into Carlton Palms, each bringing in hundreds of thousands of dollars a year. All while keeping staff pay at a minimum.
"Nobody else wants these kids, that's the truth," this man said about the clients Carlton Palms took in. "But what's also true is they get paid a lot of money and could have done a better job."
The thing is, they didn't have to. By presenting his facilities up as the only option for children, that other people didn't know how to work with, Ken Mazik could get away with almost anything.
"The real story," this former director said, quote "is how Ken Mazik made millions of dollars tying up little kids."
To understand how Mazik kept getting sent those kids, and then later also adults, how he kept operating the way he did, it helps to understand his campaign donations.
I'd noticed a trail of hundreds of thousands of dollars in political contributions, both sides of the aisle, all over the country. Especially during the federal welfare reform debates in the mid-90s…which ended up with a key change that allowed for-profit companies to receive public money for looking after kids.
Soon Mazik's not just running two schools, but a growing disability services empire. At this point it's called Advoserv. He opens a second facility in Delaware, opens up shop in New Jersey too.
And that's where, in 2003, there's another uptick in Mazik donations. This is something ProPublica reporters had pointed out. My producer Aneri Pattani looked into it.
Aneri Pattani: Lawmakers were trying to intro a state bill to limit the use of restraints, and at the time the CEO went into the legislature and defended restraints.

AQ: So they're basically defending their business model.

AP: Exactly.
This is then-company-CEO Judith Favell testifying about how great their techniques are.
Judith Favell: These methods have been tested across, literally, decades of scientific research, and confirm that children and adults with autism can indeed be helped in meaningful and substantial ways.
AdvoServ donated to the democratic chairwoman of the committee looking at the restraint bill, and gave twenty-five thousand to the New Jersey State Democratic Party.
And after that, the bill failed to pass.
AP: And then you sort of see this replayed at a national level in 2009.
When congress tried to introduce a series of bills to limit the use of restraints on public school children. Mazik's company spent hundreds of thousands of dollars on lobbyists to encourage congress members to water the bill down. It never even passed.
AP: So time and again it seems that Mazik and his company are making donations to officials who are making rules on restraints. So the donations come in, and legislation on restraints never gets passed.
Mazik sold Advoserv to a hedge fund later in 2009, no longer runs any of the facilities. Advoserv changed its name to Bellwether Behavioral Health after the 2016 ProPublica exposé. Mazik still owns the Carlton Palms property, Bellwether rents it from him.
Now, he's turned most of his attention to his other businesses in Mount Dora. And that's where things get…just weird. That's next, on Aftereffect.
John Sharp: If it's up to me, I'd tell him, 'Hey you've got 'til sundown to get out of dodge.' There's nothing good you can say about this guy.
John Sharp's a fixture in Mount Dora, Florida. He's a leader at the Masonic Lodge. Has lived in the area almost half his seventy years. He also wanted to talk to me about Ken Mazik.
AQ: And it started with the —

JS: You ever have a feeling about somebody?

AQ: Yeah for sure, for sure.

JS : Castro, Hitler, there have been a few through history. Jeffrey Dahmer, Ted Bundy. There's a wire loose in them from the way they are. And anybody who can torture children and do what they can do to kids just rubs me the wrong way.
Ken Mazik — torturer? I don't know about that. Though he did admit to using the horse whip on a client.
Last summer John Sharp received a letter from Mazik's attorney. John had left a comment on an online article about some recent burglaries, implied maybe Mazik did it. The lawyer's letter said if John didn't apologize, Mazik would sue. John did not apologize.
JS: Mount Dora is — they call it the little New England of the South
Downtown Mount Dora is just a fifteen minute drive from Carlton Palms. But it's an entirely different world. The town's a retirement mecca full of gingerbread houses and an historic lakeside inn, shops full of knick knacks, two English pubs AND an English tearoom — lots of old white people. It's known for its arts scene, craft fairs.
JS: And all of a sudden Mr. Mazik came to town. And he starts buying empty — as a building became empty he starts buying them up which is his right to do. But he doesn't re-rent them. He leaves them empty. And then he starts packing the town council and things of that nature with things that he has supported.
I started to learn about Ken Mazik's presence in Mount Dora in bits and pieces. He owns a lot of buildings downtown, through his company Main Street Leasing. A lot of those buildings are empty. People don't like that. But they don't like other things too, everyone seems to have their own personal gripe.
JS: I'm the town Santa Claus. For the last 20 years, I've been sitting on the porch of the masonic lodge. I've done it forever. So all of a sudden, a couple years ago, he puts up this giant Christmas tree on a property he bulldozed down and then he has their own Santa down there. He's paying his. And a paid Santa never takes an interest in kids, he gets 'em on and gets 'em off. I let every kid talk as long as he likes. You know if a kid takes an extra ten minutes, he'll get his turn.
Through his attorney Ken Mazik gave a statement. Said he still owns Carlton Palms property but is no longer involved in operations, doesn't want to comment on it. And he does not want to "broadcast" details of his plans for Mount Dora.
So I talked to other locals. Amber Antonio is a 41-year-old self-described housewife. She was concerned about the way Mazik's businesses got away with extra signage — the town's strict about stuff like that. How a restaurant on one of his properties extended its patio out into the sidewalk. She worried it blocked wheelchair access. So she took her concerns to a city council meeting.
Amber Antonio: I said, 'Hey, if we keep showing preferential treatment to certain landlords, we're opening up ourselves to lawsuits.' And that's when I got the letter in the mail the next week.
The letter was a warning from Mazik's lawyer, like John got. Mazik filed an actual lawsuit after Amber kept posting about him on Facebook.
AA: 'If we could get rid of the few greedy landlords that own this town, if we can find a way to run Kenneth Mainstream Leasing out of town, get some of the rents affordable and fill out the eyesores of empty space that plague our downtown, we may see something positive happen.'
Amber made a number of posts like this. Various complaints about Mazik and his business practices.
AA: So we're crossing Alexander at 5th right now, see how these buildings are all white-washed? This is really what Ken Mazik's buildings all look like.
Amber gave me a tour around town. She stands out, decades younger than many of the other people around, tall and blond.
AA: A lot of this white stucco decor. So, this whole block. It's, it's really interesting that he chooses this. Asylum white.
The more we walk, the more I notice that a lot of the buildings are vacant. But not boarded up or empty. Each vacant window is filled with colorful dioramas. Advertisements for Mazik's businesses, with a sampling of his modern art furniture collection. Just kind of bizarre, like the streets are doubling as a showroom of his personal wealth.
AA: So he also owns these two storefronts. And they have the little signage. Saying thirty years of excellence, 1986-2016, Main Street Leasing. This guy — let's walk real slow — well, let's scooch by and then I'll fill you in.
Amber nods at the serious-looking older man we're about to pass by, he stares at her, my microphone. She gives him an over-animated greeting.
AA: But this is just a gorgeous little town.

Man: Isn't it, though? (background chatter, laughter)
She explains once we pass.
AA: He's part of the cronies.
"Cronies" are what Amber and other locals call people with financial connections to Mazik. Or really anyone who's spoke out in his favor.
AQ: You think he recognizes you?

AA: Oh yeah, of course.That's why he was wondering, "What's up?" Trust me, they're all gonna hear about this. It's ok.
I have no idea how true this is. But Amber Antonio and most of the locals I talked to have this feeling that they're all somehow under his watch. Like that former Carlton Palms director, half the people I met in Mount Dora refused an interview, for fear Mazik would hear this.
AA: He also owns this entire block. Once again whitewashed. This way you can just tell. Now, we're walking up to his Modernism Museum on the left. And, this is showing his personal collection. Interested in going in?
We pay the eight dollar entrance fee, walk in. We're the only visitors. It's a big white gallery, high ceilings, about the size of a large restaurant. The current exhibition is David Bowie's old furniture collection. A volunteer gave us a tour.
Museum Volunteer: Let me show you this.
She points to a clear acrylic kitchen chair, with fake red roses suspended in the plastic.
I'd heard rumors of Mazik's private jet, rumors of his taste in three thousand dollar bottles of wine. I saw all the properties he owned. But I didn't really understand how rich Ken Mazik is until I went in the Mount Dora Modernism Museum. A showroom for his personal furniture collection.
MV: If you wanna just talk about value, I have been told, and I'm here all the time and you know how we little people have no power, our ears are always open...that you young ladies could retire quite comfortably wherever in the world if you owned that chair and decided to sell it.

AQ: Wow. Like...

MV: That's our most valuable piece.

AQ: Like a hundred thousand dollars?

MV: Oh, no. I don't think you could retire on a hundred thousand dollars. (Laughter) Don't plan to retire on a hundred thousand.

AQ: How about, like, five hundred thousand dollars?

MV: I'm going to guess even more than that, maybe.

AA: Wow.

AQ: More than a million? More than a million for that chair?

MV: Because...we're guessing here, but I don't know if you could retire with a million! (Laughter)

AA: For acrylic?

MV: Ok, but it took ten years to make it. Alright.

AQ: So all of this is owned by one person?

MV: Yes.

AQ: Wow...

MV: (Whispers: I can't tell you who that is, either.)
She says, "Yes. I can't tell you who that is, either."
AQ: I mean, it's, yeah.

MV: Not only that...

AQ: I mean it's online — yeah, let me turn this off.
She's pointed to the microphone. Once it's off, confirms yes, Ken Mazik. "If I say his name three times," she tells me, "I turn into Beetlejuice."
This woman didn't have any beef with Mazik. Was clearly living her best life as guide here. But even the way she talked about him, the over-cautious reverence, the jokes that weren't quite jokes. Mazik's presence hovers over Mount Dora, everywhere, all at once. Like a boogeyman with real claws.
But still, it all seems mostly harmless compared to his history with disabled clients. And at first, I couldn't quite make the connection, between the genuinely awful stuff that went down at Mazik's facilities, and these weird rumors…in Mount Dora.
And then I met up with locals at the Mount Dora Masonic lodge, with a bunch of folks who support Amber Antonio, or at least her position in the Mazik defamation suit. They were all seated on the front porch when I arrived, about nine of them, most over sixty. The lodge is a pastel-colored ornate victorian mansion. John Sharp brought us in, started the gathering off with a warning.
JS: In my opinion — Please, all of you say, "In my opinion" so he can't come back and get you.
We all sat in the front room of the lodge, it's full of round dining tables. A few people lingered farther back, away from my mic, didn't want Mazik to find out they'd met with me. Those who talked, talked a lot.
And what I started to realize was, while this might look just like paranoia, there's something real here. Mazik's been taking the same tactics he used to grow his disability services empire, and applying them now to Mount Dora.
Tactic one. Discourage dissent. Mazik's legal actions, against John, against Amber, have made an impression.
Mount Dora Resident 1: He's suing her — this young girl — doesn't even own a house and she's a free spirit and this is how she feels. He wants to squelch our opinions so that his agenda is, you know, forefront.

Mount Dora Resident 2: I mean I just kind of laughed because when Amber got her's, I was like why haven't I got one? Well maybe I will. You know but —

Mount Dora Resident 3: I got several people who said the same thing.

Mount Dora Resident 2: And that pisses me off because it's fear.
But Amber and John are not the first people Mazik's gone after for speaking out against him. Amber's not ever the first person he's sued for defamation.
Mazik's staff members in Delaware started talking to papers about his school there in the late-seventies. They described poor supervision at the school, how angry Mazik would get at them, scary mad. So, he sued them. Now, few of his employees and ex-employees talk to the press. People who might blow the whistle, don't.
Which brings me to tactic number two. Buy privileges.
Mount Dora Resident 3: What he's done is — he's come to the town, bought it up and does it his way.
Locals complain about how Mazik's businesses get to put up extra signs that break city ordinances. Point out how his company Main Street Leasing puts up its promotional Christmas tree in a public square.
Mount Dora Resident 2: And as you hear more of the association with the city council and police, the more you hear is, "He's one man. Why is he so privileged?"
It turns out Mazik has donated thousands of dollars to city council members, in a town where most political donations are less than a couple hundred. His real estate company bought a big armored vehicle for the local police department, for a town of 14,000.
But that shouldn't be any surprise. Mazik's developmental disability company spent nearly a million dollars on lobbying in the early part of this century. Money opens doors.
But one of the things that seems to really bother locals about Mazik, makes them feel so powerless, is they can't understand the point of all this. Why would he keep buying up buildings, keeping them vacant, why the endless expansion, what's the end game here?
That gets to tactic three. Be too big to stop. One of the women I met at the Masonic Lodge read off a list of Mazik's businesses in Mount Dora.
Woman: Okay. 40 Acres Holding Company, Lands Holding Company, Main Street Leasing Company, Boat House Enterprises Incorporated, Water Oak Farms Incorporated, Harlem Heights Leasing Company, Championship Productions Incorporated, Six 99 Corporation, All Care Group Home Number One Incorporated.
Not only has Mazik funded a good deal of the city leadership, he has 21 different businesses here. His company Main Street Leasing owns a quarter of all downtown square footage, as of a 2010 count. He's got his bases covered.
Even now, Mazik's telehealth company, the one that does video surveillance for Carlton Palms, actually has contracts with all the Bellwether facilities. I found out he actually still owns another group home, strangely close to Carlton Palms.
This strategy, cover as many bases as you can to make yourself undefeatable, is still working for the disability services company he started, now called Bellwether Behavioral Health. Just before Arnaldo came to Carlton Palms, Florida had said the facility needed to shut down by March 2019. But it didn't say it couldn't serve those clients somewhere else.
AQ: Hey, Amber.

AA: Hey, Audrey, how are you doin' today?

AQ: Doin' pretty good, thanks for doing this.
In April, I asked Amber Antonio, the Mount Dora woman Mazik's suing, to do some ground work for me. After the agreement to close Carlton Palms, the state disability agency still granted the parent company Bellwether two licenses to run group homes, so they could hold onto Carlton Palms clients. One of those group homes, was just around the corner from Carlton Palms. Amber made a visit.
AA: So the group home is on the right side of the street, it's a very nice looking single story ranch home. With a brand new roof.
She sent me a picture. The house is yellow with white trim, bigger or at least wider than a usual ranch style home. Two front doors. A big weeping oak tree out front.
The deed for this house is registered to Carlton Palms. But the whole rest of the surrounding properties? They're owned by Ken Mazik. Amber went to explore next door.
AA: Yeah this is absolutely, they're both Mazik houses. Now that I'm in the back, I see the stucco on the small one-story home. I'm getting dirty looks. I should probably not be here.

AQ: Who was that, who was giving you dirty looks?

AA: Oh, the lawn guy.

AQ: Okay.

AA: But I waved and he turned around, so we're fine.
Regardless of whether Florida takes action against Bellwether, the company's still growing in New Jersey. Where another client died due to neglect last year.
The two Delaware facilities have been put on probation by that state, but they still get clients from other states. A teenage girl died in one of those Delaware homes in 2016.
And now Bellwether's starting operations in the state of Virginia.
Late last year, Carlton Palms sent Arnaldo's family a notice: Unless the state could cough up more money for his care, nearly double the two-hundred-and-twenty thousand a year they were already paying, Arnaldo would be kicked out. I found Miriam and Gladys in tears.
Gladys Soto: (crying)

AQ: I'm sorry, you two.

Miriam Rios Soto: They gave us a letter — Carlton Palms gave us — they gave the letter of discharge to Arnaldo. What they don't know is that we're already — my mom is not really a fan of Carlton Palms anymore. 'Cause at the beginning, she wanted Arnaldo to be in Carlton Palms, because she had a — a different perception. She had a different perception of what Carlton Palms was, so she had this — I guess — I guess a romantic idea that Arnaldo will be safe.
It's clear Carlton Palms is not that place. But if he leaves, will Arnaldo go back to that cycle of group home to psych ward to group home? A pattern they thought he'd escaped.
In the next and final episode of Aftereffect, the state of Florida says it's getting tough on Carlton Palms, yet again. Just as Arnaldo's been told he has to leave.
Aftereffect by Only Human is a podcast from WNYC Studios.
It's reported by me, Audrey Quinn, and edited by Ben Adair. Additional reporting from Aneri Pattani. Production help from Phoebe Wang.
Special thanks this episode to Heather Vogell of ProPublica and Elizabeth Scheinberg of the Echo Awareness blog.
Cayce Means is our technical director with engineering help from Matt Boynton and Jared Paul.
Hannis Brown is our composer.
Our team of talented reporter-producers includes Christopher Johnson, Mary Harris, Amanda Aronczyk, and Christopher Werth. With help from Margot Slade.
Michelle Harris is our fact checker. Our interns are Kaitlin Sullivan and Nicolle Galteland.
Jim Schachter is WNYC's Vice President for News.
Support for WNYC's health coverage is provided by the Robert Wood Johnson Foundation, the Alfred P. Sloan Foundation, and Science Sandbox, an initiative of the Simons Foundation.
Thanks also to the Rosalynn Carter Fellowship for Mental Health Journalism.