Write Your Own Rules. Lead Like a Woman.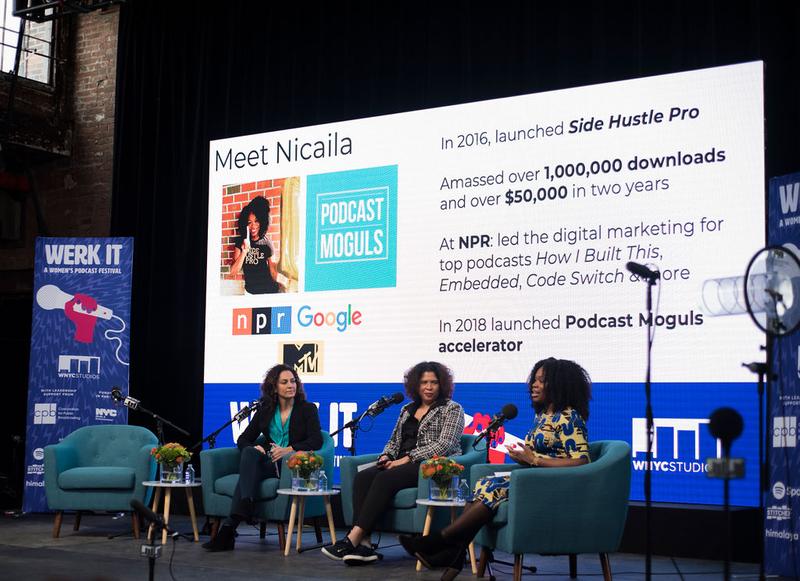 Transcript
Martina Castro: I just can't emphasize enough when like when Juleyka says we talk to each other we're literally saying I have no idea what I'm doing. Can you help me with this? And she's like oh I don't either. But yes I can. And usually that is just enough to make you feel like you're not not meant to do this.

Just like launching a podcast, starting your own company can feel like a leap into the unknown. In this panel, three women in podcasting who have all made that leap share why they went out on their own, what it means to lead…and why it often feels like they're making it up as they go along.

I'm Tanzina Vega, and this is Werk It: the Podcast, a compilation of some of the best moments from the live event. Here's moderator Juleyka Lantigua Williams to kick off this conversation.
Juleyka Lantigua-Williams: Good morning. I walked in this morning and I said to someone look: All the best people in podcasting in one room and the person was like yes. And I said don't you just want to live in this? And I said Yes I do want to live in this. Hi everybody. Thank you so much for trooping it out to Queens. Lord I'm a New Yorker. Don't come at me. So these two women are my personal inspirations. And so when I pitched this panel I was like I just want to have an excuse to hang with them. So sorry for being selfish but I think you will very quickly see why I wanted so much to have a public conversation with them because we talk about the stuff all the time. And so I thought you know probably some other women could benefit from this. So just a quick intro for me. I am an oldie but goodie. Some might call me an OG because I've been in media for 20 years and after 18 years in Legacy media I decided to jump ship last year and started my own podcasting network. And best decision I ever made. Hardest decision I ever made. Would do it again twice on Sunday and so we're going to try and give you hints about how to figure out if this is the thing for you and it doesn't mean you started the company next week. It might mean you start it the week after but there are certain things, there are certain characteristics, there are certain telltales for whether or not this is the right path for you and hopefully we'll get you closer to deciding so I'm going to let these two brilliant women introduce themselves.
Nicaila Matthews Okome: So I'll take it from there. Hi everyone. So good to see you. My name is Nicaila Matthews Okome. And I am the creator and host of the Side Hustle Pro podcast. For those of you who haven't listened: it's a podcast where I interview black women entrepreneurs who have scaled from side hustlers to full time entrepreneurs. It was a narrative that I felt was missing in our narrative on entrepreneurship more broadly so I started that while I was working like I'm sure many of you can relate to. I have over 10 years of experience in marketing and most recently worked for NPR (National Public Radio) at the headquarters in D.C. and there as you can see from the slide I was leading digital marketing for some of our favorite podcasts like How I Built This, Code Switch (where I met Juleyka), Embedded and so much more. And because I am a side hustler, I couldn't keep still and started doing my own podcast on the site and I have a philosophy actually one of the women I interviewed told me this that anything you do well should not be done for free. So around 6 months into podcasting I said you know what this is great but this is a lot of work. A lot of effort again as I'm sure some of you can relate to. And I need to monetize this bad boy. So that's exactly what I started to do. And so throughout this conversation we can talk a little bit more about how I was able to scale my podcast, to monetize it, and eventually quit my job in December of 2017 and have not looked back.
JLW: See I told you. And here's my other inspiration
Martina Castro: Oh so sweet. Hi everybody. My name's Martina Castro. I also come from the public radio family. I started right three days out of graduating from college and never looked back. So somehow I'm 36 but have spent almost 15 years making audio and so I started at NPR as an intern and I worked at National desk and then at Day to Day (rest in peace) and and where I really like I think what's interesting about looking back it's so kind of fun to see these logos up here because you look back and you think, "Oh OK I can connect the dots of how I ended up where I am today." But at any one of these points I would have never said what came after. And I just think that that's really important. Like as we were just kind of giving you a background of who we are so that you can see and it might look like oh yeah obviously she was going to start her own company. It's not obvious. And so wherever you are right now you're on one of these points on this map and it doesn't have to make sense right now. But anyway I ended up at KLW for six years. That's where I really met my my inspiration the person who really taught me the kind of leader I wanted to be. Holly Kernan who is now at KQED. And that's where I started I launched my first thing which was Radio Ambulante. And that led to leaving leaving KLW leaving the nest. I went to South America. I ended up at a startup incubator. I launched my own company and that's what led me to my amazing clients Duolingo, TED en Espanol. And I found a niche for doing things in another language but really I'd like to say A Donde media is a company that thinks globally about podcasts. And one thing I really want to say that it's important why I put AIR and Podcasteros videos on here is that I don't feel like I'm doing this alone. And I think that from the very beginning the very first thing I launched before launching A Donde Media was Podcasteros which is a community for Spanish language podcast producers and I think I don't know if it's the public radio DNA in me but I knew I would never do this alone.
MC: And that always made me feel more bold and more strong and stronger. And so also being part of AIR has really made me feel like I'm I'm being supported by a whole group of people that are doing this maybe independently but with me. So that's my story.
JLW: I didn't make a slide. I'm just here to facilitate. So we had multiple conversations about okay we could talk about this for hours so we decided that we were going to break it up into three basic areas and each of us is going to talk at different points. So the first question obviously is why did you decide to go and become a solo Poonoor. And then how did you actually do that. And each of us has a very different story so I'll let Nicaila get us started. I'll share a little bit about mine and then she's got another completely different way of doing it. And then there are a thousand other ways to get started as an entrepreneur. So let's just make sure that that's super clear.
NMO: Sure. So you know growing up I actually grew up in the Bronx. I'm a native New York as well and I'm originally from Jamaica so my parents obviously stressed this traditional path and I've always thought of myself as I'm going to go to college get a job and I'll be set. But coming out of undergrad I went to Penn -- any Quakers in the house? -- coming out of undergrad I worked in PR. I was a PR girl hated it and that was my first realization that this working thing is not that fun.
NMO: That was just not the right career for me. So I did a lot of soul searching and throughout my life have job searched to figure out what was my fit and ultimately came up with the fact that I love marketing and I love marketing because I like storytelling and you know being able to connect with consumers and help them to understand why this brand is for them and not just to sell them something. You know, life is funny because you can often connect the dots looking backwards. And now I realize that that storytelling is similar to what I do with podcasting. However at that time I didn't really make that connection. I just knew that I wanted to be successful and then I also knew that I had always had this creative brain never always kind of shied away from numbers. So I decided go back to business school to really study marketing right.
NMO: I'm going to be this MBA. Everyone can take me seriously. I'm going to come into organizations and just completely transform how they market and connect with consumers and we're not just going to try to push things down people's throats anymore. However after doing that and taking that path after a while where I was I felt like once again I was in a box that didn't belong to me. I was yet again this you know creative spirit who had all these multi passions that I was trying to fit into this one job. But you know what about the blogging and the writing that I like to do? What about these interviews that I like to do? So it came to a point where I realized I will never be completely satisfied by working for someone else. However because I'm a smart Jamaican from the Bronx, hard worker I know that I'm not just going to quit my job and go out there and flail in society because I want to work for myself. That was not going to be my story which is why I wanted to talk to other women who had done it women who looked like me because again the stories and experiences that a black woman has or a woman of color has as an entrepreneur is going to be drastically different than you know a white man in Silicon Valley. The narrative that we prominently see on entrepreneur and all these different magazines. So through learning from these women I kind of use that as my blueprint. You know start to take notes of what I needed to do if I wanted to build out podcasting how I can start to monetize. And from there you know started out with identifying my revenue streams which were for me sponsorship as well as creating my own digital content content and selling that. And from there you know made a plan work backwards from there saved up and ultimately quit in December 2017.
MC: I think it's not as though it's not a coincidence right. Yeah. Like I was trying to think about what makes it different to be a woman of color launching your own thing. And. I also my mother would never permit me to just say OK I'm going to live on a couch and just you know with 100 dollars in my bank account launch my own business like I don't know how people feel in the audience about this. But isn't it. It's not a coincidence that we're all kind of like no we got plan B, plan C, plan D.
JLW: Tell us your story. MC:Oh it's not as interesting as yours. JLW:So I did not give myself a plan. Let's just start right there.
JLW: What I did was as soon as it became apparent to me that I could no longer play well with others. I -- it's really that simple.
JLW: And it's not that I cannot play well with others. It's that I want to decide who I play with. So that became clear. I was thinking about what's next because I too am a daughter -- I am an immigrant actually daughter of immigrants -- and I also have children. I'm so I could not just sort of jump. I had to think about what do you have in your possession that one can be monetized and two can can grow. And so I did a self-assessment and we looked at what do I love doing. First and foremost I love storytelling. Second I love creating things from scratch. I am a builder and you know had I been born something else. I probably would have been like a carpenter or an architect or something like that. And so then I'm a builder I like to build but I don't have a trust fund. I don't have a nest. I don't have anything in the way of material support. And so what I do I send out an email to my friends before I had a website and I said I'm starting my own company hire me. It's basically what I did I sent 350 e-mails -- bcc people, bcc will save your life. And I said, "Guys it's true guys I'm starting my own company visa that we're going to start consulting first and then apply for grants I'm going to try and get clients." And I made really small goals for myself. So I launched. I started my bank account on June 1st of last year. And I said OK I exist I have an EIN, I'm registered, the tax man is going to come for me so I've got I have got to make some money to pay the tax man and then I said OK so I'm going to give myself three months to have three clients and I say I can I can do this three months to have three clients. I have five clients in a month. And I started doing editing for Latino USA. My first check for my company was written by Latino USA which was founded by Maria Hinojosa and a host and icon Latina journalist.
JLW: Yeah I'm very superstitious. And when I got that check I said I am going to make it. Literally I have the check. I didn't deposit that check.
JLW: I did it on my phone because there was something in me that connected me to Maria Hinojosa who I've been watching you know, phenomenal woman, I've been watching for 20 years grow her company and make a space for herself. And it wasn't intentional but this is how the universe conspires to support you when you make a decision. You know. Never could have imagined that the first check for my company founded by a Latina was going to come from another Latina media company founded by a Latina. Right. So that was all the confidence I needed to then set slightly bigger goals and slightly bigger goals for myself and then assess at every point. What I'm what am I learning. What am I doing right. But the most important thing that I did was to call on people like my Martina and people like Doug Mitchell and people like Mitzi Miller and say will you be on my advisory board. I need someone to hold my hand. And more importantly I need accountability buddies. And so think after my bank account the next thing I did was set up an advisory board because again you need community. You should not do this by yourself. You don't have to do this by yourself. There are lots of people who support you. But what you do have to do is say to them: I am committing to doing this, right? And so that was part of me getting even more secure in that in the decision to start my company and you know make huge sacrifices. I have been happily broke for 18 months. Every penny that we make goes back into the company and I am I could not like my favorite thing to do every two weeks is to pay my contributors every two weeks I sit there with my list of invoices that have come in and I just you know send those invoices and I am thrilled to do that right. And knock on wood knock on something. One of those checks is going to come to me soon. I mean I paid myself four times this year which I think was pretty decent. You know I've had to use some of my savings my life savings. Right. But then I thought OK if I had decided to spend this year and a half begging for money in the VC circuit knowing the only point zero 2 percent of that money goes to women of color that would have been a waste of my time. So I decided to be my own investor and take money out of my 401k that I've been diligently putting into for the last 20 years. And you know what? The company is going to pay me that back tenfold. And that's you know that's sort of like I'm choosing my company like it's my own blue chip company. It's a long term investment and I'm going to reap the dividends because who else is going to believe will work harder for what I want than me. No one. Right. And so those are the kinds of things sort of like philosophically, theoretically, lifewise that I had to evaluate as I decided to go solo. And then the other big question and I'll summarize it very quickly was: Do I have enough ideas? Because this is a question that a lot of entrepreneurs don't ask themselves and a lot of creators don't ask themselves they are frustrated at work. They're unhappy. They want change but you really have to ask yourself: Do I have enough ideas that I'm still going to be innovating and creating and challenging in three years, in five years? Right? So I made this huge list of podcasts. Right? They're probably not going to get made. But I was like yes, I have enough ideas so that as I grow I will be able to come back into this idea tree and pluck another idea and create something new. So that's the kind of assessing that I did and it was really instructive and lots of phone calls with my advisers lots and lots and lots and lots of phone calls and texts with my advisers throughout. I'm just do a lot of gut checks which was really really important.
JLW: All right. So. She's really good at this. So we're going to get Martina to talk about how she differentiates her work, her company, in podcasting.
MC: So I just want to say how important it is to have people that you can confess that you don't know what you're doing to. I mean I just can't emphasize enough when like when Juleyka says we talk to each other we're literally saying I have no idea what I'm doing. Can you help me with this? And she's like oh I don't either. But yes I can. And usually that is just enough to make you feel like you're not not meant to do this. So because you know I don't know how many. Can you raise your hand if you're thinking of starting your own thing.
MC: OK OK. OK.
MC: Because these are the things that have gotten me through this is like to know that I don't have to know that there are other people who don't know and they're doing it too. Actually the people who are succeeding the most have told me I have no idea what I'm doing I'm making it up. We're all making it up. So there's nothing I promise you nothing about you that makes you not able to do it, just if you don't want to. That's a good reason not to do it. Anyway. Just want to say how I differentiate my work. OK. So I so I admire these women so much because they kind of were self starters. I tried to self starting I was like in my living room in Santiago, Chile and thinking, Oh I think I could be a consultant. I really want to do my own thing and. But I have to be honest with you. Looking back if I hadn't gotten into that startup incubator I probably would still be thinking about doing this. So what I really needed was structure and outside validation. Like literally. I needed someone to say you have a great idea, that should be a company, we're going to invest money in your company, and we're going to put you together with a cohort of other female founders -- because that was the other amazing thing. Startup Chile has a fund that's just for female led startups and is for pre-seed money. So it's basically for when you just you can have just an idea and in four months you have to come out with a with a product an MVP just a prototype and so that to me was the validation I needed.
MC: The structure of someone calling me a CEO and me like standing on a stage and saying I'm a CEO presenting in front of people doing pitches they gave me the language. I don't have a business background. And I think pitching my project and I really really cannot emphasize this enough to because back when we started Radio Ambulante having a Kickstarter campaign got our shit together like we had to like figure out how are we going to tell people what this is and do we have the stamina to really make it through something like this. And that's what Startup Chile was for me. I had to figure out. What differentiated me and so I wanted to start a company that was going to target.
MC: Podcasts in Latin America at that point I call it a bilingual podcast production company and I found the community that was one looking for that. You know this startup accelerator wanted companies that were thinking of Latin America as a viable place. You know like that didn't ignore it. And so that was smart for me I think just to give myself a little pat on the back. Because I really didn't want to just start something that was just a carbon copy of something that already existed. So I was like if I'm going to make this if I'm into, you know kind of cut through the noise I guess you could say I have to be offering something unique and the only thing I ever was this: like wow I mean I can make stuff. The quality that thank goodness my back my back or to my experience has given me and the United States in a market where people are just discovering what this is. And I really literally felt like I was coming from the future when I talk to people in Latin America I was like there's this thing it's called the podcast you're gonna listen to it like when you're running and when you're exercising not yet but it's coming. And so it helped you know to feel like I was offering something unique and I really recommend even even if you're just starting like a podcast production company what are you bringing to the market? What ideas are unique to your brain and your experience level that you're going to bring to the world. I think that's really important to meditate on. Yeah yeah. More time than I probably should have. OK.
JLW: So we're going to ask the marketing guru the same question because I think Side Hustle Pro. I mean I was a fan of Side Hustle Pro before I accosted her in an elevator on NPR and told her she was gorgeous. True story. But I think Side Hustle Pro a testament obviously not only to her brilliance but to the fact that you can be niche and you can do really really well.
JLW: Yes.
NMO: So coming up with ideas or even thinking about how to differentiate yourself or how I differentiate my work I think about the phrase tell a story that no one else can tell. So it's kind of what Martina touched on in that their ideas unique to your brain. And then they no matter what topic there is out there there is a lane that has not been explored. Similarly with entrepreneurs there are other podcasts with the name side hustle in their title and that did not deter me because I knew first of all a side hustle is a nuance term to some people it means you know just bartending on the weekends and to some people like myself it means no building out a viable business on the side while you use your full time income to invest in that right. So I knew there was still depth to be explored there. And I also knew that there are so many people side hustling and there's so many people who started that way but I just didn't hear that enough. So the first thing you have to do is really think about what story can I tell that no one else can tell. And then within that you then have to think about who am I speaking to. So I think a lot of us when we first decide oh I have the best idea ever. We're very me-centric and we are just thinking about pushing our idea out there. Me and my girlfriends we're going to get together we have so much fun we're so funny and you know things like that. However really you have to identify OK who is this person that I want to talk to.
NMO: What are her or his interests. Where are they in their life? What about this topic? Do are they still digging to find more answers about? You know everyone touches on entrepreneurship for example when no one talks about when you have to move back in with your parents because your idea failed and you're still working three jobs and you're trying to get this off the ground. Like more people are talking about kind of glossing over that because they're trying to fit an interview into 30 or 20 minutes. So how can I present something different? So these are some of the questions to ask yourself and honestly if you start with those two things you'll get very far.
JLW: Great advice really great advice.
JLW: OK. Before we take your questions I'm actually going to build upon that because I decided on the who really early on. And it was it was a risky proposition. So the who for me were was twofold: Who am I making this with and who am I making this for? Right. And again going back fundamentally through my own experiences and skill sets and thinking well when have I enjoyed my work the most? When has my work made the biggest difference? And the answer to those who questions was the same. I have enjoyed my work the most when I have centered people of color and women of color in my work and I have done the best work throughout my career when I've worked with women of color and done stuff that centers their experiences and so then I thought okay well then that's an easy answer. I'm going to build a production company that's going to center the lives of people of color and whose storytellers are going to be primarily people of color. Boom. Right.
And so that became my internal sort of like tagline so that when I was evaluating clients when I was evaluating projects when I was evaluating places to approach this brand through as in will this person, this project, this organization share those values. Will they respect that this is something that is important to me? It's not exclusionary. Plenty of talented white people work on our projects just for the record but these are people who understand that what we're trying to do is addressing a huge gap. Right. So if you can get on board with the fact that we're addressing a huge gap through the stories that we tell through the shows that we produce then we're going to have an amazing time producing these things right. So what happens is that then you have to toe a really fine line. So for example yesterday I was having a conversation with one of my collaborators and someone had approached her about working on something and it was a woman of color very talented and successful in her field but I sort of said to my collaborator, well, does this person want to put forward work that is going to be expansive? No, she just wants to get famous. And I was like OK that's not a project for me. Right. Like that's just not a project for me because I know how hard it has been for me to get here. And I want to make sure that however I utilize my work and my talent and my company it has to be more than personally beneficial to someone. Right. And so once that criteria was set in my mind it has made decision making really, really, really, simple. You know right at the beginning there were a lot of people really excited because they just wanted you know to have a Latina show or a black show or a woman of color show. And I was like, "Yeah I don't think I'm the right person for you for that because what you want is cosmetic. And what I'm talking about is more like an like an organ transplant," like you know like I want to give you an eyelift, like I want to give a new liver and a new heart. And I want you to live a long fruitful life. It's really important for you to be clear about what you want to do but also to be equally clear about what you don't want to do and what you won't do. And trust me that's really hard when you balance in the bank is low and you're just starting out. But it makes it so much easier to say yes to things that are waiting for you down the line.
MC: I just want to punctuate something you're saying. And if anybody has any questions please come up to these microphones here on the side. We'd love to take your questions we have like 11 minutes left but just to punctuate what Juleyka is saying is that what does it mean to lead a woman? Right. I really like, I really like the title of this panel and I've been meditating on this and I think what we're all talking about here is to lead like a woman has to lead with your values and that we may have been taught through our work experience that the values of a leader are typically masculine. You know like to never doubt yourself, to always always think about the bottom line, to only think about profits, whatever it is that you think of when you think of a leader and you imagine maybe, maybe a white man like I just, you know, let's be real -- executive. You know you just that we've been brought up with that being as our ideal. And I think when you start your own thing remember that you're starting your own thing. You get to decide what those values are and who that executive is and what your priorities are. And don't let anyone tell you that just because something might be a little more feminine like because you want to be a vulnerable leader or because you have values that say I'm only going to take work that's going to lift up people of color that that is somehow less than. So. That. Just want to say that
JLW: I think you were up first. What's your question.
Attendee question: Sure sure. Hi. Thank you so much for being here. So what I want to talk about is essentially being multiply marginalized and starting your own thing and like thinking about all the places you want to go things you don't want to do but realizing that I guess I'm multiply marginalized. I'm black physically disabled queer non-binary person and I love what I'm doing with this podcast. But my team is essentially me and I don't have anyone else in my corner except for me and I'm wondering how you can like mitigate the fact that you're doing something new and powerful but also to like deal with social fatigue. You know how do you tow that line but also understand that you need to take time for yourself.
JLW: You know this is a perfect question.
MC: Thank you.
NMO:Thank you. I want to know what the name of your podcast is.
Attendee: Yeah. You want me to plug my podcast? I will. I will. It's called Power not Pity. And it's all about amplifying the lives and experiences of disabled people of color.
MC: I love that I love that. Thank you. Thank you.
NMO: So it starts with that right. I love the title because it's exactly what you're saying. First of all you know although you have you know as you say multiple marginalizations is not having that pity on yourself and I can tell that you don't like. You are using this and coming from a place of power and the way I deal with this is honestly on a day to day basis I don't think in that term. Like I don't even think about that term and it's not to say that it doesn't exist. It's to say that I once I realized that I was no longer about living in boxes than my approach to life is I'm here to kick down doors. So you know sometimes I'll see people on Twitter even they'll come out with these entrepreneur lists or these best the best podcasts list. And you know I see people of color arguing with the writers like oh you didn't think about all of these podcasts with hosts of color. And to me I'm like eff them. Like, I don't want to be on your list. I don't need your list to be successful or to make money. So that's number one. Second of all, then you have to identify what are your goals and we can talk more about this because I do work directly with indie podcasters because I am so passionate about us just kicking down doors and no longer feeling like we need to ask permission or you know get into certain spaces to be successful. So I would love to work with you to say what are your goals and then work directly to reach those goals so if your goals are to monetize and then eventually do it full time then let's talk about where you are right now with your downloads, how to increase those, how to start aligning with brands that work for you. How to start developing resources for your audience that you could eventually monetize and go from there. Like let's talk from a position of power.
Attendee #2: Great thank you. Hi. Hi. So my question is about. So we started our company this year and it's going pretty well. But every couple of times we have a problem with a client who on paper gets our vision and our values but in reality cannot hear the volume at which women speak. So we'll make a recommendation or suggest something or do a piece of production work and they cannot hear it or accept it. There are times when you've had to deal with that? And how do you actually get over those moments?
JLW: Yes the first answer is data. So I have client I have one client who has a different vision than is executionable. And so what I do is whenever we get to an impasse I bring data and I say well our drop off rate is, this our listener through rate is this, and studies have shown yada yada yada. Right. So I detach myself from her decision making process by saying here's the information I will empower you to make a bad decision if you want. But I really encourage you not to make a bad decision and 90 percent of the time that solves it. On two occasions I have gone back to my contact I've said that's not in my contract. We're not doing that. When it was absolutely an issue of: No I think this is a really bad idea. It doesn't go with the values and it doesn't go with the work that we have outlined to do. Ladies don't ever work without a contract even for a hundred dollar fee. Don't work without a contract. AIR Media that org has a great template for a freelance contract. Use that and tweak it to whatever you need.
JLW: AirMedia. If you're not a member, become a member. They have amazing resources.
MC: And something that can help is to add a scope of work to the contract where you detail this kind of thing. So if it's a creative decision that they just decided no we want to go with this kind of host I don't know what exactly you're talking about but if it's something creative that you can't back-up with data in your scope of work you detail your role and your responsibilities and there should be makes all creative final creative decisions; Is executive producer; or we agree to make this type of podcast and the more detailed you can be. You can go back to the contract. Usually you don't want to have to do that because it's kind of playing hardball.
JLW:I've done it twice.
MC: Yeah. You don't want to. That's like when really things have gotten like untenable. But it's really hard to. It's a really hard situation and it happens and it's just kind of being a good diplomat. And then. Taking a contract and showing it to them.
JLW: So you want to have a contract. You want to have the data right because what you and this is a lot of the relationship building that has to happen before right so before we sign a contract I have three or four or five conversations with people as many of those in person as I can so I can gauge you know what this relationship might look like when we work together. But I do not do anything without a contract. Because it is the only way to protect everyone involved.
Attendee #2: Thank you. Thanks.
Attendee #3: First I just want to say thank you. This is phenomenal. Really really are calling. Yes sir. My name is Régine Romain. And I just started a podcast and actually I was a BRIC podcast fellow this year. For the past two years I was living in Benin West Africa and while I was there I kept podcasts kept coming up. I was like podcasts podcasts you know and so the Internet Wi-Fi wasn't always so good. But I said when I get back I said I'm gonna get into this thing and I said but I need to know how to do this. And so it was great about the podcast fellowship at BRIC was that it was three months. We were under the tutelage of Mark Pagan who does Other Men Need Help which was great. So I started my podcasts right. It's called Voodoo Roots: A Love Story Musical you can find it on iTunes and Soundcloud right.
JLW: All right -- question. That was your shameless plug.
Attendee #3: Yes. So now my question what I really appreciated was what she said was advisory board and accountability buddies and I was just wondering if you could just expand on that a little bit because I had my first it was great. I had support everybody. Right. And then now I met all of this content that I have for this for the second for the third and whatever but I do think that that when I was listening to what all of you were saying about marketing about everything is that at the grounding level. Right. You have to have that accountability buddies and soldiers and also the advisory board almost kind of like the same thing and I just wonder if you could just expand on that a little bit?
MC: I really love how structured Juleyka in her approach to her business because she has taught me how important it is to set goals and so in terms of advisory board and accountability. It's literally what it means what she says she schedules monthly calls with all of her advisers. I'm one of them. I really feel like she's advising me though on those calls. And and and she reports to me what she's doing and her plans and so she's got someone who's going to ask her once a month: How's it going? Did you do what you said you were going to do? And and it's it's also just for that personal contact with the first person who asked the question about social fatigue. Sorry I don't remember your name but that's also what it's all. Find your people that you can call once a month and be like girl I'm exhausted. I don't know why I can do this anymore. And that's the person's going to lift you up and say yes you can. Let's talk. Let's talk you know your goals.
JLW: So you have to have your own plan right. You have to have your aptal have made decisions. So it sounds to me like you have too much materials and you need to start making decisions about the material and so for that what you might one is to bring someone in as a co-creator who can help you make those decisions. That's yeah great but we've got a minute in seven seconds. Thank you.
Attendee #4: Thank you guys so much. My name's Andrea. I work for the international women's rights organization and we're thinking of expanding into podcasts are being highlighted on podcasts. And one question I have is because you spoke about the global space and you guys can all answer this and your experiences. How have you been marketing podcasts to an audience that hasn't heard of it? We've talked a lot about the U.S. here but how can we tell stories of people in the U.S. to international audiences and how can we tell international stories to the U.S. audience interest or experience in that?
MC: Right. Well those are very different. Those two that you just talked about I mean you just have to consider that even though podcasts are still small in the United States they're bigger way bigger than in the rest of the world. That doesn't mean they should be ignored. But the my fast answer my quick answer is that you got to go where people are. I mean digital content consumption is up. All around the world. India Latin America everywhere. So digital content is the space we work in. So you got to go to where they are Facebook ads. My client Duolingo was very smart to market to their own users and so they had a base that maybe had no idea what a podcast was but they went directly to them and that really reflected in the numbers and listening trends and so. That's my very fast answer because we're out of time.
JLW: I will go over there and answer everybody's question using line but we have to be respectful. Thank you to you guys so so so so much.
MC: Please come and ask us your questions after this.