How to Make Your Team Run with Less Bullshit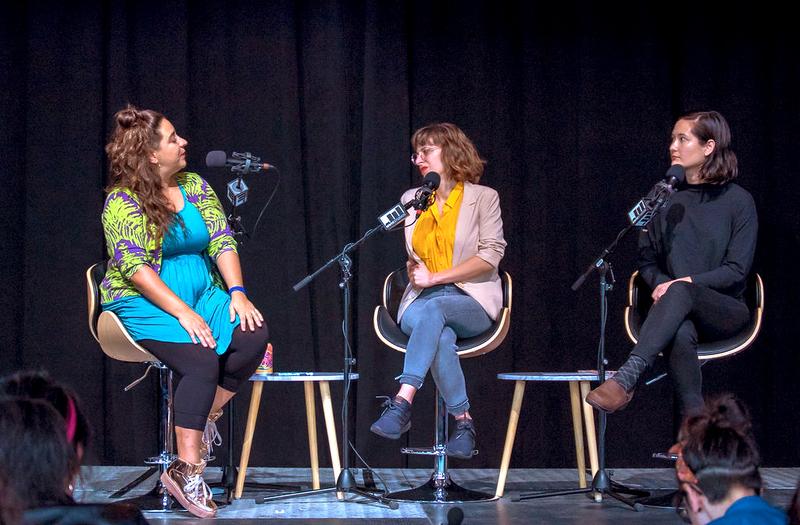 Transcript
Megan Detrie: Well I learned that it's not my job to manage other people's feelings; it's my job to manage shows. And that's why people have therapists and friends and support systems. And not me. And like I really learned that like sometimes you have to stay and let you stay in your own lane and you care about people and you love them as co-workers but you have to do the work that you've got to do and they've got to figure out how they're going to do their work.

Working on a team can be great…unless it's really not. In this conversation, the women who were part of Buzzfeed's PodSquad share the lessons they learned about navigating group dynamics, taking responsibility, and creating boundaries...all while being on deadline to create great audio.

I'm Tanzina Vega, and this is Werk It: the Podcast, a compilation of some of the best moments from the live event. This was part of I Know How to Do That, a series of hands-on workshops led by leading hosts and producers where they shared tips, stories and knowledge about all aspects of podcasting.
Julia Furlan: Hi. We are the artist formerly known as The Pod Squad. A piece of The Pod Squad. There are members of The Pod Squad on or you know there are members of The Pod Squad everywhere. We love you all. So we pitched this session about how to work together as a team. Cause we were really a really small team making a lot of things working really hard together and then we got laid off as a team. So we're all here to talk to you about I don't know teamwork. Let's see I worked at, I started it off at WNYC maybe a little bit about them we can do intros. I start off at WNYC as an intern on Soundcheck and then I convince them to start paying me write like art stuff and then I had other jobs and then I convinced Buzzfeed to hire me. Where I worked for four and a half years until recently and now I am a freelancer.
Megan Detrie: Hi I'm Megan Detrie. I was the lead producer of See Something, Say Something a podcast at BuzzFeed that centers the Muslim American experience and I if we're doing a lil quick work history. I have had a million jobs. I spent about eight years, all of my 20s, in the Middle East and North Africa working as a reporter and an editor all in print, a little bit of video and then I came back to America. When I learned about podcasts and sort of started trying to get stuck in and you know I worked at The Atavist magazine which is a long form online magazine doing a bunch of stuff multimedia stuff which is a term we don't even use anymore. That's how quick journalism moves as an industry. It's not a job to be a multimedia producer. And then yeah I launched a podcast at the Smithsonian. I launched a podcast for the Atavist and I found my way to Buzzfeed to work on See Something, Say Something.
Alex Laughlin: Hi I'm Alex Laughlin and I started my work life in Washington D.C. is a social media person and I did that for three years until I produced an independent narrative show. It wasn't independent -- an narrative show about the multiracial experience called Other for the Washington Post and then I made a life changing move up to New York last year to work for Buzzfeed as a fellow. Thank God. And yeah and then I stayed on and produced Reporting to You and then The News which was our twice weekly show that will probably be the source of a lot of our explanations and stories today. And as of yesterday I am going to be a full time producer at Transmitter Media.
JF: Great. So our imagination for this session is really. This is a safe space. We want to make a place where we can share really vulnerable stories about our work careers and we want it to be sort of collaborative in the sense that like you know we know some things we don't know everything. If you have a comment there are cards that you can write down our main question hang on let me go. Our main question is: We had a whole text exchange about this gif. Can you see it? I'm a multimedia producer now. So basically describe a situation in which you felt frustrated by your team and didn't know what to do. So that is our baseline question that we're going to be talking about. I should say that we are an all woman team with The Pod Squad was basically an all woman team the entire time there were men who were much respected and worked with and loved in various positions. But for the most part it was rooted in an all woman group and let's see. So OK. If you have a card right your answer your situation. We have a couple that we can start with now and we want to like will give our sort of answers and advice. But if you have advice and you want to like come in and say something go there are mic's right there and right there.
JF: Also we wanted the cards so that you could be really vulnerable and anonymous and say something without anyone understanding or knowing sort of like where you work or how it works. But also feel free to use the mics to say things that you want to share here.
AL: Do you want to start. Should we tell the story of the last year? Yeah you do talk about are you doing heartbreaks and triumphs. Oh my gosh. So a year ago our team rearranged drastically several members left our team for a variety of reasons and what remained was essentially the three of us with a few freelancers and we had a new fellow as well. And we were given the directive to start a new podcast for the newsroom (JF: on top of the ones that we were already making). Yeah. So. We spent a couple of months developing the show workshopping it piloting and doing a lot of prep planning and research. And then we finally launched it and it was a great weekly show and --
JF: We wanted to call it a different thing. We didn't want to call it news. We wanted to call it What a Week. I'm still not over it for better news.
AL: Yeah I heard those inhales.
JF: OK. Sorry OK.
AL: To be clear we're not here to disparage our former employee in any way. We are really grateful for our time there and I for like speaking for myself it changed my life completely. So nothing but good things to say. After a couple of months they were like cool cool. This weekly show is great. How about do it twice a week. And we're like OK awesome. No new staff, no new friends. And we looked up one day and we were producing nine shows a week with three full time staffers. Yeah.
JF: Nine shows in one week. Five daily briefings, the news twice a week, two weekly shows. See Something, Say Something and Thirst Aid Kit which are both you know 40, 45 minute shows each so if you can imagine booking, producing, fact checking, writing, editing, all of that distribution. Oh right. We also did all of that distribution and social. Yeah. Do we want to start with our own challenges that we felt frustrated with I forgot about that part.
MD: We should also say something nice. Okay.
JF: Cool. Great. Why don't you start. I started by the way guys don't look let's get on the stage and you guys can drag me for being a bad manager. But it's not going to happen.
MD: It's not going to happen. No.
MD: Having worked kind of in a book like in a wide variety of environments and teams of different sizes within like large bureaucracies like the Smithsonian the thing that I think working on The Pod Squad showed me was how a team can function with kindness and honesty and an expectation that everyone is doing their best work and if they are not doing their best work they will raise their hand for help and having that as a team dynamic and taking that now into other jobs has been wildly important for like letting me know my boundaries of what is and is not appropriate for how -- the things that other people can expect of me and how I want to be treated as an employee. That is one great thing that BuzzFeed did for me. I think my biggest -- we talked earlier about what were some of the frustrations we faced on the small team that was doing all these shows during this period of weird transition at this big company where we didn't always see where we fit in.
MD: And for me I think the biggest frustration I had most frequently that I -- was that I talked to all these people who I'm very close with our hosts, our producers, our fellow and everybody had anxieties. And I was there trying to as the as a lead producer trying to not just run the show but run everyone's anxieties and sort of talk them down and keep them calm and try to find them the solutions they needed to feel okay emotionally about where they were in the moment JF:And how'd that go? MD:That was awful. It was horrible. I hated I hated every minute. AL: She did some great emotional labor for me. MD: it was miserable.
JF: And I mean what did you learn?
MD:Well I learned that it's not my job to manage other people's feelings; it's my job to manage shows. And that's why people have therapists and friends and support systems. And not me. And like I really learned that like sometimes you have to stay and let you stay in your own lane and you care about people and you love them as co-workers but you have to do the work that you've got to do and they've got to figure out how they're going to do their work. Yeah yeah that's what that was that was that wasn't really big struggle it's really hard for me to like let go of the ways in which I honestly love helping people who I think are good and who I want to support. And like you can't sometimes is what I learned which is a great thing to learn. Julia, in our six month performance review, is like do you want management training? I was like no I never want to be a manager and she's like why are you doing that? And so once she gave me permission to not manage other people --
JF: Yeah, don't do it
MD: I stopped.
JF:I mean I literally I was like we're not paying you to be a manager. So don't do it if you're not it's not unheard of in your job description.
AL: Oh speaking of not in your job description. Yes. Let me start with the thing I love which is similar to what Megan said The Pod Squad operated on on some really basic principles of like assuming the best in everybody and assuming that if they aren't acting their best then it's because of something within them that is broken or hurt or tired and just like a severe amount of empathy that came from the leadership of our team which like really changed the way I thought about interacting with people in a professional way and also just like knowing you can choose to be around people like that. Like you don't have to be around people who are shitty. So I mean that's really a privileged thing to say but. If you can choose to be around the people who are good that's a good thing.
JF: We didn't have a lot of control but we the things that we didn't have control over we were like well I guess we can't work with that person. Let's not ask them on let's find a different person we could talk to. Yeah.
AL: Pod Squad jail.
JF: Yeah, It was a secret thing. They were basically like if someone was emotionally abusive, or difficult to work with, or hard to hard to like produce in various level. We just were like oh well we'll not call them again. And we all had the right to do it and we didn't want to go. You know we were very careful about that obviously but choosing who you work with as much as you possibly can.
AL: So the the main struggle which has also been I think the biggest way I've grown in the last year is around March or April I got super burnt out like burnt out to the point that I was like in bed for two days and I felt physically ill and I couldn't figure out what it was but what it was was I was producing a daily show. Five days a week, starting Sunday's through Thursdays. I was always tied to the news. I worked six days a week for over a year pretty much and was also taking on a lot of extra work because I was you know in my former life I was a social media editor so I was doing a lot of the promotion work and the planning for that. And like just getting really high on this idea that I was like working hard like it was this great thing. I learned that if you're the only person on your team that knows how to do something that's not a strength, that's not something to be proud of. Like, that is, you are failing yourself, you're failing your teammates, you're hogging the knowledge, and you're setting up your team to be a team where, if you are out of the picture, then they can't survive and they can't be great without you. And while that like feels really good for your ego that's like not sustainable and that's not a good way to live.
JF: Yeah I feel like I mean I was I was at BuzzFeed for four and a half years. So I was lucky enough to get the guidance of some other people before I became a manager. Eleanor Kagan. Shout out to Eleanor Kagan, our front row cutie.
JF: I feel like my biggest struggle was sort of going from being a member of The Pod Squad to becoming a manager and then having to sort of navigate the conversations that happened above the creative layer of work in which you are like sitting there and someone might be lying to you about whether or not you're going to be able to have a job in a couple of months, or you know really more of the struggles of like what do you do when somebody who is in power has an idea, it's not quite the right thing. You know what you think is right. But you have to have this like sort of like gentle struggle constantly managing up to figure it out. It's not necessarily like what it was like to work on a team that was hard. In fact, I feel like a lot of like the two struggles that they had or struggles that I created because I relied so hard on them as my as my people. But essentially what happened was I had to go from being a regular degular person to being a manager and trying to figure out how to air traffic control the emotions, how to make sure everybody was doing their job, how to make sure. Like if we're assuming that everybody is doing their best work and we're assuming we're leading with empathy and somebody is just not fucking doing their job what do you do?
JF: There are a lot. There were lots of struggles in that sense, but ultimately I think that my biggest struggle was trying to figure out how to manage up and how to represent our team outwardly in a way that they that other people could understand and represent audio in a way that other people could understand. I'd say that like what I learned is that there's only so much you can do and that is that was a really important lesson across the board. You know I was managing the team and hosting the podcasts and producing the podcasts and working six days a week. Also with Alex without being like really noticing or being paid or anything and constantly in the news and constantly upping the ante and at one point I remember turning to Alex and being like, "So what? If it's not good, put it out anyway. I don't care. They're not going to learn that we need more people until we need more people. And if we can't we can't keep being the the people that are carrying you know like working together." Yeah exactly.
MD: I think like if if you're killing yourself to make the best product possible knowing you don't have the resources. Yeah like yeah sometimes you just have to let things slip.
JF: Yeah I remember being like let it be bad. So what. I mean listen let it be bad. It was never bad It was never bad. It was always extremely good at getting produced. But there was a moment where it was like wow if there's a typo in the description we will fix it later which I don't think is actually a good way to work. Hopefully we all have more resources. Hopefully you are all being uplifted by the people who are in charge. But. Yeah I know I know it's a funny concept. It's not so funny. Anyway so like shall we start? And OK so write your frustrations down anonymously or if you want to be bold the mics are there. We're going to start with these two questions. But like think, think, think and why don't we say if you have your questions done, pass them towards the middle. If you're in the back, pass them towards the the most people area. And then if you have a pile of things then lift your hand up and we'll come and get them.
JF: OK. Molly, do you think you can come and get them? That would be great.
AL: Amazing. We have two already -- our superstars.
JF: Yeah, our superstars. Ok I so.
MD: I love this one. What are some good ways to encourage accountability?
JF: Ooh. You want to start Alex?
AL: Yeah.
JF: Also please we mean it. Jump in if you want to. You have good ideas. This is a you know we're we're all here.
AL: I think you know I can remember a handful of times when something was meant to get done and then it didn't get done. And at first I spun myself into a frenzy over the weekend when I realized like Oh my God! This thing didn't happen and now I have to do it on a Saturday. So thing one is I stopped looking at my e-mail on the weekends and I made it so I didn't learn that something wasn't done. And it goes back to the letting the gaps show. You know, if something doesn't happen like the whole team should feel the burden of that not just me. And so then we would we would have Monday morning meetings together and we would do a thing called pros and grows. Shout out to Neena Pathak. Yes yes. Pros and grows are like a good thing and not so great thing from the last week either from the episode or just like from the production cycle. So we would talk about it and we would always try to talk about things to improve, or things that slip through the cracks in a way that wasn't blaming the emphasis was never on figuring out like
JF: Who fucked up.
AL: Yeah, who was at fault like who's whose fault is this. It was always like how can we support you to make sure this doesn't happen again. So again like going back to the idea of empathy like when things aren't getting done more likely than not like they are innocent at heart it's not like they're trying to purposely fuck you like they are -- they're struggling. They don't know what they need to do etc. And like if you come at them with like accusatory language or tone then that'll make their walls go up and it will make your problems even harder.
JF: Yeah I feel like I did a thing last year where I tried to stop saying I was too busy. And I started saying I didn't prioritize that which basically changes the blame. It basically says like I'm taking responsibility for not having prioritized that. Instead of being like oh my god I'm so sorry I was too busy to come to your birthday party or whatever it was. And it was a really interesting sort of mental shift for me where I realized that being busy is a really poor excuse for hurting someone's feelings or not following through or not being accountable. And I tried to be really accountable to myself. And that was a way that I found that I could make other people accountable within reason. It wasn't perfect. I'm far from that. But it was a tiny little mental switch where I felt like I was all of a sudden and in control and consequently I felt more powerful about my own thing. I was like well you know if you're really vulnerable and you're like I didn't I didn't. I'm sorry. Prioritize that next week I'll prioritize that. Or this time I will get to it blah blah blah. It really gives you a framework for stepping in accepting the responsibility and then moving forward. But that's for your own self that's your own shit.
MD: I think one of the most helpful phrases for me in encouraging other people's accountability is constantly when I when I find myself having a moment of freedom asking what can I do to support you?
JF: Detrie walking up to you in a moment where you're like 'What the fuck is happening?' and saying how can I support you in this moment?
MD: It's just like the best and the best and what it allows people to do is to sort of take stock of where they're at with the things that they need to do while also offloading and asking for help when they need it. And then that also encourages them in their moments of free time to come ask you how they can help you. Another thing that I found when I was a producer and See Something Say Something maybe like six months in was contract. I was eager to sort of keep all the work as my own and I felt like it was really important for me to kind of take on as much as I could so that I was protecting the work that I was doing at the same time my boss the amazing Meg Kramer was helping out more and more in production on the project and I felt really insecure about about my own accountability. I felt like every time she took something on it was me failing to be accountable for all of the work that I needed to do. In an exercise I had us do in a weekly one to one was I asked her to come up with a list of all of the job tasks that she thought was her responsibility. What is her role as the editor of the show? What is my role as the producer? And I would do the same. And then we just talked really honestly about who's job is really what and that allowed us that it really allowed me to relax because they understood then that if she was offering to take on something that I saw as my job I could be like hey no that's really that's mine. And I've got it. And I could push back on that versus feeling like I was being undermined. Yes I would say if you are on a small team that is my favorite exercise.
JF: It's called 'what's my job?' We have a mic over here.
AL: Will you go on the mic?
Audience Question: Yeah. So at a certain point in my career I also managed a television station. And I think one of the things that happens is we get pulled into the individual issue with an employee. When it comes to accountability without taking a moment to step back and look at the ripple effect it has on the rest of the team. So you can be dealing with this person and trying to support them in the meantime the rest of your team is taking on a lot of extra work and weight because you have someone who's not being accountable. So the way I approached it was always give people what they need to succeed, make sure you arm them with that first, and then have regular benchmarks for them and check ins with them to say --- not a year into the issue but a month in, to say hey we're not meeting these benchmarks what are you not getting from me that you need to achieve the things you need to achieve. But at a certain point there are certain people who are not suited for certain roles and you have to be radically honest with yourself about that and with them about that because you're not serving their higher good by keeping them in a role they're not suited for.
JF: What's your name. My name is Jen White. OK.
JF: So like yeah we had that we had that situation where we had to like you know sort of address something where it's like it seems like you hate your job. Can we talk about that?
MD: And it's I mean it's hard because everyone wants to feel like they love the work that they're doing or that they're doing great work. But yeah sometimes it just hits a point where you have to be honest and you know you're 100 percent right.
JF: OK let's go to the honesty cards. You have a comment or do you have? We ask a question.
Audience Question: My question is about dealing with upper management. You talked about managing up and I'd love to hear more about that but especially in creative fields or in new media it can be a little blurry about you know what the expectations are of far upper management and how to advocate for your team how to stroke egos and help them feel bought into project and your vision. Do you have any overall advice for dealing with perhaps executives or higher ups who you know either resist new ideas or ways that they're not necessarily -- ideas that didn't come from them perhaps? Yeah and also to advocate for what you need to protect your group? Sure.
JF: I'm going to use the example of a project that we did with an outside platform. You remember that. Yes. OK. Sorry. I'm going to be vague. So. It was a bad idea. And we were and the task was not great and the product. Well basically we had two problems. One was that management wanted to do this for 2 reasons that were completely invisible to us. The other problem was that the we were working with a completely outside organization so it was like a black box. It was like if it was our organization that was doing something weird I knew who to go to and who to talk to to try and make something happen. It was not that situation it was like there was one person who was basically like my babysitter who would have to respond to all of my e-mails and and like the thing that they made didn't work and we were they were using us to test their shitty thing that didn't work -- the outside company was. Essentially I would say that the lesson that I learned was that like I was very clear about what I thought was like I was pretty honest with the people on my team about whether or not this was a good idea. I was honest with the management and you know we produced the thing enthusiastically here do you want to look at these. Filter. Yes. And we produce the thing enthusiastically and as well as we could and we addressed every tiny little problem as it happened and then the black box said it's over and we were like OK it's over. That was a good lesson and I would say that like it wasn't a problem with buy in. We had the buy in but we just didn't have the resources to make it like exactly what it needed to be. But based on that level of sort of like collective accidental mishaps I was able to create a trust with them where I was like this is a bad idea.
JF: I'm sorry guys this is a bad idea blah blah blah. And eventually I earned their trust. And then in the second I think that you have to sort of like be in people's faces and be and earn their trust so that you can actually say like hey this should work this way this shouldn't work that way. What if we worked backwards from this and were able to stand in that. Now we got laid off so like clearly there was something that I wasn't doing. You know what I mean like there is a limit. And like I like three weeks before we I had asked the question like what's going on or are we good? And we heard we were good, so there's limits. But I would say that like doing the work that you believe is good work and being extremely good about that being I think that you have to look beyond people's faces a lot and and not really like overthink the e-mail. And send the one line e-mail that says like I don't know about this or I don't think that this is a good idea when you think that if you stand in that power they will see you as somebody who is like your equal in a lot of ways.
JF: But I think that I like five years ago I really like labored over every word in an e-mail.
And I really like made sure that I was like being a good negotiator on everything and was like really careful about the way that I spoke to people who were in upper management. And after a certain thousand number of one line e-mails that had no any sort of anything I just decided that like no it's better to just respond really like accurately and bluntly without overthinking it. And that actually earned me a lot more trust from them. So I mean I guess live every day like a white man -- carry yourself with the confidence of a mediocre white man. It's not my, that's not my phrase, who's it from?
JF: We'll figure it out. Yes sir. Yes sir. How are you. Let's go to the great one. The vulnerability cards.
[cross talk with audience]
JF: Sarah Hagey
AL: Yes the vulnerability cards. Thank you all for being so vulnerable. We have a lot bullying. Yeah I mean it's just yeah but this one is not about bullying. Sorry. We consistently end up with entry level employees who want to skip the entry level work that needs doing. OK. So this is an interesting topic. I am freshly out of entry level sort of sort of hardly but I mean I'm a youth kind of. I walked into a room recently and heard a pitch that nobody else could hear. I think like that as a person who like from the time I started my career four short years ago to now I've always been like I want more. Give me more. Like let me do this. I don't want to do this shit job. And like okay didn't work out super well for me sometimes but other times were great. I think it's important to know that like when an entry level person doesn't want to do something or like is expressing an appetite for something greater it's because they're incredibly ambitious and can probably handle it. That being said they probably don't understand why they need to do the entry level work and it's helpful for them to understand like OK I know this isn't fun. I know this isn't sexy but like you are actually doing the work when you are like you know -- good example is Reporting to You, our daily news show. It wasn't one of our more prestigious shows although it was extremely successful. It was it was the most successful. Anyway it was you know the sexiest show though.
AL: But like producing that on a daily basis really sharpens your writing skills. It like sharpens your news judgment. It helps you turn stuff around really quickly. And so like that was a thing where it was like OK I know you want to do like a bigger project but like you have so much to learn from what's in front of you and explaining what they have to gain from it and also explain like hey I did this too and this was like so helpful to me. I think that that will be helpful. So maybe putting them on a path toward doing a thing that is an entry level like giving them something to look forward to and to work toward is helpful.
MD: I also think on podcast teams you often kind of have a bad attitude about writing the copy, doing the admin, and doing kind of all of these other tasks that often fall to entry level. And I think just changing the attitude of valuing that work is as important as the more illustrious creative work and that time being willing to pitch in and do it kind of than than makes the people feel understand why this work is important and why it's necessary and useful.
JF: Right. Remember when we had that like category of jobs that nobody wanted to do and everybody was disdaining in a way that made (AL: it was my category of jobs). Yeah they made somebody feel like it was basically like the distribution. We had we had a moment where everybody was like really focus on making the thing and nobody really wanted to get good at figuring out how to distribute the thing. And I think that there were two things that we did. We like addressed it really -- Alex came to us really honestly and we addressed that really honestly about like how important it is to value this work and that it is part of the work and it is not a side thing that you have to do afterwards that you know the tweets being written is just as important as the show being mixed like basically like make all of the work the same. That was something that we did because that was what we had on our team to work with. And we also learned how to do it. We were like Okay Alex teach us how to do this properly, teach us how to do it. And we all we made time and we sat down and we tried to learn it and we weren't as good. And we regularly did not do as well as Alex. We messed it up a bunch of times. We fucked it up all the time. But the fact that we were on the hook and sort of like willing to say like no this isn't like there's no all the work is work. That's that's the thing that I think more people should think about like it's all it's all part of making stuff. And we have to respect the work and we have to respect the people who make every part of what we're doing. And if we don't it it creates this weird we don't have a caste system in our regular life. Why would we have it at work, you know? Hierarchies are important but like it helps if everyone values everybody else's work.
MD: All rightI've got one.
MD: OK. Also. Should we be more succinct?
JF: Yeah. We're going to try to be more succinct. Quiet time!
MD: OK. So one reporter getting input from many people web person, editor, other reporters, engagement. Lots of postulations and varying needs. How to stay the course and stay focused? I guess my advice for you would be decide who amongst those stakeholders is your strongest advocate and the person that you believe brings the most to the table and make your decisions more like as collaboratively as collaboratively as you can with them and try to get them to to fight some of the battles with the other people. Anybody else have any tips?
JF:Yeah I mean I think that like when you have a lot of different stakeholders you have to prioritize the person who is going to be like promoting your work and making it happen and then you have to figure out like. Is there a way. I mean I always advocate for small spaces. Ok I'll be quiet or soft spaces. Basically like if there is something that is going to be a contentious e-mail like get a coffee with the person or do something that is like in march up to the person and have a conversation before something sort of like spill spins out of control. And I found that to be like it's sort of like a diplomatic approach it takes a little bit more time sometimes and a little bit more like bravery in terms of like 'hey can we talk about this one thing?' There were a lot of things that we figured out standing in the corner of the newsroom that that I think worked better in terms of advocating and like pushing a project along.
JF:You want to go next? You want me to go next? OK. Great. How did you advocate for your work within the BuzzFeed newsroom? No? Yeah?
AL: Soft relationships power power. I'm a fan of soft power. Can you explain what that means. Yeah it's like. Shoot. JF: The charm offensive. AL:Yeah. The charm offensive.
AL: So we were when we were tasked with starting this podcast. We were like oh shoot we don't really know that many people in the newsroom because we were kind of off in Another Round Land like all of us producing Another Round and See Something Say Something. And so we like took a list of reporters and editors in the newsroom and split them off into groups and each of us took a handful of them and were like hey you want to get coffee like I want to hear about your work? Like what are you excited about? And it sounds manipulative but we actually developed like real relationships with these people like people I'm still texting like on a really regular basis now. And they were the people who were like on our show like developed amazing segments with them. If we'd stayed longer, I would have advocated to like start podcasts around them. And and they also like were able to then yield their own power within the newsroom to advocate on behalf of us because they liked us because we're cool.
JF: Yeah yeah. You have one.
MD: Yeah. And I actually really want to hear if the audience has any thoughts on this. JF: And then we'll go to and then we'll go to you, okay? MD: Oh hi. I'm the only woman on my team and a lot of the time the men on the team do not hear what I'm saying on Slack, in person, etc. or take credit for my ideas when I call them out. They act victimized and or act like I'm being too emotional. Help.
JF: Oh honey. Yeah if you have an answer to this question get up on the mic. We're really glad you're here. Yeah I'm glad. This is probably a really healing moment for you, person. I just want to empathize with that situation. That really sucks. It's really hard. I think that one thing that's important is like trying not to. But I like I don't know how much work has to be done via Slack but I would say that like Slack is a really bad way to figure out who's powerful and who's not powerful because oftentimes the guys like take up a lot of space there's like a rhythm to the conversation it feels like you're like trying to get in on a game double dutch and you can't get in and you can't get in. And that is a really difficult position to be in. I feel that. But I think that like -- God I don't know. I feel like I would do stuff in person as much as possible I would. I would like call a meeting. Is there a world where you can be the person who calls the meeting or calls the lunch or or take puts yourself in a position of power and authority, saying I'm going to teach you guys a class about X Y Z thing that we're doing that helps because it's important for them to see you in a place of authority.
AL: I would also say there's a lot of power in direct conversations. So like you know maybe you have problems with four guys but you can just pick one that you think might be most receptive and like take him out to coffee and be like look I'm sure this isn't your intention but my experience is this and I just wanted to share that with you because like I think it's negatively impacting the work in X Y Z way
JF: Find the person who you think can advocate for you and tell him it's his job to advocate for you. It's like when you're at a bar there's somebody really tall in front of you and you can't get a drink you've got to be like hey hey can you can you get the bartender for me? Like, don't be afraid to do that because it puts him in a position where he realizes your worth and his and his role. You want to go?
Audience question: Sure. So I think we're in this really special time where media is scaling really quickly but that also means that some managers are being promoted without the necessary training. How do you deal with being micromanaged and someone who believes that micromanaging your processes is the correct way to deal with employees?
JF:I thin, oh thanks. I would say that the silence is a really powerful tool. If there is a way to sort of like establish a moment where you're not going to be responsive to the micromanaging and say like by the end of the day I will have this. I'm going to be offline. I'm going to be off Slack or like if there is a way to to establish a silence period where you don't have to be answering to the micromanaging. Making that a part of your workflow and really addressing that with the person who's micromanaging you can be a very powerful tool. I feel like when people didn't respond to me I learned a lot about what I was what I was doing, how I was doing it. You want to go?
MD: I think sometimes when managers come up in the world they're micromanaging comes from a place of feeling of that same insecurity of like feeling they have to have their hands and everything to prove their worth. So it's not necessarily a distrust of you as it is a behavior of insecurity from them. If it feels like that could be why it's happening for you just empathizing with that and like being like OK you're going to you're going to pop in with your idea and I'm going to go great and then I'm going to let you walk away and I'm not going to take that personally. It's like is a great way to de-escalate the stress for you and if you have weekly one on ones with them you can be like, 'Hey I've noticed you've given me a lot of feedback in this this and this way. I just want to check in you know like how did you feel like that project went. How did you feel?' You know and like making sure that they feel like you're holding yourself accountable and then you know if they're micromanaging because they want you to do something differently like then that's it's much better to just have that direct conversation with them and have them know that you know that you and them are on the same team. Yeah I think.
JF: We're running out of time. Oh we got someone oh yes please.
Audience response: I wanted to go back to an aspect of the previous the woman sister friend. However you are working with the men you called one of the things that was mentioned in that was that they were taking credit for her ideas and that really impacts moving up, moving forward. You're not being credited with your own work. So I want to hear from you all about that. My solution I wasn't in that situation specifically but one of the ways of kind of nipping it in the bud was tedious as it might be sending an email and copying who the next highest up. Because when someone is taking credit for your work they're taking credit with someone who's higher up. Most likely just going to take credit within the group they're doing it so that higher ups know what they're doing. So you know kind of own your power and do something about that. Now I don't know what your ideas but mine is like documentation and paperwork. And then if it happens in person you can say whoa, 'do you like that idea? I am so glad that I said that to you. And that you agreed with me.' I love that. Thank you.
JF: Yeah James Comey the fuck out of it. Do you guys want to do -- we have to wrap up and we have so many good questions. I know you might want to do one more?
This is the fastest question in the world. The only question that will ever be asked. I know you have. Do you have one that you want. Oh I have one. OK. You do it and maybe we can still stand around afterwards and answer people's questions.
AL: I have a taping. Right. Cool.
MD: OK. I just like this one because I think it's something that BuzzFeed that we thought about a lot and BuzzFeed which is if you are the only woman, young person, poc on the team being made to feel like you need to address issues of race, diversity and inclusion, or tokenism. How do you handle kind of being given that role?
JF: I mean it depends on what team you're on. I think it depends on what team you're on. I think that like, I have been aggressive about it aggressively specific in moments where I'm like that sounds racist. That sounds like a bad idea. Are there. I don't want to do it if there's no people of color on the list. I don't think we should do it if blah blah blah blah blah. I was like really explicit about that. That was my technique because it was safe because people were looking at me like oh oh well OK. It's sort of like made people embarrassed to believe that it was OK to do things with all white people. I was kind of unafraid of that. But I'd love to hear what you think. Last question.
MD: As someone who worked on a show that was about an identity that was not my own, I made it my job to whenever someone suggested something sticky or something that I thought was uncomfortable. It was my role as the person who wasn't being asked to use my identity in that way to speak up and be like, 'No. Like yeah we're definitely not assigning Ahmed to go interview the racist tattoo artist.' There's no reason for that. Yeah like there's no reason for that. And I think it's another thing to think about when we talk about other people taking credit for our work is like using the position that I'm in to speak up for people who are always being made to speak up for themselves and always being put in that corner. I tell every well-meaning man I know in public radio to amplify whenever he's in meetings and to, when he hears a good idea said by a woman, to say like remember that great idea that person said and I don't know if they do in meetings but I know that at least if I'm telling them to, they can't say they never thought of it.
JF: Aggressive generosity around credit is something that I think is really really vital and not enough teams do it. But like you have to start by modeling it for yourself so that other people will follow your lead. Alex your last one.
AL: I have one last thing to say which is that in the time that The Pod Squad has lived and died our group chat has thrived and I feel like my immediate answer to almost all of these questions has been like let's see what The Pod Squad has to say about it. And so that's just to say to you that like you should take advantage of the communities you have around you also to lean on them for support and for wisdom and guidance. Because we're all stronger together.
JF: Yeah. I have a future thing that we can do. Why don't we keep these cards and see and answer some of the questions on Twitter and keep the conversation going.
JF:Hashtag should we use #WerkItFestival, #WerkIt, #WerkItBullshit. Yeah thanks y'all. You are wonderful. Be there for each other. We're here. We're here all week. Bye, guys