The End of Ebola in Liberia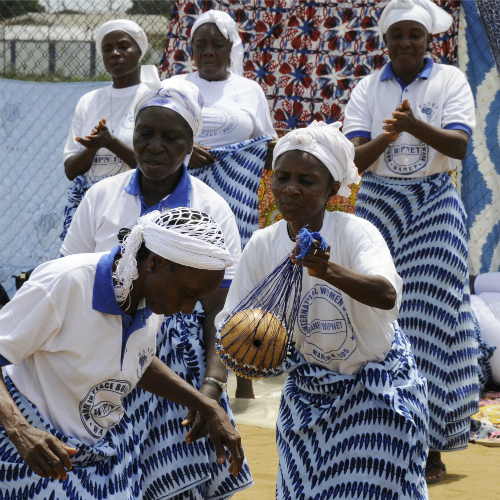 Transcript
BOB: This is On the Media, I'm Bob Garfield. You know when I said at the top that Brooke was off? Well, she is technically. But this week she did record this,
BROOKE: Last Saturday Liberia, 42 days after the last Ebola victim was safely buried, 42 days after the last Ebola victim died, Liberia was declared Ebola free. (Though its neighbors, Sierra Leone and Guinea, are not.) Back in December OTM producer Meara Sharma and I spent a week in Liberia. We visited a town that had been ravaged by ebola, and we saw how the virus had thrown all of the country's problems into stark relief. Like the restrictions on free speech, endemic poverty and government corruption.
We were shadowing the journalists of the Monrovia-based newspaper, "Front Page Africa. Our guide was its editor-in-chief, Rodney Sieh. He launched the paper online while a reporter in New Jersey, but after criticism that he was too far away from home to understand its problems, he shifted his operation to Monrovia. Frontpage Africa is Liberia's most widely read paper, and arguably the most troublesome for the government. After Rodney was jailed for reporting one official's misappropriation of funds, thousands of readers filled the streets to block the police wagon carting him off to prison. He's a local hero. First we'll play some clips from our hour from Liberia, and then a conversation I had with Rodney this week.
BROOKE: So, Rodney what are your plans for today?
SIEH: Well today is supposed to be the biggest holiday in Liberia. It's called Tubman's Birthday.
BROOKE: William Tubman?
SIEH: He died in 1971. But he ruled for 27 years, which makes him the longest-serving Liberian president. This day became like the biggest holiday in Liberia.
BROOKE: You said it was kind of like America's Fourth of July?
SIEH: It's even bigger than Christmas here. People leave their houses as early as seven o'clock in the morning. They set up tents on the beach. They have parties on the beaches. People look forward to it every year.
BROOKE: Mm Hmm.
SIEH: But because of the Ebola this year, the government has said no one should go on the beaches. So Mae and I will go around and see if we can find some action [laughs].

BROOKE: Miami Beach. The managers, the workers, are desperate, because the government had closed the beaches, not just for the holiday, but until Ebola leaves Liberia. Fancy hotel beach fronts aren't patrolled. Nor clubs, nor markets. Rodney's subtext is that that these public restrictions are unevenly applied on the poor.
AZANGO: What's your name again?
Beach businessman: My name is Lafe Swambati.
AZANGO: And what do you do here?
Lafe Swambati: I have a beach business.
AZANGO: And how is it affecting you?
Lafe Swambati: Very horrible. We agree to close down, but now the government is saying we should lock down for real until Ebola leaves Liberia! If you want to close down a beach, close down every activity that will cause crowds. Even a party. Even a mosque. Even a church. Even a wedding. Anything that will cause more than five persons, you should lock it down.
BROOKE: Rodney's sympathy for the men who may have lost their livelihoods is paired with a countervailing concern: That Liberians are growing cavalier about Ebola. Though the number of new cases has dropped to 50 a day, it's appeared in every county. Frontpage Africa wrestles with that. When the 14-week state of emergency was lifted last month, Monrovia seemed to be drifting into a new normal. There's chlorinated water for hand washing in front of shops and public buildings, but people again throng the markets and ride three to a motorbike. On the day we landed , Monrovia was locked in an epic traffic jam, as young people rallied in the streets for former soccer superstar, now Senate candidate George Weah. At our breakfast, Rodney said that would be Monday's lede.
BROOKE: What's the headline?
SIEH: Ebola not real in politics. [Laughter] We've all seen how people are dying from Ebola in Liberia. But we had this rally yesterday where thousands of people were in the streets celebrating.They took their shoes off, walking barefoot. They have like shirts off, holding each other. Hugging. Kissing in some places. ...its just the congestion...it's like for a day, Ebola was not real. That's what were going to put in the headline on Monday.
BROOKE: Front Page Africa seems to be determined to remind people that this crisis is far from over. Why do you think people think it is?
SIEH: That's how Liberians are. They're quick to forget. And the President has been saying the last couple of weeks that she wants Ebola to be over by December, by Christmas. But the American ambassador, Deborah Malac said she wasn't happy with a statement the President made.
BROOKE: So the ambassador's concern is it sets up a false sense of expectation and may actually have the impact of diminishing the safety precautions you take rather than heightening them?
SIEH: It does. It does. That's going to be a key thing going forward. Everybody wants to be over Ebola. Liberia cannot be officially declared Ebola free until our neighbors, Sierra Leone and Guinea are declared free. Someone could cross over the border into Liberia and infect somebody else. So that's why its important to have this message. It's not over.
[music]
BROOKE: Meara and I were wondering about Rodney. He was a contradiction. A young, old-time newsman. Warm, but solitary. Open, but guarded. So on the bumpy road back from an ebola-scarred village, I probed Front Page journalists Mae Azungo and Wade Williams about Rodney.
BROOKE: We find Rodney a little elusive. We can't quite figure him out.
WILLIAMS: Working with Rodney for the past five years, almost five years, I haven't been able to figure him out. I keep learning every day, you know, what actually motivates him. You see Rodney has no wife, no kids. So his newspaper is his life. And sometimes I'm like, "Maybe if you had a family you would know what it is like to wake up in the morning you know with kids, and you have to tend to them first before you get on the field to do your job," but Rodney will be editing your stories and call you at 12 or 1 a.m. in the morning and expects that you will be up. The other day he called me - I was about to leave, you know, it's curfew - curfew is like 12 p.m. I left the office around ten. It's like an hour drive from the office ot where I live. So I have to leave an hour ahead. And he calls me on the phone and says 'Hey come.' And I go into the office and what he asks is that, 'why did you use this cliche in your story!' I'm like, why couldn't you just say it over they phone, you had to make me come into you office. He said, don't you ever use it again! [laughs] So I haven't been able to figure him out.
AZANGO: He will blow the door, he will knock the desk. When Rodney's angry he will slam the door!
BROOKE: Seriously? He seems so quiet and so restrained!
AZANGO: Don't push him. Haiihh!
[music]
BROOKE: Towards the end of our stay we had a long sit down with Rodney, about his childhood and his seemingly obsession for journalism. We'll just play the part where he mentions his influences, his grand uncle Albert Port, a man with a passion for exposing corruption, who didn't mind paying the price. And of another uncle…another journalist...
BROOKE: This is going to be a weird question. One thing that Meara and I noticed is that you seemed really jazzed and really sad.
SIEH: Besides my uncle Albert Port my next person I admire was my uncle Kenneth Best. In him I saw someone who I could emulate, I could model my life after. When Samuel Doe closed down his paper, The Observer, in the '80's I went to his house, his wife made bread to sell that helped the family stay afloat and I sold the bread. When the paper was operating, after school, I took the papers in the streets, 'Buy your Observer, Buy your Observer' and I wanted to be him. He was in the States. He came to me to help him start The Observer again. So I started the online Observer. But, there were a lot of stories we ran that he didn't like. So we butt heads a lot of times. His friend, who was the ambassador to the US at the time.
BROOKE: Which embassy?
SIEH: The Liberian Embassy in Washington. The audit report was done on the embassy funding. They funneled money through the embassy to the States. And we did a story about it. And he didn't like it. He told me to retract the story. I said I can't do it. And that's how we fell apart. And I started FrontPage Africa.
BROOKE: Does he talk to you anymore?
SIEH: We don't speak. If I see him I will pass only because I've tried speaking to him he won't speak to me, so I stopped trying. All I ever wanted to do in life was to emulate what he was doing. And I can't for the life of God figure out why he hates me so much. I hope that one day before I die or he dies, we can make peace. But I don't see it, because the friction has gone beyond a point of being repaired.
BROOKE: Let me just stipulate, for the purposes of a hypothetical, that you're not getting along with your uncle now because you confronted him with his limitation. His friends, his alliances, his alliances with President Sirleaf; these were things he decided he didn't want to compromise with uncompromising journalism. Can you see at some point when you're older, maybe when you're as old as your uncle is, the prospect of prison or the promise of an easier life, that you might find yourself in his position sometime.
SIEH: I hope not. I won't lie to you, I can never say never. The reasons I don't have too many friends here is that people who think they are my friends, they figure that because you're a friend of theirs, you have to protect them. And this country is very fragile. It's very small. Everybody knows somebody. I get calls every day from people who say, "How could you do that to your friend" and what can I tell them? We're just doing a job.
BROOKE: Sounds lonely.
SIEH: It is. It is. That's why people, they don't see me out and they say, "I think he's gay. We haven't seen him with a woman before so he must be gay" I take it in stride because that's the work I chose to do. During the war I was a refuge. My epilepsy mother was in a wheelbarrow I took her from place to place. I've seen dead bodies floating on the rivers. I've seen my friends get shot. I came close to be killed several times during the war. You wanna celebrate the fact that you came back home to help start a vibrant paper in a vibrant democracy. I don't do it because I hate the government. I'm not anti-government. I am pro-Liberia. Transparency, accountability those are the things that the lack of them took us to years of civil war. If we don't tell the people what's happening here, they will continue doing what they're doing. Gonna be like a recurring dream we're having. They will hate you for what you write. But we need to tell these stories in a way that, I think, only we can.
****
BROOKE: When I called Rodney in Monrovia this week I asked him how the news had been received that Liberia was ebola free.
Rodney: It was a time for everyone to relax and be happy...for once. Remember when you were here in December, there was all this talk about being Ebola-free by Christmas, and then it went Ebola-free by New Year. Now that it's finally happened, I think everyone just had a sigh of relief that its over.
Brooke: But when we were there in December, and the outbreak was winding down, you said that what you most feared was complacency. You said Liberians are quick to forget.
Rodney: And I'm still worried about that, Brooke. Because remember when you were here there were a lot of places where you had to wash your hands before you entered, at supermarkets and stores and restaurants, most people are now not doing that. And prior to this Ebola crisis there was a situation here there were not enough ambulances to transport people. Because of the international support, a lot of ambulances were donated to Liberia. Those ambulances are now being used in some places for transportation of ordinary people. So already you can see that the complacency factor is setting in. My fear is that there may be some lapses near the border and we may have some recurrence. We're praying that doesn't happen, but with all the international support, I'm just hoping they will invest a lot of money, a lot of time, in ensuring the borders are protected until Sierra Leone and Guinea are at least back to square zero where there's no more cases in those countries.
Brooke: Now, Liberia has been declared Ebola-free because its been 42 days since the last case - that's 2 21-day incubation periods back-to-back. But now everyone understands that it can stay in semen for months and months. So do you know for sure there are no cases left potentially in the country?
Rodney: That's a major concern for everyone. You have to stay away from sex for a few months, at least, but I would say 6 months, just to be safe. There's no way of checking people to see what they're doing in their private time. I just hope that those who managed to survive the virus will be very careful and the government can put together a system where people can be monitored after this period is over because with all the celebration, anything can happen.
Brooke: The new chief medical officer of Liberia, Bernice Dahn, co-wrote an article in the New York Times. She said Liberia needs to be resilient after this epidemic and she says that resilience hinges on three things: Awareness - strong disease surveillance. Diversity - the ability to address a broad range of challenges, and integration - information shared across different levels of government. Do you think Liberia has the capacity?
Rodney: Well, we've just managed to get our hands on a report - a "Post Ebola Plan" for Liberia. And they're looking at 2.8 billion dollars from now until 2021. And most of that money has to be generated by Liberia. The thing about the government: they do a lot of good talk. But when it comes to implementation, its a major problem. A lot of issues during ebola - it was about lack of money, lack of transparency, accountability. They have to make sure we implement this plan to the fullest. And maybe some kind of policing system where the money that is set aside for these post-ebola projects is somehow monitored by international folks to make sure that they go to the right places.
Brooke: What's the news that's taking up Front Page Africa now, in the wake of ebola.
Rodney: The next big thing we're working on right now is the rising epidemic of measles. A lot of kids are getting sick, some of them are dying, and everybody paid attention to ebola and forgot about other illnesses like polio, like measles, like malaria. So we want to address those issues in the coming weeks and coming months. And we're preparing for the election - its Ellen Johnson Sirleaf's last term. She leaves office in 2017. So the coverage of our paper is going to be changing in the next few months to the transition period, to who's next. The economy is pretty much back to zero. So those are issues that will have to be addressed in the presidential election, bringing back investment into the country after ebola. Those things are going to be very crucial to how we move forward.
Brooke: I want to ask you a question: You once had a really close relationship with your Uncle Kenneth Best. Then you had a serious falling out. And I understand you had a reconciliation?
Rodney: Yeah Brooke. Right after you left Liberia, Henry Costa - who you also interviewed while you were in town - he had my uncle Kenneth Best on his morning radio show, and Mr. Best had some good things to say about me. I think he had heard the On the Media program also about what I said about him. So Henry Costa actually ambushed me - he called me in to say we were going to discuss something else about politics, and I'm talking and Henry Costa leaves the studio and goes outside for a minute, and then my uncle walks in and we broke down and started crying. He told stories about how we worked together back in the day, and I told stories, and we just reconciled. And after that show I think we've had 5 or 6 meetings. He made me what I am today. I think he realizes now that sometimes the student learns too much from the master and tries to do too much than what the master knew. So I'm glad it happened because life is too short for people to have grudges and I'm glad we were able to put things behind us.
Brooke: Me too. Rodney thank you so much.
[music up]
Rodney: Thank you so much Brooke. I miss you guys, I hope you guys come back soon.
Brooke: Ah, we really miss you too.
Rodney: Without ebola.
Brooke: Without ebola. Rodney Sieh is the founder and editor of Front Page Africa.