"Checking In" On Standing Rock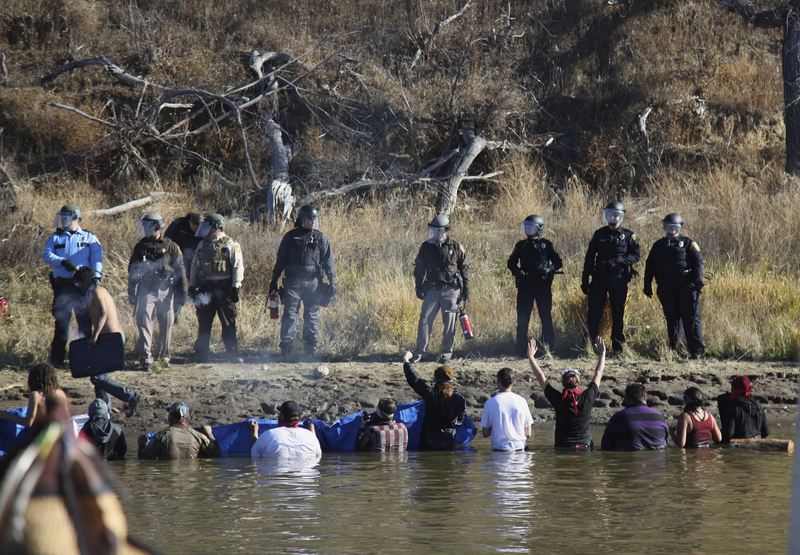 Transcript
BOB GARFIELD: From WNYC in New York, this is On the Media. Brooke Gladstone is out this week. I'm Bob Garfield.
This week, close to one-and-a-half million Facebook users checked in to the same place, the Standing Rock Indian Reservation in Cannon Ball, North Dakota, where protesters have been camping up for months to stymie construction of the North Dakota Access Pipeline through a major water source and sacred tribal lands. Check-ins announce one's physical presence at a location but no, there wasn't a mass exodus to the Peace Garden State. It was a tactic, a misdirection campaign.
FEMALE CORRESPONDENT: The surge followed reports that said police were using Facebook to identify and target protesters.
MALE CORRESPONDENT: The post is meant to overwhelm and confuse sheriff's deputies who are allegedly using Facebook check-ins to determine who's at the protest camp.
BOB GARFIELD: The Morton County Sheriff's Department claims that it, quote, "is not and does not follow Facebook check-ins for the protest camp or any location." Nonetheless, by overwhelming social media feeds with a virtual human wave, the check-ins finally attracted mainstream media to a story and a location they'd scarcely noticed.
Kandi Mossett is an organizer with the Indigenous Environmental Network and has been part of the encampment since August. She believes the Facebook check-in meme finally brought the protest the attention it deserves, but don't ask her where the idea came from.
KANDI MOSSETT: You know, honestly we don't really know. People keep asking and we're asking each other, who started this, was it Sacred Stone Camp? And they were like, no, it wasn't us, was it, was it the Indigenous Environmental Network, we said, no, we didn't start it. I got some random messages on Facebook Messenger that said, this is what we're going to do, check in, and I thought, okay, you know, it's not really that big of a deal, they can tell through geo mapping where people actually are and where they're checking in from.
But we knew that we were being watched. We know that they have equipment out here called stingrays and other equipment where they're getting information off of our cell phones. So at first the Facebook check-in thing, for many of us, we were just like, it's not that big of a deal, sure, check in or don't check in. Now that it's gone viral and it's causing attention around the world, people want to know more about the story. They're like, why are so many people checking in? It has actually turned out to be a really brilliant idea, and none of us seem to know who's behind it.
BOB GARFIELD: While the commitment of the protesters has been ongoing, the attention from the outside world has been, at best, uneven. What is it like to make the commitment for this ongoing encampment, which really is more or less invisible to the outside world?
KANDI MOSSETT: I am not aware [LAUGHS] necessarily, being in the camp, that it's invisible to the outside world because this is our reality and we're living it every day. In the camp itself, we do our best, through Indigenous Rising Media, to try to put out the stories and to try to have journalists and people come to help us tell the story to the outside world. In fact, we had a very long email from a publicist who said our press releases are very – [LAUGHS] not very media savvy. And so, then we asked this person, can you come work with us then because we're doing the best we can as indigenous on-the-ground media, and that's what we have to work with? So we are at the mercy of the police who are putting out statements and are much more savvy than we are, but we're trying.
BOB GARFIELD: Is the story that is going out the one that you think is the right story to tell?
KANDI MOSSETT: I think that the story that's going out is more based around the violence that's happening. It's almost like a catch-22. We don't want the violence to happen but also that's why so many people came, is because they saw what was happening to us. I want the story to go out about the bigger picture. There is no guarantee that you're going to win against an injustice that happens to you when you speak out, but we are guaranteed to fail if we don't at least try.
BOB GARFIELD: Once I was interviewing the head of some liver association and I asked him if in his heart of hearts secretly he wished for some major celebrity, like Lady Gaga or something, to get hepatitis so that he would have a human face to put on the matter of liver disease.
KANDI MOSSETT: Mm-hmm.
BOB GARFIELD: And, you know, he hemmed and hawed before saying, well, no, I don't actually wish any disease on anyone, but it really is good to have a celebrity spokesman. And I'm wondering if somewhere in your heart of hearts it's like, yeah, I'm kind of glad this oil company and the State of North Dakota are conspiring to do us harm because it really focuses the issue.
KANDI MOSSETT: No, not at all because if it wasn't this fight, it would be another fight. Prior to this, we were fighting the Sandpaper Pipeline. Enbridge pulled out and put all of their money into Dakota Access. Prior to that, we are fighting the Keystone XL Pipeline, in which we are successful and we won. Prior to that, I'm living in the Bakken oilfields where I'm seeing women and children all around me being raped by the increase in man camps coming into our communities. I'm not glad that it's happening. None of us even want to be there. We just don't have a choice because this is our reality every day as Native people, as people of color, as minorities.
We are where the extraction zones are, and we're sick. We have cancer, we have asthma. I'm a cancer survivor. That's our reality. I used to think it was normal, until I left the reservation and found out that's not normal. There has to be an awakening, and it's just really sad that it takes something this dramatic and this violent for that awakening to happen.
BOB GARFIELD: Kandi, many thanks.
KANDI MOSSETT: Mateh gerads. Thank you.
BOB GARFIELD: Kandi Mossett is an organizer with the Indigenous Environmental Network.
If the Facebook check-ins generated attention, the next question is, to what end? Construction is almost complete. While the Army Corps of Engineers has yet to grant the company permission to install the final short stretch of pipeline beneath a Missouri River reservoir and while President Obama has mused publicly about rerouting that section altogether, protesters are reckoning with the possibility of losing this battle but gaining advantage in the war.
WINONA LaDUKE: We're glad that people have finally noticed Standing Rock and noticed North Dakota because pretty much North Dakota and South Dakota compete for how bad you could treat Native people.
BOB GARFIELD: Winona LaDuke is a long-time environmental and indigenous rights activist and the executive director of Honor the Earth.
WINONA LaDUKE: Whether it's unequal sentencing or there's the fact that you have a 70% poverty rate or there's the fact that the Standing Rock Tribe's clinic was built in the 1950s. They only have four doctors for 8,000 people.
BOB GARFIELD: We spoke to LaDuke on Wednesday and she described the front lines.
WINONA LaDUKE: So now what has happened is that they've spent $6.9 or so million on militarizing, bringing in mine-resistant anti-personnel vehicles, rubber bullet shooters, things that bust your eardrums with some sound barriers. The State of North Dakota has encouraged and secured police from 12 states. From what I understand, there's about 900 officers that have been deployed. In the meantime, they don't have a permit to cross the river with the DAPL pipeline. They have everything up until that. And they have plowed through gravesites, over sacred areas, plowed through basically people, just for the benefit of a pipeline.
BOB GARFIELD: Is there a chance that the Army Corps of Engineers will not be able to permit that small remaining segment?
WINONA LaDUKE: Yes, there is a chance, and we are hoping that that occurs, 'cause they had the opportunity, if you call it that, to run the pipeline just north of the city of Bismarck, but they chose not to and, instead, they decided to put it in the poorest county in North Dakota, just next to the Standing Rock Reservation. And so, the Army Corps of Engineers has been watching, you know, and has not given the last permit out. They have reasons to not give that permit, including a full violation of the National Historic Preservation Act by DAPL, by plowing through all of those graves, plowing through the sacred sites.
BOB GARFIELD: In fact, let me just recapitulate. There are three basic issues here. One is the incursion into sacred tribal burial grounds. The second is the environmental issue. And the third is the whole question of sovereignty on Indian lands - that this whole enterprise seems to unilaterally abrogate treaties between the United States government and the tribes. Is there any long-term satisfaction to be gained on any of these issues?
WINONA LaDUKE: I think that we've let a lot of blood and I think that that blood should be worth something. I just want to point out this is the pipeline from nowhere. I'm not sure that they'll ever have oil in that pipeline. This is coming from the Bakken, and the Bakken oilfields have, in fact, busted. This is a pipeline with no oil to put in it. I am driving from Standing Rock to my reservation right now and my reservation is facing a 750,000-barrel-a-day tar-sands pipeline. And it's the same company that I'm fighting.
And so, I am in the middle of a major war over the infrastructure of North America, of which Standing Rock is the place that people have noticed that there is a problem. And in our prophecies, we talk about this time as the time of a choice between two paths. One path is well worn but scorched. The other path is not well worn and it is green. And it will be our choice upon which path to embark. And that's a prophecy of the Anishinaabe people from a long time ago. And I think that Standing Rock shows that people can have courage, people can stand up to tanks and people can stand there in the middle of the prairie with no cell service and get terrorized by police and say, you can't do that to us and we are not afraid of you. That's what Standing Rock is to me.
BOB GARFIELD: I want to go all Saul Alinsky on you. As a strategic matter, you have, at least momentarily, the world's attention and the Standing Rock standoff is not going to last forever. What you do with what you have managed to coalesce around this pipeline?
WINONA LaDUKE: Well, what advice would you give us? [LAUGHS]
BOB GARFIELD: [LAUGHS]
WINONA LaDUKE: You're the one who asked the question. I mean –
BOB GARFIELD: My instinct is to set up a food truck, so you really – [LAUGHS] you're n – you're talking to the wrong guy. I think too small.
WINONA LaDUKE: Right, okay, so you've got the Saul Alinsky theory but no practice, basically, okay. I'm working with the tribal government and the tribal college, which is called the Sitting Bull Tribal College, and I believe that they need basically a Sitting Bull plan, like the equivalent of the Marshall Plan. The famous Sitting Bull quote is, "Let us put our minds together to see what kind of future we can make for our children," famous Sitting Bull quote. And that's basically where we're at. Standing Rock is the crossroads of fossil fuel extraction, everything that is bad about it and everything that is potential. They have immense solar and wind potential, everything that you basically need to build a sustainable community in the Northern Plains. A lot of those experts are out there at the camp or coming in. And so, we intend to leverage them for the tribe.
BOB GARFIELD: In the introduction, we discussed the Facebook episode where more than a million people have used the check-in function to announce to the world that they are at Standing Rock. Are the actual protesters at Standing Rock aware of the virtual throngs that surround them?
WINONA LaDUKE: They are. And one thing that happened, I was meeting with the tribal chairman and Jodi Gillette, who works with the tribal chairman, and we were talking about the fact that people had been arrested and housed in dog kennels and such things. And she said, you know, I didn't even get to thank New York City, because what happened is the New York Council passed a resolution supporting the people at Standing Rock and supporting the Standing Rock Tribe. And she was saying, you know, it made us cry when it came in, that New York City noticed us. And I kind of cried too when I heard her say that because I feel like that we are really grateful for people noticing us, but also wanting to support us. And I know that a million Facebook users are checking a box. We're hoping that you're sending letters to, you know, the governor of North Dakota and making sure that more police don't come out here. And we're hoping that you stay in touch with the Standing Rock Tribe. We're going to build a renewable energy economy on Standing Rock. We're going to get that tribe a clinic; a full-on hospital, actually, is what they need.
[MUSIC UP & UNDER]
[LAUGHS] And so, we want you to stay with us and support it.
BOB GARFIELD: Winona, thank you very much for joining us.
WINONA LaDUKE: Thank you for having me. Have a really good day.
BOB GARFIELD: Winona LaDuke, former Green Party vice presidential candidate, is the executive director of Honor the Earth.
Coming up, the Russians are coming, the Russians are coming, or not. This is On the Media.