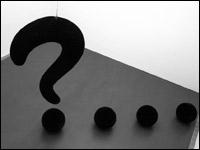 Transcript
In the Internet age, we've developed the expectation that we can get answers to pretty much anything, pretty much anywhere, pretty much immediately. But some questions require more than algorithmic response provided by the big search engines. OTM producer Mark Phillips reports.
MARK PHILLIPS:
Fans of hokey sci-fi television will probably remember Quantum Leap, a show that ran from 1989 to 1993 and started Scott Bakula.
[QUANTUM LEAP THEME SONG]
He played a quantum physicist from the not-so-distant future, 1999.
[CLIP]
[MUSIC UP AND UNDER]
SCOTT BAKULA AS SAM:
It all started when a time-travel experiment I was conducting went – a little caca.
[END CLIP]
Yeah, Sam found himself leaping from one body to the next, correcting things that went wrong, or something like that.
[CLIP]
SCOTT BAKULA AS SAM:
Here I am, a sort of time-traveling Lone Ranger with Al as my Tonto.
[END CLIP]
MARK PHILLIPS:
Al was the holographic sidekick from the future who appeared to help Sam figure things out. To do this, he used a device the size of a calculator, named Ziggy. You would type something into Ziggy and quickly get the answer.
[CLIP]
SCOTT BAKULA AS SAM:
Listen, Al, you figure out what I'm here to do?
DEAN STOCKWELL AS AL:
Oh –
[BEEPING]
Well, according to Ziggy, there's a 72-percent chance you're here to cure the pig.
[END CLIP]
MARK PHILLIPS:
The show was silly then and now, but Ziggy has more or less become a reality. In fact, we get answers from things with even sillier names than Ziggy – Jeeves, Yahoo!, Google. And there's a new weird name to add to the list – ChaCha.

A couple of weeks ago, I was walking down the street with John Coltrane on my iPod -
[MUSIC UP AND UNDER]
- and a question popped into my head. What year did Coltrane die? So I pulled out my cell phone - much smaller than Ziggy in Quantum Leap - I dialed 1-800-2-ChaCha and then took off one of my headphones, and I heard -
WOMAN:
Welcome to ChaCha. What is your question?
[BEEP]
MARK PHILLIPS:
Then I asked, what year did John Coltrane die? I went back to listening to my iPod and about a minute later I received a text message.
[BEEP]
The text read, "In 1967, liver disease took his life, leaving many to wonder what might have been. Have a great day." Huh, not bad.

You can also send text messages to ChaCha. I did a lot of texting to see if I could fool this Ziggy-like creature, but it always understood. So then I wondered – [TYPING] are you a real person? And I got a text message back that read -
WOMAN:
Yes, I am a real person! Ouch! I just did the pinch test. I'm real, all right. ChaCha guides are real people. Thank you.
MARK PHILLIPS:
Launched earlier this year, ChaCha has its employees, also known as guides, use their computers at home for you. Guides get paid 20 cents per answer, but the service is free for users, because along with each answer comes a link, which sometimes includes an advertisement.

Co-founder and ChaCha CEO Scott Jones says people are the secret to making a real live Ziggy. Jones says key words automatically route questions to guides interested in that subject.
SCOTT JONES:
And this is a guide who knows a little more about that topic than most do, and they're looking at, you know, websites that relate to that topic. That's a pretty powerful combination that gives a quantum leap in performance. And I don't think it's a short-lived quantum leap. I think this actually extends years before computers can catch up.
MARK PHILLIPS:
Wait – did you just say quantum leap? Does he know the show?
SCOTT JONES:
I do. [LAUGHS]

MARK PHILLIPS:
Do you remember Ziggy? This is Ziggy, isn't it?
SCOTT JONES:
Yeah, it kind of is. [LAUGHS]
MARK PHILLIPS:
Jones wouldn't say he got the idea directly from Quantum Leap but he did admit that he got the idea just about the same time the show began. Huh. Either way, he says the end result is something much more useful than Google or the other big search engines.
SCOTT JONES:
I mean, for the last decade, the big guys have been trying to figure out how to return answers to people, and they can't do it because there are some really tough problems there. And ChaCha solved those problems by injecting some human intelligence.

MARK PHILLIPS:
But what's so good about human intelligence? Humans are great at understanding the meaning of questions, like when I texted ChaCha, "What time is Lost on?" "Lost" is a common word, and it would be difficult for a computer to understand I'm talking about a television show. Also, it might not understand the word "on" to mean when does it air each week.

But, sure enough, "What time is Lost on?" got a reply a minute later, saying –
[BEEP]
WOMAN:
Lost is on Thursdays on NBC at 10 PM. Thanks for asking.
MARK PHILLIPS:
Only a human could really understand my question but only a human would answer it incorrectly, since actually Lost is on Thursdays at 10 PM on ABC, not NBC.

Opinions are also embedded in human intelligence, so I thought I'd test ChaCha on a topic that's reliably inflammatory.
WOMAN:
Welcome to ChaCha. What is your question?
[BEEP]
MARK PHILLIPS:
Is homosexuality a sin? A minute later I received a text that said -
MAN:
"If you're a believer of God and the Bible, and I am, then, yes it is."
MARK PHILLIPS:
Well, glad that's solved once and for all.
SCOTT JONES:
Actually, we get quite a few questions that are very subjective.
MARK PHILLIPS:
ChaCha CEO, Scott Jones.
SCOTT JONES:
Some guides, they might have opinions about certain things that, if you're going to ask a very subjective question, you may get different types of answers. And, in fact, we encourage people to ask a couple of times if they're not so happy with the first answer.
MARK PHILLIPS:
Oh, okay. So I asked the same question again, and this time –
[BEEP]
WOMAN:
Many people within different religions believe that homosexuality is a sin. I personally don't believe it's a sin. Thanks.
MARK PHILLIPS:
So you just keep asking questions until you like the answer? Sounds more like a Magic Eight-Ball than Ziggy. Over months of using ChaCha, I find that I can trust it to solve bar bets, but sometimes it's way off so I can't trust it as my only source for important information like train timetables or restaurant recommendations.

It seems that as long as answers get sent to one person, even one equipped with the Internet, the answer will frequently be tainted by human error and subjective preferences.

But what if questions were sent to millions of people? Tim Mayer is vice-president of search business at Yahoo!. Mayer oversees Yahoo! Answers, an online community of over 140 million people asking and answering questions.

TIM MAYER:
There's a lot of information, very specific information or subjective-type information which is in people's heads and isn't published to the Web. The goal of Yahoo! Answers is you can go to Answers and you can type in your question in regular language, and then you can get users with expertise coming and then answering your question very specifically.
MARK PHILLIPS:
If you sign up for a Yahoo! account, you can log in and ask anything you like, and you can also answer questions. Answers get rated. Good ones rise to the top and people accumulate points for good answers.
TIM MAYER:
And that gives you sort of credibility within the community.


MARK PHILLIPS:
Yahoo!'s Tim Mayer.
TIM MAYER:
And so if you see someone with a lot of points, you probably say, well, that person has a good reputation and probably has answered a lot of questions very well, so I might trust their answer better than others.
MARK PHILLIPS:
So, unlike ChaCha, Yahoo! Answers sends your question to millions of people. But how do you know those millions include someone qualified to give you a good answer? If you ask a question about, say, backpacking in Olympic National Park, who's to say an experienced backpacker will see it and respond?

Mayer says it happens because of a desire to accumulate those points, and what he calls the culture of generosity. Remarkably, it works. It took a few hours for my backpacking questions, but I received some good advice based on someone's previous trips, and he included some useful links.

Clay Shirky is an Internet consultant and author of the book Here Comes Everybody: The Power of Organizing Without Organizations.
CLAY SHIRKY:
Well, the key thing about all of these systems is that they only require about one-percent participation to get going. A tiny, tiny group of people can create an enormous amount of value for everybody else.

These systems not work not by resisting free-riders but by being free-rider-tolerant. Free-riders, in fact, provide the audience for the people doing the showing off or people engaging in answering the questions.

On the other hand, one of the things I've noticed from Yahoo! Answers is if you go on Yahoo! Answers and you ask, what is the meaning of life? – right? – you'll get hundreds of answers, because it's the kind of question people want to engage.

If you go on Yahoo! and you ask, how many televisions are there in the United States today? – you won't get an answer because, in a way, it's not an interesting enough question to answer.
MARK PHILLIPS:
It's true. I asked a couple more questions on Yahoo! Answers, very specific ones, and got no reply. That's the problem with sending your questions to the masses. They're still human, and people get bored. ChaCha responds every time right away, but the company is in the unfortunate position of having to pay its pesky sentient workforce, another drawback of humans.

So why not perfect the search engine so that it can answer real questions, not just list millions of pages where your answer might be found? The algorithm won't get bored or charge 20 cents per answer, and surely artificial intelligence is close to understanding how people ask and answer questions. Right?
CLAY SHIRKY:
The problem with artificial intelligence is a machine that thinks like a human being is 10 years away and it's been 10 years away since the 1950s.
MARK PHILLIPS:
Clay Shirky.
CLAY SHIRKY:
That ability to infer what you mean from what you say is really beyond artificial intelligence right now. I think for the next five years we're really going to see making search engines do better what search engines do and human answering systems do what human answering systems do.

So I think we're actually going to be deepening the two different systems but not yet fusing them.
MARK PHILLIPS:
And maybe it's better that way. If you're wondering about a director's last film, it's nice sometimes to do a search, get sent to IMDb and see a list of all her films. Each answering service, including the old-fashioned Google Search or, God forbid, a trip to the library, has a time and a place.
CLAY SHIRKY:
Part of the ChaCha thing is really the mobile phone interface and the speed of the answer.
MARK PHILLIPS:
Again, Clay Shirky.
CLAY SHIRKY:
I think people, in a way, have been given for the first time a real serendipity meter across the range of Google, Wikipedia, who answers ChaCha. Right? I can go into a completely serendipitous environment, I can go into a completely directed environment. Answer my question now. And, question by question, I can decide where I want to land on that spectrum.
MARK PHILLIPS:
We would lose that spectrum if we had the all-knowing computer Ziggy give us specific answers to every question, and that would mean no real building of knowledge. So maybe 10 years down the line the perfected search engine and the perfected human answering system will merge to create the omnipotent answerer.

But let's hope people still ask strangers for directions, friends for recommendations and experts for opinions. Otherwise, we'll all look like Al from Quantum Leap.
[CLIP]
DEAN STOCKWELL AS AL:
Well, Ziggy says it was just a weird fluke.
SCOTT BAKULA AS SAM:
What kind of a fluke?
DEAN STOCKWELL AS AL:
Well, apparently his neurons and masons are on a frequency close to yours.
[END CLIP]

MARK PHILLIPS:
And let's face it, he looks pretty silly.
[CLIP]
DEAN STOCKWELL AS AL:
There, that should clear things up.
[END CLIP]
MARK PHILLIPS:
For On the Media, I'm Mark Phillips.
[CLIP]
SCOTT BAKULA AS SAM:
Except for why I'm here.
DEAN STOCKWELL AS AL:
[[SIGHS]] Well, that should be obvious.
[END CLIP]
[MUSIC UP AND UNDER]
BOB GARFIELD:
That's it for this week's show. On the Media was produced by Megan Ryan, Jamie York, Mike Vuolo, Mark Phillips and Nazanin Rafsanjani and edited – by committee again. We had technical direction from Jennifer Munson and more engineering help from Zach Marsh. We also had help from Gina Gasper. Our webmaster is Amy Pearl.

Katya Rogers is our senior producer and John Keefe our executive producer. Bassist/composer Ben Allison wrote our theme. This is On the Media from WNYC. Brooke will be back in two weeks. I'm Bob Garfield.