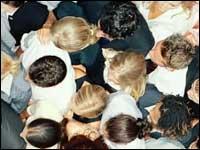 Transcript
BROOKE GLADSTONE:
What happens when time and space disappear and communication is virtually free? Well, when the barriers to media are lower than a croquet wicket, everybody rushes into the breach. And that's more or less the message and title of the new book by author, educator and techno-wiz, Clay Shirky. It's called, Here Comes Everybody, and he says that online there is great strength in numbers than anything, even money. Welcome back to the show, Clay.
CLAY SHIRKY:
Thanks so much, Brooke.
BROOKE GLADSTONE:
So it's an old notion, isn't it? Wasn't it Ben Franklin who first observed that the Internet builds communities? What's new here?
CLAY SHIRKY:
[LAUGHS] Yes. I mean, one of the really interesting things that's going on, actually, is that this was a pattern that was very common in the pre-Web Internet with UseNet and mailing lists and where community was really the normal case.

And then the Web kind of washed it away for five years. Everybody got excited about e-commerce and all of the sort of broadcast and media opportunities and community went by the wayside. But now it's back and it's back with a vengeance.

And one of the interesting changes is, because the Web is now accessible to everybody, this strength in numbers that you're talking about isn't just the province of techies anymore. It's really becoming sort of part of the fabric of society.
BROOKE GLADSTONE:
And you offer a case study of this new world – the saga of a cell phone left in the back of a New York City taxi. How fast can you tell this story?
CLAY SHIRKY:
Well, let's see.
[LAUGHTER]
In May of 2006, a woman named Ivanna loses her cell phone, which happens a lot, but in this case it's a particular misfortune because she's got her wedding coming up, she's got her wedding list on there, caterers' phone numbers on there and so forth and so on.

So, distraught over the loss of the phone, she goes to a friend, Evan Guttman, and says, look, send an email message to the phone. Tell them there's a reward. I just, I really want this phone.

Nothing happens for three or four days so she finally shells out 300 bucks, gets a new phone, and her phone provider says, hey, do you want us to put all the data from your old phone onto your new phone? [BROOKE LAUGHS] She didn't even know this was possible. She says, yes. She gets all the data, including all of the photos the 16-year-old girl in Queens who now has her phone [BROOKE LAUGHS] has been taking of herself and her friends and uploading to MySpace.

So suddenly, instead of just getting the phone and the old data back, they actually have the email address and access [LAUGHS] to the social network of the person who's now holding this phone.

And so they decide to go after this young woman, named Sasha, and they try to convince her to give the phone back. And Sasha, thinking, you know, you and what army, effectively, says, no way I'm giving this back. It's finder's keepers.

Well, the [LAUGHING] you and what army question actually turned out to be a kind of a problematic one because Evan Guttman went and took all of Sasha's pictures and her [LAUGHING] MySpace account information and her AOL email address, uploaded it to a Web page and then got it listed on the front page of Digg, which is a hugely trafficked social media news site. And what's -
BROOKE GLADSTONE:
And people took umbrage. They all jumped into the fray. They were all furious at Sasha and pressure began to be put on the police department that never investigates these cases.
CLAY SHIRKY:
Right. And, you know, it's hard to browbeat the New York [LAUGHING] Police Department. But in this case, when a million people tuned in to see whether or not this particular stolen cell phone would be returned -
BROOKE GLADSTONE:
Wow.
CLAY SHIRKY:
- the story made the front page of The New York Times. And so, people began to contact Evan, including lawyers offering to help, and, critically, an anonymous member of the New York City Police Department who told him what to say down at the police precinct to get the case reassigned from loss to theft.

And eventually the cops were indeed browbeaten into upgrading the matter to theft. They knew exactly where this girl lived, of course. And in the middle of June, they drove out to her house and arrested her for possession of stolen property.
BROOKE GLADSTONE:
Okay. Now, this sounds like a happy ending. The girl who thought she could keep the ill-gotten phone was obnoxious in her emails, but she came in for some profoundly ugly, sexist, racist abuse. It's the dark side of unmediated communication.
CLAY SHIRKY:
Yeah, exactly. The things we're unleashing into society by having this kind of new group capability are not entirely positive. Right? This is not a cyber-utopian story. This is actually a revolution, and it's not a revolution if nobody loses.
BROOKE GLADSTONE:
Now, obviously, the cell phone incident isn't going to be repeated, not exactly, but you offer variations on this theme.
CLAY SHIRKY:
Right.
BROOKE GLADSTONE:
One is a study in contrasts involving pedophile priest scandals in Boston ten years apart, essentially pre-Internet and post-Internet.
CLAY SHIRKY:
Right. Because in 2002, Father John Gagan, a pedophile priest in Boston, was brought to trial and The Boston Globe covered the story. And during the course of this trial and then the subsequent outrage, this little group formed in a basement in January, called Voice of the Faithful. It was basically outraged Catholics who wanted to do something.

By that summer, they went from 30 people in a church basement to 25,000 members in 21 countries around the world. Now, groups don't grow that fast, or they didn't prior to the Internet.

And one of the really remarkable things that I think demonstrated how quickly the Catholic outrage solidified into this reaction - and Voice of the Faithful was instrumental in both changing Vatican policy but also getting several high-level bishops and archbishops to resign their posts because of the bad handling of the pedophile scandal.

The Catholic Church very much wanted to say, this is a one-off. This is an unusual case. But, in fact, almost exactly 10 years before, in 1992, something almost identical happened. In that case, the priest's name was Porter. But it took place in the same diocese in Massachusetts. Bishop Law was the same person in charge. The Boston Globe was the same newspaper reporting.

But in that case, it just blew over. Part of the difference between '92 and 2002, which is to say, between failure to reform the Church and at least partial success in reforming the Church, is that in '92 The Boston Globe wasn't really global. It was a local paper. There was no way for coverage in the Boston area to suddenly become of global importance.

The other part of the story is that it isn't just about consuming media. It's actually about doing something about it. Everybody who read about Voice of the Faithful in one of these stories could join online, they could make a donation immediately, and that changed from a big gap between thought and action in '92 to a very small gap between thought and action in 2002.
BROOKE GLADSTONE:
Part of the Internet revolution, you suggest in your book, is that the old order of group activity has been flipped from gather, then share, to share, then gather. A really good example of this is Flickr. Could you explain what that is?
CLAY SHIRKY:
This is a pattern I first saw with Brooklyn's Mermaid Parade, right? We have this charming parade around Coney Island where everybody gets all dressed up in funny costumes and walks around the park, and then tens of thousands of people turn out to sort of watch and cheer and take photographs and so forth.

Well, Flickr is an online photo-sharing site. You can take any digital photos you've taken and you can upload it to flickr.com and share it with your friends and comment on other people's photos and so forth and so on.

And in 2005, Flickr added something called tags, which are just freeform labels, ways of reminding yourself who's in a photo or what it's about or whatever. The interesting social side effect of tags is that although people are doing this out of a personal need to keep track of their photos and so forth, the aggregate social effect is that if you go onto Flickr today and you look for all photos tagged "Mermaid Parade," you're going to get tens of thousands of photos taken by hundreds of individual photographers.

What Flickr did is it said if everybody shares, then after the fact we can identify the group that was taking photos of the Mermaid Parade. And so media becomes not something you have to coordinate in advance, but rather a tool for discovering other people who care about what you care about.

And that's a really big change, because it allows people to create groups that would have been hard to form in any other way.
BROOKE GLADSTONE:
The funny thing is, is this ability to share, then gather is used most frequently for entertainment purposes in the United States. It takes on an entirely different dimension in the developing world.
CLAY SHIRKY:
Yeah. This is actually, I think, one of the really important themes. These tools are being pressed into service in very different ways in different parts of the world.

One of the great uses of photosharing was from a young woman named Alisara Chirapongse, who goes by the name Gnarlykitty. And she is a fashion-obsessed student in Bangkok mainly writing about things like the new shoes she just got or a particular phone she's interested in. And then the Thai coup comes along. And then she's -
BROOKE GLADSTONE:
This is the military coup in Thailand in 2006.
CLAY SHIRKY:
Yes. And the official media is shut down. So she's out on the street with her camera phone taking pictures of tanks rolling in front of the Parliament. And she is one of the early documenters of the effects of that coup because, unlike professional media, there's no shutdown of Web logs. There's no shutdown of photosharing.

So one of the patterns we see is that when new forms of communication are deployed in the United States, they're often used for entertainment purposes. But in low-freedom contexts, in places like the Thai coup, where simply getting a photograph out of the country is itself a political act, suddenly these tools take on a real political dimension that we often overlook in a U.S. context but are tremendously important in a global context.
BROOKE GLADSTONE:
You say that online the audience, even the term "audience", is passing out of use. Are you saying that audiences don't matter on the Net?
CLAY SHIRKY:
I'm not saying that they don't matter. What I am saying is that previously distinct categories are now shading into one another. So you have an audience but you can also have groups where everyone's actually talking to one another. And those two people can flip back and forth between those two modes.

Oprah Winfrey discovered this when she defended James Frey's Million Little Pieces book, the memoir that turned out to be not largely drawn from memory but, in fact, parts of it were simply invented. The reason Oprah had to back down wasn't just that her users were mad and it wasn't even that they were talking back to her. The thing that really meant that she had to go back and apologize was when those users were talking to one another on Web logs, on bulletin boards, on mailing lists.

And when each angry user saw how many other people were also angry, they began to behave in ways that aren't characteristic of an audience, which is that they actually had a kind of shared awareness and a shared goal.

So it isn't that audiences are going away. It's just that the phrase "audience" no longer describes a completely discrete sort of behavior that's different from other kinds of group behavior.
BROOKE GLADSTONE:
Clay, thank you so much.

CLAY SHIRKY:
Not at all, nice to talk to you.
BROOKE GLADSTONE:
Clay Shirky writes, consults and teaches, currently at New York University, on the social and economic effects of the Internet. His newest book is called Here Comes Everybody.