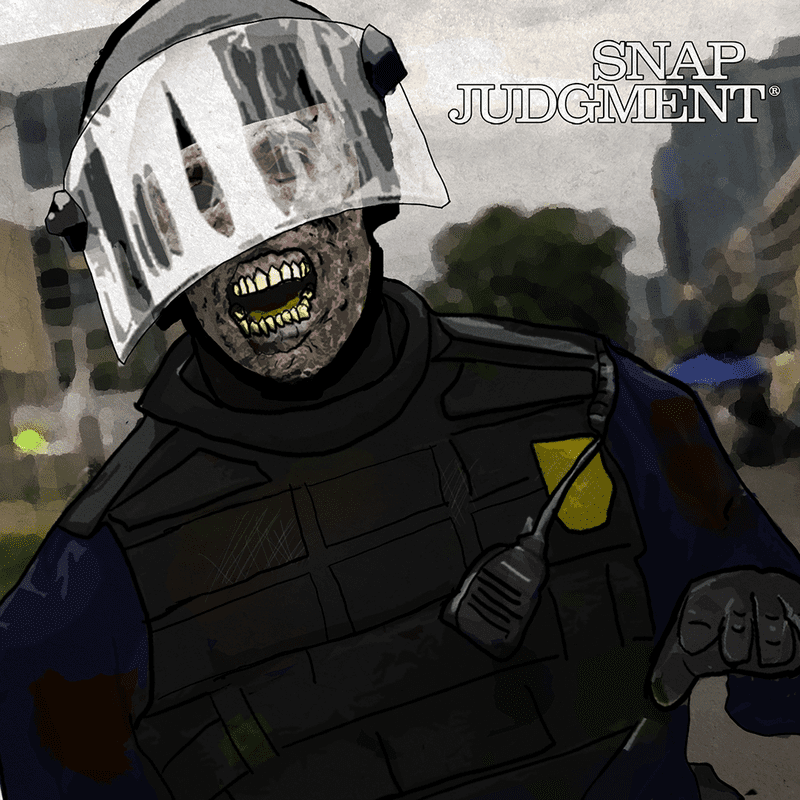 Transcript
"Life On Easy Street" Transcript
Speaker 3:
Now then, there's a word for songs that won't leave your head. Songs like Old Town Road and Umbrella, The Summer of '69. Songs you can't help it find yourself humming from time-to-time. They're called earworms. For a lot of musicians, this is the goal. Create an earworm. You will have musical immortality. Today, producer Jonathan Steele brings us a story of a musician who brought a song so catchy, so irresistible, so happy that it took over the world. Every artist's dream, right? Sure. And so this gift to humanity, it's twisted into something that he never imagined. Snap Judgment.
Speaker 3:
Now this story does contain explicit language. Sensitive listeners are advised.
Jim Bianco:
First of all, I was 36 years old, which is old. You know when you're 18 and you want to be a rock star, you're not thinking about yourself when you're 36.
Speaker 5:
It's 2012 and Jim Bianco is driving back from a 10-day meditation retreat in New York.
Jim Bianco:
It sounds corny, but I highly recommend it to anyone. It was during the meditation retreat that I realized that I was at the end of an arc and I wanted to start a new arc.
Speaker 5:
Jim is a professional singer-songwriter, but music is no longer paying the bills, so he decides to propose to his girlfriend and settle down. And while he's driving, hand on the wheel, feeling peaceful and content about his choice, a melody works its way into his head.
Jim Bianco:
You know, you're a songwriter. Songs come to you sometimes. This song showed up as sort of a jazz song. And it was in my head. I was driving and I didn't have any instruments, so I was just thinking of it. On easy street and it feels so sweet. And the world is but a treat when you're on easy street. Obviously the song just captures like you've got no problems anymore. The rest of your life is set. You've got nothing to worry about forever. We all know that's not true, but the concept of that was just so lovely. We're on easy street. Yeah, and it feels so sweet. It felt like I was in an optimistic part of my life and the song reflected that. I did not know or could never conceive that this song could go to a place that was so dark.
Speaker 5:
Jim first records a pop version of the song. It's bright and catchy and features singer Petra Hayden, but he doesn't release it.
Jim Bianco:
I ended up just kind of shelving the song.
Speaker 5:
He gives this version of the song to a licensing company and it just sits on their hard drive.
Jim Bianco:
And I leave it there. Over the course of the next couple of years, my new wife and I moved to Nashville, Tennessee. We get pregnant and I start flipping houses.
Speaker 5:
Rehabbing old homes and selling them. Then four years later he gets a call.
Jim Bianco:
The Walking Dead wanted to use my song Easy Street in one of their episodes.
Speaker 5:
The Walking Dead, a show about a zombie apocalypse and the terrible things that human beings do to each other afterward. Also one of the highest-rated TV shows of all time.
Jim Bianco:
Yes. I thought it was weird that that violent, crazy show would use a happy goofy song like mine, but I did not imagine what the use would be. Even though to be fair, it was totally detailed in the deal that they sent me. I just literally didn't read it.
Speaker 5:
The episode airs just two days before the 2016 election. In it, one of the main characters, Daryl, has been captured by an authoritarian group.
Jim Bianco:
It was in like a torture chamber, you know, he was locked in the dark and they were playing this song, my song, the super happy chipper song over and over. It was a montage over days and they played my song nine times in a row for what turns out to be 35 million people.
Speaker 6:
That fucking song again?
Speaker 5:
Walking Dead fans post their reactions on YouTube.
Speaker 7:
This is actually so messed up.
Speaker 8:
Oh my God, dude, fuck this fucking song. It's driving me fucking crazy.
Jim Bianco:
I didn't take it as a negative thing to be honest with you. I thought it was funny.
Speaker 9:
You know what? Easy Street can fuck off.
Jim Bianco:
I was in Nashville with a hammer in my hand demoing walls and doing radio interviews all over the country, and they all wanted me to hate it. Wow, they're using your song to torture someone because it's so happy and annoying. I remember one guy asking me, "What's it like to write the most hated song in America?" And my snarky reply was, "It can't be that hated. It's number six on iTunes right now."
Speaker 5:
Easy Street trends on Twitter. It hits number one on the Spotify viral chart. YouTube is flooded with covers, a piano version, an acapella version, a hair metal version, multiple ukulele versions.
Jim Bianco:
I was receiving videos from all over the world. Specifically, I remember this like mom, maybe even a grandma, I don't know, some woman in her fifties singing. That to me was a moment where I was like, "This has gotten out of my control."
Speaker 10:
If you're taking a tape, I'm going to kill you.
Jim Bianco:
This is no longer up to me, whatever happens with the song.
Speaker 5:
Not all of the videos are fun like this. Two young men lock themselves in tiny rooms and listen to the song for 10 hours straight.
Speaker 11:
I went through hell, dude. I'm going to cry right now. My God, this is bull. Please leave a like, share this video, get it around. Please make, please have not made ... I can't even talk.
Speaker 5:
But things don't get really out of control until almost two years later. Flash forward. Thanks to Easy Street, Jim is able to give up flipping houses. He and his family moved to Los Angeles where he gets work writing songs for film and TV.
Jim Bianco:
That's my life now. That's my second act.
Speaker 5:
Then someone sends him a tweet from an account belonging to Occupy ICE PDX, an activist group in Portland, Oregon.
Speaker 12:
For about 11 days now, protestors have camped at the entrance to the Immigration and Customs Enforcement facility at Portland South Waterfront.
Speaker 5:
You can still see this encampment and many tents that are still up here this morning.
Jim Bianco:
There was a video in the tweet and it said, "ICE has been playing children's music at us for the last 12 hours." And I'm wondering why somebody pointed me to this tweet, and I click on the video.
Speaker 5:
In the video, Jim can see a line of tents next to a nondescript building with a high metal fence.
Jim Bianco:
And they're playing Easy Street over and over and over again.
Speaker 5:
In the summer of 2018, protesters set up camp outside ICE headquarters in Portland. They were there to protest the separation of families at the border and there were about a hundred tents. It was quite an operation.
Speaker 13:
We had a medicinal herb garden, vegetables, sunflowers, because sun melts ice.
Speaker 5:
One day, Department of Homeland Security officers set up big gray speakers behind their high metal fence.
Speaker 14:
So, it's late morning or early afternoon when I first hear the opening notes of the song Easy Street.
Speaker 15:
And the song is blasting. It's loud to the point that I can feel the vibration and I'm thinking, "This won't be good for the flowers."
Speaker 16:
All I can think is like, "Is this us? Are we playing music?"
Speaker 5:
Some of the protesters started dancing along.
Speaker 14:
It seems very playful. It seems like this very just sort of fun, lighthearted, playful, bouncy.
Speaker 15:
We're on easy street.
Speaker 14:
Dance-y type of song.
Speaker 16:
Because the world is but a treat when you're on easy street.
Speaker 14:
It doesn't seem like anything insidious. It doesn't seem like anything that could be used to torment people. It just seems very lighthearted. It only got bad when it was just kept looping.
Speaker 5:
Remember, this is exactly how the song was used on The Walking Dead. Playing music on repeat like this is a military tactic that has been used to torture prisoners at Guantanamo Bay, and here it was being deployed against nonviolent protesters on public land in the middle of Portland. At first, it didn't seem to work.
Speaker 16:
I thought it was really funny. That's what I thought. It was just really ridiculous.
Speaker 14:
We never forgot the families at the border playing this cute little song over and over and over and over again is nothing compared to what they are doing to people where we can't see. It's 12:40 AM. The officers are blaring this song since 2:00 PM.
Speaker 16:
As we were trying to fall asleep, it got a lot more annoying.
Speaker 15:
This is where taxpayer money is going.
Speaker 14:
Things start getting fuzzy. Things start getting fuzzy because the music just keeps playing and it just won't stop.
Speaker 15:
I don't know what it is about the notes or the melody, but it kind of worms its way into your brain. It becomes mind-numbing. You can't really get clear thoughts established after awhile.
Speaker 14:
There were definitely some people having panic attacks, just people that you know coming up crying like that they couldn't sleep.
Speaker 15:
I hear someone say, "Shut the fuck up," screaming at the speaker.
Speaker 14:
I just started feeling ill after a while of just listening to it over and over and I remember just needing to leave. I had to leave that day. I couldn't take it.
Speaker 15:
When the music stopped and the sound of silence was so deafening, it was almost as blaring as when it started. To this day, when I hear that song, at the end, I hear that deafening silence.
Speaker 5:
The song was played for at least 10 hours.
Speaker 5:
The protesters in Portland were also tackled and shot with pepper balls, which are like paintballs but full of pepper spray. Officers propped up cardboard cutouts of human figures in the windows of the ICE building, Home Alone style. They also posted snipers on their roof and blasted the campus spotlights and they played Metallica and Ice, Ice, Baby and the sounds of dogs barking over their speakers.
Speaker 5:
So look, I'm working on this story that deals with the use of a particular song.
Speaker 5:
A government spokesperson said that the use of Easy street had been unintentional. Is that the on the record answer? That officers outside the building had simply been listening to that song on repeat for that long.
Jim Bianco:
My song was used in a malicious way to hurt people. As an artist, you hope to create things that affect people's lives. And this is not what I imagined when I thought that I would be an artist creating things.
Speaker 5:
Jim sent a cease and desist to the Department of Homeland Security to get them to stop playing Easy Street. A few weeks later, he got a letter back.
Jim Bianco:
"Thank you for your letter of July 27th, 2018. Without acknowledgment or admission of copyright infringement, we can confirm that DHS will not reproduce, distribute, or publicly perform Easy Street. Should you have any remaining concerns about this matter, please do not hesitate to contact me." So on and so forth. We're saying that we did it and we won't do it again. That's what they're saying.
Speaker 5:
After 38 days, Portland police broke up the camp.
Speaker 17:
Failure to leave may subject you to citation or arrest. You do not have-
Speaker 5:
There was a rally afterwards and a few of the protesters decided to make Easy Street their anthem.
Speaker 14:
Someone was driving with a truck open to the back, filled with speakers, and one of the songs that they were playing was Easy Street.
Speaker 18:
I'm going to give you some advice. It's time to melt the ice. Some day they'll pay the price when we all take the streets.
Speaker 5:
And of course, it wasn't long before the protestors recorded their own version of Easy Street featuring rewritten lyrics and a horn section and a bagpipe. Easy street is a real place now. Well, kind of. One of the protestors renamed the bike path outside ICE headquarters on Google Maps.
Speaker 16:
I went on Google Maps and held down and it said like rename road, so I just kept renaming it to Easy Street.
Speaker 5:
But then last October, as a few protesters were leaving a courthouse in downtown Portland, something else happened.
Speaker 14:
A car drove, by a silver Mustang.
Speaker 5:
The Mustang slowed down.
Speaker 14:
Someone inside was playing Easy Street and turned it up and looked at us and smiled. One of the people that I was with who had been brutally arrested, thrown to the ground, when they heard that music playing, it was just too much for them. They kind of started to crumble and they started to cry.
Speaker 3:
Big thanks to Joe Civic for bringing this story to our attention, as well as producer Dina [Pritchit 00:16:24]. You can hear the full version of Easy Street recorded by Occupy ICE PBX on our website, snapjudgment.org. The original score for this piece was by Renzo Gorrio. It was produced by John Basile.
Copyright © 2019 New York Public Radio. All rights reserved. Visit our website terms of use at www.wnyc.org for further information.
New York Public Radio transcripts are created on a rush deadline, often by contractors. This text may not be in its final form and may be updated or revised in the future. Accuracy and availability may vary. The authoritative record of New York Public Radio's programming is the audio record.