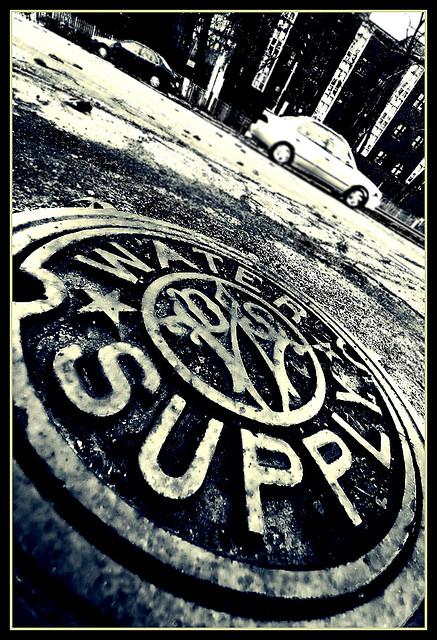 Transcript
Jad: Hey, I'm Jad Abumrad.
Robert: I am Robert Krulwich.
Jad: This is Radiolab.
Robert: Our subject right now is Cities.
Jad: Cities.
Robert: So far we've tried to pin down the character of a place with math, or with a story, or with some music.
[music]
Robert: It's like trying to take a snapshot of something that's growing and-
Jad: -changing-
Robert: -all the time.
Jad: That feeling that Sxip had up on the rooftop like the city was breathing? Maybe the city really is.
Robert: Like a living thing.
Geoff: Well yes, in some ways that's exactly right. They evolve. They grow.
Robert: Think about it, says Geoff West, every day, every minute in comes energy and-
Jad: -food-
Robert: -trucks-
Jad: -water-
Robert: -people. Out goes-
Jad: -garbage-
Robert: -ideas, songs-
Jad: -stories, people.
Robert: The energy in. Energy out. Energy in. Energy out.
Jad: That's just what a city needs to do says, Geoff.
Geoff: Metabolize food, so to speak, because, without that, organisms and cities and so on will simply decay.
Robert: How does us cities stay alive? What does it really take for a city to grow?
Jad: Well that question got me thinking about New York and led me to a place I've been wanting to go for a while. Excited to get the reverb. [whistles] I hear the reverb a little bit. [whistles]
Robert: Where are you?
Jad: Underground. A hundred feet underground. This is the sound of one of New York City's water tunnels. I'm standing in it. It's exactly what you would imagine. A big tube. It's about nine feet wide, nine feet up. Perfectly polished cement and it seems to just go forever.
[bells ringing]
Jad: This is basically a-- you might call it a smaller artery inside the city's circulatory system. When this is online in a couple of months it will pump up to 290 million gallons a day. [rushing water] Something like that, which is an awesome thought in the literal sense of the word.
Kathryn Mallon: When you walk through the streets of Manhattan-
Jad: This is Kathryn Mallon from the Department of Environmental Protection.
Kathryn: These water tunnels are anywhere from 200 to 800 feet below your feet. They're silently there and when you turn on your tap-
Jad: -and you take a drink, you are basking in a daily convenience that is born from blood, sweat, and death. To explain, you really have to go back to a time when there were no tunnels.
Diane Galusha: This would be 1790, 1800 or so.
Jad: Around that time says historian Diane Galusha, New York's population-
Diane: -was booming. It tripled in 20 years.
Jad: You suddenly had 100,000 people all getting their water from the same spot.
Diane: A large freshwater pond called the Collect. They had pigs running around by the hundreds. The chamber pots out on the streets. There were livestock in lower Manhattan at the time. People had cows for milk and so when they died they had to do something with them.
Jad: Often she says, they'd throw their dead cows and everything else-
Diane: -in the pond.
Jad: The same pond that they were drinking from?
Diane: Right.
Jad: No way. Not surprisingly-
Diane: -as the city grew-
Jad: -people got sick.
Diane: In 1798 there was this yellow fever epidemic, killed a couple of thousand people, and cholera and typhoid.
Jad: City officials were like, "This has to change."
Diane: As if to accentuate the point in 1835, there was this huge fire.
Jad: The fire department rushes out to put out the fire but they can't.
Diane: It was in December and the rivers froze and they couldn't get water to the fires.
John Donohue: If you don't have water to fight the fire, the city burns down.
Jad: It's pretty simple.
Diane: Yes. 700 buildings.
Jad: That's our starting point. A New York City that could not grow. By the way, the guy we just heard-
John: John "Chick" Donohue.
Jad: -he's a sandhog. Part of the long line of guys who blasted New York out of its poopy pond phase and into its future. Can I ask you a question? Why are you guys called sandhogs? Why won't you be called tunnel blasters or earthmovers or something that's more-- do you have any idea where that name came from?
John: Yes, it comes from the dictionary. Really. I love the look on people's faces when they ask me that and that's the answer. It's described in Webster's dictionary as a-
Automated voice: -a laborer who digs or works in sand.
John: The original sandhogs were the soft ground guys. Compressed air that's where you-
Jad: To back up for a second. When the city decided to scrap the pond in favor of clean water from upstate, it faced a couple of challenges and this is also true when they decided to build the-
John: -subway system.
Jad: Namely nature. How do you for example, build a tunnel under a river?
John: Well, they were sandhogs. They went down. They dug. Literally dug with what we call muck sticks, shovels under the river. Fifty, sixty, a hundred feet under the bottom of the river.
Nik Sokol: Men with shovels excavating ground.
Jad: That's Nik Sokol.
Nik: I'm a tunneling engineer. Generally, it's a dark dank place.
Jad: Now the obvious engineering problem, is at the river bottom which is now above their heads? Is soft.
Nik: Sands and silts and gravels.
Jad: How do you keep that from not falling on your head?
Nik: That's when compressed air started being used.
Jad: The basic idea, says Nik, is that these huge pumps would basically pump air into the tunnels at such pressure that it would basically push the ceiling up.
Nik: Exactly, so the mud doesn't cave in on you.
John: The compressed air holds that thing from collapsing in on you.
Jad: Usually. The engineers on the shore had to get the pressure just right, says Chick, because if they didn't you get this absolutely terrifying situation that is maybe the best cocktail party story ever.
John: We used to give an award. We haven't given it in many years. We call it the Marshall Mabey Award. Doing one of those tunnels to Brooklyn, the men were up in the face of the tunnel. They're digging away.
Nik: Then, very suddenly-
John: -there's a blowout.
Jad: In the face of the wall a puncture hole develops. Tiny at first but it quickly becomes-
John: -bigger and bigger-
Jad: -till it's the size of-
Nik: -an eye.
Jad: Then a whole head, and all the compressed air rushes into that hole.
John: It would be like if you shot a hole through an airplane. All the air would [suction noise].
Jad: Hats are flying into this hole, lanterns, shovels. Then a guy goes into the hole.
Robert: A guy?
Jad: Yes, a human being into the hole. Then another guy. Then a third.
John: The third guy must have been the luckiest sandhog in the world.
Nik: This is an article from The New York Times. "As I struck the mud, it felt as if something was squeezing me tighter than I've ever been squeezed before."
John: He blew through all-out 60 feet of muck, then through the river, up to the surface. The pressure blew him right up into the air.
Nick: "They tell me I was thrown about 25 feet above the water when I came out but I don't remember that." That's remarkable.
John: He came back down and landed right alongside a police boat.
Jad: In the water?
John: In the water. They took him. They cleaned him up. He went home. He came to work the next day.
Jad: What?
John: That's why they gave him the award. That's why the award is--
Jad: Are you kidding me?
John: No, I'm not kidding you.
Jad: In the early days no one kept track of how many people died building New York's tunnels. The number is probably in the thousands. Wair, this right here, this plaque we're looking at-
Ritchie Fitzsimmons: This plaque was donated.
Jad: This is Ritchie Fitzsimmons. He's the current head of the Sandhogs Union and we're standing in front of a big stone plaque with two dozen names on it.
Ritchie: It's a memory of all the people that we lost in tunnels in New York City since 1970, since we started keeping records. Some photos come on there.
Jad: Later he showed me a picture which really underlined the point. It's a picture of him on his first compressed air job. Oh wow, look at that.
Ritchie: This is myself.
Jad: He's 19. He's huddled with five other guys and they're in this crowded tunnel. They're all black with soot. He points to each guy in turn.
Ritchie: Dead, dead, dead, dead, had cancer, still alive, is still alive.
Jad: If you ask any of the sandhogs why they do this most of them will tell you, "We've got to. The city can't grow without its tunnels," but you'll also get answers like this from Chick. He says when you're down there and it's pitch black and you're just working on one end-
John: -you're 600 feet under Manhattan. You're approximately 30th street or something. You're in the middle of the greatest city in the world. Nobody even knows you exist. Nobody has a clue. It's just beautiful. It's a weird place. It's like being on a planet somewhere.
Jad: He says when he's literally in this rock that is half a billion years old, he sometimes feels very humble.
John: You're in the middle of the earth. You want to see nature. Here it is.
Ritchie: That's a romantic way of saying it. The human reality of it is-
Jad: Here's Ritchie's take.
Ritchie: -remember when you were a kid and they used to give you the ant farms and ant farms were big. We are ants. The ants are so freaking many of them that if you've got to squish a few, if they've got to use each other to step over each other to keep that whole thing, that's it.
Jad: That doesn't sound very grand the way you're putting it like that.
Ritchie: That's reality.
Jad: Our job is to conquer nature, he says, plain and simple.
Ritchie: We're builders. Human beings are builders and collectively there is nothing that we can't do. Nothing.
Jad: October 14th, 1842.
Diane: Oh, it was a huge celebration.
Jad: Hundreds of thousands of New Yorkers lined Broadway.
Diane: There was firing of cannon and the ringing of church bell. Fireworks even.
Jad: At the end of it all, says Diane, everybody gathered in City Hall Park.
Diane: They turned a big fountain on and-
Jad: -water shot 50 feet into the air. New York City would never be the same. It could finally be a city. Here's where you start to wonder a little bit about the real legacy of cities. What you see almost immediately after this moment, according to Diane, is that water usage-
Diane: -skyrocketed.
Jad: Suddenly, you had indoor plumbing.
Diane: All the new buildings were being outfitted with water closets.
Jad: Kids were playing in the hydrants all day long. To make a long story short, just 10 years later, the city is out of water again, so they've got to build more tunnels, and then more. If you follow the water in those tunnels back upstate, you see that the city is gobbling up reservoirs.
Diane: One after another.
Jad: Dozens, which meant they had to kick people off that land.
Diane: A thing called eminent domain.
Jad: Their villages would have to be-
Diane: -bulldozed and burned.
Jad: Cemeteries-
Diane: -uprooted.
Jad: Do you see what's happening? You could see this city that we live in as a kind of monster which is always hungry. Eat, eat, eat, eat, eat.
Robert: Wait a second, because there is another logic available here. If you took all the people in New York City, all those New Yorkers--
Jonah Lehrer: If every inhabitant in New York City suddenly left New York City and moved to smaller towns all across America, you would need a ton of resources to make that possible.
Jad: That's Jonah Lehrer again, by the way.
Jonah: In a sense, New York City saves lots of forests-
Robert: -saves lots of water and the reason why, well, that takes us back to Geoff and Luis's ideas about cities, because it all started years ago. Geoff at the time, was studying, this time it was living things.
Geoff West: Let's go back to biology for a moment.
Robert: He looked at a huge variety of creatures and for each one, he collected data.
Geoff: Everything from its metabolic rate to the length of its aorta. How quickly it breathes.
Robert: He discovered something fascinating about creatures as they grow bigger and bigger.
Geoff: If you double the size of an organism, you double the number of cells that need to be sustained. You would therefore expect that the energy you need to supply would double. You double the number of customers, so to speak.
Jad: Yes.
Robert: Yes.
Geoff: No.
Jad: No?
Geoff: That is not the case. Instead of doubling, it needs less energy per unit cell to sustain the whole organism. There is a kind of--
Robert: Wait a second. That means that the cell is somehow doing more with less?
Geoff: Right.
Jad: Does it also mean though that an elephant's cell somehow is more efficient than a mouse cell?
Geoff: That's correct.
Robert: Geoff says the way they do that is pretty simple. They just move slower.
Geoff: They process energy at a slower rate.
Robert: If you take a mouse cell, a cell that lives in a mouse and does its work, brings in resources, spits out the waste, brings in more resources, spits out the waste, it does this to a particular beat.
[beeps]
Robert: But now, says Geoff, if you listen to an elephant's cell, bringing in stuff and pumping out the waste, it's moving, obviously, slower. It's using less energy in a given moment, which makes it more efficient.
Jad: What does that have to do with cities?
Robert: Turns out, cities work the same way.
Jonah: In cities, you see the same kind of efficiency when it comes to infrastructure.
Geoff: Electricity.
Jonah: Length of roads.
Geoff: Water.
Jonah: Length of pipes. Length of electrical cables.
Geoff: Gasoline.
Jonah: How much gas is consumed.
Geoff: Here's the point. The bigger the city, the less roads you need per capita-
Jad: What does per capita mean anyways?
Robert: Per person.
Jad: Per person.
Geoff: -the less electrical cable lines you need per capita, the less gasoline stations you need per capita, et cetera, et cetera.
Jonah: Every unit of pipe carries more water, more sewage. Every line of electrical wire carries more--
Jad: All right, all right. Geoff, does that mean then that if I move to a bigger and bigger city, do I, in a sense, become greener the bigger the city I live in?
Geoff: That's a very interesting question.
Luis Bettencourt: It's a very good question.
Jad: This is where Luis and Geoff-
Luis: I think the case is still a little bit out.
Jad: -and even Jonah-
Jonah: It gets complicated when you ask, "Are people more or less efficient?"
Jad: -this is when everybody starts to throw in all of these caveats and qualifications-
Geoff: All these other variables--
Jad: -and equivocations, and ambivalations, and prognostications, and depilations. Let me just tell you what I think.
Robert: I think you better.
[laughter]
Jad: We all love to talk about how green we are when we live in cities. This is something everybody in a city talks about.
Robert: Because we are. Because we take the subway and the bus.
Jad: Yes, we take the subway. Okay.
Robert: We don't drive. Driving is the most energy-consuming thing.
Jad: Yes, fine, but listen to me. The analogy that you just gave me, it does not work. You said that cells, as they go from small bodies to big bodies, slow down.
Jonah: Cities, the opposite happens, of course. As cities get bigger, each individual unit in that city moves faster.
Jad: Thank you, Jonah. We speed up.
Robert: That's true.
Jad: We learned this earlier and this is not trivial because as we speed up, we bump into more people, we have more ideas, we invent new things, we want more things. We want more.
Geoff: More and more of everything.
Luis: Tastes, new ideas.
Jonah: More interactions, more human friction.
Jad: More.
Robert: More choices.
Jad: A better life. That's what a city is all about.
Robert: Is there anything wrong with that?
Jad: No, not at all. All I'm saying is there's a cost to it that we don't acknowledge.
Jonah: West and Bettencourt did this back of the envelope calculation where, it's long been known that a body at perfect rest, if you lie in your bed all day in a coma, you will consume about 90 watts of electricity.
Geoff: That's called your basal metabolic rate.
Jonah: If you're a hunter and gatherer living in some tribe in New Zealand, you will consume about 240 watts of electricity every day.
Geoff: The energy just simply to stay alive plus the energy you need to hunt and gather.
Jonah: However, if you're living in America, the wattage required to drive your car, run your computer, make your clothes-
Geoff: -heat, air-conditioning, being able to go to movies-
Jonah: -on, and on, and on-
Geoff: -all of the various things that constitute our life, if you add all those up-
Jonah: -your lifestyle requires about 11,000 watts of electricity every day.
Jad: Whoa.
Jonah: That's more energy than a blue whale requires.
Robert: Now, some of you listening, particularly if you're an engineer, you may think, "Wait a second, why are you calling these watts when it's power through a system, power through a human? Call them joules." That's the technically correct word. You'd be right, wouldn't you? The numbers are the same, so we'll just call them watts.
Jonah: One way to look at what cities have enabled us to do is basically live like 300 million blue whales in America.
Robert: Are you sure that cities are causing this development, that it begins and ends with cities?
Jad: I can't assign it all to cities, but that psychology of wanting more, that's a city psychology. That's why people come to cities. Then the lifestyle that grows up around that gets broadcast out on TV, and radios, and movies, which are city industries, out to the country. If you just take a historical look at this, the last 300 years have seen more and more consumption. That trend, says Jonah-
Jonah: -it's grown in neat parallel with the growth of cities. Cities have enabled that kind of growth.
Robert: Even if you guys are right, and we know that half the planet already is living in cities--
Jad: 80% of America.
Robert: Yes, there are more people. I'll agree with that.
Jad: More choices, more consumption, more energy, more, more, more, more, more.
Robert: Even if that's so, cities, because they also are ingenious, and they come up with all these new ideas, maybe cities will solve the problem. Right now, Jad, someone somewhere in Calcutta is about to invent the super light bulb elevated telephone pipe that will make it possible for another 200 petullion people to live together in peace, harmony, and beauty until the next drought.
[laughter]
Jad: You go ahead and cling to that optimism.
Robert: You, of course, can go hang yourself in the corner. We'll be right back.
[laughter]
[music]
Robert: I'm Robert Krulwich. That's Jad. This is Radiolab.
Copyright © 2020 New York Public Radio. All rights reserved. Visit our website terms of use at www.wnyc.org for further information.
New York Public Radio transcripts are created on a rush deadline, often by contractors. This text may not be in its final form and may be updated or revised in the future. Accuracy and availability may vary. The authoritative record of New York Public Radio's programming is the audio record.