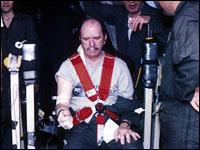 Transcript
JAD: This is Radiolab. I'm Jad Abumrad.
ROBERT: And I'm Robert Krulwich.
JAD: And in this hour on Radiolab, we're talking about the relationship, sometimes the uneasy relationship between the brain and the body.
ROBERT: I think most people who have brains, and that would include I think most of the listeners here, think the relationship between brain and body is more like the relationship of a commander to a commandee.
JAD: Right. The brain makes the orders.
ROBERT: And the body responds. But I think the more accurate way is to think of this as a conversation between the brain and the body.
JAD: How do you mean?
ROBERT: Well, because any movement, even a very basic one, let's just say wagging my tongue.
JAD: Okay.
ROBERT: Very simple, really. But it still involves three steps. First, the brain has to issue the command.
[CLIP: Tongue Station, Tongue Station. This is Mission Control. Commence wagging.]
ROBERT: Second, the command must be executed. And third, now this is the crucial step, the tongue in this case reports back to the brain.
[CLIP: Mission Control, we have wagging. I repeat, we have wagging.]
ROBERT: Thereby completing the loop.
[CLIP: Mission Control to Foot. Come in, Foot.]
[CLIP: Mission Control, this is Foot.]
[CLIP: Give me your coordinates. Over.]
[CLIP: Roger that, Mission Control.]
ROBERT: Now this happens, this conversation you're hearing right now?
JAD: Uh-huh.
[CLIP: Zero Niner Alpha]
ROBERT: It happens constantly. All over your body, your brain is issuing commands.
[CLIP: Left Knee. Come in Left Knee.]
ROBERT: Parts of your body are receiving the command.
[CLIP: This is Left Knee.]
ROBERT: And reporting back.
[CLIP: Right Leg standing by.]
ROBERT: And this conversation adds up to something really quite important. It adds up to a sense of yourself.
OLIVER SACKS: It's an unconscious sense which really allows you to move normally.
ROBERT: That's Oliver Sacks again, the neurologist we talked to at the start of the program. You have, of course, a sense of smell and of touch and of taste. He says this sixth sense also has a name.
OLIVER SACKS: It's sometimes called proprioception.
ROBERT: Proprioception.
OLIVER SACKS: Proprioception is the unconscious sense by which the position of one's limbs, the posture of one's body is automatically monitored.
ROBERT: Now imagine, he says, what would happen if all of a sudden this sixth sense, this conversation that you're always having with your body, suppose it went away.
OLIVER SACKS: One -- we all have this in a slight way. For example, if you go to the dentist and sometimes half of your mouth or your tongue is numbed, the tongue may feel very large. You may grab the dental mirror to reassure yourself that all is okay, and this does and it doesn't reassure you.
ROBERT: But you can still wag your tongue. Your brain is still sending messages to the tongue.
[CLIP: Tongue Station. Tongue Station. This is Mission Control.]
ROBERT: But the tongue ...
[CLIP: Come in Tongue.]
ROBERT: … isn't sending messages back anymore.
[CLIP: Uh, Tongue? Tongue?]
ROBERT: So you can't feel anything. You know that feeling?
JAD: Yeah, yeah. Of course.
ROBERT: Now could you imagine that instead of just losing your tongue, your tongue not responding, suppose your whole body doesn't respond? What would that be like?
OLIVER SACKS: I mean, we have words like deaf or blind. We don't have a word for being, in effect, deaf and blind to one's own body.
ROBERT: And yet there are people who have a condition that rare and that horrible. No proprioception. We talked to such a person, Ian Waterman, and convinced him and his doctor and very good friend Jonathan Cole to crowd themselves into a very little recording studio that the BBC lent us in Southampton in England.
JONATHAN COLE: Hello, America.
ROBERT: And we asked them to talk to us.
IAN WATERMAN: Hello?
JONATHAN COLE: Oh, you got a sexy voice.
IAN WATERMAN: Scary.
ROBERT: Ah, can you hear us? Can you hear me, rather?
JONATHAN COLE: Hi. We -- I can, yeah.
ROBERT: Thank you guys for coming and doing this with us.
IAN WATERMAN: Okay.
JONATHAN COLE: Yeah. Well, you just ask us some questions and we'll answer them as best we can.
IAN WATERMAN: Fire away.
ROBERT: All right. Well, let me just start it then. Now can you remember -- I'm sure you can -- what happened that led to this total change in your life?
IAN WATERMAN: It began with what I thought was a bout of the flu or a very heavy, heady cold. And I was at the shop where I worked and felt tired and lethargic. The guy that owned the shop said, "Look, you know, you look unwell. Go home. Take it easy." I took the day off, went home, and I've always been pretty energetic and I hate being stuck indoors and whatever. And I thought well, the fresh air will do me some good. Got to the shed and pulled the motor mower out.
ROBERT: Pulled the what out? What's the -- what do you call it?
IAN WATERMAN: The mower, the lawnmower out of the shed.
ROBERT: Oh, I thought it was going to be one of those cultural moments where you guys call it something else.
IAN WATERMAN: No, not quite. Pulled the lawnmower out of the shed and primed it up and started it, and it started chugging away. And as I engaged the gear, off it went and I couldn't keep up with it. It was a fairly slow and ponderous sort of lawnmower, and I just stood there bemused thinking, "How come I just can't keep up with the mower?" And didn't really attend to much more than, you know, I'm just tired and sluggish and lethargic, and I went back to my bedroom and laid down and did some serious sleeping. And the following morning, I went to get up and out of bed and collapsed against a radiator. I fell, slid fell, tumbled out of the bed and fell against the radiator. It's very difficult to describe. As I lay there, and I was laying flat, I had a rippling sensation in my tummy, around the ankles a tingling sensation. For want of a better term I felt disembodied. I remember waking up with a hand on my face and not realizing that it was mine. Simple movement.
ROBERT: Simple movements. The simplest of movements.
IAN WATERMAN: To pick up a cup, to eat -- to eat a biscuit.
ROBERT: Those things were suddenly very hard.
IAN WATERMAN: I couldn't control anything totally. I mean, from the neck down I had no control over -- over my limbs.
ROBERT: And for the next 12 years, he went from hospital to hospital. Doctors couldn't help him because they'd never seen anything quite this drastic, until he finally did meet a doctor, Jonathan Cole, who began to help him figure out what might be going on.
ROBERT: So let me ask Jonathan for a second. What is wrong with Ian?
JONATHAN COLE: Ian at the time he had his illness had lost a class of peripheral nerve cells to do with sensation. He'd lost touch but also his movement and position sense had gone.
ROBERT: Is this unusual? I mean, in your experience?
JONATHAN COLE: I mean, it depends who we talk to, but I normally say that we know of about six in the world.
ROBERT: Really?
JONATHAN COLE: Who are like this. No one really in the world knew what proprioception did and what the effects of the loss of proprioception would be until Ian.
ROBERT: And when they first met, Dr. Cole said to him ...
IAN WATERMAN: He said, "How do you manage?"
ROBERT: How do you cope with this?
IAN WATERMAN: Unbelievably, he was the first doctor to ask that question.
ROBERT: Ian told him that on his own over the 12 years, he had figured out how to walk again and how to grasp a cup again. And he explained that he did this by carefully breaking down and then reassembling every single move he made. It started this way.
IAN WATERMAN: I was laying in bed one day in hospital and I wanted to sit up, and it just wouldn't happen. And then laying there in frustration, I just thought the whole process through, and I broke it down into quite simple small movements. And I lay flat, I checked where absolutely everything was before I started, and then I then started with the head and folded and tucked my chin onto my chest as if to start the first part of the curl. Then I moved my arms slightly forward and I started to tighten some muscles in my tummy and around my back, and then I started to curl myself to sit in an upright position. And when I got there I was so damned euphoric I nearly fell out of bed.
JONATHAN COLE: Ian has studied movement in a way no one in history has ever studied before. No ballet dancer, no professor of neurology has ever had to study movement the way Ian does every day.
ROBERT: Because every day, every move that Ian makes he has to consciously direct. It's as though Ian were two people: a puppeteer and a puppet. His mind is directing and his body is obeying. And the strings of Ian's puppet interestingly are his eyes.
IAN WATERMAN: My eyes. I control all my movement with my sight.
ROBERT: Because he doesn't have this feedback information coming from his limbs back to his brain ...
IAN WATERMAN: The proprioceptive feedback.
ROBERT: ... because that's missing, unless he looks directly at the limb he wants to move he can't move it.
IAN WATERMAN: If I look away from my hand, I lose all connection with it.
JAD: Well, what happens if -- if it's dark or if the lights are out?
ROBERT: Well, you know, it's -- he can't afford darkness. If the lights go out accidentally ...
IAN WATERMAN: That's called a dangerous place to be. I would fall over.
ROBERT: He has not turned out the lights in the night in the last decades.
JAD: Wow!
ROBERT: To stay in the world, in motion, he must focus, always focus. In fact, he spent a long time just training with paper clips.
IAN WATERMAN: Yeah, I use them now occasionally and I still don't like the little devils.
ROBERT: [laughs] When you're manipulating the paper clip, what are you actually trying to figure out how much ...
JONATHAN COLE: Sorry, Ian -- Ian's gesturing away and he's ...
IAN WATERMAN: I lost my headphones.
JONATHAN COLE: His headphones fell off. So if you could repeat that.
ROBERT: Oh, okay. [laughs] Is the headphones back on yet?
IAN WATERMAN: Not quite.
JONATHAN COLE: I'll do it. That's my job.
ROBERT: By the way, is he able to put on -- I mean, is this -- you can tell me what's going on, but is he able to grab the headphones?
JONATHAN COLE: I can answer.
IAN WATERMAN: I can grab the headphones and put them on. But because putting the headphones over the top of my head, I can't see exactly where the headphones are in relation to the rest of me. Although I would finally get there, it's a lot quicker if Jonathan just puts them on. And he likes to feel ...
ROBERT: So what I was asking was what were you doing with the paper clips all that time?
IAN WATERMAN: I was given paper clips as an exercise to get my fingers to move again and to thread all them together and then to unclip them. A very, very frustrating therapy, but one has to admit that it is a good one in that takes an awful lot of fine, dexterous movement to get paper clips together and apart again.
ROBERT: But the idea of breaking down every move you make into sub moves and sub sub moves and then relearning everything, it's exhausting.
IAN WATERMAN: Very, very mentally tiring.
ROBERT: Because it takes such total concentration.
ROBERT: What if you were walking down the street and suddenly a thought, like a daydream pops into your head?
IAN WATERMAN: [laughs] Jonathan has a very good memory of that. And maybe that would be good to come from Jonathan.
JONATHAN COLE: Well, Ian and I were walking through Oxford having done some groundbreaking experiment or whatever. And Ian suddenly stumbled, and I'd never seen him stumble ever before. And he was looking at a pretty girl, and his thoughts had drifted from walking and from the concrete ahead of him to what he'd like to do to this girl.
IAN WATERMAN: Well, she -- she was about 18. She had nut brown hair, lovely legs, a mini-skirt. And it was a navy blue dress with white polka dots.
ROBERT: This is a family program you're on.
IAN WATERMAN: [laughs]
JONATHAN COLE: But that, you see, when Ian walks anywhere he has to think the whole time about walking and the floor.
ROBERT: So merely the erotic sort of charge cost you your ability to walk.
IAN WATERMAN: Be it that sort of charge, but any distraction really took me away from my focus, which is where is my left foot in relation to my right foot? And where am I balanced at the moment, and how am I actually going through this process? At what stage am I in this movement? And to suddenly be distracted by that, by a waft of perfume and a pretty girl took all that concentration away. It can be taken away by the song of a bird or the sound of music drifting from somewhere. Just on that day, it was a pretty girl.
ROBERT: Today if you saw Ian on the street, you wouldn't be able to tell that he has this handicap. He has figured out how to live a very deliberate and in a way kind of a normal life. He drives a car. He works.
JAD: He drives a car?
IAN WATERMAN: Yeah, my latest car which is a very nice Mercedes.
ROBERT: Do you drive the same speed as everybody else and all the rest?
JONATHAN COLE: Oh, faster usually.
IAN WATERMAN: I can react as quickly as anybody else. It's an automatic car and it has hand controls. That's the only favor to my disability really, but I tend to do with my driving what I do within the way that I manage my life, which is I plan ahead.
ROBERT: I'm just -- my last question really for Ian I guess, is have you solved this problem as best you can? I mean, do you feel like you're one person, or do you feel cut in half? Like a mind directing a body, like maybe two people.
IAN WATERMAN: I don't think about it in the way that you've just related there. I just think about, "I want to get up. I want a cup of tea. And this is the process I have to apply to do that."
JONATHAN COLE: Yep. That's what -- that's what we all do. I don't think stories like this involve heroes, they involve people who try their best under certain circumstances, and are tested in a way that many of us are not. We can learn from that.
IAN WATERMAN: You're dealt a hand and you play it as you -- as best you can.
ROBERT: Thanks to Ian Waterman and to neurologist Jonathan Cole. Dr. Cole wrote a very nice lovely book about Ian called Pride and a Daily Marathon. They spoke to us together from the BBC studios in Southampton.
IAN WATERMAN: Oh, that was -- that was fun. Gosh, I really should read the book, you know? Who's buying lunch? God, this room doesn't get any bigger, does it? It's a nightmare.
Copyright © 2019 New York Public Radio. All rights reserved. Visit our website terms of use at www.wnyc.org for further information.
New York Public Radio transcripts are created on a rush deadline, often by contractors. This text may not be in its final form and may be updated or revised in the future. Accuracy and availability may vary. The authoritative record of New York Public Radio's programming is the audio record.
-30-