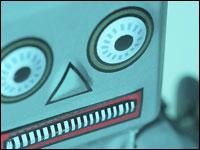 Transcript
Announcer:
Listener-supported WNYC Studios.
Jad Abumrad:
This is Radiolab. I'm Jad Abumrad.
Robert Krulwich:
And I'm Robert Krulwich.
Jad Abumrad:
Today our program's about music. We ended our last segment with a look back at a very famous riot in 1913, and a composer, Igor Stravinsky, whose primary objective was to create something new and dissonant and disturbing. Right now we'll present the opposite.
Robert Krulwich:
The opposite. The un-Stravinsky.
Jad Abumrad:
The anti-Stravinsky in a way. What we mean is we're going to introduce you to a guy who has invented a new radically innovative and ingenious way of creating something old.
Ellen Horne:
Hey there.
David Cope:
Are you Ellen?
Ellen Horne:
I am. Are you David?
David Cope:
Hi. I'm David. [crosstalk 00:01:09].
Jad Abumrad:
His name is David Cope. He works and teaches composition at UC Santa Cruz in California. And recently our producer Ellen Horne was in the area. It is a beautiful area.
David Cope:
It's 22.5 miles.
Ellen Horne:
Wow.
Jad Abumrad:
And she paid him to visit.
David Cope:
It's extraordinary and they're like birds. I have nests in each window each year. Sure, and this one's over here. You can take a look, if you'd like. Come back in. It's okay. It's just me. Come on, get back in your nest mom. Usually she'll just hop right back in when she hears me talk. Aren't you going to listen to me?
Jad Abumrad:
Oh, this was beside the point because we actually come to talk to David Cope, not about nature, but actually about something unnatural that he had done, which started about 20 years ago.
David Cope:
In 1980, I had a commission for an opera, which involved actual money, which had been given up front and which, by the way, since I had four small children, I had already spent. And for the first time in my life, I suffered a composer's block.
David Cope:
It was like, somebody just shot me and here I should be at the height of my creative power, and I can't find a reason to compose a first note. C-sharp sounded no more interesting than C natural or D and notes just didn't make any sense to me. I was really lost. I can't think of anything worse, because it's not my profession. It's what I am.
Jad Abumrad:
A short time later, David Cope was at a party and he finds himself talking to a guy who programs computers.
David Cope:
And he was asking me how things were going. And I just simply said, "It's a nightmare." And we talked through it, and I think I must have initiated it by saying, "Are there any intelligent programs out there that I could possibly use to help me through this?" And he said, "Well, there aren't any intelligent programs period." But he said, "You don't really need one. Don't you really just need some kind of a foil?" He called it that. And I really had an epiphany. What I would do is build, not so much a composing engine, but an analytical engine.
Jad Abumrad:
A computer. It took him years to build.
Ellen Horne:
And that's it?
David Cope:
This is Emi right here. This is-
Jad Abumrad:
Emi is the computer's name. It's spelled E-M-I.
David Cope:
Emi is an acronym for experiments in musical intelligence.
Jad Abumrad:
And what he built Emi to do is analyze things, specifically notes, treat notes like data. In other words, he'll feed Emi a bunch of sheet music.
David Cope:
For example, Bach chorals.
Jad Abumrad:
Emi will then convert every single note on the page into numbers.
Ellen Horne:
Can you describe what you see on the screen?
David Cope:
Well there's thousands and thousands of numbers. There are five numbers for each note.
Jad Abumrad:
Numbers, which represent all kinds of things.
David Cope:
The on time, the pitch, the duration.
Jad Abumrad:
A choral becomes a huge mass of information, which Emi then sorts through looking for patterns. Note 450 always seems to be fallen by note 456, loud and then soft. She will find the patterns. Every composer has them, the little things they do.
David Cope:
The DNA of the individual.
Jad Abumrad:
Now finding all the patterns, mapping the creative DNA of a composer is in and of itself not all that interesting. It's what happens next, which is the spooky part.
Jad Abumrad:
Cope hits a few buttons and all the DNA starts to recombine. Ghosts stir in the machine, Emi Mahler, Emi Beethoven, even Scott Joplin. And of course his favorite Bach.
David Cope:
Of course, then I became very excited about this prospect and immediately put in some Cope and sure enough, my opera, which had taken, I don't know, by the time I put it in the Cope it was maybe five years had past. The opera was written in about 10 days.
David Cope:
So as a demonstration, I'm going to play for you the opening of the choral that was composed in 1987 in the style of Bach, one of the first ones that came out of the program. Now, this choral was so bad, it sounded to me when I first heard it, that I threw it away. I put it in the trash can. And then I said, well, there's something about that, that I kind of like, and I pulled it out again. And thank God I did, because it's one of my favorite pieces the program ever produced. So here's what it sounds like as the machine would play it.
David Cope:
You can hear the rigidity of the performance. The machine, like of rigor of the meter being processed and all the notes being processed at precisely the right time with these tambours, these sonorities which are egregious, I mean, they're just terrible.
David Cope:
Now I'm going to play for you the same choral as performed by a group of singers a while later.
David Cope:
(singing)
David Cope:
Same piece of music, incredibly human, personal, musical, going someplace, intriguing. I want to hear more of the second one. I'm glad I turned off the first one when I did.
David Cope:
So yes. Well, the number of negative reactions far, far outnumber the positive reactions.
Ellen Horne:
Do you recall one in particular one that-
David Cope:
Yeah. I was at a conference in Germany in which a colleague hit me in the nose with his finger. I'm pretty much of a coward physically. He was bigger than I, so it was quite a moment. But there have been many, many occasions. Shouting matches.
David Cope:
If you've spent a good portion of your life being in love with these dead composers. That sounds horrible, but you know what I mean, and a long comes some twerp who claims to have this little piece of software, which isn't even much at all that can move you in the same way. Suddenly you're saying to yourself, well, what's happened here? Certainly my relationship to the original pieces of music has cheapened in some way. Is Chopin really just nothing more than a bunch of cliches strung together?
David Cope:
I hurt with them in a way, and when they hurt, I feel successful. And I also feel very bad. I'm messing with some pretty powerful relationships here and doing so in a mechanical way. If I had done it myself, as a human being, these individuals could probably live with it because after all they could say, "Well, he's just really good at this sort of thing." But somehow using HAL, or some version of HAL is the ultimate insult. There is nothing intelligent about my program in the lightest, nothing intelligent about it. I could do everything it did if it gave me 10 years. I just don't have that amount of time. I'd rather spend five minutes. Thank you very much.
David Cope:
We did a concert here of Bach, of Emi Bach and the middle moon is just adorable. It's just lovely. And a friend of mine was sitting in the back of the hall next to an ancient lady. She must have been in her eighties, late eighties, and she couldn't read very well. So she hadn't read the program notes. And she really just was at this concert because friends told her. She didn't know it was all about or anything like that, but she knew all about music and she loved Bach and she listened to that.
David Cope:
And she turned to my friend and said, "That was just beautiful." And my friend started to say, "But do you know that it was..." And then he said, "Well, the hell with that." It was the reaction that I hope people will have a hundred years from now, if by some weird fluke, this stuff hangs around long enough to still be around then. But I hope we can put aside all this machine trapping and stuff and really just deal with the music itself.
Jad Abumrad:
That piece was produced by Jonathan Mitchell and recorded by our producer, Ellen Horne. David Cope composes and teaches at UC Santa Cruz in California. If you'd like to hear any more compositions by his computer, Emi, and there are hundreds, you can visit our website, radiolab.org. There, you will find Emi Bach, Emi Chopin, Emi Scott Joplin, even Emi Navajo music. And the scary part is that much of it is quite good.
Robert Krulwich:
Emi Navajo music.
Jad Abumrad:
Yeah. I guess we should sign off, right?
Robert Krulwich:
Yes. I'm just still thinking about Emi Navajo music.
Jad Abumrad:
Actually, you know what? Let's let Emi take us out.
Robert Krulwich:
Oh.
Jad Abumrad:
This is actually your favorite composer as reanimated by Emi the computer.
Robert Krulwich:
Mahler?
Jad Abumrad:
Emi Mahler.
Robert Krulwich:
Oh damn. This is very troubling. This is very troubling.
Jad Abumrad:
And for more information on anything you've heard this hour, check our website, radiolab.org. And while you're there, communicate with us radiolab@wnyc.org is the address. This is Radiolab I'm Jad Abumrad. Robert Krulwich and I are signing off.
Diana Dortch:
Okay, here we go. Radiolab is produced by Jad Abumrad and Ellen Horne, with help from Sarah [Pellegrini 00:00:12:43], Arwin Curry, Casey Edwards, Sally [Hershits 00:12:43], Melissa Kibo, David Martin, Michael Shelley, Amber [Sealy 00:00:12:43], Laura [Vitalli 00:12:43], and special thanks to Eileen [Delahunty, John Elliott, and the LaGuardia High School Chorus, which includes Anna Kerry, Melanie Charles, Jack Fuller, Lucas [Isadoro 00:12:43], Harris Michael, Jonathan Roberts, Jessica Rosario, and Pierre [Tuscano 00:00:12:43].
Diana Dortch:
Special thanks to cellist Rubin [Purdeli 00:12:43], and also special thanks to me, Diana [Dortch 00:12:43]. Program management by Dean Cappello and Michael Ellcessor. Radiolab is produced by New York Public Radio and distributed by NPR.
Diana Dortch:
How's that? Okay. Bye.
Copyright © 2020 New York Public Radio. All rights reserved. Visit our website terms of use at www.wnyc.org for further information.

New York Public Radio transcripts are created on a rush deadline, often by contractors. This text may not be in its final form and may be updated or revised in the future. Accuracy and availability may vary. The authoritative record of New York Public Radio's programming is the audio record.