What If There Was No Destiny?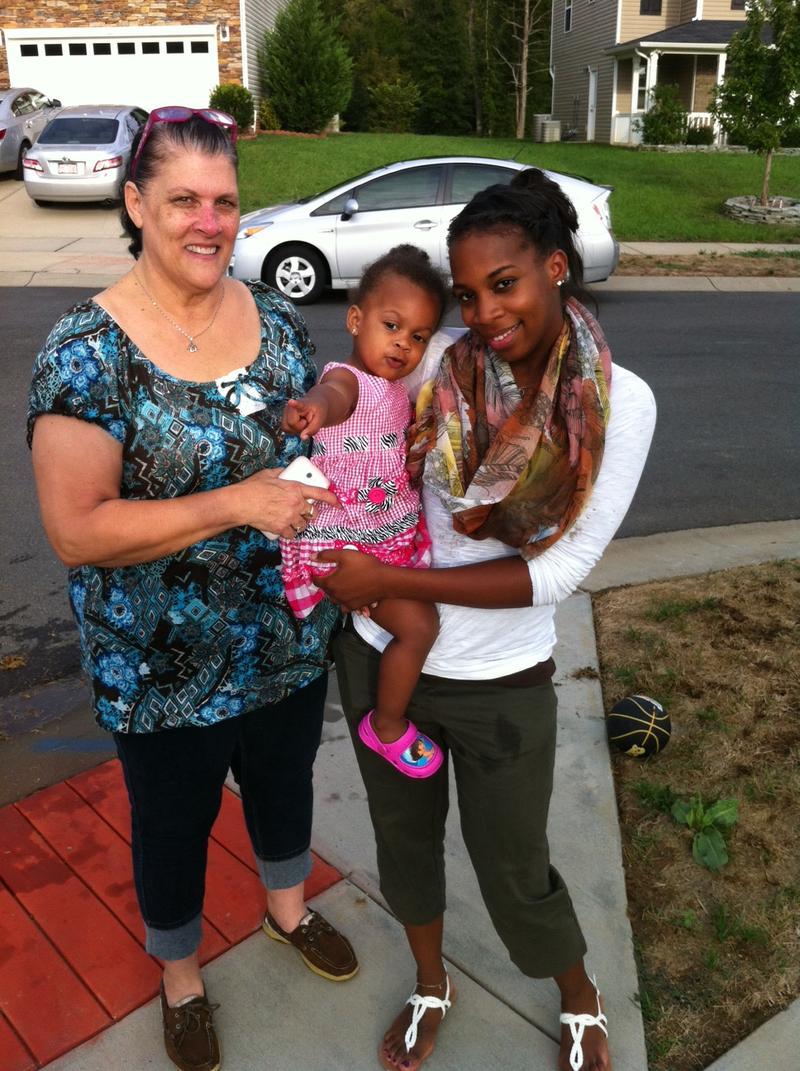 Transcript
Jad: Hey, I'm Jad Abumrad.
Robert: I'm Robert Krulwich.
Jad: This is Radiolab, and today-
Robert: Inheritance, what you can move on to the next generation and what you can't.
Jad: The Sweden story from our last segment left us both feeling a little strange, because while you might have a lot of influence genetically speaking over your kids and their kids, you don't seem to have a lot of control. We're going to leave you with a story from our producer Pat Walters about one woman's radical-
Robert: Even troubling.
Jad: -attempt to regain that control.
Smitty: Audi, come on in.
Jad: A few months ago, Pat made his way down in North Carolina to a small suburb outside of Charlotte to visit this family.
Pat: Mamaw's was the one I'd come to see. She and I snuck away from the children into her office. This great. This is nice and quiet. I guess I was thinking we could just start at the beginning.
Barbara: That's fine.
Pat: What year was it? Where were you?
Barbara: 1989.
Pat: This is Barbra.
Barbara: Barbra Harris. I'm the founder and director of Project Prevention.
Pat: In 1989, when the story we're telling now started, she was living in California, in Orange County.
Barbara: I was a waitress, I worked for IHOP for over 30 years.
Pat: She was a mom too.
Barbara: Six sons.
Pat: She and her husband.
Smitty: Smitty Harris.
Pat: What do you do for a living?
Smitty: Surgical technician.
Pat: Six boys is a lot of boys, but at that point just two of the six boys were living at home, Brian and Rodney.
Barbara: They were seven and eight at the time.
Pat: Barbra found herself returning to a thought she'd always had. She started to wish again that she could have a daughter. By this point, she's 37 years old.
Barbara: I knew that the only way I was going to get a daughter was if I went and became a foster parent and asked for one.
Pat: She did. She filled out the forms went-
Barbara: Through all the training that we had to do and first aid, fingerprinted and had a background check done.
Pat: Then they waited for the call.
Barbara: I already knew that if I ever got a little girl, I was going to name her Destiny.
Pat: That summer-
Barbara: It was July.
Pat: -they got the call.
Barbara: I had asked for a newborn, so when the social worker called me, she said, "I have this cute little baby girl for you but she's eight months old. Is that too old?" I said, "No, that's okay." She said, "Well, she's just beautiful and she has lips like a baby doll." That's what I remember her saying.
Pat: Barbra and her son got in the car and drove across town to the foster home where Destiny had been living for the past eight months.
Barbara: Since birth. We went to the foster home and went in. The lady knew why we were there. Destiny was in the other room sleeping or something, I'm not sure. We talked to her for a little while.
Pat: At a certain point the social worker pulls out a stack of papers.
Barbara: With a child, they give you a whole folder full of information, tells you all about them.
Pat: She told Barbra, "There's something you need to know about this baby."
Barbara: "She's born and tested positive for PCP crack and heroin."
Pat: Doctors would later explain to Barbra that Destiny's mom had been addicted to drugs while she was pregnant.
Barbara: The psychologist-
Pat: Who gave Destiny her first checkup told Barbra-
Barbara: That she was delayed and she was always going to be delayed because of her prenatal neglect.
Pat: Did that scare you at all? That seems like a thing that would be frightening.
Barbara: No, it didn't scare me.
Pat: She says as soon as she saw Destiny-
Barbara: Sat her on my lap, with her little dress on and her little curly hair.
Pat: -she just knew, "This is my daughter."
Barbara: A couple of days later, I had already bonded with her so much. It was as if I gave birth to her.
Destiny: Honestly, I think it never seemed like she was anything but my real mom, if that makes sense.
Pat: This, of course, is Destiny. She's 22 now and she's never even met her birth mom. Barbra says they've reached out to her many times, but they never heard back. Destiny says she doesn't really care at all.
Destiny: I got these genes from somewhere, but I feel like she was a surrogate, like she carried me for my real mom. That's how I've always looked at it. My mom needed a girl and she got one. That's just how I've always looked at it.
Pat: Even though they look basically nothing alike. For one thing, Barbra's white and Destiny's black. They both say that they actually often forget that they're not biologically related. They told me a bunch of these stories, one of them involving, well-
Destiny: I don't have the biggest boobies in the world. You can't see that on the radio but, hey, it's a fact of life.
Pat: Destiny says one day, she and her mom were in the car, and her mom said-
Destiny: She said, "I don't know, maybe they'll grow bigger? Mine are bigger." Then she goes, "Oh wait, I didn't give birth to you. That doesn't matter. Never mind, you're stuck with small boobies." I just had to accept it.
Pat: We're getting ahead of ourselves here. The event that really sets this story in motion, the set of events, happened a few months after Barbara had brought Destiny home. When they got another call from a social worker saying that same mother, Destiny's birth mother, had given birth to another child.
Barbara: The social worker called and told me the mother had given birth. Birth mother's name was actually the same as me, Barbara.
Pat: Really?
Barbara: Yes, she has the same name as me. She told me Barbara had another baby and-
Pat: A boy.
Barbara: - did we want it? I went to the hospital and picked him up.
Pat: You picked him up right from the hospital?
Barbara: Yes.
Pat: As soon as she got there to pick him up, she could tell that something was wrong.
Barbara: He wasn't a little happy baby.
Pat: When a woman uses heroin while she's pregnant, the fetus gets hooked on it too. For Isaiah, being born was like just being cut off. He was going through withdrawal.
Barbara: Light bothered him, noise bothered him.
Smitty: Eyes that beaded out.
Barbara: This is Smitty again.
Smitty: Projectile vomiting.
Barbara: He couldn't hold formula down. He'd fall asleep and just wake up screaming.
Smitty: Most babies are peaceful, he was never really peaceful.
Pat: Day after day-
Barbara: Literally for months.
Pat: -Isaiah would sleep and he would scream. That was it.
Barbara: No baby should have to come into the world like that. Nobody has a right to do that to a baby.
Pat: A year later, the social worker called again.
Barbara: Saying the mother had given birth to a baby girl, did we want her?
Jad: This is the same birth mother?
Pat: Yes. Again, Barbara thinks, "Come on, but if this little girl is here, she should be with her brother and sister. She should be with me."
Barbara: I called my husband again at work and said, "They want to know if we want to take the baby." He said, "Barbara, I'm not buying a school bus." We had already had to upgrade from a car to a van, from a condo to a home. I said, "This will be the last one. We'll just get one more."
Pat: A year later, she gets another call. Another little boy.
Barbara: That's how we ended up with four of them.
Jad: These are four kids from the same birth mother?
Pat: Yes. By now, it's 1994, and Barbara is thinking--
Barbara: "I just don't get it."
Pat: "How did this happen? How was this woman allowed-"
Barbara: "To walk into the hospital and drop off a damaged baby and just walk away with no consequences?"
Pat: "Over and over again."
Barbara: "How dare you do this?"
Pat: The way she saw it, the state, the federal government, somebody-
Barbara: Should say, "You're not doing this. You're not leaving this hospital unless you have long-term birth control."
Pat: Barbara tried to get a law passed requiring just that. It failed.
Barbara: When I found out the bill didn't pass, I just thought, "I have to come up with something else. I have to be creative."
Pat: She says, one day, this idea just came to her. She was thinking-
Barbara: "Everybody's motivated by money. Can I offer these women money to use birth control?"
Pat: In other words, "Could I pay women who have drug problems to stop having babies?"
Barbara: I decided to have a press conference in my front yard to announce what I was doing. In my naive mind, I didn't have a clue what a big deal this was.
Pat: The story exploded-
Speaker 1: Barbara Harris's solution is simpler than anything else out there.
Pat: -instantly.
Speaker 1: She's offering $200-
Speaker 2: $200.
Speaker 3: $200. It's $300 now.
Speaker 1: -to any drug-addicted woman who will agree to have no more babies.
Barbara: I'm going to go out into the streets and offer addicted women money to use birth control.
Speaker 3: This could mean sterilization, it could mean getting an IUD.
Pat: She gives the women a choice. If you've already had a kid, you can be sterilized. If you haven't, you can choose to have an IUD or an implant put in which will last for several years.
Jad: Wait, when you say they can choose to be sterilized, you mean permanent?
Pat: Yes, permanent, like tubes tied.
Barbara: Sounds bizarre, but it's a solution.
Speaker 1: Harris says her program, children requiring a caring community or crack-
Speaker 2: Crack.
Speaker 1: -can prevent thousands of unwanted births to drug-addicted women.
Speaker 4: I'd like everybody to meet, please, Barbara Harris. Please welcome Barbara.
Pat: As Barbara made the rounds on the daytime talk shows, the reaction was split right down the middle. On the one hand, she says, immediately, cheques started arriving-
Barbara: This is 25, this is 50.
Pat: -from all over the country-
Barbara: -this is 750 and this is 200.
Pat: -and all over the political spectrum, from Hollywood lefties to social conservatives.
Speaker 5: Who, together, pledged more than $150,000 to her program.
Pat: That number, by the way, has grown a lot-
Barbara: It's at one million.
Pat: -over the past five years, if you look at our tax return. Wow. Along with the support came attacks, particularly as drug-addicted women began to sign up.
Speaker 6: Barbara Harris says she's convinced more than a dozen women-
Speaker 7: 14 women.
Speaker 8: 45 women.
Speaker 6: -have accepted her offer to be sterilized in return for money.
Pat: Right away, people accused her of targeting women at their weakest moment and enabling their drug abuse.
Speaker 9: You know what they're going to go do with that money.
Speaker 10: You get them $200 each, which they can spend on crack.
Barbara: That's their choice, but the babies don't have a choice.
Pat: Barbara started finding herself on panels with women who'd use drugs during their pregnancies.
Speaker 11: You don't think that they should have their children back?
Pat: That's when things would start to get out of control.
Barbara: I feel that they should all be sterilized.
Speaker 11: Sterilized? Who are you? You are not God.
Barbara: Like you said, when you were in your addiction like she is-
Speaker 11: You are not God.
Barbara: I didn't say I'm God. She asked my opinion and that's what I'm giving. This lady right here is still taking drugs and she could be pregnant again next month.
[applause]
Speaker 11: She mad.
Pat: When you first hear about this, what goes through your mind?
Lynn: I think I was really horrified and terrifying.
Pat: That's Lynn Paltrow.
Lynn: I'm Executive Director and Founder of National Advocates for Pregnant Women.These people are paying millions of dollars to take care of your children.
Pat: Lynn has become one of Barbara's fiercest critics. Full disclosure, she's Robert's sister's partner.
Lynn: Well, her explanation is that these women are having, in her terms, litters of damaged babies and society forever will be responsible for them.
Pat: She said litters? In this magazine article, Barbara even said, quote, "We don't allow dogs to breed. We spay them. We neuter them."
Barbara: I'm not saying that these women are dogs but they're not acting any more responsible than a dog in heat.
Lynn: Are there people whose drug use is so out of control they can't parent? Yes, but creating an assumption that there is a class of people who don't deserve to procreate, who aren't worthy of procreating the human race leads you down a path that we should have great concern about.
Pat: That path is basically called-
Lynn: Eugenics?
Speaker 10: Well, Hitler thought that if you were Jewish, that you had given up the right to be a mother and you sterilize people as well.
Barbara: Well, I just want to eliminate drug-addicted babies from being born. I don't think that puts me in the same category as Hitler.
Speaker 12: What's the worst thing you have been called by one of your critics?
Barbara: Probably racist. I'm married to a Black man. That was just funny to me.
Pat: According to Barbara, the majority of the women she pays are white. I asked Barbara about some of the things that she'd said because, to be totally honest, they turn my stomach. I like you, I get the sense that there's a lot of warmth in you. You're obviously a great mom, but that feels cold to me.
Barbara: I was just pissed at what they have done to my children. All the babies I had seen and all the people that have called me to tell me about their babies that were damaged. I had everybody's abuse on my back and I didn't care how we said it or how we did it. Just don't have any more children because, at that point, I didn't really know any of them. I didn't see them as people. I just saw them as child abusers. It might be a mixture.
Pat: She says she doesn't feel that way anymore.
Barbara: After I've gotten to know so many of the women.
Pat: Barbara has this drawer in her desk-
Barbara: "Ms. Harris and staff,-"
Pat: -filled with dozens of letters from women that she's paid.
Barbara: "-I want to thank you for your support and kindness as always." She said, "Thank you so much for the gift, I bought my son an excavator truck, remote control and some summer outfits."This is from 2002. "To Whom It May Concern, I have been doing very good. I just got custody of my eight-year-old son. I'm so proud and I have four years clean. Anyways, God bless you. Sincerely, Jennifer."
Pat: Have you ever had someone call or write you and say that they regret their decision?
Barbara: No, I've only had somebody call and say they regret that they didn't stay on birth control.
Pat: Which I find kind of hard to believe but, then again, I must have read at least 100 news articles as I reporting this story. I didn't find a single case of someone saying that they regretted what they've done.
[music]
Pat: How many women have you paid?
Barbara: We have paid 4,266.
Pat: That's a lot of people. That's a lot of people. She actually emailed me afterwards and adjusted that number down a couple hundred.
Jad: In the end, where do you come down on this?
Pat: I ended up finding myself really conflicted about it.I agree with Lynn, that this program does perpetuate a stereotype.
Lynn: Tell me what your image of a drug-using pregnant woman is. Who are they?
Pat: It would be wrong to assume the women Barbara talks about on TV.
Barbara: These women don't just have one and two babies. They have six, seven, eight, ten, fourteen.
Pat: All these women who have so many babies and never try to seek drug treatment. It would be wrong to think that they represent all women who use drugs while they're pregnant.
Lynn: The women who I've worked with who've had a history of drug problems aren't like the examples that she gives. These are women who love their children, who sought help.
Pat: She says oftentimes the women who want help have a really hard time finding it. Barbara is not offering that. She's not offering treatment, she's not offering counseling, and there are programs that do that. I said this to Lynn, "Despite all the things that trouble me about Barbara's program, I feel like what she's trying to do is to stop a kid from getting born into a childhood that's going to suck."
Lynn: The fact that you're motivated by a really beautiful, important value, that we want healthy kids, doesn't mean the mechanism you're using is going to end up helping those kids.
Pat: The truth is, you have no idea how these kids are going to turn out. Nobody's arguing that women should do drugs when they're pregnant. That is a bad way to start a kid's life but that's just the beginning of the kid's life. So much can happen after that.
Destiny: He doesn't want you.
Pat: For me, this whole story really shifted when I started spending some time with Destiny, Barbara's 22-year-old daughter.
Destiny: As you can see, I like to talk.
Pat: Even though Destiny's mom was doing all sorts of drugs during her pregnancy and the doctors told Barbara that Destiny was going to be mentally and physically delayed-
Destiny: Not feeling the way I'm supposed to feel.
Pat: -she just isn't. Could you just tell us what you are doing now? You're finishing college, right?
Destiny: Yes. I'm almost done. I'm graduating in December.
Pat: It's exciting.
Destiny: Right now, I'm student teaching. That's fun.
Pat: The moment I really felt like, "Whoa," was when we started talking about the little baby that we keep hearing in the background of everything.
Destiny: That's my little girl. She's 20 months old. She'll be two in January. Her name is Kalia. She's a complete nut. I don't know where she gets that from. She keeps me busy.
Pat: Were you planning to have Kalia?
Destiny: No, she was an oops kid. She was totally an oops kid. We'll just be honest. I just didn't think. You know they say it only takes one time? Yes, that is so true. One time, and I'm on flighter. That's embarrassing, but I believe everything happens for a reason. I think that no, I didn't plan on it but I wouldn't take her back for anything because she made me better. I want her to be able to look back on her life one day, maybe when she's getting interviewed, I don't know, and be able to say that, "Yes, my mom was there for me 100% without a doubt."
I have straight A's and I'm making it work. I'm going to graduate with honors and one day I'm going to be able to tell her, "Look, I did this. You can do this. Push yourself and you got it."
Pat: That's really impressive. You're saying a lot of things that are really impressive.
Destiny: To her, I matter. I make a difference to her.
Pat: We can stop. We did stop. I packed up my stuff, it's pretty much done ,and Barbara and Destiny walked me out to my car. Kalia came too. I had a little basketball for her.
Destiny: Oh my goodness. Can you say oh my goodness?
Kalia: Oh my goodness.
Destiny: Here.
Pat: At a certain point, I noticed over my shoulder Barbara's crouched down and she's got her phone out and she's taking a picture of this just perfect little scene.
Destiny: Can you kick it?
Pat: They're training her already.
Destiny: Are you going to kick it?
Kalia: Yes.
Pat: I just felt like it was in one of those moments that contains everything that's good about us as people.
Destiny: Kick it to him. Go to him.
Pat: Watching this, I couldn't help but think that Destiny's very existence is probably the most interesting argument against what Barbara is doing.
Destiny: You missed it. You got to kick it back.
Pat: If Barbara had gotten to Destiny's birth mom, Destiny, Kalia this moment, none of it would exist.
Destiny: You want to kick it?
Kalia: Yes.
Pat: I told destiny I was thinking about this and asked her about it.
Destiny: My situation turned out positive. As far as positives can go, I think I hit the jackpot. A lot of times that's not the case. You just have to weigh it, is it worth it? I could have turned out like some of the other kids.
Pat: Destiny says before she was born, her mom had four other girls.
Jad: These were kids that didn't end up with Barbara?
Pat: Yes. Three of them ended up in other foster homes and seem to have done pretty well, but one of them-
Destiny: One of them, don't really know what happened to her. She's somewhere, but it's not good from what we've heard.
Pat: Last I heard she was living on the streets in LA.
Destiny: That could have very easily have been one of us. I mean, yes I might get a great family, but I might not.
Pat: The question that was stuck in my head right then was, "If you could choose between being born knowing that your life might end up like that and not like it is now, or not been born at all, what would you have done?"
Destiny: Not been born at all. I wouldn't want to put it up to chance, because what kind of life is that?
Pat: You mean that?
Destiny: I do mean that. All jokes aside. I know I've been joking a lot in this interview, but I mean it with all that I am. She wants to see it. Back together.
Pat: What's she saying?
Destiny: Taylor Swift's Never Getting Back Together. Can you say, "Never, ever?" Baby, be careful. Just sing. You want to say bye?
Kalia: Bye.
Barbara: You blew him a kiss? That was nice.
Robert: Remind me this. Destiny has, what, three brothers and sisters that also were raised with her?
Pat: Yes. Two brothers and one sister.
Robert: What happened to them?
Pat: Isaiah's in college and Taylor and Brandon, I met them at Barbara's house and they seemed to be fine.
Jad: What about the four kids that weren't raised with Barbara?
Robert: Do you know anything about the other four?
Pat: Just a little. There were four girls and Barbara and Destiny told me that a few years ago they found three of them and they all either were in college or had finished college.
Robert: Then the one that's in trouble she is one of eight?
Pat: Yes, one of eight.
Jad: I guess you could say to yourself, "Seven out of eight of these kids did all right?"
Robert: That's interesting. That's a different kind of odds.
Jad: Producer, Pat Walters.
Automated voice: Start of message.
Destiny: Hi, this is Destiny Harris.`
Pike: This is Pike [unintelligible 00:22:55]
Pat: This is Pat Walters.
Pat's dad: This is Pat's parents.
Pat: Hi Mom and Dad.
Pat's dad: Calling in to help read the credits.
Pat's mom: Radiolab is produced by Jad Abumrad.
Destiny: Our staff includes Alan Horn, Soren Wheeler, Pat Walters-
Pat's dad: That's my boy.
Pat's mom: Tim Howard.
Destiny: Brenna Farrell.
Pat's dad: Malissa O'Donnell.
Destiny: Dylan Keefe.
Pat's mom: Molly Webster.
Destiny: Andy Mills.
Pat's mom: Lynn Levy.
Pat's dad: Sean Cole.
Destiny: With help from Matt Kielty, Chris [unintelligible 00:23:20]-
Pat's dad: And Kenny [unintelligible 00:23:22]
Pat: Special thanks to Martin [unintelligible 00:23:27]
Pat's dad: Rory McDonald.
Pat: And-
Pat's dad: Dinah [unintelligible 00:23:29] Adams.
Pat: Thank you.
Pat's dad: Cheerio.
Automated voice: End of mailbox.
Copyright © 2020 New York Public Radio. All rights reserved. Visit our website terms of use at www.wnyc.org for further information.
New York Public Radio transcripts are created on a rush deadline, often by contractors. This text may not be in its final form and may be updated or revised in the future. Accuracy and availability may vary. The authoritative record of New York Public Radio's programming is the audio record.