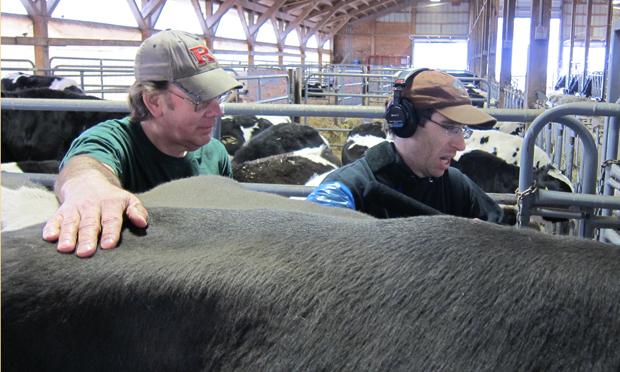 Transcript
Robert Krulwich: Wait, you're lis-- [laughs]
Lulu Miller: Okay.
Robert: You're listening-
Lulu: -to RadioLab.
Robert: Radiolab-
Lulu: from-
Jad Abumrad: W-N-Y-
Lulu: C, and NPR.
Mary Roach: Hello.
Jad: We're going to start this show today- Hey, Mary, with Mary Roach.
Mary: Hey.
Tim: Tim here.
Mary: Hi, Tim.
Tim: Hey, let me see if I--
Jad: Mary is one of our favorite authors, mostly because she kind of writes about stuff that's-
Robert: Yucky.
Jad: -gross.
Mary: If I find myself in an operating room for whatever I'm reporting on, I'm the kind of person where they'll be like, "Ms. Roach, you need to step back your head is actually inside the body cavity.
[laughter]
Jad: For her latest book-
Mary: -called Gulp,-
Jad: -she got really, really into and inside cows.
Mary: Yes, the fistulated cows that the agricultural schools have.
Jad: What's a fistulated cow?
Mary: A fistula is an irregular anatomical passageway,
Jad: A fistulated cow-
Mary: -in this case-
Jad: -has a hole-
Mary: -an opening-
Jad: -right in its side, so that you can actually stick your hand into its side and reach all the way down-
Mary: -to the stomach.
Robert: This is a living cow, right? It's a moo.
Mary: It's a live cow.
Jad: You've done this.
Mary: Yes it was this amazing-- because really, a cow is about--
Robert: She did it at the University of California, Davis.
Mary: You're standing there normally and for some reason, I've worn a skirt and kitten heels. My hosts are wearing manure incrested muck boots, and that is a source of great entertainment that I'm here.
Robert: You're in pearls.
Mary: It's packed really tightly. You got to really work your arm. The guy I was with, Ed DePeters and he's like, "No, keep going. Keep going." I'm like, "I don't know Ed and I'm not sure really?"
Robert: Go further in.
Mary: Yes keep going. Keep going. I'm literally up to my shoulder inside this cow.
Jad: I so want to do that.
Mary: Where are you guys?
Robert: We're in New York.
Mary: I know where this one out there. I can get you a fistulated cow.
Robert: You want to walk him down quick and I'll go get the group?
Tim: All right, yes.
Jad: I didn't actually get to do it, unfortunately, but we sent our Producer Tim Howard, out to Rutgers University where a bunch of high schoolers had come to see-
Robert: Lily.
Jad: -Lily the fistulated cow.
Tim: Let's give it a go. I'm going to pop the cork.
Robert: Did he say cork?
Jad: Yes you have to uncork the hole on the cow.
Robert: You can see the steam coming out? Ready?
Tim: All right.
Jad: This is Tim reaching is handed in.
Robert: Put straight across the top to the far side.
Tim: Okay. Oh my god.
Mary: It's powerful in there.
Tim: Oh, God.
Mary: I was a little worried it was going to break my hand.
Jad: What you mean like pressure?
Mary: It's a very muscular organ, it's squeezing my arm. Mixing and--
Tim: Wow. I can feel the side of the stomach pushing against me.
Mary: Squeezing and contracting.
Tim: Soon after squeezing-
Jad: Really squeezing.
Mary: It's groping you back. I'm stuck.
Tim: I'm just going to try to go a little bit deeper.
Mary: It's hot. It's steamy. It's like bubbly and physical. It's very, yes.
Tim: She is so calm right now. I can't believe it.
Mary: The cow's bored, and I've got this look on my face like I've seen God or something. I'm like, "Whoa."
Robert: Mary says that for all her times in morgues, and in all the places she's been this one, this one was was really different.
Mary: The expression I was wearing, I'm sure I've never had cause to use.
Jad: Here's why. If you think about it, the stomach is a center of magical transformation. That is Fred Kaufman, who wrote a whole book about the stomach. You take something outside of your body, you put it in your body that turns into you. It's like this conduit between what's outside you and what's inside. The other thing that's weird is that the human body is a torus or donuts. We've got a hole going through the middle of us, all the way through us. What seems to be inside us, what seems to be inside our stomach, actually is always outside us.
Robert: This is getting so deep.
Jad: You don't like the torus?
Robert: It's great, I'll go with it.
Jad: I was thinking we could start that way. That's what we're doing this hour. We're going take this thing that's deep inside us-
Robert: -and turn it inside out.
Jad: Yes. I'm Jad Abumrad.
Robert: I'm Robert Krulwich, this is Radiolab, and today that mystery that lies between our mouth and our butts.
Mary: We are these sacks of guts underneath skeletons we walk around and we never even see them. For centuries, nobody really knew what's going on in there.
Jad: Then something happened that opened up a window.
Mary: Yes. Do you want to start back?
Robert: You have to start with the beginning of it?
Jad: That's once upon a timer.
Mary: Okay. So-
Robert: -once upon a time,
Mary: -it all begins.
Jad: When is this?
Mary: They first met in 1822.
Jad: Once upon a time in 1822 there was a guy named William Beaumont.
Robert: William Beaumont is a farm boy from Lebanon to Connecticut, five brothers and six sisters and William, clearly is the smart one. He was the one with big dreams.
Jad: At an early age,-
Robert: -he leaves home and gets himself a job as a doctor, an army doctor up north.
Mary: At Fort Mackinac, which is this. It's a trading post basically--
Jad: Beaumont he has a little doctor's office at the top of this hill and at the bottom,-
Mary: -there's a general store.
Jad: -for fur traders who would come in from Canada.
Mary: Super hardy dudes, like it's cold up there and they're going out in canoes and they're running with these huge packages of furs on their backs.
Jad: Imagine big beards.
Mary: Sure?
Jad: In any case, that was all just set up. Here's the actual story. One day, June 6th, 1822. Normal morning,-
Mary: -all the fur traders come in and are unloading and loading.
Jad: Getting their coffee, salted meat.
Mary: Supplies to go out.
Jad: -traps for fur, when all of a sudden. [gun shot sound] Right outside the shop,-
Mary: -somebody's gun went off. Somebody calls Beaumont, Beaumont-
Jad: -dashes out the door.
Mary: Runs down the hill, finds this guy,
Jad: This 18-year-old kid,-
Mary: -really in bad shape.
[music]
Jad: The kid is lying on the ground. He's a big guy, muscular, but he's covered in blood. He has a hole right below his rib cage about the size of the palm of a grown man's hand.
Robert Nobody was sure what happened but someone's gun had gone off by accident and shot this boy point-blank. His lungs are dripping out. There's blood.
Jad: This is what Beaumont sees,-
Robert: This is what Beaumont sees--
Jad: -and the other thing Beaumont sees is food coming out of his stomach.
Mary: Meat and bread and coffee. Basically, the remnants of his breakfast spilled out.
Robert: -on the ground right in front of--
Mary: You can kind of see the gears turning in Beaumont's head as if he's thinking-
Robert: -"Wow there it is."
Mary: Digestion in action.
Robert: Which was kind of disgusting. It was also something of a revelation because in 1822, the stomach was an area of mystery. Just like today, we're aware of the brain is an area of mystery.
Jad: For centuries, people believed that the stomach more broadly, the gut was in a very real way the center of our being. Yes, in Puritan times, the bowels are the seat of human sympathy. Where our deepest feelings come from.
Robert: If you have bowels for somebody, that means you sympathize with them.
Jad: Was that something people will say?
Robert: Absolutely.
Jad: We should bring that term back.
Latif: That's very interesting.
Robert: I have bowels for you.
Jad: Point is medical science was pretty fuzzy, on what happens down there. They knew it was important, but they had no idea how it worked. Like how does food become us?
[music]
Robert: Nobody understood it-
Mary: -because they can't see. You can't directly observe it without opening the person up.
Robert: Here was a guy open right up.
Jad: Of course, Beaumont is a doctor, so he's like, "Wait, I've got to save this guy." He start sewing him up frantically. Pretty sure, this fellow's not going to make it.
[music]
Mary: He was surprised that two days later, the guy was alive.
Jad: Really surprised. As the months passed, this kid-
Mary: -St. Martin.
Jad: That was his name. Alexis St. Martin. He gets better, but a year later, he still has this hole in his stomach. The hole never closes.
Mary: What happened, he grew a fistula?
Robert: Just like the cow we talked about earlier except, in this case, he didn't have a cork where he was wounded. He had a flap of skin covering the hole if you want to just pull back the flap and look inside.
Jad: We don't know if Beaumont left it that way on purpose. What we do know is that he sees an opportunity-
Mary: -to make the body give up its secrets.
Jad: He sees he's got something that nobody else has. Maybe he even thinks,-
Mary: "This man could be my ticket out of being a lowly Fort Mackinac doctor.
Robert: Beaumont hires him as a man around his house.
Mary: As a manservant. He said it was a charitable thing, I wanted to help him-
Jad: -because he couldn't work.
Mary: I'm thinking, "No, maybe, maybe not."
Jad: About a year later,-
Arlene Shaner: Come on in.
Jad: --he starts his experiments. Oh my lord, this is straight out of a movie. While reporting this story, we ended up visiting the rare book room at the New York Academy of Medicine, which is pretty much the coolest room ever. It's all mahogany and they've got like ancient skulls sitting on top of bookshelves and the books are-
Arlene: Hundreds and hundreds of years old.
Jad: In any case, the librarian Arlene Shaner showed us around and then put on some white gloves, disappeared between some stacks, and came out-
Arlene: Here we have-
Jad: -with a little purple book.
Arlene: Four months' observations. Experiment one is on August 1, 1825. "At 12 o'clock, I introduced through the perforation into the stomach, the following articles of diet.
Jad: What he does is he takes different foods.
Arlene: A piece of raw salted fat pork,
Jad: -some corned beef, like one-inch square corn beef.
Arlene: A piece of stale bread-
Jad: He attaches them to a silk string and he inserts them-
Arlene: - through the artificial opening into the stomach.
Jad: - into the stomach for an hour, then he takes it out.
Robert: Like a fisherman?
Jad: Yes, he's fishing. He's doing stomach fishing. He takes it out and he records-
Arlene: It was an hour later-
Jad: -how much was digested.
Arlene: -withdrew and examined them, found the cabbage and bread about half-digested. The pieces of meat-
Jad: This went on for hours-
Arlene: -returned them into the stomach. At 2:00 PM, withdrew them again.
Jad: -and hours.
Arlene: -returned them into the stomach, again--
Robert: For years. Over the next few years, Beaumont puts anything he can possibly think of into that stomach.
Arlene: Pig's feet, soused, take an hour. Animal brains, boiled, take an hour and 45 minutes. Fresh eggs, hard-boiled, take three hours and 30 minutes, soft-boiled take three hours. Fresh eggs, fried, take three hours and 30 minutes. Fresh eggs, roasted, take two hours and 15 minutes.
Jad: Look, it's just the totality of food in America, at that point.
Arlene: Whipped eggs take an hour and a half.
Jad: He's trying everything.
Arlene: Baked custard takes two hours and 45 minutes.
Jad: Oh my god. It goes on for pages.
Arlene: It goes on and on.
Latif: Alexis St. Martin is becoming increasingly irritable about this whole process.
Jad: I would imagine because a lot of the times the things that Beaumont would stick into his stomach would make him sick. Give him-
Arlene: -a fever, pain in his head, depressed pulse, dry skin, coated tongue, and numerous--
Jad: In 1825, three years after this all started, St. Martin finally bolts. Goes back to Canada, gets married, even has a few kids. All the while, Beaumont is writing him letters, trying to lure him back.
Mary: He was offering him, "Okay, I'll pay for your family. Okay, I'll give you $50 a year. Okay, I'll give you $75. Then, he was like, "I'll throw in the land."
[laughter]
Jad: He still wanted to know, all right, fine. It takes-
Arlene: Three hours and 15 minutes -
Jad: - to digest a carrot.
Latif: Oyster soup, three and a half hours.
Jad: -or soup, whatever. How does it work? How does the stomach do it?
Robert: Eventually, because he needed some money, Alexis St. Martin does come back.
Arlene: Beaumont starts his experiments again.
Jad: One night, while Beaumont is peering into the boy's stomach, he gets his answer.
Arlene: He applies a few crumbs of bread to the inner surface of the stomach. Immediately afterwards, small, sharp papillae became visible.
Jad: He saw little pimples form on the wall of his stomach, and out of the pimples-
Arlene: -exuded a clear, transparent liquor.
Robert: Out squirts some juice.
Arlene: Out squirts some juice.
[music]
Jad: That was it. That's the magic juice.
Arlene: Clear, almost transparent, tasted a little saltish and acid when applied to the tongue.
Mary: Yes, tasting. A lot of tasting went on.
Arlene: Then-
Mary: -he would collect the stomach acid and see if you could digest outside the body because there was this theory that the body had this vital force and that that was necessary for the bodily processes, including digestion. If you took the stomach acid out, what would happen?
Arlene: December 14th, 1829. At 1:00 pm, I took one and half ounces of gastric juice fresh from the stomach, put into it 12 drams recently salted beef, boiled.
Mary: The theory at the time was that it wouldn't work. You had to have the magical powers of the human body-
Arlene: -but digestion commenced.
Mary: Beaumont, one of his big discoveries was now, you know.
Robert: That actually there are no secret forces of sympathy and excitement driving things. It's a chemical.
Jad: That's what it's all about.
Robert: Now, Beaumont didn't know it, but that juice he was seeing, which he called-
Arlene: -gastric juice.
Jad: -those are enzymes. What enzymes are, are like little chemical scissors. They break down food so that you can take something in from the outside, like this carrot,-
Robert: -and absorb it. It becomes, literally, a part of you.
Jad: The key to the whole thing, the key to life are enzymes. In a way, they are the magical force, just in chemical form. That's it. That's the truth. He was the first to understand it, the first to see it, the first to figure out the method of how to prove it, and he proved it.
Jad: Beaumont writes a book about this.
Arlene This book is published in 1833.
Jad: He becomes famous.
Arlene: People were fascinated by Beaumont's experiments.
Mary: He would go on these tours.
Jad: He's called over to Yale University-
Robert: Gets invited to speak in Europe.
Latif: Wherever he goes, he brings his gastric juice--
Jad: From the dude's stomach?
Latif: Yes, he travels around with it.
Jad: Whenever he could, he would take St. Martin with him.
Mary: St. Martin was his Powerpoint. He was like, "I need you, man. I need you on the stage so everyone else can come up on stage and stick their tongue in your stomach."
[laughter]
Robert: For William Beaumont, this works out pretty great.
Mary: He's thought of as this tremendous contributor to the understanding of digestion.
Jad: As for Alexis St. Martin-
Robert: -he was a curiosity. He was a medical curiosity.
Jad: For the rest of his life,-
Latif: -'til the day he dies.
Mary: Even in death-
Jad: -his body is a hot commodity and his family was very aware of this. They let his body rot in the sun for three days and then buried him very deeply and put big rocks over him so he would not be exhumed.
[music]
Jad: Thanks to Arlene Shaner at the New York Academy of Medicine and Fred Kaufman who wrote a book called A Short History of the American Stomach.
Robert: A special thanks to Mary Roach. Her forthcoming book is called Gulp, a trip down the elementary canal.
Frederick Kaufman: Hey everybody, Frederick Kaufman here. I'm given my shot at the credits. Here we go. Radiolab is supported in part by the National Science Foundation and-
Mary: -The Alfred P Sloan Foundation, enhancing public understanding of science and technology in the modern world.
Frederick: More information about Sloan at www.sloan.org.
Mary: Radiolab is produced by WNYC and distributed by NPR.
Frederick: NPR.
Mary: This is Mary Roach. Thanks. Bye.
Copyright © 2020 New York Public Radio. All rights reserved. Visit our website terms of use at www.wnyc.org for further information.
New York Public Radio transcripts are created on a rush deadline, often by contractors. This text may not be in its final form and may be updated or revised in the future. Accuracy and availability may vary. The authoritative record of New York Public Radio's programming is the audio record.