Radiolab Presents: Anna in Somalia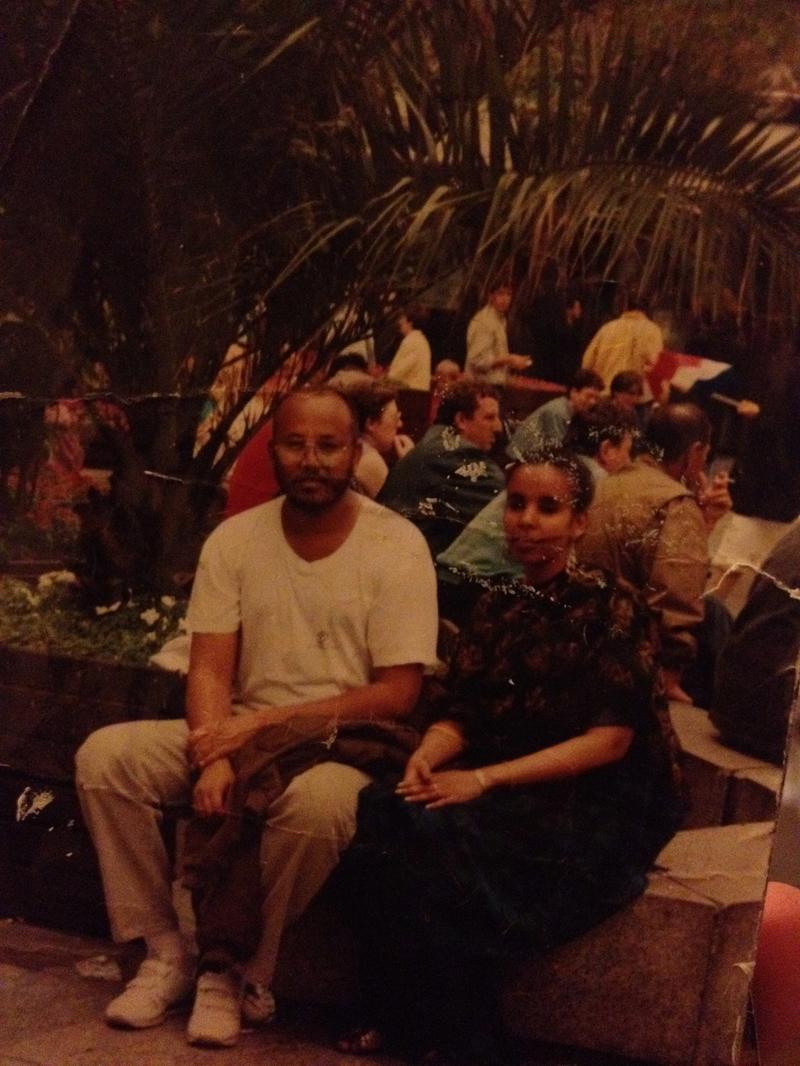 Transcript
Jad:
Okay, before we get going today, uh, just a quick prompt. So we're putting together a show of questions, questions that listeners have asked us over the years. We tend to get a lot of questions of people being like, "Why-
Robert:
Mm-hmm (affirmative)."Why doesn't the big cloud up there fall down? I mean, it's full of water."
Jad:
... Right.
Robert:
Yeah.
Jad:
Various kinds of questions, and so we're collecting all of these questions, and we're gonna do a show where we're trying to answer as many as we can. So if you have a question...
Robert:
It doesn't matter how dumb or how sophisticated.
Jad:
Any kind of question, email us at questions@Radiolab.org. Again, that's questions@Radiolab.org. You can also text us the word, "questions," at 701-01.
Robert:
Why do I always have more wire hangers in my closet and never enough socks?
Jad:
Hmm, that might be one that we would at least read.
Robert:
(laughs)
Jad:
(laughs) Okay, let's get on with the show.
Robert:
Oh, wait, you're lis- ...
Speaker 3:
Okay?
Jad:
All right.
Speaker 3:
Okay?
Jad:
All right.
Speaker 3:
You're lis- ...
Jad:
... listening to-
Speaker 3:
Radiolab.
Speaker 4:
Radiolab.
Speaker 3:
From...
Speaker 5:
WNYC.
Speaker 3:
C?
Speaker 5:
Yeah
Jad:
Hello, I'm Jad Abumrad.
Robert:
I'm Robert Krulwich.
Jad:
This is Radiolab, and today we have a story from a long time contributor of ours, uh, who's up to something new these days. Uh Gregory Warner.
Robert:
Yes, if you've listened to this program, you know his work because he's been on our show so many times.
Jad:
He brought us stories from upstate New York about faith healers, this was 12 years ago. Then a story from Afghanistan about the "Afghan Elvis." Couple of stories from Kenya, one from Ethiopia.
Robert:
And explored a cure to alcoholism by some quack in Moscow.
Jad:
(Laughs).
Robert:
In other words he's like all over the place.
Jad:
Yeah. He's a foreign correspondent for National Public radio. And recently NPR decided to give him his own podcast, it's called Rough Translation and it's killer.
Robert:
But we're gonna just begin today with sampling one of his new pieces. It again takes us to a peculiar place with an improbable result.
Jad:
Yeah.
Robert:
Here's Gregg Warner.
Greg:
The six months before Mohamed went to prison were the best six months of his life. He'd landed this great job managing a Pepsi plant, and he'd found true love on his first date.
Mohamed:
We went to a small restaurant near where we lived.
Greg:
Her name was Ismahan. 20 years old, a teller at a state bank.
Mohamed:
And, anyway we were talking and shyly of course you know, she was very shy and, and we realized that we wanted to get married.
Jad:
That's it? Love at first sight?
Mohamed:
Yeah, in a sense yeah.
Greg:
Mohamed said he was just so struck by how generous she was, smart. And they connected about everything, from the future of their country, to the music they liked. Whatever images the word Somalia calls to mind, the Somalia where Mohamed lived was in a cultural renaissance. This was 1981, it was under Communist rule. And the dictator, he was a dictator, but he was also a big fan of Somali culture and music. Music was actually a big part of how Mohammed courted Ismahan. He made her mixtapes. This was the '80s.
Mohamed:
She was into songs and stuff like that, yeah.
Jad:
Did you sing, or did she sing?
Mohamed:
Oh she's a better singer.
Jad:
(Laughs).
Greg:
So, a few months after Mohamed and Ismahan got married, Mohamed got a phone call from the director of the local public hospital.
Mohamed:
Would you please help me bring some, uh, donations from the communities?
Greg:
He was desperate for donations.
Mohamed:
For medicine and, and for bedding in fact.
Greg:
That music loving dictator, his name was Siad Barre, he'd cut off supplies to the hospital in retaliation for an independence movement in the region. The doctor had been calling all his friends in secret.
Mohamed:
Yeah we were talking all the time.
Greg:
Saying, you know, you work for Pepsi, you have connections, you know people. Can we raise the money discretely ourselves. But Mohamed wanted to go big.
Mohamed:
I suppose maybe I wanted to share my happiness (laughs).
Jad:
What do you mean by share your happiness?
Mohamed:
You know contribute, 'cause there are other people who are less fortunate than us.
Greg:
Mohammed was in that stage of new love, when you just kind of think the world is full of good feeling and if everybody knew what was going on, they would do the right thing. And he takes this bold and pretty risky move. He writes a letter.
Mohamed:
Some kind of, uh, newsletter.
Greg:
About the hospital conditions.
Mohamed:
Yes. And telling the conditions of the country.
Greg:
Essentially implying that the dictator is not doing right by us, and we gotta step up ourselves. Couple of weeks later, Mohamed and Ismahan heard a knock on their door in the middle of the night.
Mohamed:
National Security people. They don't have no warrant or anything like that. They just said we need to take him, and I could see her... my wife and... I couldn't actually remember in her eyes.
Jad:
What was in her eyes?
Mohamed:
You know, love.. and also terror.
Greg:
Mohamed is accused of treason and sentenced to life in solitary confinement.
Mohamed:
Blindfolded, handcuffed and sent to a, a cell.
Greg:
And this is where the story really begins. Mohamed's cell is tiny, maybe six feet by six feet, concrete walls, hole in the floor for a toilet. And a window high up that lets in just a little bit of light.
Mohamed:
It's very dark, and cockroach come from the toilet.
Jad:
Cockroaches?
Mohamed:
Cockroach, and they will fly off the wall towards you, and excrement with their feet. So you-
Jad:
On the, on their feet would be excrement from the toilet?
Mohamed:
Yeah. Yes, yes.
Greg:
After the cockroaches come the rats, the mice, and the mosquitoes.
Mohamed:
The noise of the mosquitoes... like an engine, you know, jet engine.
Greg:
But even worse than that sound... is the buzzing in his own mind. Because in this prison there is one rule.
Mohamed:
It was strictly forbidden to talk to your neighbors.
Greg:
He is forbidden to speak to the other inmates.
Mohamed:
So you walk forward and backward... back-
Jad:
Pacing back and forth?
Mohamed:
And this is a... it's a tiny place too. Walk back and forth in short steps.
Jad:
So like three short steps forward, three short steps backward, three short steps forward?
Mohamed:
Yes.
Greg:
So that is his life now.
Greg:
Until one day... he hears a knock on the wall. And that knock becomes words from another time and another place.
Mohamed:
All happy families are alike. Each unhappy family is unhappy in its own way.
Greg:
This is Rough Translation. The show from NPR bringing you-[crosstalk 00:07:03].
Jad:
Hey Greg are you there?
Greg:
Yeah. Hey guys.
Jad:
Hey. Also do you want to just tell us what Rough Translation is?
Greg:
Yeah. So I've been, uh, been making a podcast this year (laughs).
Jad:
(Laughs).
Greg:
Um, basically the idea is that in every episode we follow a conversation we're having in the United States, hear how that's playing out in a different place. One episode we might hear about how fake news is playing out in Ukraine, which has been getting fake news for longer and in higher doses than anything Americans can imagine.
Greg:
We're hearing about a trend that's happening more and more now where Chinese women are hiring American surrogates to have their babies.
Greg:
So, basically, every episode we're trying to do the same thing. Just sort of see something we haven't-
Robert:
See what the other folks see.
Greg:
Yeah.
Robert:
Which is not like what we see.
Greg:
Yeah.
Jad:
And I guess in this one we have a guy, uh, locked away in a Somali prison. Should we just hit play and see what happens.
Greg:
Yeah.
Robert:
Yeah.
Greg:
Rough Translation.
Greg:
It's eight months into Mohamed's prison sentence and he's in a cell, as always, he's alone. Not quite though.
Mohamed:
There were so many different types of ants as well.
Jad:
Ants?
Mohamed:
Ants, yeah. Tiny ones really. Just like watching a film, great film.
Jad:
(Laughs).
Mohamed:
They were... they look around for food. The way they treat each other... when you give them time it's another world. I would have loved to go see at their hill there, their holes, the where they were staying. But I couldn't because it was all concrete.
Greg:
And then, one evening when the guard is at the other end of the line of cells, just out of earshot, the guy in the cell next to Mohamed whispers.
Mohamed:
Through the door saying learn A B C through the wall, learn A B C through the wall.
Jad:
Learn A B C-
Mohamed:
Through the wall.
Jad:
That's what he remembers and, and, and does that make any sense to Mohamed?
Greg:
It makes zero sense.
Mohamed:
(Laughs). I look at the wall between us so... but then-
Greg:
(Laughs)
Mohamed:
... but then he knocked on the wall... he did this...
Greg:
And when Mohamed leaned over to the wall, he could hear this sound.
Mohamed:
That's sharp.
Greg:
So you have a sharp sound and a kind of more dull sound. And with those two sounds it immediately clicks. Oh, this is the alphabet.
Jad:
Oh, so the guy's saying, learn this code.
Greg:
Yeah this code.
Mohamed:
So yes, I understand now. And he starts this A B C D E F.
Greg:
First in alphabet and then words.
Jad:
And what, what was the first sentence that you heard?
Mohamed:
Nabadda, which means peace in Somali. And it means how are you, also, yeah. Nabadda. I could repeat that word all the... all that day (laughs) without doing anything else.
Greg:
And so Mohamed can now spend most of the day tapping back and forth to talk with the guy in the next cell about politics, to share a childhood memory. But at night when he can't sleep, he turns again to the concrete. And then again and again.
Mohamed:
I was only sleeping few, maybe half an hour, then wake up in half an hour.
Greg:
Mohamed would wake up from a nightmare, sweaty and in a panic.
Mohamed:
I miss my sleep.
Greg:
"Are you awake?" He'd tap?
Mohamed:
I can't sleep.
Greg:
I need to talk.
Mohamed:
When I tried to sleep, when I'm falling asleep, sitting in my heart, face... so fast. So I was thinking there was days that... this is the smell of death.
Jad:
What is the smell of death?
Mohamed:
I think fear.
Greg:
Mohamed had a lot of fearful thoughts in that prison cell, especially about his wife.
Mohamed:
I, I could not imagine how she is, because there are no news from, from the world, from the outside world. It's really difficult to imagine where she is. Even whether she's alive.
Greg:
And there was a meaner thought as well.
Mohamed:
The government was encouraging wives to divorce their husbands.
Jad:
The government were saying you should divorce?
Mohamed:
Yes, because they are traitors these people who are in prison. They even... some sheikhs found Quranic verses to support that.
Greg:
Divorce in Somali society, in Islam is usually the husband's exclusive right. But there are these Quranic verses that can allow a wife to choose to divorce her husband if the husband's absent for some time. And sheikhs loyal to the dictator, use those verses to pressure the wives of political prisoners.
Mohamed:
Quite a number of people were divorced from their wives. I was thinking sometimes that she could.
Greg:
She was only 20 years old. They had only been married for three months and he was sentenced to life.
Mohamed:
You think she's probably enjoying herself. She's living her life. And I am in this place.
Greg:
At first, it's just a little twinge of resentment, and then the feeling comes back stronger and sharper. He thinks she should be visiting me, but wait, she can't visit me.
Mohamed:
Nobody can visit this prison. Nobody can get in touch. And still, you blame her for not getting in touch with you.
Jad:
And, and what do you think about her in those moments when you're blaming her for not, uh, visiting you?
Mohamed:
I [inaudible 00:12:25] very far from love. He probably hate her that particular time.
Greg:
Every time that Mohamed had tapped one of these dark thoughts onto the wall, someone was listening and the someone on the other side of the wall was a doctor, doctor Adan Abokor is also an inmate in this prison. And as the doctor is listening to these taps on the wall. He's also diagnosing them.
Mohamed:
Acute anxiety. He was telling me the symptoms through the wall.
Greg:
I should tell you that doctor Adan and Mohamed were actually friends before prison.
Mohamed:
Yeah, yeah.
Greg:
The doctor was the director of the public hospital. The one who'd called him up and asked him for donations. He did not ask Mohamed to write that letter complaining about the hospital conditions.
Mohamed:
Because there were no press allowed, no newspapers, no free press. And that's the moment the government decided that they should do something about us.
Greg:
But if the doctor blamed Mohamed for writing the letter that got them both thrown in prison, he didn't show it. Every time that Mohamed knocked, whatever the hour, the doctor would knock back.
Mohamed:
He used to have these nightmares so he jumps. He has a nightmare and then he knocks on the wall again. So I have to wake up and then again start conversation, you know, so that he can fall asleep again. Just like a baby, you know, taking a baby to, to bed and making you fall asleep, you know.
Greg:
If doctor Adan seems fairly unsentimental about some of the more dramatic aspects of Mohamed's life.
Mohamed:
Just like a baby you know-
Greg:
It's partly that these two men are such different personalities. While Mohamed described that nighttime arrest as a moment of shock and terror. Doctor Adan seems to have met those same secret police with a bag packed and ready for prison. A bag of clothes and lots and lots of books.
Mohamed:
Huh?
Jad:
Why books?
Mohamed:
Books is the best friend in, in a prison.
Jad:
And then when you go to the prison it was taken away, the bag was-
Mohamed:
Everything was taken away. Even our glasses were taken away. And so-
Jad:
Tell me about the day you learned the language. Learned the knocking language.
Mohamed:
Well, it was the most exciting day in our life... it was the most exciting and we couldn't sleep.
Jad:
Wait so Greg, let me ask this, this knocking, this was something that they, they all were doing together?
Mohamed:
Yeah. There was a particular line of eight prisoners, so these eight prisoners. There was a particular guy in the, in the middle there who had once heard of Morse code, and just lying there in prison one day thought, "Hey, what if I invent a language and we can talk?"
Robert:
Oh, so this was actually a homespun, uh-
Greg:
Yeah, he did not know Morse code-
Robert:
Oh.
Greg:
... just knew of it.
Robert:
And the guards couldn't hear that. That was, that was their own little-
Greg:
Right. I mean, literally, they could... this was kind of the magic of it. They could be just tapping on the wall. They could be having a whole conversation, and the guard would have no idea what they were saying.
Mohamed:
We started practicing it the whole day and the whole night. And if there is a joke, and somebody laughs, everybody stops knocking on the wall and asking that friend, "What's that joke about?" And that, that guy starts sending the message, the joke. And it goes-
Greg:
It could take an hour to send a tiny joke from one cell to the next cell to the next. There were eight of them in this prison.
Mohamed:
The, the guards. Of course they don't know that we are knocking on the wall, because they can't hear. And then when they see us all laughing, they just say "Oh these guys, these guys are also losing their sanity."
Greg:
Meanwhile, on the other side of the wall, Mohamed really was worried that his mind was slipping.
Mohamed:
I was frightened of going to a certain area in my mind, when I would commit suicide without knowing. Without wanting to.
Jad:
Is it almost like, uh, the fear of going crazy-
Greg:
Yes.
Mohamed:
Yes.
Jad:
... was making you crazier?
Mohamed:
Yes the fear, the fear was there. You could, you can imagine people who are crazy, and you could imagine that maybe going crazy was the point of no return. So you're frightened of that.
Greg:
While the doctor on his side of the wall.
Mohamed:
And I was trying to counsel him and explained to him through the wall that he's not going to go mad and that he's not going to die. But you can't counsel a person through a wall.
Greg:
Months go by. Then a whole year, finally it's two years into their prison sentence and something happens. Dr Adan is summoned to the office of the warden to get a change of clothes.
Mohamed:
The room was empty and there was a bench. And they ask you to sit on the bench and then he asked, he asked one of the guards to go and bring your bag.
Jad:
Just the whole bag with all your clothes, your books, everything?
Mohamed:
Yeah. And then he, you open, you open that bag and then he tells you to choose something for you to wear. And you don't choose anything else.
Jad:
He says don't choose anything else?
Mohamed:
No. That was the regulations.
Greg:
The doctor is getting his first change of clothes since he arrived in prison.
Jad:
So then you showed back two years later to choose your next tee shirt?
Mohamed:
Yes.
Greg:
But then the doctor turns to the warden. He looks him right in the eye.
Mohamed:
"Can I have one book?" I said, that's all. Even I did not expect that he would agree to give me. So I would just, I just try it, you know? And he said, "Yes, you can, but choose one of your books." So then I started thinking of the, of the biggest book I can take with me.
Greg:
A few minutes later, the doctor is walking back to his cell with the fattest book in his bag under his arm. You can picture him fantasizing about just getting to lie down and read. But when he returns to his cell... there's that sound at the wall.
Mohamed:
It occurred To me, the thought that, why don't I read this before him to the wall, and distract the negative thoughts.
Greg:
Meanwhile, Mohamed on his side of the wall hears a new set of taps.
Mohamed:
I've a book, a book and I'll read it to you, chapter by chapter. It's Anna Karenina.
Jad:
Anna Karenina.
Mohamed:
Uh-huh (affirmative).
Greg:
Anna Karenina, the famous novel by Leo Tolstoy. Published in 1878. The English translation that they're using is 800 pages, 350,000 words, nearly 2 million letters. Each letter, a set of taps. So the doctor prepares himself.
Mohamed:
So, to start, I took piece of my bed sheet, and I put it around, around my wrist.
Greg:
Like he's prepping for a medical procedure, wrapping the sheet around his wrist and knuckle.
Mohamed:
Because it will, it will damage my wrist if I continued like that. So then I started knocking and he started listening.
Elif:
All happy families are alike. Each unhappy family is unhappy in its own way. Everything was in confusion in the Oblonsky's house. The wife had discovered that the husband was carrying on-
Greg:
The effect that those taps in that book had on Mohamed's mind is after the break.
Speaker 8:
This is Michael [Burrows 00:19:28] from Portland, Oregon. Radiolab is supported in part by the Alfred P Sloan foundation enhancing public understanding of science and technology in the modern world. More information about Sloan at www.sloan.org.
Speaker 9:
Hello, it's Ilya Marritz, cohost of Trump inc. Donald Trump is the only recent president to not release his tax returns. The only president you can pay directly by booking a room at his hotel. He shreds rules, sometimes literally.
Speaker 10:
He didn't care what records was, he tore up memos or things and just threw them in the trash. So it took somebody from the White House staff to tell them like, look, you can't do that.
Speaker 9:
Trump inc, an open investigation into the business of Trump from ProPublica and WNYC. Subscribe wherever you get your podcasts.
Jad:
Okay, we're back. This is Radiolab.
Robert:
And we now return to the tale told by Gregory Warner from his new podcast.
Jad:
Rough Translation.
Greg:
The day that the novel Ana Karenina entered their lives marked a new phase for Mohamed and the doctor. Each morning, dr Adan would carefully wrap his hand and open the novel. Mohamed on his side of the wall would listen.
Elif:
When he was stressed, Stepan Arkadyevitch sprinkled some scent on himself-
Mohamed:
Although it was only knocking, it brought the whole story to me.
Elif:
-pocket book matches and watch with its double chain and seals, and shaking out his handkerchief, feeling himself clean, fragrant, healthy and physically at ease, in spite of his unhappiness. He walked with a slight swing on each leg into the dining room where coffee was already-
Greg:
If it's been a while since you cracked open Anna Karenina, here's what you need to know. Anna is a noble woman in 19th century Russia. She's married to a man much older than herself. She goes to a ball in a black velvet dress lined with lace and falls in love with a soldier, Count Vronsky. He's kind of a rich boy, careless in love. Mohamed immediately hates him.
Mohamed:
He's also in uniform, and I was hating anything in uniform. Actually (laughs), this is very important yeah, yeah. I mean I do feel that-
Jad:
Right, he's in the military and you were in a military prison.
Mohamed:
Yeah, it was a military prison, definitely.
Jad:
So you really didn't like Vronsky?
Mohamed:
No (laughs).
Greg:
So anyway, the soldier Vronsky, he steals Anna's heart, he gets her pregnant even though she's still married to the other guy. And then Anna makes a choice. That really changes everything because instead of having a secret affair, like all the others in her social set, she makes her love public. She leaves her husband, and society, the Russian nobility, cut her off. They isolate her.
Greg:
Vronsky is a man, so he's pretty much able to go on with his life as before. But Anna is realizing how alone she is. She's staying in a room wondering what Vronsky's up to when he's not with her.
Mohamed:
Okay.
Greg:
Just the same as Mohamed was wondering what his wife was doing outside the prison walls. Mohamed reads me this one sentence from the book.
Mohamed:
If in love with her... sorry, if, if in love with her, he would understand all the difficulty of her situation, and he would rescue her from it.
Jad:
If he loved her, he would rescue her from her situation.
Jad:
It's interesting because Anna is trapped by views about women and maybe desire, but you are trapped by real walls.
Mohamed:
Yes, yeah.
Greg:
He says it didn't matter how different their lives seemed on the outside. Inside-
Mohamed:
She was suffering all the time.
Greg:
He felt exactly like Anna. He also was jealous, crazily jealous, and also hating himself for being jealous. And all of a sudden he meets this fictional character who is suffering in exactly the same way. And this suffering is driving her into a state that Mohamed most feared for himself.
Mohamed:
Going to a certain area in my mind when I would commit suicide without knowing, without wanting to.
Greg:
So it's now 750 pages into the book and two months have passed since the doctor first started tapping the book letter by letter.
Greg:
Anna and Vronsky are now living in Moscow and it's summer, so it's hot and suffocating. And on this particular day Vronsky is off visiting his mom, which Anna hates because she thinks she's trying to set him up with a young princess. And Anna's in the state of mind where she both thinks that she's a burden to Vronsky and she thinks he'd be better off without her, but also she wants him to suffer her absence, the way she's suffering. It's in this state that Anna finds herself walking down a train platform. The train is hurtling down the tracks and this thought possesses her.
Elif:
She knew what she had to do. With a rapid, light step, she went down the steps that led from the tank to the rails and stopped quite near the approaching train.
Greg:
As Mohamed is listening to this and he's thinking about what she's about to do.
Mohamed:
I really cried, I felt for her.
Greg:
But he realizes his tears are not just for Anna.
Mohamed:
That's when I remembered my wife, and-
Greg:
He's remembering Ismahan, his wife.
Mohamed:
Anna you see she's suffering and... yes the books, the one that brought me back to think about her a lot.
Greg:
And he finds himself asking a question that in two years in prison, he has not asked himself before.
Mohamed:
Did I do Well, in those few months we were together?
Greg:
Had he been a good husband?
Mohamed:
Yeah. Did I treat her as she deserve?
Greg:
And instead of thinking she's left him and also hating himself for thinking that she's left him, he's thinking, why did he take himself away from her by writing that stupid newsletter?
Mohamed:
Maybe we could have done it in a different way.
Greg:
That letter that got them all thrown in prison.
Mohamed:
Maybe we could have talked to them.
Greg:
And putting himself in his wife's shoes like that. It kind of took him out of his own misery. He could think a thought like-
Mohamed:
She suffered worse than me because I was only in person, but she was in the outside world.
Greg:
He goes from self-pity, to pity for her.
Elif:
Oh, I think that's related to the book. Tolstoy's fame... actually famous for that. That's like his magic, crazy talent.
Jad:
Can you say more about that magic, crazy talent 'cause like when I was re-reading...
Jad:
I told Elif Batuman about Mohamed's story. You've heard her reading the Tolstoy passages for us. She's also a writer, novelist herself, and totally obsessed with Anna Karenina.
Elif:
I like it a lot (laughs).
Greg:
When I told her about Mohamed's experience, she had this idea about why that book in particular might have helped Mohamed make this mental leap from hating his wife to imagining everything through her eyes.
Elif:
Tolstoy gives a lot of weight to, to all of the characters, like even to just like a newly wed young girl. You spend a lot of time in her thoughts, and there's like a scene where she's trying to eat a mushroom on a plate, and it keeps slipping from under her fork.
Mohamed:
Trying in vain to spear a disobedient, slippery mushroom with her fork, and shaking the lace through which her arm showed white.
Elif:
it's a book that takes the subjectivity of young women seriously and not just young women. Everyone, the servants and the dog. There's a hunting scene in this that's, um, actually goes to the perspective of the dog and, and everything just seems so true. You read that and you're like, that's definitely what that dog was thinking.
Greg:
And so she says the experience of reading Tolstoy is the experience of being constantly confronted with-
Elif:
How differently the same thing can look from a slightly different perspective. Like he's just, he never gets bored of showing that.
Greg:
And in the book, the characters themselves actually-
Elif:
Judge each other and then are able to expand that and to see each other a little bit more generously.
Greg:
That's what Elif thinks that Tolstoy's book gave to Mohamed.
Mohamed:
It definitely helped, did that, it definitely, definitely. In a place like, like that prison people become very selfish and you think everybody has forgotten about me, at the beginning, forgotten about me. So, and nobody cares about me, like that. But when you think about other people's situation, then you, you understand. It helped me survive. It helped me even sleep better.
Greg:
Tolstoy actually had one more role to play in Mohamed's life. Eight years after his arrest, the Somali political winds had shifted, and the dictator was trying to appease his enemies. Mohamed and the others were suddenly released. He discovered his region of Somalia was flattened by civil war, but Mohamed also discovered something else. His wife, Ismahan, she was still his wife. She had not given up on him.
Greg:
And she had suffered in his absence. Working at the state bank, she'd been pressured by her boss to divorce the traitor Mohamed. When she refused, she was relocated, and by the time Mohamed was released, she was living in a refugee camp in Germany. She couldn't even make it back to Somalia to see him.
Mohamed:
So I wait another, uh, that was four... another, say about 10 months, I think it's to, to see each other.
Jad:
Finally, they figure out a way that they can reunite in a neighboring country. And though it's been almost a decade since they've seen each other, he recognized her immediately from a distance. And as they drew closer, Ismahan opens her arms to give her husband a hug, and he reaches out and all that he could do in that moment is shake her hand.
Mohamed:
Yeah. Why do I not feel as I felt even, even in prison, I was feeling so much in love with her, and yet when we met, it wasn't the same.
Jad:
She was like a...?
Mohamed:
You know as, as a stranger, something like that.
Jad:
Wow.
Mohamed:
I mean, I was asking myself why are you not as in love with her as before?
Jad:
Now this was a moment that we found really interesting and uh, you know, as we were talking about it with Greg-
Greg:
Oh no, no, no-
Jad:
... in the studio. Greg said that it was really in this moment, this period of doubt.
Elif:
He was overcome by a momentary doubt of the possibility of setting up that new life he had dreamed of on the way.
Jad:
That the book came back to Mohamed again. Except this time he didn't think of the main character Anna Karenina. He thought of a different character in the book. A guy by the name of Levin. This is a character who is, uh, also in love, also has like strong emotions and like Mohamed in that one moment with his wife, Levin spends the entire book just racked by doubts-
Elif:
Doubts.
Jad:
... about everything.
Elif:
An internal dissatisfaction with yourself. Vain attempts to improve and failures, and then internal expectation of the happiness-
Jad:
And standing there with his wife, just weirded out by his own lack of feeling. Mohamed had two thoughts like, "Oh, I'm like levin in this moment," and "What happens to Levin at the end?"
Greg:
And what's really cool about Levin's conclusion at the end of the book is he finally just decides like, I'm not gonna worry about how weird my feelings are. Like he doesn't actually come, he doesn't make himself whole as he wants to be. He wants to... the whole book, He wants to be, um, fully in love with Kitty and not just with his heart, but with his mind, his soul, and he wants to be a good Christian and everything has to sort of make sense to him.
Greg:
But you know, but he's just a complicated sort of guy and, and he's got many different feelings. But at the end of the book, he kind of feels like, you know, I'm going to stop just thinking obsessively about how awkward I am in this situation and I'm just gonna do what I'm supposed to. I'm gonna be the dad. I'm gonna be the husband.
Greg:
And Mohamed thought to himself, uh, like maybe I need to do that too, because like, who knows where I'm at right now. I was in a cell for eight years.
Mohamed:
In the prison. In a way, you are not living. You are still inside yourself. You are not... you have to open.
Jad:
And he figured like opening back up, is probably gonna take some time and some work.
Mohamed:
We had to learn to love each other again.
Jad:
And that he says, is what they did.
Mohamed:
Uh, Tolstoy had a lot to do with it.
Jad:
You, you think Tolstoy helped you fall in love again?
Mohamed:
Yeah. I mean, I mean the meaning of love, you know, it wasn't so easy to become in love again. Ismahan has been experience and she was living her real life. It's difficult for people to, probably, to live with someone who has been in solitary confinement for so long. I was probably very difficult to live with at that particular time.
Jad:
And you're saying that knowing that you are hard to live with knowing-
Mohamed:
Yes, yes it made it easier for us to talk to each other. To, uh, live, to learn to live with, with each other.
Jad:
Because you knew that your heart was not-
Mohamed:
Yes, yes, yes.
Jad:
... quite working yet.
Mohamed:
Yeah.
Mohamed:
I should build a monument for that book (laughs).
Greg:
(Laughs).
Greg:
Hey, one last thing. There is someone else to give credit to here. Besides that great Russian author. Every detail that Tolstoy wrote into that book, every perspective shift that helped Mohamed escape his prison cell. All those sentences had to be tapped out on a concrete wall by a friend.
Mohamed:
Yeah, I couldn't imagine him, you know, getting tired because he was hard working... really working hard.
Greg:
Doctor Adan said that Mohamed was his last patient. After their release, he was just too out of practice to return to medicine, and after prison the doctor did try to read the novel, Anna Karenina, again.
Mohamed:
I went to a book show, but when I tried to read it, I couldn't read it.
Greg:
Too many bad memories. But he knew someone who could use it.
Mohamed:
Somebody, a friend, who was in prison, here in a Somalia, a journalist, a friend; and I took that book to him. And, uh, I told him that's the best thing... best present you can have in a prison is a book.
Jad:
Greg Warner, Thank you guys. You want to check out more episodes of Rough Translation. We'll link you to it at radiolab.org or you can go to npr.org/rough translation.
Jad:
This episode of Rough Translation was edited by Marianne McEwen and was produced by Jess [Jang 00:34:04]. Uh, thank you to Elizabeth [Cengiz-Spackman 00:34:06] who introduced Greg to dr Adan. She interviewed doctor Adan at the Hargeisa international book fair in Somaliland.
Jad:
The Rough Translation team had editorial help from Jacob Goldstein, Noel King, Nick fountain, Robert Smith, Brian [Ostett 00:34:18], Luke [Okowski 00:34:19] and Sanna [Krazkow 00:34:20]. Elif Bautman is the author of The Possessed: Adventures with Russian books and the People Who Read Them. Her new novel is The Idiot.
Jad:
Theme music by John Ellis. More music from Blue Dot sessions and our Dylan Keefe threw in some music as well.
Jad:
Uh, all right, well we should go. I'm Jad Abumrad.
Robert:
I'm Robert Krulwich and thank you very much for listening.
Speaker 11:
This is Susanna calling from sunny Beirut in Lebanon. Radiolab was created by Jad Abumrad and is produced by Soren Wheeler. Dylan Keefe is our director of sound design. Our staff includes Simon Adler, Rachael Cusick, David Gebel, Bethel Habte, Tracie Hunte, Matt Kielty Robert Krulwich, Annie McEwen, Latif Nasser, Melissa O'Donnell, Arianne Wack, and Molly Webster. With help from Amanda [inaudible 00:35:04], Shima Oliaee, Nigar Fatali, Phoebe Wang, and Katie Ferguson. Our fact checker is Michelle Harris.
Copyright © 2019 New York Public Radio. All rights reserved. Visit our website terms of use at www.wnyc.org for further information.
New York Public Radio transcripts are created on a rush deadline, often by contractors. This text may not be in its final form and may be updated or revised in the future. Accuracy and availability may vary. The authoritative record of New York Public Radio's programming is the audio record.