The Other Latif: Bonus Episode!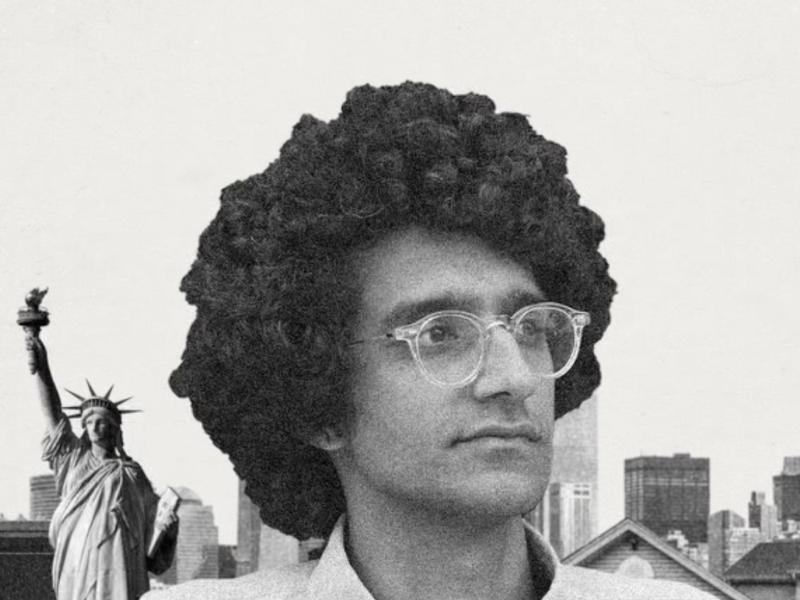 Transcript
Announcer:
Listener-supported WNYC Studios.
Speaker 4:
Wait. You're lis-
Speaker 5:
Okay.
Speaker 4:
All right.
Speaker 5:
Okay.
Speaker 4:
All right.
Speaker 5:
You're listening-
Speaker 4:
Listening-
Speaker 5:
... to radio lab.
Speaker 4:
Radio lab ...
Speaker 5:
... from-
Speaker 4:
WNYC.
Jad:
Hey everybody, it's Jad. We are hard at work on the Other Latif episode five. To tide you over, it's going to be a few more days, we wanted to give you a behind the scenes peak. It's a little bit of a making of, a little bit of a director's cut, a little bit of a glimpse into Latif's brain, that would be Our Latif.
Jad:
Throughout the whole process of making the series, very often we will sit down in the studio and just kind of brain dump to each other, as we call it. And I want to play you a little bit of one of those conversations that Latif and I had quite recently. Hope you enjoy it. The next episode of the series will be with you later this week. But yeah.
Jad:
Okay, so Latif. Here we are. We're working on episode five. It's coming out later in the week. Maybe it's a good time-
Latif:
We should say ... if I can interrupt you.
Jad:
Yeah, yeah. Go. No, no, go. Please.
Latif:
We should say, because so many people who have been reaching out to me, they think they're done. They're not done. We're making them now. We are frantically scrambling to make them.
Jad:
That's true. That is exactly why we're here in a way, because we're still in the process. But it's interesting, one of the things we kind of hoped at the beginning was that as we started telling this story, people would reach out, and that has happened. Who has contacted you in the last few?
Latif:
A lot of people. A lot of people. And that's kind of what I was secretly hoping when we decided to make it come out weekly. And just people are popping up. A bunch of former people who worked at Guantanamo Bay.
Latif:
One of the most difficult sources that I've been trying to find this whole time for years now have been other former Guantanamo detainees. And so finding one of these guys who is willing to talk, who knew Abdul Latif, and who has just talked to Abdul. It's been so difficult. And then, literally this morning, I got a DM from a guy being like, "Hey, I knew Abdul Latif. I'm willing to talk. Oh, and by the way, I know another guy who also knew Abdul Latif, and he's also willing to talk." And I literally just did an interview with him. And this interview that had been alluding me for three years, now, a few days before this thing is supposed to come out ... and I wish all of this stuff could make it in, and I know inevitably it can't. But yeah.
Jad:
Have you heard through Shelby or through anyone about Abdul Latif? Does he know that this is happening?
Latif:
So he knows that it's happening. So far, he has not heard it, but I think he's heard about it through his lawyers, Mark and Shelby. Yeah, apparently he's sort of encouraging about it. I mean, I can tell you. Do you want to see the ... Have you seen this? Here, okay. I'll just read you the email I got from Reprieve.
Jad:
Okay.
Latif:
Hi, Latif. If I thought you might like to know that Mark, who's Shelby's colleague, met Abdul Latif last week for the first time since the podcast started. Mark described the episodes in detail and said it's being listened to widely and picked up by CNN and in the New York Times. It's also, by the way, made front page news in Morocco. Abdul Latif was very happy to hear that people are listening and impressed that Christiane Amanpour wanted to hear about it on her show. He asked Mark to pass on a message to you (to me). Tell him to get his name out of Guantanamo.
Jad:
Whoa.
Latif:
Yeah.
Jad:
Whoa.
Latif:
Yeah. That's spooky.
Jad:
Yeah.
Latif:
I don't know. How does that strike you?
Jad:
There's a part of me that's like, that's not my job. I'm not a civil servant. I am not a bureaucrat. I'm a journalist. I tell the story, it's not my job to decide who's in and who's out. And that takes me the other side of me, which is that I definitely have an opinion. I have an opinion that if the US government came together and the nonpartisan career bureaucrats decided together with intelligence that I don't even have that this guy should go home, I think we should honor that, and I think that not honoring that is a crummy thing for us to do.
Latif:
Coming up, one of the stranger stories that we encountered in the series so far. This one didn't actually make the cut, but I'm going to play it for you after the break.
Marnie Campbell:
This is Marnie Campbell from the beautiful banks of Lake Washington in Seattle, Washington. Radiolab is supported in part by the Alfred P Sloan foundation, enhancing public understanding of science and technology in the modern world. More information about Sloan at www.sloan.org.
Jad:
Jad here back with Latif. One of the things that's been alternatively interesting and also deeply frustrating for us about making this series is that we have not been able to speak directly with the main character of our story. Abdul Latif Nasir is still held at Guantanamo Bay, and of course, journalists cannot speak to detainees. So all we have to go on are the files and on those files he does look suspicious at times. But it does make you kind of wonder, and Latif and I have talked about this, what does a life look on paper? I mean, have you ever wondered what your life would look like if someone tried to make a series about you based solely on what's written about you on paper?
Latif:
It's funny, because when you sign up to become a citizen, you have to tell them all the trips you have taken. And so you have to go through your life, and you have to be like, I made a trip outside the country here and outside the country there. And I go to Canada all the time to visit my family-
Jad:
Is it every single trip? Literally?
Latif:
Every single trip, yeah. Not only that, you have to list every single organization that you've been a part of. Any kind of organization, like PTA, or Homeowner's Association, whatever. You have to list everything. What you realize, even in looking over my own life, which I had to do for my citizenship application, things don't ... on paper, nobody makes sense.
Latif:
On paper, things are suspicious, because you're not inside it. You don't see the motivations people have to jump from this country to this country. Why did this person go at this time to this place? I don't know. And when you don't know, things look suspicious and I get that. And I have this fantasy of one day, Abdul Latif is going to get out, and I'm going to sit down with him, and he's going to tell me all the things I got so wrong. I'm sure there are things he'll say that are even more incriminating and I'm sure there are things that he'll say that are even less incriminating. I'm sure there are so many things that I got so wrong, because you just can't know. Human lives are just so chaotic and expansive that no amount of paper evidence of a recounting of someone's life can capture the sense of it, because sometimes there isn't even a sense of it to capture. It's just the vagaries of a life.
Jad:
If you think about the information that undergirds the world we're in now, like this sprawling, endless war on terror, right?
Latif:
Yeah.
Jad:
And you're like, where did it begin? Obviously, it began with 9/11, but really not, but let's just say 9/11. But then it's just gone, and gone, and gone, and gone, and the people who we're chasing now weren't even born on 9/11, and so it's really hard to sort of plot the cause and effect or whatever it is. But you go all the way back to the beginning, the information upon which it all sits, and one of the real revelations for me in just being a part of the team watching you report this out, is that you got back to the paper, the original paper. And then you look at what's on those papers and sometimes it's the craziest freaking thing and you're just like, "Wait, what?
Latif:
Oh, man. Yeah. Yeah, exactly. It's like, okay, so if I start with a guy, but I can't access the guy, so I can only access this file, so I start with a paper about him, and then in that paper there are a bunch of names of other people who gave other information. So then I use that to leapfrog to their papers, and then their papers, sometimes even you use that, you can leapfrog to another paper. And then eventually you find there's something in those trail of papers that you're like, "This can't be real."
Jad:
Well give me an example.
Latif:
Yeah. There was a piece of tape that fell out last week, of that section where we were talking about the informants. Because I went pretty deep on a lot of those informants, both trying to talk to them, but also just studying their stories and their stories are shocking, some of them. One of the informants who I wanted to talk about in last week's episode, but I didn't get a chance to, because there was so many things. So we talked to one of Abdul Latif's early lawyers, this guy Clive Stafford Smith. He's the guy who actually founded that law firm Reprieve who-
Jad:
Who we will hear much more from in episode five, by the way.
Latif:
Oh, that's right. That's right. Exactly right.
Latif:
So he told me the story of this guy that he says gave information about Abdul Latif Nasir. You can't make this up. So there's this guy, this guy's name is Ali Abdul Madalab Awad Hassan Altiya. Iraqi guy. So this guy ... again, one of these, Clive calls them ... I think he called them, super snitches, but let's call them government informants. So according to Clive, this guy gave evidence about Abdul Latif.
Clive:
So there was this one informant who had made a statement against Abdul Latif, and one of these guys wanted a benefit. Not only did he want to not be abused, and he wanted televisions and things, but he wanted to be released if he was willing to tell stories. And the reason he said, and this is a bit off color, but he said, "I want to be released because I have a problem. And my problem is I have a very small penis, and I want penis enhancement surgery, and I want to be taken to the United States for that to happen." And then he says in this thing, "Would you like to look?" And I'm glad to say that the American interrogator says, "No."
Clive:
Well, this is the sort of thing that was going on there, where these guys would make up stories and I think it was this particular person, who in the course of 90 minutes, an hour and a half, snitched on 92 prisoners. So more than one prisoner per minute with statements saying that they were Al Qaeda or whatever nonsense, that was used to hold these people in Guantanamo Bay for years. And I've seen so much of this, and most of it I'm not allowed to talk about, but this I can, because it's declassified.
Latif:
Wait, so he and his rationale for saying all these things about all these people was that he wanted a bigger penis?
Clive:
That was it. I mean, it's hard to believe, isn't it?
Jad:
Oh my God, I did not see that coming.
Latif:
It's so complicated, right?
Jad:
Yeah. That's horrible.
Latif:
You're like, this poor guy. You feel you have this deep seated body image problem that ... it's not my place to judge that. I don't care. You deserve medical help if you feel like you need it, but the fact that that is motivating this very dark thing, this informant to say all of these things about all of these people that has really damning ... This is not right.
Jad:
Yeah. Latif, I know you've told me this story before, but can you tell me the night of a thousand prayers story again?
Latif:
Yeah, so there's this special night in Islam called Laylat al-Qadr. It's the night of power, the holiest night for Muslims, which is supposed to be the night when the prophet Muhammad first got a revelation of the Quran. And in our sect, at least, and I think most sects do something this, what you do is that night you go to the mosque and you stay up all night. Literally they leave out coffee beans for people to eat so that they can stay up so that they can pray, because that night your prayers are more powerful than prayers on any other night. It even says this in the Quran. There's a calculus to it, which is kind of funny, that every prayer you make on Laylat al-Qadr is worth 1,000 months of prayers from any other night.
Jad:
Wow. So if you're left [crosstalk] behind.
Latif:
Which is such an absurd thing.
Jad:
If you've missed a few, then you just wait for Laylat al-Qadr.
Latif:
Totally. Totally. Right, right, right. Yeah, it's also weird, it's like you're counting blessings or something. It's funny that there should be an accounting there, that there's a number. Yeah, so people would always ... everyone, my family, everybody, we would go to the mosque, and I wanted to stay up so badly. And there was one year, I must've been in middle school, I think, and I had a test coming up, or a quiz or something, and my dad found out about it, but I was like, no, no, no. Because usually what I do is I pray all night and then I would stay home from school the next day because it was so late. And then, this one time I had this quiz and my dad told me I couldn't stay up for Laylat al-Qadr because I had to go home for the quiz to sleep, so that I could go back to school for the quiz.
Latif:
And it was a thing where I was like, I don't think you get the proportions here. This is a quiz. I'm a fifth grader and this is a quiz, versus a thousand nights of prayer. This is my soul we're talking about. I don't think you are fully comprehending how significant this is and you're forcing me to go home, you're blocking me from this chance that I'm only going to have so many of during my lifetime.
Latif:
And my dad, I don't know how he made the calculation in his brain, but my dad, I don't know, he's just this immigrant dad. He values education, he thinks it's really important, and that's a moment where he, I think, did a calculus in his head and was like, it's more important for my kid to go to school and to do this quiz.
Jad:
That's so interesting. It's almost he has to put his chips on the table in a way.
Latif:
Totally, yeah. And he would never say that. If you asked him, I don't know exactly what he'd say, but I think ... Yeah, those are two of his chief values and priorities on planet earth. His value for his faith and his value for education and his kids to get a good education. They're neck and neck. They're really up there. And it's funny, because that one moment he had to, in a way, choose between them.
Jad:
Yeah.
Latif:
And that this guy, Abdul Latif Nasir, seems to have been the flip side of that. He seems to have really wanted the same thing that I wanted, but his mom seemed to want the same thing that my dad wanted for me. Send this kid to school, let him get a good education, that's going to be something our family can be really proud of. And this guy did not ... he went to school, but it sort of crumbled for him there and he did not get that chance. That there was this moment when this guy, he could have had this opportunity to study, to build this secular life, and it sort of fell apart. And not to say that these are the only two ways that it can go, but that he then made his faith the thing that sort of anchored his identity and was the thing that he would move to other countries to try to find.
Latif:
That's it for now. The Other Latif episode five is coming your way in just a few days. In the meantime, here's a taste.
Speaker 11:
Hi everybody, welcome to Guantanamo Bay. If I could get everybody to [crosstalk].
Jad:
I really think that this place we're going, it's literally every single Muslim American's worst nightmare.
Stephanie Boyd:
Hi, I'm Stephanie Boyd, calling from Williamstown, Massachusetts. Radiolab is created by Jad Abumrad with Robert Krulwich and produced by Soren Wheeler. Dylan Keefe is our director of sound design, Suzie Lechtenberg is our executive producer. Our staff includes Simon Adler, Becca Bressler, Rachel Cusick, David Gebel, Bethel Habte, Tracie Hunt, Matt Kielty, Annie McEwen, Latif Nasser, Sarah Qari, Arianne Wack, Pat Walters and Molly Webster, with help from Shima Oliaee, W. Carrie Portana, Sarah Sandbach, Malissa O'Donnell, Chad Davis, and Russell Grant. Our fact checker is Michelle Harris.
Copyright © 2020 New York Public Radio. All rights reserved. Visit our website terms of use at www.wnyc.org for further information.

New York Public Radio transcripts are created on a rush deadline, often by contractors. This text may not be in its final form and may be updated or revised in the future. Accuracy and availability may vary. The authoritative record of New York Public Radio's programming is the audio record.