Your Estrangement Calls Answered Live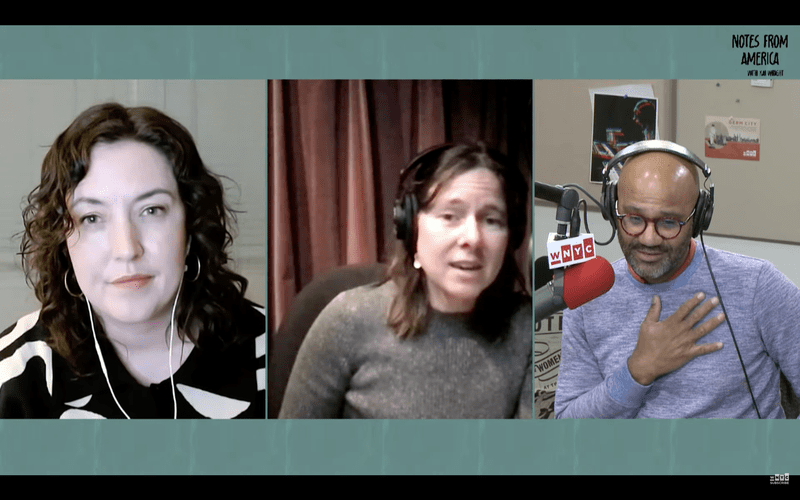 Transcript
Hey – it's Anna. This week, we're sharing something different. To continue the conversation we've been having with you about estrangement, I joined a live national call-in with our WNYC colleagues at the show, Notes From America. Host Kai Wright and I heard from listeners all around the country about how stark disagreements, particularly around politics and key values, have led to estrangement with your families, long-time friends and also…long-time romantic relationships.
Once again, what you shared with us was more honest, layered, and more unresolvable than I typically hear on radio talk shows…so thank you, as always, for joining in our conversations. I hope you enjoy this one.
Voice 1: Estrangement feels like I've lost a limb, and I'm learning how to live without it.

Voice 2: I have been estranged from my family since I was 16. I moved out and just never saw them again.

Voice 3: I responded and told him well the hubris that it takes to tell somebody how they should think has to be pretty high, and that sort of it blew it up pretty badly.

Voice 4: I had been reaching out and trying to contact her and she just just wanted to tell me that she just wanted me to stop trying to contact her

Voice 5: Because estrangement is kind of this thing that there's no public rituals for it, like people might see me and I'm high functioning, and yet I carry all that grief with me.
(Notes From America theme music plays)
Kai: It's Notes From America, I'm Kai Wright, welcome to the show. And this week we're trying something new. Those voices you just heard. Those are listeners of one of my favorite shows, death, sex, and Money, and their host Anna Sale is with me this week to invite all of us into an interesting conversation she's been having with her listeners over the past few months. Hey Anna.
Anna: Hi, Kai. Yeah. We just put out this series about estrangement on the podcast in December, and in the course of making it, we heard from hundreds and hundreds of listeners about the pain, isolation, and really the lack of public vocabulary about estrangement. And estrangement in our meaning is an experience of feeling cut off from a relationship or a community that once felt like home.
We heard from people who left relationships that felt they were no longer safe or were serving them, and people who were cut off and didn't always understand why. And Kai, one thing that really came through in our series about our listeners' experiences with estrangement of all kinds was that it's not necessarily a good or bad thing.
It can be necessary and empowering. It can also be devastating and confounding, and it can be all of that at once. And the reason I'm really interested to talk with you and the Notes from America listeners about this is I think one of the primary themes of this show is about estrangement writ large, like from each other and from the systems of American democracy.
Like every week you are asking yourselves, what values do we share and what are our non-negotiables. And when there are deal breakers, what then? What can you work with and when do you draw a line and give up? And I think that's something a lot of us in America have thought about, both in our relationships to institutions and systems, and also in our closest relationships where differences of values have flared.
Kai: Yeah, and that is the work here. And sadly, even right now as we speak, there are many places we can look and see the social fabric of this country torn in horrifying ways. And where there are real questions about whether differences can or even should be reconciled, uh, you know, and this would have been the 50th anniversary of the right to an abortion nationally. People marched in cities all over the country to protest new anti-abortion laws today that to some seemed unthinkable, not too long ago. Meanwhile also, today in Monterey Park, California, residents are grieving a mass shooting that happened at a ballroom dance venue last night on the eve of Lunar New Year. There have been 33 mass shootings this year in 2023 already, according to the gun violence archive.
But anyway, Monterey Park is famously a majority Asian American community. It's said to be the first in the country. Law enforcement officials have not publicly declared a motive for the violence or said that it, you know, has anything to do with the holiday. They've only said that it, that the lead suspect is an Asian male, but I'm not sure any of that matters when I think about just the real fear and ostracization and estrangement that so many Asian Americans have expressed over the past few years. People saying they just no longer feel safe or at home in places where they once felt at home. So these kinds of things are the unavoidable backdrop to all of our lives, and our relationships and our effort at social cohesion. Uh, and so they are also the backdrop to the conversation we are gonna have right now. And listeners, we really intend for this whole show to be driven by you and your experiences. So here is what Anna and I want to hear from you. Are you wrestling with a relationship that is really important to you, but in which there is now such a profound challenge to your values that you're not sure it's worth it anymore?
And this might be an estrangement that's because of who you are, something about your personal identity. Or it could be because of something you or someone else believes, like a particular set of ideas about faith or politics or health, or it might be something altogether different.
Who knows? And as we take your calls, we're joined by Rebecca Martinez Fitzgerald. She's a therapist based in Durham, North Carolina, who specializes in estrangement. She's been leading a group for adults who have decided they need to pull back from their relationships with their parents. Rebecca, welcome to the show.
Rebecca: Hi. It's great to be here. Thanks for having me.
Kai: So you specialize in adult children who are estranged from their parents, and we will talk to you about that specific, uh, dynamic of estrangement of parental relationships. But I know you've thought about this topic on many levels. So, uh, just what about this broader conversation that we've set up here? Is there any evidence that estrangement is somehow a more common or more acute thing today than it has been in the past in the U.S.?
Rebecca: Maybe I, I, I'm finding in the zeitgeist there seems to be a lot of, um, commentary specifically from, you know, parents who've been cut off, you know, by their adult children. Um, that this came out of nowhere, they didn't expect it, and there's a lot of stigma around estrangement, so I wouldn't be surprised if we're hearing more about it, but I think that it's always existed, um, especially when you consider a broader definition of estrangement encompassing, not only cutoff, but just the strained nature of a relationship and deciding to reduce contact, reduce exposure, reduce the amount of time or attention is spread, uh, is spent between folks. Um, I do think people are discussing mental health and boundaries and generational trauma more consistently these days. And there may be more people who are making personal boundaries, more explicit with between themselves and others, but you know, relational strain has, has existed as long as people have. I'm quite confident and unfortunately there's just not a lot of data to determine it either way.
Anna: Rebecca, do you think that the support systems for people experiencing estrangement, well, it's, it may have been maybe a timeless phenomenon, as you say. Do you think that our support systems and just way of being able to talk about this phenomenon is improving?
Rebecca: Ooh, uh, maybe improving in the fact that any of it exists. I mean, there are, there are Reddits, there are, you know, informal groups out there. You know, I, part of what was going on when I started, um, my, the support group for, for estranged adults who have, who are considering or experiencing cutoff from a parent, um, was that most of the research that I did indicated that there were lots and lots of communities for parents who have been cut off, and yet a lot of those virtual communities and even social support groups, tended to be more echo chambers around the pain and not a lot of questioning about, you know, uh, accountability, role development and, and how to potentially foster change or initiate repair in their relationship with their children.
So I saw a need, um, with regards to working with adults who are deciding to potentially set boundaries with a parent around how do you deal with the ambivalence you're feeling and how to normalize issues like shame and dealing with stigma and the fact that they're, this is just not an issue that's been talked about.
And then getting clear on what you want, what you hope for. Because, you know, once, once estrangement is on the table, it typically means that a relationship has been strained so far, that, that there isn't an assumption, uh, that the other person, uh, that the, that your feelings or experience matters to the other person. And then you're sort of deciding, am I willing to live without them anymore? And that's a pretty extreme place to get to. And yet when I, when I offered it, people came.
Kai: Yeah. Well, we're gonna take a break and then we're gonna start hearing what our listeners have to say about this. Anna Sale, host of Death, Sex, & Money has invited us all into a conversation she's been leading with her listeners about estrangement. And for the rest and for the rest of this hour, we are gonna have that conversation with you.
(Notes From America midshow theme plays)
Kai: Welcome back, this is Notes From America, and this week Anna Sale, host Death, Sex & Money has invited us into her conversation that she's been having with listeners over on her podcast, we're talking about Estrangement or to put it another way: why can't we just get along, and what happens when the answer is absolutely not. Anna and I are joined by Rebecca Martinez Fitzgerald, a therapist in Durham, North Carolina and let's start hearing from you. Let's go to, Meg in Sioux Falls, South Dakota. Meg, welcome to the show.
Meg: Hi. Um, so this is very interesting timing. Um, I actually live in Idaho and I'm just, uh, visiting back here in Sioux Falls with my father. Um, and I'm currently, um, being estranged from and with my mother and my sister. Um, so back visiting my father, but not my mother really.
Kai: And, and what is the source of your estrangement?
Meg: So, um. My father's had some strokes and he's in assisted living. My mom chose to stay in their home, supported her on that. Um, but recently she, um, took a boyfriend and moved him into her home, my father's home. So there's a man who has his clothes in my dad's closet, his car in my dad's garage, he's sleeping in my dad's bed.
Um, so morally, ethically, that's hard for me. Um, but it's a gray area because of my dad's dementia. However, this man also, um, told my mom when he started pursuing her that he wouldn't move to be with her unless he lived in the house – he's had some bad, um, investments and so he couldn't afford his own apartment, so I'm really concerned, um, about my dad's estate. I've told my mom if she wants to divorce dad and do whatever she wants with her half of the money, I'd be fully supportive of her. Um, but uh, that doesn't seem to be something she wants to do.
Anna: Oh, Meg. Um, that sounds really painful and difficult. I, I, I just have a question as far as talking with your mother or your sibling that you mentioned there.
Um, what's that been like when you've said, oh, I have some real difficulties ethically and morally with this? Is that a conversation that you feel like you've been able to have, um, honestly and candidly with one another?
Meg: No, not easily at all. Um, that's not, uh, the history of our communication style. Um, my sister, um, when he first moved in, I was very angry and my conversation with her, she just said, we're on different pages, so I won't talk to you about him at all.
Um, and that led to just a, a discontinuation. We, we tried, um, and she made some rules about what I could say or how, and I, I just said I'm not willing to have that sort of relationship. My mom and I have become very superficial. We talk about movies, books, tv, food, um, but he also has tried to ingratiate himself into my family and, um, my dad's siblings have also separated and taken a step back from my mom. So there's been a dissolution of our grander family. And, um, texts he'd sent, he's sent out, have been very hurtful trying to make it feel like he's part of our family. Um, I've told my mom I have a boundary that he shouldn't be texting me, but he has still done that.
Kai: Thank you for that, for, for sharing that story, Meg. Um, and let's take a few and then have Rebecca, um, respond to some of them. Uh, let's go to Mina in Pittsburgh. Mina, welcome to the show.
Mina: Hi. Thanks for having me. Um, so I'm calling, um, regarding actually abortion and estrangement from my partner of 10 years. Um hmm. Let's see. So I've been an ardent abortion rights advocate, um, reproductive rights advocate my whole life. I've been going to marches and being involved in the effort to keep, um, reproductive rights available to everyone for as long as I can remember.
I've been with my partner for 10 years. Um, we had an abortion within the first year. And then, so this was Pennsylvania where the stakes were high in the last election and I asked him to vote. He's a non-voter and he didn't.
Anna: Mmm.
Mina: And um, I found that out around the election, and our relationship has just crumbled since then. And I'm actually planning on breaking up with him next week.
Kai: Oh my goodness.
Mina: Because I can't get over it. Um, I can't get over that he didn't fight for the same, that he doesn't have the same values with respect to people's rights and, and the right that he enjoyed. We, neither of us ever wanted children, So, um, I don't wanna say that we, he enjoyed the right, but we both benefited from it being available to us, and yet he didn't, um, fight for it when the stakes were really high.
Kai: What do you think is like really at the core of it for you when you say, um, that, uh, it, you know, that it, that, that you've hit a values conflict that makes this relationship now impossible. Um, what is it you think that, um, really is at the core of that?
Mina: Um, at the core of it for me is a matter of equity that, um, I think that it's, that we are not seeing the, the, um, the, the fact that, that a partnership, um, that involves the possibility of pregnancy and, and burdens of all sorts should be shared. Um, and that part of the burden that we have in society is fighting for other people. Um, and he did not fight for me.
Anna: Yeah. If I may, you know, that's what I hear. I hear also this sense of betrayal that you asked him to vote that it was important to you and then he didn't, you found out later.
Mina: And that's conflicting too because you, you know, I don't want to influence anybody's vote. Um, that doesn't feel like a good thing to do, which is why I've, I've been struggling with this for now months.
Kai: Rebecca what would you say to Mina in a situation like this?
Rebecca: Well, I mean, there's, there's, I don't have, there's a lot of context that I think would be helpful to understand. I certainly hear that she's very hurt, um, and surprised. Uh, and, and I think Anna hit the nail in the head when she suggested the word betrayal. Um, it definitely seems like there was a, a rupture point when, when Mina's partner, didn't end up voting, and then it sounds like the two of them have not been connecting in their conversations about what that decision meant to them and it, so whether, whether it's about the choice not to vote or the quality of their connection since he made that decision, it seems like she's feeling really, really hurt, and with Mina and Meg both, you know, it seems as though people have set a boundary but not been willing to engage further to strengthen the relationship after that point. And it makes sense to want your pain to be seen and validated, but I just wanna caution folks, you know, you may decide that, uh, that your relationship is incompatible or there are factors about the two of you that are incompatible, and that may be grounds enough to end it, but it hurts to cut off a relationship like this, too. So I would just ask folks, is this the pain that you're willing to live with after you end this relationship? I also wanna name for Meg too: That you lose influence when you step away from a relationship, it sounds like she really wants her mom to hear her, her mom's boyfriend to uh, validate her boundaries, the family to rally around her. But estrangement doesn't get you more influence, in fact, it involves losing it.
Kai: Let's go to Jeff in Brooklyn. Jeff, welcome to the show.
Jeff: Okay. So, I live in New York, but I'm originally from a city in the Midwest and I left the Midwest in my twenties and I haven't moved back since. So, but every time I go back to visit my siblings, two adult siblings, they're younger than I am, but they're adults. I'm middle-aged at this point. Um, things devolved into homophobic–I'm also a gay man. I should have said that. Things always, always to the point now where I dread going back, devolve into homophobic name calling and threats of violence, and I go back primarily to visit my mother. Uh, she's still alive, thank God, but she doesn't approve, but she's not, there's not the name calling from her and comments which I probably couldn't repeat that my siblings make about, you know, you engage in such and such sexual acts, you're disgusting, you're nasty. We should do this to, you know, X, Y, and Z to you, that kind of thing. So I've considered severing ties or just going back at all at this point. It's dreadful even to think about going because I know what's gonna happen.
Kai: Yeah. Yeah.
Jeff: And so, but you know, I want to visit my mother, but I also feel bad. Um, you know, it took a lot of years to work through the internalization of the homophobia and as I said, at this point, I'm middle age and still putting, you know, I'm not a teenager or you know, some kid. I'm a middle-aged man still having to deal with threats of violence and name calling from my own family members.
Kai: Jeff, let me, let me jump in so I can, so I can get Rebecca to respond. Um, the, because I've heard this kind of story over and over and over again. Uh, you know, I'm a gay man, I know a lot of people with this kind of relationship with their family. Rebecca, I know you work a lot with LGBT people. Um, what does Jeff's story make you think about?
Rebecca: Oh, I'm bringing, it's bringing up a whole lot of compassion, Jeff. It really sounds like you're hurting, and I'm hearing you, putting yourself out there, making yourself very vulnerable to go back to your hometown every time you do see your mother, only to have the fears and the things that you're trying to avoid being thrown in your face.
Nobody should have to subject themselves to threats, verbal abuse, degradation. You deserve to be treated with dignity and respect in all relationships and it is fully appropriate for you to set boundaries with your siblings around what you will stand for, and yet you kind of have to make a judgment call over what kind of effort you're willing to put into your connection with your mother.
It's gotta be so painful to travel all that way and to feel pressure to hide an enormous part of your identity. Now, if that's a relationship that's very important to you, you might consider whether you're going to tolerate seeing your siblings when you're visiting your mom, and if your mom will support your boundaries around keeping distance from them or, you know, deciding what you are going to do if they do bring up the name calling when they're around.
Maybe it means stepping away. Maybe it means saying, I'm not gonna come back again if you do this to me. You might wanna talk that through with your mother, or you might decide that the visits are too painful. It's definitely something to think through, and yet I can tell that this relationship with your mom's important to you, and I would hate to see you cut it off before you're ready.
Kai: Hmm, Jeff. I just thank you for sharing that. Um, I know it's hard and it's gonna stay hard, um, so I hope others listening to it can, can get something out of that as well. Let's go to George also here in Manhattan. George, welcome to the show.
George: Thanks so much for having me.
Kai: And what are you dealing with in terms of estrangement in a relationship?
George: Well, I'm in an interesting little, uh, scenario where I'm trying to broker or, uh, help to not have an estrangement happen between my mother and my sister. And, uh, both sides are a little stubborn, and a little silly. Um, and my sister is taking the approach that estrangement, you know, is the only way right now, uh, and doesn't seem to me to be like a good long-term solution.
So I'm looking for any advice you guys might have on how to, you know, play a middle man here and, and help everybody out unless that's too naive.
Kai: What is, to the degree that you're willing to share, what is the, uh, what is the source of this ongoing estrangement? Um, uh, before we ask Rebecca to chime in with, with, you know, what people do in these broker situations in general.
George: Sure. So, uh, my mother is a classic, uh, not–
Kai: I think we lost George for a moment there. So Rebecca, will, will you. Let us know for, for people who are just sort of in that broker situation, right? Like where they're trying to say, Hey, you know, I can get in the middle here, I can figure this out. My, my family can heal. Whatever the divide is. Is that something you hear a lot and you know, is it a good idea?
Rebecca: Well, uh, I mean, again, not having a lot of the specifics. I wanna say I bristled a little bit when I heard him say that his mom and sister were being a little silly. Because what I'm hearing is that the estrangement is really uncomfortable for him, which makes a lot of sense. And yet because he wants to help them broker or repair, reconnect their relationship, uh, he is unlikely to be successful if he is adding to the invalidation of the members of his family. Um, in, in any adult, in any parent child relationship, there's an inherent power dynamic. So I would question, you know, whether it might be useful sending them to a family therapist to examine whether the mother wants to be right, or does she want to be close?
Can she tap into her desire to give care and to hear her daughter's concerns? Can the daughter take that in? Is that a new foundation that can be set? Because until that happens, it's unlikely that a solid repair is going to be put in place.
Kai: This isn't exactly what George was talking about, but I know, um, you know, in Anna series, uh, in Death, Sex & Money, one of the things that was, that really stood out to me was this, um, were people who were in the process of Estranging. You know, that there's this spectrum of behavior that falls under, underneath this thing we're calling estrangement. Um, and, um, and that, that seemed like a particularly confusing place to be, and I just wonder how often that comes up and what you say to folks in those situations.
Rebecca: It comes up all the time. It comes up even in people who aren't intending to, to create like intense distance from a parent. It comes up after hurt feelings of Thanksgiving. And yet the thing about estrangement, you know, for what little research exists, it typically tends to be a temporary process and is often cyclical. Very often when a relationship is strange, so consistently and yet somebody is not willing to, or, or when the, the party is involved or not willing to do a solid, intense repair or end it altogether, what happens is it starts to get distant and then a reconnection happens and then it gets distant again.
Um, but very rarely does somebody cut off a relationship and have it end because very often, especially in these attachment relationships, it's just so painful to live with that decision forever.
Kai: Let's go to Parker in Manchester, New Hampshire. Parker, welcome to the show.
Parker: Well, as I had explained, um, to the call screener, um, I lost my partner, um, and she was my, um, dearest love, my best friend, my, um, lover for, uh, almost 35 years, and I lost her October, 2021 and, uh, part of her life for all that for, let me explain that. Uh, we, our relationship started out, um, improperly. I was married. Um, she was recently divorced.
Um, it was, uh, irresponsible. It, it, but it was also irreplaceable for both of us. We, um, were madly in love from the beginning and, um, she had a core group of friends that were, she, she called them her chosen sisters, and they were just like family to her. Um, they loved her. She loved them. Um, she shared an awful lot with them.
And for all those years, uh, I felt that they were, um, it, at the very least my friends, but mostly they were my friends because they cared for Lisa so much, and I felt that I, it was reciprocal that I was their friend because I cared for their friend Lisa as, as dearly as I did. The last three years of, uh, Lisa's life um, I was her, uh, constant caregiver. Lisa died from a combination of lymphoma as well as, uh, dementia. And when she died, uh, it was made very clear to me, um, shortly afterwards that uh, they really didn't care to have anything to do with me. And to the point where this past October, uh, 2022, uh, we finally had Lisa's memorial service and I delivered the eulogy, and in the eulogy I included, um, a lot about her, this core group of friends She had that she called her chosen sisters. And, um, not one of them approached me during that memorial service and had anything to say to me.
Anna: Oh, Parker.
Parker: And I feel very much estranged from them. They are my, uh, biggest and, and maybe my only connection, um, to Lisa, other than my own memories,
Anna: Parker, I, I hear how painful that's been for you. First, I wanna say I'm sorry for the loss of your partner. Um, I'm, I'm curious, have you, since that memorial service, have you reached out to any of these women and, and said, can we get a cup of tea? And then what do you think would happen if you did?
Parker: I don't know what would happen if I did. Um, I think, I don't know. I mean, they've, one of them made it clear she didn't want, want, really want anything to do with me. Didn't want to talk to me, is the way she, I, I think she put it. Um, and I don't really understand why. Um, there was a, a significant, uh, distancing from me with Lisa's family, her brother and her sister, um, for years. I think going back to the fact that, um, you know, I was married and having an affair with her, with their sister, and there was a mistrust. I think that lingered. And I, it almost feels like the core group of friends has chosen to, um, step into the family's camp instead of mine.
Kai: Thank you Parker. Um, Rebecca, do you have anything that you would add to Parker's?
Rebecca: I, I'm heartbroken that, that there was such a lack of support after Lisa's death. I mean, it, it makes sense to honor the boundary set by the one person who said they didn't wanna connect and from Lisa's family. That said, I think Anna's onto something when she suggests you reach out maybe to one of the friends who didn't explicitly name why she was seeking distance.
I wanna say grief and loss can be really uncomfortable for a lot of people and it can make shifting relationships really difficult to navigate. So if these are relationships that you'd still like to hold onto and they haven't told you that they absolutely do not want you in their lives, it might be worth it to check in with them and see what they think and whether they're willing to stay in touch.
It would also be a good idea if you haven't already, to seek somebody to give you some support, either bereavement counseling or a loss support group because you really deserve connection in this time.
Kai: I hope that's helpful, Parker. And again, um, we're just sorry for your loss and I have to say, boy, that there, there's some really, uh, you, you, everyone is really bringing the truth to this conversation, so I really appreciate it. Listeners, you guys are really chiming in with, with some tough stories. Uh, let's hear from Cindy in Twin Cities.
Cindy, welcome to the show.
Cindy: Good evening. Um, I will try to keep it short. Cause I'm looking at the clock. Um,
Kai: Oh, Cindy, don't you worry about that. That's my problem.
Cindy: No, no, I get it. I, one of my stepfathers was a broadcaster. I get it. Um, so. 2016 election. I voted as I had in 2012, which means I wrote a candidate in, I didn't like anybody on that ticket. My two bestest friends knew that. One of these friends I've known since college, 25 years. Just my bestest friend, I met one of her friends, uh, almost 15 years prior and we, so the three of us, I mean we had a year's long group text.
Okay. So these are the girls that got me through my divorce. I mean, just best friends, right? They knew I wasn't gonna vote how they voted. I also didn't vote for the other guy, which I got into a fight with my dad about that, but that's a conversation for another time. They flipped out. Uh, one of 'em sent her husband to verbally attack me online.
Uh, I, there has never been an apology. Uh, the one friend that I'd known for about 15 years, she's never made an attempt to reach back out. Uh, the other friend sent a text, at the time I was living in Florida, sent a text while I was in the middle of a hurricane to say, Hey, how are you doing? Are you okay? I hear those are a hurricane.
Okay? Yeah. Guess what? Priorities, you're not on it right now.
Anna: Um, you know, you know, Cindy, what I want to tell you is, is, uh, the, what you're describing these texts and the social media comments and how they are exploding long-term relationships with electronic communication. That's something we heard a lot about in our series on estrangement.
So it, it might not be a comfort, but, um, this is not a, this is not an uncommon experience from what we heard from listeners. And, and, um, again, just like I said to Parker, the thing that I always wonder is what would happen? What would happen if you made a call, uh, or had some in-person, um, conversation and, and to see if that would shift some of the dynamics.
Kai: Yeah. And Cindy will understand that we are tight on time, so I'm gonna go straight to Rebecca. Um, just quickly, I, in the, in the few seconds we have here, politics, um, getting in the way of people's relationships, what I, what, what are your parting thoughts on that?
Rebecca: Politics and religion and death and sex and money. They all, they all make us feel super reactive. Emotions run high, and yet those high intense emotions don't build relationships or strengthen relationships. It's really important to slow things down and see if there's any room for connection personally or over a phone call or something that is definitely more personal and validating than social media. If this relationship is important to you, see if they'll meet you on your level and in person.
Kai: We gotta stop there, an intense hour. Thanks to everybody for participating. Rebecca Martinez Fitzgerald is a therapist based in Durham, North Carolina. She started a group therapy series for adults estranged from their parents. And Anna Sale, thanks for inviting Notes From America into the conversation you've been having over at Death, Sex & Money. You can find Anna's whole series over at deathsexandmoney.org/estrangement.
(Notes From America closing theme plays)
That was therapist Rebecca Martinez Fitzgerald, who practices in Durham, NC… Rebecca has a special focus in her practice for people experiencing estrangement. And that was Kai Wright hosting along with me, Kai hosts Notes From America, every week. You can hear the live broadcast on Sundays on public radio stations across the country…and check them out wherever you get podcasts or on WNYC's YouTube channel, to follow what they make week in and week out. There's a link to that in our show notes. It's really a fantastic show.
Along with Kai, the Notes from America team includes: Regina de Heer, Karen Frillman, Kousha Navidar, Rahima Nasa, and Jared Paul… Matthew Marando was at the board during the live show. Lindsay Foster Wallace is a Vice President at WNYC Studios, which is the home of both Notes from America and Death Sex and Money. Zoe Azulay produced this for Death, Sex & Money, and the rest of our team is Liliana Maria Percy Ruiz, Afi Yellow-Duke, and Andrew Dunn. Baiz Hoen is our intern.
If you didn't catch our three-part series on estrangement that came out at the end of last year, find it at deathsexmoney.org/estrangement, There's a link to the series page in our show notes, and we also link to a list of resources that you helped us generate…Those of you who've experienced estrangement shared what has been helpful to you. It's something we initially shared in our newsletter…if you're not receiving that, you're missing out. Death, Sex and Money is a conversation between us and our listeners, and many of the incredible stories you share with us show up there and nowhere else. Subscribe at deathsexmoney.org/newsletter.
Again, thank you for joining in this conversation with us.
I'm Anna Sale, and this is Death, Sex & Money from WNYC.