W. Kamau Bell Wonders How Much Is Enough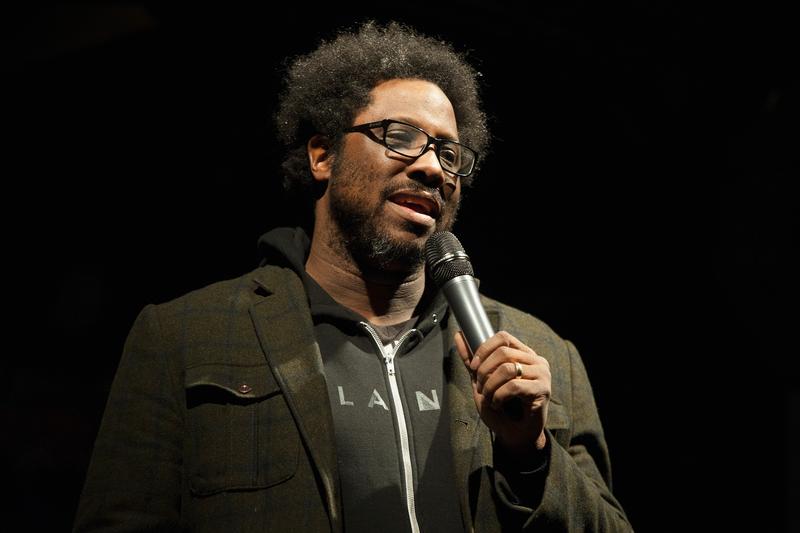 Transcript
There was a part of me at times during my life as a standup where I felt like, I think I might might complete this whole career and stay anonymous the whole time. Which feels pretty bad.
This is Death, Sex & Money.
The show from WNYC about the things we think about a lot…and need to talk about more.
I'm Anna Sale.
It took W. Kamau Bell awhile to get his footing in the comedy world.
WKB: There were times I felt like I'm doing comedy but I'm not really a comedian. If people at parties would ask me, "What do you do?" I would not want to say comedian because I had no proof. If it was possible to chop off the first half of my career and just take the second half I'd feel great about it. But I think the first half had to happen so I could get to the second half and be like, "Well I wasted a lot of time here."
His 20s came and went. It wasn't until he was in his mid-30s, when he was living in San Francisco, that things finally started to take off.
WKB: As soon as I really focused in and honed in on, I want to talk about race and racism, I want to write a one-man show about it and I don't care if I become famous or whatever I just want to do something that makes me happy, things started to happen.
Chris Rock saw that show. It was called the W. Kamau Bell Curve, "Ending Racism in About an Hour."
"America wouldn't be America without black people. I looked it up on the internet. You know how much of America's pop culture we're responsible for? All of it!"
Chris Rock teamed up with Kamau to create Totally Biased -- a late night TV variety show that poked fun at lots of things, including politics and race. It debuted in 2012, and within a year, it went from weekly to five nights a week. That didn't last though. It was cancelled two months later. Kamau and his family, who had moved to New York for the show, decided to go back to the West Coast.
WKB: We needed to center ourselves again. Like, after Totally Biased was cancelled, the only reason we moved to New York was for that show. When that show was gone, we sort of existed in this place of like, "What are our lives here?" We were living in an apartment that was rented by a guy who had a TV show, and suddenly when that guy didn't have a TV show, it was like, "We can't afford this apartment. This apartment is actually sucking the money out that we got through Totally Biased."

AS: Yeah.

WKB: So we were like, we have to go to someplace where we can breathe. And I feel like the minute we got off the plane when we moved back out here, out of the airport, it was just like…[sigh]. That's California. And it just became such a clear, like, life is hard enough…life has enough challenges, and especially with having a new kid, there are enough challenges in life without also feeling the challenge of like, "Do we belong here?"
Growing up, Kamau had a lot of different hometowns. His parents split up when he was little.
WKB: My mom moved around a lot, which is a shorthand way of saying that she was a black lady with opinions so we had to move sometimes. She was in academia, so she was working on black newspapers and at one point flirted with becoming a black Muslim during the point where that was a thing. And really was in the more outwardly militant side of things.
His dad settled in Mobile, Alabama, where Kamau spent most of his summers. He and his mom lived in a series of different cities: Indianapolis, Boston, then Chicago.
WKB: I had to start making new friends again and really resented that and I think I wanted something familiar and Alabama was familiar. So I called an audible and said I want to move in with my dad and my mom said okay even though she was heartbroken.

AS: And was it you and your dad in the house? Just the two of you?

K: No, that was the other thing. It was a pretty big change because my dad was married and my stepmom had a daughter who was a couple years younger than me. So it was going from a family where it's just me and my mom which basically at that point it's just all about, "Are you okay? I'm okay. Are you okay? I'm okay." To a nuclear family where it's like, as long as most people are okay we're fine here. I joke about that with my wife all the time because she comes from a much bigger family than I do and I feel like they really just average it out. "Are most people fine? Then we're fine."

AS: And what'd your father do in Alabama?

WKB: When I was a kid he was, what's that word? Unemployed. And then later he sort of did the thing that a lot of Americans talk about -- he lifted himself up by his bootstraps. He got a job at the bank as a teller, as probably the oldest teller in the history of a bank, in his mid-thirties. And from there he became a manager at the bank and then he started selling insurance and he worked his way up to being the vice president of an insurance company in Alabama. And then became the insurance commissioner for the state of Alabama. At this point, the guy that I remember when I was a kid is very different from the guy who he is now.

AS: And making a lot more money than when you were growing up, I imagine.

WKB: Oh absolutely, which puts people in mind that I grew up, like when they meet my dad, like I sort of grew up that way. But no, this guy came later. I did not grow up with access to this money. I mean I'm very proud of him while at the same time, feel sort of separate from that. When we have talks about money it's very clear that I grew up with a different mentality and that frustrates him.

AS: How do you describe how you grew up? What's your mentality around money?

WKB: Just that… money's great but I've never been in love with it. If I didn't have money I wouldn't really trip out about it. Whereas my dad came to a point where he was like, "If I don't have money I'm going to do everything I can to figure out how to make money." I think he took the early Tiger Woods approach, like I'm just gonna be better than everybody who's around me and that's what happened. But I just have really never been in love with money enough to do that although now that I have two kids I go, "Oh, I'm starting to see where that comes from."

AS: Huh.

WKB: I mean, you know, he came from nothing. From the nothing that black people talk about when they talk about coming from nothing. And nothing in the Deep South which is a whole new level of nothing.

AS: And the Southern Civil Rights Movement is happening around your father as he's growing up.

WKB: Yeah, it's happening around them but they don't have stories of marching. I feel like there's two different types of people in the South. The people who are like we need to get out in the streets and march and then there's people who are like we need to keep our head down and we will benefit from the marching but we also need to show up at work tomorrow. We can't take the day off. I don't think it makes them any less, uh... I think there's just multiple ways to go about freedom. I don't want to put my dad down. It's easy to put that into some sort of weird, "Well he didn't blah blah…" When I'm around my dad's crew of people, the people he's worked with, there's regularly -- mostly black people, people of color -- who sort of look at me like, your dad is the example that I look up to and I feel like that's just as worthy as everything my mom has done.

AS: Yeah. To go from being a bank teller in your mid-30s to being insurance commissioner in Alabama...

WKB: I had a joke at the time where he was the highest-ranked African American official in Alabama and the second highest worked at Kentucky Fried Chicken. That was a joke...I think. I didn't do the research. I think it was a joke.
Kamau may not have inherited his father's feelings about money…but he did get his height. His dad is 6'6" -- Kamau hit 6'4" in high school. Last year, after the deaths of Michael Brown and Eric Garner, he wrote in Vanity Fair about being a big black male -- a B.B.M., he called it. "I don't generally feel trapped by my circumstances," he wrote. "But I do feel every bit of my six-foot-four-inch, 250-pound body, and every bit of my black skin." That's something his mom taught him about about from the time he was a small black boy.
WKB: I remember a very specific time of us going to a drugstore and us walking around the drugstore. And I was probably 7, 8, 9 years old, somewhere at the age where I might leave the house by myself to go to the drugstore and buy a Cracked magazine or something. And so I think she was like, well, when you do that -- and she pointed at a guy -- she goes, that's the store detective, he will follow you around. So don't pick anything up unless you intend to buy it. Don't browse with your hands, basically. And it wasn't like, "If a store detective follows you…" She pointed at a guy who was following us at the time. And so I've gotten pretty good -- when I started going to stores by myself that's a thing that I do even to this day. I will in pick things up if I'm not gonna buy it, but I am aware of putting them down, and also putting them down sometimes in a way that is like, [sings] "I am putting this down." Whether it's on the camera or if I see somebody looking at me. [Sings] "Look at this going back where I got it from." And a thing I think about when I talk about this -- I'm aware that women, as you know, will go through that same thing, but from a different side of things. I'm thinking about, like, I don't want the cops to think I'm doing the wrong thing. Whereas I talk to my wife about it and she goes from the side of, "I don't want to end up in a bad situation because I'm not paying enough attention."

AS: Yeah.

WKB: I think a lot of this is from having these talks with my wife about this, and she's a white woman and I'm a black guy and there's a lot of overlap in the ways in which we experience the world that people wouldn't expect that we have connection over that.

AS: That's really interesting that you say that because one of the other things that you write is that, "Because I'm a big black man it's why I smile quickly, it's why I don't stand to full height, it's why I slouch and bend." And you're basically saying here are the things I do to make you feel comfortable with my presence. And as a woman I do that. I laugh at jokes that aren't funny to make men feel comfortable.

WKB: Well please stop doing that today. Please stop doing that today.

AS: All right. [Silence] You still smile quickly. It's still something that you do.

WKB: It's certainly something that I do. There's the mask you put on for the outside world and everybody does this on one level or another it's just how much do you enjoy wearing that mask is the question. And I certainly put that mask on, you know there's all these ways in which out in the world that I sort of make sure that the world knows that I'm not intending to pose a threat other than the threat that I am posing because of the body that I'm in.
That idea of Kamau posing a threat… simply because of the body he's in… hit home last February.
"New at 6, the owner of a well known cafe in Berkeley says what happened there is horrible, and he's sorry."
Kamau was meeting his wife, Melissa, who's white, at a sidewalk cafe near his home. An employee saw him approach and attempted to shoo him away. Kamau was holding a book about racism, and it was his birthday. He wrote about this on his blog afterward, and it quickly became a local news story.
"Upon learning that Bell was married to one of the women, he says the employee apologized and said she thought he was trying to sell something to the women. Bell calls it textbook racism...."
The cafe fired the employee, and in March, co-hosted a public discussion in Berkeley about race and discrimination with Kamau and his wife.
Coming up, Kamau talks about finding the balance between family and his career… something his wife has also had to juggle.
WKB: She just this past year finished her doctorate in critical dance theory. She's a modern dancer, contemporary dancer. And she has an MFA in experimental dance choreography, which means we're gonna be rich."
We are gearing up for the first anniversary of Death, Sex & Money next month -- we are so excited! Thank you for listening -- if you found the show last May or just recently. Part of the idea of this show is that all of us have moments of transition in life when we're finding our way through...and then the story keeps going. So, on the next episode, I catch up with Heidi Reinberg. She moved to New York as a young woman, and a year ago, I talked to her as she was getting ready to leave after 30 years, because she'd gotten priced out of her neighborhood.
She did leave. But now she's living two blocks from her old place in Brooklyn...with a roommate.
"My roommate is a 25-year-old so I'm sort of back where I started. When I actually came to see her and I found an internet listing, and when I actually came to meet her I was like oh my god, she's gonna think I'm Grandma Moses and is this my life when I'm in my 50s, I'm gonna be looking at roommates again?"
I've talked to a lot of people over the last year…and I want to know who else you're curious about? What guest from the show do you need an update on? Email me at deathsexmoney@wnyc.org and I'll bring you the latest about some of them over the summer.

This is Death, Sex & Money from WNYC. I'm Anna Sale.
Since Kamau's TV show, Totally Biased, was cancelled in 2013, he's stayed busy. He's taken his stand up act on tour. He co-hosts a weekly podcast with Kevin Avery, called Denzel Washington Is the Best Actor of All Time Period. And he's been trying to figure out what's next.
WKB: I want to release a comedy special because I want people who watched me on Totally Biased to know that I am a comedian independent from that show, so a big part of that is ego. But, okay, I do a comedy special -- what comes next? The thing that's always looking toward the next thing is about the fact that I have two children. A TV show is a good way to help provide for your kids if you're in the entertainment industry. If I didn't have kids and I wasn't married -- I don't know, there's a part of me that every now and again can envision myself working at Starbucks and getting health benefits and being like, eh, this is good. And sort of doing comedy as it comes across my desk. But that's not a responsible way to be a parent and I certainly take that seriously.

AS: I really appreciate the way you publically grapple with this as a working father. Like your blog post after you decided to cancel some tour dates recently, where you started by talking about the two birthday parties for 4-year-olds that you had to attend. And you have this line, "Please forgive me Kansas City, Des Moines, Omaha, Ferndale and Cincinnati. I still love you. I just love my family more."

WKB: Yeah. That was hard to write.

AS: It's scary.

WKB: When I looked at the schedule I just realized how long I was gonna be gone from home and my wife had just given birth, and I was like this is a disaster. I will come back and my kid won't have bonded with me, maybe my family will have moved or changed the locks. I can't call myself a good father and do all of these things and it's really important to me to be a good parent and good father specifically. There's things about fatherhood that I believe are important. And I feel bad because I'm not choosing it more. I'm in town today for 48 hours. I got into town yesterday at noon and I'm leaving tomorrow at noon to go back on the road and I feel like, god this sucks. And yet I can't wait to see the people in these cities. My daughter Sami knows work as being when Da-Da leaves. It happened this morning. We dropped her off at school and they let the parents hang out for a few minutes so the kids can get adjusted -- not that my daughter needs that, she's like "bye." We were looking at art on the walls and things they draw and there's this picture that my daughter drew, and she draws very representational pictures of her family so there will often be three and now four people in them. And there was one with two, and I was like who's that? And she goes, "That's me and momma." And my wife goes, "Where's da-da?" And she goes, "He's at work." Suddenly I hear "...and the cats and the cradle and the silver spoon." I feel like, there's some magic number that if I hit that magic number, where you go oh that's the money where your interest takes care of everything -- and I don't know that I will hit that number -- but if at some point I look up and go, wait, that's the number! I think my ego at that point would be like, okay, we've done enough.

AS: Are there people who you talk with about what is the actual number? Where you sit around and try to guess what it is?

WKB: Me and my my friends talk about it. And with Totally Biased, when you're on a daily talk show like that, the finances change so dramatically. But when you're only in that for a year and a half it very quickly goes back to not exactly where you were, but where you're like, I'm a working man again. This is show business, everybody's trying to hit that vein of money. A lot of the artists I admire, I've sort of noticed a thing about them -- at some point they go, that's enough.

AS: Like who?

WKB: Off the top of my head, Bill Watterson from Calvin and Hobbes. He literally said, "That's enough." That sounds magical to me. To have done enough that the culture still remembers you, that whatever you created has created enough of a nut that you can get through the next month -- and maybe he's doing other things, who knows -- but you don't have to be engaged in that hustle for more that is so seductive in the entertainment industry. With Bill Watterson, "Don't you want to make plush toys and an animated movie and a cartoon and blah blah blah?" And he went, "Nah, I got enough."

AS: Do you think you'll earn more money in 2015 than you did in 2014?

WKB: Oh wow. That's such a funny, hard question. Um… because 2013 was Totally Biased, if you --

AS: That was when you were rolling in it---

WKB: Yeah, my version of rolling in it, which Chris Rock might be like, "Oh my god, we're broke! What happened? Somebody's robbed me!" And I'm only saying that because I've worked with him, and not because I know his financial situation, but…will I earn more money? That is my personal challenge of 2015, is to figure out a way to work hard enough to earn more money than I did in the previous year, but also still feel like I'm an attentive parent and husband.

AS: Yeah, and if you figure that out, if you write a book, you'll be a gazillionaire, because I think every parent in America would buy that book.

WKB: When you add parenting into it, just everything, I sometimes feel like I don't know if people without kids should be allowed to vote. It really changes your perspective on the world in a big way… Two groups of people I don't think should be allowed to vote: people who aren't parents, and billionaires… but that's just my… that's the platform I'm running on.
Comedian W. Kamau Bell. Since we spoke, CNN announced that he's going to be hosting a new show called The United Shades of America. It's a race and culture-themed travel show, set to premiere next year. I'll get an update from both Kamau and his wife Melissa at our upcoming live show in Brooklyn on May 8.
Death, Sex & Money is a production of WNYC. The team includes Katie Bishop, Emily Botein, James Ramsay, Caitlin Pierce, Zachary Mack and Joe Plourde.
The Reverend John Delore and Steve Lewis wrote our theme music.
I'm on twitter @annasale, the show is @deathsexmoney.
We are also on Facebook, where we post pictures, show updates, and articles we're reading and thinking about. Find Death, Sex & Money there, and "Like" us.
With all this up and down, Kamau is still getting used to the idea of being a celebrity.
WKB: A camera guy jumped out with a video camera and he said, "I'm from TMZ, I wanna ask you some questions." And I started laughing. I'm like, "Is that where TMZ has gotten to? Where you need to talk to me?" I was like, there's no way this is ever gonna make TMZ, unless it's a super slow TMZ newsday. Certainly just watching Kim Kardashian walk through an airport is gonna be more interesting than anything you have me say."
I'm Anna Sale, and this is Death, Sex & Money from WNYC.
Copyright © 2019 New York Public Radio. All rights reserved. Visit our website terms of use at www.wnyc.org for further information.
Music Credits:
"Bullet Points" by Cullen Fitzpatrick
,
"Ziuwa Durge" by Steve Pierson from BWN Music
,
"Common Denominator "