When Work Changes, So Do We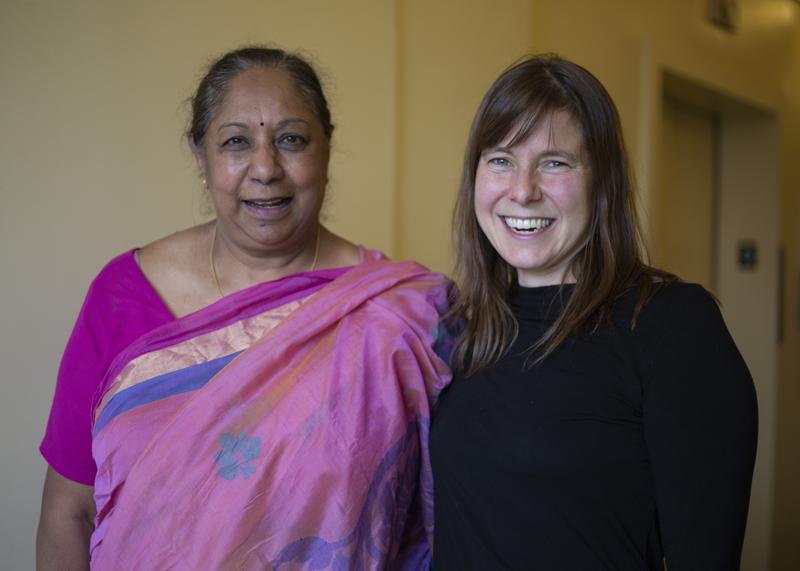 Transcript
UMA KONDABOLU: When I look back I have no regrets. Looking forward, I want to make it more meaningful, centered toward what I want. What makes me happy? That's what I'm figuring out, and I thought it would be like this [snaps], but it's not. I have to work hard at it.
This is Death, Sex & Money.
The show from WNYC about the things we think about a lot…
And need to talk about more.
I'm Anna Sale.
I first met Uma Kondabolu three years ago. She and her son, the comedian Hari Kondabolu, were guests at a live Death, Sex & Money show in Brooklyn -- and afterward, we exchanged cell numbers. Every once in awhile since then, Uma will shoot me a text -- checking in on me, asking me for pictures of my kids. Hearing from her always makes my day.
But I hadn't seen Uma in person in a couple of years… until two weeks ago when I was in New York.
UK: What's new, what's new?

ANNA SALE: Oh, a lot. I was thinking, a lot has changed since I saw you.
I was pregnant with my first child when I met Uma. Since then, I've moved to California, and just recently, I spent six months away from the show after having my second kid.
AS: Yesterday was my very first day back from maternity leave.

UK: Wow, how was it?

AS: It was okay. I'm trying to just notice. I felt myself almost cry like 3-4 times. But not like a sad cry, just like, ugh.

UK: Ugh. Yes. You know, right after knee surgery I took 6 months off. I felt so different going back and takes couple of days to feel your feet. So you'll be fine.
Uma is a reassuring presence, but that's not the only reason I wanted to talk with her right when I got back from maternity leave. I also wanted to ask about her recent work transition. In March, she retired from her job at a hospital lab. She's 66 and had been working there for nearly 30 years.

AS: Did you have a retirement party?

UK: At work they did.

AS: What was it like?

UK: Oh my. It's a little embarrassing. I don't know. People say nice things when you're leaving. You won't be there to bother them.

AS: One thing I was thinking about, with timing of big work transitions, with something like when you're pregnant, once you're pregnant you don't really get to control when you leave work. You leave work when the baby is ready to come. For you, how did you know it was time to retire?

UK: You're not interested anymore with the progress you have. And, you think, I have been there, done that. I need something else. I have so much more to offer elsewhere. And where I am now, I think I'm done.

AS: When you decided to retire, would you think ahead to when you wouldn't have to go to work with excitement or dread or a combination of the two?

UK: No, I am very calm. Last 6 months, I knew time is coming. Even today, didn't miss anybody or didn't miss a day of the work.

AS: You haven't missed it.

UK: No. I left on the right time on my terms when I'm ready. But now, I have energy and I think I want to do more. And what is it I want to do? Where my interests are, and I'm looking into myself for the first time.

AS: The first time.

UK: First time. Like, away from work. I know what I am at work. As an elderly person, retired person, who am I? But I don't know - I still need to figure it out.

AS: You just said "as an elderly person." Is that a way you would have described yourself before you were retired?

UK: One year I feel that.

AS: You've been elderly for a year?

UK: Yeah. Until then I thought, oh, I was too young for this and that. All of a sudden one day I thought, damn, I'm old! [laughs]
Work transitions, no matter when they happen in your career, can cause big identity shifts. When I started my maternity leave at the beginning of this year, we asked you to send us photos that represented changes with work that you've been through…we shared them on Instagram...along with your stories about how making career moves can bring up lots of feelings.
Did I do the right thing? Did I make the right choice?

I wasn't very happy.

Ultimately what drives me is not getting bored.

What do I want and how do I avoid this situation in the future?

(Sigh)

All these things changing and all these pressures being added on.

I've always thought I would just figure it out.
Stefania in Philadelphia sent in a picture of her old diaries…where she'd written about her dream:
STEFANIA: ...of being a cheesemonger.
She quit her job as a graphic designer to fully enter the cheese world.
S: I was terrified. I am a mid-30s mom working at a cheese shop surrounded by basically what I think of as kids in their early 20s trying to get a ton of hours. (laughs) But I have so many more moments now that I've changed my career that are like the butterfly moments? It's that feeling in my stomach of like, I'm doing the right thing.
Tim in St. Petersberg, Florida, sent in a picture of the long scar running down his arm from a double bypass surgery he'd had weeks earlier. At the time, he was about to return to his job in computer programming.
TIM: I'm the sole breadwinner in the family so an extended leave wasn't in the cards. Five weeks later my employer eliminated my position with 2 hours notice. I spent another 6 weeks in a low grade panic until I found another job. Maybe someday I'll forgive them but for now I hope their building burns to the ground. During my job search I kept my illness and recovery to myself. As a gay man, I've had to overcome significant prejudices and I thought after 29 years in this business I'd be past having to deny something in order to keep in the running for a job, or to keep a job. And it turns out I still have to. The things I hide have just changed from my sexuality to my health history and my age.
And Kim from Columbus, Ohio, sent in a picture of two travel backpacks from a year-long trip around the world with her husband. She quit her job as a marketing director before they left, and now that they're back, she's not sure what to do next. For now, she's teaching English online to children in China for a few hours a week.
KIM: I made a little less money than my husband before our trip, but now we're basically relying solely on his income. I feel a lot of guilt for not being a quote unquote productive member of society, which I know is BS but it's so ingrained in me that it's hard to get rid of. I was climbing the corporate ladder as of a year ago, and I look at that path now and I don't want it, but not being on it still feels like failing.

AS: Have you thought about money and making the shift from earning to now, having retirement?

UK: Um, no. We have a roof over our head and we can eat something. We have both pensions.

AS: Congratulations. Two pensions.

UK: Two pensions. So, we are okay.
For Uma… it isn't making less money, or being off a career path that feels destabilizing. It's the time she has now, without her job.
UK: First month was fine. I was walking around the house as if I never saw the house. And lot of TV. But second month, I am restless now.

AS: So what's your daily routine like?

UK: Hm. Wake up. Have coffee. Watch news. Most of the time I am reading a lot.

AS: What are you reading?

UK: My mother tongue. Some novels and books and like, essays. Because I don't want to lose it. Because I started writing short stories.

AS: You did?

UK: Yeah. I just started like last week.

AS: What language are you writing in?

UK: Telugu.

AS: Telugu. And have you written short stories before?

UK: I did. I dabbled with it. But when I was doing it I have no life experience.

AS: You were a young woman.

UK: Yes. And now like I have whole lot more angles to one problem. I can see my way and their way and other people's way.

AS: You said angles to one problem. I like that. That's what comes with living.

UK: Thank you.

AS: Are you sharing your writing with anyone or is it private?

UK: So far, no. I wish my kids could read my mother tongue. Unfortunately they can only speak a little bit. So, I have couple of friends, I want them to read. Not yet though.
Uma told me… she just started working on a story set in India in the early 1970s -- the same time that she was in college there. It's about two university students, a man and woman, who go out one night together... and end up having sex.
UK: He just, he didn't force himself on her. But they slept together, in Indian standards that's not done. They're just friends, they're not married or engaged. She's not averse to him, but she felt hurt by his liberties and his way of thinking. And until that time, I could write it well, after that I couldn't. If I were living now there, it would have been easy for me to finish it. But now I know so much more, and my morality of what's right and wrong, it was so one-sided at that time, now it's not.

AS: When you were there at that time, you had a certain value system from having grown up a young woman in India, now you're 66 having spent more than -

UK: Most of my life, here.

AS: And you're revisiting sex, consent…

UK: And my college days, literally.

AS: I love that that's what you're doing right now. That you're basically going back and you're thinking about all of these layers of convention and rules and freedom and autonomy and sorting through what is proper. That you don't quite know what is proper. I think that's very interesting.

UK: Yes. I like the way you put it!

AS: You put - ha!

UK: So, I need time to come to a reasonable conclusion.

AS: Does it feel pleasurable to have that time?

UK: It is.

AS: I'm glad! It's interesting because when you first started describing retirement, you said that you're feeling a little…

UK: Restless.

AS: Restless. But then you're now also describing how nice it is to not have things to do.

UK: Yes. Because there is no stress. But I felt like, time is being wasted. Whatever time I have, 6 years, 10 years, whatever it is, I want to do something. Every day lost is lost from that goal. But the pull between these two things is a little confusing.

AS: That ambivalence sounds a lot like what I'm feeling, with working parenthood. Of like, feeling that intense pull to be there with them, and then also feeling -

UK: That's so normal.

AS: I love my work. But it can be a little, when you get to like, ok, I'm feeling both of these things that are the opposite and they're both true. But so what do I do? I imagine for you, it's like, so do I push myself to do something and start something, or do I let myself relax and enjoy the time?

UK: You know what Anna, age is on your side. So from your point of view, I honestly think you can do both. You need to decide how much is enough for you. Being with children, never enough. Work? There is limits.

AS: Although, I got a text from Arthur this morning, my first night away from Eve, the little baby, 6 months old. First night I'm away from her, she slept 7 pm to 7 am without waking up

UK: Lucky him

AS: which she has never done before. Eve was ready for a break from mom.

UK: Or maybe, she knew that Arthur is not that capable as mom.

AS: "I'll just sleep."

UK: Poor dad.
Coming up… Uma talks about the plans she and her husband are making for their future… and the things they don't see eye to eye on.
AS: Do you think whether to return to India could be a source of conflict between you two?

UK: No. I'll try. But if I can't stay there, I can come back. For me, we don't need to live together. He can enjoy his time there. When he's ready, he can come back.
--
Our show turned 5 years old while I was out… happy birthday, Death, Sex & Money! We've made near 200 episodes so far…. You can find a list of your fellow listeners' favorites on our website at deathsexmoney.org/starterkit.
As we enter into our next five years, we have a new look! Check out our new logo wherever you listen to us. We are very into our new yellow selves.
And part of the joy for me of being back at work is getting to regularly dip into our email inbox to read your reactions, story ideas, and things you just want to share with us. You can reach us anytime at deathsexmoney@wnyc.org.
That's how we met the brother and sister in our next episode. They emailed us after they had a conversation...where they admitted to each other that they both have eating disorders.
AS: Did you feel like you were like coming out to each other?


CHARLIE: I did. I felt like I was coming out.


OSCAR: Yeah. I mean I think we'd both kind of seen disordered eating in each other. But this was finally like pointing a finger at it and saying this is a thing that exists.

--
This is Death, Sex & Money. I'm Anna Sale.
Uma Kondobolu's husband retired around the same time that she did…which means they are now spending a lot more time at home...together.

UK: As a husband and wife I don't think we know each other that well, I realized.

AS: Wow. Because you've been busy.

UK: Busy. And kids took priority, life took priority, and our interests took priority. All of a sudden I think we don't have anything to say to each other. But now I'm okay with it. Like, he stays upstairs watching his TV. I'm downstairs doing my own thing. And I call him.

AS: You call him with your cell phone?

UK: Yeah.

AS: From downstairs?

UK: From downstairs. Not only call him, I text him. Okay, dinner is ready, food is on the table, something like that. That's the time we talk.
One of the things they've talked about is traveling together in their retirement… even possibly moving back to India, where they're both from...to do some volunteer work. But Uma worries about being too far from their two children, Hari and Ashok, who are both in their 30s.

UK: Children are not children, they're men. But it's 10,000 miles. We are close family, small family. You understand. So, our heart is always there, but your brain tells you, I don't think it's possible. For two reasons. Can we be without children? Second thing is, can we fit in there now? What I left there is not the same. I left it in certain place, but that place moved with times. My husband feels comfortable. Thinking of moving doesn't bother him. I'm a grown up person, I can do it, but doubts are doubts.

AS: When you've had moments of feeling restless or a little uncertain about what's next for you, do you feel comfortable talking to your sons about that?

UK: In a second, I can talk to them.

AS: What do they say?

UK: They listen. They're always encouraging. For some reason they both think, especially Hari, he thinks I can do lot more. He's always is, like, behind me pushing me in doing things. And he says, don't waste time, do this ma, you can do this. He's like my parent sometimes. Whereas Ashok is a different person. He wants me to do at my pace, where I am comfortable at. I think he understands age and health better than Hari. But I'm very good at covering up. Nobody knows, whatever I go through at home or in my mind, when you see me, you never guess it, even though something is eating me inside. In that way I am very private. Children only know - they think they know about mom everything. They don't know even 10% of who I am. And my husband knows 0%. For him I'm a wife. And wife who cooks and be there when I need to talk to her. I think I did justice to all the roles I have. A daughter, a sister, a mother, a wife. So now I need to add myself into this roleplay. What Uma wants.

AS: You know, I think about - hearing what you're thinking about now that you have time, I just wonder - what Arthur and I talk about with our little kids and our two full time jobs, we talk about being in the rapids. Right now, it's just like getting through it, doing what you need to do day to day. Just so everyone's taken care of and things are getting done. Looking back and thinking about where I am in my life with the two little kids, do you have - where did you find those little pockets of time.

UK: You don't.

AS: Yeah. Is that okay?

UK: That's okay. You make that pocket of time for yourself while walking the kid to the school. While cooking, your body works at the kitchen but your mind is working somewhere else. That's how I survived I think. It was - where you are at, I'm not jealous of. That's the toughest in your life, for next decade. Is most productive, fulfilling, happy, and very tough. This is a difficult time for you, and happy time.

AS: Both, yeah.

UK: Both.
That's Uma Kondabolu. She and her husband are traveling to India this August, but she says she's planning to be back at home in Queens, New York, later this fall.

Death, Sex & Money is a listener-supported production of WNYC Studios in New York. Our team includes Katie Bishop, Anabel Bacon, Emily Botein, and Andrew Dunn. Our intern is Emily Nadal.
The Reverend John Delore and Steve Lewis wrote our theme music.
You can find the show on Twitter, Facebook and Instagram at death sex money, and you can follow me on Twitter at Anna Sale. And guys, if you aren't signed up for our newsletter, you are MISSING OUT. Sign up at deathsexmoney.org/newsletter.
Uma has just started writing short stories...but that's not the only thing she's writing…

UK: I have this habit of writing after reading a book what is plus in it, what is minus in it. "Oh, this character is too loose and this girl is perfect."

AS: You said loose?

UK: (Laughs) Yeah.

AS: (Laughs) Uma's book report: "That character is too loose."
I'm Anna Sale, and this is Death, Sex & Money, from WNYC.
---
Copyright © 2019 New York Public Radio. All rights reserved. Visit our website terms of use at www.wnyc.org for further information. New York Public Radio transcripts are created on a rush deadline, often by contractors. This text may not be in its final form and may be updated or revised in the future. Accuracy and availability may vary. The authoritative record of New York Public Radio's programming is the audio record.
Music Credits:
"Sunday Lights" by Blue Dot Sessions
,
"Lead Shroud" by Blue Dot Sessions
,
"Collingwood" by Blue Dot Sessions