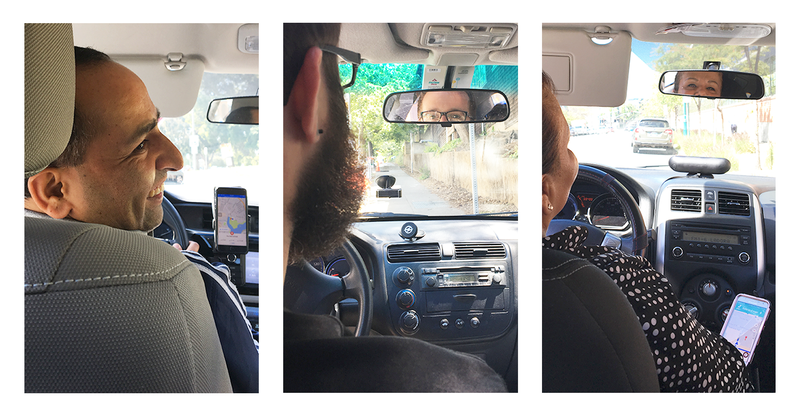 Transcript
Hey, it's Anna. I was in a Lyft a few weeks ago on my way to the airport, and I asked my driver what he thought about a new California law that's intended to force companies like Uber and Lyft to make their drivers employees rather than contractors.
My driver told me that, he didn't like the law, because he likes the flexibility of being a contractor, he just wishes Lyft would pay him more.
Our conversation made me think about the episode we did about Bay Area Uber drivers back in 2017. Producer Katie Bishop and I got in the car and asked our drivers why they started driving. And we heard all kinds of stories about immigration, the cost of housing, student debt and still trying to recover from the financial crisis.
It made me want to share that episode with you again...so here it is. Our new episode with Hasan Minhaj will be in your feeds next week.
ANNA SALE: Are you in school or are you out of school or what stage of life are you in now?

MATTHEW: Uh, figuring it out. Just like everybody else driving for Uber.

AS: My show is called Death, Sex & Money, and it's about...

EVELYN: Death, Sex & Money, huh?

AS: Death, Sex & Money, yes. Um.

E: That sounds so scary!

AS: Well, it's actually about the things that everyone goes through, but that we have trouble talking about.

E: You're not gonna put this on TV, huh?

[PHONE RINGS]
AHMAD: Hello?

ANNA SALE: Hi Ahmad? This is Anna, you just confirmed my pick up?

A: Yes ma'am. Yes ma'am. I'm coming.

AS: Yeah. Yeah, I just have a quick question for you. I'm a radio reporter and I'm doing interviews with Uber drivers while I take rides today. Are you open to answering just a few questions about the kinds of conversations you have with passengers while you drive?

A: Like what kind of questions you gonna ask?

AS: Just kind of like, you know, why you drive and what it's like driving around, and the kinds of people you meet and sorts of conversations you have.

A: Yes ma'am, no problem. Yeah, no problem.

AS: Ok cool. I'll see you in a few minutes.

A: Thank you ma'am.

AS: Bye.

A: Bye.
Last month, producer Katie Bishop and I took Uber ride after Uber ride all around the Bay Area.
AS: Hello.

SHARODD: Hello, Anna, how are you doing?
We rode in the backseat, and turned drivers' cars into recording studios.
EVELYN: What are those so big, those microphones?

AS: They're microphones, yes.

EVELYN: You're scaring me now!
Uber's been in the news a lot lately. Particularly its leadership and corporate culture. But I wanted to know more about the drivers, and what keeps them on the road.
CHARLES: I want to take my wife to Spain, so I started doing this.

RIZWAN: I didn't want to just sit home.

ANA: And I have money when I need buy something for my little son or for my house.
We also heard about the downsides of driving for Uber…
RIZWAN: In order to make full time money, you have to work like 11 to 12 hours.

AHMAD: I drive more at night time, so I know how to handle the drunk people.

JEREMY: There's a lot of competition. And, you know, it's kind of difficult to get a ride sometimes.
With Uber, you order up a car, and all of a sudden, you're alone with a stranger. And over the 10, 15, 20 minutes you spend together, conversations can get surprisingly personal.
MADAN: We had a pretty bad experience with parents. Like, you know, didn't get enough love when we were younger.
Everyone has a story about what happened in their lives that got them driving for money.
CHARLES: I working in mortgages, 2008, lost my job.

EVELYN: I'm like, the jack of all trades.

SHARROD: I've worked with people like Justin Bieber.

AS: No way!

ANA: Before I worked in the restaurant, a Mexican restaurant.

AS: When you first got here, you had a different job?

EMILIANO: Yeah, pizza.

AS: Pizza?

EMILIANO: Deliver pizza. This job is better because this job - pizza don't talk.
That's what led us to a grocery store parking lot, standing around with microphones out, headphones on, waiting for Ahmad.
AS: I think this is Ahmad.

KATIE BISHOP: Yeah.

AS: Hi, how you doing? I know, this this is strange, isn't it?

A: Yeah.

AS: So how long have you been driving Uber?

A: One and a half year.

AS: Uh-huh. And why'd you start?

A: I just started because I thought it's more money in the Uber.

AS: And how many hours a week do you do it generally?

A: When I started I was working like 70 hours. And now -

AS: 70?

A: Yeah, 70 hours. And now I am doing like 50 to 55 hours.

AS: Like on a really good week, what's the most that you've made?

A: I have made $2500 a week before, and right now I'm just making like $1500, maybe like $1200.

AS: What brought you to the Bay Area originally?

A: I just moved from Pakistan. So when I moved here, I had an uncle here in Union City. So I was living with him for a year.

AS: And what kind of work were you doing back then?

A: I was working for a ice cream store. Ice cream store and the cloth store, there was a cloth store over there.

AS: So you were working like retail?

A: Yeah, retail.

AS: Sounds like you probably are making a lot more money as an Uber driver than you did at those jobs.

A: Uber, like if I am doing eight hours job in any other place I am making the same money. The thing is like the Uber I go for like 12 hours, 14 hours. Even I have worked like before 28 hours throughout.

AS: Really?

A: Yeah.

AS: Why did you do that? That's a lot of hours in a row.

A: Yeah, I know. But like when you are new here, you see the people like, hey these people are better than me. So I do that like, I have to make some more money.

AS: Uh-huh. Do you often talk with your riders or are you quiet?

A: Before I was, I used to talk to a lot with the riders. But right now, I try to be quiet.

AS: Why did you change?

A: Because the people. In Pakistan we have, we have like a thinking that American people, they are very nice, they are very generous even more than our people. So that's why I was used to talk a lot with the people. I thought you guys like to talk more. And then I realized now there are kind of different people. Not that kind of generous.

AS: So your your opinion of Americans has shifted?

A: Have shifted. Yeah.

AS: Is that because of interactions you've had or because --

A: Yeah because of people interaction.

AS: Oh really?

A: Yeah I realize that. Because back then, I had a very good opinion about the American people. Like, in general. I mean they are very kindly or whatever. So now it has changed, a little bit, not too much.

AS: Is it - is your life here in the Bay Area, is it like what you imagined when you decided to come?

A: No. No. I wish I, before moving here, I would have come to America to see things, how the things are then I would I would choose like if I want to move here or not. But I did the wrong thing. I just packed my whole luggage and came to America. And I said like, "Fuck." It's not a good life. Like how I imagined.
It wasn't just drivers new to California who told me life here wasn't what they expected.
A driver named Matthew is from here, and ten years after graduating high school, he's trying to make enough money to stay. He's worked as a server, at a grocery store, and is trying to break into coding now. He's been driving for Uber since October.
MATTHEW: Like for me and all my friends it's just like nobody's making it. Everybody's in debt. Like all my friends that decided to go for the four year and they didn't really come from money and they pulled out student loans, they're just reeling from it. Like they're not doing any better than I am and I didn't go that route at all.

AS: What did you do right after high school?

MATTHEW: I did try and go to DVC. I went there for about a year or two and--

AS: What's that?

M: Diablo Valley College, it's a community college. And I just never really figured out exactly what I wanted to do until it was a little too late. I did try and take coding stuff at that school and about two weeks in, I was like I could teach myself more at home alone in one day than I've learned in this class in two weeks. So I just decided to drop out of that class and just do it on my own.

AS: Have you have you had somebody who has like, who you go to for advice when you're trying to figure out next steps?

M: Yeah I totally have, I'm someone's Padawan. He's taken me under his wing. He's kind of a friend that I met through a friend and he's in the coding business.

AS: Padawan, what's that a reference to?

M: Star Wars.

AS: I should know that. Sorry.

M: Jedi Padawan.

AS: Sorry, god. That's embarrassing. And does he know that that's how you refer to him?

M: Yeah. 100 percent.

AS: And what's like, have you had a conversation with a passenger that like you think back on? Has there been anything that's like a moment where you're like, wow, that changed the way I thought about something?

M: Um, there's definitely been a bunch of tiny ones. It's more fascinating to realize all these different people have different destinations kind of thing. Like I'll talk to them and I'll drop one person off that's going to, like, say like they're attending a wedding or something and they bring that that energy and that vibe kind of into the car. And then 15 minutes later they're gone and somebody gets in and you're driving them to like their mom's grave. I've totally done that.

AS: Wow.

M: It's crazy. So you get these different energies that come to the car and you just kind of like, oh that's awesome you're go to a wedding! That's so cool! And next person gets into the car and they're having the worst day ever and they're just kind of staring out the window.

EVELYN: OK, I sell cemetery. I'm a family service counselor.

AS: Really?

E: And I also sell solar.

AS: Solar?

E: Yeah, so I can sell almost anything despite the accent.
This is Evelyn. She's been driving for Uber for about a year, twice a week or so, for extra money.
AS: And you sell like cemetery plots to family members?

E: Yes. Family service counselor.

AS: Can I ask you about what that's like?

E: What's that like? It spooked me the first time I went to the cemetery because I'm a little bit scared, you know, that kind of stuff, the spirit kind of stuff. But I've gotten used to it.

AS: Yeah. Do you primarily, are you selling to people planning ahead or selling to people who are already -

E: Both. Pre-need and at-need.

AS: Oh that's what it's called?

E: Yeah pre-need is when you're planning for your family or for yourself. At-need is when somebody has already passed away.

AS: I imagine it feels really different when it's pre-need or at-need. It's like a different experience.

E: It's almost the same thing, it's just a lot of paperworks. I've been more in the real estate side actually, when the real estate market went down I slowed down. I lost some properties too so.

AS: So you got hit sort of with the downturn and the foreclosure crisis?

E: Correct. Correct.

AS: Was it investment properties that you lost?

E: Everything.

AS: Everything?

E: Everything.

AS: Oh, so have you been sort of rebuilding since then?

E: Yeah, rebuilding financially and rebuilding life you know.
AS: When you say you lost everything what do you mean?

E: Lost my houses. Houses.

AS: Houses. Huh.

E: Yes. Income that kind of stuff you know and children are growing up. It was a hard shift. It was a traumatic experience in my life.

AS: I imagine.

E: Because I have children with me you know, I have my grandchildren with me. But hey, life is uh, God is good you know.

AS: Hm. Do you have a spouse?

E: Divorced.

AS: Divorced.

E: Yeah.

AS: So you were a single woman navigating all of that?

E: Yeah, navigating the Uber too.

AS: (Laughs) Expert navigator. What helped you when it was the scariest?

E: What helped me? I think my church. That's when I turned to God. God has a reason for everything.

AS: Do you ever go back to where your old houses were to look at them?

E: Oh yeah, all the time. Yeah, my children go pass by and drive by.

AS: How does it feel to look at it?

E: I just miss my plants because I love plants, you know.

AS: Yeah.

E: I say, oh look at my lemon, there's still a lot of fruits.

AS: Does someone live in the house now?

E: Yes it's also Filipinos that bought the house. I wanna go back to flipping houses.

AS: It didn't spook you? It didn't scare you after going through that?

E: No you know this life, it's all a part of life. What are you going to do? You're just going to lay down there and take everything? No. Learn how to fight. I learned how to fight.
Coming up, more conversations from the backseat of an Uber…
AS: Tell me how to pronounce your first name?

MADAN: In Nepali accent you call it "Muhd-dun."

AS: "Muhd-dan?"

M: Uh huh, but with American I go, "Maa-den." (Laughs)

AS: (Laughs) "Maa-den"!
__
This week, the Supreme Court is hearing arguments about whether the Trump administration can end DACA --- Deferred Action for Childhood Arrivals--that's the Obama-era program that gives legal protections to people who were brought to the United States as children without documentation.
The Supreme Court's ruling will affect over 700,000 people in the US...including Freddy, whom I interviewed last year in New Jersey along with his wife Vanessa, who is a citizen.
They told me then about what it's been like to live with the uncertainty of Freddy's legal status...and with DACA back in the courts this week...we asked them to send us an update about how they're doing.
VANESSA: Hi Anna! This is Vanessa and Freddy here.

FREDDY: How are you guys? How you doing?

V: Since we last spoke about a year and a half ago, we've been able to purchase our first home together, and we're expecting our first child, which is very exciting. And we're happy that we've been able to kind of move our relationship and marriage goals forward and find work-arounds given our immigration circumstances, especially as the DACA case goes before the Supreme Court this week.

F: So as far as the news, it is very nerve-wracking to know that it is going to the uh, Supreme court because if Supreme court kills this case, that'll be the end of it.

God willing everything will come out to the favor of thousands, hundreds of thousands of people who really need this. Not people that are criminals or, or bad person, but people that just need an opportunity to have a better life and have better outcomes for them and their families.
If you want to hear my entire conversation with Freddy and Vanessa, text the letters D-A-C-A to the number 70101 and we'll send you a link to that episode.
Separately, Vanessa also mentioned in her email to us that she's heard our callout for stories about race and friendship. Her mother's Dominican and her father's white, and she told us, she's noticed how often her friends of color point out that she's biracial. She wrote, "I wouldn't say that I've been ashamed of being white, but having only ever lived and grown up with my Dominican side—eating the food, speaking the language, dancing the music, visiting the country—I couldn't understand why the fact that my dad was white was always a 'thing' for others to mention."
We're still collecting stories about race and friendship for a project with NPR's Code Switch Podcast. We've heard a lot so far from black women and white women...but we'd love more stories from men and other people of color. Record a voice memo and send it to us at deathsexmoney@wnyc.org.
__
AS: Hello.

JEREMY: Hello.

AS: This is my producer Katie.

J: Hey, how's it going, Katie?
This is Death, Sex & Money from WNYC. I'm Anna Sale.
And this is Jeremy. He drives Uber part time, so he and his wife can save up to buy a house.
J: I do it on my days off and you know, evenings.

AS: What's your other job?

J: I'm a engineer at eBay.

AS: Really?

J: Yeah. But you know, it's a very expensive town to live in. You know I should have bought about three years ago when I first started doing it. But I didn't. Now it's kind of like I'm I'm racing to catch it. But I will never catch up now.

AS: So how long have you lived in the Bay Area?

J: That's another little twist to the story as well. So, I actually live in Colorado and I'm flying, I fly here for my job. I have a -- I rent a place with my brother. So while I'm here I'm making money on my spare time so we can buy that house.

AS: So how often do you get to see your wife?

J: I'm going home next week. So I'll go home Wednesday morning and I'll come back Saturday night. 'Cause that's -- I do that about every other month.

AS: Do you have children?

J: Yeah, I got four.

AS: You have four children? So I was thinking, I was like gosh, when did you see your family? But your family is not here. So you're free to work --

J: Yeah, exactly.

AS: How long do you think you will be doing this?

J: I told my wife I wanted her to move this summer because I was like, you know, we'll just find something wherever it is. Like just to rent in the interim. But for sure next year I want find something to buy. And if not, then sorry eBay, I'm gonna go back to Boulder.
As we talked to drivers over two days, it became clear that all of them are in some kind of transition. Uber was no one's plan A.
AS: Hello.

MADAN: Hello ladies!

AS: How are you?

M: Doing good!
This is Madan. "Mad-den." He started driving after nursing school didn't work out.
M: I was unsuccessful on that, I tried it twice.

AS: Uh huh.

M: I couldn't make it. So this is the only choice, fast money because I wanted to do something and be something.

AS: Yeah, wait, you said - what did you say money? Past?

M: Fast.

AS: Fast money. And where did you grow up?

M: Actually, I am from Nepal. Yeah.

AS: I studied abroad there in college.

M: Oh did you?

AS: Mm hm.

M: Oh wow!

AS: I lived in Chabahil outside of Katmandu.

M: No way!

AS: Yeah!

M: It's so nice to meet like American people who have visited Nepal because they have much more broad idea. You know, like you know most of the American people they don't visit outside. But it's really nice to meet someone who has already visited Nepal.

AS: Yeah.

M: Oh.

AS: And why did you choose to come to the U.S.?

M: Because my dad, he's uneducated to be honest. And he's a farmer so he was thinking more like you know children should not be depending on farm and stuff. So he basically didn't want his son to be, you know like him. So yeah.

AS: When did you first come to the U.S.?

M: I came here when I was 18.

AS: 18. So how many years ago was that?

M: I've been here almost six and a half years. Yeah.

AS: What do you do when you're not working for fun?

M: I basically don't have any life. I either drive or sleep or cook food.

AS: What do you cook?

M: It's called dal.

AS: Yeah!

M: Yeah you know?

AS: Dal bhat?

M: Uh, huh. Dal bhat.

AS: I know.

M: Anna, right?

AS: Yes.

M: Oh my goodness, it's interesting like you know what I'm talking about.

AS: You know what's funny? This is - when I was there there was something about - I was a student with women and men and for some reason when we ate dal bhat - which is dal and rice - it's like when we ate dal bhat, all of the women gained weight, and so we started calling it bhat butt because we - 'cause we were all gaining weight in our hips. So that's what I think about when I think about dal bhat.

M: That is so funny. I love it.

AS: Yeah. Do you think you'll, like, when you think about your life in ten years what do you picture? Like what do you hope for?

M: In 10 years, I think I'll, myself having a business.

AS: What kind of business have you thought about?

M: Mm probably gas station or you know, something that generates money.

AS: Yeah. Why did you - why did you want to be a nurse when you were thinking about going to school?

M: Because Anna, I really wanted to help people so bad. But I guess that you know I choose the wrong career. Maybe, you know, I didn't know how to learn right so or maybe I don't know what was the worst part I did to, you know, be unsuccessful in school. You know, since I didn't become a nurse I think the lady that I'm going to marry with, she's going to be a nurse for sure and she's going to help our community out.

AS: That's what you'd like?

M: Yeah.

AS: You're on the market for a nurse?

M: Yeah. I'm going to get married with a nurse from Nepal.

AS: When do you think you'll get married?

M: Probably planning this summer, Anna.

AS: This summer?

M: This summer.

AS: Like in a few months?

M: Uh huh.

AS: Have you met - do you know who you're going to marry?

M: No, I don't know. It's strange, but I don't know who it's going to be. Yeah.

AS: Right now, are your parents like talking and trying to find potential partners for you?

M: Mhm yeah. Yeah.

AS: How do you feel about that? That's soon.

M: I don't know, Anna. You know, what they say is, parents are always experienced people.

AS: Yeah.

M: So they know what they are doing.

AS: Do you think your parents have a good marriage?

M: Uh huh. They have been married for... well I don't know what to tell you because my mom she left me when I was five. Because, you know, it was a situation where she had to choose between keeping herself safe versus being with us, so she chose to leave family. You know how like in, like Nepal though like we do not they do not have, women do not have that much rights as they do have up here. So you know if I was in Nepal I can do whatever want, beat her, you know, more like domestic violence, like the men can do whatever the man wants to do. So she chose to leave family and then just for the sake of her children, my mom more like she chose her own sister to get married with my dad and that way my dad is happy because he wanted to get double married, like they're really not satisfied with just one woman.

AS: Oh I see.

M: Yeah.

AS: Do you have a close relationship with your mother?

M: Not really because I haven't seen what she looks like.

AS: Oh you haven't seen her since you were a kid?

M: I haven't because you know you are afraid of your dad like what he's going to do. Because I mean I really respect my dad but I hate him too. Because he's the one who brought us up here because, you know, no Nepalese can think to come to America. It's very expensive. Like for capital city people, it's not that big. But for us, from rural side it's it's more like you know dream to go to America. So I respect my dad for bringing us up here, but I also hate him because we we hadn't seen our mother or what she looks like.

AS: Yeah. And then - but you feel - do you feel nervous to get married?

M: Kinda nervous and excited.

AS: Yeah?

M: Yeah.

AS: Is it your father who will pick out your wife?

M: Yes. Uh huh.

AS: What kind of husband do you think you will be? Do you think you'll be the kind of husband that your father was?

M: No definitely not. Because once you get married like woman should be respected and that's what I think. Like once you get married you should be good with it for rest of your life. If things doesn't work out, then you really need to solve it. But getting married and beating up the women it's really not the thing, it's not being a man.
That's Madan…
M: I'm so glad that you did my podcast.

AS: Oh.

M: I appreciate it.

AS: Of course.
Thanks also to Ahmad, Matthew, Evelyn, and Jeremy, as well as Ana, Mukti, Rizwan, Sharodd, Emiliano, and Charles, for letting us get into your car with microphones, and for the rides.
Death, Sex & Money is a listener-supported production of WNYC Studios in New York. I'm based at the Center for Investigative Reporting in Emeryville, California. The team includes Katie Bishop, Emily Botein, and Andrew Dunn. Thanks to Jillian Weinberger for her help on this episode.
The Reverend John Delore and Steve Lewis wrote our theme music.
I'm on Twitter @annasale, the show is @deathsexmoney on Facebook, Twitter, and Instagram. And you can email us anytime at deathsexmoney@wnyc.org.
We gave out Death, Sex & Money stickers before we got out of the car each time. I think Evelyn was the most into it.
E: Death sex and money, oooh.

AS: Death sex and money!

E: The money part I like, the death, later on. I know I wanna meet my Lord but not yet.
I'm Anna Sale, and this is Death, Sex & Money from WNYC.
Copyright © 2019 New York Public Radio. All rights reserved. Visit our website terms of use at www.wnyc.org for further information. New York Public Radio transcripts are created on a rush deadline, often by contractors. This text may not be in its final form and may be updated or revised in the future. Accuracy and availability may vary. The authoritative record of New York Public Radio's programming is the audio record.
Music Credits:
"Faster Faster Brighter" by Blue Dot Sessions
,
"Chrome and Wax" by Blue Dot Sessions
,
"Veronica's Lament" by Blue Dot Sessions
,
"Take A Tiny Train" by Blue Dot Sessions