Tracy Clayton's 2017 So Far: Therapy, Forts and Auto Bill Pay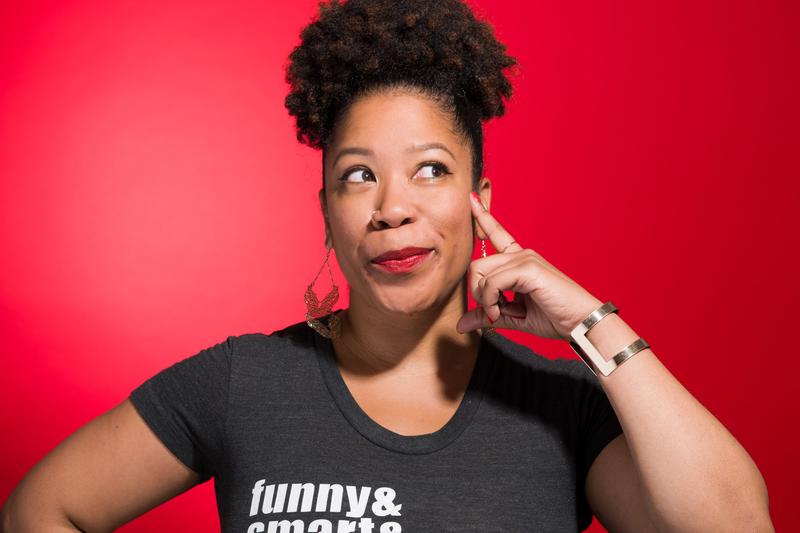 Transcript
TRACY CLAYTON: You know at the top of the year you've got, like, hope, and energy, you know it's like the slate's being wiped clean, and now you can do anything, new year new you. Um, I'm in a much different place today than I was at the top of the year.
This is Death, Sex & Money.
The show from WNYC about the things we think about a lot, and need to talk about more.
I'm Anna Sale.
Back in January, I interviewed Tracy Clayton, who writes for Buzzfeed and is the cohost of the podcast Another Round. I wanted to ask her about the long thread of New Years Resolutions she'd tweeted out...for everyone to see.
TC: I want to finally take my physical health as seriously as I take my mental health. I want some real fucking grown up furniture! I want to get my finances in order, I want a decent credit score for once in my life.
You can go back to January to find that episode in our feed. This summer, I wanted to check back in with Tracy….to hear how it's all been going.
TC: Whu-whu-whu-hello? Hello?

Anna Sale: Hi Tracy!

TC: Hi!

AS: So I'm curious when when you got the email that I wanted to know your progress on your 2017 resolutions, how'd you feel?

TC: My first reaction was "oh no" because I just assumed that I haven't made very much progress [laughs]. Uhmm...but my second reaction was "okay", because I haven't thought about, like even as of now, I haven't, like, sat and assessed how I've been doing with everything and I was like, "well it'll it'll be good to actually sit and check in with myself". So this is helpful.

AS: Okay. Well I'm going to go through a few line by line. And want to hear your thoughts about them.

TC: Okay.

AS: I wanna ask you first about...about money.
TC: Mmm.

AS: One of the things we talked about before was your credit score and your new savings account.

TC: Uh huh.

AS: How are you feeling about money in 2017?

TC: Uhmmm...about the same. Uhmmm...I haven't like sat down and made any focused effort to get my credit score up or to just get a better handle on finances and like learn about stuff and I think that's because so much else has been going on with like work in with not work, that that's always something that's just like a red flag that's in the back of my mind but it's kind of easy for me to ignore it [laughs]. So, uhmmm...not too much progress there. But, something that I have done is I signed up for automatic bill pay on like all my all of my utilities. my life has gotten so much easier just like not having those things to worry about. Because I never-- I never remember to pay my bills on time and it's so funny though, when I, I grew up like hearing my grandmother's voice in my head when it comes to money [laughs] and of course like when it comes to signing up for something like automatic bill pay where like money is leaving without me necessarily knowing it, I was like, "Mmmhmm, they're not getting ready to take money out of my account and me not know it and then not be able to pay for dinner later". Like I wanna know where like all the money is going. But, that was, it was unrealistic like I'm not going to sit down at the top of every month and look at my bills and write out checks and I should, I should be able to do that but I can't. So finally I was like, "OK I've had enough of stressing over whether or not this thing has been done. I need all of my energy to go into stressing about other things and so I signed up for automatic bill pay and, like it was an immediate relief, immediate relief and it's going great so far.

AS: Yeah. Well it's also like, it's automatic that you're taking care of business, without having to stress about whether you're taking care of business.

TC: Yeah. Mmhmm. Exactly.

AS: Did you-- we talked about taxes, and you said that for this, you planned for 2017 to be the first year that you you worked with someone besides your mom to get your taxes filed.

TC: Yes.

AS: What happened this tax season?

TC: Not that, I did not work with someone to get my taxes filed. Uhmm, taxes really stressed me out to the point of like not thinking about it until like the very last minute and when I say last minute I mean I did not meet the deadline. But...uhmm...uhhh, I don't know there's just something about like money and like fin-- like the word finance and the word like accountant, that just like, it freaks me out. I think it's a hallmark of being like a full adult, which I don't necessarily feel right now. And it's also comfortable for me to have my mom do my taxes right because I can look at her and be like, "Mommmmm, I didn't do my taxes...ughh" And she's like, "All right, here." But if I got to like a tax accountant and there's that, "Okay, why didn't you do this?" I can't be like, "Ughhh, I was tired." They be like, "OK but why didn't you do it though? Everybody's tired. I'm tired right now", you know so. Uhmmm, that is one goal that I did not meet but...uhmm, I'm okay with that.

AS: Did it lead to-- my assumption is that like, over the last few years as as Another Round has taken off, as your life has changed in New York, I imagine your taxes might look a little different than they did before you moved to New York.

TC: Yes.

AS: So do you find-- are are you talking to your mom about the kind of money you're making, or is it leading to to more openness between the two of you about what your money looks like?

TC: No, not necessarily. And I think that's partially because I just feel like I don't have the language really to talk about money, you know, I..I don't even know like what a conversation about that would sound like. It's also partly because I make more money than my mother did by the time that she retired and it just feels weird, you know, it feels very, very strange. I don't know how to, uhmm, I just don't know how to do it. Like I don't think she would feel bad because, you know, her daughter is making more money than her, also in another part of the world where the cost of living is higher, right, so it makes sense that I should make more money than she did at my age. I hope that my children do too, but I still just don't know how to really talk about it with her. But you know what's odd that I just noticed? I have started having these conversations with my father and it's a much different vibe.

AS: What is it? What's it like?

TC: Well, okay, for..so a little bit of background information about me and my dad and our relationship: it hasn't always been close, it hasn't always been great. It hasn't been bad, I just didn't grow up with my dad. My dad really likes money. He, he thinks about it and he talks about it like somebody who has not had it, and so the last time I was at home I had dinner with my father, lunch with my father, and uhmm, since I'm now in a position where I'm thinking about money, I was sort of like, "What would happen if I asked him all of my financial questions or at least some of my financial questions? "

AS: Uh huh.

TC: And this is on my mind because he, uhmm, my father is one who does not shy away, like he's already like, getting his will together and talking about beneficiaries and you know when, the inevitable happens, here's what I got, here's what I want you to do, et cetera, et cetera. Uhmmm...and so...

AS: He's telling you details about that?

TC: Yes.

AS: He's being really open?

TC: Very, very open and if it was my mother talking about, you know, "When I die, here are my assets", I'd be so upset, 'cause I wouldn't want to think about her dying. But with my dad, he was like, "Okay, here are my assets and when I die here's what happens", like I know, that, that means he loves me and he trusts me and like, really, really trust me as like an adult, you know. Not that he's like, leaving everything to me or anything, but just like, you know, this this is something that is important to me and I'm entrusting it, at least partly, to you.

AS: What was one tip that you got from that conversation from him that you feel it was really helpful?

TC: One thing that he said and the first thing that I remember is to always put at least like a little something away. Like every time you get a check, no matter what you're saving for, no matter where you put it, just like take something and don't spend it. Uhmm...and I..the way that I related to that is by saying, you know it's the same advice that I was getting when I decided that I wanted to be a writer. There was someone, I can't remember who, who was like, "You know, no matter what, just write every day even if it's just a sentence, even if it's a paragraph. If there's something that you care about and it's something that you want to build up, you know, you gotta, you gotta stay thinking about it, you've got to keep your muscles loose and you have to do it every day. And so once I made that connection, I was sort of like, "Oh okay, I get it." You know when this is something that you care about, you know, you put actual time and energy and effort into it, which is not a thing that I've been doing really. I've just been, gettin' my paychecks and sending them to the bank and that's it, you know, at least I have it. But I haven't really thought about, like, how to make it work for me or how to make it last. And so, as a writer, that was a way that I could really, uhmm, connect with what he was saying.

AS: Have you, have you bought any new furniture?

TC: Yes! Oh my gosh! I redid my little living room. Uhmm...

AS: Uh huh...

TC: It has, it's bringing me so much joy. It was just so fun. It was a fun project and it took me a long time because I knew that I had tried it before and screwed it up. Because it's really hard to make a space look nice, you know, because like, I was like, "Okay, I want one of those like super fancy, like, Ikea living rooms with like different textiles and playing with neutrals." I don't know, just like, thinking of all the interior design phrases that I knew, which was not a lot.

AS: Uh huh.

TC: And like I actually, I cannot draw, but I actually like sketched out the living room as I was like thinking about what I wanted where. I had this big, complicated spreadsheet of like, these are the couches that I'm looking at. What are the pros and cons of this couch versus that couch? How much is this couch cost. and took all this into account. And I had a lot of fun, like, playing with colors and color schemes, like what do I want to feel when I come home. I got a very bright, turquoise velvet couch cover, which was so...it was, it should not have cost as much as it did. But, this was also a really good exercise in investing in me, right, because I'm so used to not having money to spend and...uhmm...I had to do a lot of talking to myself to let myself know that that was okay. And, uhmm, I really had to just like sit myself down and be like, you know what, this is your space, it's, it's important to you, being a human out in the world, you know, like once you're done out ripping and running and having all these meetings and spending all this energy having small talk with people, when you come home after being kind of beat up by the world, you need a soft place to land. And what's softer than a turquoise, velvet couch cover? [laughs]
Coming up, Tracy talks about some things this year that have been harder than she expected...like her 35th birthday.
TC: 30 came and I was like, "Whatever, I'm okay. I'm still young, confident everything's fun, 30's not old." And then 35 comes and I'm like, "Oh my gosh, I'm not married yet, don't have kids, my eggs are shriveling, everything's wrong, this is terrible," and I kind of panicked a little bit."
----
We're still getting a lot of emails from you about your student loan debt after our series came out earlier this summer. And now that school is starting back up….it sounds like you could talk about it some more.
I've thought about calling you ever since you started talking about student loan debt.

There were moments in the episodes that really riled me.

What about the parents? They just don't consider that this is an issue for them?

I'm sure I signed something without truly understanding it, and that's saying a lot because I have a PhD in literacy.

If the repayment is so bad, who's losing that money?
You still have a lot of questions - so we're going to be doing two live call in shows next week to talk more together about your student loan debt...with a special emphasis on what you can do about it.
On Tuesday, Sept. 12 and Wednesday September 13th you can call in live, to talk with me, with each other, and with some experts, so we can dig more about how to evaluate how much a degree is worth and how to organize the debt you already have.
These call in specials are at 8pm EST, 5pm PST and will be broadcast live on the radio on WNYC in New York City, wnyc.org and we'll stream the whole thing on the Death, Sex & Money Facebook page.
We'll be posting more details there as we get closer. And if you missed the two-episode series on student loans, you can go back and listen to it in your podcast feed now or at deathsexmoney.org/studentloans.
Speaking of recent episodes, we've also been getting a lot of questions from you about the results of Lawrence Bartley's parole hearing after we re-aired our episode with him. His hearing was originally scheduled for August, but it's been pushed back to this month. We'll let you know when we hear more.
--
This is Death, Sex & Money from WNYC. I'm Anna Sale.
In early June, I saw this tweet from Tracy:
"I officially have a therapy appointment tomorrow morning. First time back on the couch in years. I'm relieved and terrified."
TC: I decided to seek out a therapist when I noticed that it was harder to do my job. It's really weird to love the job that I do but just not have the energy or the focus to feel like you can do it, or do it well. I couldn't feel that anymore when I didn't feel normal anymore I was like, "Okay, I need to get into a therapist's office." So, uhmm, I did. It was not...it took me about a month I think to send the first e-mails that I sent. Uhmm, but I did it. I'm still getting used to it...sort of? It's hard. [laughs]. I'm trying to find a really pretty…

AS: Yeah

TC...way to say that it's, it's hard and it's been kicking my ass. Uhmm ...I had a very, very positive experience the first time around and it was hard for me to understand how therapy could be anything else but a help to people. People who said that therapy actually made things worse for them I was like, well how is... how can that be true? But this time around, I'm like, "Oh, this is why people stop." [TC laughs]

AS: Is it because this time around somehow, it's...it's so over...emotionally overwhelming that it feels like you're, uhmm, it's like threatening the ways you usually cope?

TC: Uhmm...no, I don't think that's it. I think this time around there's just so much really, really tough work to do. Because the first time around I didn't really know what anxiety or anxiety disorder was. So that was the big revelation for me the first time, right, was like, "Doc, I'm stressed out all the time and I always feel this sense of impending dread and it's really impeding with my ability to have fun. What is it?"

"It's anxiety."

"What? What's anxiety?" And so we have those very base and basic conversations and at the time that was enough for me to improve my station in life. Like I was able to say goodbye to some people that weren't really helpful for me, and I was able to figure out how to find extra energy to get up and go outside sometimes. But now it's like the things that I'm dealing with are catching up with a lot of the really, really, really big changes that have occurred in the last two years or so that I haven't really thought about or dealt with. Something that my therapist told me which both...uhmm..helped and kinda stressed me out was she said...oh, so I was asking her, I was like, you know what, it just feels like I'm now feeling all of my problems at once. Where before I was able to like kind of put them all in a box and maybe deal with them one at a time, if I dealt with them at all.

And she was like, yeah that was a survival mechanism, because when we are intelligent...she did say I was smart [chuckles], thanks...uhmmm....she was like, you know when that, when that happens, you know your brain recognizes that you can't deal with all that stuff and so it protects you by allowing you to sort of not deal with it or to ignore it and just put everything in a box. And so now you're feeling everything at once because now your brain trusts you and knows that you're strong enough to deal with all the stuff that you haven't been dealing with. And that was cool cause it was like, "Oh man, my brain thinks that I'm ready." But then it was like but can it...can it keep some of the problems though? [laughs]

AS: Thanks, brain! Exactly [laughs].

TC: What kinda jerk would be like, "Oh, here's every problem in the world. Like, I have the ability to just like give you maybe two or three but I'm...nah...I'm just gonna give them all to you."

AS: It's...it's kind of striking talking to you...uhmm...now versus the start of the year, 'cause at the start of the year, the season of, like, making list of all the ways that we're gonna improve our lives and the things that we're going to do differently and all the things we have control over and agency over and are going to fix.

TC: Mmhmmm.

AS: And it seems like today I'm catching you in a moment where it's less of a list of all the things that you wanna, you...you know re-imagine about your life and instead like...being in your life.

TC: Mmmm.

AS: And looking at the things you can control and the things you can't control.

TC: Yeah, I've not thought about it that way before now, but this makes a lot of sense. And it also makes sense that this would be...I mean this...I do wonder that if I was not in therapy, right now, like is this the way that I would sort of look at everything? Because at the top of the year I don't think I was as conscious of the way that my life had changed just like structurally in the past two years. I do think it's accurate to say that I am...I'm working on accepting things that I can't change, which I've never been good at.

AS: Yeah...Will you tell me about fortnight?

TC: Oh my gosh! Fort night is, has been like the greatest joy of my life in the past couple of months.

AS: Uh huh...

TC: Uhhh, I was just having a tough day. I've had a lot of tough days, and then on this particular day, I just got fed up and I was like, you know what, I need something to look forward to and so, I just decided you know, like my business on this night was to go home and make a fort. And...

AS: Wait, where did that idea come from?

TC: I used to make forts all the time. Like just, uhhh...just like a little fort of feelings. I've made forts in the office when I was-- when I've had like super tough times. Uhmm, so I was like, "You know what, I'm going to celebrate making it through this week, through this day, through this month, through this life, through this next breath, whatever, and when I get home, I'm going to make a fort." And then I was like, "You know what? Everybody should make a fort with me." Had no idea that so many people were going to be like, "Yeah, let's make a fort!". I was like, "Don't y'all got jobs? What's wrong with y'all? What are you doing?" [laughs]. But I had a really terrible name for the occasion. It was like, National Self Care Fort Day or something terrible like that. And then Linda Holmes of N.P.R.'s Pop Culture Happy Hour (hey girl!) she was like, "Tracy, you can call it a fort night!" I was like, it's such a better name, first of all. It made me feel really, really good to know that, my crappy day helped to brighten someone else's day. And we're gonna...I'm gonna try to do one, maybe every month? Some people suggested actual fortnights. And then once I learned that that was every two weeks, I was like, "Nah, it's kind of a lot." [laughs] So maybe monthly fort nights will happen.
That's Tracy Clayton. Her podcast is Another Round...find it wherever you get your podcasts. Tracy's on twitter @brokeymcpoverty--if you want to build a fort with her, follow her and look for the hashtag "fortnight" to find out when she's organizing the next one.
Death Sex and Money is a listener-supported production of WNYC Studios in New York. I'm based at the Center for Investigative Reporting in Emeryville, CA. Our team includes Katie Bishop, Anabel Bacon, Emily Botein, and Andrew Dunn. Thanks to Northwest College in Powell, Wyoming, for their help on this episode.
The Reverend John Delore and Steve Lewis wrote our theme music.
I'm on Twitter @annasale, the show is @deathsexmoney. And remember, look for our live call in, September 12th and 13th. We're going to talk more about your student debt.
Another one of Tracy's 2017 resolutions was meet a chicken. And she did….there's a video of her INTERVIEWING chickens on our website...at deathsexmoney.org.
TC: Those chickens were actually Melissa Harris Perry's chickens. Melissa Harris Perry has built her chickens an apartment in her backyard. The apartment has a chandelier and a water cooler, I'm not making any of this up.

AS: A fort, if you will.

TC: A fort...it was a chicken fort [laughs]
I'm Anna Sale, and this is Death, Sex & Money from WNYC.
Copyright © 2019 New York Public Radio. All rights reserved. Visit our website terms of use at www.wnyc.org for further information.
Music Credits:
"Stale Case" by Blue Dot Sessions
,
"Plaque" by Blue Dot Sessions