Tracy Clayton Is Speaking Things Into Existence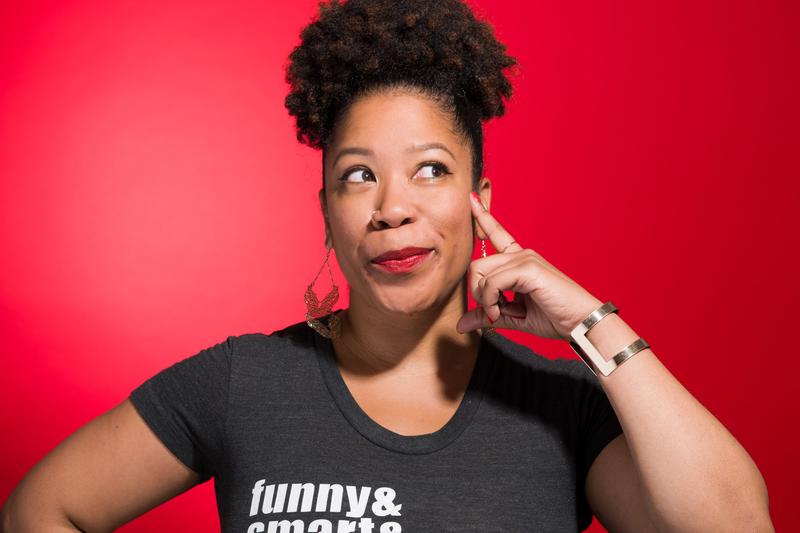 Transcript
TRACY CLAYTON: As I get older - you know, the New Year used to be a really, really big deal for me when I was younger, in my 20s. Like, okay, this is my chance to start all over. And everything that I didn't do last year I'm gonna do this year. And without fail by like February or March I feel like a failure.
This is Death, Sex & Money.
The show from WNYC about the things we think about a lot…
...and need to talk about more.
I'm Anna Sale.
Over the holidays I was at home, looking at my phone, and I noticed this tweet from Tracy Clayton, a.k.a. @brokeymcpoverty.
TC: "There are so many things I want for 2017, and I believe in speaking things into existence, so I'm gonna use this thread to do that."
Tracy's a writer and the co-host of the Buzzfeed podcast Another Round. And she went on to list the ways she wanted to change her life in the coming year. It was a long list.
TC: "I'm really trying to get in shape..."

TC: "I want to travel!"

TC: "...like, hide your dads, boyfriends, and all your adult sons."

TC: "I want to get serious about volunteering my time and giving back."

TC: "I want some real fucking grown up furniture!"
She tweeted about money…
TC: "I want to get my finances in order."
About family…
TC: "I wanna finally begin giving back to my mother everything she's given to me over the course of my life."
And about love…
TC: This is so scary, I don't even like reading this one out loud! (Laughs) "I want to do the hard work of reconciling my past relationships so that I can prep myself for the partner and kids that I'm too scared to admit that I want."
I feel like I know a lot about Tracy from her show. She moved to New York from Louisville two years ago. She has struggled with anxiety. She loves a stiff drink and bad jokes.
But I learned a lot more reading this cascade of tweets—30 in all. Of course, most of us, around New Years, build a list of all the ways we want to transform ourselves. But saying it all out loud, in detail, on Twitter? In front of almost 100 thousand followers? I thought that was really brave.
TC: Like typing them out loud was one thing, and now saying them out loud is like—it feels like typing them all over again for the first time.

AS: Yeah. Where were you when you just started this thread of 30 tweets that you were just bursting out into the universe about what you wanted for yourself?

TC: Um, I had flown home for the holidays. I was at home for about nine days. I was in my mom's living room and I was just sort of thinking what would a better me look like? I had a very successful year last year as far as my career goes, but I still felt sort of, um—I didn't feel like the rest of my life reflected that same sort of success or happiness. And I realized that one of the reasons is probably because I don't set goals for myself, like actual real goals. And that's because I'm afraid of trying to reach them because what happens if I don't reach them and I feel like a failure? There's always the threat or the fear for me of failing and failing publicly.

AS: So you responded to that by tweeting all this out to everyone on the internet?

TC: To the whole world. Because I really think—so, the initial tweet that I sent out was, you know, I believe in speaking things into existence, which is actually me trying to speak that belief into existence, right? Because I always love when people are like, you know, I just speak it and I claim it and I receive it and I have it. And I'm just like, how the fuck do you do that? Teach me how to do that! So I'm trying to become that type of person. So there's the act of naming it, and also there's the act of some form of accountability. Because I'm very used to letting myself down, but I'm much more afraid of letting other people down.

AS: You said I want stability in all areas of my life, financial, emotional, home, work. I want significantly less chaos everywhere. What was that about? What's the chaos?

TC: Um, I feel like I've been in transition for a really long time. I guess that could just be the act of growing up, you know, it's basically a transition from one stage of life into another. But as I get older—I'm gonna be 35 in April—I feel like there are things and stuff that are not in place right now. And just like so many places feel like a gray area. My love life has always been a shit show of a gray area. (Laughs) Work is good but it's still not - I'm still not like doing - I don't, I don't—a lot of this stuff I don't know how to put into words really, it's just like I don't feel like both of my feet are planted firmly on the ground. I feel like my toes are getting there and maybe the balls of my feet are getting there. And I don't know if that's because I'm getting older and I'm looking around and I'm seeing people getting married and they've already got three and four kids and like savings accounts. Who has a savings account? I don't know!

AS: Your tweet about money is - there is a lot in there of your goal about money. You say, "I want to get my finances in order, I want a decent credit score for once in my life, I want to never worry about money again." Like - is that possible? To never worry about money again?

TC: Honestly I have no idea because when you've never had money you kind of have to learn how to have it. And I don't even like have it now. I have more access to it and other things, right? And it's like so amazing, the things I don't know about money. I know how to hold down a job and I know how to make sure that like the taxes that need to be taken out are taken out. But beyond that, I don't know anything about investing, I don't know anything about making my money "work for me," is a thing that white dudes in business shirts always say. And I'm like, well what does that mean? And I really think that these are things that aren't taught to impoverished people and people of color, especially. And I - like, being surrounded by so many people who don't have these worries, I'm like, okay, now I see for the first time in my life that it's possible to get to a point and a place where that's not a worry. You can go out and buy a $200 dinner and not have to take money out of one account to put in the other account to pay for it. These are things that I just I never knew before.

AS: So what's it mean, when you think about getting your finances in order, what's that gonna mean? Concretely, what are you doing?

TC: Um, I am going to get a tax accountant. Because my mother is a very smart woman but if I can have somebody else do my taxes every year I probably should.

AS: Your mom's been doing your taxes?

TC: Yes!

AS: How sweet!

TC: (Laughs) She's so sweet. She's the best. And I'm sure she's done a great job but you know, I need to get a grown up accountant. And an accountant is one of those things where I'm just like, oh that's a thing rich people have, or that's a thing that white people have. It doesn't have to be that way. Anyone can get an accountant or a tax accountant. So I'm gonna do that. My credit score is like 3, I need to fix that, definitely.

AS: (Laughs) Wait, is that from like unpaid credit card bills? Or what happened?

TC: Yeah, just being young and in college. My mother, bless her heart, she had this great plan that she was gonna get me a credit card and put it my name but then she was gonna keep it and buy stuff that she needed to buy around the house and pay it off to build my credit so that when I was an actual adult I would have good credit. And she did that, but I'm not good at being an adult and paying bills on time. And I just ruined it. I ruined it. And again, like credit is something that I was never taught about. Like I barely knew what credit was for and how it worked, you know? So I want to get that together. And I'm saving up to take a trip to Puerto Rico, by myself, my first solo vacation—which I should have tweeted that, that's a goal of mine. So saving money and watching money grow is another thing that I want to be able to do.

AS: Do you have a savings account now?

TC: I do now. It was the first thing that I did for myself this year. It's step one of trying to achieve or accomplish some of these goals. I now have a savings account.

AS: You didn't have one in 2016.

TC: I did not. I'm embarrassed to say.

AS: I want to ask you about furniture.

TC: Okay!

AS: Because you tweeted that all your—you said you want to get some real fucking grown up furniture because all your shit is still in storage in Louisville. Do you want to move your furniture from Louisville to New York? Or do you picture getting new furniture?

TC: So the original plan was to move it from Louisville to New York, because I just didn't want to buy a bunch of new furniture, but honestly my furniture is shit anyway. It's like all Ikea furniture and I've just doled it out to folks at home. The goal is to get actual furniture that is at least the fancier part of Ikea furniture.

AS: Uh huh! Exactly! I remember that—I was like, no more particle board but I'll still get the things that are made of wood from Ikea.

TC: (Laughs) Yes, yes. No more Lack coffee tables for me. I'm not going back.

AS: Do you feel like New York is your permanent home? Or at least your permanent home for now?

TC: No. It's permanent for now. Um, I recognize that the career gains that I've made and all of the opportunities that I have and will hopefully come pouring to me in 2017, knock on wood, I've realized and recognized that I couldn't have gotten this in Louisville, where I was. I'm learning—I can't make my mouth say the words "I like living in New York." It's probably just ego and pride, honestly. But I - I'm comfortable. I'm enjoying my time here. But this is not my forever home. New York is like being tickled too much, I like to say. At first it's like, "Ha ha, stop it, stop it!" And then it's like, "Touch me again and I swear to god—I will murder you." It's so much stimulation and I need regular breaks. And eventually I would love for the regular breaks that I take to be to go to someplace that's more exciting, instead of living in the excitement and having to go someplace else to destress. I want to live in a destressed place and then just come back to New York to visit sometime. But I think I'll eventually settle back in my old Kentucky home.
Coming up, I talk with Tracy about some of her other goals… including the one about wanting to start a family.
TC: I definitely want kids and everybody says that like after 35 it's like, have a funeral for your womb, because you can't have kids after that. And so I've got 6 months! So, gotta do something pretty soon.
—
Tracy's not the only one with feelings about money. After my conversation with former Wall Street executive Sallie Krawcheck, a lot of you chimed in.
A 31-year-old listener in Panama named Marcela says she was happy to hear Sallie acknowledge that women and men face different issues with money. Marcela says she deals with it all the time in her job as a civil engineer.
MARCELA: I mean, I have to fight against the gender pay gap, against common social norms such as get married and stop working. So it's good to know that Sallie is taking those issues into account.
Marcela says she's already putting some of Sallie's advice into practice, and is tracking her net worth on her own Excel spreadsheet.
But for some listeners, like one named Kelly, Sallie's advice rubbed them the wrong way.
KELLY: She shames women who are struggling and is reluctant to acknowledge the role of luck and privilege in her own wealth. I could not believe my ears at her defensive comment that nobody worked harder than me. Give me a break!
Another response came in from @DrCookeJackson, who tweeted out, "Wow, women feel defensive if they've made money! But why? Gotta drop dysfunctional paradigms of money." She followed it with the hashtag #pitout.
On the next episode, a married mother of two who decided to carry twins for another couple—to pay off the expenses from her own child's birth.
SARAH SHORT: Having all that debt that I just—when I would think about how much it was and what it would take to pay it off I would just get so overwhelmed and I would be like we're never gonna be able to get out from under this. And it felt like it was all my fault. And that was why, you know, I started looking at ways that I could pay this off myself.
—
This is Death, Sex & Money from WNYC. I'm Anna Sale.
Tracy Clayton's podcast Another Round has been a breakout success since it launched in 2015. It was named Best of iTunes, she and her co-host Heben Nigatu scored an exclusive interview with Hillary Clinton during a pivotal moment in the campaign. By the end of 2016, they were partying with the Obamas at the White House.
But outside of work, Tracy says something still felt like it was missing.
AS: I wanna ask you about what you tweeted about relationships?

TC: Oh boy. I don't have any liquor. All I have is water.

AS: (Laughs) You said two things—you said, I want to basically find peace with past relationships to get ready for the partner and kids that I'm afraid to admit that I want. I want to ask about the second part of that first—have you admitted out loud that you want a partner and kids?

TC: Uh. As of that tweet, that is the only time that it's happened. And I guess when I read it here for you, that's the first and only time that I've ever said those words out loud. Actually when I was at home, my mother and I were watching some eHarmony commercial. And it's the one where they've got all these cut scenes of people telling people that they love that they've met somebody. "I've met someone. I've met someone!" They're like, "Oh my god, she's met someone!" And my mother was like, are you ever gonna come to met and tell me that you met someone?

AS: Oh, mom!

TC: I know. First of all, how dare she! Second of all, this is just manipulative. Not nice. But my response was, well wouldn't you rather I come to you and say, I just made my first million? And she said, no! And I was like, fuck. Dammit! But I mean, the older I get, I've gotta admit, you know what? It would be nice to have somebody to sit around and do nothing with. Um. I am not used to - I don't have like a model of a long-lasting healthy relationship. Because by the time I was born—my mother never married. I have two aunts, one never married and the other was divorced by the time I was born. My grandmother was divorced. So I just never saw an image, it wasn't a normal ordinary thing to be like, oh yeah, they've been together for x amount of years. I have an uncle that was married for a long time. But, you know, I like boys. I would like a boy. A boy would be cool. But I don't do very well with actually tying up loose ends once those ends become loose. And rather than filter through and do the hard work of getting over x, y and z and healing from this experience, I just put it all in a box and I shove it in a corner of my cold, dark, shadowy heart.

AS: Is that heartbreak? Or is that the hard moments when you've had to leave somebody that you felt guilty about?

TC: It's both. Um, my last relationship is a very long story but I thought we were gonna get married and then I got this job offer to come to New York and I chose New York and that was really hard. I never dealt with it, really. And I'm pretty good at diagnosing myself. So whenever I meet somebody I'm like, oh this is a very nice person but I'm not ready for a relationship because I've got all these other issues. Like I can see what's wrong with me, I just won't fix it. I'm just like, oh well! And now I'm like, okay, Trace, if you never ever ever fix it and wade through this uncomfortable-ass box, then you know, sure, you'll probably be fine, but what if you could be more than fine? What if you could be happy? Wouldn't that be cool?

AS: Was it scarier to admit that you wanted a partner or admit that you wanted kids?

TC: A partner. Definitely. Because I've known for a long time that single parenthood is hard but I mean, it's not impossible. I was raised by a single mom. She was raised by a single mom. Our president was raised by a single mom. I'm much more comfortable with the idea of raising a kid by myself than I am with having to do the work of being in a relationship. That's a lot.

AS: I was really struck by the way you talked about your physical health. You said, I want to finally take my physical health as seriously as I take my mental health. So what's that mean?

TC: I'm very vigilant about my mental health. I am pretty good, kind of good, with sticking to my meds and I journal and I try to make sure that my brain is okay because I know when it's not, then nothing else is okay. But my body, I just don't put the same effort into it. And I need to. I actually, I had this great revelation awhile ago when I was really really down on myself because I've been gaining weight—I've been gaining weight for like the last 10 years. And I always do the thing where I'm like no, this time I'm gonna join the gym and cook every day and I never ever ever do. And I was laying in bed one day and I just got tired of feeling bad about the way that I looked and about my body. And I said to myself, I have a good body. It's not perfect, it doesn't look like all of my favorite superstars but it's a good body, it's healthy, and that's important and that's enough and you should celebrate that. And it really changed something in me. And it made me feel more okay with the way that it looks. By appreciating the way that it functions and the things that it does for me, it made me appreciate the way that it looks. But it also made me feel better about just ordering Seamless every night and sitting down and not even trying to work out. Because I'm like, you know what, I got a good body! It's still a good body if I eat this pizza! Um, but I do recognize especially as I get older and I'm starting to see family members, starting to see their health decline, my body is only good if I'm good to it. It can peter out any moment and there's still so much that I want to do and get done, and to do that I have to be like, yeah you have a good body but it can last a lot longer if you're better to it.

AS: And so it's about taking care of your body, but you also mentioned that you want to get in shape and have a body where you gotta hide your dads, hide your boyfriends and adult sons.

TC: Yes. Yes. I really want—because, okay, if I can speak candidly, just you and I, I think I've got a really really good shape. And if I just worked out and did a damn sit up sometime, I could just really - I want for a month of my life to be like, in body con dresses and ridiculous heels that I can't walk in, and just like the super glamorous, like sexy—for nobody but myself. And once that happens, then I want to settle back into my "I've got a good body and it's fine." But I feel like I spent so much of my youth hating my young body. And when I look back at pictures of myself from like 10 years ago I get so mad at that girl in those pictures cause I'm just like, you spent all this time thinking you were fat. And ugh, I just want to throttle her. Just be like, listen, you're fine as fuck. Stop it. Stop it stop it stop it. So I think it really does come from just wanting to have a second chance to appreciate myself in ways that I hadn't before. I think. When I thought I was really really fat I was 150 lbs maybe. And I feel like if I were to hit 150 again, I would feel perfect. I would feel flawless as opposed to back when I was 150 just feeling like a slob. Not enjoying it, and not being present. I want a do-over.

AS: When you say you want to get back to 150, what does that mean, how much does that mean you have to lose? You're asking yourself to lose?

TC: I am now 186, can't do math. Maybe you can edit that in. But it's - it's been very interesting watching my weight loss goal go from 10 lbs to 15 lbs to 20 lbs. It's been very interesting.

AS: Yeah. You tweeted about your family in a couple of interesting ways. One way is you said, when I go home to Louisville, I want to be my whole self and I want to stop compartmentalizing. What are the parts of yourself that you leave out when you go home now?

TC: Well, I got drunk with my family on Christmas day for the first time ever in my life. So that's a part—not that I'm always drunk. I'm not always drunk. But I enjoy an occasional adult beverage. And I know that, there was one Thanksgiving where I was at home and I was challenging my brother to some kind of game and I was like, alright, we're gonna do shot for shot. Let's go. And everyone was like, oh my gosh! Tracy can't take a shot! And in my head I was like, if you knew how I drink at home—and it's very stressful to have to limit any part of myself when I'm around my family.

AS: That surprises me that, like, "I wanna go home and drink more in front of my family." That's a surprising answer! (Laughs) But I hear what you're saying. Especially like, as like an accomplished young woman, I get you wanted to show them that you got things on lockdown and you're responsible and you're gonna get things done. And so being someone who knows how to let loose or just relax, I don't think that's something that talented young women are taught, or know how to do.

TC: Yeah, I definitely agree. And I think also I'm the youngest of my mom's kids, so in my head a lot of people still think that I'm like a 15 year old child. And when I was younger I was super shy, I didn't do anything risque. I didn't start drinking even until I was like 25, 26.

AS: Really?

TC: Yeah! Yeah. I was very, oh my gosh, bookish and terrified to open my mouth to anybody. So I think it's just giving myself permission to be a grown-ass woman around my family has been really really big.

AS: You also said you want to give back to your mother for all that she's given to you.

TC: Yes. I just bought her a bed for Christmas and it made me feel—I can't think of a better feeling to just be able to give her something that she needs or wants. You know, and just be like, don't worry about it, it's on me. I got it. Because, oh my gosh, she just makes me so emotional. She just gives and she gives and she gives and she gives and when I think about my earliest examples of feminism, it was her, and it's not because she was reading Audrey Lord and Toni Morrison. It was because she was out working to take care of me and my brother and her mother. Those are things that I know that I can't ever repay with money but I'm so excited to try.

AS: Have you been sending money home?

TC: Yeah. I've been trying to learn how to do it. Because I'm always like, okay, just tell me how much you need and I'll send it. And when I do that, I don't take into account how it can make my family feel. And pride is a big thing. It's a big deal. I can't imagine what it feels like to have this person that you've been taking care of forever who now wants you to chill out and let them take care of you. I'm sure it's not easy. But we're figuring it out. We're working on it.

AS: Now that we're into January, 2017 has started—is there anything you wish you hadn't tweeted? That you hadn't said out loud about what you wanted for this year?

TC: Oh man, that's a great question. Tweeting the one about the relationship stuff makes me uncomfortable to think about. Because I'm just not good with that sort of thing. But don't regret tweeting it, because I really think that it's step one in getting all that stuff together. So I don't regret anything that I tweeted.

AS: That's the one that feels the most tender.

TC: Yes, it is.

AS: I'm really excited for your 2017.

TC: Thank you! Me too!

AS: Yeah.

TC: I'm also excited for your 2017. That sounded really selfish of me. (Laughs)
That's Tracy Clayton. She's a writer and host of the Buzzfeed podcast Another Round.
Death, Sex & Money is a listener-supported production of WNYC Studios in New York. I'm based at the Center for Investigative Reporting in Emeryville, CA. The team includes Katie Bishop, Chester Jesus Soria, Emily Botein, and Andrew Dunn.
The Reverend John Delore and Steve Lewis wrote our theme music.
I'm on Twitter @annasale, the show is @deathsexmoney. And here's one more thing you can accomplish in 2017: Write a review for Death, Sex & Money in iTunes.
While you're there, check out the Another Round podcast if you haven't. Tracy and her co-host, Heben Nigatu, get incredible guests on the show. And they are hilarious. There's drinking, there's lots of jokes, and Tracy's animal corner. She's got a thing for animals. So much so that she included them in her list of 2017 goals.
TC: I want to meet a chicken, and a parrot, and a baby elephant, and finally meet a penguin. That might be the thing that I want most on this whole list honestly. (Laughs)
I'm Anna Sale, and this is Death, Sex & Money from WNYC.
Copyright © 2019 New York Public Radio. All rights reserved. Visit our website terms of use at www.wnyc.org for further information.
Music Credits:
"Stale Case" by Blue Dot Sessions
,
"Decompression" by Blue Dot Sessions