Tituss Burgess Airs His Laundry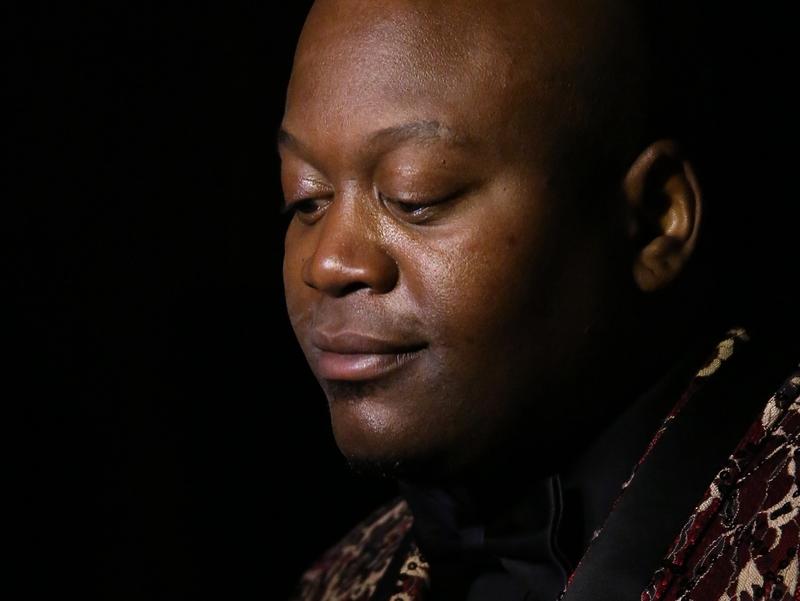 Transcript
Tituss Burgess: I'm comfortable airing my laundry. You know, I don't think one thing's dirty or clean. It's just what I wear.
This is Death, Sex & Money.
The show from WNYC about the things we think about a lot...
...and need to talk about more.
I'm Anna Sale.
Tituss Burgess is from the South, just like the character that bears his name on "The Unbreakable Kimmy Schmidt."
Titus Andromedon: I came here in 1998 on a damn bus from Chickasaw County, Mississippi. You know who lives in Chickasaw County? Nobody.
On the show, Tituss's character was born Ronald, a gay man who snuck out the back door of his wedding reception to start a life as "Titus" in New York City.
TA: I changed my name to Titus Andromedon, and I marched myself in to audition for "The Lion King."

Kimmy Schmidt: You were in "The Lion King" on Broadway?

TA: Yes! Except I was not.
In real life, Tituss Burgess has always been Tituss. Even in the small town of Lexington, Georgia, where he spent a lot of his childhood. He says it wasn't always easy growing up there. But it was home, with its quiet comforts, deep connection to family, and slow pace. In fact, when Tituss talked with me about Georgia, he slowed down too. He spoke with considered deliberateness, often peering off to the side instead of at me, as if conjuring up the memories in real time.
TB: My granddad, who is still with us, and my grandmother who is no longer with us, had a farm. Several acres. And the house sat off of the main highway, Highway 78. It was pretty quiet. Rural. Like, the whole, you know, one traffic light kind of thing. I would show up in the mornings with my uncle. I would enter through their bedroom and AM radio would be playing. I just remember thinking it made these feel even more rural. Even further away from civilization. My grandmother was everything to me.

AS: What do you mean?

TB: Um...I love my mom. We're very close. But there's something about a grandmother's attention and those long summer days. I felt safe there. I would sleep with her. I would put my head on her stomach to make sure she was still breathing. I would just stare at it and make sure it was going up and down while we were taking naps. Course, when I was a kid she seemed... She was a century old. You know, even though she really wasn't. And there was always this, "Oh god, I'm gonna lose her" feeling that I had. I can still feel her to my right as I'm seated at the table, and she's kneading the dough, making biscuits, humming a hymn. And we would just sing and harmonize. I don't even know that she knew that she could sing.

AS: What would you sing?

TB: You know, "Guide me, O thou Great Jehovah," "The Storm is Passing Over."

AS: Will you sing that?

TB: Sure! [Sings] Hallelujah! Hallelujah! Hallelujah! A storm is passing over. The storm is passing over, the storm is passing over. Hallelujah! [Speaking] That's the little chorus of it.
Before Tituss was in school, he and his mom lived in Lexington with his grandparents.
TB: One day I accidentally called my grandmother "Mom." And that did not sit well with my mother.

AS: Oh!

TB: Mhm. I remember it. It was a big brouhaha.
Tituss's mom decided they needed to live on their own. They moved to an apartment in Athens, Georgia, the college town 17 miles and a world away. It was just the two of them until Tituss was in the sixth grade, when his mom got married. They moved in with his stepdad and two stepbrothers, one older and one younger.
TB: It was not an easy start. And in fact, I recall being pretty miserable. Didn't get along with my stepbrothers.

AS: And you're all living together, right as you're entering puberty.

TB: Yes. It was quite traumatic, actually. And it was just sort of, there we were. All of these different energies in this house. I'm a very intuitive person. A very...I'm a Pisces. Very sensitive. I feel everything to the nth degree. So much so that it exhausts me. And I can walk through a room and kind of tell you what's going on with your day. And it's something that I have to turn off on purpose. Like I have to make a conscious effort to ignore. I think it's hard because like...Especially if I've tapped into it, then I want to assist.

AS: Feeling people's energy and taking it on?

TB: Feeling people's energy and taking it on. And not knowing why I was so damn anxious and filled with anxiety, or depressed.

AS: You just feel heavy?

TB: I just feel heavy. And I was heavy. Literally, physically. Which also added to it. And then there...you know, I was gay. Or am gay. But, you know.

AS: Did you know you were gay at that point?

TB: I knew at like four or five. Very, very early on I knew. Um, yeah. And so, you know. Bless little Tituss's heart.

AS: Mm.

TB: I think about him often.
Little Tituss knew, but he didn't tell his mom he was gay until he was an adult, in his freshman year at the University of Georgia.
TB: It happened during a very emotionally raw moment. One of my closest friends passed away in a car accident. I'm all torn up about that, and I'm crying or whatever. Then she drops it on me that my grandmother has Alzheimer's. And...

AS: In the same conversation?

TB: Mmhm. And that it's bad. So I'm just spent. And she goes, "Is there anything else you want to tell me?" And I knew exactly what she was talking about. And I thought, "It's either now or who knows when. I feel like I'm losing everything, so telling this piece of information...I might as well. I feel no danger." So I told her that I was gay and she handled it very well. And then the years to come after that is when she would have trouble processing and integrating.

AS: When you say she handled it well, did she hug you? Did she say okay?

TB: She said, "Let's go and make dinner." We were gonna fry some chicken that night and we did.
Tituss asked his mom not to tell his stepfather. But she didn't listen.
TB: She told everybody. She told my entire family. Telling everyone meant nothing to me. It meant she suddenly had to deal with it in front of everyone. I don't even think she even processed that but it was for her. She needed to do that.
Coming up, how Tituss's relationship with his mom works now.
Hi folks, this is Chester Jesus Soria. I'm with the Death, Sex & Money team. You might remember, a few weeks ago, Anna shared a voice memo from a man who was struggling with an addiction to porn. His experience made us wonder about your relationship to porn. Did it help you understand sexuality or did it confuse you? Do you enjoy watching it with your partner or do you keep it a secret? Has porn helped or hurt a relationship that you're in? You've already started sending us some of your stories and we're learning that your relationships to porn can be just as complicated as any other relationship.
I discovered my dad's Playboy magazines.

I was studying it like homework, like, 'Oh, that's the thing that happens.'

Pornography taught me how to touch myself.

One day, I realized I had over a hundred magazines. It was kind of crazy.

Seeing on my big screen TV some pretty whacked-out shit.

I must've forgot to clear the search history or something like that.

It soon became so it wasn't enough.

And then he loses interest in me.

It was just an outlet for a complete lack of sex.

Why be quiet about it?
If you have a story that you want to share, you can use your smartphone to email us a voice memo or just write to us at deathsexmoney@wnyc.org and we'll make sure to contact you if we end up using anything that you send us.
On the next episode:
Amber Scorah: There's nothing that's not hard.
A conversation with two parents about losing their child and deciding to have a second one.
Lee Towndrow: I find myself continuing to think, like, 'Okay, we'll just get through this period and then we'll have Karl again. And then I realize, like, "No, no, we're not gonna have Karl again."
This is Death, Sex & Money from WNYC.
I'm Anna Sale.
TA: I'm making a music video. It's called "Peeno Noir: An Ode to Black Penis."
Among other things, Tituss Burgess is now famous for this viral video from Kimmy Schmidt. And he has a spin-off pinot noir. You can buy your own Tituss Burgess wine.
AS: What does your mom think about "Peeno Noir," your anthem to the black penis?

TB: I don't even think she thinks about it. Like I think she hears it and that's something she doesn't want to...We never discussed it. I know she knows what it stands for because she, I sent her a couple bottles...

AS: You sent her a couple bottles of your pinot. Your spinoff pinot.

TB: Yeah. (Laughs) I don't even think that it is something that...It's kind of like, "I know it exists, but not going to give any more thought to it."
When Tituss was recognized last year by the gay rights group Human Rights Campaign, he talked about his mother, saying, "I have never loved someone so fiercesomely who I want to shake vigorously."
AS: Does she feel uncomfortable with you being an activist?

TB: She won't admit it, but yeah, she feels uncomfortable with it. Course she does. It means that there's a chance that she might have to come out and be vocal about a position. Even as recent as a month ago, she and I were talking about this ridiculousness of sexuality and how political I am and outspoken against homophobia, against racial inequality, income inequality, all this stuff. Because it shines a spotlight on her back home. Having me as a son has caused all sorts of augmentations in her. And in her -isms, her being.

AS: An augmentation. You mean, you've complicated the way she sees life? Is that what you mean?

TB: I have challenged the way she sees life. I won't say complicated.

AS: Mhm.

TB: And I'm not...Because I live so freely, there's no danger of anyone finding anything out. And so I try and encourage her to live like that. You know? But that's just not how she grew up.

AS: But it sounds like you haven't... You talk about all this stuff. You have an ongoing conversation.

TB: Well, I told her this last time. I was on Stephen Colbert. It was right around the time that Georgia was about to vote on this quote-unquote religious freedom law. But we all know that that is code for hate. Um, against the LGBT community. And so I tweeted the University of Georgia that they need to come out against this law if they're going to bear the state's name as the name of that university. So I tweeted them and I was like, "You guys need to let me come down there and do the commencement speech." And I gave a fake commencement speech on Colbert's show.

TB: [On Colbert] "Dear graduates of 20-whatever-year-it-is-when-I-come-down-there, you just graduated from a shady school that has the name of a shady state that tried to pass a shady law."

TB: And my mom called me and wanted to have a serious conversation. I'm too sassy. I'm outspoken and I need to be more humble. Don't forget the bridges that brought you over. You graduated from UG and blah, blah, blah. You know? And I'm thinking, first of all, "How can anyone school me on how to be the me that I become when it was me that was assisting me in becoming what I've become?"

AS: "I'm my own bridge."

TB: I am my own bridge! What are you talking about!? What are you talking about?

AS: Did she actually say "sassy"?

TB: She didn't... She said outspoken.

AS: Okay.

TB: Um (laughs), but I said to her, "What is your perception of what I've done?" And it's a very old school, old rural way of thinking but it's...I somehow am showboating. And all she could register was the brassiness and the pointed-ness of my approach. What I said was inconsequential.

AS: How much do you think she was shaped from growing up black in the South? About what she was allowed to be outspoken about and what she needed to be quiet about?

TB: It is the lens with which I was reared by. It is the point of reference, the framework, for raising me. Yes, ma'am. No, ma'am. Be considerate. Put others first. All these -isms that, if not properly broken down, can let you lie down and just let things roll and walk all over you. Um, I'm not really sure how I escaped it. But I've never... I've never felt it. Even being in the sticks, I've never felt that I was anything other than wholly human with the capacity to form opinions and let the world know about those opinions. So you can imagine, it makes continuing to nurture a relationship...Not even with your mom, but with anybody who thinks... It makes it difficult.

AS: Would you call yourselves close?

TB: Oh, absolutely. I was reading something on Facebook about friends. About ultimately we outgrow all of our friends. Ultimately it morphs. And my mom is one of my closest friends. But because of what is growing increasingly important to me, almost becoming a part of my DNA, I've had to assist us both in redefining what our relationship is. Taking greater, more strategic steps towards protecting us. For fear that the very different thinking will dismantle what's left.

AS: Hm.

TB: But I feel that way about everybody though. (Laughs) I really do though. I really do.
Tituss's mom still lives down South. He moved to New York in 2003. Not long after, his grandmother died.
TB: Here I was in New York City trying to become a big star. And all of my family, they were all able to be in the room with her in the final days. Um. I'm not even sure that I've ever been able to reconcile that. Conversely though, she's been gone longer than that 'cause she had Alzheimer's. So she left a while ago. That is the only comfort I find in my not being able to be there.
But Tituss says, his grandmother continues to be an important part of his life.
TB: She visited me last week. I was dreaming. I was asleep. And I can usually tell when she's around. Things get really still. And I sense...I feel her where...I suddenly feel like I'm at the table with her cooking again. And it is a flash of a feeling. But I know that...that it's time for dialogue where she has made it to my realm close enough for me to actually get out what I need to get out and say. And I talk and talk and talk and talk and then it's...and then it's over. But um...

AS: Out loud?

TB: Yeah, yeah. Um. It's as real as if she were...you know, in person. And after all, it was the spirit of her that I connected to in the first place. You know, housed in that body. But it is that essence, that part of her, that fed that part of me. So I know I'm being watched. I mean, I know...I'm culturally Christian. I totally believe in Jesus. All that good stuff. But I know I have another set of wings, you know, if you will, accompanying me.

AS: What's family look like for you now, thirteen years into living in New York City?

TB: I have people who love me very dearly. I have two dogs.

AS: And their names?

TB: Hans and Micah. And I have some beautiful, beautiful friends. And a relationship that I'm working on. But I think I've been searching for the feeling that I had when I was a kid. And I don't think I'm ever gonna find it. I think it's gone. And that's not so much sad as it is a call for me to maximize what has become my chosen family. Um, I feel most at home when I'm alone. That's not sad. It's just I feel closest to source and connection when I'm by myself. Not having to take on.

AS: Not intruded upon.

TB: Yeah. I know how to rejuvenate myself, how to protect myself, and how to stay full. You know. Who knows where I'll be or who I will be with in the years to come, but, uh...I think I've finally got a handle on how best to live out the rest of my days here on earth.
Tituss Burgess. He plays Tituss on "The Unbreakable Kimmy Schmidt" on Netflix. He also played D'Fwan on "30 Rock" and starred on Broadway in shows including "Guys and Dolls," "The Little Mermaid," and "Jersey Boys."
Death, Sex & Money is a listener-supported production of WNYC Studios. The team includes Katie Bishop, Chester Jesus Soria, Emily Botein, and Cayce Means.
Our interns are Carson Frame and Brandy Gonzalez.
The Reverend John Delore and Steve Lewis wrote our theme music. And thanks to cellist and composer Erik Friedlander for the use of his music in this episode.
When Tituss Burgess was in his mid-twenties, he wrote a song called "Comfortable," which was really a plea to find ease in his own skin. There's a video of him singing in a church on our website at deathsexmoney.org. At thirty-six years old, Tituss says he now feels that comfort, and has a new life mantra to go with it.

TB: We've got one life to live. And this is it. This is what I'm going to do. And anything that is causing you dis-ease is on you. You're not going to invite me to dinner and make me eat your problems.
I'm Anna Sale and this is Death, Sex & Money from WNYC.
Copyright © 2019 New York Public Radio. All rights reserved. Visit our website terms of use at www.wnyc.org for further information.
Music Credits:
"Low Country Cupola" by Erik Friedlander
,
"In Paler Skies" by Blue Dot Sessions
,
"Balti" by Blue Dot Sessions
,
"Gtks" by Blue Dot Sessions
,
"Union" by David Szesztay