Tig Notaro Isn't a Blob Anymore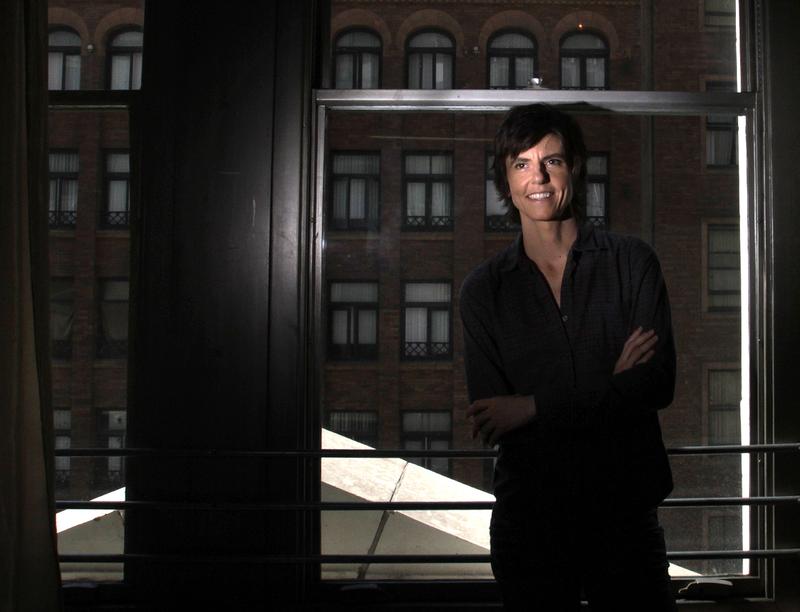 Transcript
TIG NOTARO: I always pictured myself alone as a a single parent and my friends and I always jokingly called the child little Timmy and it was just this um idea I always had.

ANNA SALE: It was just the vision of little Timmy. You and little Timmy.

TN: It it's actually 'lil, 'lil Timmy.

AS: 'Lil. Excuse me, 'lil Timmy.

TN: It's okay. Yeah, 'lil Timmy.
This is Death, Sex & Money.
The show from WNYC about the things we think about a lot…
…and need to talk about more.
I'm Anna Sale.
Comedian Tig Notaro is a parent now—but she's not a single one. She's married, to the actor Stephanie Allyne, and they have twin 2 year-old boys. Neither of them are named Timmy—they went with Max and Finn.
TN: As far as I'm concerned, my life before them I was just a blob floating around the universe. I I just, I don't even understand what I was doing, I don't understand. I don't understand my existence. It's just a different completely different world for me.
Tig has been doing standup for more than 20 years… and for most of that time, building a stable, routine domestic life was not the goal.
TN: I thought I had made it when I was driving around doing these terrible gigs. Such terrible gigs that this agent that I had never met, he's just in the middle of America that books upcoming or terrible or random comedians in these horrible rooms and bars, you know? Nobody ever meets these guys they just answer a phone in Minnesota or South Dakota. And they're like oh you want two weeks of work? I can get you booked in here and there and you get $75 a night um and if I get word that you asked for any discounts or free food you're never working for me again… and you're like its that kinda thing where its your just a pile of garbage in their minds but I was just like no problem I will not ask for food or a discount. I'm just happy to be here. You know.
When standup didn't pay the bills, Tig worked in a coffee shop and as a production assistant at the company that produced the 90s cult TV show, Xena: Warrior Princess. That's how she started babysitting for Lucy Lawless, the actor who played Xena.
TN: We hit it off immediately and then she just put me in charge of her child and um, it was fun for me too because I got to leave the office and go to Disneyland um you know I remember one time I was on a uh, I had taken Lucy's daughter and we were on this, you know not crazy big rollercoaster, I don't like rollercoasters, but it was manageable and it was at the point where it was clicking up and then my cell phone rang and I was eating cotton candy, sitting on this rollercoaster and it was my childhood friend Megan calling me, and she just hears the click click click and the screaming, and she was like 'where are you?' and I said I'm at work, um I'm on a rollercoaster with Xena's daughter, uh and then we I went uh down the you know the hill and everyone's like ah, and she and my friend just said of course, of course that's your job. Of course. Um, but my regular job there was just to answer phones and take messages and I wasn't, I wasn't great at that.

AS: When you were, when you were in that stage of your career like were you, were you worried about money, about supporting yourself?

TN: Uh, I think I was not very good with money. It's really crazy to think back, I I remember getting my mail and just opening bills and putting them down and they never crossed my mind again and then my phone would shut off. And I have to say that getting that job working, you know, for Xena, babysitting Xena's daughter and answering phones, that job actually really gave me guidance and I feel very grateful that I had that job because now I am, I am ridiculously responsible. Ridiculously responsible.

AS: Hmmm, like what does that mean.

TN: Just, if something needs to be handled, I handle it. If something needs to be said, I say it, if something needs to be paid I pay it. I just take care of it.
Just saying it is eventually what made Tig famous. In 2012, when she was 41, she got on stage at an L.A. comedy club...and talked about all the ways her life was falling apart.
TN: Good evening, hello, I have cancer, how are you?
First, she'd contracted c-diff, a life-threatening infection. Then, her mother died suddenly and then, Tig was diagnosed with stage two breast cancer.
That comedy set went viral, and all of a sudden, Tig was flooded with offers for work. In the space of four years, she wrote a memoir, released two comedy specials, starred in two documentaries, and created One Mississippi, a fictionalized TV show based on her life.
TN:You know, in people's minds it was just that I got really sick, I lost my mother but now, her album's number one and she has all these opportunities and everything's great! It was a confusing time, I just, it was an exciting time that, oh people responded to this and to my comedy and to my story but I also really was still flailing, I felt very lost and confused and it really took me a little while to find my way again.
While Tig was muddling through her newfound fame, she was also trying to become a parent. Before she got sick, and before she got together with her wife, Stephanie, she was already planning to do IVF but she had to put those plans on hold until after her cancer treatment.
TN:I was lining everything up in my personal life and I felt like I was at an age that you know I could be pushing it, but um it just seemed like a a a good enough time for me, as far as I knew. I had no idea that I was really ill.

AS: And so after after being so ill, after having treatment for cancer including surgery, what was it like going through IVF in your body?

TN: I I was advised not to do IVF, and I definitely put myself at risk by doing IVF because the kind of cancer that I had is um fueled by hormones and IVF just injects you with hormones. And I and I think because I had been so on the track of I'm gonna have a child before I was sick, I couldn't take my eyes off of it and um so yeah it was it was it was tricky and I I I guess I won't know, hopefully hopefully I'm okay and I will be okay because I am in remission now, but hopefully doing IVF, that won't you know rear its head and cancer won't return.

AS: Somehow I hadn't

TN: But I -

AS: thought of that, that you don't know.

TN: Yeah, I don't know. And uh it's just uh it's something where if I spend too much time thinking about it, it will bring me great levels of stress and anxiety but I try to just uh accept the decision I made. There's a chance everything will be fine. So, I I just I really don't know.

AS: It sounds like you were, that doing IVF was a way to try to sort of get back on track to what your life had been prior to your illness and going through so much in your personal life, and to

TN: For sure.

AS: feel in control again. Um -

TN: Yeah.

AS: And IVF is one of those things that you don't have control over, whether it succeeds or not.

TN: Yeah, it it's tricky. I mean because it's not like I did it and then it was uh successful, it wasn't successful.

AS: And when you decided to try to become a parent again, this time with your wife Stephanie, can you walk me through your decision-making process about how you were gonna do that?

TN: Well uh the first year we were together, I I I put things aside and just wanted to focus on our relationship, but it was it was going to come back up because that was a focus and we actually have a fifteen year difference between us, and she, although she wanted children, she didn't necessarily see herself trying to have children for a few more years, and so I felt very very lucky that she didn't skip a beat, and just joined me in moving forward.
To become parents, Tig and Stephanie used Stephanie's eggs and a surrogate carried the twins.
TN: We fell into really an ideal situation. Our, I mean it was ideal for us, and it was unfortunate for somebody else. Um, a couple split up in the middle of having uh having gone through steps to do IVF and I guess the guy, the husband, decided he didn't want kids and abandoned the relationship and it was just obviously terrible, and our doctor was their doctor as well and he said their surrogate is all teed up to to do this.

AS: She was like a free agent in your doctor's office? She was all ready to go.

TN: And we met with her and immediately knew that she was so like-minded and and just really a smart, interesting person, was very open with inviting us to her house to let us see how she lives and the kind of food she eats, and she just she just was very, we were all very like minded and um we ended up getting a a tremendous person to carry our babies.

AS: Have you chosen to to keep the surrogate in your kids' lives?

TN: Uh we're, you know I think there's just minimal texting and and I think she follows Stephanie on Instagram. But it's not like she became the you know aunt in in uh San Diego, you know what I mean? I think it's a healthy uh, I don't know, a healthy connection. Just, I hope she's happy with how things are.
---
Coming up, Tig Notaro talks about her relationship with her very rigid, rule-following stepfather—what changed after her mother's death, and what didn't.
TN: If I am doing a meet and greet at the merchandise booth or something, uh he stands in line like everybody else and moves up, inches his way up alone in that line just to give me a hug. And Stephanie is like you can cut the line. You can- and he's like nope. Absolutely not. He's -

AS: He is not the kind of person who cuts lines.

TN: No he's going to wait in line like everybody else.
I love getting your emails in the Death, Sex & Money inbox… some of my favorite episodes started from someone just reaching out to tell us their story.
Like, I interviewed a woman who emailed about becoming a surrogate...to pay off the medical bills from having her own kids.
SARAH SHORT: "I was really conscious of the fact that these were not my babies…"
I talked to a couple of newlyweds, about what happened after the husband was paralyzed in a bike accident three weeks after their wedding.
RACHEL SWIDENBANK: One of the things he said to me a lot in the early days of the accident were "are you going to leave me?"
And all this summer, a set of listeners have been emailing me regular updates about their summer romances -- or lack thereof -- in our series Hot Dates.
CECI: Okay, let's see… things you've missed in the shenanigans that is my love life.
We've made a playlist of some of my favorite episodes featuring you and your stories on the page for this episode with Tig at deathsexmoney.org.
And we're looking for more stories. If you've gone through something that you wish you heard more people talking about, send a note or record a voice memo and send it to us at deathsexmoney@wnyc.org
---
This is Death, Sex & Money from WNYC. I'm Anna Sale.
It's been six years since Tig Notaro's mom died. It was a shock—she fell at home and died from a head injury.
Tig and her mom were always close. Her dad left when she was a baby...and her mom raised Tig and her brother outside of Houston but they spent summers and holidays with her mother's family, in Mississippi.
TN: As soon as I'd cross that border and it'd say welcome to Louisiana, it'd feel like I was getting closer to home and then welcome to Mississippi was like "ah, I'm home."

AS: When you think about being around your family in Louisiana and Mississippi, was it like, when you were there, were you surrounded by cousins and aunts and uncles, was it a big family or how how do you remember being part of that family and visiting?

TN: Yeah, it was it was big and it was very um… my family in Mississippi is crazy. They're not like certifiably but they are just a wild and rowdy bunch and I feel like that kind of made me a little more reserved. And just kind of a little removed, observing like oh my gosh, these people are out of their minds. Um and I I love them and you know love my mother, but it's just um, my mother was the kind of person where she would, you know, she'd be walking our family dog in the morning, and my mother was a very attractive woman and she kind of had a younger energy to her and um you know if somebody whistled at her, it wouldn't um she wasn't like oh how dare you, or she wouldn't you know kind of go into her shell, she'd maybe lift her skirt a little and be like oh yeah, you know. That's right. That kind of attitude.

AS: When you think about your mother now and grief, just how do you think about her death in your life now?

TN: I mean it's, its uhhh you know, it's uhh a new wave of pain for me… ummm I can't believe that she never met Stephanie, and I can't believe that she never met Max and Finn, I can't believe that she's—Stephanie and I differ in this way in that she feels like my mother does see it all and she feels like my mother was instrumental in bringing us together and I think its really really great that Stephanie thinks that, um but I don't feel it… But ummmm, but yeah, its its just, I'm like ughhhhh, it just I can't believe that it it it is so, that she will not meet them.
After Tig's mother died, she had to figure out a new relationship with her stepfather. He'd been in Tig's life since she was two, but they were never close. He was a lawyer, always a very by-the-book kind of guy.
TN: I typically talked to my mother and then sometimes she would say let me, I'm gonna put Rick on and then it would be like "Hello Tig. Hi Rick. How are you? Good." You know, it was just like you know two robots conversing for maybe twenty seconds and then, he would be like alright well I'm gonna put your mother back on the phone.

AS: Um, did you feel, did did you have anything that you connected on when you were growing up with your stepdad?

TN: I thought he was an alien and I I'm still not convinced that he's not. Um he thought I was an alien and uh he told me maybe a year before my mother died, 'cuz I was complaining about something that had happened at one of the comedy clubs and and he said well, you know you should go to business school. You should go, you should go to college. I mean that's, this wouldn't be happening if this or that, and I said are you kidding, I I was like I'm doing what I want to do. I'm happy. I'm thriving. I'm, even though I was a blob floating around the universe, I was still happier than I had ever been and I said so if I told you I was gonna quit comedy and just have the life sucked out of me and go work in a cubicle or you you'd say that was that was the right decision, and he said absolutely.

AS: Huh.

TN: And I was like, wow. Wow, and that I think was a moment that really pushed me even further from him 'cuz I just thought that's, that's crazy. But um, but it's it's nice because there's definitely an acceptance now and an understanding and we certainly had to go through a lot of pain with the loss of my mother and my struggles with my health and everything just has really removed any of the unnecessary layers that blocked that connection

AS: Both you and Stephanie have had unconventional adulthoods um... neither of you finished high school, is that right?

TN: That is right.

AS: Do you think about like how you'll talk to your kids about the expectations you have for them and the kind of path that they follow?

TN: Yeah I mean I have moments where I'm just hanging out and playing with them and then this thought will cross my mind where I remember oh my gosh, I'm gonna have to have this conversation with them.

AS: Uh huh.

TN: How am I possibly, how are Stephanie and I gonna possibly get them to go to school? I mean, we don't have a a leg to stand on. Neither of us. And um I'm so in the moment with them that I forget, 'cuz people will ask me oh how are you gonna tell them about this, or how are you how are you gonna handle this, or the whole school thing, and I'll be like oh gosh, that's right. I don't know. I don't know.

AS: Have you set up college accounts for them?

TN: My step father did.

AS: Oh, of course he did.

TN: Yeah, when I was visiting him uh maybe a year ago, we were driving and he said Tig, he said I was wondering if it would be okay for me to set up college funds for the babies, and I said yeah absolutely, and he said okay well you know I just um I just wanted to make sure that you were alright with that, and I said well yeah, I said I I also want to make sure that they wouldn't have to go to law school or you know medical school or business school and uh that just you know if maybe they had an interest in being… and my stepfather interrupted in and he said or an artist, or a musician, and I said yes. Yes. Exactly, and and it was such an amazing moment because he rejected all of that in me, in my life and my upbringing and my interests were, it was just all nothing to him. And now he just, he gets it and he finally listened and and looked and paid attention and I think my mother would be uh floored. I mean, floored.
That's Tig Notaro. Her new comedy special on Netflix is called Happy to Be Here. And her Amazon show One Mississippi is one of my very favorite portraits of adult family ever in a show. Definitely check out both seasons.
Death Sex and Money is a listener-supported production of WNYC Studios in New York. I'm based at the Center for Investigative Reporting in Emeryville, CA. Our team includes Katie Bishop, Anabel Bacon, Stephanie Joyce, Emily Botein, and Andrew Dunn.
The Reverend John Delore and Steve Lewis wrote our theme music.
I'm on Twitter @annasale, the show is @deathsexmoney on Twitter, Instagram and Facebook. Email us anytime at deathsexmoney@wnyc.org.
After Tig's mother died, she inherited a lot of her furniture, including a couch that Tig eventually put backstage at Largo, the comedy club where she performed her famous set in 2012.
TN: Now it's just this fixture back there and it's where people sit when they're waiting to go on stage, and there's been a lot of photographs of comedians on that couch and, yeah its just, its kind of nice.

AS: That's amazing, your mom's couch backstage at Largo.

TN: Yeah and I think my mother would think that it is so cool.
I'm Anna Sale, and this is Death, Sex and Money, from WNYC.
Copyright © 2019 New York Public Radio. All rights reserved. Visit our website terms of use at www.wnyc.org for further information.
Music Credits:
"Wild Ones" by Jahzzar
,
"Tripoli" by Blue Dot Sessions
,
"Filing Away" by Blue Dot Sessions
,
"Pickers" by Blue Dot Sessions
,
"A Garden and a Library" by Gillicuddy
,
"Sage the Hunter" by Blue Dot Sessions