15 Years Later, An Iraq Veteran Looks Back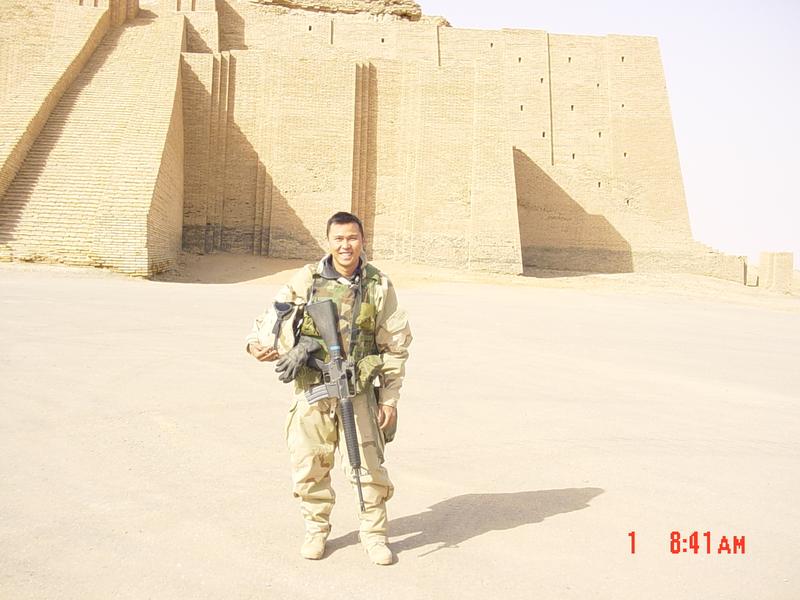 Transcript
THOM TRAN: Four days. Four days. Crossed the border on a Sunday, I got shot on Thursday. And my short term memory is garbage these days. It's because of the gunshot. But I remember everything about that day.
This is Death, Sex and Money.
The show from WNYC about the things we think about a lot…
And need to talk about more.
I'm Anna Sale.
In the early months of 2003, Staff Sergeant Thom Tran was deployed with the U.S. Army in Kuwait, near the Iraq border. He was 23, and waiting for his orders.
TT: And I remember I had this one Major who was like, "This isn't gonna happen boys, we've been here for 3 months, this is not happening. Just plan on being here two more months and then we're gonna leave." And then we would watch the news everyday, CNN coverage of, you know, the slow build-up. And we were like, "Oh yeah, this is us." Like we were watching coverage that we were living in.
The war in Iraq started fifteen years ago this month, on March 20, 2003.
Ten days later, Thom and his unit crossed the border from Kuwait into Iraq.
And just four days after that, Thom went out on a recon mission with a special forces team. They headed for a small city—Nasiriyah.
TT: I was the driver. I was a Staff Sergeant and I was the lowest ranking person in the truck. I had a Colonel next to me in the passenger seat, and then I had a Major behind me, and I had our interpreter behind the Colonel in the uh, rear passenger seat. And we were just driving through the city. And we pulled down this street and to the left of us is the river. And I had a video camera with me that day, because I wanted to document the area and collect intel and know what I was dealing with. So the video camera just rolled. And on the tape you hear my interpreter say, "this is a bad place." And no sooner that he said then bullets start flying. And on the tape you hear crack, crack, crack, crack crack crack, crack crack crack and I'm like...

TAPE: Ah shit. Ah, I got cracked in the head with something. Ah shit, I'm bleeding. [We got a casualty here!]
It was a graze wound...he was treated in Iraq, and stayed for nearly another year. But still, a bullet hit his head.
And for the last 15 years, Thom's been trying to sort through what that day—and his time as a soldier—say about him as a man.
Thom had grown up around combat stories. His dad flew in the South Vietnamese Air Force during the war there, and other men in his family served, too.
TT: I never knew my uncle, never knew my grandfather they both died in combat.
It wasn't safe for Thom's family to stay in Vietnam after the other side won. So they fled and eventually landed in Buffalo, New York, when Thom was a year old.
TT: I grew up in the 80s with an older brother who is 10 years older than me who played guitar [laughs], listening to Whitesnake and Bon Jovi. And that's what I wanted to do, I wanted to be Eddie Van Halen, I wanted to play in rock bands. The military was not a thing that ever entered my mind until I was, you know, 17, nearly 18 years old, literally a few months before I turned 18. And something clicked inside of me that it was like the first adult decision I ever made. When I realized that my father had left his homeland and can never go back to Vietnam, and there were a lot of people who'd sacrificed for us to be here. We were first generation Americans, so I joined the Army because I thought the very least I could do was give back to a country that was now my home. Because Vietnam was never my home.

AS: Did your parents know you were enlisting when you did it?

TT: Oh God yeah, it was... oh that was an argument. I was only 17, 3 weeks shy of turning 18 and when you're 17 you have to get your parents' permission. And my mom was not having it, it was probably one of the biggest arguments we ever had, because my father was a prisoner of war in Vietnam. Three years. And my mother lived through that for literally a decade and then for 3 years he was a prisoner of war in Vietnam. And they gave up everything to come to the United States so that I wouldn't have to fight, so I wouldn't have to live in, you know, the kind of war lifestyle that they had to.

AS: Yeah.

TT: And my mom would not sign the paperwork, and Staff Sergeant Sanchez, he was my recruiter, he just he pulls me aside and he goes, "You're gonna be 18 in 3 weeks man, just hang out and we'll do this in 3 weeks." And I was like, "All right, that's cool." And then a couple days after I turned 18, I went down and I enlisted.
Joining the military was also a way to pay for school. Thom's parents had told him they expected him to earn scholarships, but he wasn't a great student. And this was before 9/11...so enlisting didn't feel like much of a risk.
TT: Like I didn't think I was gonna be a combat soldier, I wanted to be like an armed forces network radio DJ. I saw Good Morning Vietnam...

Robin Williams: Goooood morning Vietnam! Hey, this is not a test, this is rock and roll...time to rock it from the Delta to the DMZ!

...and I saw, saw Robin Williams playing Adrian Cronauer and I remember thinking, "I wanna do that, I wanna be that guy," and unfortunately that job was not available at the time. There were only so many slots available. So my recruiter was like, "I have a radio job!" I remember the way he put it because I wanted to be a radio D.J. and he said, "I have a radio job in the special operations unit," and I'm like, "What's that?" And he goes, "We jump out of airplanes and blow stuff up!" But he said radio, so I remember, "Okay, I get to be a D.J. who jumps out of airplanes." Nope, totally different, completely different skill set.

AS: Different definition of radio, yeah [laughs].

TT: Completely not what I wanted to do.

AS: When you went to bootcamp as a young recruit, were there many other Asian people?

TT: One. One other Asian and he was... Private Lee, and he was older than me. He was actually a South Korean former ROK soldier, Republic of Korea soldier, and those guys are badasses. So my first thought is, "Well, he's gonna take a lot of the the pressure off me," because there are only two Asians here and he's the one that everybody is gonna be focusing on because he's already a badass.

AS: Is that what happened?

TT: Um I mean, that's... here's the thing about basic training, you don't wanna stand out. You know, so I was totally okay with like, "I'm gonna slink in the back of the formation, and I'm just gonna get through this nine weeks," um, and eventually that did not happen, eventually I wound up standing out and, yeah...

AS: Why?

TT: Right off the bat I got heat exhaustion. It's South Carolina in August 1997. Hot as all hell and I'm from Buffalo, New York. I don't know anything about the heat, I don't know about hydrating yourself, and so... I didn't. Sure enough, they had to put me in a, put me in a pickup truck and take me to the hospital and they had to pump me full of IVs. And they came back and he stuck a piece of red tape on the back of my patrol cap which indicated to everyone that I had been a heat casualty.

AS: Oh, was that embarrassing?

TT: Oh my God, yeah. Anytime someone saw the back of my head, "Hey Private! Did you drink your water?" "Ugh, yeah drill sergeant," and...so uh, I was the heat injury kid.
Thom got through basic training, and then a deployment to Eastern Europe in the late 90s. And then 9/11 happened. But even after that, Thom's military career felt like a lot of preparing...and waiting. Including on the day he went out in that convoy in Iraq. He'd been digging a foxhole, and took a lunch break…

TT: So I was sitting there with my tuna mac and getting ready, and I hear my colonel say, "Hey, a team from 5th group is here, do you wanna go play?" And uh... 5th group, 5th Special Forces Group. So I go out like, "Hell yeah, I'll go play," so I ran out and um, I remember this big burly barrel-chested freedom fighter held his hand out and says, "I'm Rich, from 5th group." I said, "Rich, I'm Thom," and he goes, "load up, we are gonna go out for a recon."

Tape: Ah, shit. Ah, I got cracked in the head with something. Ah shit, I'm bleeding. [Yeah, you sure are.] I'm bleeding [Tran's hit!] I'm bleeding. [Where you hit?] Head. [Head?] Yeah. Fuck.

TT: I remember the feeling, you know, I remember the taste of the desert musky, dirty, like those things come from, from just the intense memory of that moment, but I think knowing exactly what happened on the day because it's on tape. I watched that video literally hundreds of times, hundreds of times.

AS: Why have you watched it so many times?

TT: To remember? Because I don't want to forget how close I came to death, because I've made a lot of the decisions I'd made in life post-army because of that moment. So I watch it.

AS: Do you think watching it has been a benefit or a detriment to your mental health?

TT: I would like to say it's been a benefit, um, because I don't question—I don't have to question what happened, I don't have to question my actions, like, did I act right on the day? Did I, you know—because the fog of war you will question your actions, you will question your training, um, especially if things go bad, especially if someone gets shot, especially if someone gets killed. Like on the day if there... if that tape wasn't there, I would probably ask, be asking myself did I do the right thing? Like if I didn't have that, I would be probably questioning everything I did, you know, for the last 12 or 13 years.

Along with getting grazed by the bullet, Thom hit his head in the truck during the gunfight. He was later diagnosed with a traumatic brain injury….and was awarded a Purple Heart.
Coming up…what was hardest for Thom...after he came home.
TT: I just didn't have a direction... I just... I just was. Because I didn't have… I didn't have someone giving me orders. And I at the time was not strong enough to give them to myself.
--
When Thom Tran was coming of age...he wanted to be a heavy metal rockstar, then Robin Williams...then a soldier in uniform for the most powerful military on earth.
He was trying to figure out what kind of man he wanted to be.
And right now, I suspect that some of you maybe thinking about that same question.
So for our next project, we want to talk with you about masculinity...how you define it, how you live it...and how your ideas of it are changing.
And to start—we want to hear from those of you who identify as men...We've got a big question for you:
What's the most confusing part of being a man right now?
Tell us what you think—write us an email, send us a voice memo. We've set up a special inbox to collect your responses...it's men@deathsexmoney.org.
We're starting by hearing from men, but if you're a woman, don't worry--you can still help us. Tell the men in your life about what we're doing...especially if they're not already Death, Sex and Money listeners. Spread the word, and tell them to email us, at men@deathsexmoney.org.
On the next episode… I hear from a mother and her son about the carjacking he committed 22 years ago.
Gloria: I wanted to choke him, I really did. Because I didn't understand why or how he could get involved and do something like that, because I've never had a gun, he's never—well, until then.
--
This is Death, Sex and Money from WNYC. I'm Anna Sale.
After Thom Tran's deployment to Iraq ended in January of 2004, he went back home to Buffalo. It was a tough adjustment.
TT: I had a real shit attitude when I came home because I'd been shot, my roommate had been killed, I was in a real bad mood all the time. So I did what every combat veteran does, I fell into a bottle and, uh, sat there. There was a fight that I was in, a brawl, not with anybody in the Army, it was a drunken bar brawl. And um, yeah, at that point they were like, "Yep, he can't be here, so go work with the recruiters."

AS: You're in no shape to be here so recruit young men and women into the armed services? [Laughs]

TT: Yeah, basically yeah. It was it was very much, "Hey, you are not combat effective anymore, so we need you to go do something." It was just another mission for me. It was not of a line unit running and gunning kind of mission, but it was—it was a mission nonetheless. The Army told me to do it and I was trying to be a good soldier.

AS: When you were drinking heavily where would you drink?

TT: Um, like our Monday morning meeting started with us opening a beer, like 9 o'clock in the morning I was drinking.

AS: Really?

TT: We were all combat guys like...yeah, there there were Mondays I was drunk before 11 o'clock in the morning, uhm. Bars, I was DJing at bars, I was a nightclub DJ, I was a strip club DJ.

AS: How did you feel okay talking to young men and women about what, what their experience would be serving and re-entering when you were yourself in such a hard place?

TT: I, I just... I just told them the truth. I never lied to any of them. I was not...like when I, there are photos of me when I was recruiting and I was a fatty. I could not fit in my uniform, that's how much like weight I put on. And I would tell them, "You know? there's gonna be bad shit." And as long as I wasn't lying to anybody, bullshitting these kids to get them in the Army, I was doing my job. You know?

AS: When you were in that period of re-entry, did you talk to your dad about what it was like?

TT: I did. That is, that is one of the closest... I mean, I could mention—when I was growing up I just heard the stories, my father would just tell the stories and I had no choice but to sit there and he wouldn't... he wouldn't tell in depth stories about like being in a prisoner of war camp. I would hear the general stories over and over again about, like, what kind of crappy food they had... It wasn't until I came back from war myself that we really would talk about his experience and my experience and you know, the torture that he'd gone through literally in in a camp a prisoner war camp. You know, my father realized that I was drinking a lot and he literally been there, he had literally been in that situation post combat, trying to figure out life. I mean, he had a family and kids at the time, but he knew. He wasn't stopping me. I put on a lot of weight um, let me think, I think I'm like 150lb now, I'm 5'8'', I think I was I was over 200 pounds and he saw what was going on. He didn't stop me because he kind of knew that I had to find my own path.

He's the reason I, I joined the Army. He really is. And you know, that was the great thing about my father, he... although often times would not encourage me to do things [laughs] reckless like join the Army or move to Los Angeles to be a stand up comic, he was never like, "No, don't that," because he was like, "Hey, you're gonna do what you wanna do."
Thom started doing standup the year after he left the Army…in part to manage his stress. He performs now with a group of other veterans at military bases around the world. They call themselves the GIs of Comedy...Thom says it helps him feel connected to his time in the service...and manage his stress.
TT: So I've found the things that I need to do to to be able to look at myself in the mirror, go to the gym and play guitar and tell jokes, you know.

AS: How many years ago did you leave the military?

TT: 2005 I retired? So twelve years, I've been out, I've been out longer than I was in the army.

AS: Do you miss it?

TT: All the time, everyday. I got up at 4:00 A.M. this morning go to the gym just to... just to maintain the standard, just to remember who I am and what I'm capable of and what the Army made me. Like I see veterans getting out of the military and just letting it all go. And that's fine for some people, it's great. Get fat, grow a beard, whatever, but because of my job because of the GIs of comedy, because of the reputation that I have in the community as as a veterans' advocate, I never want to show up to an event and to say, "I'm representing you guys as a fellow soldier," and just be a fat slob and look like somebody that other soldiers go, "No, don't do that, don't tell people you're one of us." Because I wouldn't want that, I wouldn't want some fat slob who's been out for ten years walking around telling people that he was a vet talking about old glory days like a Bruce Springsteen song. I don't want that.

AS: It's interesting how you talk about your body, and how you talk about working out now as like... as a like taking care of yourself in some way? As a way to stay connected to your identity as when you were a soldier.

TT: It, for me it is. I remember the moment that turned for me after after I'd been out for awhile. I've been out of the Army for like a year, year and a half, something like that. I'd gone on vacation with a girlfriend and we were down in Mexico and there's a photo of us on the beach. And I looked at this photo and I went, "Who is that? What is that person doing on the beach, wearing Army shorts?" And the only thing that I knew to do was to get myself back in shape. And I was a fat kid growing up. I was a really skinny child, but then you know, like right before puberty I got real fat and I just stayed like overweight for a while. And the Army helped change that so that is also, you know, that was part of my identity... the Army physically made me a different person. So yeah, when it comes to staying in shape that it that is part of who I am. Emotionally I, I'm not ready to deal with the world until I've gotten a good 2 hours in at the gym, because I get the endorphins going I feel like I've literally punched out all of the demons that I wake up with, the guilt and the anger and the depression that I wake up with every single day of my life. I have to get up, I have to do it because I can't look at myself in the mirror and go you're a good representative of what soldiers are, what veterans are. If I did not do that.

AS: Do you still have that photo like of you on the beach, have you looked at that recently?

TT: Yep, I still have it. It's actually on my Instagram. There is a before and after photo. So yeah, I look at it. It's like the gunshot video, you know, it's a thing that happened and either get better from it, you learn from it or you live on the wrong side history.
That's comedian and veteran Thom Tran. He has a podcast where he talks with other veterans about their experiences in and out of combat...it's called "Battle Scars." And he's landed a job in radio--- he's the morning traffic reporter for a commercial news station in LA.
Death Sex and Money is a listener-supported production of WNYC Studios in New York. I'm based at the Center for Investigative Reporting in Emeryville, CA. The team includes Katie Bishop, Anabel Bacon, Emily Botein, and Andrew Dunn.
Our interns are Catherine Xu and Angely Mercado.
The Reverend John Delore and Steve Lewis wrote our theme music.
I'm on Twitter @annasale, and you can find the show on Facebook, Twitter and Instagram at death sex money. And men...don't forget to share your stories about what's confusing about being a man right now...send an email to men@deathsexmoney.org
For Thom, the video of the Iraq gunfight hasn't just been useful for revisiting his actions on that day...it also helped him cut through military bureaucracy.
TT: It's the reason the V.A. gave me my disability as quickly as it did. I'm the guy who had the video of him getting shot in the head. Like people heard about that, people knew about that. Like there's a dude who got shot in the head and he has it on tape.

AS: That's not, that's not typical.

TT: No, no.

AS: Yeah [laughs].

TT: That is not a thing that often happens [laughing].

AS: It's not typical that you start rolling before you're shot.

TT: Right.
I'm Anna Sale, and this is Death, Sex & Money from WNYC.
Copyright © 2019 New York Public Radio. All rights reserved. Visit our website terms of use at www.wnyc.org for further information.
Music Credits:
"CGI Snake" by Chris Zabriskie from BWN
,
"Floating" by Borrtex
,
"Cylinder Five" by Chris Zabriskie
,
"Jat Poure" by Blue Dot Sessions
,
"Solo Guitar Two" by Tapes & Tubes