Songs in the Key of Strife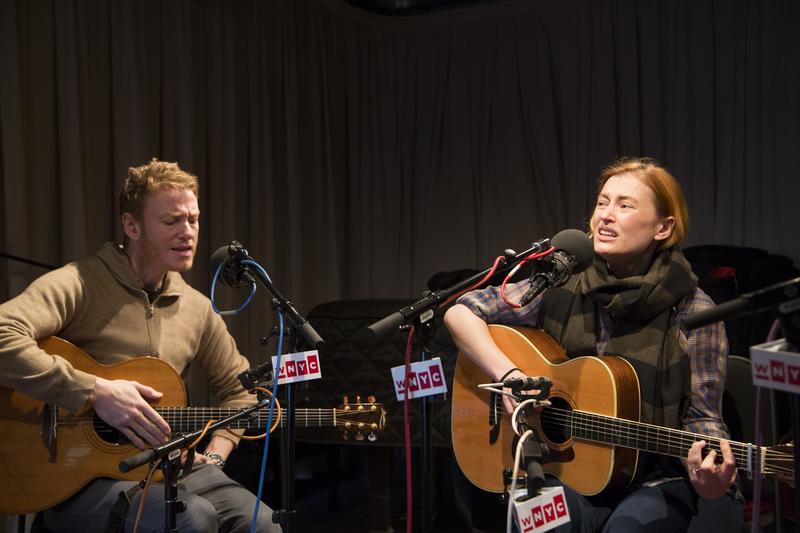 Transcript
Kami Thompson: We used to go to the fish and chip shop and there's always a few green ones. And Teddy used to tell me, that if there was a green one, the Green-Fingered Chip Man had been in and poisoned the whole batch. But only Teddy was immune, luckily, so I had to give him all my chips.

Teddy Thompson: I remember that.

KT: So I learned a lesson there, that I was being conned.
This is Death, Sex & Money.
The show from WNYC about the things we think about a lot, and need to talk about more.
I'm Anna Sale.
When Teddy Thompson was six years old, his parents split up.
His parents were the British folk rock duo Linda and Richard Thompson…and the end of their marriage had a soundtrack.
It was their last album, called Shoot Out the Lights.
KT: I think she was pregnant with me at the time so there was some sort of amniotic osmosis of stress. I feel like all my drinking and drug taking is completely valid.
Kami Thompson never knew her parents as a couple. She was born as they were breaking up. Now, she's 32 years old. Her brother Teddy is 38.
She lives in the UK, he lives in New York...but they were both here both in town to play a few shows together, and came to our studio, with their instruments.
Last year, Teddy got the family together, including their mother and father, to make an album. It's called Family.
That's what I wanted to talk to them about. Not their parents' rock n roll divorce four decades ago, but their family now. Particularly their relationship, as siblings. It comes up in the album's title song.
["Family": My elder sister is prettier than you'd believe/My younger sister is prettier still and can sing/And I am the middle child/The boy with red hair and no smile/Not too secure, very unsure who to be.]

Kami, when you first heard it, the song Family, how did you feel?

TT: Impressed. I'll answer that. Amazed.

KT: I thought it was a good payoff for a few years of therapy, really.
If you have a brother or sister, Teddy and Kami's back-and-forth might sound familiar. That sparring, by instinct, with this person you know so intimately. You share this history. And then, as you get older, you realize this person with the same parents is turning out so different. Because the way you think about your siblings can be stuck in childhood. Your childhood.
TT: Kami was, if you will, a symbol of divorce to me. Kami was the child that came along and of course it wasn't exactly this way but it was like, Kami came along and my parents split up pretty much simultaneously.

KT: Some interesting timing.

TT: Yeah. I don't remember having any resentment towards Kami at all from the beginning. I just remember having a vague notion that there was a big change and Kami was a part of the big change. Something was lost and something was gained. But then I went away. I would have gone to boarding school I guess when you were like five or something.

KT: And then I lived with our grandmother. We basically tried to spend as little time together as possible until quite recently. And then you moved to America.

TT: And then I moved to America when Kami would have been 12 or 13. Kami was still a baby in my mind until she was about 20 because I left when she was a baby, pretty much. And at one point I came back to England and she was drinking at the pub and I was like what the hell? You're a baby, stop doing that.

KT: We never fought as kids because there was a buffer. I would get sent to the shops for things. Kit-Kats and Diet Cokes. And cigarettes.

We did that to my little sister too. She would be so excited to help.

KT: I was the running boy for three years and then it stopped.

How much did you live with your father?

KT: Never.

You never did?

TT: No we definitely didn't. They split up when I was 6 and a half. And that was it. We lived with my mom and my step dad. My mom remarried. And we saw my dad the usual weekends and holidays and a bit less than most people would in that respect, because he was and is a touring musician so it wasn't every weekend because he'd be gone for long periods of time because he had to work. He remarried a Californian and was spending a lot of time in California. We didn't see him much and Kami didn't live with him at all. They were split up from the beginning of your life.

KT: Yeah, I've always had four parents.

Because your parents were divorced but they were married to the same people throughout all of your life.

KT: Yeah. I can't imagine my parents married, it seems the most absurd union of people in the universe. I can't imagine them in a room together for more than an hour, they'd come to blows.

Growing up did you sort of learn about the divorce much later? I mean, Teddy lived it and you weren't really conscious of what was happening in your parents' relationship.

KT: Not really, I sort of knew about it and I knew Dad was reticent about talking about it. It was never brought up. I knew that maybe he still does feel guilty for leaving a family and I think that's a difficult decision to make and live with. But it's just part of the family folklore for me. I see it now as more as something I now view as an adult. I'm an adult now so I look at it as, would I have done that, would I have done this? I view it from those eyes.

And you Teddy, do you remember your parents' divorce as a moment when you felt split or aligned with one parent or the other?

TT: I felt very split, ambivalent is the word. It pervades… it's a tricky thing because I really do feel that sort of, being torn between both parents feeling in other areas of my life. It's a very powerful emotion. I don't have any memories of that time, I pretty much don't have any memories from the time of the divorce for about three years afterwards. I have no childhood memories, because I sort of shut down because that was the way I could deal with it. To put my fingers in my ears and close by eyes and go la-la-la-la I don't want to think about this so I did kind of just shut down. But I do remember before that, those feelings of standing between two parents and not knowing where to go. And that's not a nice feeling.

What do you remember your brother teaching you when you were growing up?

KT: Teddy was great, Teddy sort of filled a man role in my life. Teddy was the first person who told me I was playing a bum note and how to keep time and all the stuff that you really want somebody to help you with. Dad's rubbish. You could be playing a different song with Dad and you'd get to the end and he'd go, yeah, fine, next. And you're like, "But I know I'm doing it wrong, help!" I learned so much from Teddy, definitely musically, which has been really important to me.

Do you remember a time when your little sister called you and you had to give her advice?

TT: Nope. I don't know how useful I was as the big brother, call me when you're in trouble kind of thing. But at least I showed you how to plug in a guitar cable into a tuner.

You turned out to be very important in your family.

TT: I taught you nothing about life but something about music. Oh well.
Coming up, how making this family album changed some long-standing Thompson family dynamics. It started with gathering scattered family snapshots for the album cover.
TT: It was a struggle to find them. I would call my mom and say do you have any pictures. Oh I don't know where those photo albums are. Well let me go and see.

KT: That's what else you used to do to me when I was little, you would go and hide all the pictures of me as a baby. And you'd go, you're adopted, there's no baby pictures of you.

TT: I didn't do that.

KT: You did. You did. I would run tearing around the house not finding any. I remember coming down crying once, going, you're right!

TT: Oh god, sorry about that. Maybe that's why there were so few when we came to look for them. Because I flushed a lot of them down the toilet when you were two.
I have some stories like this. My little sister was born after we moved into a bigger house. I used to tell her she never would've been born if my parents didn't have a room to fill. Sorry, Mary. These are ways we torment our siblings as kids. As adults, it's much less direct, but can be even more emotional. I've got four sisters, and we're close, but we live far from each other, and our lives look more and more different as we age. That can be a minefield for feeling judged or judgmental.
That's the next set of stories I want to hear from you. About you and your siblings as adults. What's changed in your relationship as you've grown up? And what hasn't changed at all since you were kids? I know it's hardest to be mature when it comes to my sisters.
Email your sibling story to deathsexmoney@wnyc.org. Or, if you have a smart phone, record yourself telling your story into the voice memo app and email that in: deathsexmoney@wnyc.org.
On the next episode, your stories about being cheated on and cheating.
"I just want to send some love out there to the cheaters. Not because I support you and your decision to cheat but because I understand how isolating and lonely it can be and how much you have to fight to crawl out of whatever hole you dug yourself in."
This is Death, Sex & Money from WNYC. I'm Anna Sale.
Kami Thompson can't remember her parents playing music together when they were a couple. But now that she's grown, she's getting a sense of what that's like. She's in a band now with her husband James Walbourne called The Rails. At their wedding in 2012, the whole Thompson clan gathered, to play music and celebrate.
KT: Doing the seating plan was a bitch. Doing the top table was really difficult. There was no way of doing it. I just wanted everyone to relax and have a nice time. My immediate family is so extended, there's so many people. I ended up sitting with my husband and maid of honor and best man at a miniature table of four in the middle of everyone just to make it easy. It was the only solution.

That tells me a lot about you.

I'm an island!

You and your husband are now in The Rails. You have your own band. So you're a traveling married couple, musical team.

KT: Oh I know. Freud calling.

And you make jokes about it. What do you make of that?

KT: It's so odd. I don't sit down and pick at it for too long, in case I come to some sort of weird, oedipal, horrible realization. Who knows.

TT: Do you want me to explain it to you because I've been through this.

KT: No!

TT: No! Shhhh!

And Teddy, you have this interesting line in the song Family about how you've gotten close to family?

TT: Uh huh.

[SONG: I've come very close to a family of my own/I thought it it could just come to me as I am/But you gotta know how to choose/Happiness over the blues/Light over dark/Willing to start something new.]

What are you saying in that line?

TT: Just what I said. I've come close and then not. Which is distressing. Lots of people have been through it. You almost do it and then you don't. I've almost done it a few times. But, you get to a certain age when it happens, you go, wow, maybe that was the last chance? Was that the right person? Was that the right situation? If you're 20 or 25, you're like, well there will be other chances. But when you're 38 you wonder, will there be other chances? It's sad.

The line continues and I think it's a perfect encapsulation of what a lot of kids of divorce go through. You have to find a way to find to believe there's potential to have a new kind of family than the one you knew.

TT: I think it's more just the ability to, for lack of a less self-help-y phrase, to choose happiness, to choose something. The idea that it can just happen to you one day and that things will change and get better is not really the case most of the time. You have to make a conscious effort that this is what I am going to do. I am going to choose this. That's what's very hard for me to do, is to make choices.

TT: I've always been the type to just let things happen to me rather than to make a choice and pursue it.

So why did you want to make this album?

TT: Because I think in retrospect I was having a hard time in my own life and looking for something. A bit of family support. I kind of left family behind 20 years ago and didn't want to be close to my family or too close to my family. And then I reached a point where I realized I needed some family, I needed some support.

In your family it's this contrast of going on stage and seeing the most raw, emotional songs. And then you're saying not a lot of conversation about what's happened in your family. Does it feel like that to you?

TT: Yeah, overall I think it does.

KT: That's what musicians tend to do. You're always sort of watching and processing and then you go and write and you don't even know you're having certain feelings until you go and write a song, and then you go, oh, right, that's how I feel about that. That's the reveal moment for me with a lot of things. I don't think it will ever seem natural to try and pinpoint an emotion, have a discussion about it with the family and move on.

You recorded these songs mostly separately and then you have to do a promotional tour where you're talking about of your family dynamics that it sounds like you haven't talked a lot about directly to each other. What's it been like with the album completed? Has anything shifted in your family?

TT: I really, truly must have shut out how this was going to go. I really didn't think about having to do things like this and talk about it. So when we had to start doing interviews there was a few uncomfortable moments that I wasn't really prepared for. I did an interview with my dad on another show and of course they asked him some questions and I felt bad because it put him on the spot in a way. I kind of felt a bit guilty about doing that to him but I also feel angry at him for some things that happened a long time ago. There's a bit of that. But it helped me in some way to see his reaction to that because he didn't handle it very well I would say. And he changed the subject very quickly and tried to sort of laugh it off. I know he felt uncomfortable and it's good for me to be reminded that my dad's not good at everything, if you will. It was nice to go, oh he's human too and this is an area of his life where he struggles. He does struggle with that and I've noticed we did some press stuff in London and we had some laughs and some good times and things we don't have much of with my dad because we didn't have him around when we were kids. I think there's been a little bit of healing here and there, little touches of it and there's been a little manufactured family time. Which is something.

And Kami, what's it been like for you?

KT: Fine, yeah. Don't know really. Gig's a gig.
Kami and Teddy Thompson. Musicians and siblings, with very different takes on their family band. You can hear two songs they recorded in our studio -- along with their nephew Zak Hobbs. on our website at deathsexmoney.org.
The album Family came out last November. Lots of family members play on it, so look for it under the artist name Thompson. The Rails, Kami's band with her husband, has their debut album out now.
Death Sex & Money is a production of WNYC. The team includes Katie Bishop, Emily Botein, James Ramsay, Chris Bannon, Greg Rippin, Caitlin Pierce, and Zachary Mack.
The Reverend John Delore and Steve Lewis wrote our theme music.
Find us and follow us on twitter. I'm at @annasale. The show is @deathsexmoney!
And you have one more week to get your name in for the newsletter contest. If you're subscribed to our weekly newsletter by February 18, you're entered to win a care package from us that will include three books off of our Death, Sex & Money newsletter, plus a few other surprises. Go to deathsexmoney.org/newsletter. You'll get our weekly email every Wednesday morning with audio recommendations and updates about the show -- plus, you might win!
Finally, for those of you who are wondering when and whether to start a family, here's one more piece of Thompson family advice.
KT: My mother always said you can take kids more places than you can take a dog so just get on with it. That's her whole thing. Whenever I go, "Ah kids, seems like hard work." She says oh you can take a baby more places than you can take a dog. That's her comeback line.
I'm Anna Sale, and this is Death, Sex & Money from WNYC.
Copyright © 2019 New York Public Radio. All rights reserved. Visit our website terms of use at www.wnyc.org for further information.