Tayari Jones & Carrie Mae Weems: What's It Like Up There?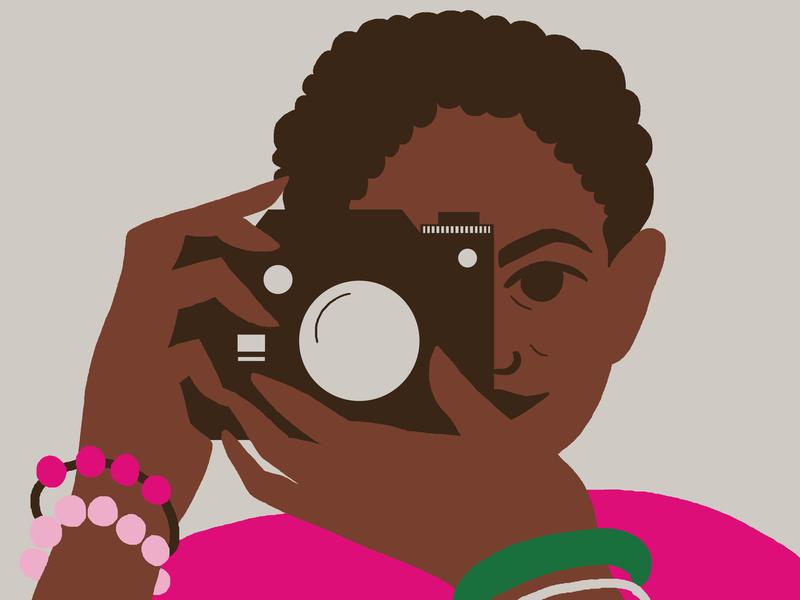 Transcript
CARRIE MAE WEEMS: So you're interviewing me.

TAYARI JONES: I am.

CMW: Oh, goodness. I thought it was like more of a conversation somehow between the two of us.

TJ: Well, which is also true. It's our hour to do with as we please.

CMW: I'm ready.
This is Death, Sex & Money.
The show from WNYC about the things we think about a lot…
...and need to talk about more.
I'm Tayari Jones, in for Anna Sale.
Artist Carrie Mae Weems was in her late teens when she got her first camera. It was a gift...from a boyfriend.
CMW: I think maybe 18 or or 19 years old and, uh, and he was doing a, he was really an awful person in so many ways, but he, but he did give me a tool and that was my camera that really took me into my life in a very interesting and important way.

TJ: I'm so tickled - a horrible person in a lot of ways. That was funny.

CMW: Oh, he really, really was. You know, he was the kind of person who was, you know, um, really, really smart, but really manipulative, and that to me is a really dangerous person and, uh, and so I left him uh, and he was stunned. He just could not believe that this woman was leaving him. And so he's, you know, he's been obsessed with me for years because I'm one of the only ones who left.
TJ: Ah, the one that got away.
CMW: But he gave me a camera and he gave me some ideas about what I wanted to do in the world and for that, I'm, I'm deeply grateful.
Carrie's work has been hugely influential on me. Not just as a writer, but as a person.
She's a renowned photographer, a writer, a performance artist...a Macarthur Fellow...the first black woman to have a retrospective at the Guggenheim Museum...but if you're not into art, all you need to know is this: Carrie Mae Weems is singular, trailblazing artist at the top of her game.
I had a lot I wanted to know about her. But maybe I should have known that our interview ... wouldn't be a one-way street. After all, she's someone who's made a career of looking at the world and the people around her...and asking questions about them through her work.
And sure enough, she had some questions for me, about what my life has been like after my novel An American Marriage came out last year...and became a prize-winner and bestseller.
CMW: What do you want for yourself now, moving forward?

TJ: Well, I'm trying to figure that out. That's part of the reason why I wanted to talk to you because I mean, you know things I don't know. You've seen things I haven't seen. What is there, what is there next? Like I, I do want to grow as an artist, but I also know that art cannot be your whole life, and so I don't know what I want next. I feel like I worked so long and hard for this moment and I hadn't really thought about beyond it. But I'm looking at you as a person who is several steps ahead of me and I'm saying, what's it like up there? Tell me, tell me -

CMW: I have no idea what that means.

TJ: We'll figure it out.
Carrie grew up in Portland, Oregon in the 1950s and 60s. She was one of seven kids...and her love of the arts was evident early on.
CMW: I knew that I was going to be an artist as a child. I didn't know what kind of artist I was going to be but I knew that I had a very particular kind of impulse very early on that that, um, that I was aware of and that kept me anxious and um, um, and interested and engaged in the world in a very particular way.

TJ: Now your parents divorced when you were eight.

CMW: Yeah.

TJ: But they, it seems like they were pioneers in this thing that everyone calls coparenting now that the, the parenting transcended the marriage because your father lived nearby.

CMW: That's right.

TJ: Was this an unusual situation there, or just life?

CMW: Yeah, yeah. No, my father was very much involved in our lives and um uh, um, my mother and father knew each other almost all their lives. Um, their family lived across the street from my, from her family. So there was a, there was a deeper bond, I think in their uh, in their relationship. Uh, and uh, that extended until the day my father died. They remained close friends. They remained um connected. My father was at every holiday with my family even when my mother remarried. I mean, my father was always a very important part of our lives and for that, I'm, I'm, I'm deeply, I'm deeply grateful. I remember my mother, asking my mother what she felt for my father and she said, "Oh, well the sun rose and set in your father, right? It rose and set in this man. And um, and even though we couldn't make it, um, I always wanted you to have a relationship with this man." So I saw them go through their struggle...
TJ: Yeah.

CMW: ...I saw what that was like. Um, but I also saw what it looked like to come out on the other side of that and to be great friends and great comrades and still love one another, but simply knowing that they couldn't make it together.
MUSIC
Black family life is the subject of my favorite work of Carrie's...called The Kitchen Table series. She created it while she was teaching at Hampshire College in the late 1980s. In it, she photographs herself in her own kitchen, for a series of images that tries to unpack--and then, upend--what domesticity has traditionally looked like for Black women.
At the time, that was something she was thinking about a lot in her own life.
CMW: You know, I didn't think that I was going to marry, because it wasn't something that I was interested in. I was much more interested in the arts. Right? I was much more interested in pursuing that part of myself. I didn't want anything to distract from that. But uh, but I married the right man. I married the right person for me and for my temperament. So we actually work well together.

TJ: Now how did you know this was the right person for you?

CMW: You know, very interestingly, when I met my husband, I met my husband in a dark room, literally.

TJ: In a dark room or a dark room?

CMW: In like, a photographic dark room.

TJ: Oh well then, duh.

CMW: I was printing and he walked into the dark room. Somebody said that Jeff Hoone wanted to stop by to meet me, and, um, so Jeff knocked on the door. I was in the process of printing literally, I had him wait for a few moments until I sort of finished knocking out this print that I was working on and uh I opened the door, and I looked at him, and I said, oh my God. This is going to be my husband.

TJ: So -

CMW: And I thought what a weird thought. You don't want to get married. It was like, it was like a, it was like a a subconscious thing. Like this is going to be your reality. This is, this, you have just met the man that you're going to spend the rest of your life with. And I thought, I don't want to spend the rest of my life with him. I have like a really fine black boyfriend in in in Oakland, California who was so fine. It like waking up to like sunshine in the morning. I mean this brother was just like gorgeous, right? He had this like beautiful face and these sort of high cheekbones, beautiful mouth and these dreadlocks and he was just, he was just a beautiful, beautiful, beautiful soul. And so I just could not figure out why my head was telling me this thing about this man that I was going to marry, but it did tell me that. [laughs]

TJ: Well like how old were you when you got married?

CMW: I was in my forties. I had just turned 40. I had actually just turned 40. And uh so it was, it was a surprise because I had, you know, uh basically my husband asked me one day if I would marry him and I said um - I was working on an exhibition actually for the the Getty Museum and I was in a really contentious um fight with uh the institution around a set of works that I wanted to show and why. And, uh, so it was a, it was a a sort of a complicated time. So I was really not thinking about relationships, you know. I remember lying in bed, staring at the ceiling, just sort of mapping out how to approach some ideas around my work and how I was going to deal with all of the legal questions that were coming my way and, um, and he, I remember he sort of dropped the newspaper and he looked at me and he said, are you ever going to marry me?

TJ: And you said?

CMW: And I looked at him for a really long time. It was like, I could see like my life sort of spinning out, sort of spinning out and it sort of spread out before me. It was like, hmm. So I said, well, I guess you'll ask me one of these days and I'll let you know. And so maybe two minutes later he said, well will you marry me? And I looked at him again for a long time and then I finally said, um, yes. And he said, when? And I said, whenever you say.

TJ: And?

CMW: And he said, right now, today.

TJ: No, that day?

CMW: Right now, today. So we were in L.A.

TJ: Yes.

CMW: And, uh, we got married in Mexico.

TJ: I'm going to ask a completely superficial question. What did you wear?

CMW: I happened to bring... I just happened to have...a fabulous white all silk, long silk dress in my bag with a very hip, a very hip beige sweater. Right. You know?

TJ: Yes.

CMW: Because I used to dress up all the time, so I just happened to have this with me. So it was perfect. You know, and we stopped, you know we like jumped in a car. We stopped at the the local JC Penney's or Sears and Roebuck. I'm not really sure which one it was at the moment.

TJ: They're the same thing.

CMW: They're the same, you know, we picked up like rings for like $19.99 or $99.99 or something and we drove to Mexico and we found a justice of the peace and we got married for seventy-nine dollars and ninety-nine cents and it was fantastic. And then we came back across the border from Tijuana and um, the Del Coronado hotel is right there. So we decided that we would go there for champagne. It was a Sunday, there were a ton of weddings that were going on, and so we just crashed somebody else's wedding party and we drank, we drank champagne on them.

TJ: You drank their champagne? [laughs] I feel like that's some kind of a wonderful metaphor for life. Drink someone else's champagne.

CMW: It was really kind of wonderful. It was a really beautiful wedding day. It was really great. So that's, you know, sort of, that's how the, the way I sort of came to be, I came to be married. But how is it that you came not to be?
Coming up… it's my turn.
CMW: And what is it about relationships that um sort of sends you back into yourself and away from that sort of deeper entanglement of living with a partner?
--
ANNA SALE: Hello everyone...it's Anna! And as of *Monday*, I'm back from maternity leave...it was a really special time to be home with my baby and my toddler and to think about a lot of other things besides work...but it was also really fun to get to dip into the show and hear the incredible conversations the team put together with our guest hosts.
Like this interview between Tayari and Carrie Mae Weems. Hearing them talk reminds me of much I enjoyed interviewing Tayari last year--if you want to hear our conversation, text the word TAYARI to the number 70101. She has some great tales about her frozen margarita years in Texas, which make for great summer listening.
I'm really to get back to work now... I'm spending this week in New York with the team...taping a lot of interviews to share with you...starting with something familiar.
We began my maternity leave by asking you to send us your stories about going through big transitions at work. And on the next episode,we're goingt o hear more about those.
I was very unexpectedly laid off fron my job

I took an 8-week break from work because I had to have open heart surgery

My husband and I quit our jobs to travel for a year

And then I had my daughter and decided that I would pursue my dream of being a cheesemonger
...and I catch up with longtime friend of the show Uma Kondabolu...mother of comedian Hari Kondabolu. She just retired from her 30 years career in healthcare...and we talk together about the big shifts around work identity...that we're both experiencing right now.
--
This is Death, Sex & Money from WNYC. I'm Tayari Jones, in for Anna Sale.
CMW: Have you been married?

TJ: I've never been married.

CMW: Uh huh. Do you want to be?

TJ: You know, do I want to be married? I always say that I would like to meet someone who would make me want to be married.

CMW: Uh huh.

TJ: I've never met anyone that I wanted to marry. A friend of mine said, I've seen the way you behave when you want something, and this is not the way that you behave in pursuit of your relationships. I do think, like you said, that the art is very demanding. It's a very demanding life. Also, I mean it is, I do think one of the differences between men and women is that all the, as a woman becomes more powerful in her career and her life, it becomes almost like a, a liability socially in that it become, the, there's an idea of like, well, do you need a man? Can you make a, how will you make a man comfortable, you know, having accomplished so much? Where a man, as he becomes more accomplished, becomes like a chick magnet. So that's probably something in the mix for me. I don't know, but it could just be my issue. I don't know. But I think I have a good life. I think that there was a time in my life when I felt guilty for having, for feeling like I have a good life. I think as a single woman, I don't have children either, sometimes when my accomplishments are are laid out, people consume them ironically, like oh like, you have everything but you have nothing. And I have found that is not true, but at the same time there are, you know, there are intangibles that come along with being partnered. And also I'm sure the partner, my imaginary partner is more awesome than the partner would be in real life. But sometimes I think my imaginary partner would greatly enhance my life.

CMW: You know, there, there, there are a couple of things that, you know, that you're saying that strike me. I mean, you know, you, you, you are very, are you're, you're very traditional!

TJ: Me?!

CMW: Yeah! You're a traditionalist in a lot of ways, aren't you?

TJ: Tell me, tell me, tell me.

CMW: Well, I mean, you know, just the way in which you're sort of talking about these sort of ideas about sort of relationship and binary relationship, right? You know, because you know, there are many different ways of having a partner. Um, love of course is one, you know, intimate love. Sexual love is one. Um, traditional marriage is another, polygamy is another. Um, I'm actually sort of interested -

TJ: I'm not, I'm not polygamizing.

CMW: I'm sort of interested in, you know, um, I've I've never really been interested I think uh primarily in the binary. Uh, uh, while I'm in um a heterosexual relationship, and I enjoy my husband and I believe in in loyalty, loyalty for me has never been really about whether or not um one sleeps with somebody else. And I think I felt this way for a very long time, which is one of the reasons that I didn't think that I would necessarily be married. So I really value the other kinds of relationships that I have in my life. I value my, my other men friends, my other women friends. Uh, what I get for them, from them um in a lot of ways is just as important as what I get from my husband. You know, from the person that I wake up with every morning. And, you know, I tried to start teasing these ideas out very early, um, for myself, the limits of relationships, the limits of parenthood, the limits of, you know, all of these sort of binaries that box us into relationships in ways that start to deny us a sort of rightful sense of, uh, the complexity of self.

TJ: I do think that, um, I do think that these ideas of relationships certainly box us in particularly, um, these kind of gendered notions of relationships. I feel like, I feel like, I am not so much afraid of marriage as that I'm afraid of being a wife.

CMW: Mm. Ah.

TJ: I don't know many models of women having the type of life that I want to have that are also wives. Most of the women I admire are are single and the ones who are, who are married, they did marry in their forties or later and so I wonder it, if it's about those important, especially as artists, those formative years not being being married. But I don't know, I -

CMW: I mean I think that there's something that that no matter what, that in every relationship, when you enter the relationship, that you enter it um under certain terms and if you enter the relationship under the wrong terms, it's really difficult to set the terms later, right? And so that to me has been a very important sort of barometer. You know, that, you know that if I'm entering a relationship struggling around notions of my sense, my ability to work, then it's not a relationship that I can stay in. I already see the handwriting is on the wall. This will not work. This cannot work.
MUSIC
TJ: I'm gonna turn it back to you because I'm so interested in this one question. You've written about not being paid for your work at the same rate as your male counterparts.

CMW: Absolutely. Absolutely. These things are, these things are absolutely real. Um, uh, and I'm deeply aware of them and the thing that I try to do about them is to, um, is to constantly talk about them in smart ways

TJ: Tell me more.

CMW: that are always simply, simply, always, uh, making, making the point. You're always talking about it. I mean, the thing that's really important about working as an artist is that, you know, there, there, there are any number of stances that we can take. You can lay the material out in such a way that it brings millions of people to you, or you can lay the information out in a way that simply gets buried. So in using all of my wiles, how do I sort of bring these ideas, these ideas and these tensions constantly forward in the work that I am making, so that it's heard, right?

TJ: Have you seen, have you seen evidence that bringing this issue to light has changed things? Has it changed things for you?

CMW: It's um, you know, interestingly enough, miraculously enough, just the other day, um, one of my pieces sold, Kitchen Table sold, and broke auction records.

TJ: I saw that. I saw that just about 10 minutes ago. How did it feel?

CMW: Um, like we've got a long way to go.

TJ: Yes, indeed. But I was, I mean -

CMW: But I marked it. It was noted, it was noted. It was like finally! And I really sort of looked at it that way. Like, good, good. This is a good start. Finally somebody is starting to pay attention.

TJ: They're paying money too.

CMW: A little bit. So I think that these are important things and not just for me, but for others as well.

TJ: Wow.

CMW: But the, but it is starting to change, right? It's also a part of something that's um, that cannot be denied and that is really sort of systematic and, um, a change that's taking place in the country.

TJ: Yes, yes.

CMW: You know, the needle is moving and shifting across the, across the, the, the social, cultural uh and political landscape right? Um, whether we're talking about it in terms of like popular culture, what we see on TV, wwhat we see published, what we see on museum walls, all of this is very much part of the the demographics shifting from, from white to to brown and various, you know, black and various shades of brown, right? I mean, this is really sort of what we're up against. And um, uh, these, um, huge institutions are having to sort of rethink where they are. And, and, and, and, and, and then the market is affected by that. And the the, and the museum is affected by the market. So all of those things I think are really deeply connected and it's the push that I think we've all been been trying to make, but it's also a part of something that's um, that cannot be denied and that is really sort of systematic and, um, a change that's taking place in the country. Right? But you can only do it with people that are willing to go there with you. You can't force them, you, as they say, you can, you can take the horse to the water, but you can't make him drink, right? You can only take those people, you don't necessarily have to agree on everything, right? But the thing that you can agree on is that you're trying to get closer to your humanness
MUSIC
TJ: I have to tell you one more thing about your own work and what it's meant to me. Um the Kitchen Table Series is as profound to me and my understanding of stories and the home, domestic stories...it is as profound to me as "Beloved." And I have it on my bookshelf face out. And I was there, it was evening, I had I had a lover, it was, you know, we were in my in my living room, and we were all like hugged up and everything, and I knew I knew this was not the best situation for me. I knew it like in the back of my mind. And I looked over his shoulder and the Kitchen Table Series was there and the image of you and I made eye contact. And a voice inside my head said, Carrie Mae Weems wants something better for you. And I knew, I knew the relationship had to end. All the effort and work and traditions in there like just jumped out and just kind of snatched me out of a bad situation. So for that, I thank you.

[laughter]
That's artist Carrie Mae Weems. Her work is currently on view in several different exhibitions all over Toronto...and she's also one of six artists who helped curate an exhibition at the Guggenheim museum that's on view now. If you're in Canada, or New York...trust me, go go go. And by the way--that print from The Kitchen Table Series? It sold for $70,000.
Follow me on Twitter and Instagram @tayari, and find my most recent novel, An American Marriage, wherever you get your books.
Death Sex and Money is a listener-supported production of WNYC Studios in New York. Our team includes Katie Bishop, Anabel Bacon, Emily Botein, and Andrew Dunn. Our intern is Emily Nadal.
The Reverend John Delore and Steve Lewis wrote our theme music.
And I know, there are a lot of podcasts out there. But this is one that I make time for, and you should, too. Subscribe to Death, Sex & Money wherever you're listening right now-- and if you don't know where to start, head on over to deathsexmoney.org/starterkit, where they've collected some of their favorite episodes to get you hooked.
I told Carrie that one of the things that matters most to me as a writer...is my black women readers. But both of us are happy when our work connects with other folks, too.
CMW: In fact, I was walking through the airport this morning with your book and a little white woman who was probably about 70 turned to me and she said, "Oh, that's a fabulous book! Oh, that's a fabulous book!" She said it twice. She want, you know, she wanted me to know that she had read it, that she had checked it out and that, you know, she was really happy to see me carrying it and reading it.
I'm Tayari Jones, and this is Death, Sex & Money from WNYC.
Copyright © 2019 New York Public Radio. All rights reserved. Visit our website terms of use at www.wnyc.org for further information. New York Public Radio transcripts are created on a rush deadline, often by contractors. This text may not be in its final form and may be updated or revised in the future. Accuracy and availability may vary. The authoritative record of New York Public Radio's programming is the audio record.
Music Credits:
"Dialtone" by Blue Dot Sessions
,
"Our Only Lark" by Blue Dot Sessions
,
"Luper" by Blue Dot Sessions
,
"Filing Away" by Blue Dot Sessions