I Had Babies To Pay For My Baby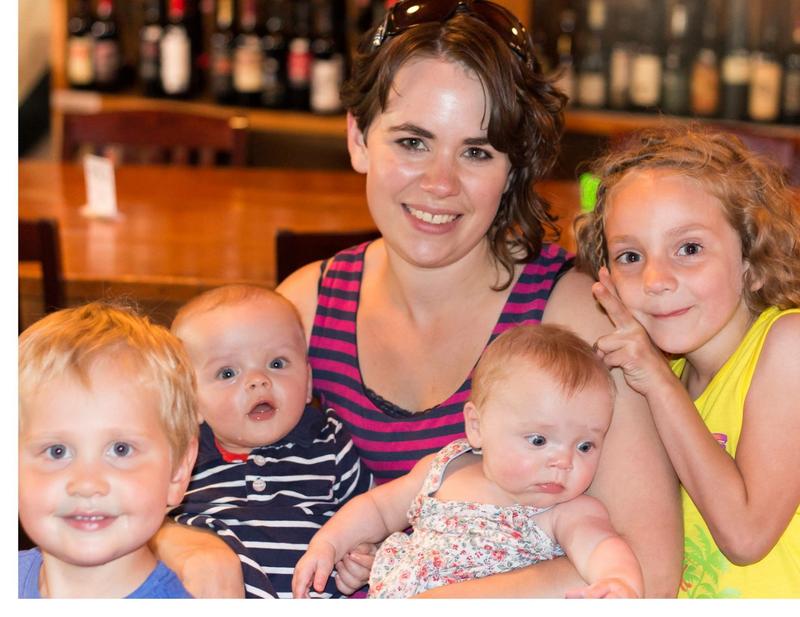 Transcript
SARAH SHORT: I was trying to think of a way to make money without putting my kids in daycare. And I filled out this application and they called me and they were like, "Hey, you're pretty cool but nobody's gonna want your eggs." But she was like, you're a great candidate for surrogacy.
This is Death, Sex & Money.
The show from WNYC about the things we think about a lot…
…and need to talk about more.
I'm Anna Sale.
Sarah Short was 18 years old when she and her boyfriend found out she was pregnant.
SS: I had started going to college but I didn't know what I wanted to do. And so, you know my first impulse was, okay, I'm gonna look into adoption.
Sarah went to her first prenatal check up, and that got her worried about how she was going to pay her medical bills.
SS: I didn't understand how health insurance worked. I mean as far as I know I think I walked into the hospital and asked them where do I go if I'm having a baby? And um, but then they told me this health insurance that you have through your dad won't cover OB type services. And I asked them, um, you know, is there something in place for poor people? Can I set up a payment plan? And they just said no, no. And so at that point I really didn't know what to do and I just didn't go back to the doctor.
Sarah eventually decided to keep the baby, but she didn't have another doctor's appointment until she was seven months into her pregnancy. She'd tried to enroll in Medicaid, but she needed to track down a copy of her birth certificate. Hers had gotten lost.
SS: By the time I got it, I'd already had my daughter. And they told me there was nothing they can do, and it wouldn't be covered.

AS: Do you remember when the bill came in the mail?

SS: Uh yeah, I remember these bills started showing up. Anesthesia, the hospital stay, and the doctor and I just laughed. I was like I can't pay this. Like, I can't write a check for thousands of dollars. And so I kind of just didn't know what to do and I just threw them away. And then they turned red. And they kept showing up. Um, you know I start getting calls. And I stop answering my phone if it's not a number that I recognize.
This was ten years ago. Sarah lives in Oregon. She grew up in a small farming community there. Like a lot of families around her, she was home schooled -- partially because the local schools weren't great, she says, and also because her family was really religious.
It was through church that Sarah met her boyfriend, Travis, when she was 14. There was a lot of talk about abstinence and waiting until marriage to have sex...
SS: ...and then it didn't really work out and I wasn't too upset about it. I think probably you know the big hole in it was just the, um, education about contraception. I always thought to myself with my really pro-life upbringing that the pill, or the morning after pill was the same as abortion. So I was more concerned about not being on birth control than I was about having sex.
Sarah and Travis had a small church wedding when she was eight months pregnant. After their baby was born, her husband hopped from farm job to farm job while Sarah stayed at home with their daughter.
SS: I um had a difficult time finding daycare. And so I was like, okay, I guess I'm just gonna stay home with this baby and I'm gonna stop school and I'm gonna stop working and that's gonna be my role.

AS: Did it feel financially stable?

SS: Um, you know it's funny to look back on it now because we made so little money. But it felt like a lot of money to teenagers.

AS: Yeah.

SS: And um... there was also this um kind of weird adjustment where we felt like we were living independently but there were a lot of things that our parents were still paying for like auto insurance and I think my husband's dad was still paying for his cell phone and things like that. And then as those things slowly shifted over to us, um, you know then it - now I can't imagine living off of the income that we did at the time.
And they still owed a lot of money to the hospital where Sarah gave birth. She estimates that it was about $10,000. And that was before it went into collections, and started accruing interest and fees.
Then the recession hit. Work dried up for Sarah's husband.
SS: Then I finally got really lucky and I got what I considered an amazing job opportunity as a teller at a credit union. It was like the first real job that I had had. I made $1,200 a month working full time. And at the time, that felt like, you know, a nice income to me and felt like a professional job where I have you know a professional outfit that I wear and they trained me and um, about that time I got a call from the hospital where I delivered and they said we've changed our policies and we've revisited your bill and we want to set up a payment plan with you. And I said you know this is amazing timing. I just got this great job and so call me when I get my first paycheck and we'll figure something out. And so I made what was a pretty significant payment for you know people who weren't making a ton of money. I think it was like $350 a month or something like that on these bills.
Even with those payments, Sarah still owed thousands of dollars to collections agencies. She and her husband had a second child in 2010, and this time, the birth was covered by Medicaid. But the old debt haunted Sarah. She worried about it showing up on her credit report and holding her family back.
SS: I just..I felt like we were never gonna own a home. I was still learning how to be a grown up and, you know, having all that debt that I just when I would think about how much it was and what it would take to pay it off and how long it would take I would just get so overwhelmed and I would be like we're never gonna be able to get out from under this. And it felt like it was all my fault. I mean even looking back on it I know some things that I could have done now. And that was why, you know, I started looking at ways that I could pay this off myself. It felt like I was beholden to my husband to pay these bills that were really my responsibility.

AS: And you felt like that because you had had the baby even though it was your child together?

SS: Ugh, I felt like I had been...at the time I didn't know what I could have done differently. You hear about these people who are "taking advantage of the system." I was like, how come I didn't take advantage of the system? What system was there for me to take advantage of...

AS: "Why didn't anyone tell me how to take advantage of the system?"(Laughs)

SS: That's - that's how it felt to me. I was like you know, I know lots of people who had babies and you know were living at the poverty line and somehow it got taken care of, and I didn't know what I was supposed to do.
Sarah was intent on paying off this debt. And now, with two kids at home, she needed to bring in extra money without also having to pay for child care. So she started looking into selling her eggs. But when she reached out to a fertility clinic, she was told she wasn't a great candidate.
SS: People want tall blondes.

AS: You're not tall and blonde.

SS: [Laughs] no... I'm short and brunette.

AS: And that was a disqualifier for selling your eggs?

SS: You know, it's - they do head hunt at Ivy League schools. And they're looking for girls who are 20 years old and athletic and tall and blonde and that is, you know, that's what they want for the most part.

AS: Did you feel insulted when she said that?

SS: Oh, I don't know. I think you know it was you know it was kind of self-fulfilling. Doesn't everybody feel that way about themselves that oh, nobody wants my eggs. (Laughs) So, you know, I guess ultimately I wasn't really surprised.

AS: Did it feel like a class judgment?

SS: Maybe. Um, you know I feel more like if you're gonna take that leap and get somebody else's eggs because you can't have your own genetic material that you probably would want, you know the best eggs that you can find. If I have to settle then I'm going to get...

AS: I'm gonna settle for Heidi Klum with a Harvard degree.

SS: I guess... (Laughs)
But the clinic had another option for Sarah. Coming up, she thinks about making that extra money by becoming a surrogate and carrying a baby for someone else.
SS: You know, I was kind of like that sounds crazy. That sounds like a lot. I don't think I can handle that emotionally. But all the while I'm still going how are we gonna pay these hospital bills.
—
Over the summer, we asked for your stories about breakups.
I'm done. I'm just done.

It's not you, it's me.

And it was the first time I've ever really been in love.

He said, hey, we've gotta talk.

Ugh!

Those are the worst words ever.

I was "emasculating" and "not supportive enough."

I packed up my things and left.

And she has moved in with a guy!
Some of you also told us about splits from family or friends.
I had to break up with my mom.

My relationship with this friend was very volatile.

Friendship breakups certainly are as dark and dismal as any relationship breakup.
But one thing we're still looking for is stories from people who are considering breaking up but haven't yet done anything about it. Those of you who are wrestling with that question, "When is it time to let it end?" If that's you, write us an email or record a voice memo and send it to deathsexmoney at wnyc dot org.
We're also compiling a breakup survival kit and we want your help building it. What are the songs, books, and movies that have gotten YOU through a breakup? I recommend Pema Chodron's book When Things Fall Apart and the movie An Unmarried Woman.
We're collecting suggestions on our Facebook page, or you can email us at deathsexmoney@wnyc.org.
On the next episode, former NFL player Domonique Foxworth. When we talked two and a half years ago, he was finishing at Harvard Business School and not even watching football anymore. We'll listen back on that conversation and hear what happened since he graduated with his MBA.
DOMONIQUE FOXWORTH: I kind of made the decision to try my best to quiet the egotistical urges within me that liked having the big title and liked having the big salary, and so I quit, with no plan to do anything else.
—
This is Death, Sex & Money from WNYC. I'm Anna Sale.
When Sarah Short was 24, she had two kids and was looking for a way to pay off thousands of dollars in medical debt. She decided to become a surrogate. She filled out an application online for an agency about three hours away, in Portland, Oregon.
SS: I was really surprised at how fast it was. I was kind of - I felt like I was just putting feelers out in and then they were like when can you come to Portland for an interview? And so I went out there and they asked me a lot of questions about what I was looking for. Um, it's kind of like a dating website like Match.com where they pair you with a family that has the same values. And then I think it was about two months before I, um, met um the couple that I was gonna work with.
They were a lesbian couple who, after ten years of trying to adopt, turned to surrogacy.
SS: We talked and we just really clicked with this couple in our first interview. And I was like, they - I can see me and my husband in this couple. And I mean in a lot of ways they're really different than us. Sometimes they say or do something where I'm just like, oh they are so disconnected from the kind of life that I live.

AS: How do you mean?

SS: Um, they both are executives at Microsoft and they're very well-to-do. You know they - they are self-made so maybe that's why I feel like personality-wise we have something in common with them, is you know, they've built themselves up. But a lot of times I felt really disconnected from them because their lifestyle is so different than ours. And it's something that, um, I still deal with now, where every time I see them, I'm building myself up. And I'm like, oh, this is gonna be so uncomfortable and weird and then it ends up not being weird because they're just wonderful people.

AS: When did you find out how much money you could bring in by being a surrogate?

SS: Uh that was when I was researching the websites. It's pretty consistent across the board. The base rate for that two-year commitment was $40,000. Typically it's um split up into a monthly check for the whole time that you're pregnant. So when you have a positive pregnancy test, you start getting a check in the mail. Then when you deliver, you'll get whatever is left over in that final check. Um, there's also all the other things that are paid out separately. That's the base compensation. There's also, this is how much you'll get paid if you have a C-Section. And this is how much you'll get paid if you have multiples.

AS: What was the added benefit financially to you of carrying multiples than just carrying one baby?

SS: Um, you get $5,000 more for, um, each additional baby and I have a lot of twins in my family and um they were all full-term and really healthy. And so I was like obviously genetically I can carry twins. This is going to be okay. My body can handle this.

AS: So once the fertilized eggs were implanted inside you and you became pregnant and you were growing these twins, what feelings came up that surprised you?

SS: Um, I think it felt like um a little too intimate. I was really conscious of the fact that these were not my babies. And so it always felt a little bit like they were kind of too close to me.

AS: Like an invasion of privacy.

SS: Well, yeah kind of like um, I mean my husband could probably speak to this too, like when we're laying in bed, and the babies are kicking him and it's just kind of a really strange sensation to be like, well these aren't our babies. And you know we talked a lot about how it had all the downsides that come with being pregnant, all the hormonal things and health issues but it didn't have any of the positives. We weren't designing a nursery and talking about names. And, um, then there's always the weirdness of being pregnant and having sex, and then it's like I was saying additionally weird when it's not your baby for some reason.

AS: As you became more visibly pregnant, what would your conversations be like with strangers?

SS: That's probably the thing that I have the hardest time with. I've talked to other surrogates about this and they're kind of like, I don't know what you're talking about. But when I was in the checkout at the grocery store and the clerk would start asking me about my pregnancy it made me so angry and frustrated and uncomfortable because I would keep trying to shut it down and they would keep asking. And um, you know there's the really basic ones, like, "When are you due?" and "Boy or girl?" that people would ask. But then it was really hard to shut down because I would be like, "Well, it's a boy and a girl," and then they're like, "Oh my gosh, twins! We need to talk about this for twenty minutes!"

AS: Yeah.

SS: And it was also weird for my kids because my daughter was five. And she knew what was going on and was fine with it. But my son was one to two during this whole process. And people were constantly asking him, "Are you excited about being a big brother?" And he wasn't even conscious that I was pregnant. We hadn't talked to him about it and he hadn't been around anybody who was pregnant, and so it was completely going over his head. And people would ask him these questions and it made me so angry and uncomfortable and I was just like leave us alone.

AS: Would you ever... would you ever say I'm actually a surrogate?

SS: I tried not to because that made the conversation longer. And it was always like at the grocery store where I don't want to hold up the line. I just want to get out.
There was also some awkwardness with the twins' parents. Pregnancy and childbirth come with a lot of built in rituals, and it wasn't always clear how Sarah fit into those.
SS: I had thought that there would be some kind of baby shower thing and I had also thought that I wanted to make sure that the parents were as involved as possible and really felt like this was their pregnancy. That was really important to me. And then, I heard through the grapevine that they were having a baby shower and I hadn't been invited to it. (Laughs) And that was probably the strangest thing that happened the whole time, was shouldn't I be there?

AS: Did you tell the parents that you heard about the party?

SS: No, no they mentioned kind of pretty close to the date that, oh yeah, there's the baby shower and you're, I mean you're always welcome you can come. (Laughs) And I was kind of like no, it's okay.
The birth of the twins a few months later came with its own unfamiliar terrain. Sarah says it felt completely different than the first two times she gave birth.
SS: I can't remember if they were born on the 17th or the 19th. I don't remember how much they weighed when they were born, like there's these weird things. Yes...

AS: Wait, you - you gave birth to them and you can't remember the date?

SS: It's weird how you have your own kids and you remember all those things. Like, I'm sure you know exactly how much your daughter weighed when she was born and what time of the day she was born. I don't remember those things about the twins.

AS: At what point were you separated, the twins to their parents, and you in the hospital?

SS: So this is something that when I've talked to other surrogates it varies on where you deliver and who is on shift and all of that. In my case, um, I had a C-section and so you know I'm in a surgery room and they take the babies away. I didn't hold the babies. You know I delivered them and then they took them right out. And then because they were a little early they went to the NIC-U. And because the particular hospital I delivered at treated it like an adoption and so I was not allowed to come in and see the babies unless the parents were standing outside and walking in with me.

AS: Did that feel comfortable?

SS: It was kind of like the baby shower where I was like, well this is weird. But I wasn't upset, but it just felt so silly and ridiculous.

AS: Was there part of you that wanted to be emotionally distant from that experience of childbirth since they weren't your kids?

SS: For me it was natural because when my son was born I looked at him and I was like, oh my gosh, he looks just like my husband. And it was a huge profound moment in my life that I remember. And when the twins were born they didn't look like me. And they weren't mine. And I wanted them to get to their parents. And I left the hospital a day early because I missed my kids and I wanted to get home to my kids.
But Sarah's job wasn't over yet. Her contract also stipulated that she'd provide breastmilk for the twins.
SS: That was another strange experience where I was like doing this thing without the emotion of having my own baby. Um, I was waking up during the night to pump because I would be in pain, um, and so I was getting up but I didn't have a baby to take care of. Uh...you know I live pretty rurally so I might have to go a half hour or an hour and a half or something to go to Costco or to run a certain errand and then I would get there and realize that I forgot my breast pump and it was devastating. It was like do I drive all the way back and get it? And then obviously I'm worried about my milk supply, there was that weird thing where I felt like I was producing too much milk and making too much money but I was also afraid of my milk supply dropping off. And so there was just a lot of conflicting emotions about that.

AS: What's the rate for pumped breast milk after carrying babies?

SS: Um, at the time I was doing it the going rate was a dollar an ounce.

AS: Talk about wanting your milk production to be like...(Laughs)

SS: Well, and that was the thing like I had breastfed my kids and so I didn't know how much I produced. And I was making over $1,000 a month in breast milk and it was completely out of the realm of what I had expected. And so I was like they're gonna call me up and tell me this is insane. Because it is insane! And um, and yeah it wasn't. They didn't comment on it, so I guess they were okay with it. I don't know like what they were expecting. I never asked but it was definitely more than what I was expecting.

AS: So what was the total amount that you earned for carrying the twins and for the breast milk afterwards?

SS: Um, so I like to talk about it, um, when people ask me how much I made, in terms of I put in a two-year commitment from the time I signed the contract until the time I was done pumping. And, you know when you look at it over the course of two years. That's more like a part-time income. You know, like $20,000 a year. And so I'm always reticent to tell people just a flat number because it sounds so high and it sounds like I sold these babies for this amount of money. When in actuality I had a part-time job for two years.

AS: So you're sensitive about how it's perceived. You want to make sure it's clear how much time and energy you put into this.

SS: Yeah, and everybody in my family and friends who knew me during that time, they understand that I was driving three hours to Portland for appointments. And I was making phone calls and sending emails and doing injections. And so all of the time and energy that that took, it was a part-time job.

AS: Hm. What did you do with the money?

SS: Um, paid off my hospital bill first.

AS: Yay!

SS: Which was awesome. (Laughs) It was actually really funny when I called the um, the collections agency that had my bills and I told them, "I'm calling to pay it!" And the guy was so taken aback. And he was like, what? You know, all of it? Now? I don't know if that had ever happened before. So that was amazing to just be like, yep, I'm doing it. I've got it, here it is. And that was one of the most amazing feelings.

AS: Did you buy a house?

SS: Yes, um we ended up using a portion of that as a downpayment on a house too, which was another one of those cool things that - it's so weird to look at my life before the surrogacy and after because you know I keep talking about how I wanted to feel like a grown up, and it made me feel like a grown up to take that step and go from a really crappy rental that we were living in. My son's bedroom was like a closet. And so now we have this house that to me is a dream house. It was everything that I wanted. And my kids have their own bedrooms now. And it's a life that I could have never pictured for myself a few years ago.
The twins are 3 years old now. And Sarah's going back to college, after she dropped out during her first pregnancy. She wants to become a dietitian. But that means a new set of financial obligations. So last year, Sarah started the process of becoming a surrogate again.
SS: It felt really similar where I met a couple and I loved them and we were clicking and then um, my body didn't respond to the medications. And the clinic decided that I needed to take six months off and not do any hormones and let my body kind of reset. Because it was going to be a six month delay, me and the parents parted ways. And it felt like I'd been fired. Because I'd had this thought of, like, I have this job I'm going to have this income, and then I didn't.

AS: Has it made you understand the emotional experience of women who struggle to get pregnant in a new way?

SS: I never thought about it that way. Um, it made me angry where I was like, I know I can get pregnant why is this not working? This doesn't make sense. I kept thinking why can't they just put a baby in me. I know that my body will grow a baby.

AS: Who were you angry at? Like where did the anger get directed?

SS: Um, I guess I was - I was angry that I didn't get any medical answers. That they were kind of like, oh this happens sometimes. We don't know why. Come back in six months.

AS: And you want to become a surrogate again.

SS: Yeah. So I've had my six months off and I'm, uh, just starting the process again. I'm gonna be starting injections and they're gonna see how my body reacts to the medication and if I works this time. So. We'll see.
—
Sarah Short. Since we talked, Sarah says doctors have told her she has scar tissue in her uterus after the twins, and she's no longer a good candidate for surrogacy. Now, she says, she and her family are earning a little extra money by renting out a room…in their house.
Death, Sex & Money is a listener-supported production of WNYC Studios in New York. I'm based at the Center for Investigative Reporting in Emeryville, California. The team includes Katie Bishop, Chester Jesus Soria, Emily Botein, and Andrew Dunn. Our intern is Adriana Rush.
The Reverend John Delore and Steve Lewis wrote our theme music.
I'm on twitter @annasale, the show is @deathsexmoney. You can email us your show ideas or reactions to deathsexmoney@wnyc.org. Subscribe to our weekly newsletter at deathsexmoney.org/newsletter.
Sarah and her family keep in touch with the twins and their parents. She told me they get together twice a year, including a weekend at the beach. She's says it's a really nice kind of blended family…and like in all families, there are some differences within it.
SS: Like an example is one of the twins, like one of her first words... they weren't even speaking sentences 51:20 yet and she said Pellegrino. (Both laugh). And it made me laugh so hard. And they weren't even aware of how ridiculous that was.

AS: (Laughs) That's funny. That was not one of your child's first words, Pellegrino, no?

SS: No. (Laughs)
I'm Anna Sale, and this is Death, Sex & Money from WNYC.
Copyright © 2019 New York Public Radio. All rights reserved. Visit our website terms of use at www.wnyc.org for further information.
Music Credits:
"Blood Petal" by Blue Dot Sessions
,
"Osprey" by Podington Bear
,
"Tripoli" by Blue Dot Sessions
,
"On Three Legs" by Blue Dot Sessions
,
"Where It Goes" by Jahzzar
,
"Chunk of Lawn" by Jahzzar
,
"Silk" by Podington Bear