Your Student Loan Updates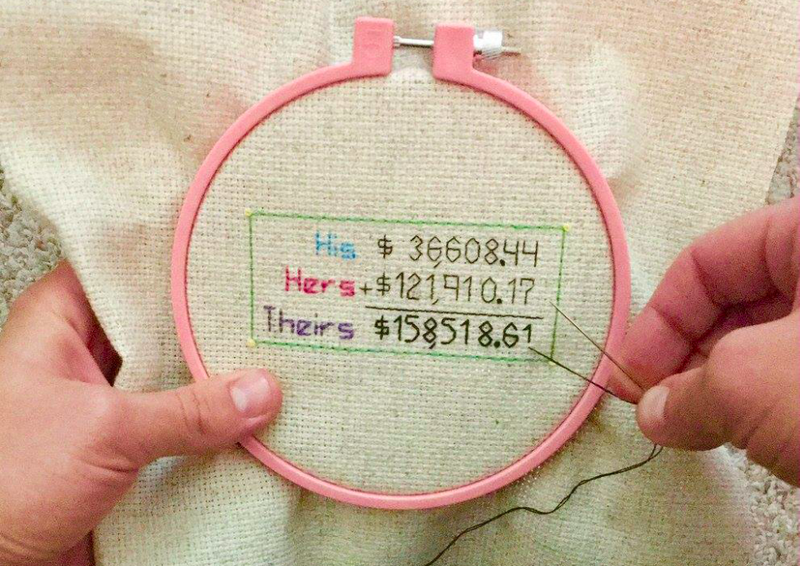 Transcript
Hey Anna, it's been almost a year, so I felt it was a good time for me to call and check in.
This is Death, Sex and Money.
The show from WNYC about the things we think about a lot…
And need to talk about more.
I'm Anna Sale.
If you haven't heard our episodes from last year about student loans, go back and listen. In this episode, I'm checking back in with some of the people I talked to a year ago.
Like Jordan Gibbs….who just wasn't paying her student loans...when I first talked to her.
Here she was back then.
JORDAN GIBBS: You start getting emails all the time, like, "Hey, Jordan, your student loans are past due," and then you get one of those pink envelopes in the mail. When it's like—when you get the pink envelope, you're fucked.

ANNA SALE: How long have you been getting pink envelopes?

JG: [Sighs] Maybe, like, on and off for about a year.
Jordan decided to use her first and last name, publicly, in our interview, to hold herself accountable…and she did. She made her first payment last summer.
Since we spoke, Jordan has totally changed the way she spends money so she can devote $900 a month to loan payments. She sent us an email update a few weeks ago, and I asked her to come back to talk about it.
AS: Hi Jordan Gibbs.

JG: Hello Anna Sale, how are you?

AS: How has your year been?

JG: It has been really interesting. A lot of, I wouldn't say downs, but it's been a little bit of a rollercoaster. Being an adult and taking on adult things has made me grow up a little bit. And watching all this money go towards stupid student loans, it's like, uh, I'm pushing back what I really want in order to do the right thing, so it's kind of hard.

AS: As you adjusted your budget, did you talk to anybody?

JG: No. I looked through my bank account and started x-ing things off a list. Do I need to have my eyelashes done? No. You'll be fine without eyelashes, Jordan. I was shopping like crazy, I was going out to dinner, drinks. Just being, my dad's favorite word, careless. Just being absolutely careless. And looking at my spending at the end of the month, and I was just like, wow. You can definitely afford to pay your student loans.

AS: Did you listen to our student loan episodes that you were in?

JG: Um, yes, but almost a week or two before I got back in touch with you.

AS: You waited.

JG: Yeah. Well, umm...a couple of people had reached out to me on LinkedIn. Some of the messages were really nice, and like, I really identify with what you say. And there were some people who had sent not so—not like cruel messages but more just like, if I had your situation, you don't have the right to be so irresponsible kind of thing. And so when I read those messages prior to listening to the episode it kind of, like, scared me to listen to it, just because I was like, oh my god, do I sound like some pretentious person who's completely unaware of privilege? I didn't know what to think of it, so it just kind of shied me away from listening to it.

AS: I'm pretty struck that people found you on LinkedIn to send you messages about how they thought you were making bad decisions.

JG: In some people's defense, they did send me nice things too. There was this one guy who was like, you got this.

AS: There was encouragement.

JG: Yeah. But then there were some that were like, I really don't want to hear your sob story kind of a thing. So I was like, damn.

AS: So it was exposing. Because even the people who were encouraging you, you were like, oh my god, they know what I said.

JG: People really listen to this. There's a person from North Carolina talking to me about this! I'm like, oh my god.

AS: Are you glad that you emailed us and said, sure I'll do an interview?

JG: Yes and no. Yes, because I don't think I would have had the catalyst to do it otherwise. I mean, I could have kept on just dodging. I'm sure something would have happened, my credit score would have blown up or something where it would have forced me to do it, but I would also say no because it's not fun to take a hard look in the mirror at yourself and start making better decisions. I haven't been disappointed in myself like that in a really long time. It's never fun to look in the mirror and be lik, OK, you caused this problem for yourself. But I think I made the right decision, so I guess I'm happy in the end.
Jordan has about $40,000 left to pay off...And she told me once she finally listened, she got some tips from the episodes.
JG: I heard a lady on there and she was listening to some radio guy? And she just...

AS: Dave Ramsey!

Tara: Yeah. It was two hours every day, of Dave Ramsey. And I took the podcast off my phone. I felt like I needed to get out of that scarcity mindset.
That lady...we called "Beth" a year ago. Now she's letting go of Dave Ramsey's anti-debt radio show and she's ready to shed the pseudonym she was used with me before.
T: I think you can just use my first name, Tara. Especially now that I'm done, I just don't care.
When we talked last year, Tara was dedicating more than half her take-home pay as a public defender toward her loans...about 3,000 dollars a month. She was trying to finally get rid of the more than 200-thousand dollars she'd owed for undergrad and law school.
Then in February, she scheduled her last payment.
T: And I slept terribly all night, I kept waking up, and I was like, sweating.

AS: Huh.

T: But it was very strange, but it was like this sort of internal excitement, I guess? Then I woke up and immediately logged on through my phone and it said balance paid in full, amount due zero.

AS: In bed.

T: In bed.

AS: Uh-huh.

T: And I just laid there for a few minutes and I just thought, that's it. I'm done.

AS: One of the things you talked about giving up was going into a store and buying a shirt from Ann Taylor. Have you bought yourself a nice shirt?

T: I haven't yet. I've bought a couple of workout clothes items, because I came back from a run the other day, and I was like, I hate this shirt, it's a shirt that I've had a long time and it kept riding up, and I said to myself, why are you still wearing it? Go buy another shirt.

AS: [laughs]

T: It's very psychological and I'm trying to work through some of that, that sense of scarcity. Growing up we never had much money, and so I think at 37 I'm now just getting to a place where I don't have to think that way? Um, oh! One thing, I don't know how I forgot this because I'm doing it later today actually, I have started horseback riding.

AS: Oh fun!

T: Yeah. I did it for about two years when I was a kid, maybe 7 or 8 years old, before we basically couldn't afford it anymore, so I promised myself that once I was debt free that was going to be the thing that I was going to do. So at this point, I'm going once a week for an hour. And I just, I love it because I can just leave my desk, leave court, leave wherever and go there and just be with a totally different set of thoughts when I'm out there.
Coming up….
I check in with a listener named Sharif. A year ago, he was questioning whether his higher education was worth it at all...
Sharif: If I hadn't gone to college, I probably would have been better off.
We talk about what's changed since.
—
We have another update to share with you. Lawrence Bartley, the inmate at Sing Sing prison that I interviewed in 2014, has been granted parole. He was 17 when he was arrested and charged with murder. He's now 44. Lawrence wrote an essay for the Marshall Project about what he's been thinking about his release.
He wrote: "On April 16th, I got my new birth certificate, the letter granting my parole. With my new lease on life, I still remember the one I took."
There's a link to Lawrence's essay on our Facebook page. And we wish Lawrence, his wife Ronnine and their family all our best as they prepare for his re-entry.
On the next episode Tayari Jones, the author of this year's Oprah Book Club pick An American Marriage. She talks about the challenges of becoming famous overnight. And why for her, dating other artists often hasn't worked out.
I realized that I was in the position of being support staff to these men who are artists. And I just, I didn't want to do it anymore. And I feel that if you have to tell someone to read your work, then they don't want to do it, so I really would want someone who would volunteer to say, hey, let me see that.
—
This is Death, Sex & Money from WNYC. I'm Anna Sale.
SHARIF: Hello?

AS: Hi. Sharif?

S: How are you?

AS: Good! It's nice to hear your voice again.

S: Yes, likewise.

AS: Where are you talking to me from right now?

S: I'm back in my safe space, in my car again.
Just like when he first called me, Sharif was parked outside the office where he works as a chemical engineer….He immigrated to the US as a teenager from Bangladesh, and he felt embarrassed and ashamed at the weight of his more than 100-thousand dollars when we spoke a year ago.
S: I don't know how else to put it, except that I almost made it. So yeah, it did make me recalculate what America meant to me.
AS: You sounded so frustrated a year ago when we talked, and stuck.

S: I was! I was. I still am to a certain extent, but nwo I feel I'm more—I'm in better control of the situation. And when I heard back the episode, it actually did something where I'm actually a lot more comfortable. It was almost therapeutic to hear it.

AS: Ah.

S: Hearing that there were so many other people out there, just like me, if not worse, it actually made me feel like I was part of a community. (laughs)

AS: Did you do something different with your student loans?

S: I re-consolidated my loans, brought it in one place, so I have a better understanding of exactly how much I owe, and how best to tackle it.

AS: So now you get, it's all in one place, is there just one student loan payment you're making every month?

S: That's right. Everything is in one place, before the payments were going out in segments throughout the month, but now it's just one payment. It's still amounted to pretty much the same amount that I'm paying in one lump sum, but it definitely helps me better in controlling and planning my finances.

AS: How much is your monthly payment right now?

S: It's around a thousand and fifty dollars…

AS: Do you have a sense…

S: A thousand fifty-seven to be exact.

AS: Okay. A thousand fifty-seven dollars.

S: But I'm actually making payments after the monthly payment, whatever savings I can muster in a month, I'll actually make an additional payment. So last year, I was able to pay off around $10,000 additional.

AS: Oh.

S: So I'm hoping to I'll be able to pay it off in five to seven years.

AS: Am I remembering correctly you have two little kids?

S: Yes. My daughter, who's the older, she's 4, and my son turned 2 in November.

AS: How are you thinking about their higher education?

S: Well, I always had a little bit of a saving plan for them for their educational budget, but I'm not going to tell them about it, because I want them to become independent. And that's what they should plan for, they shouldn't be counting on the money I have saved. But then if they need it, I can come in and help.

AS: So you're not going to tell them, as part of your parenting philosophy.

S: Oh, absolutely. They will have to struggle. Otherwise, they wouldn't understand or value what they have. I will not tell them, because I think that will make them complacent. I just can't have that.
A year ago, a listener named Josie was deciding on colleges, looking at glossy brochures from the elite private school she got into...and comparing it to paying in-state tuition at the University of Louisville.
She decided to go to Louisville, because of the money.
And I caught her on her cell phone on campus...as she was wrapping up her freshman year with big plans on her mind.
J: I'm going to be studying abroad next semester! in Amsterdam, like all next semester, and that is certainly not the cheapest option.
She's able to do that because she's taking out less loans for tuition overall. And now she says the only thing she regrets is how much she agonized about going to a state school.
J: I was in so much stress that whole year. No one is—none of these colleges who want you to pay lots and lots of money, none of them are trying to make it a clear choice. None of them are wanting you to feel okay about not going there. And then when I got here I met lots of people who had very similar stories to me, like, I got into this elite school and chose here instead. I just felt at home. I was just so relieved.

AS: What are you going to do this summer?

J: I'm going to go home and work and save money for college.
One last person I've really wondered about was Jessie, who a year ago, talked to me about her student loans while she was pulled off the highway in Colorado….
Jessie: I am sitting in my car in Cortez, Colorado on the drive back to my mom's house in Washington State.
She was on the road, because she'd just broken up with her fiance...basically, because of her student loans. This year, she says worried a lot less about her debt...
Jessie: After you call off a wedding over student loans...nothing else really holds a candle.
Jessie's has been paying $500 a month on her 60-thousand dollar debt…She works for a nonprofit hospital and is hoping for public service loan forgiveness, so she's investing and saving anything beyond the minimum payment. And in the last year, she's been focusing on other things besides her student debt.
Jessie: I moved back to Washington, pretty much immediately started a new job, this past summer, I bought my first house up here...I started dieting and exercising...and as of now looking back over the last year, I've lost almost 90 pounds.

AS: Oh wow!

Jessie: And then the kind of more recent part of my life, I, about a month ago, I finished the process of being licensed as a foster parent in the state of Washington. And right now, I have short-term, a 4 year-old foster daughter.

AS: How did you make the decision to become a foster parent?

Jessie: Um, you know, I've wanted to be a parent my whole life, and of course, the decision to leave my ex-fiance was because he said that people with debt shouldn't have children, including student debt. And that was a deal breaker. So I left.

AS: Hmm-hmmm...

Jessie: And this past summer, I turned 30, and just the question of how prominent should becoming a mom be in my mind right now. Should I not worry about it, or I'll figure it out later, or you know put the move on it? You know…

AS: Yes, I know that exact internal dialogue, yes!

Jessie: (laughs) Um, and got the house, and my life felt a little more stable so I started looking into it and I realized that it was something I could do to kind of get feet in the water, would I be okay being a single mom? It took many months of paperwork, but yeah I did it! I have my first kiddo right now.

AS: How many weeks in are you? You said it's fairly recent?

Jess: I'm two weeks in. And actually, she could be going home any day now. And in this case it's a really positive development, so I'm really excited for her. I'll be really sad to see her go because I've grown very attached!

AS: What have you learned in two weeks about creating connection and loving someone when you know it can be quite temporary?

Jess: Gosh. For this girl in particular, I've just learned about the importance of just showing up, just being there. Because at four, she's really young, but she's old enough to know she's with me and not her parents…But I just kept showing up. You know, rubbing her back when she was sad and I kept being the one to smile first when she was mad at me, and eventually she came around.

AS: How do you think back on the end of your relationship now that it's been a year?

Jess: Hoo. that's a tough one. I mean, by a million miles it was the hardest period in my life…And a year out, I feel like I'm just coming out of the full cloud of that experience. It's been really interesting having that episode of the podcast because I saved it and a couple of times over the last year, I've gone back to it and I listen to myself talking about it and it gives me this really unique mile marker to hear how I was a year ago. And I remember, a year ago, I knew in my heart I was doing the right thing, but every moment of it hurt, every decision, it all hurt. And now, it feels unfortunate, but gosh, I'm so glad that I left and that I kinda restarted my life in the way that I did, in a way that is not so shame-based about money.
That's a listener named Jessie, talking to me from her new house in Washington.
If you have student loans, we've got a list of resources to help you manage them, whether you've been making minimum payments, trying to pay them off as quickly as possible or ignoring them completely. Go to deathsexmoney.org/studentloans and click on the link for "free resources" at the bottom of the page.
Death Sex and Money is a listener-supported production of WNYC Studios in New York. I'm based at the Center for Investigative Reporting in Emeryville, CA. Our team includes Anabel Bacon, Stephanie Joyce, Emily Botein, Andrew Dunn, and Katie Bishop.
And last week Katie brought the newest member of the extended Death Sex & Money team into the world. Baby Lila is here. Katie is going to take the next several months off while they get to know each other. We will miss her, but we are so glad she has this time to focus on that important work.
Our intern is Angely Mercado.
The Reverend John Delore and Steve Lewis wrote our theme music.
I'm on twitter @annasale, the show is @deathsexmoney.
And this episode was a really nice reminder … that when you listen, send us an email, tell us a story, you become part of a real community. If you want to support this kind of connection and conversation, please consider donating. Go to deathsexmoney.org/donate.
And before she heads to Europe next semester, Josie's summer job is at a bagel shop in her hometown. I also served bagels at a job in high school and college…
AS: It's a lifelong skill you'll have of cutting a bagel right down the middle.

J: Yeah! I had to watch some training videos online...like press lightly, go halfway through, flip it up! I'm ready to get really good at slicing bagels.
I'm Anna Sale, and this is Death, Sex & Money from WNYC.
Copyright © 2019 New York Public Radio. All rights reserved. Visit our website terms of use at www.wnyc.org for further information.
Music Credits:
"Student Loans" by Red Square Sessions