From Chaos to Sesame Street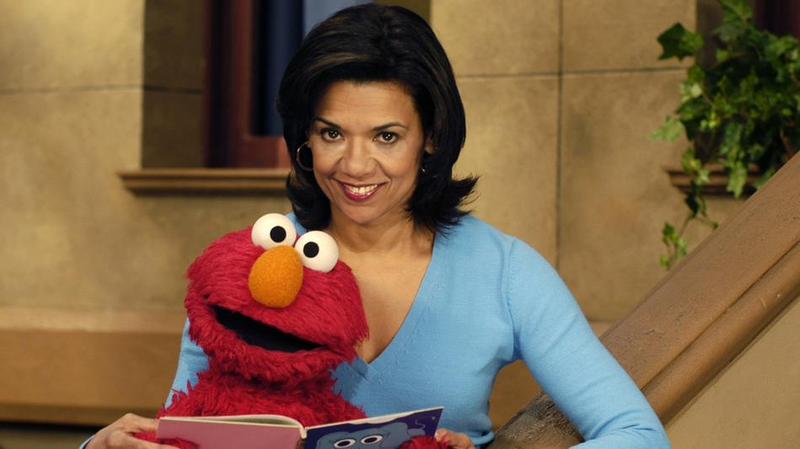 Transcript
Sonia Manzano: There were two things you could be when I was a kid. You could get married young like my cousin who got engaged at 16. Or you could be a bad girl.
This is Death, Sex & Money.
The show from WNYC about the things we think about a lot…and need to talk about more.
I'm Anna Sale.
SM: I don't know if it was a cultural thing, but you would never would question an adult.
Sonia Manzano grew up in the Bronx in the 1950s. Her parents moved there from Puerto Rico.
SM: Adults always told you things, whether you understood it or not was meaningless to them. You would - you could not say, "But what do you mean by that?" They would say either "You"ll know when you grow up," or "Shut up and get out of the way."

AS: And what were the things that—that you never asked your mom about when you were a little girl?

SM: Well, when I was little I didn't ask her why - you know, why she would change her mind so much about my father.
Sonia's mother left her father repeatedly when Sonia was a kid. They'd move out, get a new place, and then her parents would reunite. Sonia's father drank a lot, and whenever he drank, he'd beat her mother.
SM: I was always standing between them. When I was five, six, seven, and eight, I was standing between them.
Until Sonia was 21 years old. It was Christmas.
SM: We're waiting for my dad to come home and it's getting darker and darker and he's not home and—which is not a good sign—and we're all knowing that he could come home in a drunken and violent mood. And he does come home and he attacks my mother with a telephone, as a matter of fact. And, I remember deciding that I was going to put an end to it.

AS: Were you able to?

SM: Yes, that was the moment where put the wheels in motion for her to get a separation and a divorce.

AS: Did your mom want to get divorced?

SM: No. No, and that's something that I'm kind of facing now as an adult that she didn't want to, that this was her life, that this is how she might have defined herself.

AS: Did you and your mother discuss the divorce after it was final?

SM: Years later, yes, we did and she was happy that she had gotten a divorce and I asked her about our life and why she allowed it to go on. I was still the kid wanting to get an answer. And she said, "Well you know, I just thought that, when you guys grew up, you'd understand." And I remember thinking, "You might understand, but you don't gain the childhood back."
[SESAME STREET THEME MUSIC]
Sonia couldn't get her childhood back…but she became part of all of ours. She's Maria, from Sesame Street.
GROVER: Excuse me, Maria? Maria? What does "hola" mean?
MARIA: "Hola" means "hello" in Spanish!
GROVER: Huh! Well what do you know!
For 44 years, she explained numbers and letters and life to little kids.
ELMO: Elmo needs to know how to say, "No! Don't do that!" Or, "No! Elmo doesn't like that!" Isn't that right, Maria?
MARIA: You know Elmo, you're right. It is important to know how to say no.
No one said these kind of things to Sonia when she was growing up.
AS: Do you think of your childhood as kind of a confusing time?

SM: Oh, sure. Extremely confusing. A kid sees things black and white. Yes and no. There's good guys and bad guys. And a lot of kids are in the middle of disparate concepts. How could I love my father when he battered my mother? How could I love the music he played? How could I love my mother—who kept us in this situation—how could I love her sense of humor, want her approval, yearn for her caress at the same time that I was critical of the situation that we were in? There's the rub.
And for Sonia, things only got more disorienting when puberty hit.
SM: Oh, it was awful at that time. It was, like, like I don't have enough trouble, now I have to deal with breasts! It was ridiculous! Because all of a sudden when you went to Crotona Park Pool and you jumped in the water, five guys would jump in after you and feel you up so you couldn't go to the pool. Um...uh, that was certainly one drawback. You couldn't - you had to get underclothes so you could jump rope. Uh, you couldn't, uh, lean out the window. We always used to - I used to lean out the window so I could watch the people on the Third Avenue L and, you know, they'd be guys looking down your shirt and you'd be completely oblivious to it.

AS: What did your mom and your older sister tell you about dealing with men?

SM: Nothing. (laughs) You just kind of - they - actually, they used to, um, when someone got married they'd say, about a year later, "So, how did he turn out? Did he turn out good? Or bad?" So it was like, the woman had no choice, it was like luck of the draw. However he turned out, you were stuck with it. And then there was the whole pregnancy thing. That was pretty hilarious. My mother said, "Well, you know, babies come when people get married. When God see that you're married babies come." But all these girls would always get pregnant and the expression was "le hicieron el daño," "the woman was wronged." So I would say to mom, "Hey Mom, God makes an awful lot of mistakes in this neighborhood because none of these girls are married and he keeps, like, blowing it!"
Sonia left that neighborhood. She got a scholarship to study theater at Carnegie Mellon. It was the late 1960s.
SM: Society was on my side. American was an idealistic place and they wanted people like me to succeed.

AS: Did it feel like that when you were 18 and 19-year-old young woman, that America wanted you to succeed?

SM: Yeah.

AS: Would you have said it that way?

SM: Yeah, yeah...

AS: That's a powerful way to say it.

SM: Yeah, people were listening.
Still, when Sonia landed at school in Pittsburgh, it felt like she didn't fit anywhere.
SM: It was like being on Planet X, it was so foreign to me. I was around a lot of white people for the first time. They, you know, they didn't know what a Puerto Rican was or a - and there were hardly any students of color in that school at that time.

AS: Did you find yourself kind of trying to fit in or did your Puerto Rican-ess become more pronounced as a way to express who you were?

SM: I choose column two. (Laughs) From column two, exactly, I became more, more, more Puerto Rican in ways that I had never been Puerto Rican, but I had to stand up for myself, you know, all of a sudden I had to play Aretha Franklin like 24/7 just to show these white kids what they had been missing, or what they should have been listening to. Latins were very - were invisible at that time, so I sort of tried to align myself with black people and, uh, and their social issues. Then the Young Lords happened in El Barrio in '69 and they tried to sort of fashion themselves after the Black Panthers as well. They wanted you to embrace being Puerto Rican, but part of that culture was machismo and the domination of men over women. Well, you can romanticize it and say it's part of our culture, uh, or you can say, I don't care, I know it's part of my culture, but I don't want that part.
Coming up, Sonia talks about how she got hired on Sesame Street, and what it's like to look back on those first years of playing Maria.
SM: Some of that old footage, it looks like I rolled out of bed and didn't comb my hair! And I went a little bit overboard. I could have tweezed my eyebrows every once in awhile.
We've been asking for your stories about death and money. We've heard from a lot of you about wills, paying for funerals, and sorting out estates. A listener named Ben told us what happened after he unexpectedly inherited $10,000 from a relative he'd never met.
Ben: The first thing I knew I wanted to get with the money was bariatric surgery for my wife, who's been overweight pretty much her whole life. So we get the surgery and what ends up happening is that as she loses weight, she starts gaining more confidence, she starts going out more, she starts reevaluating our relationship and I do as well. And we end up actually getting a mutual divorce only a few months after she got that surgery.
And April left us a voice memo about what happens when there isn't a will after a death. Her best friend and her best friend's husband were killed in a car accident. Their infant daughter survived.
April: Trying to predict what my friend and her husband would have wanted for their child… trying to plan for what to do with their money and with their home and with all of their belongings was very very painful. My therapist would tell you that that actually caused more pain for me and for their loved ones then their passing.
We're still collecting your stories about money and death. Record a voice memo on your smartphone and send it to us a deathsexmoney@wnyc.org, or write us an email there.
On the next episode, I talk with a woman that we're calling Emma. She's a single mom. And a sex worker.
Emma: I mean we all do our work for money. So that's just the way it is. But if I didn't have to do it—if it wasn't the best pay, by far, just so above and beyond anything else that I can make—in the time that I spend doing it, I wouldn't be doing this.
--
This is Death, Sex & Money from WNYC. I'm Anna Sale.
Sonia Manzano didn't mean to get into kids' TV. She moved back to New York from Pittsburgh to perform in an off-Broadway show. It was called Godspell. Sonia was in the original cast.
That's how she was noticed by this public television show for kids.
SM: I remember watching Sesame Street at Carnegie Mellon. I walked into the student union and there was James Earl Jones reciting the alphabet in this very deliberate manner, "A...B...C" and the letters flashed over his head. I said, "What the heck is this?" And then I get the call after I'm doing Godspell to come in because they wanted Latino representation. So they call me in and there weren't that many Latin actors, I have to admit, to choose from. And I got cast on the show. And then I met Emilio Delgado, who plays Luis on the show, and I didn't even know he was an actor. I thought he was an activist because every time you saw him, he'd pin a boycott grapes button on you. So I thought it was all - everybody was in this fervor of a better society.
BIG BIRD: Maria! Why are you walking around like that muttering to yourself?
MARIA: Well, I'm trying to figure out the right way to go in there and ask Luis to give me a raise.
BIG BIRD: Oh, I see. Maria? What's a raise?
MARIA: It means I'm going to ask him to pay me more money for the work I do in the Fix-It shop!
BIG BIRD: Oh! That's very important!
MARIA: You're telling me!
AS: Do you remember how much you were paid when you were first hired?

SM: $500 a week. It was an enormous amount of money. But I'll tell you something about money, kids ask me a lot, am I rich? And I never knew—I wasn't sure how to answer it, 'cause, you know. But now I know, I thought about it actually, because next kid, I'm going to say this, "It all depends on where you came from." From what my parents had, I'm rich. Compared to J-Lo, I'm poor as a church mouse.

AS: So you're in your 20s when you start on Sesame Street, you didn't get married until you were 36?

SM: Right, yeah.

AS: Did you feel ambivalent about marriage? After your parents' marriage?

SM: Yes, I was in no hurry to get married. But when I was a little girl I never was the one who said, "I wanna get married," and, uh, "I wanna have children." That wasn't me.

AS: What was it about your husband that made you wanna commit to him?

SM: He, uh, created order. He, created, um, there's milk in the refrigerator. There's toilet tissue. And coming from a chaotic background—I love that. And, you know, of course, you have to love someone, you have to fall in love as well, but I think it was his sense of order and the way he can create a home.

AS: What did your family—your husband's white?

SM: Yes.

AS: What did your family make of him?

SM: My mother was thrilled. She was so happy that I was so old and finally getting married. I cannot tell you. (Laughs)
As Sonia's life moved into this new phase. So did her character's on Sesame Street. For years, Maria had worked alongside her friend Luis in the Fix-It Shop. Then, things changed.
MARIA: I should tell him, shouldn't I? I should tell him. Don't you think?
BIG BIRD: At least tell me!
MARIA: Big Bird. I'm in love with him! I'm in love with Luis!
SM: When I got married to the character Luis on Sesame Street I was four months pregnant in that white dress on the rooftop. And, um, you know, Maria's life, uh, kind of followed mine. And the purpose of that was we were going to show Latin people with the same hopes and dreams as anyone else. You wanna get married, wanna have a nice job at the fix-it shop and fix the toaster, you wanna help your friends, you wanna have a baby, you wanna look for daycare, and you want you child to have an education.

AS: What did you wanna make sure children understood about love and family when you were thinking about how to tell that story?

SM: Um, because we were two characters on a show who had known each other for years, the writers were wondering how do we justify them falling in love all of a sudden? And we did not want to do the cliche where a man and a woman know each other, but suddenly she takes her glasses off and unpins her hair and he sees what a beauty she is and they fall in love. So, uh, Maria comes upon Luis as he is nurturing a sick kitten and as she sees his sensibility as he loves his kitten, her heart melts and that's how they fall in love.
Maria soon got pregnant, which incorporated Sonia's real-life pregnancy into the show. Sonia's infant daughter, Gabriella, even played Maria's daughter Gabriella for a time, which allowed Maria to explain some of the more perplexing parts of new parenthood to the kids on Sesame Street.
GIRL: You're feeding Gabriella, right?
MARIA: Yeah! She's drinking milk from my breast.
GIRL: Is that the only way you can feed her?
MARIA: Oh no, sometimes I feed her this way, and sometimes I feed her with a bottle.
SM: Babies change everything. It changes the way you look at the world. Uh, this new person is living with you. And I thought, you know, maybe I could share this feeling with children.

AS: What - what was your relationship like with you daughter? Like, how was it different than what your relationship with your mother was like?

SM: Oh, well, I was really, um, a hover-mother. (Laughs) I was really involved in her life in, you know, in every aspect of it. Probably too involved, I went the other extreme. I don't think my mother was interested in my girlfriends, whereas I was very interested in my daughter's girlfriends. And having her when I was 38—guess I was 38 when I had her—she had friends who had younger mothers so all the mothers weren't on the same page as to what was appropriate. Whereas, my mother, everybody was on the same page. All parents - all the grown-ups were, "Girls can do nothing." They all agreed in that. It was a certain sort of - a little bit of comfort there.
Sonia's parents are both gone now. She stayed close with her mother until her mother died. Her father was not a part of her adult life.
SM: I did want to exclude him. I just wanted to - to, uh, to eradicate him from my life, which is impossible. You can not see someone, but - you know, you can hang up on them when they call, but you really have to face people to really get rid of them. (Laughs)

AS: Hm. What was going on in your life when you thought, "I need - I need to cut this off."

SM: I was in love. I had a baby. It was going to be about me now.

AS: How many years had it been since you'd spoken to your father when you reached out?

SM: Oh, I wanna say I hadn't spoken to him for a good 20 years.

AS: How'd it feel?

SM: I was really quite nervous and, you know, I walked in, he said, "Hey Sonia! How are ya? God, it's great to see you!" Just as if I had just seen him a few weeks ago. Or maybe, you know, not - not that there was any bad blood. It was all sort of like this kind of acceptance of things happen. You could cha - put in another word for "things" if you like.

AS: Did you feel that way?

SM: No, I think you're still, you know, the—I think the younger you are the more you want answers to things and you want to explain things. The older you are the more you are willing to say, "You know at the end of the day we're all going to die." Or something. There's no sense wasting time explaining what you can't explain.
Sonia Manzano. She retired from Sesame Street this year. She has a new memoir called "Becoming Maria: Love and Chaos in the South Bronx."
Death, Sex & Money is a listener-supported production of WNYC. The team includes Katie Bishop, Emily Botein, James Ramsay, Destry Sibley and Joe Plourde.
The Reverend John Delore and Steve Lewis wrote our theme music.
I'm on twitter @annasale, the show is @deathsexmoney.
If you're not already, subscribe to the weekly DSM newsletter. You get updates on the show, podcast episodes we love, and behind the scenes stories, like our team's recent field trip to take a trampoline exercise class...that turned out to also be a taping of reality show Mob Wives. Subscribe at deathsexmoney.org/newsletter.
And...yes...when I was talking with Maria from Sesame Street...I did bring up sex.
SM: (laughs) What are you going to ask me about that?

AS: Just, how do you think about sex at this point in your life?

SM: Sex, um, uh, (sings) nice work if you can get it and you can get it if you try.
I'm Anna Sale, and this is Death, Sex & Money from WNYC.
Copyright © 2019 New York Public Radio. All rights reserved. Visit our website terms of use at www.wnyc.org for further information.
Music Credits:
"Common Denominator "
,
"I Still Can't Believe"
,
"Realization" by Justin Asher from BWN Music
,
"Stacks" by BWN Music from BWN Music