When We Sent Our Son Away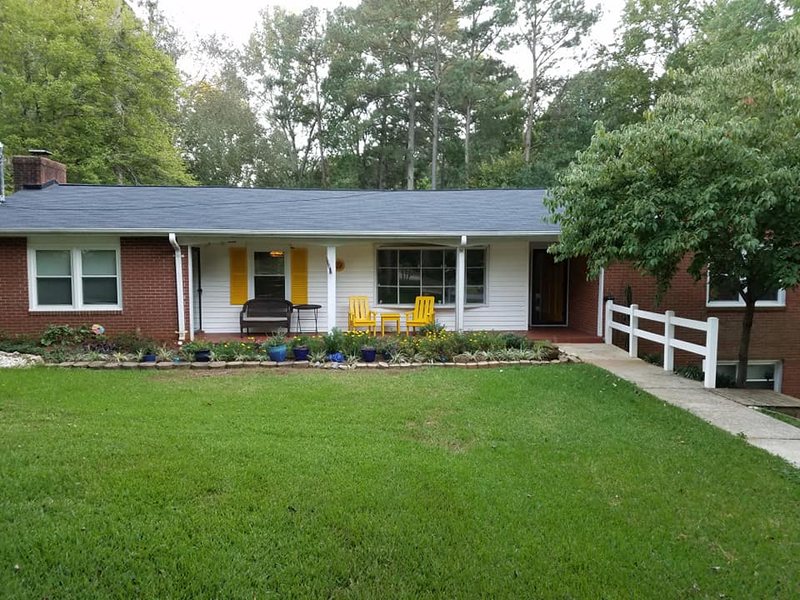 Transcript
Hey, it's Anna. In this episode, we talk about suicide and suicidal ideation. If you're struggling, or just need to talk to someone, please call the National Suicide Prevention Hotline, at 1-800-273-8255.
DIANE GILL MORRIS: When your kids are little and they're acting inappropriately you can put your foot down. You can say, no we're not doing this, this is not happening. When your kid is as big as you are and totally willing and able to hurt you, putting your foot down doesn't really help.
This is Death, Sex & Money.
The show from WNYC about the things we think about a lot…
…and need to talk about more.
I'm Anna Sale.
When I think about parenting, I think about Diane Gill Morris. I first interviewed her three years ago about the ways being a mother has not been at all what she imagined. Both her sons have autism. They have limited language ability and have support workers who help them with daily tasks at home. When we first spoke, Diane was thinking a lot about how parenting would work as her kids got older.
DM: I don't know that there's going to be a place for them when they're adults. I mean, that still has to be my priority as a mother no matter how old they are.

AS: Or how old you are.

DM: Or no matter how old I am, yes. Um, the hard part is just accepting that this is quite conceivably the rest of my life.
We just re-released that episode yesterday. If you haven't heard it yet, go back and listen.
Today, Diane's sons, Kenny and Theo, are 19 and 17. I checked in with her to find out what's changed as her sons have gotten older and become young men. In between working full time and managing her sons' care, it's hard for Diane to find a time to speak privately. She took my call on her cell phone, sitting in her car outside of her office in North Carolina.
AS: When I emailed you to check-in you described your last year as "a dumpster fire that turned into a massive inferno." What's been going on?

DM: Oh, well um, so lets go back to last year. Um, things started getting really bad with Theo, um...
Theo is Diane's younger son. And as he's become an older teenager, he's become more easily agitated. One day, Diane said he couldn't find something he was looking for.
DM: Theo was freaking out about that, and um, started uh, hitting me. Uh, I tried to wrestle him to the floor but he is now really big and so he flipped me right off of him and then he started kicking at me and his leg came down and slammed my head into the floor and I had a big old bump on my head and that was just something that, something just above and beyond anything that had ever happened before.

AS: Was that the first time you were really scared physically of your son?

DM: Yeah, I mean certainly yes. I mean I - yeah it - I, you know, always felt in the past that we had at least some level of - I could turn on my you know my stern mommy voice and usually at least get things relatively under control and if you had to you know restrain him and had to get him on the floor and pin him down I could do that. I was big enough that I could do that. But um, realizing that that was not going to happen anymore, that I couldn't restrain him because he was literally able to flip me off of him was terrifying. Um, you know and I don't usually um, cry after the boys have some kind of issue but man I just bawled after that.

AS: Was there part of you that, when he hurt you physically that was hurt - hurt emotionally like that it hurt your feelings that he would do that?

DM: Oh yeah! Fuck yeah. I mean, absolutely. Um, you know he's my baby, right? I mean he's—we are—I always felt like we were really close. Um, and yea it hurt a lot, it hurt not just physically but it hurt really emotionally. It was like, it - I couldn't believe that he did that to me, I couldn't believe he hurt me like that. Um, you know he said he was sorry a lot afterwards, um, but I - but yea it hurt a lot. It was kind of devastating.
All of this was happening as Diane thought the family was heading toward more long-term stability. She, the boys and her husband, Greg, had moved into a new house in 2017, to live with her aging parents. Diane's father was suffering from dementia.
DM: You know, we just trying to be helpful to each other. You know, hoping that Greg and I could help my mother with my father, and my mom could help us with the kids. Um, we found this fantastic house that has um, basically two completely separate living areas so the adults were on one floor with the - our own kitchen and bedrooms and bathrooms and everything, and the boys had their own floor with their own kitchen, their own bathroom, their own bedrooms, so we thought this would be a great set up for them. Um, but then actually on my parents 44th wedding anniversary um, my father suffered a major brain bleed and um, two weeks later he died.

AS: Hm.

DM: And so that's just been very difficult and complicated.

AS: When you think about your grief for your father when there was so much transition happening in the house, where do you think your grief went?

DM: You know it's been a very - I was confused by my reaction in that you know, I didn't, you know, break down and cry and that sort of thing. Um, but what I found in the months, the weeks and months after he died was that I was intensely angry um, and just—for like no freaking reason I would just be like - I, you know I would be thinking about things that happened a decade ago. And so I decided, okay I'm going go to a therapist and she like took one look at me and she was like, no your problem isn't anger your problem is grief. Um, you've grieved over the life that you thought you were going to have with your family and, you know, grieved for all the things that my kids have had to go through and now you know adding the death of my father on top of that it's like it all lives in the same place in your brain or your heart or your soul or whatever and so that's just like added on to that. Because I had no way of really dealing with the other grief that it just added on to that and became anger.

AS: Did having someone name it as grief make the anger feel less consuming? Or did you feel it the same way?

DM: Oh yeah, no, that helped a lot. [Laughs] Well you know, so it helped and it also complicated things, because - it helped because it was just so like, "Oh okay, I get this now." So when I would feel my anger rise up I would ask myself, "What are you really reacting to?" and then I could you know, be like, okay I'm not really - this is really what's going on in my brain at the moment. But the flip side of that was that when things got really bad with Theo, um, I didn't have a defense mechanism that I used to have. You know I couldn't just get angrier or whatever, I just - and then I - because I hadn't really resolved the other grief issues at that point um, it would just push me to a point beyond which I could cope.

AS: You lost your tool.

DM: Yeah, I mean you know, it might not be the healthiest defense mechanism [laughs] but it was like a firewall that I had um, and by working on breaking it down I kind of left myself without protection when I needed it.
Diane needed it, because Theo's behavior was getting worse. After the fight where he kicked Diane in the head, he continued having blow-ups.
DM: You could keep Theo calm as long as you acquiesced to everything that he wanted. And I had to make sure my voice stayed calm no matter what because I had to make sure that I didn't set him off accidentally. We literally lost control of our own lives and our own household because we're all afraid of you know our own child. It was, you know - we were terrified of the possibility that he would, you know, break somebody's arm you know, be it one of ours or his own. Um, it was really horrible situation.
For the first time ever, Diane and her husband felt that they couldn't handle having one of their sons at home. So last spring, they decided to send Theo away. He got on a waitlist for a program at a state institution for people with intellectual and developmental disabilities… and would be gone for 45 days.
DM: We bought this whole fucking house with the idea that they would always be able to live at home. They would always have—this place could always be their home. Um, and he and Theo is my younger one, I certainly wasn't even - it wasn't even on my radar for him to not be at home. So, yeah sending him there was um, dramatic for all of us.

AS: What was it like for you for you to make that decision?

DM: Um, It devastated me um, completely. I mean I um, I just really went down a very uh, dark place. I just um [sigh]. I think in the past one thing I was always able to hold on to was like this optimism that, okay things aren't great right now but we can figure out how to make 'em better and when this happened, um, it felt like um, everything I had done for the past 15, 16 years was completely for naught, it—you know nothing—'cause here we were after all these years of therapy and working with him and everything and we were exactly at the place that I never wanted us to be, where we were sending him somewhere else. Um, and yeah and I just got um, really severely depressed um, I was crying all the time. I mean I was, I would just be—it took like all my energy to get through the day at work or whatever and not just be bursting into tears at every second it was - I was a complete wreck. Um, and yea and you know your brain can spiral you know [laughs] um, because it became not just this is a bad moment, but this is, this has been bad, everything is bad, things are always going to be bad, you know um, and I just and I got to a point where I was um, where I was suicidal. I just couldn't, I couldn't take it anymore. It wasn't—you know in my head at the moment it wasn't even actually, I'm afraid I'm going to kill myself because I didn't think I had the guts. So it was more I'm afraid I'm not going to kill myself and I'm gonna have to keep living like this and I just can't. And so I went to see my um, primary care physician um, and told her. I just burst into tears, I could barely get a word out um, and finally managed to and she was like okay you need intervention and you need it right now. And I ended up in the local psych hospital for four days. Which was a pretty dramatic experience.

AS: And necessary it sounds like.

DM: Yes, and necessary.

AS: What did it feel like for you to accept care, to be the person who needed extra support?

DM: [laughs] Honestly it was—it was great [laughs].
Coming up, what happens after Diane accepts care, after years of being the caregiver.
DM: I could not do anything. And that was just a tremendous relief, even for a short period of time.
--
Hey, it's Katie. A couple of weeks ago, we asked you to tell us about your experiences of being laid off. So far, we've heard from hundreds of you about crying in your cars, slashing your spending, and mustering the courage to tell friends and family that you were looking for work.
A listener named Dom in London told us that he's been laid off twice. Once back in 2006, and then again just a few months ago. The first time, he was part of big group of people who also lost their jobs. But this time, the layoff felt personal.
DOM: The role I was doing was unique, what I was offering was unique. Um, and at some point they just turn around and said, we don't think we should pay you to do that. They then offered me a possibility to explain what I did in some sort of PowerPoint presentation. I had to PowerPoint for my life. And at that point I just wanted to be done.
That was back in November. Dom's still looking for work. But he's also thinking about starting his own business.
DOM: I just don't trust companies anymore. Right now it's scary. I had some savings that I had a little bit of severance package coming out from this one, but it's running out and I don't know what to do.
If you've been laid off and don't know what to do, either, we've got something that might help.
We've set up a text line where you can get some of the advice that other listeners have sent in after going through their own layoffs. There are some really good practical tips in there and some pep talks too. Text "laid off" to 70101 to get started.
On the next episode, chef Jose Andres runs a restaurant empire that spans North America. But when it comes to raising his three daughters, he's less confident.
JOSE ANDRES: I don't know before Google how dads did it.

AS: Wait, what have you Googled? What have you Googled about parenting?

JA: How to be a father.
--
This is Death, Sex & Money from WNYC. I'm Anna Sale.
After years of being the primary caregiver for her two autistic sons, Diane Gill Morris reached a breaking point last year. And she got help after checking herself into a state-run psychiatric hospital.
DM: It was amazing how even just 24 hours after getting there my brain cleared. Just getting out of a stressful situation, getting out of that situation where you're walking on eggshells all the time and your body is tense every second because you're not sure what's going to happen next, just getting it, like my brain, it was like all of a sudden oh! Okay, I can think straight again.

AS: Why was it just 4 days?

DM: 'Cause I wanted—I just didn't want to stay there anymore, I mean um, you know it wasn't a facility where there was a whole lot of really positive things going on and the place was in desperate need of somebody to clean the whole damn thing um, and I was just kind of like, I just don't want to be here anymore. Um, they would have kept me longer um, but the fact that I was voluntary they didn't really have a choice.
Diane did stay on the anti-depressants that the doctors at the hospital prescribed for her. They helped, but they didn't dull the pain of sending Theo away. He'd been gone several weeks when we talked.
DM: Um, the first week was just very depressing, it very sad. You'd hear little noises in the house and for a minute you'd think, oh, is that Theo? And then you're like no it's not Theo because Theo's not here. Um, yeah, it was just so sad 'cause all I could think about was what he must be going through at that moment 'cause we tried to prepare him but that stressed him out so much that we had to back off and basically not prepare him, and lie to him and tell him that we were just going to this place for the day and um, and then leave him there. Which was not the way we wanted to approach it at all. Um, they had a really hard time with him that first week he was you know very aggressive and upset and understandably so. Um, it was just very hard and I was just very sad—but then so then I did go see him the following week. Greg and I went up to go see him and he's just like, "Why are you here? Bye mommy and daddy!" [Laughs] I'm like, wait a minute! [Laughs] What the hell? Um and so yea it was bizarre and so when we left there it was like, oh wow okay. So then we started you know having date nights and um, [laughs] you know just kind of relaxing and I've seen more movies probably in this past six weeks then I've seen in the past year. But now that he's going to be coming home in a - in a little bit - in another week um, I'm already already having trouble sleeping and stuff like that um, and feeling my stress level going back up.

AS: Has the idea come up at all with you and your husband about whether something more permanent might be appropriate?

DM: Um, we have not discussed it yet. Um, I mean certainly—right now my - right now our focus is very much on making sure - trying to figure out how to make sure the transition home is successful and that we don't end up back in the same routines because that would be a situation where we would end up having to say, you know he needs to go, he needs to go live elsewhere because we can't handle it anymore. So, um, we're just trying to focus super hard on making sure that we put in whatever systems it is that he needs to be able to be successful at home and we are going to you know do everything we can to make sure that works. But certainly if we end up back where we were you know a couple of months ago um, that is going to have to be a conversation.

AS: Do you have other parents to talk to, parents of kids with autism, or adults with autism?

DM: Um, I haven't really talked—most of my friends don't even know that he's there. I just - [AS: Really?] I just haven't wanted to talk about it. Um, you know I think it's one of the harder things that folks in our community don't always want to talk about, and I think in large part because we all feel judged when you know somebody has to make that decision. You know you just feel—even if nobody is judging you, you still feel like everybody is gonna judge you for it.
That's Diane Gill Morris. Since we talked, Theo has come home from the treatment center. And he's been doing better. He's on new medication, and they've added more structure to his day, to manage anxiety. The plan for now is to keep Theo at home, long-term. But while Theo was gone… Diane and her husband realized that their older son, Kenny, really liked having some time away from his little brother. They're now researching group home options for him.
Death, Sex & Money is a listener-supported production of WNYC Studios in New York. I'm based at the studios of the investigative podcast Reveal, in Emeryville, California. Our team includes Katie Bishop, Anabel Bacon, Stephanie Joyce, Joanna Solotaroff, Emily Botein, and Andrew Dunn.
The Reverend John Delore and Steve Lewis wrote our theme music.
And if you're new to the show -- welcome! Sign up for our weekly newsletter, where we share listener emails, podcast recommendations and more, at deathsexmoney.org/newsletter.
And if you're struggling with suicidal thoughts, or just need to talk to someone, please call the National Suicide Prevention Hotline, at 1-800-273-8255.
During Diane's time in the psychiatric hospital, her husband Greg took over the day-to-day management of their sons' care. She told me, she thinks it went okay without her.
DM: When I'd call him from the hospital he would just be like, everything is fine. And if it weren't I wouldn't tell you.
I'm Anna Sale, and this is Death, Sex & Money from WNYC.
Copyright © 2019 New York Public Radio. All rights reserved. Visit our website terms of use at www.wnyc.org for further information.
Music Credits:
"Tower of Mirrors" by Blue Dot Sessions
,
"Lull" by Blue Dot Sessions
,
"Fellows" by Blue Dot Sessions