Sarah Smarsh & Nick Smarsh: Are You Different Than Me?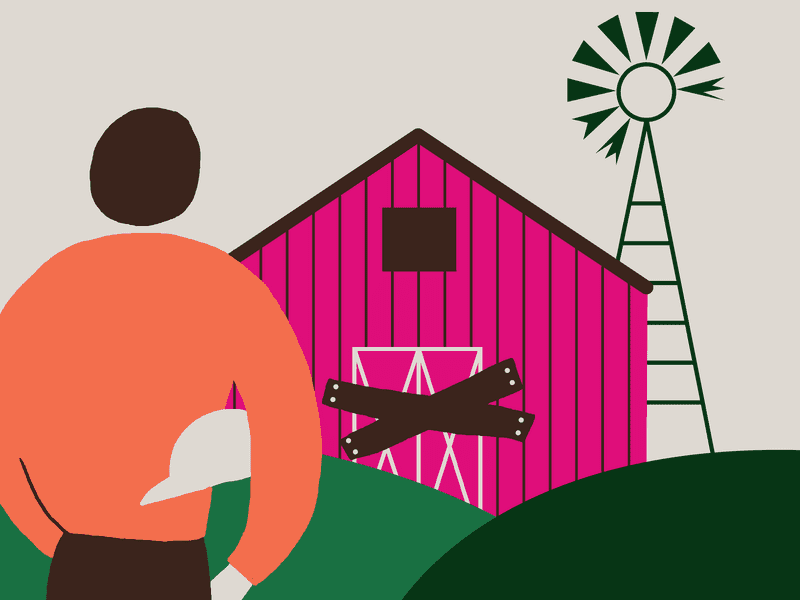 Transcript
NICK SMARSH: Farming was not profitable. It was hard. There wasn't any opportunity to make enough money to build a house or something like that. Something drew my generation away from the small communities.
This is Death, Sex & Money.
The show from WNYC about the things we think about a lot…
And need to talk about more.
I'm Sarah Smarsh, in for Anna Sale.
NS: Sarah.

SARAH SMARSH: Hey.
And this is my dad, Nick.
SS: Are you woke up now?

NS: Yes, are you?

SS: Uh, yeah?
I'm calling him from my home in Wichita, Kansas, about thirty miles from the wheat farms we grew up on. He lives in Wichita now, too, but spends 49 weeks out of the year on the road as a traveling construction worker.
NS: Yeah, I'm in my room, at the Traveler's Inn, in South Haven, Mississippi, looking out my window.
He drives all over the country in his 2007 Ford F150 pickup with a crack in the windshield and a hole in the driver-side floor mat. Last year he drove 26,000 miles for work. His truck is always stuffed with tools, a duffel bag, a cooler, a coffee-maker and can opener, piles of receipts for tax purposes, and his lucky rock. Also, he tells me, a copy of the book I wrote Right now he's down south for several months renovating and building Wendy's restaurants.
SS: Are you still splitting a room?

NS: Yes I am.
The guy he splits it with is a coworker named Gem, as in G-E-M, who came to the U.S. from the Philippines. They've roomed together on jobs like this off and on for several years to save money and pocket a bit of the modest per diem they get from their employer.
SS: Is his rice cooker in there?

NS: Oh yeah, he brought all kinds of new gadgets. He's got his skillet in here, sitting on top of a one-burner electric burner. he's got his oil sitting there. Here's something called, uh, what's this? Sriracha?
My dad grew up on a Kansas farm, and I'm the fifth generation of our family born to that same area of land. We have deep roots in that place, yet both of us have ended up with lives that involve a lot of travel.
I'm a journalist and I wrote a book called Heartland: A Memoir of Working Hard and Being Broke in the Richest Country on Earth. Since it came out last September, my life has been a flurry of book-tour stops and speaking events at universities, literary festivals, professional conferences on poverty or rural issues. Often, I talk about my dad's life, to give people an idea of what hardcore labor looks like, and to remind them that I'm not writing about the working class as an outside observer who quote-unquote "got out." He and I have very different lives, but I still reside in southern Kansas, just down the road from my dad and most of my family. The world we are from runs deep in both of us.
SS: I'm going to take 21st street—do you think?

NS: That's what we should take.
When I was a kid, the 30-mile drive to Wichita was about the longest trip we'd make. We lived on a piece of prairie land where my dad built a house for us--my parents, my brother Matt and me--just a couple miles down the dirt road from the farmhouse where dad grew up in the '60s and '70s.
He worked in the wheatfields, like the rest of our family, often taking construction jobs in Wichita to make ends meet. It took me an hour on a school bus full of rural kids to get to my small-town elementary school. It was a sort of isolation that's becoming more rare.
SS: It's wild how much shorter the drive is from what feels like the edge of Wichita to [NS: Right.] where we grew up—with the um—

NS: It used to seem like a long journey.
During my childhood, small family farms were being sold off at an alarming rate--"going tits up," my dad would say--and when my parents divorced in 1989 there was no viable way for us to stay in the country. I ended up moving to my grandparents' farm, where I lived until I finished high school. But that one went under too when I was a sophomore in college. And ultimately, most of my family ended up in Wichita...and we're still there.
NS: Now, by the way [SS: Players!], remember that building?
A few months ago, when my dad and I were both home at the same time, we and I took a drive out to where I grew up.
SS: That's where we watched the Chiefs lose 25 years ago.

NS: 1993, '94 some like that, the last time they were in the AFC championship game.
The road we follow west out of Wichita is lined with memories, and it's also lined with buildings my dad helped construct.
NS: we're coming up on a um, a barn,and they had dad and my uncles build this barn so…
It's always made me feel proud, that I can point to physical structures all over Wichita and the surrounding countryside and say, "my dad built that."
NS: I also worked on that hospital [SS: Oh, really!]
Not like a developer, who puts up the money and has the audacity to call himself a "builder." No—as in, he built it with his hands.
NS: I'd take these guys when we were working and I'll walk them over to the South side of the hospital and I'd say, "You see that barn? I helped build that in about 1969."
Once I was living in Texas for a short time and had a speaking gig back home. It was one of the first times an event organizer booked a nice hotel room for me, big jacuzzi, three rooms, fancy bathroom, full kitchen. What blew my mind, though, is that I remembered when it was a burned-out factory—because my dad worked on the renovation. All around me was his work. I didn't feel guilty, because Dad raised me to take what I can get. But I felt damn grateful, both for a job in which I get paid for my mind rather than for breaking my back, and for a life that has shown me both sides.
[RESTAURANT AMBI]
SS: I haven't been in here since a kid.
Out in the country, across the road from the tiny Catholic church where we used to go to Mass--where my dad's dad rebuilt the steeple and oversaw repair work when my dad was young--there's a tiny grocery store that, like so many others in rural areas, is no longer a grocery store. Now it's a little restaurant run by a woman named Carol.
NS: She bring a spoon? No spoon.

SS: No spoon.
...Dad tells me that she moved back here from some big city to set up shop.
SS: You sit in this place where this woman is making a go at running a little restaurant on a two-lane blacktop. There's 15 people in here right now and it's—that's booming. You know, so much about your childhood was at a pivotal moment in terms of agriculture and corporations come in with chemicals and different kinds of equipment. My childhood in the '80s was at a moment when that all came to a head, and so many people finally went under. Like, that's a pretty quick shift, I feel like, for a local culture to transform. Like you're sitting here now as—not an old man—like, you're 63 and you've seen that amount of change like—like, what do you—what do you think is the future of this place? These places that we descend from?

NS: If I could predict the future, I'd probably be able to pick the winner of the Super Bowl and make a lot of money, so I don't know what the future is.

SS: Let me ask you this. What's your biggest dread for it?

NS: I don't know if there's going to be a person come in, take Carol's place. She had a taste of big city. She intentionally took this on, so that she could be a part of keeping a small community alive. And she's actually helped in kind of giving it some rebirth. You might say, so, I don't know if there's going to be another Carol after this Carol. I don't know, I—maybe, maybe not.

SS: Can I tell you a story real quick? when the cover of my book was being designed, one of the versions was to have a real slick brand new John Deere combine on the cover, and I said, well, I don't know who's family that book would be about, but it ain't mine because—to people who haven't been in farming communities—to them, farming is farming, it's sort of one big blob of the same thing, but when you're living it, a Massey Harris is different from a John Deere in terms of money.

NS: Well it's stepping out of the past and into the future. Dad didn't want to do that.

SS: Too much money. Or was it also—

NS: No, he had the money.

SS: Or was it that...

NS: No. He wanted to do it the hard way.

SS: Oh. Tell me more about that.

NS: Well, there's an easy way and there's a hard way. And if you do it the hard way, you feel like you—maybe you earned it, maybe you feel like you build up some character.

SS: Sacrifice. You know what, I think about this sometimes. Because I even had it in my head as a kid, going to Mass every Sunday. I would do things like, I would pray by myself, even when I was a teenager at night, I would find like the hardest piece of the floor—like I would kneel on the wood rather than on the rug. Because it's kind of like—I mean, not to psychoanalyze your Dad, but if every Sunday you see somebody hanging on a cross, and you learn to associate that with ascending to something better, than you have this idea of sacrifice, sort of baked into you.

NS: Exactly. That was one thing that was like ingrained into me, is that we all have a cross to bear. I don't know if you've ever heard that, but it's—we all have a cross to bear, so you pick up your cross and you carry it.

SS: Do you think you're different from your Dad in how you look at the world?

NS: No. Are you different than me? No.(Chuckles)
My dad's voice sounds strained in this recording, compared to his usual wild and funny demeanor—like what he needs to express first to someone hearing this is a sort of grief. He and I have been having introspective conversations my whole life, but he knew this was a rare chance for the world to hear his voice, and what he needed to say was that he's been sacrificing his body his whole life so that better-off people could eat bread and have nice roofs over their heads.
I wish you could hear him peaceful on my front porch on a Sunday night, sounding like a freestyle poet telling stories from his construction work on the road. The further he gets into a case of Bud Light, the more his creative his curses get. His progressive political ideas get more revolutionary and his quirky observations get more hilarious. So when he's drinking and laughing on my porch, for all the sacrifice in his DNA I sense that an easier life would suit him just fine.
[CAR AMBI]
Back in the car, we pass the land that my family farmed for generations.
NS: I loved it, when I was out there, I loved it.

SS: I don't know. I like hearing that you loved it, because I think a lot of times when people who haven't been in that world write about it. And the only headlines you ever see are about misery and collapse. There's sort of like this pity, or condescension toward that life. Why would you want it? Why don't you get out? Why don't you leave?What would you say to those folks?

NS: Well uh, you might ask them if they've ever smelled alfalfa hay when it's first freshly cut, and it's laying on the ground. It's pretty awesome, just nature. Quietness. When I basically had to come here to Wichita to stay employed, it has taken me forever, and I'm still not liking stop lights. Stop lights are a real bummer.

SS: (Chuckles) Weren't many of those where we came from.

NS: No. If you saw a stop sign, it's like, forget it. Just look both ways and keep going. (Chuckles)

[...]
SS: Let's see, I saw you a week ago?

NS: Mmmm, yeah. Memorial Weekend, yeah.

SS: And then you drove—what is it, nine hours?

NS: Mmmm…I can't ever make it in nine hours. Um, it took 10.
During the 2008 economic crisis, my dad got laid off from the general contractor where he'd worked for almost 20 years. He had to cash in his 401K to buy groceries and pay the mortgage. When that ran out, his house was foreclosed on and he filed for bankruptcy. Construction work had dried up when the housing bubble burst, and he had to take crappy jobs for too little pay--at one point working for an abusive contractor who shorted him on his paychecks at a moment when he had no recourse to fight it. He's spent the past decade battling back from that dark period at an age when a lot of folks are looking toward retirement.
SS: At one point, you talked about retiring this coming fall when you turn 64. But it seems like you kind of ruled that out, or what?

NS: Uh yeah, I have ruled that out a little bit. I know that, number one, I got make it through summer here and uh see how I feel. But I'm pretty sure I can handle it. But kind of depends on you, kind of depends on Matt, depends on you know, how I'm feeling, I know it's going to be a, going to be a, um, it'll be a challenge to overcome, not having the routine of getting out and going on a job site. That's actually my biggest fear.

SS: Really? It's not the money part, it's the change of life?

NS: Correct. Correct. It's going to be something I'm going to need to figure out how I'm going to transition.

SS: you know, you, you look at it as beneficial in some ways, the routine and the physical nature of it. But I'm assuming it also gets harder as you get older. Is it, do you have any concern about that?

NS: Yes. I know, um, my time's coming up. I just—it's, it's harder, it's been getting hard for the last year but that's why I had that little physical or whatever, that exam. I haven't been to a doctor for, well, I don't know, probably since what, 80, 80, 88, I think? 87? To me, I have to block, have to block pain out. I've got to block it out. I think that's part of my upbringing, that I'm able to do that, but I don't want to crash, you know what I'm saying? I don't want to just fall to pieces if I just stop this routine. I've got to transition into something. Physical and mental. Well hey listen, Gem just got back from doing something. I'm going to visit with him for a while.

SS: Okay. Alrighty. Well tell Gem I say hi.

NS: All right. Love you.
That's my dad, Nick Smarsh. He's planning to work overtime for the rest of this summer to pay off his truck and put away a little bit of money. When he does quote-unquote "retire" and start drawing social security, he'll have to get a parttime job. He hopes it will be in a quiet place with heating and air conditioning. At his suggestion, we recently filed an online application for him--for a job at our public library.
You can follow me on Twitter: @Sarah_Smarsh--that's s-m-a-r-s-h. I've got a new podcast coming soon-- about rural places and the people fighting for them--called The Homecomers. If you want to hear more of my dad's voice, or more about the place we're from, check out my book Heartland: A Memoir of Working Hard and Being Broke in the Richest Country on Earth.
Death Sex and Money is a listener-supported production of WNYC Studios in New York. Our team includes Katie Bishop, Anabel Bacon, Emily Botein, and Andrew Dunn. Our intern is Emily Nadal. Thanks to Fletcher Powell for his help on this episode.
The Reverend John Delore and Steve Lewis wrote our theme music.
If you're not already subscribed to Death, Sex & Money, get off your rear-end. I recommend starting with their series on social class, called Opportunity Costs. It's five interviews with people around the country about how they've experienced class in their own lives. Check out all the episodes at deathsexmoney.org/class.
When my dad thinks about taking off his construction-zone hardhat for the last time, whenever that happens, he knows that there's one benefit, of sorts, that he's going to lose.
NS: That's the only thing I get out of this, is I get my exercise.
Athletic hobbies take time, energy and money that working class folks don't have. So his new idea is downright transgressive.
NS: I've got to replace that with, whether it's cycling or what the hell, but it's gonna take a push, But I got to find something that motivates me. If I'm gonna get my cycle, do my bicycling. Then I got to do my—somebody's going to have to pay me to cycle.
So I guess I know what I'm getting him for a retirement present. I'm Sarah Smarsh, and this is Death, Sex & Money from WNYC.
Copyright © 2019 New York Public Radio. All rights reserved. Visit our website terms of use at www.wnyc.org for further information. New York Public Radio transcripts are created on a rush deadline, often by contractors. This text may not be in its final form and may be updated or revised in the future. Accuracy and availability may vary. The authoritative record of New York Public Radio's programming is the audio record.
Music Credits:
"Chicken-Steak" by Blue Dot Sessions
,
"Sino de Cobre" by Blue Dot Sessions
,
"Cirrus" by Blue Dot Sessions
,
"Thumbscrew" by Blue Dot Sessions