I Did Surrogacy For Money And Now I'm Starting Over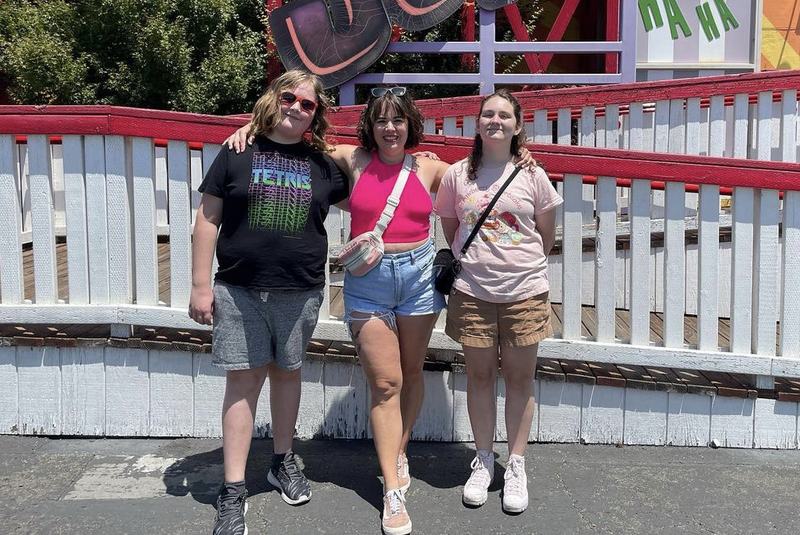 Transcript
SARAH SHORT: When I was younger, I had this idea that, um, that somebody was gonna come save me at some point, um, whether it was in my marriage or during my divorce, I just, I felt like someone will intervene. And, um, and yeah, that didn't happen.
[Death, Sex & Money theme music starts]
ANNA SALE: This is Death, Sex & Money.
The show from WNYC about the things we think about a lot....
....and need to talk about more.
I'm Anna Sale.
[Death, Sex & Money theme music ends]
ANNA SALE: Sarah Short was 18 years old when she and her then-boyfriend found out she was pregnant.
SARAH SHORT: I had started going to college but I didn't know what I wanted to do. And so, you know my first impulse was, okay, I'm gonna look into adoption.
ANNA SALE: Sarah went to her first prenatal check up, and that got her worried about how she was going to pay her medical bills.
SARAH SHORT: I didn't understand how health insurance worked. I mean as far as I know I think I walked into the hospital and asked them, where do I go if I'm having a baby?

ANNA SALE: Hmm.

SARAH SHORT: And um, but then they told me this health insurance that you have through your dad won't cover OB type services. And I asked them, um, you know, is there something in place for poor people? Can I set up a payment plan? And they just said nope, no. And so at that point I really didn't know what to do, and I just didn't go back to the doctor.
ANNA SALE: Sarah eventually decided to keep the baby, but she didn't have another doctor's appointment until she was seven months into her pregnancy. She'd tried to enroll in Medicaid, but she needed to track down a copy of her birth certificate. Hers had gotten lost.
SARAH SHORT: By the time I got it, I'd already had my daughter. And they told me there was nothing they can do, and it wouldn't be covered.

ANNA SALE: Do you remember when the bill came in the mail?

SARAH SHORT: Uh yeah, I remember these bills started showing up. Anesthesia, and the hospital stay, and the doctor and I just laughed. I was like, I can't pay this. Like, I can't write a check for thousands of dollars. And so I kind of just didn't know what to do and I just threw them away.
["Blood Petal" by Blue Dot Sessions starts]
SARAH SHORT: And then they turned red. And they kept showing up. Um, you know then I start getting calls. And I stop answering my phone if it's not a number that I recognize.
ANNA SALE: This was back in 2007, and some of the choices Sarah made over the next decade deeply shaped her relationship with her body, money, debt… and her confidence.
We talked first for a 2017 episode – and again just a few weeks ago – about what's happened since then, including getting divorced and becoming a single mom.
SARAH SHORT: I was talking to, um, to one of my friends about this, uh, this upcoming interview with you and saying how so many things have happened in the past, uh, decade since my surrogacy. And I feel like they're all important, but I don't know how to kind of bring them together. And he was like, well, they all have to do with you doing the best for your kids.
ANNA SALE: You'll hear more about that, later in this episode.
When Sarah first got pregnant, she was living in Oregon. She grew up in a small farming community there. Sarah was home schooled – in part, she says, because the local schools weren't great, and because her family was really religious.
It was through church that Sarah met her boyfriend when she was 14, and where they were taught about abstinence, and told to wait until marriage to have sex.
["Blood Petal" by Blue Dot Sessions ends]
SARAH SHORT: And then it didn't really work out and I wasn't too upset about it. I think probably you know the big hole in it was just the, um, education about contraception. I always thought to myself with my really pro-life upbringing that the pill, or the morning after pill was the same as abortion. So I was more concerned about not being on birth control than I was about having sex.
ANNA SALE: They ended up having a small church wedding when she was eight months pregnant. After their baby was born, her husband hopped from farm job to farm job while Sarah stayed home with their daughter.
SARAH SHORT: I had a difficult time finding daycare. And so I was like, okay, I guess I'm just gonna stay home with this baby and I'm gonna stop school and I'm gonna stop working and that's gonna be my role.

ANNA SALE: Did it feel financially stable?

SARAH SHORT: Um, you know it's funny to look back on it now because we made so little money. But it felt like a lot of money to teenagers.

ANNA SALE: Yeah.

SARAH SHORT: Now, I can't imagine living off of the income that we did at the time.
ANNA SALE: They still owed a lot of money to the hospital where Sarah gave birth. She estimates that it was about $10,000 before it went into collections, and then it started accruing interest and fees.
Then the recession hit. Work dried up for Sarah's husband, but she was able to find a job at a credit union.
SARAH SHORT: It was like the first real job that I had had. I made, uh, $1,200 a month working full-time. And at the time, that felt like, you know, a nice income to me and felt like a professional job. And um, about that time, I got a call from the hospital where I delivered and they said, we've changed our policies and we've revisited your bill and we want to set up a payment plan with you. And I said, you know, this is amazing timing. I just got this great job and so call me when I get my first paycheck and we'll figure something out. And so, I made what was a pretty significant payment for, you know, people who weren't making a ton of money. I think it was like $350 a month or something like that on these bills.
ANNA SALE: Sarah and her husband had a second child in 2010, and this time, the birth was covered by Medicaid. But the old debt haunted her. She worried about it showing up on her credit report and holding her family back.
SARAH SHORT: I felt like we were never gonna own a home. I was still learning how to be a grown up and, you know, having all that debt that I just when I would think about how much it was, and what it would take to pay it off and how long it would take, I would just get so overwhelmed and I would be like we're never gonna be able to get out from under this. And it felt like it was all my fault. I mean even looking back on it I know some things that I could have done now. And that was why, you know, I started looking at ways that I could pay this off myself. It felt like I was beholden to my husband to pay these bills that were really my responsibility.

ANNA SALE: And you felt like that because you had had the baby even though it was your child together?

SARAH SHORT: Ugh, I felt like I had been… at the time I didn't know what I could have done differently. You hear about these people who are "taking advantage of the system." I was like, how come I didn't take advantage of the system? What system was there for me to take advantage of?

ANNA SALE: "Why didn't anyone tell me how to take advantage of the system?" [laughs]

SARAH SHORT: That's, that's how it felt to me. I was like, you know, I know lots of people who had babies, and, you know, were living at the poverty line, and somehow it got taken care of, and I didn't know what I was supposed to do.
ANNA SALE: Sarah was intent on paying off this debt. And with two kids at home, she needed to bring in extra money without also having to pay for child care. So she started looking into selling her eggs. But a fertility clinic told her she wasn't a great candidate.
SARAH SHORT: People want tall blondes.

ANNA SALE: You're not tall and blonde?

SARAH SHORT: [Laughs] No... I'm short and brunette.

ANNA SALE: And that was a disqualifier for selling your eggs?

SARAH SHORT: You know, it's - they do head hunt at Ivy League schools. And they're looking for girls who are 20 years old and athletic and tall and blonde and that is, you know, that's what they want for the most part.

ANNA SALE: Did you feel insulted?

SARAH SHORT: Oh, I don't know. I think you know it was you know it was kind of self-fulfilling. Doesn't everybody feel that way about themselves that oh, nobody wants my eggs. [laughs] So, you know, I guess ultimately I wasn't really surprised.

ANNA SALE: Did it feel like a– like a class judgment?

SARAH SHORT: Maybe. Um, you know I feel more like if you're gonna take that leap and get somebody else's eggs because you can't have your own genetic material that you probably would want, you know, the best eggs that you can find. If I have to settle then I'm going to get...

ANNA SALE: I'm gonna settle for Heidi Klum with a Harvard degree.

SARAH SHORT: I guess... [Sarah and Anna laugh]
["On Three Legs" by Blue Dot Sessions starts]
ANNA SALE: But the clinic had another option for Sarah: to become a surrogate and carry a baby for someone else.
SARAH SHORT: You know, I was kind of like that sounds crazy. That sounds like a lot. I don't think I can handle that emotionally. But all the while, I'm still going, how are we gonna pay these hospital bills?
ANNA SALE: Sarah eventually matched with a lesbian couple. They were executives at Microsoft at the time, and while they were more financially secure than Sarah was, she told me she considered them self-made, and she felt a connection with them.
But once she was pregnant, there were parts of surrogacy… that felt really weird.
SARAH SHORT: I think it felt, um, like a little bit too intimate. I was really conscious of the fact that these were not my babies. And so, it always felt a little bit like… they were, they were kind of too close to me.
["On Three Legs" by Blue Dot Sessions ends]
ANNA SALE: Like an invasion of privacy.

SARAH SHORT: Well, yeah, kind of. Like, um, I mean my husband could probably speak to this too, like when we're laying in bed, and the babies are kicking him and it's just kind of a really strange sensation to be like, well these aren't our babies. And you know we talked a lot about how it had all the downsides that come with being pregnant, all the hormonal things and health issues but it didn't have any of the positives.

ANNA SALE: As you became more visibly pregnant, what would your conversations be like with strangers?

SARAH SHORT: That's probably the thing that I have the hardest time with. I've talked to other surrogates about this and they're kind of like, I don't know what you're talking about. But when I was in the checkout at the grocery store and the clerk would start asking me about my pregnancy, it made me so angry and frustrated and uncomfortable because I would keep trying to shut it down and they would keep asking. And um, you know there's the really basic ones, like, "When are you due?" and "Boy or girl?" that people would ask. But then it was really hard to shut down because I would be like, "Well, it's a boy and a girl," and then they're like, "Oh my gosh, twins! We need to talk about this for twenty minutes!"

ANNA SALE: Yeah. Would you ever... would you ever say I'm actually a surrogate?

SARAH SHORT: I tried not to because that made the conversation longer. And it was always like at the grocery store where I don't want to hold up the line. I just want to get out.
["4" by Jahzzar starts]
ANNA SALE: Sarah eventually gave birth to the twins, and she was also paid for the breast milk she produced afterward. In total, it all came to around $40,000 over two years.
She used part of that money to pay off her medical debt. The rest went to a down payment on a house.
That's where she was living at the end of our first conversation for the episode that came out in 2017. Later that year, her marriage ended.
Sarah's 35 now, still living in Oregon, and has sole custody of her two kids, who are now 12 and 16.
["4" by Jahzzar ends]
SARAH SHORT: My husband, uh, turned out to be a really bad guy who was, uh, putting me down and telling me what kind of person I was behind the scenes, um, really shaped how I thought about myself and how I thought about my marriage.

And, um, yeah, once, once I was out of it, um, and then also entering into my thirties, it's just completely changed my outlook on who I am. And, um, so yeah, I'm just, I'm living a very different life than I was last time we talked.

ANNA SALE: Yeah, I'm sorry. That sounds like a difficult process. Um, when we talked last, one of the things you were really proud of was having used some of the money you earned as a surrogate, uh, on a down payment on a house. Um, what happened to that house?

SARAH SHORT: Uh, me and my ex-husband had, uh, what kind of looked like on the outside a really amicable divorce. We were both the children of divorce, and we didn't want to get lawyers involved and go to court. and, um, I was concerned about how I was gonna manage it financially too.

And so, um, we ultimately just completed the divorce paperwork together and went and turned it in. But when it came down to, uh, specifics, there were just certain things that would really just set him off. the house was one and he kind of told me, you know, take whatever you want from the house furniture wise and things like that.

But then I would kind of start to pack some things and he would just hit the roof,

And so, I basically left my house and, um, I. Almost everything that I owned and left that marriage without any assets.

ANNA SALE: Um, was it hard to leave the house?

SARAH SHORT: I think what's hardest for me right now is the fact that, uh, I'm in my mid thirties and I have no assets. Um, and especially the fact that I went through the surrogacy and, um, sacrificed a lot with my body.
["Rambling Rhode Leader" by Blue Dot Sessions starts]
SARAH SHORT: um, and didn't come away with anything financially from it has been really hard. Um, we, we bought that house at a really good time and, um, I looked at the price of it recently and it's more than doubled in value from when we bought it. And I don't think about it very much because it, it makes me really emotional.
ANNA SALE: Coming up, Sarah and I talk more about money… and how leaving her marriage has made her less afraid.
SARAH SHORT: I heard somebody say the other day that, um, in your thirties, you live out your 13 year old dreams, but without fear. And, um, and I keep thinking about that because I definitely think that I am more truly myself right now than I ever have been in my life.
["Rambling Rhode Leader" by Blue Dot Sessions ends]
–
[Death, Sex & Money midshow theme music starts]
ANNA SALE: If Sarah's got you thinking about how you started your financial life, and all the decisions that cascaded from there, let me urge you to take that a step further, and consider your experiences with inheritance.
We are collecting stories about money transfers between generations… during this time when a historic transfer of wealth is underway in America, as the very resourced Boomers come to the end of their lives, and some in the younger generations are seeing their lives transformed by inheritance.
We want to hear your stories of inheritance, especially if it's something happening in your life right now. Whether it's large or small, tell us what you've noticed about getting an inheritance. We want to know whether you've inherited money, or whether you've inherited debt. How is it affecting your close relationships? Was it something you saw coming that you talked about in your family ahead of time, or was it a surprise? And was your inheritance distributed equally among family members, and if not, how are all of you making sense of those decisions? Finally, what conversations do you wish you could have about your inheritance… with the person who's gone?
Record a voice memo with your story about inheritance, and send it to us at deathsexmoney@wnyc.org.
And I want to remind you that if you're in the Bay Area, or if you are a fan of comedian Maria Bamford, I'm interviewing her on stage in San Francisco on Saturday, October 14th, as part of City Arts & Lectures. You can get tickets to join us in person, or to watch remotely. There's a link in our show notes, or at cityarts.net.
[Death, Sex & Money midshow theme music ends]
–
ANNA SALE: This is Death, Sex & Money from WNYC. I'm Anna Sale.
After getting divorced, Sarah Short and her two kids had to downsize to cut expenses. They moved out of the house she bought with the money from surrogacy, and she doesn't receive child support – her ex isn't present in their lives.
It's taken some adjustments, but she says she feels a lot less panicked now about debt than she did when she was a new mom.
SARAH SHORT: I have the ability to earn money and I'm scrappy, obviously. [Sarah chuckles] That's part of my new mindset, that I'm capable of doing this.

ANNA SALE: When you think back on the, the decisions that you made to deal with the debt that you had, that you'd accumulated, that was medical debt back then. Um, do you think about debt in a different way now in your mid thirties?

SARAH SHORT: I mean, I think about all of these things really differently. I didn't have, uh, Any support kind of guiding me through things like medical debt and, um, now having worked in a hospital, I realized that I could have talked to them. I probably could have gotten a large part of it forgiven. Um, I could have made payments. And another thing is, um… the amount of money that I owed doesn't feel impossible anymore. It's still significant and it's not money that I could just, um, pull out of nowhere now.
["Dust Digger Mostly G" by Blue Dot Sessions starts]
SARAH SHORT: But, um, I guess it just kind of feels like it's part of all of our lives and we just, we just pay on it and we're just like, it's fine, everything's fine! [Sarah chuckles]
ANNA SALE: Before Sarah got divorced, she worked in admissions at a local hospital. She went back to school in 2017 – the same year her marriage ended – and got a degree in public health management in the spring of 2020.
Sarah has some student loan debt, but she hasn't had to start making payments yet because of the pause on federal student loans, and that time gave her some room to reconsider her career plans.
SARAH SHORT: I had kind of gotten this degree thinking that I was gonna go back to working in a hospital. You know, it had been three or four years, I'm applying for jobs, and they're saying, oh, do you use this new computer program?
["Dust Digger Mostly G" by Blue Dot Sessions ends]
Well, you know, we're not gonna hire you. I was applying for the same job that I did before, but yeah, I was, I was no longer qualified to do the job that I had done before. And then I was kind of casting around applying for jobs that I was just absolutely perfect for, and not even getting an interview. Um, and I was just getting really frustrated and kind of disillusioned and, uh, feeling like, I'm never gonna be able to support myself. I'm never gonna be able to dig my way outta my debt. And, um, so right around that time, uh, my boyfriend at the time was working in disability group homes. And he kept talking to me about the issues around meals and nutrition in these homes. So these are vulnerable populations, a lot of times they have special dietary needs, and they were getting macaroni and cheese and frozen pizza every single night because the staff just didn't know how to cook.

Then, um, on top of all that, my, my mom, who is an entrepreneur sent me a book that kind of talked about how starting your own business is a really viable path to wealth that, um, you know, working, it's, it's difficult to work your way up and make very much money and you're always gonna make less than the people above you. And there's things like investing, getting lucky, basically, but starting a business is, um, is a pretty solid way to, uh, to get money.

And I've had so many jobs just kind of fall apart underneath me. Um, situations where there's changes in management or changes in the computer systems or, um, just really toxic people or we're laying people off. But I guess because I've always… um, I've always had some kind of side hustle, it made me realize that I am always capable of making money somehow.

ANNA SALE: Mmm. What was the book called? Do you remember?

SARAH SHORT: Yes. Um, it's, "We Should All Be Millionaires" by Rachel Rodgers.

ANNA SALE: I mean, what's so interesting to me is it totally flips, uh, how I think about, like, leaving a kinda wage-earning job and starting your own business. I think of that as like stepping out of the scaffolding of a system where you have a slot, um, and, and going into like outer space where there's no structure 'cause you're just on your own. And this flips it in that like making you see when you're in this slot of wage-earning work on a job, um, that there's all this opportunity that you could be not seizing.

SARAH SHORT: Yeah, 1000%. I feel like we were all raised that, um, getting a job and staying at that job is, uh, the path to success. And it just kind of made me realize that working for somebody else is not reliable.
ANNA SALE: Sarah developed a business plan for preparing and selling nutritious meal kits to local disability group homes. And she came up with a name: Wholesome Beginnings.
SARAH SHORT: One of the big things, uh, that Rachel Rodgers talks about in her book is, um, you know, making this a reality for yourself. Um, going out and telling everybody, I have started this business, this is what it is. And so, uh, that was big for me. I'm kind of, I'm kind of private because I'm always afraid of things falling apart and then, um, having to say, 'yeah, I changed again'. And then, um, I had to kind of from there, hit the streets and try to get clients. I made up business cards and dropped off a card at, um, every disability group, home company in the area.

And it was really scary for me because I'm really socially anxious and I would have panic attacks sometimes before I went out. And then I would just get over it and I would go do it. And, um, and yeah, it,It was a big push for me, but I knew that this was an idea hat, um, I really wanted to exist in the world.

ANNA SALE: Um, has running this business changed the way you and your family eat?

SARAH SHORT:Yes, but probably not in a good way. Um, so one of the reasons this business is my zone of genius is I love meal planning, menu planning, um, grocery shopping. I know the prices of everything at every grocery store. Having dinner with my kids every night was a non-negotiable, and I had all my recipes planned out.

I mean, this is actually kind of crazy and embarrassing to talk about, but I had them like color coded for, um, you know, how perishable the ingredients were so that I got everything kind of cycled through and things like that. Um, I don't do that anymore because I am completely buried in this business that I'm building.

So, um, dinner's gotten a lot more chaotic and probably more typical to what dinnertime looks like for a lot of families.I'm trying to get my kids more involved with, uh, helping me cook, but they're kind of like baby birds. They won't eat unless I chew it up and spit it in their mouth. [Anna laughs] So, yeah, it's, um, it's kind of all over the place now. And I admittedly also buy meal kits, um, because I love them and they're great and I don't have to do the planning.

ANNA SALE: Do you have any interest in being pregnant again?

SARAH SHORT: Um, so, I, uh, I can't get pregnant anymore. Uh, after I found out I couldn't do the surrogacy, um, I had my, uh, tubes removed.

ANNA SALE: Mm-hmm.

SARAH SHORT: I was going back to college and going through my divorce and I felt like this would be a really terrible time to get pregnant. Um, so there were a lot of things on my mind at that point.

ANNA SALE: Wow. That sounds like a very busy time emotionally, Sarah. That's a lot.

SARAH SHORT: Yes, but I mean everything from my, um, my sterilization surgery to living on my own, to starting my own business, this is all me having control over my own life, and feels really good and, and stable and safe.

ANNA SALE: Knowing what you know now about having to start over, um, after your divorce and not being able to carry with you. The investments that you were able to make financially because of your surrogacy. Um, do you look back on your decision to be a surrogate, um, with any sort of regret? How do you think about it?

SARAH SHORT: I definitely don't have any regret because I helped build a family. I'm very, very happy that, um, the parents that I was a surrogate for have these two children that just really fulfilled their dreams. They had wanted children for so long and then, um, they really seemed complete. Um, so that's really special to me.

ANNA SALE: When you think about the time where you were trying to, um, you described feeling like your confidence was undermined a lot in your marriage, um, and coming to the decision that you needed to leave, when– do, do you remember– like, was there, how did you make that decision? The reason I ask is because I think when we're in those times of life, when we're in unhealthy emotional environments where we don't feel supported, we don't feel confident, we don't feel safe, um, it can feel difficult to realize you do have agency. Um, like what happened that made you believe that you could do that?

SARAH SHORT: Honestly my husband at the time brought up divorce things had, you know, been going downhill for a long time and one of my biggest regrets is not leaving sooner,

ANNA SALE: I also understand that. For someone who has an instinct to take care, and manage, and cope, um, sometimes it can take an external opening. Um, and you took it.

SARAH SHORT: Yeah, I mean, I think when I was younger I had this idea that, um, that somebody was gonna come save me at some point, um, whether it was in my marriage or during my divorce, I just, I felt like someone will intervene and, um, and yeah, that, that didn't happen. But I am glad that I now have agency over myself.

ANNA SALE: When you look back at your 18 year old self, who was pregnant for the first time with your oldest, um, and all that, that sort of the series of major decisions that that led from there. Um, anything you wish you'd known then or wish you could tell yourself your past self?

SARAH SHORT: I remember when I first got pregnant, and I was 18, and I, um, I told a family member and they– I had told them, you know, I've, I found an apartment, and I have a job, and, um, I may have been going to school at that point too, and, and I had found a babysitter. And so I had everything all lined out, and they were like, you're never gonna be able to do this. You're not gonna be able to afford to do this. So, um, the, the realization that I can do this on my own has been incredibly freeing, and that's what I wish that I had known when I was younger.
[Death, Sex & Money theme music starts]
ANNA SALE: That's Sarah Short in Oregon.
Death, Sex & Money is a listener-supported production of WNYC Studios in New York. Katie Bishop produced our original episode with Sarah, and this update episode was produced by Afi Yellow-Duke. The rest of the team is Liliana Maria Percy Ruiz, Zoe Azulay, Amy Pearl, Lindsay Foster Thomas, and Andrew Dunn.
The Reverend John Delore and Steve Lewis wrote our theme music.
You can email us anytime at deathsexmoney@wnyc.org – and subscribe to our weekly newsletter, where we share listener stories and writing from me and the team that you won't find anywhere else. Sign up at the link in our show notes or at deathsexmoney.org/newsletter.
Thank you to Lael Uberuaga-Rodgers in Boise, Idaho for being a member of Death, Sex & Money, and supporting us with a monthly donation. Join Lael and support what we do here by going to deathsexmoney.org/donate.
Sarah is dating someone right now. They met online, and her boyfriend also has kids of his own. She told me before they got together, she happened to meet a lot of other divorced men on the apps.
SARAH SHORT: I felt like I was always, like, the, the next person they dated. Like they had gotten a divorce and then they had had like a long-term rebound relationship, and then, and then they date me, and then they'll meet somebody and they'll get married. [Anna and Sarah laughs]

ANNA SALE: That sounds like the fun girlfriend right there.

SARAH SHORT: Yeah, yeah, that's definitely me.
ANNA SALE: I'm Anna Sale, and this is Death, Sex & Money from WNYC.
[Death, Sex & Money theme music ends]
Copyright © 2023 New York Public Radio. All rights reserved. Visit our website terms of use at www.wnyc.org for further information.
Music Credits:
"Blood Petal" by Blue Dot Sessions
,
"On Three Legs" by Blue Dot Sessions
,
"4" by Jahzzar
,
"Rambling Rhode Leader" by Blue Dot Sessions
,
"Dust Digger Mostly G" by Blue Dot Sessions