My Awkward Money Talk With Sallie Krawcheck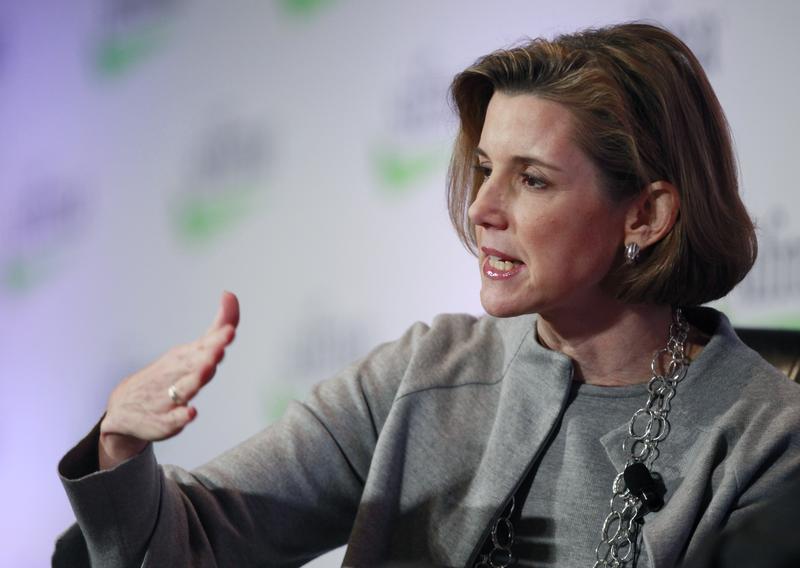 Transcript
SALLIE KRAWCHECK: I don't like talking about money with you.

ANNA SALE: Really?

SK: Really! This makes me very uncomfortable.

AS: You're one of the people who is supposed to be comfortable doing this. [Laughs] Where's our hope, Sallie?

SK: I never talk about my money! You know, I'm very comfortable talking about other people's money!
This is Death, Sex & Money.
The show from WNYC about the things we think about a lot…
…and need to talk about more.
I'm Anna Sale.
I talked to Sallie Krawcheck a few months ago, right when I was at peak financial stress, with the costs of a move, Bay Area housing, child care, and all of the other expenses that come with a new baby.
SK: On top of the anxiety is the, the sleep deprivation which is increasing the anxiety.

AS: Yeah. There's nothing worse than like, waking up in the middle of the night, when the baby is sleeping, and just being like, "Shit." I've really got to be sleeping right now!

SK: Oh no, that's bad! That's bad! That's bad.
I wanted to talk to Sallie because she specializes in financial planning specifically for women. She launched an investing company called Ellevest earlier this year.
Before that, Sallie was an investment banker, an equities analyst, and a top executive at a number of banks, including Citigroup and Bank of America. So Sallie has this tough, unflappable air of a woman who has come up through the ranks on Wall Street.
SK: You know, I don't embarrass that easily. One time I was on CNBC with Maria Bartiromo and they made me walk across the stage to get to her and I tripped, and she caught me! And it was in front, it was live TV! And I just remember thinking, you know, "I'm remarkably not embarrassed about this."
Sallie says that attitude helped when she was fired from Citigroup in 2008, right in the middle of the financial crisis.
SK: I didn't think, "Oh, I'm so humiliated, I've been fired, I'm on the front page of the Wall Street Journal." There were a lot of negative emotions but humiliation wasn't one of them. Sadness. The feeling I could've done better. The feeling I failed. I felt bad to the people who I was working with because I was leaving them, and that was tough for me. That sense of, I'm leaving you there. Um, and...you know, I'm not there to help!
Money has always been a charged topic in Sallie's life...going back to when she was a kid, growing up in Charleston, South Carolina.
SK: My parents are still married today. They are probably the two most in love people I've ever known. And the only thing, the thing they fought about was money. And it was such a source of stress and anxiety in my life. Um, and for all of us. We would as children hide under the bed. Um, we we would shake, we would quake, we felt bad about it. It was a really stressful and tense topic for us, because we didn't have any. And you just knew, once a month, they were gonna have a big fight and somebody was gonna storm out of the house, and of course, as a little kid, you thought, "Oh my gosh, they're never, never, never coming back."

AS: Who would leave the house? Would it be your mom or your dad? When they got mad?

SK: I think it went either way. Maybe they would take turns for it. But the message I got from a young age is it wasn't a particularly happy topic and that, I wanted to make my own money. I did not want to have those fights with a spouse, or be put in a position where I would be financially vulnerable.
So Sally worked. From a very young age. By the time she was in third grade, Sallie was working in her dad's law office.
SK: I did all the filing for him. And I was back there probably a year ago, and the file cabinets still have my handwriting on them, from when I'd filed, put away the files and arranged everything, but—then I worked at the family clothing store, my grandfather's clothing store. I babysat. Any place that I could be earning money. So much so that when our furnace broke when I was in high school, my parents borrowed money from me to fix it.

AS: Really.

SK: Mmhm.

AS: Did your parents pay you back for the furnace—?

SK: They did. They did. In fact, in fact, they more than paid me back, because they paid me back with interest, so I got to go on my first trip overseas, I went to Europe the next summer.

AS: You went to Europe with the earnings from the interest from your parents?

SK: That's right! Well, and all the hours of babysitting and all of the hours of filing. And I just loved looking at my, you know, savings account. I loved opening it, and having that sense of, I don't know, forward motion.

AS: So you would look at the balance, in the savings account?

SK: Mmmmm. Mmmhmm.

AS: I do that. It gives me a sense of calm.

SK: Yeah. It's there. It's still there. It's growing. It's there. I'm okay.
After high school, Sallie attended the University of North Carolina at Chapel Hill, where she met the man who would become her husband. After graduating, they both moved to New York City. Sallie got a job as a junior investment analyst, but still lived on a budget.
SK: I shared a bedroom with a friend.

AS: Was it with your boyfriend at the time?

SK: No. No no no. That would not have flown with my parents. But there was an shared bedroom, I mean, you know.

AS: When you got married, did you sort of have the vision of a traditional marriage?

SK: Nooo. I always knew I was going to work. And in fact I think that's part of what broke the marriage down. That yes, there was an affair. But it was on the heels of my going to business school. So a few years in, and his career beginning to feel like it was plateauing. It didn't, but at the time there had, you know, he'd had a performance review that didn't go as well as he'd hoped. And so, it appeared as though I would be more successful than him. Which I was totally fine with. I thought great, you know, hey! Okay! Cool. And I believe he was less okay with.

AS: Do you remember a moment when you realized: "This marriage might not work."

SK: Oh you know, when I said, "Hey, are you cheating on me," and he said, "No." And then I said, "No, are you?" and he said, "No." And then I started—I turned away. And then I said, "I'm gonna ask you one more time," and then his exact words were, "You're going to be mad." And actually I was! I was, I was fairly angry.

AS: He said, "You're going to be mad."

SK: "You're going to be mad!" [Laughs] You hit the nail on the—you know, I am! I'm actually angry. I am angry. But it was terrible! I'm 5 foot 6, I went down to 108 pounds. I couldn't believe it. I couldn't believe it. That I thought that this was the person for me for the rest of my life.

AS: What did you learn about money through going through a divorce?

SK: Have it. When you're reeling from a break to a relationship, that's a really bad time to try to figure out how to manage your money.

AS: So you were a graduate of business school and you were not managing your own finances?

SK: That's correct. I knew vaguely how much we had, but it was, it was an eye-opener. And I thought, it's not that—it's not that I didn't know. It's that I wasn't in control of it. I didn't feel like I had my two feet under me.

AS: Were you open that your husband had had an affair when you were getting divorced immediately, or is that something that feels more comfortable to talk about now?

SK: No, he asked me not to. He, he, um—we agreed that it was private between the two of us and that we were not going to say the reason for it. Um, and that, in hindsight was probably a mistake. Because people will form their own conclusions about what happened, and sometimes they're not the right conclusions. So I was left having to keep that part of the hurt inside. And I wouldn't do that again.

AS: So was part of—part of the story, then, here's Sallie with this emerging high-powered career and her marriage is falling apart and she's leaving him behind, kind of thing?

SK: Could have been. Could have been. You know it's funny, because I remember at the time hearing that somebody had said that I was "ambitious." It was a bad thing. You know, I'm like, well yes, I actually am ambitious.

AS: When did you start to feel comfortable and say, you know what, I'm going to tell people what happened. I'm going to be open about this?

SK: In the divorce? It was a few years later. And now I tell [laughs]...actually I did sort of keep it quiet for awhile, and then pre-internet era when I was running Smith Barney, I was at a client event and somehow the topic of divorce and money came up and I started to tell the story and I never told it publicly, and it ended up in the friggin' newspaper the next day. And I think he called me and said, "Hey, you know, maybe we could not talk about it." And said, "Well, if you didn't want me to talk about it, you shouldn't have done it."

AS: Where did you meet your current husband?

SK: Oh, at work, naturally! He actually—

AS: Did you work alongside each other?

SK: He was more senior than I was, but I will say that one of the things that was interesting, has been interesting about our marriage is that because he was more senior than I was, there probably was, there never was going to be that sense of comparing ourselves to each other, as there was in the first marriage.

AS: Did you discuss money in a different way before your second marriage?

SK: Definitely. Definitely. Um, and we talked for a period of time about having a prenup, and made the decision not to. Um, you know, which can be a very personal decision.

AS: Do you remember why it felt uncomfortable to do a prenup?

SK: Oh. I'll tell you exactly why. Because it felt like we were negotiating a divorce before we got married. And, it just, that, ugh. Ugh.
Sallie and her husband had two kids, and Sallie kept moving up in finance jobs. In 2002, she became the CEO of Smith Barney, the wealth management company.
SK: And so my husband then and now offered to move into sort of a semi-part time position at his company so that he could be - spend more time with our younger family, while I had to be more focused on work.

AS: How old were your kids at that point?

SK: How old were they? They were probably, they were in single digits. And so—probably 6 and 8.

AS: Little! Just starting school.

SK: Yeah. They were young. They were young.

AS: Did you ask your husband to do that or did he volunteer?

SK: I don't recall, um, but it was part of an ongoing conversation. But I do remember one night about six months in, coming home, and our son Johnathan—we were both in the bedroom, and you know how you do the, you get home you start to strip off, strip off the work clothes and, I mean the door barely closes and off come the high heels, and you know, I'm switching into the sweatpants. And our son came in the room and said, "Mommy, I'm just not seeing enough of you." And I remember - I said, "Thank you, Johnathan, for sharing that with me. Daddy and I are going to talk about this." And he left the room and I closed the door, and I remember Gary turned to me, my husband, and said, "Well, what are you going to do about this?" And I said, "No no no, what are WE going to do about this?" You know, "How are WE going to figure this out? Is there a way that we can get me, more of me, but is there a way we can get more of you, too?" Because if you read through the lines, it was: "I need more parent."

AS: And you're CEO of Smith Barney.

SK: You know it.
Coming up, the financial crisis hits. And Sallie loses her job.
SK: It just feels like everything is coming down around us. And I, I don't think anybody in the industry, even to today, recognized the amount of hurt and anger.
—
Our last episode was all about porn: why some of you enjoy it, and why others of you have cut it out of your lives completely. Some of you had some pretty strong reactions to the episode. Ruby Beth tweeted that she found herself "screaming" when she heard James' story about his problem with porn, and why his wife now gets a weekly report on his internet browsing.
And a listener named Etienne asked, "How is watching porn any worse than playing solitaire?" He wrote, "We should all embrace porn as a vehicle for people to relieve themselves of their sexual tension." We also got a voice memo from a listener who said the episode made her think about why she enjoys reading erotica much more than watching porn.
It just seems so fake. I don't really feel like those women are acting genuine. And maybe they are and that's just me being judgmental. But it feels like it's very male-centric.
She says she feels more thoughtful about her sexuality when she reads erotica. But, she admitted, she doesn't always have time to be thoughtful.
I mean, when I have a 15 minute window, and I don't have any kids to juggle and I actually have some time to myself, trust me. I am more than capable of pulling up some porn on my phone and doing what I gotta do to make it happen in 15 minutes.
We also heard from a lot of you that it felt like porn was taking over your podcast feed on the week our episode came out. Our friends at the advice podcast Dear Sugar did a two-part series all about porn. Hosts Cheryl Strayed and Steve Almond took some of their listeners' questions about porn and relationships. It's a really interesting conversation. Definitely check that out.
On the next episode, I talk with Bex, whom I first met in our near death episode, and talked about his suicide attempt. This time, his mom came along too.
BM: I was a demon child.

KATIE RYAN: He suffered a lot.

BM: That makes me found like I'm fucking Jesus. Like I just... [laughs]

KR: You were suffering a lot. And yeah, it was awful.

BM: Yeah, it was tough.
—
This is Death, Sex & Money from WNYC. I'm Anna Sale.
In 2008, as the housing bubble burst and spread throughout the financial system, Sallie Krawcheck was the head of Citigroup's entire wealth management unit.
SK: It was a full-time, full-night, I mean what's going to happen next, how can we get in front of it, what kind of information can we give to people?

AS: Were you expecting to be fired?

SK: Yep. I knew it. I knew it. Look, the truth is, you don't go up against the CEO of the board and keep your job. Let's face it. I mean, not a lot of rules in business, but that's a pretty, you know, that rule is pretty steadfast.
Here's what happened. Two hedge funds that Citigroup recommended plunged in value. The problem was, they were sold as low risk. People who thought they were making a conservative investment stood to lose almost everything.
That led to infighting within Citigroup. The people above Sallie said the clients should have understood the risks. Sallie disagreed.
SK: And my entire argument was that we should partially reimburse clients. And this is best, not only for the clients and the relationship, but for the long-term health of the business. And the answers I kept getting back were, "Hey, they should read the fine print, and this quarter is so important, we, we can't flub this quarter," doo doo doo doo. And I had a new boss at the time, and he wouldn't even look at me in the meetings, he was, you could tell, just so mad. And as happens, you know, I lost my job a few months later.

AS: How did you talk to your children about money during that time?

SK: You know, I'm not sure that we did. We were, we told the kids that we were okay. Um, you know, that mom got fired, mom got re-orged out, but we're okay as a family. I think the conversations were that, that straightforward.

AS: Do your kids like to spend money?

SK: My daughter enjoys spending some money, yes she does.

AS: How did you, how did you approach that as a parent, having, being in a different financial position than your parents were—

SK: Allowances.

AS: How did you figure out?

SK: Oh no no no no no. These kids have allowances. These kids work for their allowances. They've got chores they have to do around the house. They work in the summer. You know, my son, at one point overcharged on one my credit cards, spent more money than he was allowed to, um, and had to work as a, bagging in a supermarket in order to pay me back. Um, so it was important for us that the kids understand the value of money, and that money doesn't come without work.

AS: Well let me, let me pivot to asking you about, sort of where I am in this moment. Of being a new parent. Buying a house in a very expensive housing market. Trying to figure out how to, how it's all gonna work out, not only on a month-to-month basis, but then sort of what the big picture is, and what the vision is. And I'm finding myself feeling really, I mean, it's a daily conversation with my husband, I feel very uncomfortable with the amount of money that we have to spend to meet these new obligations. Because I was a renter and not a parent, just a few months ago, you know? So, like I know that the advice is, is, spend below your means.

SK: Mmhmm.

AS: There are also moments in life, though, where you have to dig in and invest in different ways. So how do you advise me on dealing with the emotions that come up with that? [Laughs]

SK: Money and emotion, we should try to split them in two. Um, and I always find, you know, sitting down with a pencil and a calculator and a piece of paper, um, have always been helpful to me. You know, you and I talked earlier about when we were little, we liked to look at the savings account, okay, I've got money, there, I'm feeling calmer. I um, keep an Excel spreadsheet on my computer where I keep track of what my net worth is, and that makes me feel better.

AS: I kind of love that you have - that it's as simple as an Excel spreadsheet on your computer.

SK: Yeah. Yeah. That's it.

AS: Have you had that same spreadsheet that you've been noodling with for many years?

SK: Decades. Years and years and years.

AS: Do you have any money worries now?

SK: Don't we all? Um, I worry that, so I have not made any money. So back up, nobody needs to worry about me, okay? Nobody needs to worry about me. For one single second. During the crisis, so many people lost money. And in fact, you know, my net worth was cut, certainly the majority of it was wiped out. Um, I worked at Citi, Citi's stock went from 53 to less than 1, you can do - you know, it was my largest asset, you can do the math. Nobody needs to feel sorry for me. I recognize how very very very fortunate I am. I have not earned money um, in a long time, because I've been starting businesses, and so I do have that, "Am I going to run out? Am I going to be a bag lady?" And then I look at it logically and say, "Nope, we're going to be fine." But I don't, almost don't know of a woman I've ever spoken to who doesn't have that sense of, "Will I run out?" So I fret about that.

AS: The thing about money is it's all relative. Does it feel awkward sometimes for you to be reaching out to women when you yourself have had such a different experience with money than the vast majority of women in America?

SK: Not at all. Um, I - first of all, the part of it that felt awkward for so long, um, was when people told me, "You should start an investing business for women." And my reaction always was, "Well, women don't need anything different from the guys, so just stop it, what are you, you're gonna dumb it down. You're going to make it sherbet. No."

AS: Sherbet. You're gonna make me have a pink logo?

SK: Yeah. For sure, it's gonna be cute and we're gonna use girl language. When I began to recognize that women - women's salaries tend to peak in their 40s if they have a college education, men's peak in their 60s. Women live longer than men. Neither of these things have been taken into account by the industry in planning for women and in investing for women, but they're very, very important. If you're in some way saying that oh Sallie, you've been fortunate in your life, you've made money in your life, so you should go sit down at home and shut up and not start a new business—quite the opposite! And to say, well you know what, I've been lucky because I've made some money, I'm not going to do anything about it, is ridiculous. Quite the opposite.

AS: So you heard me saying you should not talk to people—you should go home and enjoy your money and not reach out?

SK: [Laughs] I heard something I didn't like. There's something, Anna, in there I didn't like that I reacted to. I'm not quite sure what it was now, but dang it, Anna, no.

AS: [Laughs] Well, I can understand how that's how that might've sounded. But I do wonder about like, when—money is so hard to talk about—and when I asked you about what the lesson was after your divorce about money was, "You've gotta have it," like—there's so much shame that that can trigger. Like, well I didn't have money when I got divorced and here's this woman telling me I should just have money. Like, you know what I mean?

SK: I gotta tell you, this whole conversation, I'm starting to pit out. I'm beginning to pit out. Just the, you know, what's been so fascinating for me, that you have made the point that I have made money in my life, which I have—isn't it interesting I had to come back and tell you that I also lost a lot of money in my life, as if I'm apologizing for it. It's funny. You've made me feel quite defensive.

AS: I—I—I'm sorry.

SK: That's okay.

AS: I think that's what, I think we're hitting on what's difficult.

SK: Yeah. Yeah. It's not that I feel unladylike. I just—I don't know, I do recognize it's a weird topic for us. It's part of what I'm trying to change by normalizing it. But I also recognize that some portion of it, look—you know, I - nobody has worked harder than I have. You know, we didn't talk about it, but when the kids were little, as soon as they were asleep I was back writing research reports. I worked and worked and worked. But some part of it is just complete good fortune. My parents, where we started, were taking out loans to give their children this leg up in life. Other people didn't have that. You know, the kids down the street didn't necessarily have that, and those things built up such that the money I was able to earn was some portion because of hard work but some very good portion because of luck, and I think that's the thing that makes us feel, um, weird.

AS: Uh huh. I know! I know!

SK: Yeah, it's hard. [Laughs]

AS: Yeah, and it's hard also to figure out how to talk about it with friends, because you don't know -

SK: Impossible.

AS: - figuring out how to find the context where it doesn't feel like you're a privileged complainer, or someone who's coming, you know, Debbie downer.

SK: And for women too, there's sort of this sense of you're damned if you do, damned if you don't. If you're making a lot of money, that feels weird, particularly if you're making more than your spouse, and if you're making more than your friends—but if you're not making enough money, then that's bad too, you know, somehow you've failed. So either way, there's a very, very thin razor's edge of what feels like the right amount, except you don't know what that, where that is. But it is interesting how awkward it is to talk about it, even though I talk about it in the abstract everyday.
—
That's Sallie Krawcheck. She's the CEO of Ellevest, and she has book out next month. It's called "Own It: The Power of Women at Work."
After our conversation, I wanted to make sure I understood what she meant by "pit out." Things got so tense in that moment that I didn't ask. According to Urban Dictionary, it means when you sweat so much that your clothing becomes visibly wet.
Death, Sex & Money is a listener-supported production of WNYC Studios in New York. I'm based at the Center for Investigative Reporting in Emeryville, California.
The team includes Katie Bishop, Chester Jesus Soria, Emily Botein and Andrew Dunn. Thank you to our interns from this fall, Ali L'Esperance and Rich Renelique. We wish you the best in your next adventures.
The Reverend John Delore and Steve Lewis wrote our theme music.
I'm on Twitter @annasale. The show is @deathsexmoney.
And subscribe to our weekly newsletter. Every Wednesday, you'll get to hear from other listeners, see what we're working on on the show and find out what other podcasts we're listening to. The new year is approaching, and we're celebrating with some of our favorite listens from all of 2016. That'll be in a newsletter coming up. Just go to deathsexmoney.org/newsletter to subscribe, or text the word NEWSLETTER to 69866.
One more thing Sallie told me to think about as a new parent: writing a will. She said she did that soon after her first child was born.
SK: Because I was, at the time, terrified to fly. And ended up on a plane right after he was born without him, and so immediately got a will, thereafter.

AS: You were feeling your mortality?

SK: Oof! There was a lot of liquid involved.

AS: Alcohol?

SK: No. Sweating and crying.

AS: Oh, okay. [Laughs]
I'm AS, and this is Death, Sex & Money from WNYC.
Copyright © 2019 New York Public Radio. All rights reserved. Visit our website terms of use at www.wnyc.org for further information.
Music Credits:
"Belle Isle" by Nick Jaina
,
"City Limits" by Blue Dot Sessions
,
"Lacquer Groove" by Blue Dot Sessions
,
"Base Camp" by Blue Dot Sessions
,
"The Dinner Party Instrumental" by Nick Jaina