Saeed Jones Talks About Sex. And Death. And Money.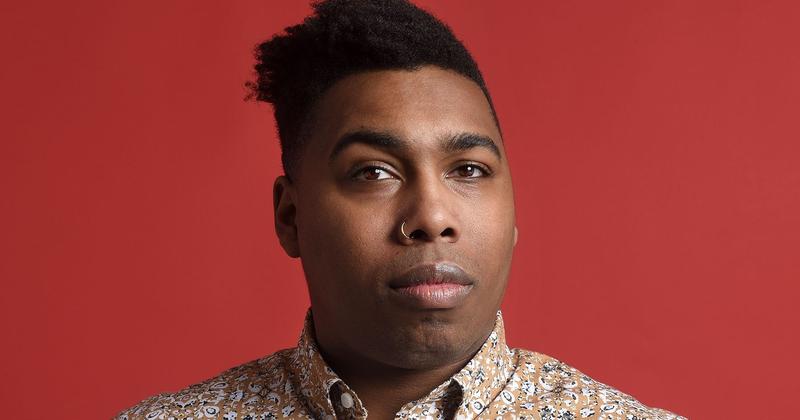 Transcript
SAEED JONES: Sex is great, you know, I think sex can be a source of joy, I hope it is for people. It can be a source of connection. But for me it was also, um, an unexpected, hard won, um, way to learn about people.
This is Death, Sex & Money.
The show from WNYC about the things we think about a lot…
…and need to talk about more.
I'm Anna Sale.
Writer and poet Saeed Jones moved to Columbus, Ohio, in September. He's 33 years old, and had been living in New York. He has no family or connections in Columbus. But the city had made an impression, when Saeed passed through town on a cross-country trip.
SJ: I woke up very early to write and go get some breakfast. And I crossed the street and I went to this McDonald's. And I heard laughter before I opened the door. Um, and I opened the door and I stepped in and there was just this table of like four or five older black men, all had their newspapers, all had their coffees. And you know, they saw me and nodded. And said "Hello, young man," and they were so happy and they greeted every single person that came in. And, so I think that the, the thing that clinched it for me or brought it all together was that yes, the city is vibrant. I think it's up and coming. I think there's development. It's got all these other kind of factors, but black people are happy here. I saw joy, I saw Negro Sunshine. And, like that night I started looking up like, how much are apartments here?
The median rent for a one bedroom in Columbus is around $900... $2000 less than a one bedroom in New York City.
Saeed lived there for years, most recently working at BuzzFeed, as an editor and then co-host of the Twitter show AM to DM. But his roots are in Texas, where he was raised by a single mom.
Saeed writes about her, and her death, in his beautiful new memoir called How We Fight For Our Lives. He also writes about how dangerous it felt to be a young gay kid in Texas in the 1990s.
SJ: Lawrence v Texas, the, the Supreme Court decision that ended like, uh, anti-sodomy laws like that, that decision was my junior year of high school. So the, the threat was real.
So, Saeed had a lot of secrets, and questions. He was looking up porn on the internet at the public library…when he had his first sexual experience at 15. A grown man, a white guy, noticed what Saeed was looking at. He told him to meet him in a bathroom stall, and then walked away.
SJ: He looked like, you know, a lot of the dads and bros you see when you're out tailgating, if you ever go to these kinds of things.

AS: Uh-huh, he looked like a football fan. I see him.

SJ: He looked like a football fan! He literally was the archetype of, of this kind of man. Um, and particularly growing up in the suburbs of, of North Dallas, you know, I would just see this, this dad just kind of all over the place. Um, and I think that is part of why when he first, um, you know, touched my hand and like looked at, you know, saw what was on my computer screen and was like, let's go off. It was, it was so bizarre because it felt like not just, uh, one person was expressing desire. It felt as if literally the patriarchy, um, as I understood it at the time — this, this man, the symbol of so much of what terrorized me, uh, when I was growing up in Texas — um, was reaching out and saying that he was into men too.

AS: And you had to decide what to do next after he walked away. What were you weighing?

SJ: I remember asking myself, you know, um, "Is this a trap?" And that was often my, my first reaction to really anyone, um, being nice to me. [Laughs] Um, I, I often was waiting for, uh, someone to like, are you luring me out for me to admit something so you can make fun of me for it? Um, or worse? You know, are you trying to, you know, in this case, like, is he trying to get me alone? Um, and, and is he going to beat me up? Um, and, and then it was like, okay, what do I do?

AS: Mmhm.

SJ: Let's say he does actually want to have sex with me in some way. Like what kinds of sex, what am I going to do?

AS: And when you did decide to walk into that bathroom and you went into the stall, where words spoken to establish what was going to happen?

SJ: I don't think so. I don't think so. Um, in my memory I walked into, I, you know, went into the restroom, I saw that it was empty, uh, and I approached the stall and he was standing in there with his jeans down and his boxers down already and kind of like hands on hips in a very, um, present-, like strong, like, I'm still in control.

AS: Hands on hips.

SJ: Even though my dick is literally out.

AS: Yeah that's establishing what's happening.

SJ: Yeah, yeah.

AS: Pretty, pretty clearly.

SJ: Exactly, exactly. Like here are the terms, right? Um, and I was like, "Okay," you know, and, I, uih, you know, got on my knees to give him a blow job and then like, my knees started to hurt. I was like, "Ow! This, huh. You know, in, in the porn magazines and on the websites, you know, no one, you don't see people complaining about how much their knees hurt when they're down here."

AS: [Laughs]

SJ: And you know, "this is actually a very inconvenient angle for one's neck, you know." So I, I stood up, um, and you know, in that moment we were suddenly — because I was standing up — close. And that was in that moment, really one of the closest moments I'd ever been against another man's body at that point. Um, and, and I tried to kiss him, um, because it's just, why not? And he was so close, um, and it, and it was like we were close enough that briefly, I kind of forgot about all the awkwardness and weirdness of it. And it did feel romantic for like a second. Um, and the moment I tried to kiss him, he like moved his head away and started laughing and was like, "No, I'm not into that." Um, and that's when he, you know, pulled up his pants and left. That memory of trying to kiss someone and being rejected in that way so swiftly, that stuck with me for years. You know, that was as hurtful as, you know, many of the hurtful things that I experienced and we all experience uh, when we're, you know, beginning to come into sex and love. Um, and of course, you know now I think we have a... a more complicated, rightfully so, about sexual intercourse between teenagers and adults and the boundaries of consent. There's a lot there.

AS: Mm. Then you go to college. When you left home, you're living on your own for the first time. What was the pace of your sex life?

SJ: Oh man.

AS: Like, were you seeing a lot of people?

SJ: [Laughs] Oh man. I mean, you know, honestly, I felt like a bullet just kind of shot through the landscape. You know, I, I think in my really sincere, passionate desire to like understand what it meant to be gay, I just assumed that sex was the, the teacher, if that makes sense. Um, and so I was really passionate about — like, yeah, I was horny. I was, uh, you know, a teenager and then a college student. But I think I, I, I took on hooking up with men and, and as many as possible and all of these kinds of, uh, you know, cruising and hookup situations with such fervor, with such, um, almost zealousness that I, I think in retrospect it was about more than just the sex. I think I was, um, in a way, like literally trying to like, like fuck my way into my identity. If — [laughs] um, to be a bit crass. I, you know, and uh, and that's why I think it's so complicated.

AS: I want to ask you about the man you call "The Botanist."

SJ: Yeah.

AS: In your book--

SJ: Mmhm.

Anna: Um, this is, uh, an older guy, older than you at the time, um, and you show up at his apartment and you have this sense that you are one in a long line of, of black men that he's invited to come to his house.

SJ: Yeah.

AS: Um, I, I want to just — as you notice that or were aware of that and felt yourself kind of, um, being fetishized. Uh, how, how did you think about the, the power of that alongside the idea that you are being desired for what you were instead of who you are?

SJ: Ooh, um, you know, I think it was an incredibly, it was another, um, formative experience in which to say, I think I went in, you know, in one era of myself and I walked out of that house in a different era.

AS: Hmm.

SJ: Um, at the beginning, I felt in control. I felt that to be desired, um, meant that I had power, which is not untrue. Um, of course I wasn't like, thrilled to realize like, "Oh, like does he just like go through the, you know, not the apps, but as he's just going through guys' profiles, just looking for like the next black guy, or the next college student, or the next whatever?" You know, I wasn't exactly sure at first which box I was checking for him that developed as the night went on. Um, so I felt like in control and, and a little better than him because, uh, his want seemed so close to the surface. Um, and he was also, you know, he was quirky, you know, I mean, his apartment, it was like Tiffany lamps and, and plants everywhere. And you know, now I'd probably be like, I don't know, maybe I like the aesthetic. Um, but yeah, I remember just being like, "Huh, whatever." You know, and, and then leaning into that feeling, you know, leaning into that shrug, um, because it made me feel more in control and safer. And then of course, as the, as the night went on, I very quickly lost control. By the time we were actually having sex, he started saying awful racist things to me, um, which outraged me and, and hurt. Um, and I tried to respond by being more aggressive and I'm not like, you know, the most masculine, tough guy person, but I, I tried to actually, you know, kind of, um, respond to his violence with violence. Um--

AS: Well, and is he, he's saying these terrible, I mean, he, he is saying the worst racialized words you can say, and you're responding with anger, but that's manifesting in sex as forcefulness, which is in turn turning him on.

SJ: Right! He likes it. It was such an education, really.

AS: [Laughs]

SJ: [Laughs] Because it just, it showed — and that's why I say I walked into that house understanding one thing and I left understanding something far different. Um, because I think it showed just how eloquent and crafty power is. You know, I walked in there really thinking, I had it all figured out because why wouldn't I? I was a, you know, a college junior or whatever, and I was studying poetry and I had read Audre Lorde and bell hooks. Surely, you know, I could handle anything. [Scoffs] What a joke. And I think the only thing more hurtful than someone, um, you know, offending or, or outraging you is to realize that that is what they had hoped to do all along. And that's why that experience with him, um, was so formative. Um, but also, you know, I went back! That was not the only time I hooked up with this person.

AS: How do you think about that? Why did you, why did you go back?

SJ: I think, um, at that point I, I had a creeping sense that I deserved it. That even though I would talk to my friends, you know, proud and try to boast and, I'd hooked up and you know, "I've hooked up with this many people" and "Oh, I did this crazy thing," you know. Um, that I was trying to project confidence in the hope that if I talked confidently enough, I would begin to feel confidently. If I began, you know, like I could kind of reverse engineer my shame if that makes sense. Um, but it wasn't working. I was ashamed. I was miserable. I wanted more than anything at that point to just have a boyfriend, and go to dinner and, you know, go on group dates with friends, and go bowling or whatever the hell boring, happy people do.

AS: [Laughs]

SJ: [Laughs] Um, but that I couldn't figure it out. I did not realize that simply put, I was depressed. And it had nothing to do with my — you know, I was a very successful student, I was doing speech and debate. But underneath it all, I was just deeply sad. And it was undiagnosed. I had no idea, you know? I would bully myself. I was saying mean things to myself. Um, and so to meet someone, um, who was literally saying mean things, who was saying, you know, my worst kinds of thoughts about myself. Um, I think as much as it disgusted me, it was difficult at the time for me to resist. And I think that's why I kept going back.

AS: I mean there's also something, I mean it's, you mentioned shame, you mentioned all these motivations, but also when, when you're depressed just feeling anything, even when it's bad —

SJ: Right.

Anna: — is something. You know, like he made you feel things.

SJ: Absolutely. I think you're right. I felt like robotic. You know, I felt like I was like, just going through the motions. I felt like I was, um, performing humanity and just doing what was expected of me and I was good at it, which didn't make me want to try harder actually. Um, and so, yeah, I think in a way, disgust, outrage, shame are incredibly powerful feelings. Um, and, uh, as I have a tendency to lean into powerful feelings and to really, I want to understand them, "What's going on there?" I want to parse it. I want to write about it. Um, I think I got to the point where I couldn't see the forest for the trees. Um, and it was the only thing I was feeling at one point.
Coming up, Saeed gets to know another powerful feeling — grief — after his mother died of a heart attack a few years after he finished college.
SJ: I thought grief would be like a river. Um, but in fact it was an ocean.

AS: What's the difference?

SJ: Um, a river is, you know, more narrow, um, more contained, um, you know, and, and you know where you're just, you know, where you're going as opposed to where you've just been. Whereas an ocean is just this huge body of water, and there are tides and swells, and it is just so much bigger than you could've ever imagined.
--
Not long after Saeed Jones' mother died, he met someone who would go on to become his closest friend, the writer Isaac Fitzgerald.
SJ: Meeting him, in some ways, felt like he was my ambassador back to humanity. I also feel that basically like every straight white man I have a good relationship with, working relationship with, should basically send Isaac, like, a thank you card once a year.

AS: [Laughs]

SJ: Um, because [laughs] just like they should really just be like, "Shout out to you, because I don't know if Saeed would be in any way interested in being around me." You know? Um, but I, but I think that there is something to that, you know, like our positive relationships, all of our different positive relationships often I think provide us models to go, oh, this person reminds me of that person, maybe I'll give them a chance.
We've been thinking about race and friendships here at Death, Sex & Money. About what we've learned about race through our friendships, and also when we've made big mistakes, or been really hurt and disappointed. We're working on an upcoming project about this with Code Switch from NPR, and we want to hear from you. When has race been a flashpoint in your friendships? What happened next? Tell us your story. Send a voice memo or an email to deathsexmoney@wnyc.org.
On the next episode…
CHRIS GARCIA: My name is Chris Garcia, and I'm a man on a mission. That mission is to figure out the truth about my dad.
We first shared comedian Chris Garcia's story on our show with you last summer, when we brought you the pilot of a new podcast series he was working on. You told us liked that pilot and wanted more. So, Chris and the team at WNYC Studios made that show!
It's called Scattered. And as it launches next week, we'll bring you another new episode about Chris, his father, and their family's story during the aftermath of the Cuban Revolution.
--
This is Death, Sex & Money from WNYC. I'm Anna Sale.
When Saeed came out to his mom over the phone during his freshman year of college, she only asked if he was using protection. Later that day she called him back, and told him, "If you're happy, I'm happy."
They didn't talk much about it after that. And after college, Saeed didn't move back home. He went on to get his MFA in creative writing at Rutgers, and then got a job teaching high school English in Jersey City.
SJ: This was my first year out of grad school, first time having a full time job, I was just exhaust — I loved my job, but it was a lot of work. Um, and I got a phone call the night before Mother's Day. Um, it was pretty late. I was watching Damages, the Glenn Close show, in bed, drinking wine. And my uncle — I saw my uncle's name on the phone. I thought he was calling to like remind me that the next day was Mother's Day and that I need to, you know, do the whole thing and everything. And I remember like rolling my eyes and being like, you know, "Listen, I'm, I r—, I know. I'm a good son, I'm a good grandson. I'm going to call everybody." Um, and so I didn't answer. Uh, and then he called back a few moments later. And only then did it click that I was like, "You know, Saeed, you know, it's like almost 11 o'clock." Um, and I answered the phone and I just remember him saying, you know, "Saeed, your mom had had dinner with your grandmother. Uh, she had a heart attack. She's in the hospital. You know, I'll call back when I know more." Um, and then the next morning I woke up and he was like, "You need to get here." And that, that glass of wine that I had been drinking, I had sat next to my bed, and sincerely in my memory, um, I stepped my foot out of the bed, I broke the wine glass in putting my foot down. And it was like, by the time I reached down to pick up the broken glass, I was on a plane.

Like, I don't know. I don't know who paid for the flight. I don't remember going to the airport. I remember just being on a plane all of a sudden and having a suitcase that I didn't remember packing. Uh, landed in Memphis, Tennessee, and uh, we went straight to the hospital. And we went into the ICU and I like didn't recognize her. Um, my mom was always very, she was very beautiful. She was elegant, chic. And that was not the woman I saw it in that bed. There was so many wires and machines, um, and all of the life was gone. You know, she was in a coma, but all of the life was gone. It was... it felt soul crushing in the sense that it felt as if I had walked into the wrong hospital room, and I was looking at someone else's mother in this incredibly vulnerable state. And I felt terrible for this poor woman and whoever her son was.

AS: What was your mother's name?

SJ: My mom's name was Carol Sweet-Jones.

AS: I love that name.

SJ: We called her Carol Jean now and then to tease her. [Laughs]

AS: Carol Sweet-Jones. What a name.

SJ: [53:00] Carol Sweet-Jones. Carol Sweet hyphen Jones, yeah.

AS: And you're an only child.

SJ: Mmhm.

AS: When, when you think of... those last hours of your mother's life and you think about the immediate aftermath, um, did you feel your only childness in a new way?

SJ: Hm. I think, um, the gravity of what all of this meant just came in a very, very slow way. You know, like, I couldn't, you know, maybe like a month later, did I have a moment of like, "Oh, right. Like, I don't have any family members. I don't have any immediate family members now," you know. I will say, um, there were moments when I remember feeling grateful that it was somewhat less complicated. Um, you know, I, I read and hear about people's loved ones passing away and families arguing over wills or funeral arrangements, you know, or, um, you know, struggling to get everyone in one place to say goodbye, you know. And I'm grateful that my whole family was there. All of the friends and loved ones, you know, my mom was so beloved. And I remember just being grateful that of course this was awful. And of course, it was, in some ways, very lonely, but it also felt simple and loving. Um, but then I think when I got back to Jersey City and like walked back into my apartment, um, that I had just suddenly run out of, you know, a couple of weeks before, that was the moment when I was like, "Oh, I'm alone." That was hard.

AS: Yeah. And you were in your mid-20s.

SJ: Mmhm.

AS: Did you, did you know how to deal with the business of death? Did you know what phone calls needed to be made? What paperwork needed to be dealt with?

SJ: Absolutely not. Um, and y'all, there is so much paperwork. There are so, so many phone calls. Um, I, I, I was very fortunate that my mom's older brother, my Uncle Albert, um, is, is good at death. He buried his father, he buried my grandmother's sister. Um, and, and, and, you know, now he was burying his little sister. Um, and he just really rose — it was incredible. Yeah. I remember a sad and overwhelmed as I was, I remember kind of marveling at how good my uncle was with death, supporting me. You know, he was very good at being like, "Saeed, you should eat something now," and I would eat something. Or, "Saeed, you should go to bed now." "Okay." You know, "Saeed, let's make some phone calls." We kind of like, I remember all the legal pads we had set up in this, on the dining room table with all of the lists and things we needed to do, you know. And he kind of triaged and be like, "Okay, Saeed, now you need to call the insurance company and here's how it's going to go." He knew what I needed.
Saeed's mother died without a will, but she did have life insurance. Saeed didn't know how much money it was. Until, a few months after she died, he got a check in the mail.
SJ: It turned out that, um, she had a life insurance policy that was worth several hundred thousand dollars. Um, and the day I got the check in the mail, I like fell to my knees on the stairs.

AS: You fell?

SJ: Um, yeah, I did. And I just stretched out because the number, it like sent me, it was like those moments when people say like your life flashes before your eyes. It was like that. Except it was every moment of, of stress related to money that my mom and I had had, which was many, all just flew, you know, in front of my eyes.

I thought about, you know, my mom who would go stretches without the dental work she needed or the, the, the heart medication she needed. You know, she obviously live with this lifelong heart condition, maybe she would've had a better life, maybe she wouldn't have died if we could have afforded better treatment as this money would've allowed. It was such a bizarre paradox that someone's death could have, in your mind, made their life better. Um, and it just, it just knocked me low. Um, and it was really hard. Um, I was fortunate to have a few mentors at the time that I felt comfortable talking to, one of whom was, um, uh, basically an executive at the, at the high school I was working at. And we went in a classroom one day, um, and I just, we just went through all the, kind of, almost like with my uncle, we like went through all of the numbers and everything, you know. Um, and I was like, "I guess I'll buy a house?" Like I know, like I, I don't know. And he was like, "Where? Where are you going to buy a house?" And I was like, "I don't know, down the street?" He was like, Saeed, you know, and, and I just remember him very compassionately saying, "You know, Saeed, that's a strategy, but that's not a plan."

AS: Huh.

SJ: And he had a lot of debt from, he'd gone to Harvard and he was like, "If I hadn't had that debt, "Saeed, I would have made some very different choices." And he was like, "So you have a tremendous opportunity and it's a gift that your mom gave you." Um, and based on that, he, we kind of laid out a strategy. I was able to, I finished the school year, and then I was able to not teach for two years, um, because I could afford not to teach, you know. I got an apartment, um, and was able to pay for it using the money from the insurance policy. Um, and that's actually during that year, the one thing I could do was write. That was the only thing I was really capable of. I couldn't eat. Um, whether or not I could socialize was pretty unpredictable, it was pretty day-to-day, but I could write. And so that year was when I actually started writing seriously what became the memoir.

AS: How have you felt about spending down that money? Like is it hard to watch the amount go down?

SJ: Um, yeah, it's, it's complicated. At first, I was absolutely panicked. It would, it would send me into a depression that would have me in bed for a week. Because yeah, the, the guilt, um, the shame. I was ashamed to have all of this money and why I had it. Um, I had friends who would tell me like, don't tell anyone about it. Say and, and, like I got an apartment that was, you know, a nice apartment that I certainly couldn't afford without a job in New York City. And one friend who was a poet, very compassionate and well-meaning, she was like, "You need to just tell people you're house sitting someone else's place."

AS: Oh my God.

SJ: Yeah. She, because she, she was like, she was like "Saeed, if people can figure out your rent, they'll figure out, you know, basically your, your income, and then all of your business will be out there and all these people will take advantage of you." You know, she was trying to be very cautious. So yeah, it was, it was really trippy. Um, and then a few years later, as time went on, it got easier, I would say. Um, and then it became, I don't know, I have this, I have this net, um, protecting me that all of these rich white kids have always had.

AS: Mmhm.

SJ: [laughs] And now I understand a little bit better like why they're so confident and chill. I'm like, "Oh, okay, this is incredible." Um, and, and having that confidence, uh, is, eh, is and was really empowering.

AS: So your mother, that money, gave you choices.

SJ: It did. It gave me choices, choices that I know my mom always wanted me to be able to have these options, you know. Um, but it just made me so sad that, you know, she couldn't be around to see them and that we couldn't, um, enjoy them together. Like, you know, when I was, um, packing up my mom's apartment, that's one of the things you have to do. You need to pack up the apartment. What do you do with all your parents' stuff? Um, I remember finding a card that had a list of basically like she called them determinations. I think most people would call them, like resolutions, New Year's resolutions and.

AS: Determinations, love that.

SJ: She called And we were, with, this is what I grew up with every year. She was like, "Have you written your New Year's determinations?" And so there'll be a car, like a, you know, greeting card with it. And one of the items was, you know, "I will travel the world with my son." And, um, we weren't able to ever travel abroad together. Um, and I've done a lot of traveling in the last few years and that's, that's part of the reason why I felt like, "Okay, I've got to do this, do this for her, do this for us."
Since settling in Columbus, Saeed is close to his mom in another way. Her best friend, a woman Saeed calls Aunt Janet, lives less than two hours away, in Cincinnati.
SJ: I had long, like, long ago made peace with that I was going to be someone who would not be able to say, "Oh my, you know, my, my mom and dad are in town this weekend. You want to meet them?" I just made peace with, uh, not expecting that. Um, and so, yeah, that's another reason I think being here is nice. You know, people are like, "What are you doing for Thanksgiving?" And I have a clear answer for the first time in years.

AS: What are you doing?

SJ: I'm going to go to Cincinnati. I'm going to spend it with her. [laughs]

AS: What have you observed about the dating scene in Columbus?

SJ: Um, it's fun! I, you know, it is a very vibrant gay community. I can certainly say, um, the visibility of, of gay people of different ages. You know, older couples walking their dogs, young people, drag queens, just walking down the street in the middle of the day. Um, especially in the neighborhood I'm in is another joy. And so, uh, last week I went out with, I went out with friends here for drinks, and I finally was like, okay, I'm ready to turn on the dating apps.

AS: Light 'em up!

SJ: Literally, I was like, here we go, T minus 10, nine, eight and I kid you not, I thought my phone was going to fall off the table. It started vibrating so much [laughs]

AS: [laughs].

SJ: I don't, you know, I don't know if it's just, you know, a new person in town or who knows. But uh, yeah, it's uh, it's poppin'. [laughs]. Having a good time. [laughs]
That's Saeed Jones. His memoir is called How We Fight for Our Lives. He's on book tour now, but when he's back in Columbus, he said he plans to go and visit that McDonald's where the men were so happy. And wherever he is, you can find Saeed on Twitter at @theferocity.
Death Sex and Money is a listener-supported production of WNYC Studios in New York. I'm based at the studios of the investigative podcast Reveal in Emeryville, CA. Our team includes Katie Bishop, Anabel Bacon, Afi Yellow-Duke, Emily Botein, and Andrew Dunn. Thanks to Xandra Ellin for her help on this episode.
The Reverend John Delore and Steve Lewis wrote our theme music.
I'm on Twitter @annasale, the show is @deathsexmoney on Twitter, Facebook, and Instagram.
AS: Have you had your first date in Columbus yet since turning on the apps?

SJ: [laughs] Um, I have not had my first date. I have had my first morning of waking up on the opposite side of the bed than I usually sleep on, um, and slowly turning over and seeing a man in bed next to me. [laughs]

AS: [laughs]

SJ: If you wanted to define that as a date, you're welcome to, but [laughs]
I'm Anna Sale and this is Death, Sex & Money from WNYC.
Copyright © 2019 New York Public Radio. All rights reserved. Visit our website terms of use at www.wnyc.org for further information. New York Public Radio transcripts are created on a rush deadline, often by contractors. This text may not be in its final form and may be updated or revised in the future. Accuracy and availability may vary. The authoritative record of New York Public Radio's programming is the audio record.
Music Credits:
"Detailing" by Blue Dot Sessions
,
"Club Moka" by Blue Dot Sessions
,
"Plasticity" by Blue Dot Sessions
,
"Milkwood" by Blue Dot Sessions
,
"Talltell" by Blue Dot Sessions