After 27 Years In Prison, My Husband Might Get Out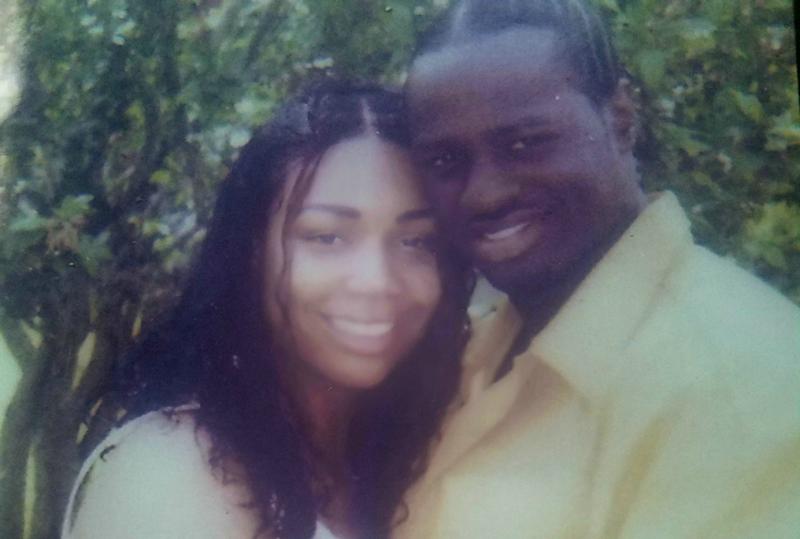 Transcript
Ronnine Bartley: I guess we're gonna have to go to counseling, you know what I mean? I'm definitely gonna seek, or we're gonna try to seek someone to counsel us through the process of having someone incarcerated for 27 years and you're married to that person while in prison. You know, that's a lot. It's deep.
This is Death, Sex & Money.
The show from WNYC about the things we think about a lot...and need to talk about more.
I'm Anna Sale.
Last week, we re-ran my conversation with Lawrence Bartley, who was convicted of murder as a teenager in 1992. He's still in prison for that crime. And while there, he's become a father and gotten married to his wife, Ronnine.
I met Ronnine after that episode first came out, and we've kept in touch.
RB: Hi Anna!

Anna Sale: Hi!

RB: How are you?

AS: How are you?

RB: I'm good.
She's the one that told me Lawrence is going before the parole board for the first time next month, and I asked her if we could come by to hear how she's preparing for that. She was sitting outside waiting for us when we arrived, talking on her cell phone.
RB: Lawrence wants to say hi real quick.

AS: This is Lawrence?

RS: Yes!

AS: Lawrence? You there? Hey! How are you doing? Waiting. Yeah.
While Lawrence waits, Ronnine is living in Queens with their sons, Lawrence III, who's now nine, and Lawson, who's four.
RS: Okay, come on in ladies. [To Lawrence on the phone] Okay Lawr, I'll talk to you in a little while.
Ronnine and her boys share a house with Lawrence's father. She still calls him Mr. Bartley, because she first met him when she was a young teenager. When she and Lawrence first dated.
RB: Even when we were like together at 13 and 14 years old, when we had no business being together, we always talked about being married. And I guess it happened!
After years apart, Ronnine and Lawrence got back together and married inside Sing Sing Prison in 2006—14 years into Lawrence's sentence. They're in their mid-40s now, and talk on the phone every day. Ronnine juggles weekend visits with raising two kids and working full-time as a dean of discipline in a New York City school. But everything could change, if the parole board lets Lawrence come home.
RB: It's gonna be a transition to say the least. We've never spent more than what is it—72 hours together? I'm excited. But - a little, I'm not really worried. I think it'll work. Like my friends always ask—my married friends—are like, "Are you? Girl, are you ready? Because it's gonna be different, I'm telling you now. Are you sure you're ready?" But I'm not worried. I'm just - maybe a little - I have a little anxiety about it a little bit. Because I don't know how we're gonna clash. Because we don't really clash.

AS: Because you haven't had time to clash.

RB: Because we really haven't had time to clash. I mean the cleaning is gonna be an issue. I know that. He's a neat freak and I'm like, all over the place. Maybe that's gonna be one of the things we're gonna have to worry about.

AS: So how are you talking about his parole hearing right now?

RB: We talk about it. It's full of excitement. But I try not to talk about it too much. Because I don't wanna jinx it so to speak. I don't wanna—I'm not really prepared for if he doesn't get released in August. Like I'm not really prepared - I tell myself I'm prepared, but I don't think I'm really prepared for it. So we just talk positive thoughts. And I don't want to give him any negative energy about my feelings. He did express to me the other day, he said, "I will be really hurt. I will be - I'm not gonna lie. I'll pick myself up afterwards," he said, "but I will be crushed if it doesn't - if it doesn't happen." So. I mean, we're gonna live through it if it does, but we just try to focus on what he's going to do when he comes home, like what is it going to be like when he's here, as opposed to if it doesn't work out.

AS: How are you talking to your boys about the parole hearing right now?

RB: Um. Lawrence is very naive. So he doesn't really...

AS: Little Lawrence.

RB: Little Lawrence. The third. I don't think he - I think he knows that his father's incarcerated. I think his dad and I want to tell ourselves that he doesn't really know. If he knows, he doesn't know to like - I don't think it's registering there, even though he's nine. I don't think it's like, registering with him. But he knows that dad's coming home soon. Like dad's coming to live with us. Lawson, the little one, the little rascal, he has no clue about it. I think after the parole hearing and once we know that he is going to be released, then we'll start to have the conversation of, "Dad is definitely coming home on this date or whatever."

AS: How are you preparing - like are you involved with preparing his case or his argument for parole?

RB: He's working with these lovely young ladies, they're helping him prepare his parole packet. It's already prepared, basically. He's waiting for all of the letters from us, which I already submitted a letter. But I had to do some fixing to make it sound more personalized.

AS: You were all business?

RB: I was all business. My point was that I didn't wanna seem too subjective and not, um, and not have sympathy for the victims that were involved in the case. You don't want to push too much because it's like, well you're pushing a little bit too much for someone who did something really, really bad, you know? So I feel like I'm a little stuck for sticking up for my husband. But I guess it's supposed to be subjective because he's my husband! So I'm working on that now. So that's how I'm helping him. He said it looks pretty good, it looks pretty good.

AS: If Lawrence is released, do you know if you'll support as a family with the re-entry process?

RB: You know. There are a lot of re-entry programs out there. But the re-entry programs that are out there are not set up for people who have a family to come to. That - I guess they would consider us not struggling. Let me just put it that way. They wouldn't consider us like really struggling. "Well your wife is making almost six figures a year. I mean, what more re-entry can we - how else can we help you out?" I would love for some type of re-entry program that focuses on the dynamic of the relationship.

AS: That's what I was gonna ask about.

RB: Yeah, because what do you do? How many people really make it when, you know, when the husband comes home. I mean. A lot of people who are released we know, they're not with each other anymore.

AS: Really?

RB: Mmhm. There's been a few that are not with the wife or the girlfriend or whatever you have it. They're not together. Some, do they make it? Yes. Some make it. But I think the ones who make it are the ones who are more stabilized. I think the ones who make are the ones who have more of a realistic expectation, so to speak. You're not going to just snap your fingers and then everything is gonna happen. It's - it's a process.

AS: Do you and Lawrence talk about what he might do?

RB: Lawrence is gonna do about 40 or 50 different things until two or three stick. Um, he definitely wants to pursue real estate.

AS: Huh.

RB: And he already checked out the licensing and everything like that. Being that he is a convicted felon, he can get the license.

AS: Do you feel like he feels pressure to earn?

RB: Absolutely, that's all he talks about. All he talks about is dealing - I mean taking care of his family. He has to make up for so much lost time, you know what I mean? And he definitely wants to provide for us, and I'm definitely willing to accept it.

AS: Do you worry that he's putting too much pressure on himself, right in the middle of this transition?

RB: Um. No. Lawrence is like - he's just different. I just call him different. He's different. He's accomplished so much being incarcerated that it's unacceptable for him to fail. Like, it's something that we - we have high expectations. And we just can't fail at anything. So he has conviction. I think he's mature enough to handle - and I think he's realistic in the sense of what it is that he's going to - he knows he's going to have doors shut in his face all the time. It's just gonna happen. It's a fact. But as far as him feeling pressure, pressure motivates him. It gives him the motivation to do what people think that he can't do.
Coming up, all the tiny details Ronnine is wondering about, should Lawrence get out. Including what he might wear, if he doesn't have to wear a prison uniform.
RB: Well one thing that's definitely out is skinny jeans.

AS: [Laughs]

RB: Lawrence will not be caught in skinny jeans.
—
I want to tell you about a new podcast that's produced inside a prison. At San Quentin in California, inmates Antwan Williams and Earlonne Woods are hosting a new show called Ear Hustle, made with the help of a radio producer on the outside. They're telling stories about the relationships inside prisons, between roommates—or cellies—and even about pets in prison.
Roach: The first critter I had in prison was a moth. And I only had it for a day, because I had a cellie who came back and killed it when I went to the yard, and left it on the floor.
And yes, this show is produced from the same prison where our previous guest Mandi Hauwert works as a guard. The show is called Ear Hustle, brought to you by Radiotopia.
The Death, Sex & Money team will also be talking about our favorite podcasts and the making of our recent series about student debt at an event next week in New York City. We're joining The New York Times Podcast Club the evening of Monday, July 24. Producer Katie Bishop and composer and sound designer Andrew Dunn will there. You can watch the whole thing on Facebook Live. Look for info on our Facebook page.
I'll be joining that event via Skype, because I am working for a bit from Wyoming this summer. So listeners in Wyoming and Montana, tell me where you are. I want to find a place for some of us to meet up sometime the last week of July. If you're up for the idea, email me and tell me where you live and I'll make a plan. Our email is deathsexmoney@wnyc.org.
On the next episode, comedian Jeff Garlin. He talks about filming Curb Your Enthusiasm as he was recovering from a stroke. And how he thinks about sex in his 50s.
JEFF GARLIN: I'm hesitating because...I don't have much sex. HA HA HA HA! And I didn't in my 40s either! And to me, sex is so magical and so special. Sex is the one thing more than any others that makes you feel human. Human, man! So, I feel human in other ways.
—
This is Death, Sex and Money from WNYC. I'm Anna Sale.
Ronnine and Lawrence got married before they decided to have kids. Starting a family was a decision they made together. But obviously, a lot of parenting has fallen solely on Ronnine.
RB: I don't know if you remember from the interview that you had with him. I consider myself "half a single parent." So you know, I make the decisions, bottom line. I mean do I consult with him? Absolutely. You know, that makes the relationship work. That makes him feel involved, but...I'm the boss. Like in my head, I'm the boss! I like to make him believe when I'm speaking to him that you know, he's the boss. But at the end of the day, you know, I am making all of these adult decisions.

AS: Do you think he'll be a different kind of parent when he's parenting on a daily basis?

RB: I think that it's going to be better. He's in for a big surprise, because I am letting go. I'm letting go in the sense of all of the little things that the mommies do, like I'm not taking them to birthday parties. He's gonna have to figure that out. Lawrence is a phenomenal dad. Like, my kids look so forward to spending time with their dad. Just yesterday, when we were—I was saying, "Are you guys..."—I was trying to go on a visit by myself, but they both like jumped out of bed and was like, "I'm going, I'm coming, I'm going to dad's!" I think that he'll be able to - he'll be able to be more involved, his presence is going to make it even better.

AS: When you think about what you're most excited to do with Lawrence right after he gets out, what do you picture?

RB: Okay, so, what I would like to do is spend the night away from home. But I don't know if parole is gonna allow for that, because they have a curfew. So I don't know if we can spend the night. But one of my greatest desires is so simple. To sleep and wake up without being interrupted. Because when we go on the conjugal visits, he has to wake up at like - they do it at 10, they have to do the count at 10 o'clock. And then at 5 o'clock in the morning. And we try to stay up so we can [chuckles] optimize on our time. So I just wanna sleep next to him. And not have a time to wake up. That's the all we've come up with so far. It changes, every other week, it changes.

AS: Are there parts of him being in your physical space that you're nervous about?

RB: Yeah. I'm very self-conscious about my body. I'm so - I don't know if every woman goes through this or not? You know, being in my 40s, I just feel like I've lost that "it" factor. You know, I don't like being the overweight 40-something-year-old mom. But just walking around the house and having him look at me—I want him to desire, you know, like what he's seeing. And of course, he's never gonna say he doesn't. He's trained like that, he knows better than that. But I never want him to feel unattracted to me. You know, I want to - we didn't get that time. We didn't get the sexy time together on the outside. So I want to keep it sexy until like my 90s. So I'm hoping that by the time he comes home, that I'll have [laughs] that I'll have it together.

AS: When do you allow yourself to think about the possibility that he might not come home?

RB: I don't. I don't. It's something that I refuse to think about. I know, I mean it's probably not the brightest thing to do. To not prepare yourself mentally for it. But I don't. I believe in a higher power. I believe that he deserves, at this point, to come home. It can happen. It's out of his hands, no matter what he does or shows. At the end of the day, it's up to the people who are on that board.

AS: Do you have a sense of—do you know what Lawrence is afraid of? About coming home?

RB: I think he's fearful of people thinking that he's the same Lawrence that he was when he was 16. You know, I run into people every now and again that know him. And sometimes I get the sense that they think that he's this popular street guy that has what we call "street credibility." But he's so not that person. I would say that I'm more street than Lawrence now. I think that's his greatest fear, that he doesn't want the reputation that he had going in when he comes out.
That's Ronnine Bartley. After Lawrence has his interview with the parole board next month, it will be a few days before he finds out whether he is being released. He'll get a letter hand-delivered to his cell.
RB: Either way, you get a letter either way. So you have to open that letter.
Death, Sex & Money is a listener-supported production of WNYC Studios in New York. I'm based at the Center for Investigative Reporting in Emeryville, California. Our team includes Katie Bishop, Emily Botein, and Andrew Dunn. Special thanks to Stephanie Joyce for her help on this episode.
Our interns are Mankaprr Conteh and Kent McDonald.
The Reverend John DeLore and Steve Lewis wrote our theme music.
I'm on Twitter @annasale. The show is @deathsexmoney. And we have a weekly newsletter and you should get it. If you're not already, subscribe by going to deathsexmoney.org/newsletter.
While we were at Ronnine's house, her boys were at school. But Ronnine told us her oldest, little Lawrence, was really bummed that he missed us.
RB: He was like, "So you're doing an interview. What is it about?" I was like, "Oh, it's just about me and your dad and the family. You know, probably talk about you guys." And he said, "Well I wanna be there!" I said, "Well you can't be there." "Well I can just listen from upstairs, I don't have to be INVOLVED. I can just listen from upstairs." I said, "No, you're going to school. Get outta here."
I'm Anna Sale, and this is Death, Sex & Money from WNYC.
Copyright © 2019 New York Public Radio. All rights reserved. Visit our website terms of use at www.wnyc.org for further information.
Music Credits:
"Sylvestor" by Blue Dot Sessions