Rashema Melson's Weakest Yet Bravest Moments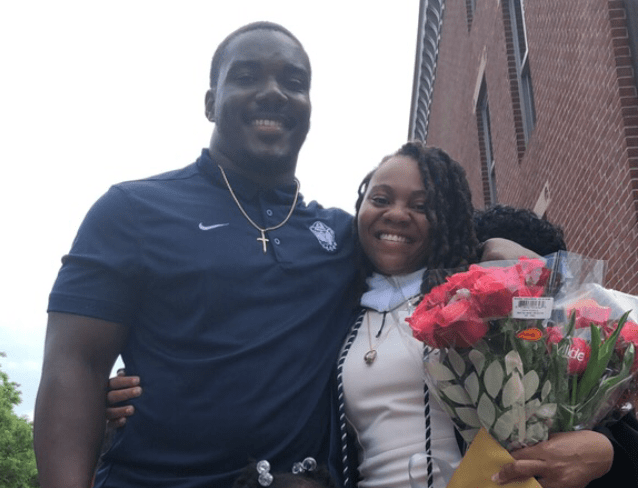 Transcript
RASHEMA MELSON: I know somebody had asked me, if you could have anything in life what would you want? And out of my mouth, I didn't say a college degree. I said, I want a home. I want genuine love. I want intangible things.
This is Death, Sex & Money.
The show from WNYC about the things we think about a lot…
...and need to talk about more.
I'm Anna Sale.
This past May, while I was still out on maternity leave, an email in my inbox caught my eye. It was from Rashema Melson.
ANNA SALE: And it was like the most excited I've been. It was the best email to receive.

RM: Oh, really! Aw!

AS: Like, several things about it made me excited. First of all, that you were letting us know that you were graduating in a week and you wanted us to know...
Rashema first talked with me when she was a college sophomore at Georgetown, when she was adjusting to life on campus after living in a D.C. homeless shelter in high school.
After that, she dropped out and got married. I talked to Rashema again, after she'd decided to end that marriage and give Georgetown another try.
Now, she was writing to say that she'd been thinking about our two conversations in the days leading up to her graduation.
RM: I had a lot on my mind. And I was asking myself who was the girl that - that was then. And just listening to everything that I had said, and just how adamant I seemed and how I was really standing up for myself and I wasn't letting a man take over my world and I was going back to the mission that I had set out forth to. It was like, wow, I can't believe that I did that.

AS: Yeah. And I also thought it was interesting how you described our previous conversations as capturing you "at my weakest yet bravest moments."

RM: Mmhm.

AS: And that like, listening back to those conversations had helped you?

RM: Yeah. Um, if it wasn't for, you know, us doing that interview, I wouldn't have captured myself in that moment, like if you had a time capsule.
Later, I'll talk with Rashema more about what she's up to now, after graduation.
But first, I want to crack open those time capsules that Rashema recently listened back to. Starting with our conversation four years ago.
She was struggling then with being vaulted into an elite environment, separate from her family. And she was feeling a lot of pressure, after becoming a national news story right she was finishing high school.
NEWS CLIPS: "It's graduation day for Rashema Melson…and with the turn of a tassel, this young lady goes from homeless to Hoya."
When we talked during her sophomore year, Rashema told me all that attention made her feel like a campus celebrity.
RM: And me, I'm just kind of used to people walking up to me, "Hey can I get a picture?"

AS: Really? What do they say?

RM: They'll ask me — it's always this list they have. "Oh my god, are you Rashema?" I'm like, "Yes." "You graduated from Anacostia?" "Yes." "You were valedictorian?" "Yes." "You were in a homeless shelter?" "Yes." "Oh my god!" And I'm just like - it's annoying sometimes because it's like, I wish you people would stop calling me that. I'm not the homeless valedictorian — I'm Rashema Melson.
Rashema grew up in the Anacostia neighborhood in D.C. Her father was shot and killed when she was young and her mother relied on public assistance to support her and her brothers. After they lost their housing when Rashema was a teenager, they lived in a D.C. shelter.
RM: I'm so close, like one bus ride away from home. Or, you know whatever I call that place.

AS: Yeah.

RM: So.

AS: What do you think, what has being a student at Georgetown taught you about money?

RM: Money? Hmm. Got to get more of it. That's the best thing that I could possibly think about.

AS: What do you spend money on during the semester?

RM: I spend money on my family, which is the truth. My younger brother, he's 15. He's the only one that's left in the household, so my mom gets a certain amount of food stamps so if her food stamps run out, she'll ask me, "Hey can you help me out?" It's never like a "give me" or "you have to do this." I'm always like, "Hey do you need anything?" And a lot of people come to me and say, "That's not your responsibility, you need to worry about yourself," blah blah blah. And I get that. But me and my family — I grew up sharing meals with people, sharing one meal with like, three people. That's always the way my family or me and my friends are gonna be. We're always gonna help each other out.
But when it came to achieving and excelling at school...that was something Rashema told me she felt like she had to do on her own.
RM: I remember my first cross country meet in high school. I passed out once I got to like, the finish line, and I'm looking at most people are staring at me. I'm like, "What place did I come in?" I don't care how I'm feeling. They're like, "Seventh. You did so good." I'm like, "I did horrible." And I just started crying and I was like, "Don't touch me. I need to become No. 1. I need to run again." And I was, like, so full of emotion and I kept saying, I'm not gonna get into college if I'm not No. 1, I need to be No.1, I need to be No. 1. Everybody was looking at me like, "Oh my God. What's wrong with that girl." And my coach kinda was like, "Come on, let's take you to the bathroom." I was like, "I don't care, you don't understand what I'm going through." I was like, "I'm homeless. I live in a shelter. I need money." You know what I'm saying? And my parents can't — I was like, my mom can't afford college. And I was like, I need this. I need a scholarship, or I need my grades. And I really had a burst of emotion that I feel like I've never had in my life. And when I even think about it now, I feel that emotion. I'm just like, yeah, I can't fail, I mean like, what would I do? And do I wanna believe that I didn't work hard enough or there is something more that I could have done? I just, yeah no, I can't fail. So. [Laughs]

AS: So you just looked at your phone.

RS: Yeah.

AS: What was on your phone?

RS: Somebody sent me a donation. Um, they said, "Just a little something for the holidays to spend with your family. Keep us posted on your progress, especially if you need help. Help comes in many ways."

AS: Is that from a stranger?

RS: From a stranger. I don't know who this person is.
Rashema started a GoFundMe page after all the news coverage of her story, and she got a lot of financial and emotional support from well-wishers across the country. But on campus at Georgetown those first two years, Rashema spent a lot of time alone.
RM: I really don't get out much. I just study, I work, and that's about it.

AS: I can remember when I started college just the experience of all of a sudden sharing a dorm and a social life with people from all over the country, and who had all sorts of different family arrangements growing up, and all sorts of different income levels that they were used to. What do you remember about the first weeks and figuring out who the people were that were surrounding you?

RM: That's what I didn't do. My goal here, my job here, is to just get my education and keep it moving. It's not a bad thing. It's not that I don't like people or anything like that. It's just, my motives are different, and I think when people come to college, you know, I hear all about, yeah, that social life. "We're gonna go to parties." Yeah, it's a lot of parties here, and on Friday night I'm like in my bed, I'm getting some sleep because the week was so tiring. And I kinda had a little breakdown this semester because you know I wanna get out and I wanna have fun and I wanna be able to on a Saturday not just focus on work. But I'm kind of stuck, I'm kind of in a situation with like, you're not going back home to a family who financially supports you, or you're not going back to this place where it's like, you don't have to worry if you don't get a job, your dad's gonna talk to a friend and get you a job - it's nothing like that, I'm the one who's pushing my family.

AS: When did that happen, at what point in the semester?

RM: I think it happened - um, it was in October. I really felt stuck, like I had no option. Like, the only thing I have in life is this degree, like this degree is saving me. Without this degree I'm nothing. Why should I be nothing because I don't have a degree? Like, a little piece of paper and some grades don't define me. And that's where I got to the point where I'm like, I'm not about to deal with this. And I thought to myself — I said I need to go back to the shelter.

AS: It's interesting to me that it was - when you hit that wall it wasn't, "Maybe I should go out on a Friday night instead of staying in and studying," or, "Maybe I should go out on Saturday," or, "Maybe I don't have to do all the reading on this Monday night." But it was, "Maybe I'm gonna drop out." It went that far.

RM: It did. It did. Like, I just felt like, that's my life. I feel like people see me as, that's the homeless valedictorian, she goes to Georgetown. My life is Georgetown. And then it's like, if you're not in school then what are you doing? It really made me feel that way where I was like, I don't even want to do this anymore.
A few months after we first talked, Rashema dropped out of Georgetown.
She'd reconnected with a high school boyfriend who had joined the military, and they quickly decided to get married. Rashema moved to Clarksville, Tennessee, to live on the Army base where her husband was stationed.
She took some classes there through a local college and sold baked goods to make money on the side.
I looked at the pictures of her cakes that she posted online, and we set up a time to talk in early 2017, when Rashema had been away from Georgetown for about a year. When I called, she was on her cell phone, driving around town.
AS: How do you like being married?

RM: I like being married, like certain parts of it. It's okay. Um, I guess it's kind of hard to answer that question because we're getting a divorce.

AS: Oh you are?

RM: Yeah, but as far as marriage in general, I mean, I like it.

AS: Why'd you decide to separate? Why'd you decide to split up?

RM: I think we just want different things in life. And, um, I think this is for the best just so that each party is happy. Um. But I mean...yeah.

AS: I'm sorry to hear that. I knew that you had gotten married but I didn't know you all were splitting up. I know that's hard.

RM: Oh, I mean we're fine. No, we're fine, we're fine. It's not really that emotional. So…

AS: Is he in agreement that divorce is the right thing to do?

RM: Um. No, he doesn't - he's asking me - like, we literally 30 minutes ago just turned in the papers. Like, at the courthouse. And he asked me -

AS: Like, just before I called you.

RM: Right, yeah. Just before you called me. And he asked me, are you sure you want to do this? He wants to work it out. He's like, what did I do wrong? And I'm like, you didn't - you really didn't do anything wrong. You're you, and one day you'll find the person who you should be with. But I just want more. It's not more about money, it's not anything like that. It's just, I deserve more. I worked so hard all my life. And I settled. And it was not the right deal to settle on. It's hard because he feels like he wants to be a provider. He's like no, I'll take care of her. You can be a housewife. And I'm like no. I don't want to be a housewife. I've never been a housewife. I'm not gonna be a housewife.
Rashema told me she was packing up her things and getting ready to move back to Washington, D.C.
RM: I've been in contact with Georgetown, so, I don't know if I'm going to go back there or not.

AS: Tell me about that. How do you feel about Georgetown and the prospect of and going back?

RM: I feel like when we talked and I was talking about how I feel about when people call me "the homeless valedictorian" and just a lot of the expectations people put over my head -

AS: Yeah.

RM: I think with leaving Georgetown, I was leaving that life behind. But then it occurred to me, like, you know, why run away from what I want to do, what I'm destined to do just because people are showing me that they're on my side? All my life, my mom wasn't the kind of parent that was like, oh you got straight As? Good job. Keep it up. Make sure - you know. It was always me on my own telling me, I need to do this or this is the best thing for me. So when I had all those people in my corner, I didn't know how to receive that. Um -

AS: Huh. That's interesting, Rashema. All - that you didn't know how to receive having all these people in your corner. That's an interesting way to put it.

RM: Yeah, cause I'm not used to that much support. I have so many people who I can call now, whether it's advice or whether it's school. I never had that growing up. And I think I was just upset because I felt like like if would have failed - it just became a lot of pressure. Like if I would have failed, then the whole world would have known. But right now, I feel like it doesn't bother me any more. I know that when most people, even when they're just super excited to share my story, I know it's all about, they're proud. You know, it's just like the whole Britney Spears having a meltdown. You know, 'cause she's like a public figure. Stuff happens. Some people can't handle all that pressure at once. And I feel like that's what I had, like a little meltdown.

AS: A little Britney Spears moment.

RM: Yeah. Or like a Kanye moment. [Laughs]

AS: Yeah. [Laughs]
That was Rashema, back in 2017.
Coming up: I talk with Rashema now, about how she got to graduation, and about the person who gave her a place to land after her divorce.
RM: I don't know if there's anything I could do to ever repay her or show her thank you so much, except going forth and and succeeding and doing what I said that I was gonna do.
—
Every week in the Death, Sex & Money newsletter, we include emails from all of you. And last week's note from a woman named Kay sparked a lot of conversation in our inbox. Kay's a single mom in her late 40s, and she reached out because her daughter is heading off to college next fall. And Kay. Is. Pumped.
KAY: The prevailing attitude that I think people have is that they want mothers, and especially mothers, to fall apart and curl up in a fetal position at the thought that their child is growing up and leaving the nest when they cross that graduation stage. And I just don't feel that way. I've always thought that my child is a part of my world but not my entire world, and I just don't think people are ready to hear that.
DeeDee in Texas read Kay's note in our newsletter. And she says she can relate. She's a single mom who will be an empty nester after this upcoming school year, and says she's happy to watch her kids move on with their lives. She wrote, "I too have given so much to my kids and am looking forward to the flexibility and freedom that will come when my nest is empty."
We also heard from Maya, a single mom in California, who is having the opposite experience.
MAYA: For the past few months I've had all the feelings you'd imagine, of sadness—but all that is also mixed with knowing what the late teens and early 20s were like for me. During those years I felt like I had no safety net. And I know that she has a different mom than I had and so her experiences will be different but I'm still sad. You kind of can't help it.
Get in on this conversation! Sign up for our newsletter… it's a really special place, you guys. Go to deathsexmoney.org/newsletter.
On the next episode…
It's gotten to the point where I can't function without it.
Your stories, about drinking.
And it's scary. I'm scared. And I don't feel like I can talk to anyone about it.
—
This is Death, Sex & Money, from WNYC. I'm Anna Sale.
After Rashema Melson got back to Washington, D.C. two years ago, she felt a little lost. For awhile, she was managing a KFC to make some money. But she didn't really have anywhere to stay.
RM: After my divorce, I was facing a little bit of homelessness. And it was nothing new to me. It was just like okay, so where we go from here?
Rashema reached out to her network of mentors, and she got connected with the chief medical examiner of Fulton County, Georgia, Dr. Jan Gorniack, who lives in Atlanta.
RM: And she said hey, I have an extra bedroom and if you, you know, can get yourself together, you can you can stay here. I was like really? She's like, yeah, you know, it's a new experience and fresh air. I think it would be great for you. And I got in my little car I drove down there. And being down there, I really had time to think, I really had time for myself. Because she was always in and out flying out the city, you know doing big, you know, chief medical examiner things [laughs], but I - I really had time to really think and ask myself like, you're divorced now, you're headed back to school. What is your new plan? What do you want to execute? What do you want to put in motion? I don't like waking up and not having a mission.

AS: Huh, what a gift that she gave you have just time not needing to worry about where you were going to stay and that allowed you to have a - take a breath.

RM: I always tell her—just like, as an African-American woman—I always tell her, like, I look up to you, that you're phenomenal. And I don't think that - I don't think people understand how they touch me. I think people just see themselves like, oh, you know, yeah, this is like the right thing to do or no, I want to do this. But no matter however they see it, the way it reaches me is just like, thank you so much. You don't even understand how much you've helped me and how much you've changed my life. How much stress that you taken off my shoulders. The fact that you helped me to alleviate the struggle a little bit and that you put me in a position to be able to think a little clearer before I go back out there into the storm. Whether you think it was small or whether—however you perceive it—thank you. Thank you. Thank you so much. And so yeah, just her giving me that time to really recoup and rejuvenate myself. It was it was amazing. And it was much needed.
After a few months in Atlanta, Rashema went back to Georgetown, to start her junior year. She got her financial aid and her work-study job back. And things were different when she returned to campus. She was different.
RM: I stepped out of my comfort zone. And maybe went to a couple of parties… um, maybe like three. And I was like, uh yeah, I can't do this anymore.

AS: [Laughs] This isn't your scene.

RM: It wasn't me.

AS: Mmhmm.

RM: And then eventually, academically everything was better in the sense that I didn't have impostor syndrome, I didn't doubt myself. I was just way more active. I joined the rugby team.

AS: You did?

RM: Um, I did, and it was amazing. And I was just so happy that I got to go back to sports because I was, you know, doing sports in high school. Everything just seemed better. It was just better than the first two years.

AS: Yeah. So what are you up to - what are you doing right now?

RM: Ah! I cannot wait to tell you what I'm doing.

AS: Oh!

RM: So, right now I actually work for a non-profit called Bright Beginnings Inc. So basically what we do is we use the two-generational approach to help the homeless population in the sense that we want to assist the parent as well as the child. So, with the child we bring them in and have them do free daycare, and we use curriculum to educate them and get them kindergarten ready. And then for the parent, if they don't have their GED, we have workforce development that works with them to get their GED, if they need a job, housing, any assistance that they may need.

AS: I'd never heard of it put, "the two generation approach."

RM: Yeah.

AS: Because, like, if a parent is dropping off a kid for for daycare, like, offering other services that that parent might need is huge.

RM: Yeah, people have always focused on the one-way approach. "Oh, let's just give a lot of stuff to the child. Oh, let's just give a house to the parent." And I think the thing that I love about us is that not - like, we're not just working on stability in a housing sense. It's about, even if we did give you a house, a lot of people don't know how to manage a household. What does that come with? And so we're really educating people in that sense.

AS: And when you're like trying to find families that - parents who could use help with daycare and parents who could use some support with GED - like where are you going to find people?

RM: I just, I go out into the community and I really talk to my people. You know what I mean? It's more of a conversation instead of a pitch. Because I relate to them more than the other people at my job do. Who's better to go in the community and talk with them than me? You know what I mean? So, like I said, I love my job. It's amazing.

AS: Now that you're out of school and you're - you're working and thinking about what's next. How much are you thinking about money?

RM: I'm always thinking about money, to be honest with you. I go to work, and I try to eat out once a week because most of my co-workers eat out every day when they're at work or at least three to five times a week. And so basically I'm trying to cut down on costs because I have a long way to go before I'll be at a place where I don't have to check my bank account every day.

AS: Mmhm. Did you have a graduation party?

RM: No. I literally went back to my friend's dorm room and I went to sleep for seven hours. That was me celebrating because I was so tired. I was like, I really just want to sleep. I don't care about none of this other stuff. I have a diploma. Let's get out of here. I want to go to sleep. So I just feel like - I don't, I'm not able to accept any congratulations just due to the fact that I'm not where I want to be and I say that not even at a success standpoint, but at... a mental standpoint. And I feel like, until I'm fully where I want to be, then I won't be able to receive that.

AS: I hear you Rashema, but I also think there's value in celebrating incremental victories. You know? [Laughs]

RM: People tell me that yeah, that's true. I just - I don't know how to do it. And I understand the concept of it. We're working on it. That's what I'll say. It's a work in progress.
That's Rashema Melson. She's taking the LSATs this fall. And she hopes to head to law school in the fall of 2020.
Death, Sex & Money is a listener-supported production of WNYC Studios in New York. Our team includes Katie Bishop, Anabel Bacon, Emily Botein, and Andrew Dunn. Our intern is Emily Nadal.
The Reverend John Delore and Steve Lewis wrote our theme music.
Thanks to the Buffalo Bill Center of the West, in Cody, Wyoming, for sharing their studio with me.
You can find the show on Twitter, Facebook and Instagram @deathsexmoney, and you can follow me on Twitter @annasale. Sign up for our weekly newsletter at deathsexmoney.org/newsletter.
And as if having a full time job and applying for law school isn't enough, Rashema told me she also plans to run for the D.C. State Board of Education.
RM: I hope my people receive me and see that I can implement a positive change.

AS: I don't know much about D.C. politics, do those get dirty? Is it gonna be a tough fight?

RM: Um, you know, I'm hoping to win, so… we shall see.
I'm Anna Sale, and this is Death, Sex & Money, from WNYC.
Music Credits:
"As Colorful as Ever" by Broke for Free
,
"Di Breun" by Blue Dot Sessions
,
"I'll Miss You" by Will Bangs
,
"Pong" by Kenneth J Brahmstedt from BWN Music