Stop Calling Me 'The Homeless Valedictorian'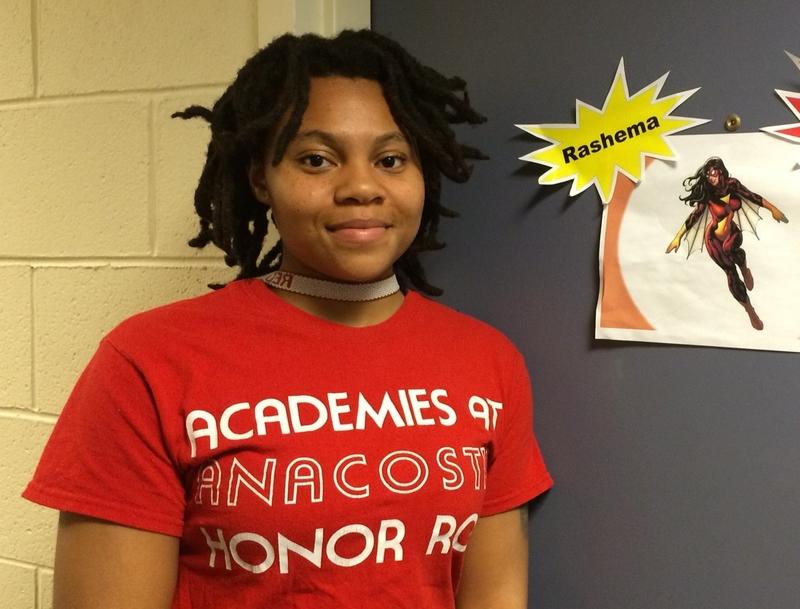 Transcript
Rashema Melson: I can't live this life, this isn't for me. I need to remind myself of where I come from.
This is Death, Sex & Money.
The show from WNYC about the things we think about a lot…
…and need to talk about more.
I'm Anna Sale.
AS: You just looked at your phone.

RS: Yeah.

AS: What was on your phone?

RS: Somebody sent me a donation.
I'm sitting with Rashema Melson in the common room in her dorm at Georgetown University. A message just popped up on her phone.
RS: They said, "Just a little something for the holidays to spend with your family. Keep us posted on your progress, especially if you need help. Help comes in many ways."

AS: Is that from a stranger?

RS: It's from a stranger. I don't know who this person is.
Rashema's finishing up the fall semester of her sophomore year at Georgetown. She started getting donations from strangers about a year and a half ago. She was a senior at Anacostia High School — a public school in southeast Washington, DC. Ninety-nine percent of students there get free or reduced lunch.
Rashema was valedictorian, and she became a national news story.
CLIP: "It's graduation day for Rashema Melson…and with the turn of a tassel, this young lady goes from homeless…to Hoya."

RM: I'm just kind of used to people walking up to me, "Hey can I get a picture?"

AS: Really? What do they say?

RM: They ask me — it's always this list they have. "Oh my god, are you Rashema?" "Yes." "You graduated from Anacostia?" "Yes." "You were valedictorian?" "Yes." "You were in a homeless shelter?" "Yes." "Oh my god!" It's annoying sometimes because I wish people would stop calling me that. I'm not the homeless valedictorian — I'm Rashema Melson.
Rashema's on full scholarship at Georgetown. It was a dream come true. But the transition to college hasn't come without strain.
RM: Especially cause I'm so close, like one bus ride away from home. Or, you know whatever I call that place.

AS: Yeah.

RM: So.

AS: What do you think, what has being a student at Georgetown taught you about money?

RM: Money? Hmm. Got to get more of it. That's the best thing that I could possibly think about.

AS: What do you spend money on during the semester?

RM: I spend money on my family, which is the truth. My younger brother, he's 15. He's the only one left in the household, so my mom gets a certain amount of food stamps so if her food stamps run out, she'll ask me, "Hey can you help me out." It's never like a "give me" or "you have to do this." I'm always like, "Hey do you need anything?" And a lot of people come see me and say, "That's not your responsibility, you need to worry about yourself," blah blah blah. And I get that. But me and my family — I grew up sharing meals with people, sharing one meal with three people. That's always the way my family or me and my friends are gonna be; we're always gonna help each other out.

AS: Your mom had trouble finding work for a long time. Is that how you would describe it?

RM: I don't know my mom's deal. I'm not even going to speak on that in case I say the wrong thing. Oh, Jesus.
Rashema says her mom always had to rely on public assistance. Rashema's father was shot and killed when she was less than a year old. Then, when Rashema was 13, her family lost their housing. Rashema, her mom and her two brothers didn't have anywhere to go.
RM: We were actually moving around living, here and there. We got split up sometimes; a couple night we stayed on the street, and then that's when my mom she was like, "I don't wanna keep doing this. Let's just go through the shelter and from there maybe we can find housing." So that's when we entered the shelter, when I was 15 going on 16.

AS: So it was two years of moving around and having unstable housing before the shelter while you're going through puberty, surrounded by your brothers. I imagine not having much space to yourself?

RM: Nope. Not at all. And that's a really big stage in a female's life. It was just different for me. I think when I was younger I would say that my family bullied me, and I say this with a smile now. But when I was younger, it upset me so much. I'm the only lighter-skinned person in my family. Everybody else is darker, and they would say like I talked white and I was like, "Whatever. I'm a kid and I was really overweight. The doctors were saying I was gonna be obese, so I was put on a SlimFast diet when I was 8.

AS: When you were 8.

RM: When I was 8. It was just the life that I went through, and I felt like I didn't have a normal childhood and I didn't get the experiences that I see other people have.
But Rashema always excelled as a student. It was clear that she was a good reader as a kid. By high school, she knew she needed to stand out.
RM: I remember my first cross country meet in high school. I passed out once I crossed the finish line, and I'm looking at most people are staring at me. I'm like, "What place did I come in? I don't care how I'm feeling." They're like, "Seventh. You did so good. I'm like, "I did horrible."

I just started crying and I was like, "Don't touch me. I need to become No. 1. I need to run again." And I was, like, so full of emotion and I kept saying I'm not gonna get into college if I'm not No. 1, I need to be No.1 I need to be No. 1. Everybody was looking at me like, "Oh my God. What's wrong with that girl." And my coach kinda was like, "Come on, let's take you to the bathroom." I was like, "I don't care you don't understand." I was like, "I'm homeless. I live in a shelter. I need money." You know what I'm saying? And my parents can't — my mom can't afford college. I need this. I need a scholarship, or I need my grades, I really had a burst of emotion that I feel like I've never had in my life.

And, when I ever think about it now, I feel that emotion. I'm just like, yeah, I can't fail, I mean what would I do? Do I wanna believe that I didn't work hard enough or there is something more that I could have done? I just yeah no, I can't fail. So….(laughs)
Landing a full ride to Georgetown didn't make that fear go away. It feels like an opportunity Rashema can't squander. Getting involved on campus hasn't been a priority.
RM: I really don't get out much. I just study. I work, and that's about it.

AS: I can remember when I started college just the experience of all of a sudden sharing a dorm and a social life with people from all over the country, and who had all sorts of different family arrangements growing up — all sorts of different income levels that they were used to. What do you remember about the first weeks and figuring out who the people were that were surrounding you?

RM: That's what I didn't do. My goal here, my job here, is to just get my education and keep moving. It's not a bad thing. It's not that I don't like people or anything like that. It's just my motives are different, and I think when people come to college, you know, I hear all about, yeah, that social life. "We're gonna go to parties." There's a lot of parties here, and on Friday night I'm like in my bed, I'm getting some sleep because the week was so tiring.

AS: This semester across the country there've been protests across the country around the feeling of inclusion around race on college campuses, including here on Georgetown's campus. Have you felt any of that? Did those protests resonate with you at all?

RM: I didn't know about those protests. You talking about the Black Lives Matter?

AS: The Black Lives Matter, but then U of Missouri and Yale. And there were some at Georgetown around the naming of the building

RM: You know, I'm really bad with this, and this is exactly what I mean when I say I'm so focused.

AS: You didn't read the news?

RM: No, and that's the thing. Literally last night I stayed up til 4 o'clock in the morning. I was watching the Eric Garner video, I was watching the Trayvon Martin case. I was just educating myself because I've been caught up in my own bubble worrying about how am I gonna help my life.

AS: You're focused.

RM: Yeah, and I kinda had a little breakdown this semester because you know I wanna get out and I wanna have fun and I wanna be able to on a Saturday not just focus on work but I'm kind of stuck, I'm kind of in a situation with like you're not going back home to a family who financially supports you, or you're not going back to this place where you don't have to worry if you don't get a job your dad's gonna talk to a friend and get you a job, it's nothing like that, I'm the one who's pushing my family.
Coming up, how feeling lost at Georgetown this semester turned Rashema's attention back home.
RM: I think my biggest goal at the moment is just to show my family — especially my brother — that I'm here for him always, and just cause I'm at Georgetown and on this side of town means nothing.
In our last episode, a mom named Diane Gill Morris shared her story about raising her two teenage boys who are autistic. She talked about all the ways their autism has made parenting more difficult than she ever imagined, and about how she wouldn't have had kids if she'd known how hard parenting them would be.
The episode touched a nerve, for a lot of you. Many of you sent in notes of support for Diane. We've forwarded those on to her. One of those notes came in from a 31-year-old woman living in New York City. She has a sibling with autism, and she teaches autistic students.
I'm not a parent, so I can't relate to Diane's story completely, but I never signed up to be a sibling of someone with autism either. But I'm so glad I am one. While there were certainly challenging experiences growing up, my brother is the best thing that happened to me and the best thing in my life. I suspect my parents feel similarly. We love him so much, but it's important to share how hard it is. Loving someone and finding joy in them and not wishing they were any different still means it's hard.
For others, the episode was deeply upsetting, even offensive. A woman named Erin from Omaha, Nebraska left us this voice memo. She is autistic, and she has a kid who's autistic too.
Erin: Telling the world that you wish your autistic children had never been born and that that they have taken too much from you is not brave or admirable, it's hateful and bigoted and devalues the lives of disabled people. This kind of narrative actively harms autistic people, by spreading the message that we are lesser kinds of human beings, burdensome to caregivers, and that the world would be better off if we didn't exist.
We also heard from Jon, who's 54 and was diagnosed with autism about five years ago.
Jon: In your podcast, the mom says if she knew what she was in for before she had her boys, she would not have had them. My version of that, my wish, is that I relived my life starting over with one crucial difference. That everyone would know about autism and the ways for helping parents and their kids cope and thrive.
Thanks to all of you for sharing your responses with us.
And you might remember that a year ago, we asked you to tell us your stories about living alone. On the next episode, we get updates about what's happened since.
Walid Shantur: "I can no longer say that living alone is pleasing and satisfying."
--
This is Death, Sex and Money from WNYC. I'm Anna Sale.
When Rashema Melson hit a wall this semester, she wasn't just worn out from studying. She was also angry about all the pressure she was feeling.
RM: I got upset, I just was like why can't I do other things, and why can't I do what other people do? Why can't I watch movies all night, or why can't I go hang out with friends?

AS: When did that happen, at what point in the semester?

RM: I think it happened. It was in October. I really felt stuck, like I had no option. The only thing I have in life is this degree, like this degree is saving me. Without this degree I'm nothing. Why should I be nothing because I don't have a degree? Like, little pieces of paper and some grades don't define me. And that's where I got to the point where I'm like, I'm not about to deal with this. And I thought to myself — I said I need to go back to the shelter.

I told my dean I went to talk to him I was like, "I've never lived richly." I've never had exquisite things. I know what it's like to be in that struggle, I was happy then, and just living the life that I wanted because I was pushing myself. And now I have all these other people in my back like, "Yeah you gotta do it." And it's all this in my ear, and I'm just like: These people are driving me crazy.

AS: It's interesting to me that when you hit that wall it wasn't, "Maybe I should go out on a Friday night instead of staying in and studying," or, "Maybe I should go out on Saturday," or, "Maybe I don't have to do all the reading on this Monday night." But it was, "Maybe I wanna drop out." It went that far.

RM: It did. It did. Like, I just felt like that's my life. I feel like people see me as that's the homeless valedictorian; she goes to Georgetown. My life is Georgetown. It's like, if you're not in school then what are you doing? It really made me feel that way where I was like, I don't even want to do this anymore.
That feeling has faded some. But Rashema still isn't very concerned about building a social life at Georgetown.
RM: I feel like I want to dedicate more to my family, and be more involved in their lives. And really, instead of being like, "Hey should I go on a date," and — I don't go on dates. I don't know why I said that. But if I started dating someone, why not take my mom out, you know? I want to learn about her, I don't know a lot about her either, you know. I've been around her my whole life but, I mean, I could tell you the things that make her angry. I could tell you her birthday and stuff. But as far as really jumping into getting to know her, we've never really shared our background stories with each other. Like, I really, really want to build that relationship that we never had.

AS: Was your mom comfortable with the media coverage?

RM: I say she was like 50/50 honestly. I think she was happy for people to come to her and say 'wow your daughter's amazing' and get positive feedback, I think that made her feel good, I think what she didn't like about it is that her friends who she was close with they were finding out things, she was like I didn't really want my business on display. And I think in a sense it was kind of embarrassing, um...

AS: You said earlier that when you were a kid — when you were a kid and your family would point out that your skin was fairer than the rest of the family, and would point out the way that you talked, like you were white. Was that in some ways kind of picking at you for being focused on school and excelling at school?

RM: I doubt it. I really just think they're mean people.

AS: As a kid did you talk differently than your family?

RM: Um, I really thought I was adopted. I'm so different from them. And I see that I'm not different from them now because they have this stride about them, this anger, kind of, in them. And this like, kind of raunchy way — I can't really explain. They're loud and boastful people, you know what I mean? I was always quiet, polite, blah blah blah, pleasing others — stuff like that. And now that I'm kind of experiencing these moments in life where I have my breakdowns, when things get in the way, where I feel pressured. I feel that anger and I feel that side of me that comes out. I feel the way that the tone in my voice changes. I feel those things. Then I feel close to them. Not because we're feeling the same thing, but I think I feel what it's actually like to see the real world. And now it's like, I feel it. Yeah, I feel it.

AS: Is there part of you that's at all afraid that as you get your degree, as you become more successful, earn more money, that it'll be hard to stay close to your family?

RM: Nope. And I was just having that conversation the other day. One day I actually did feel like I was living this Georgetown life. You know the fact was that, I was getting comfy. And when you're comfortable, you don't need to push. You know, you settle, you just relax. You're cruising — you're on cruise mode. I did not need to be cruising. And you know, I went to go see my family. Somebody had just got killed the other day, um, shooting. I just always need to go back and remind myself. Cause that's what pushes me. If I lose my motive, my drive, the reason why I'm so determined — that's a problem. I can not get comfy in this world. This would be over in two years.
Rashema sees her family regularly. Rashema takes the Metro to the other side of town, where her mom and brother now live in an apartment. They've moved out of the shelter. Her mom and brother have also visited her at Georgetown.
RM: I remember the first semester — 'cause I was here for the summer as well — I remember the first semester that I was here, almost everybody else went home and I was still here. I didn't want to sleep by myself, so I told them, "Come up here and sleep with me!" And they stayed with me — was it a couple days?

They stayed with me and we, like, in these little small twin beds. And we just slept together. I don't want to be alone!

AS: In the dorm?

RM: In the dorm, mmhmm.

AS: Is it comfortable when your family is here on campus with you?

RM: Yeah, I mean — what do you mean by that?

AS: Just like, that they're coming from a different part of DC. you're the one who gets to live here. They know they have to go back at the end of the visit.

RM: I would rather be with them.

AS: Really?

RM: Mmhmm. I never want my family to feel like I'm getting the better stick of things. And this isn't permanent. This is my home for the moment. And, you know, why should they? If anything, they're more stable than I am at the moment. My name isn't on my mom's voucher, and my name isn't on my mom's lease. I'm not on my mom's health insurance anymore, so they're kind of good. And I'm still kind of figuring things out.
Rashema Melson. She's a sophomore at Georgetown. She also regularly posts videos on her website rashemamelson.com, where she answers questions from young people trying to figure out how to get to college.
Death, Sex and Money is a listener-supported production of WNYC Studios. The team includes Katie Bishop, Emily Botein, and Andrew Dunn. Special thanks to our intern Destry Sibley for all of her help this semester.
We also want to welcome our new producer — Chester Jesus Soria — to the team. Chester was raised in Houston, has been covering politics in New York City, but is excited to get back to making audio. He's a big podcast and music fan. Four years ago, he blew all his savings to see his favorite band Pulp, reunite on stage in London. He says, it was totally worth it.
The Reverend John Delore and Steve Lewis wrote our theme music.
I'm on twitter @annasale, the show is @deathsexmoney. Or you can email us with your story or feedback anytime at deathsexmoney@wnyc.org.
At school, Rashema has become really close to her roommate. They've lived together since their freshman year.
RM: She is really intelligent. You say one thing to her, it's like talking to Google. And she just pop up all these facts on you. And she, like, I'm telling you — if you had a conversation with her, like, she would not stop talking. But she would be so interesting to you, you wouldn't even notice the time flying. I'm spending Christmas with her family.

AS: Where does her family live?

RM: New Jersey. I'm not sure which part, but I know it's not the part with the Six Flags 'cause I asked her.
I'm Anna Sale, and this is Death, Sex & Money from WNYC.
Copyright © 2019 New York Public Radio. All rights reserved. Visit our website terms of use at www.wnyc.org for further information.
Music Credits:
"Pong" by Kenneth J Brahmstedt from BWN Music
,
"As Colorful as Ever" by Broke for Free
,
"Valentine" by The Losers
,
"What True Self? Feels Bogus, Let's Watch Jason X" by Chris Zabriskie from Music For Video
,
"Pager" by The Losers
,
"We Always Thought the Future Would Be Kind of Fun" by Chris Zabriskie
,
"I'll Miss You" by Will Bangs