When Grief Looks Like ¯\_(ツ)_/¯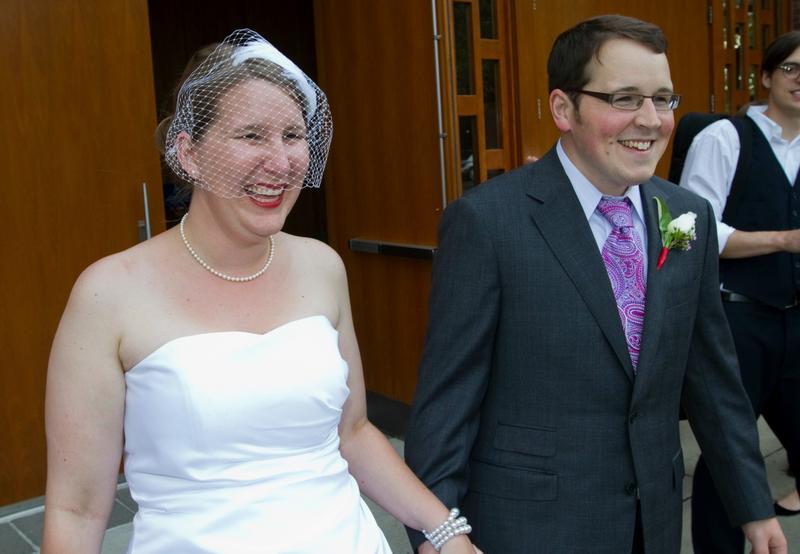 Transcript
Rachel Ward: When somebody dies, people are definitely - like they do not know how to talk to you about it, which I think is totally normal. Like I have - I have been on the other side of it where like somebody's been like, "So-and-so died," and I'm like, "Oh, I don't know how to respond even though this just happened to me!"
This is Death, Sex & Money.
The show from WNYC about the things we think about a lot…
…and need to talk about more.
I'm Anna Sale.
Rachel Ward had been a widow for two years the first time we talked, back in 2015. And it had been a long two years.
RW: I guess I'm kind of hoping this is also sort of a juncture in my life and like a transition point.

AS: You're hoping.

RW: Hope so.
She'd just written a Medium post that went viral. It was titled: I'm Sorry I Didn't Respond to Your Email, My Husband Coughed to Death Two Years Ago. It was her effort to be done with all the social awkwardness that comes with death.
RW: It's always really stressful when I have to tell somebody. It's such a, like - you really have to figure out - you have to do a lot of like on-the-fly decision-making. Like, I've been kind of dick about it a few times, where I've just been like, "Oh, yeah, mm, did you know I'm a widow?" Or like, "Yeah, I know how you feel. My husband died." Like I've delivered this news in like a pretty terrible way before.

Anna Sale: What's going on when that happens? Like what - are you making a joke?

RW: Yeah, or I'm just gonna get this out here in this like big fast way and then hopefully like as fast as it came, it'll go.
Rachel was 32 when her husband Steve died. He was 35. They lived in Washington, D.C., and had been together for more than a decade. Steve had a history of heart problems. But he was back at work after his most recent surgery. Still, he wasn't feeling great.
RW: We honestly thought he had a cold and that it was like just not really clea - like taking a while to clear up because he was stressed out about starting this new job. Like I - I'm really - like - I don't know why - why it didn't occur to us that this could be a complication.

AS: And when did you realize it was serious?

RW: When he - when he coughed up blood. Like he was - he was coughing and I could tell there was something in his chest. And I was like, "Okay, dude! Cough it up, whatever it is!" Which in retrospect is horrifying. And right as I was like getting my phone he collapsed like onto his knees and then he fell onto his side.

AS: Did you go with him in the ambulance?

RW: Yeah, I sat in the front seat. As I was leaving the house, I grabbed a pair of his flip-flops, 'cause I was like, "He's not wearing shoes and they're loading him into an ambulance. He's going to need these when we leave later tonight!" I don't know. You know, like so clueless about what was actually going on. But once - once I was in the ambulance that was sort of the first time that I was like, "Oh shit, this is really bad."
Steve was coughing because his lungs were filling with blood. Turned out, he had an infection likely related to his surgery that they didn't know about. Just a few hours after he collapsed at home, Steve died in the hospital. Rachel's sister met her there. So she wasn't alone when she went in to see Steve's body.
RW: It's traumatic. You know, they've got him all bundled up, basically wrapped up in stuff up to his chin because I'm sure what was under there was terrible and they didn't want us to see it. But they had cleaned off his face. And so we go in. We see the body. And then we come out and a nurse kind of like has me by the elbow and she's like walking me out of the ER, and she says, "It's okay to cry, honey. You can cry." And I was - I like knew intellectually that I was probably in shock and I was like, "I'll do that later, I guess." And I said to her, "But he was such a good husband." And she said, "Yeah, but he did a shitty thing today." [Laughs] I was just like, "Are you kidding me, lady?" Like I was like proud of it actually because it felt like she was like, "This bitch can take it." Like she totally just like - she read the room and she was like, "I got a zinger for this one." [Laughs] It was - it was like perfect. I almost feel like there are like parallel universes that exist. Like there's a universe where she didn't say that and I went down like a totally different grief journey. And there's the universe where she did and I was like, "Mm, well." Like that kind of like shrugging emoticon.
A shrug. Like what you do when you're trying to not let a terrible thing get at you, and just push forward. That's what Rachel did--initially. She went back to work three weeks after Steve died. She's a radio producer, and was nostly working overnights for NPR. She also packed up her things and moved in with her sister.
RW: I basically never went home to our apartment. I slept there a couple of nights but I slept on the couch, not in our bed. And - cause it just felt like the upstairs was like haunted. Like the last place he had been alive and like it had all of this like kind of like - it just felt - when I say it felt 'haunted,' I mean like it felt weighted. It felt like there was like something emotional up there. So I didn't - I didn't go up. I tried not to go upstairs very much when I was at the house. And I wasn't there very often.

AS: So you were married for three years when he died?

RW: Yeah.

AS: What did you learn about the paperwork that comes with death?

RW: I - I mean, like this is embarrassing but I haven't done a lot of it. Like it's two years out and I haven't probated his estate. I haven't - he's still - I'm still on his phone plan. So in like November of 2013 I noticed that I didn't have cell service anymore. And I was like, "What's going on? I normally have service here." And then I got home and I like called AT&T and they were like, "Yeah, we cut off your phone cause you haven't paid for it since August." And so I told whoever was on the other end of the line, I was like, "Well here's the thing. My husband died. I thought - I thought it was just being paid for out of our like whatever account." And she was like, "Well, do you want me to like switch the service over and put it in your name? If you do that, you might lose all of his voicemails and - that are like on his phone." And at that moment like I just like started weeping on the phone with this poor AT&T lady. And she was like, "Well, technically now that you've told me he's dead I'm supposed to like initiate this action but I'm just going to delete all this stuff and try to get off the phone with you cause you're crying." Um, so that was kind of the last time I dealt with AT&T. It's just another one of like these like very minute chores that have a lot of emotional baggage that I just, you know - it's just hard to do.

AS: Yeah. When were you - when were you the saddest?

RW: Um. Maybe like a month out. There was - there was a period where I was very aggressively trying to like not let go of memories. Like the thing that was most upsetting to me was the idea that I would forget things. So I started keeping a diary so I could like write down little memories as they came to me. Um. The story of like what actually happened to the best that I can remember it, I like made myself sit down and write down these details. And I guess that's processing that's important to do.
I felt like I was hearing Rachel do that processing in real-time. And it made me want to wait to share her story, to see what happened next. So we did. Coming up, what Rachel told me after two more years of grief, and life after death.
RW: I had like sort of absorbed this like floating grief wisdom that you don't you shouldn't change anything for a year. I think for me the floating grief wisdom for me should have said two years.
—
You've been sending us a lot of suggestions for our "Welcome to Adulthood" podcast playlist. We want to know about the podcast episodes—from ANY show—that you think contain important life advice. Especially for people who are taking their first steps into adulthood.
We've heard about episodes about personal finance...work-life balance...surprise pregnancies. You can suggest an episode by going to deathsexmoney.org/adulthood, or by texting "episode" to 70101. We'll share the playlist with you in a few weeks.
And if you're in your 20s and need some life advice, we want to hear from you. We're heading to LA for a live show on Wednesday, October 4. We'll be talking all about what we learn in our 20s—sometimes the hard way—and giving some advice. Actors Niecy Nash and Alia Shawkat will be there, along with other special guests. You can get tickets and find out more on our Facebook page.
So, if you're in your 20s and having trouble figuring something out, or just need some feedback, email us or send a voice memo to deathsexmoney@wnyc.org to ask for advice. Like our listener Ariell did. She's 27, and sent in a long list of things she's wondering about:
ARIELL: How to deal with shifts in relationships with your parents as you get older? How to not date online? How to meet people outside of Tinder or Match and Bumble and Hinge? How I am taken seriously as a young female professional?
So, people in your 20s, send us your life questions. Again, our email address is deathsexmoney@wnyc.org.
On the next episode, another take on widowhood. This one, with nearly thirty years of perspective, from Katie Couric. Her first husband Jay died in 1998.
KATIE COURIC: You know, I mean you can ask me anything about it but it's just it is so—it is so painful.

AS: Did you have an opportunity to ever fall apart?

KC: Oh yeah. I fell apart all the time. But I really tried to not fall apart in front of Jay. And I think you know looking back on it there's probably a lot of dishonesty.
This is Death, Sex & Money from WNYC. I'm Anna Sale. I reached out to Rachel Ward again this year, because I wanted to know how she was doing, and what had changed since the first time we talked.
AS: I noticed that your name on Twitter right now is "Young Crone."

RW: [Laughs] Yes. Yeah.

AS: [Laughs] How did you pick Young Crone?

RW: Actually my friend came up with it. Oh we were just joking around. I can't remember. But it definitely feels right. Like I felt like I re-experienced adolescence after Steve died. And in a lot of ways I still feel like that's happening to me. But I also feel like old you know because I am an aging person. I'm 36 years old. And that's older than a lot of my peers who on paper have like an equivalent life position. You know like just moved to New York City and are single, except they're 26 and I'm 36.
Soon after that first time we talked, Rachel left her job at NPR and moved to New York City, where she took a job at Gimlet, the podcasting company, producing the show "Surprisingly Awesome". Then, she bought an apartment in Brooklyn, using some of the money from Steve's life insurance.
AS: And do you live by yourself?

RW: I do. Well I have a roommate. She's a Calico cat. She doesn't lift a finger.

AS: Do you have a picture of Steve in your new apartment? Like that's prominently displayed?

RW: Well, I have like a little - like, shrine sounds kind of weird to say but I have like a little like spot on one of my bookshelves that's like our wedding photo. This photo album that has an image of him on the front that I made right after he died. And I also have framed - we got engaged after a hockey game. And so I have the tickets from the hockey game in a little frame so I have like that all sort of displayed in one spot. And it used to actually be like the first thing you saw when you walked into the living room and looked at the bookshelves. And then I migrated it over to the like second place you that you would look, after I'd been living there for a little while.

AS: Why did you move them?

RW: I actually moved them at my sister's suggestion. Um and I'm guessing that the reason that she thought I should move them was so that they didn't communicate like to any potential like suitors, like, "This guy's still very much on the front burner."

AS: Do you feel interested in dating?

RW. Yeah, I do. I mean I have been on dates. Um. It feels super hard to date. The thing that I think about is that like dating is a long process. And like if you wanted to be - like lots of people when they get to a relationship that's sort of like their partnership, that's the end result of like meeting and hanging out with a lot of people. And then like you know a bunch of relationships that last for like three weeks or six months or two years. And when I think about the rate at which I'm moving I feel like many, many, many years away from like approaching having a stable partnership like I had before. Because I just haven't - like I went on uh like last month I think or two months ago it was the first time I'd gone on two dates with the same person. So at the rate I'm moving it's... you know.

AS: Do you feel like that's - I mean it's interesting because dating is hard for everyone in New York City. And then you have this...

RW: [Laughing] Wait, you think this isn't original material?

AS: [Laughs] I think it's a lot pressure you have on top of dating being difficult. For you it has the added pressure of am I not. Am I not succeeding in dating in New York City because I'm not ready? Or because I haven't done enough work or put in enough time with my sadness?

RW: Right. Or like there's something even more fundamentally broken like before even all of the like widow stuff. Like what if I've been like broken since like kindergarten? And like Steve was a fluke. [Laughs]

AS: Hm.

RW: Like, What if I like scammed him into being my partner? And I'll never be able to run that scam again. It's expired.

AS: How do you think you're doing with your grief and with thinking about Steve's death?

RW: Um. I actually feel moderately okay in my grief. Like I feel like I understand like some of the dynamics of like when in the year I'm going to feel a little less capable or more capable. Among people that I already know I feel pretty comfortable bringing him into a conversation and being like, "Ah, Steve used to say this really funny thing." So in relation to my own grief like I think I'm going to give myself a 6 out of 10. The thing I worry about is being like stuck a little bit. You know like it feels like there's some sort of like I have to be like cooked to a certain level and I'm just like not. So the thing that I worry about with being stuck is like what if I never cook and I'm like I'm never in another relationship again. So that's that is the thing that I like periodically will sort of like - my mind will sort of wander to that. But I've also lately been having some really nice like realizations about how it's kind of great to be single and not have to like not have to like do the kind of like draggy parts of relationships.

AS: Yeah. When was - when was a moment that that flashed before you recently? Where you were like, "I'm into this."

RW: Every time I go to bed whenever I want and I sleep across the entire bed and then like I don't care if the top sheet is tucked in at the end or not. Like that's - I don't know. This actually weird that that's the example that I'm giving because I don't think sleeping next to another person - like that's actually a nice thing.

AS: But there is something nice about not having to compromise at all.

RW: And I guess that's just the moment like right before bed is when I'm often am in sort of a reflective space. And so that's what I'm thinking like, ah this is good.

AS: Mh hm. Do you miss Steve?

RW: Yeah. [Laughs] Yes. [Laughs]

AS: When do you miss him?

RW: Um also right before I go to bed. Um and when I'm confronting like anything in my life that requires like a level of patience, because I'm often impatient in the face of like a even moderately complicated problem. Uh. Oh yeah! I often like to have jokes I want to tell him. I'm like, oh my god you will - like I frequently find myself like with like some like joke that like is not quite right for Twitter. And then I have to like - I will like get out my phone and like scroll down my contacts and be like, who's going to get this? Because like, the person I want to send it to doesn't exist anymore. And also like when I when I use his jokes I often - I try to credit him as much as possible when I steal his jokes. Um, borrow his jokes? Eh, he abandoned them. They're my jokes now. When he willed me his jokes. So I talk about him a lot in that context.

AS: As we're talking there's part of me that's wondering like - do you buy the idea that there are stages of grief? Like that there's somehow this like, you're going to graduate from one level to the next?

RW: I mean intellectually I'm like fuck Kubler Ross. Like, you don't know me. And after Steve died a lot of people were like you know the stages of grief are fake right? Like I felt like I had a lot of support for the idea of like, this is going to come and go. And like you're going to think you're fine and then like suddenly you're not going to be fine. Like I have to remind myself all the time that grief is not linear or that that's the like paradigm I've chosen to like participate in. But I think by thinking like - by having that like sort of like sneaking suspicion that the reason that I haven't been in another relationship is because I'm not - like I haven't like passed some internal test is - is internalized belief that there are stages of grief.

AS: What would be the the the grief wisdom that you would pass on? Like what have you what have you learned about death and about grief that you would say to someone who suddenly lost someone they loved?

RW: That's really hard because I feel like especially right after I had like no bandwidth to help other people process their experience. Let me think about it for a second. [Pause] So I have a mentality to propose and a tactical solution. So the mentality I would propose is to um, just ignore the stages of grief. Like that's not a real thing. Don't hold yourself to any timeline. [Laughs] This is so fucking ironic that this is the advice I have! Like don't expect anything of yourself and it's ok to let yourself like float a little bit for any period of time. Um which is sort of the advice I got from Nina Totenberg. [Laughs] No less an authority than - was go back to work like as soon as you feel like you can, like throw yourself into your work. And I would say, like sure but like more than that just like make sure that you're not judging yourself against some like pre-trauma standard. So that's that's my mentality advice. My tactical advice would be to start journaling. I can't believe I said journaling like it's a fucking verb. No I mean like, keep a journal. Ugh! But, I feel like it's a useful document for measuring progress. Because if you're going to blow off Kubler Ross you need some way to like benchmark.

AS: Have you had you probated Steve's death?

RW: Like his will?

AS: Yeah.

RW: No. I haven't. [Laughs] I don't even know how to do that.

AS: Does it feel like something you're avoiding or just like an errand that you haven't gotten to?

RW: It feels like - like a chore I haven't done. But, you know if I interrogate it like even a little bit it feels like the reason the chore is not done is probably because I don't want to deal with it. You know? It actually entails some emotional work that I haven't done or like am scared to do or whatever, um. Yeah I don't know. That's also the kind of like kind of like even moderately complicated task that Steve would have done.

AS: Mm hm.

RW: So I'm just waiting for him to do it.
That's Rachel Ward. She still works for Gimlet and also co-hosts her own podcast on the side called Seltzer Death Match, a show about finding the best seltzer in America. She also has an essay in an upcoming book from the website Modern Loss.
Death, Sex & Money is a listener-supported production of WNYC Studios in New York. I'm based at the Center for Investigative Reporting in Emeryville, CA. Our team includes Katie Bishop, Anabel Bacon, Emily Botein, and Andrew Dunn.
Our interns are Mankaprr Conteh and Kent McDonald. Thank you to you both for all you did for us this summer.
The Reverend John Delore and Steve Lewis wrote our theme music. I'm on Twitter @annasale, the show is @deathsexmoney. Email us any time at deathsexmoney@wnyc.org.
One more thing Rachel says about being a Young Crone? Don't knock it 'til you've tried it.
RW: Like I used to go to these house shows in D.C. where I would be like the oldest person there by like a decade and like just be like welp this is where we're at. Yeah that's the thing about Young Crone. She does what she wants. She's very empowered.
I'm Anna Sale, and this is Death, Sex & Money from WNYC.
Copyright © 2019 New York Public Radio. All rights reserved. Visit our website terms of use at www.wnyc.org for further information.
Music Credits:
"Inamorata" by Blue Dot Sessions
,
"A Simple Blur" by Blue Dot Sessions
,
"Kalsted" by Blue Dot Sessions
,
"Soothe" by Blue Dot Sessions
,
"Vault" by Jahzzar
,
"Encounter" by Podington Bear